The iPhone 15 is finally here. Along with it, we get some cool new features like an upgraded camera and a brighter screen—and the star of the show: USB-C. But at the same time, we still don't have expandable storage capacity.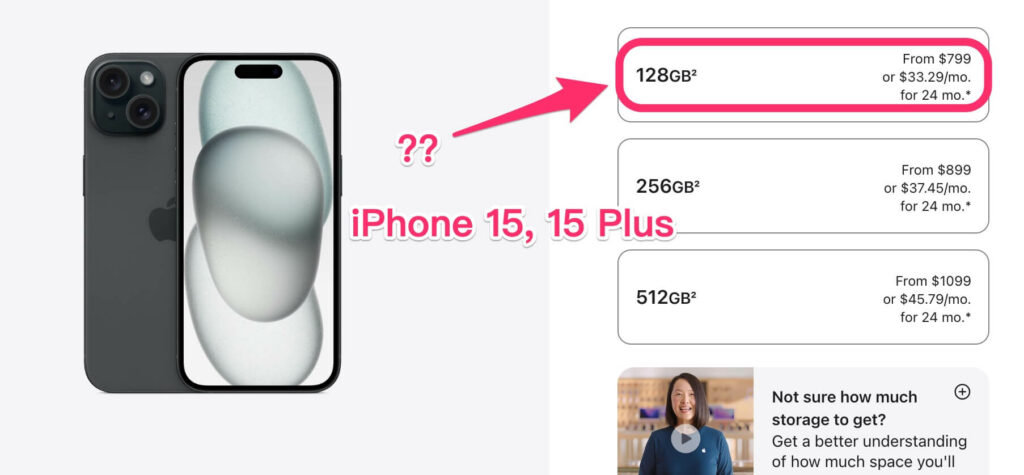 As someone who frequently advises people on Apple products, one of the most common questions I get is about storage capacity. With the release of the iPhone 15 and iPhone 15 Plus, this question has become even more pertinent.
So, is 128GB enough for your new iPhone 15 or iPhone 15 Plus?
Let's dive in and find out.
Key Takeaways
The iPhone 15 might not have expandable storage, but it is offered in generous capacities: 128GB, 256GB, and 512GB.
For casual users who mainly stream content and use cloud storage, 128GB should be more than enough.
If you're a heavier user who stores lots of high-res photos, videos, and games, you might find 128GB to be a bit limiting.
iCloud storage can be a viable solution for those who need more space, but it comes with a few drawbacks, such as an increased monthly cost.
Knowing your current storage usage can guide you in making the right choice. Check out how much you are using on your iPhone now, by viewing your storage settings.
What Are the Storage Options on the iPhone 15?
The iPhone 15 and iPhone 15 Plus come in three storage options: 128GB, 256GB, and 512GB.
The sad part is that even though many other phone brands allow you to add storage later via an SD card, you can't do that on an iPhone. Neither model offers a microSD card slot for expandable storage. So, the choice you make now will stick with you for the life of the phone.
If you really want to go all out and get the most storage possible, you can always look at the iPhone 15 Pro and Pro Max, which come in up to 1TB storage capacities. But the standard iPhone 15 and the 15 Plus don't get such a luxury.
The Cost Factor
While it may be tempting to go for the maximum storage capacity, you need to remember that each bump in storage comes with a corresponding bump in price:
iPhone 15
128GB – $799
256GB – $899
512GB – $1,099
iPhone 15 Plus
128GB – $899
256GB – $999
512GB – $1,199
On the flip side, opting for 128GB and then running out of space could lead to additional costs in the form of iCloud storage fees.
Who Should Consider 128GB?
If you're a casual user who primarily streams music and movies, uses cloud storage for photos, and doesn't plan on shooting a lot of 4K videos, 128GB should be more than enough for you.
However, if you're a heavy user who likes to keep a large library of downloaded movies, high-res photos, and games, you might find 128GB a bit limiting. You'll likely have to manage your storage more frequently and delete old files to make room for new ones. Opting for a larger capacity storage option will give you some much-needed breathing room.
The decision also comes down to how often you plan to upgrade your phone. If you plan to get a new iPhone in two years, the extra $100 that you would have spent on the next size up could instead go to paying an iCloud subscription.
Conversely, if you like to keep your iPhone for the long run, then it might pay off to purchase a larger capacity from the start. This way, you won't find yourself running low on storage before it's time to get a new phone.
iCloud as a Solution
Apple's iCloud storage can be a lifesaver here. Though the free plan is laughable—letting you use a measly 5GB, you can get a respectable amount of storage for a monthly fee. With plans starting at $0.99 for 50GB, it's a cost-effective way to offload some of your storage needs. Plus, you can share the storage with family members, making it even more economical.
That price tag doesn't seem too intimidating. But you'll need to keep in mind that this is a monthly cost. So, even if you are on the lowest plan, you'll be paying $12 per year. If you want more iCloud storage than 50GB, the price jumps.
As of this writing, these are the options you have available:
iCloud+ 50GB – $0.99/month
iCloud+ 200GB – $2.99/month
iCloud+ 2TB – $9.99/month
The 2TB plan is definitely the best bang for your buck, giving you more storage capacity than even the largest iPhone. I would be kind of bummed at having to pay yet another monthly subscription. But this is cheaper than most streaming subscriptions, so there isn't too much to complain about.
How to Check Your Current Storage Usage
Before making a concrete decision, you can get an idea of how much storage you really need by looking at your current iPhone's capacity and usage.
Checking your current storage usage on your existing iPhone is super simple. Go to Settings > General > iPhone Storage.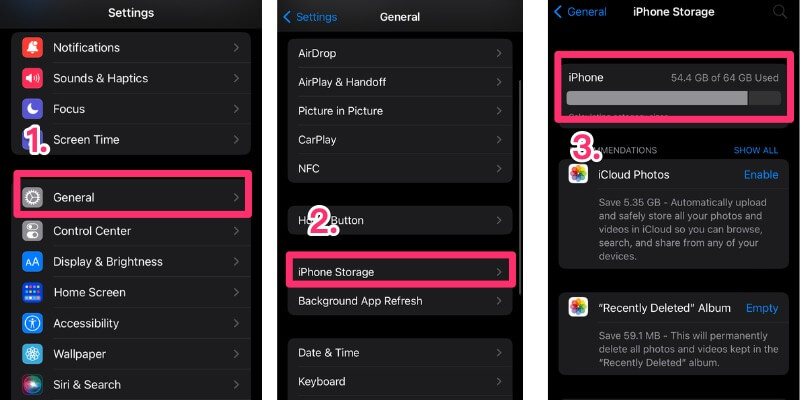 You'll be able to see how much space you are using, broken down by pictures, videos, music, apps, and system files. This will give you an idea of how much storage you're currently using and what types of data are taking up the most space.
One thing to note here is the size of the picture files. Thanks to the iPhone 15's upgraded camera, you get to enjoy much more intricate and high-quality photos. But it comes at a cost: each picture file will now take up more space. That's just something to keep in mind when looking at how much space your photo library takes up.
Final Thoughts
Before making a purchase, assess your current storage needs and future usage patterns. If you're already close to using 128GB on your current device, it might be wise to consider a higher storage option for your new iPhone 15 or iPhone 15 Plus.
So, what are your thoughts? Is 128GB enough for you, or are you considering a higher storage option? Let us know in the comments below!