Plugins are third-party programs that add features or functionality to Final Cut Pro. They can be collections of new Titles, Transitions or Effects, provide shortcuts in how you work, or add entirely new features. 
As a long-time filmmaker, I can assure you that you will, one day, wander from the nest of Final Cut Pro's built-in effects or appreciate the subtle enhancements that a good plugin can provide.
Plugins are such an important part of the Final Cut Pro experience that Apple not only encourages third-party development but helps promote them on their Final Cut Pro Resources. There you can find dozens of plugins and many recommended developers.
Because plugins can make you more productive or provide some style, I've chosen some of my favorites from both categories.
Note: I opted NOT to include any plugins that have "free trials" because in my view, those are paid plugins. So rest assured that all the plug-ins listed below are truly free.
Productivity Plug-ins
Three out of my four favorite productivity plug-ins come from a company called MotionVFX, and limiting it to three was hard because they make such great products and have so many free plug-ins and templates.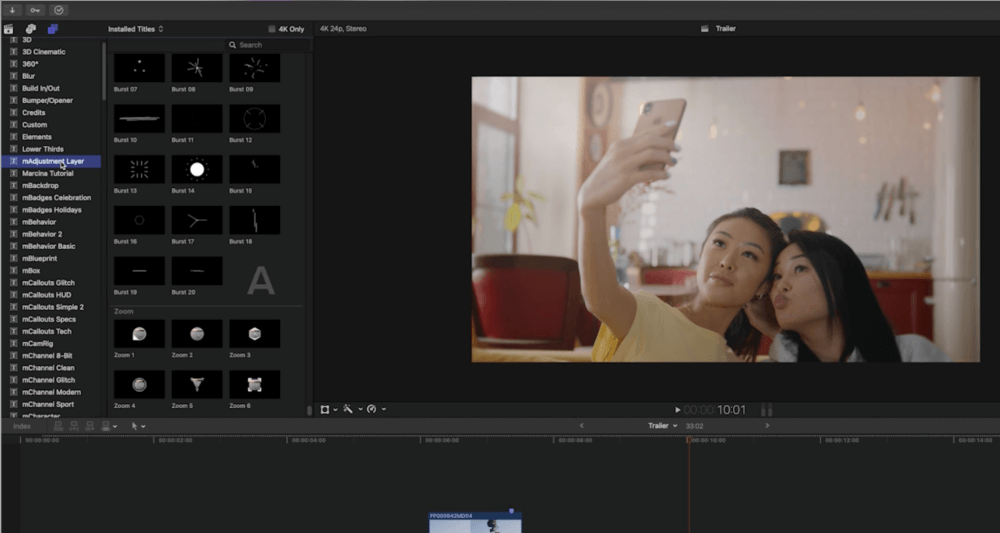 An adjustment layer is a container for all kinds of effects. By placing one, like you would place a Title, over your entire movie any settings, formatting, or Effects you apply to it will apply to your whole movie. An adjustment layer is particularly handy for color grading adding LUTs as all of the shots beneath the adjustment layer will quickly have the same look.
2. mLUT (MotionVFX)
We explained how you can import LUTs into Final Cut Pro with the Color Key Effect. But the mLUT plugin provides an alternative Effect that offers a much more user-friendly menu, real-time previews, and the ability to create folders (and subfolders) for all your LUTs. Very handy.
3. mCamRig (MotionVFX)
This plug-in provides new functionality for transforming your shots by emulating the kind of effects your cinematographer could have done with the physical camera. You can animate camera pans, zooms, even dolly effects. You can also change the depth of field, apply rotation, and change the angle at which you view the footage.
While this all may sound rather mechanical, sometimes a mechanical approach is just what you need. Most importantly, it is a little amazing how easy this plug-in makes it to pretend you are an experienced cinematographer.
4. Grid Lines Plugin (Lifted Erik)
This is one of those plugins that are so simple and yet so helpful: It draws lines on your screen to help you frame your footage. Simple, but it can quickly ensure a shot is centered or has a composition that fits the scene.
And sometimes I use the plain "grid" function to align a rapid montage of still images that I don't want jumping up and down ever so slightly because I was trying to arrange them by eye.
Lower-thirds is the name for formatted text which appears in the lower third of your screen, usually providing information about what is happening on the screen. A classic example is the name and title of somebody being interviewed in a documentary.
Stupid Raisins' Social Media Thirds are lower thirds to help you market yourself by animating a social media logo and displaying your username or handle. While the layout is simple, this plug-in allows full customization and personalization with straightforward controls.
Plugins with Style
Slides are similar to wipe Transitions in that the screen shifts left/right/up/down. But in a Wipe, a line divides the outgoing and incoming clips. In a slide transition the outgoing clip slides across your screen, like the camera is rapidly panning, until a standard cut jumps you to the next clip. It's dynamic, but still somehow elegant.
Andy's Swish Transitions are like Slide Transitions but apply some motion blur that makes your slide feel more like a Swish. Clear as mud? Click on the link in the Transition's name above and watch the video. Whether that makes it clearer or not, I don't know but I think it will be very clear that these are great transitions to add to your collection.
These simple effects can be thought of as Slide and Swish transitions but when applied to Titles. With this plug-in, Titles slide/swish onto or off screen with lots of blur, glitch, shake – all sorts of energetic motion. And, these titles support Drop Zones, which allow you to drop pictures or videos behind the titles.
9. Motion Blur (Pixel Film Studios)
This is one of those things that solves a problem you didn't know you had, or just has more uses than you might think. Basically, it adds a little blur to any motion, including on screen text. Maybe you want to use it in clips that you've slowed down or sped up.
Maybe it is just what is needed to make that Fade out Transitionperfect. Maybe… Play around with it. I think you'll like it.
10. Super 8mm Film Look (Lifted Erik)
Maybe the coolness of Super 8 has peaked, but I think every editor has to have an effect that makes footage look like it was shot on an old school Super-8 camera. You just do. There will be one shot, one day, that just needs that jumpy grainy feel.
11. Alex 4D Flashback (aka the Scooby Doo effect, by Alex Gollner)
If you don't know who/what Scooby Doo is, how about Austin Powers? No? Okay, never mind. Just consider this Transition plugin a groovy throwback to help signify a flashback with a bit of a wink at the same time.
12. Classic Movie Themed Plugins
These may be single-use, one-joke, plugins but I think that is exactly what free plugins are for: When you need just that one title, effect, or joke but don't want to spend oodles of hours custom building it.
For the look of The Matrix, check out mMatrix from MotionVFX. It's all there – the green hue, the Transitions, the typeface and, of course, the falling numbers.
How about having the wizardry of Dr. Strange at your fingertips? Thanks to MotionVFX (again), those burning portals can be turned into your very own transitions. But there is more: This free pack also includes LUTs, great Titles, Mandalas, and a bunch of horizon-bending effects.
Finally, Stupid Raisins offers three free customizable opening credit templates in its Movie Pop plug-in. For free, you can make your movie title look like Star Wars Rogue One, Assassins Creed, or Fantastic Beasts.
The Final Plug
Now that you have a sense of the worlds that can open up by plugging-in extra features and effects, go have a blast!
And speaking of having a blast, the first thing I would recommend is going to the MotionVFX website and just soaking everything they have built. While their effects plugins can get pricey, it's worth watching some of their tutorial videos – if only so you can get a jump on your Christmas list.
Please let us know if you found this article helpful, have questions, or just have a favorite free plugin you want to share. Thank you.
P.S. Developers may remove or cancel their free offers without warning. We'll do our best to keep this list UpToDate, but it would be really helpful if you could let us know in the comments if something is no longer free!