With Canva, it is easy to create your own marketing materials for professional, and personal projects without having to put much time, effort, or money into the process. If you are interested in digital or graphic design, you may have dabbled in this platform because it has become so popular can accessible!
My name is Kerry and I have been using Canva for many years both personally and professionally. It has been one of my favorite platforms to use because it has so many free features that really elevate projects, especially the free fonts that are included!
In this post, I will explain and highlight some of the best free fonts that are already available on the Canva platform for both users on the basic plan and those who have a paid subscription account.
Key Takeaway
Canva offers tons of free fonts on their platform that can be searched for in the text tool on the left side of the canvas.
Any font on Canva that has a crown attached to it is available for users who pay for a premium subscription.
Pro users can upload fonts to the Canva platform as long as they are in OTF, TTF, or WOFF format.
21 Best Free Fonts on Canva You Should Use
Here's a list of free fonts available on Canva you can simply add text and search the font name.
1. Sego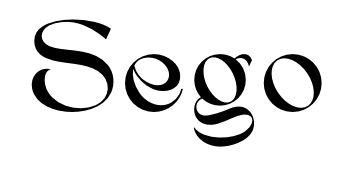 Great for: Any dramatic, classic, and elegant projects.
This serif font is not often at the forefront of top font choices, but it should be! The modern and crisp lettering creates a beautiful flow to text and is versatile enough to be used in a variety of ways.
The spacing between each letter is also great for projects that require words to stand out, as they won't get lost in a jumble of other writing!
2. Elika Gorcia

Great for: Perfect for branding purposes such as titles, logos, and signs.
A vogue-looking font can be found in Elika Gorcia which has a bold and thick style that will act as a fantastic header or title. While the letters may seem a bit generic, if you look closely, the flow and small details (check out that E!) are nice touches to an otherwise model choice.
3. Sunday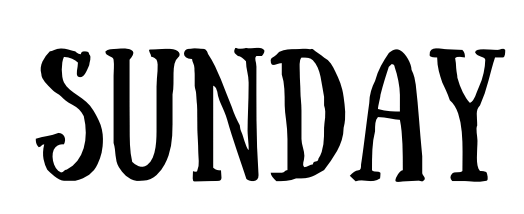 Great for: Menus, website headers, and playful branding materials.
Sunday is a font that combines illustration techniques and classic lettering to create a unique and fun choice for more casual projects. Uppercase lettering pairs well with the brush strokes that we used to create this font, making it very easy to read and accessible.
4. One Little Font

Great for: School materials such as handbooks, worksheets, nameplates, or educational branding.
If you are looking for a fun, little font- check out One Little Font! (The name does it justice.) This is a perfect choice for anyone who is creating a project for children, schools, or other projects to add a quaint touch associated with youth and adolescence.
5. Bright Sunshine Caps

Great for: Logos and personal branding designs.
Bright Sunshine Caps is a great handwriting font that is easily readable for all audiences. It has a personal and realistic handwriting vibe and can act as either a body of text or a header. The all-caps look certainly captures the attention of viewers without being overwhelming.
6. Together Rough

Great for: Creative marketing materials, personal website headers, or invitations.
If you are looking for a fun, cursive font that is a more unique choice compared to other fonts in that category, check out Together Rough. The rounded flow of these letters is neat and the added texture design creates an artsy flair that is playful and gorgeous.
7. Amazone

Great for: Fancy and whimsical projects such as invitations, stories, planners, and other digital products.
Another great cursive font to check out is Amazone. The lettering within this font is not as tight as some other script fonts, which makes it easy to read. It has a combination of traditional cursive letting and more modern touches that will make any header or keyword stand out in a project.
8. Black Mango

Great for: Logos, web designs, and upscale branding
Black Mango is an elegant and modern choice of font that is adaptable to many types of projects. It has a vintage feel of old signage that is excellent for branding purposes.
9. Libre Baskerville

Great for: All types of use, especially more classic designs.
Libre Baskerville is a font that is versatile and can be used as a heading, title, body text, and so on. It is easy to read and has such a classic look that no matter how you choose to use this font in your projects, it will be a safe option!
10. Abril Fatface

Great for: A wide range of products like brochures, advertisements, or product packaging
Abril Fatface is an excellent bold font that is at the top of our list when it comes to finding fonts that will stand out in a project. The serif format and classic lettering make it a great choice for headlines and short blocks of text since it is so bold.
11. Zoxi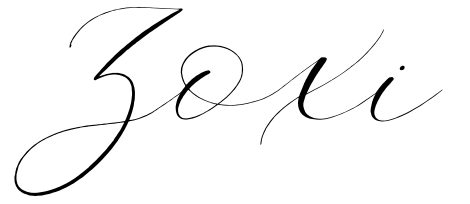 Great for: Wedding materials such as invitations, programs, and seating cards.
This font is an excellent free choice if you are looking to add a delicate and elegant flair to your projects. Zoxi has such a beautiful flow to each connecting letter that is reminiscent of pen and ink calligraphy.
For those who want a personal touch but don't want to learn calligraphy yourself, this is a great way to digitally add that look to your work.
12. Themysion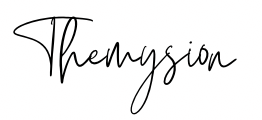 Great for: Projects that include fun yet elegant elements.
Themysion is an excellent choice that falls in the handwriting font category. It has a very modern yet elegant look that makes your projects look classier. Although it is a cursive font, it has its hand-drawn touch like someone grabbed a pen and put it straight to the paper!
13. Amsterdam One

Great for: Modern, formal projects that have a simpler style.
Amsterdam One is a fun and stylistic font that is a great choice if you are looking to add a cursive element to a project but want it to be legible, and a bit modern. The small and tight lettering allows users to include more text within their projects.
14. Special Elite

Great for: Newspapers, newsletters, or title pages.
With digital type, there are so many cool and creative fonts that we had to add a special one to this list. Special Elite mimics an old typewriter down to the texture and imperfections!
It is an excellent choice for anyone who is used to digital technology but wants to pay homage to the tech of yesterday or include a vintage look in their project.
15. Alex Brush
Great for: A classic look that is simple yet refined – perfect for announcements or invitations.
Alex Brush is a subtle yet beautiful script font that should stand out at the forefront of cursive font options. It flows so nicely and is easy to read while maintaining an exquisite flow. It reminds us of a watercolor brush used for inking.
16. Manjari Thin

Great for: Luxury brands, advertisements, and marketing materials.
Manjari Thin is a rounded, modern font that would be perfect for many types of digital products and projects. It is clearly legible so that audiences will not have a difficult time reading the material but still maintains character.
17. Brusher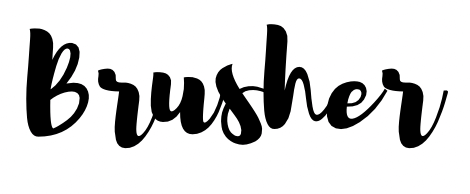 Great for: Digital products such as planners, calendars, or print-on-demand products.
This fun font called Brusher is probably one that you have seen around and about in digital products as it has become very popular over the past few years. It has a lighthearted touch to it and mimics a thick calligraphy brush. This font is great for single words, short phrases, or headers.
18. Paalalabas Wide

Great for: Title pages, website headers, or bold phrases.
Sometimes all uppercase or lowercase fonts can be overwhelming, as they don't follow traditional lettering techniques. Paalalabas Wide is a generic and classic-looking font that is easy to read due to its spacing and bold features. You should keep this one in your back pocket when searching for a bold font for descriptions.
19. Joshico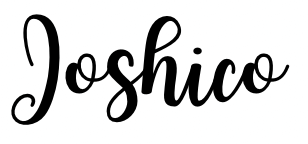 Great for: Invitations, announcements, and headings of pagers.
This cursive font option offers a sophisticated font that will make your information stand out. Being that the lines are thicker in this font as compared to some other cursive options, it is a strong contender for logos and headers.
20. High Tide

Great for: Awnings, menus, or luxury brands.
Being that the High Tide font has all of its letters in uppercase, you sure won't be able to miss it within a project. It is a clear and standout font, even though it is so simple. If you are looking to write subtext or have a more minimalistic look, make sure to add this one to your list of fonts!
21. Hitch Hike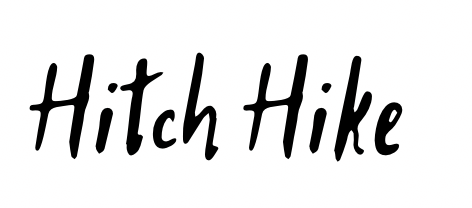 Great for: Creative projects such as cards, posters, and stickers
This handwriting font is usually found in more casual projects or ones associated with the outdoors since it looks like a quick scribble. It is a great choice for anyone who is looking to add a bit of flair to their projects and still maintain ease in reading the text (and can even be a choice for Halloween).
FAQs
Now that you have checked out some of the best free fonts on Canva, if you are still curious about the best one to use for projects, we have answers to some common font questions below.
Does Canva have free fonts?
Canva has tons of free fonts to use in your projects that you can find under the text tab in the main toolbox. You can search for different types of fonts using keywords, including 50 free options that are available for commercial use.
What is the fanciest font on Canva?
Since font preferences are subjective, I can't pinpoint THE fanciest font on Canva, but some of the fanciest ones available on the platform includes Moontime (a whimsical and loopy choice), Daydream (bold and flourished), and Zoxi (a thin and delicate font).
What are the best Canva fonts for Instagram?
Some of the best choices for fonts to use within Instagram posts (and graphics) include Anton ( since it is versatile and modern), League Spartan (a classic postmodern font), Nunito (a cursive font that is easily legible), and Holiday (a fashionable script font).
What are the best Canva fonts for YouTube thumbnails?
Since users want Youtube thumbnails to be eye-catching and stand out, some of the most popular fonts include Impact (due to its bold features), Bangers (since it is also bold and easy to read), and Open Sans Bold (another classic and bold choice).
What are the best Canva fonts for posters?
Popular fonts that people choose for posters include legible yet engaging fonts such as Montserrat Classic, Playlist Script, League Spartan, and Verdana. Canva also has some other great fonts to use such as High Tide, Alex Brush, and Manjari Thin.
What are the best Canva fonts for logos?
When creating a logo, you want to make sure that the name of your business or company stands out. That is why fonts such as Josefin Sans Bold, Playlist Script, Sacramento, and Montserrat Classic are often popular choices since they are striking and legible.
Final Thoughts
Finding the perfect font for a project can take lots of time, and finding ones that are free can take even more time away from you actually designing. While there are thousands of fonts out there, the free ones that are available on Canva are definitely worth checking out!
Do you have any favorite Canva fonts that you use in your design projects? Do you find them on the platform itself or download them elsewhere? Please share your feedback and thoughts in our comment section below!