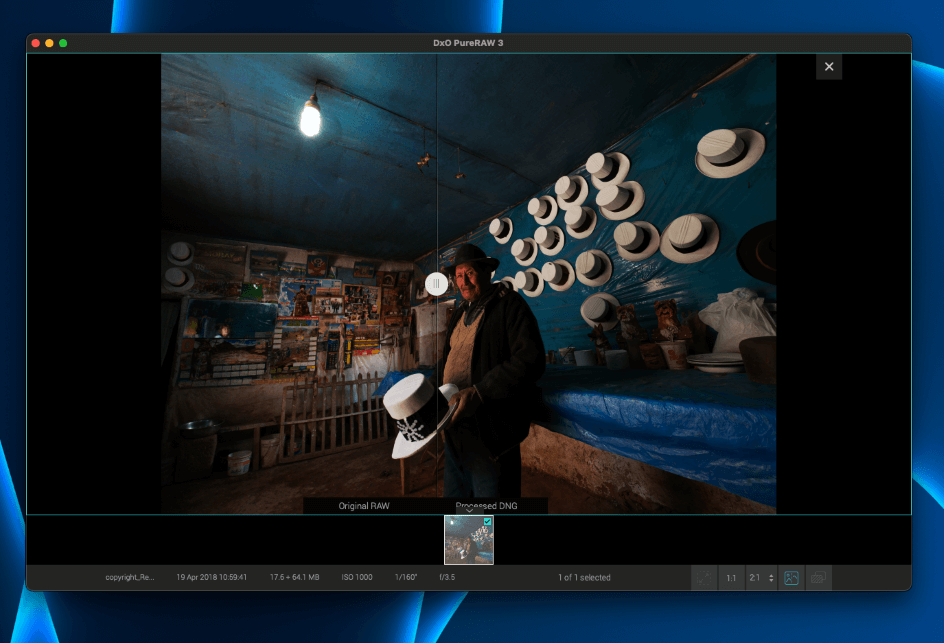 DxO PureRaw 3
Features: Complete with several tools to improve pre-edited photo quality, this tool has everything you might expect from similar software.
Pricing: With a one-time purchase price of $129, this tool is priced reasonably for what you get.
Ease of Use: Featuring a simple, clean interface, this tool is easy to use.
Support: With a detailed support page and a helpful customer service team, DxO PureRaw customers have plenty of resources available to troubleshoot problems.
Summary
DxO PureRaw offers pre-editing image optimizations to ensure you start your editing workflow with even better images. The tool offers excellent noise reduction, lens sharpening, and lens-specific corrections, allowing it to make minor tweaks that make a major difference. 

The tool is an excellent option for professionals, allowing them to start with better-quality photos by simply adding a short step to their photo editing workflows. However, since this tool completes the edits in batches, you don't have control over minor adjustments on each photo, which might not work for some photographers.

What I Like: This software features a clean interface with powerful tools designed to simplify your editing process.

What I Don't Like: This software adds an extra step to your photo-editing workflow and increases the completed file size.
Yes, DxO PureRaw is a trusted software that is safe to use.
What does DxO PureRaw do?
This software is designed to deliver sharper, cleaner photos from your camera and help with your editing process.
No, DxO PureRaw isn't free, but you can start with a free 30-trial. After that, you'll have to pay a one-time purchase price.
Why Trust Me for This Review
Hi, I'm Jon, a content creator and digital marketer. Every so often, I take photos that I need to edit. And since I'm not even close to being a professional editor or edit them frequently, I often end up using macOS's built-in picture editor.
But macOS doesn't provide all of the editing features I need. Plus, I don't want to fork over a ton of cash for Photoshop for just a couple of uses every other month. So, that is why I'm always looking out for affordable photo editing software.
If you want a great way to edit RAW photographs in batches, DxO PureRaw is an excellent choice. This macOS software is an intuitive way to edit your pictures in batches by simply queueing them up. But it doesn't do everything you might need, which might not be that important to you.
Detailed Review of DxO PureRaw
DxO PureRaw is a raw photo editing software that blasts your raw camera files with a couple of top-of-the-line edits to ensure you start your editing sessions with even better photos. It's a handy tool to work out some of the kinks before you start your editing process.
Here are a few key features of the DxO PureRaw software, along with my personal take on each feature.
Compatible with Adobe Photoshop, Lightroom, and Lightroom Classic
Convincing established photographers to switch to a different software is nearly impossible, and DxO recognizes this. To market its wares, it offers compatibility with commonly-used options, offering nearly unbeatable tools that simply add to your existing editing software's capabilities.
For example, the software applies DxO's superior noise reduction, lens-specific corrections, and lens sharpness while continuing to allow you to work in your software of choice. It is compatible with several popular options, including Adobe Photoshop, Lightroom, and Lightroom Classic.
My personal take: The learning curve involved with switching software is enough to deter many folks, but the fact that you can use DxO's superior tools without switching is ideal for folks who are set in their ways.
Clean User Interface
The latest version of PureRaw features a well-designed user face lacking the clutter of previous versions. It mimics the style of PhotoLab's current designs, complete with fewer font styles and a less intrusive gray background to replace the bright white background of previous versions.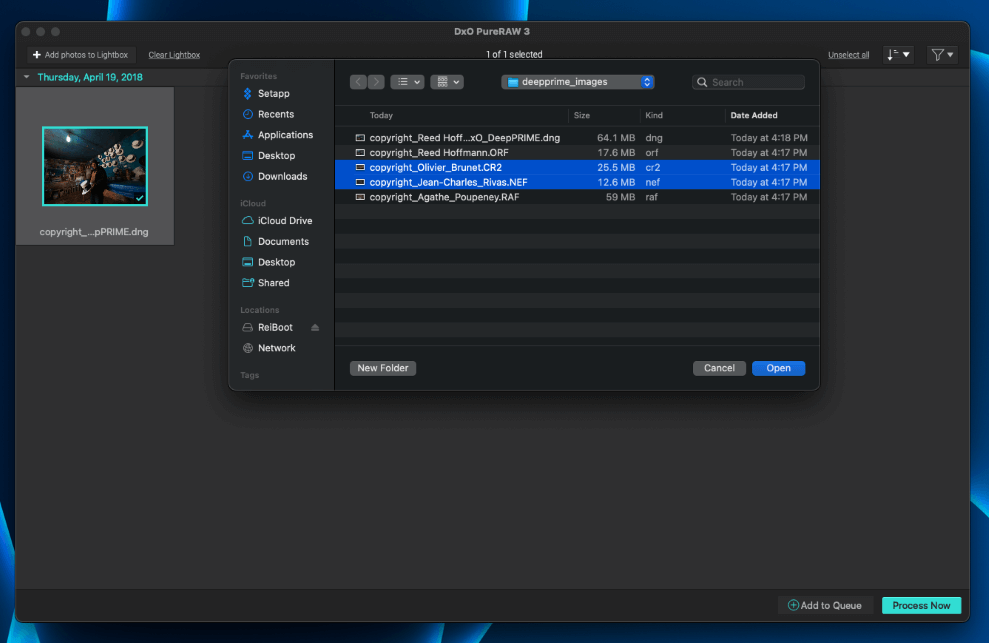 The new design is modern and tasteful, featuring a cleaner look that is easier to navigate and use. Since a cluttered or overly bright setup can be overwhelming, these changes are handy.
My personal take: When editing your photos, an unobtrusive background is nice. Otherwise, the distractions and setup can be a hassle, making things take longer than they should.
Queuing System
PureRaw features a handy queuing system designed to keep your workflow smooth and constant. In previous versions, you couldn't access the program's UI until your batch of selected photos was done processing.
The update simplifies this, allowing you to return to the lightbox view and browse or add images while the queue continues doing its thing. You can even pause and resume the processing when you need to or make changes to the order while the process is underway.
My personal take: The queuing system design is a handy way to keep track of progress as you work, ensuring you're well on your way to ticking the boxes on your to-do list.
Superior Noise Reduction
Noise reduction can make incredible differences in the quality of your photos. DxO's noise reduction feature does an excellent job of maintaining sharp details while smoothing and eliminating speckles.
The tool promotes the focal point, giving your photos an extra pop by removing the noise distractions in the photo. Compared to DxO's competitors, this software does an exceptional job of tackling noise reduction tasks.
My personal take: Noise reduction is an excellent editing step to take your photos to the next level. Given the quality of DxO's PureRaw noise reduction capabilities, this software is a worthwhile consideration.
Affordable Price
DxO PureRaw comes at a flat rate of $129 or $32.25 for four months. If you already had a previous version, you'll only pay $79 to upgrade to the newest version. The software comes at a one-time cost, meaning you won't pay pesky subscription fees for months on end to continue using it.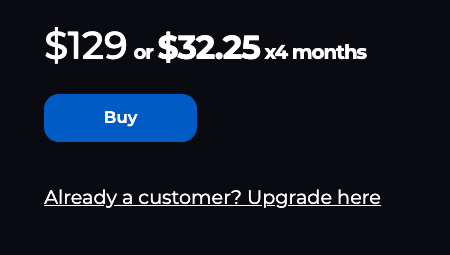 However, it's worth noting that PureRaw isn't a standalone tool. Instead, you'll need to pay for another program, like Photoshop or Adobe Lightroom, for more editing capabilities.
My personal take: For what you get, the one-time cost of DxO PureRaw is reasonable, as you won't contend with never-ending subscription fees.
Free Trial
DxO PureRaw is available in a free trial, allowing you to test the processing power to ensure it's something you want in your toolbox. You can start with a free 30-day trial, and if you don't like it, you don't have to proceed with a subscription.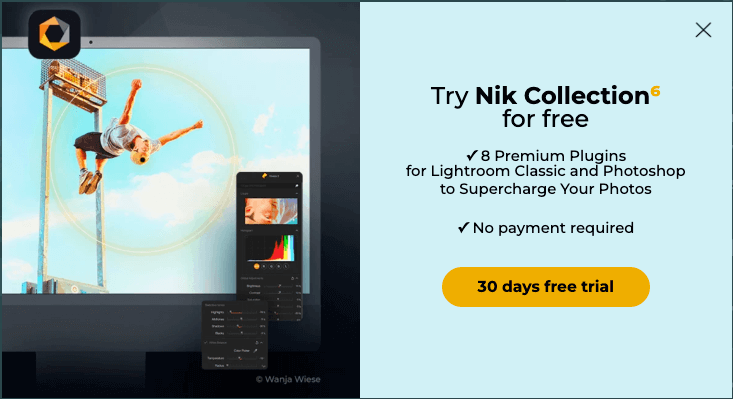 You don't even need to enter your payment details to start the trial, so you don't have to remember to cancel any payments if you decide you don't want the software at the end of the 30 days.
My personal take: A free trial is a perfect way to see if you actually want to commit to the software, so why not take advantage of it? You don't even need to enter payment details to try it! Now that's a win!
Reasons Behind My Ratings
Features: 4.5/5
This software is intended for use as a pre-editing shape-up, so while it isn't a complete editor, it offers solid capabilities for what it's designed to do. It improves your raw camera files by reducing noise, providing lens-specific corrections, and aiding with lens sharpness.
The result? A better starting point to kick off your editing journey. Several of these features are nearly unparalleled by any other software like this, so it's well worth consideration.
Pricing: 4.6/5
DxO's PureRaw software costs just $129 as a one-time purchase. If you already had the previous version, you'll only pay $79 to get the new and improved perks. You don't need to worry about any ongoing subscription fees, as it's only a one-time purchase.
All things considered, the cost of this software is reasonable. It offers unmatched processing power to ensure your photos get a bit of TLC before you start the editing process, making it even easier for you.
Ease of Use: 4.7/5
Using DxO PureRaw to improve photo quality is quick and easy. You simply need to drag and drop photos between it and your imaging app or the file explorer on your file system. To start the processing step, you select your desired denoising engine for the batch of images.
Next, you'll select your output file type and storage location. When you're ready, start the process by clicking "Process Photos," and the software will do its thing. When it's done, the software will offer to show you side-by-side photos to show the improvements.
Then, you can drag the photos to your chosen app, use the Export button to easily transfer them, or select another button to view the images in Explorer. The process is streamlined and simple, ensuring you don't need to spend loads of time sending photos through the software.
Support: 4.5/5
DxO offers plenty of support for PureRaw users. There is a dedicated support page with information surrounding each version to ensure you find the information you need. Categories include installation and activation, functionality, supported cameras, upgrades, general information, and account information.
If you can't find the answer you're looking for, send a request to the customer support team using the link at the bottom of the page.
Final Verdict
DxO PureRaw is a formidable photo editing software. It's an excellent tool to accelerate your editing process, as it refines the photos for you with a few simple clicks, offering unmatched tweaks to improve the photo. 
However, while it's an excellent choice for nearly any devoted photographer, some people might not like the lack of customizability within the edits the software completes.