I used to love Skype. The quality of video conferencing was unparalleled. Skype used to be the buzzword we used when we wanted to connect with friends or colleagues. Not anymore!
Since Microsoft acquired Skype in 2011, the communication platform has changed rapidly from the sleek, friendly software that we users once adored.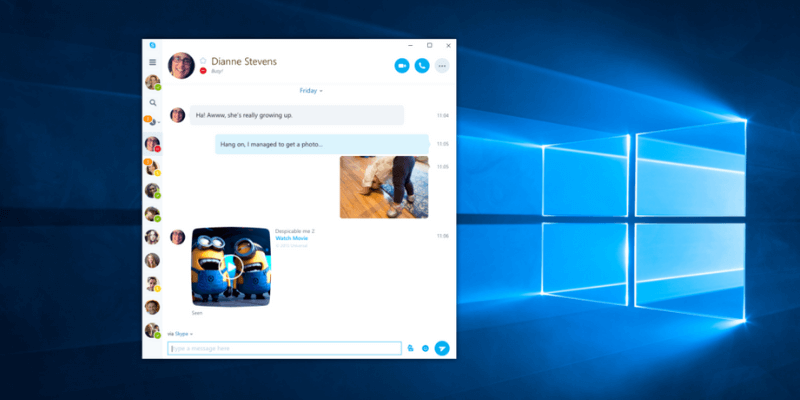 Skype was once a verb, joining companies like Google and Facebook whose services are so important to us. We Google questions; we WhatsApp friends… but we no longer Skype.
Sad? Perhaps. But as technology advances, we sometimes have to move forward because we always prefer to try better things, right? Don't get me wrong though, I still use Skype occasionally.
One thing I found really annoying about the app is Skype opening on its own. Skype keeps starting automatically every time I open up my HP laptop (Windows 10, 64-bit).
Worse yet, sometimes it ran in the background in a "sneaky" way, over-consuming system resources (CPU, Memory, Disk, etc.) on my computer. Does this sound familiar to you?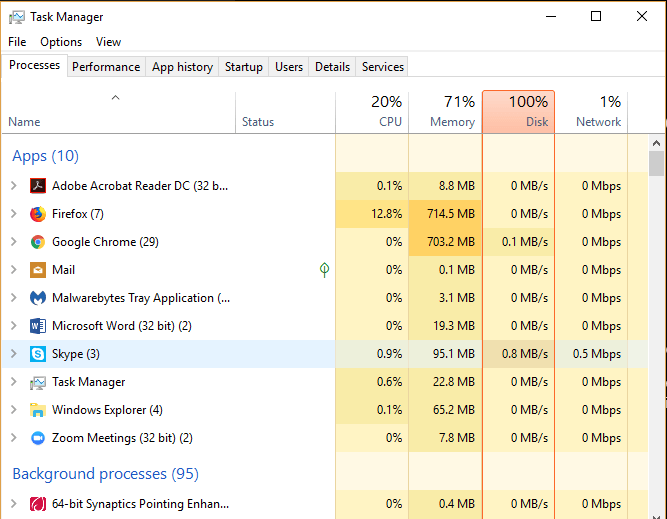 Why does Skype randomly start? How do you disable it? How to uninstall Skype on Windows 10? Questions like these can easily get into our heads.
That's why I'm writing this guide, sharing a number of different ways to help you get rid of Skype on your PC — so Windows 10 can start up faster and you get more work done.
Using a Mac? Also read: How to Uninstall and Reinstall Skype on Mac
How to Stop Skype from Starting Automatically Windows 10
Like I said, Skype uses a lot more resources on a PC than it should. If you want to keep Skype installed on your PC but just want to prevent it from opening on startup, you can disable it easily via Task Manager.
Here's how to do it:
Step 1: Open up Task Manager app on Windows 10. You can either do a quick search to launch it or right-click the menu bar located at the bottom of your desktop and select "Task Manager".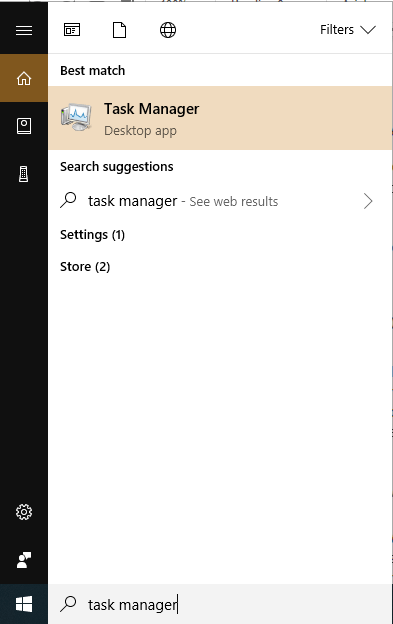 Step 2: You'll see a Task Manager window like the one below. The default tab is "Process", but to turn off Skype so it won't autorun, we need to go to the Startup tab.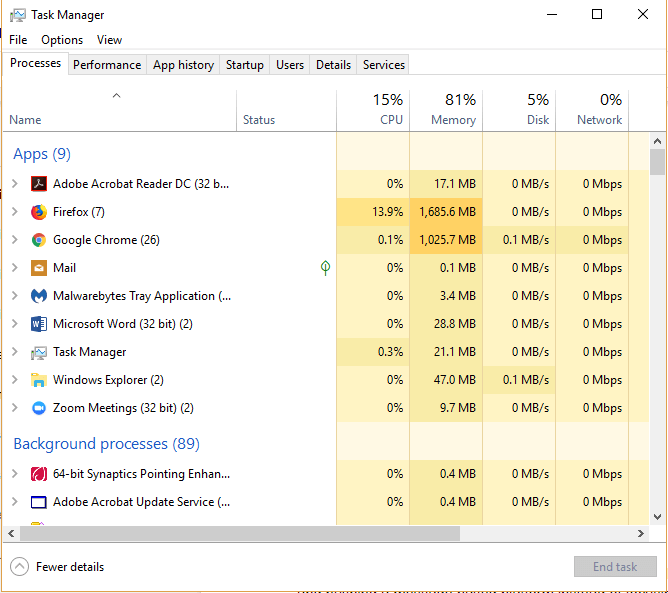 Step 3: Click on the "Startup" tab, then scroll down until you see the Skype icon. Click once to select that row, then right click on the program and hit Disable.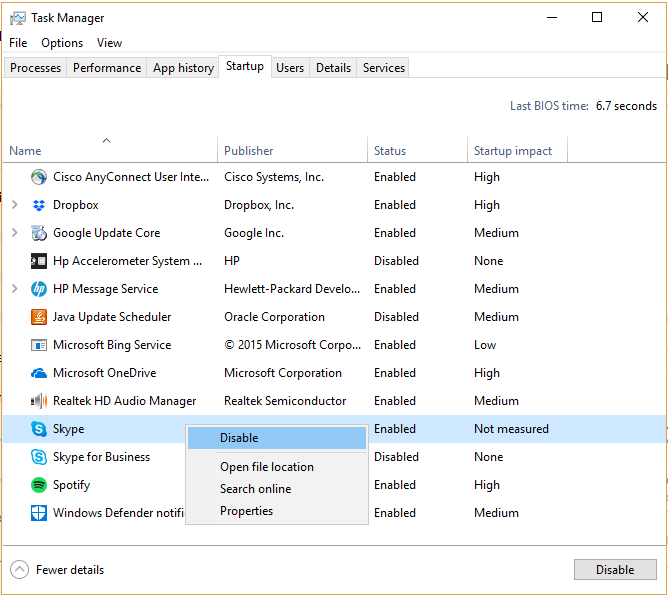 That's it. Skype won't open up on its own when you start your computer next time.
Tip: Pay attention to those apps shown as "Enabled" under the Status column. They may be pre-installed programs just like Skype. If you don't need them to run automatically, disable them. The fewer programs or services that are on that startup list, the faster your PC will be.
Now you've stopped Skype (or other apps) from running automatically on Windows 10. What if you actually want to completely remove Skype on your computer? We are going to show you a few different ways to get the job done.
4 Ways to Completely Uninstall Skype on Windows 10
Important: You need to quit Skype first and make sure its services aren't running in the background before you start any of the methods below.
First, close Skype if you have it open. Just click on "X" in the top-right corner, which should be highlighted in red when you scroll over it.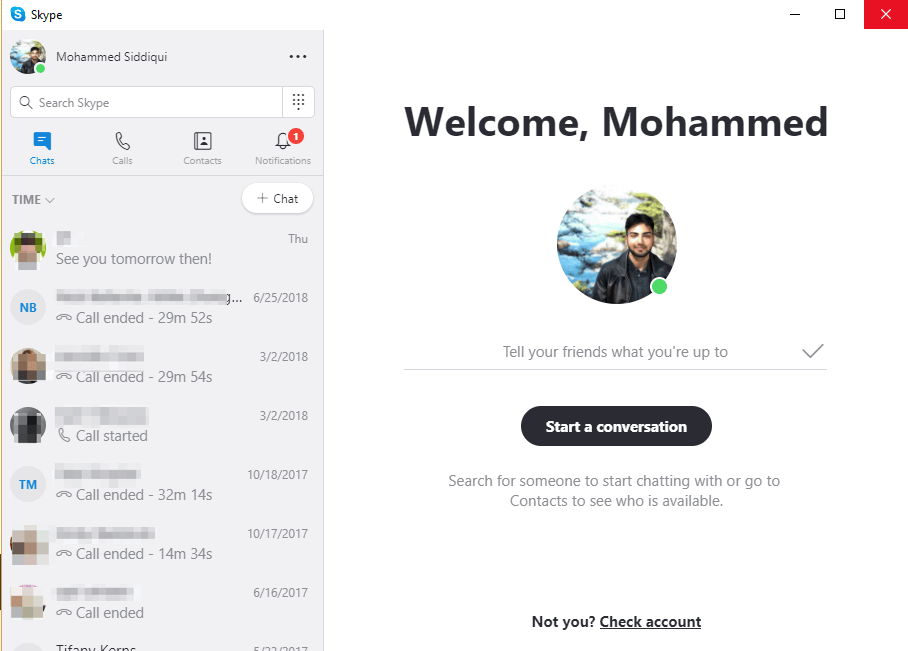 You should then look down and find the Skype icon in the Windows navigation bar. Right-click on the icon and click "Quit Skype".
Great! Now you can proceed to the uninstallation process using one of the following methods.
Note:
Method 1-3 is recommended if you don't want to install any third-party uninstaller programs.
Method 4 is recommended for other situations, such as when Skype can't be uninstalled using the traditional ways (aka methods 1-3).
Method 1: Uninstall via Control Panel
Using the Control Panel is the easiest way to uninstall Skype or any other apps. This way, you won't accidentally delete shortcuts or other programs such as Skype for Business.
Additionally, it must be noted that there is both a Desktop application and a Windows application for Skype. You can download the Desktop version from the Skype website and install the app from the Windows Store. We'll cover how to uninstall both of them.
Once Skype is closed completely, go to the left-hand side of the Windows navigation bar and find the Control Panel by typing it into Cortana's search bar.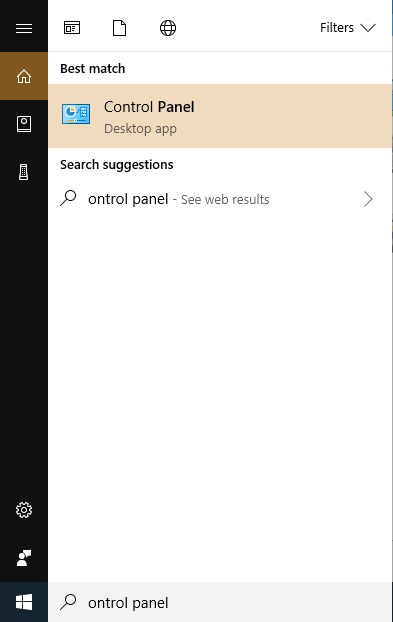 Once the Control Panel is open, click on "Uninstall a Program" on the bottom-left.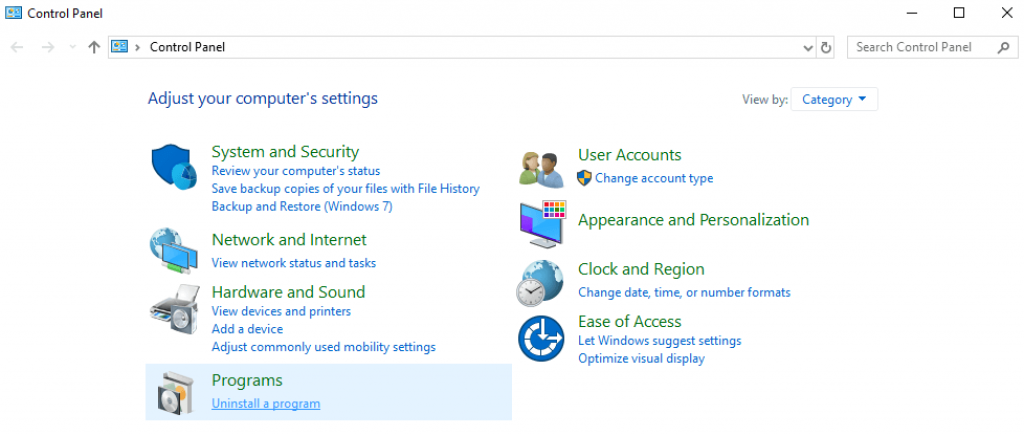 Scroll through the list of programs on your PC to locate Skype. Right-click on it and select "Uninstall".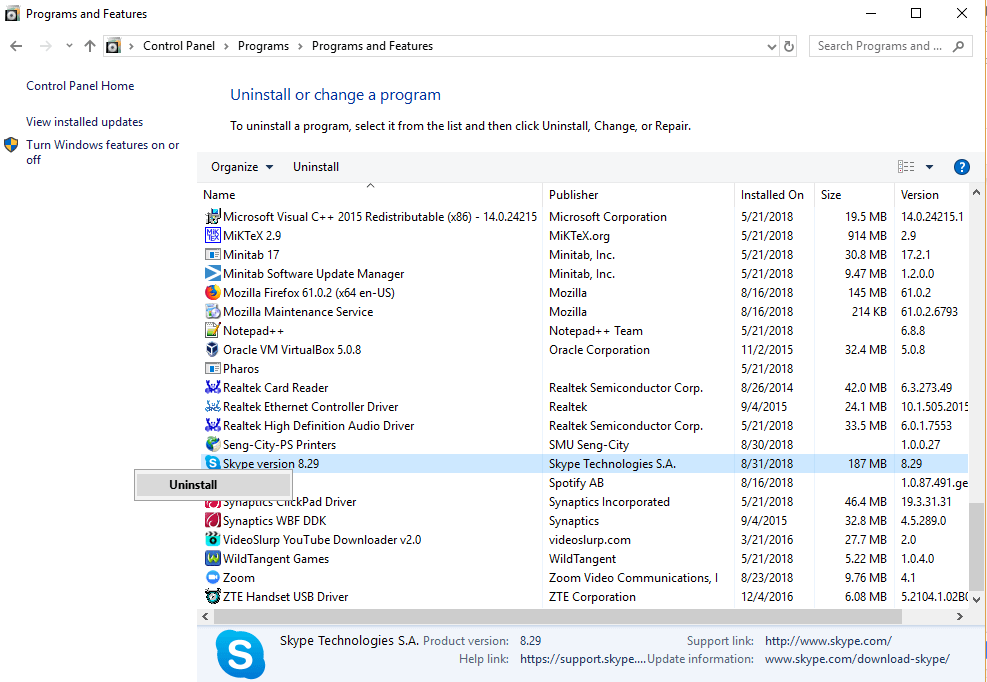 Windows will then uninstall Skype. You will receive a prompt once it is done.
Method 2: Uninstall Skype Directly
Alternatively, if you know where the Skype file is stored on your PC, you can uninstall it directly from there.
For most users, it's stored in the Programs folder. The file most of us see on our Desktop is usually a Shortcut, not the actual file you want to uninstall.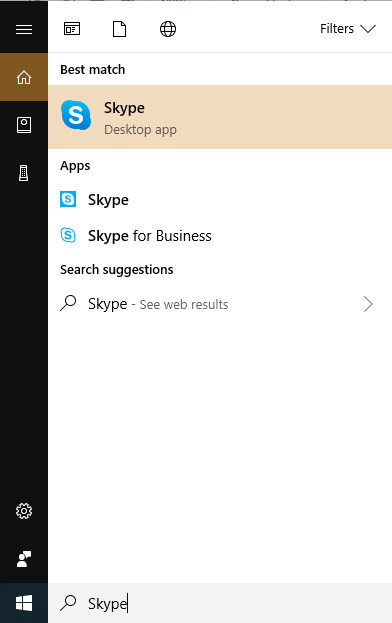 Simply type "Skype" in Cortana's search bar on the bottom-left corner. Once the application pops up, right-click, then hit "Uninstall".
This method applies to the Skype app whether you downloaded the installer file from Skype.com or from the Microsoft Store.
Method 3: Uninstall through Settings
Type 'programs' in Cortana's search box and click on the "Add or remove programs" option.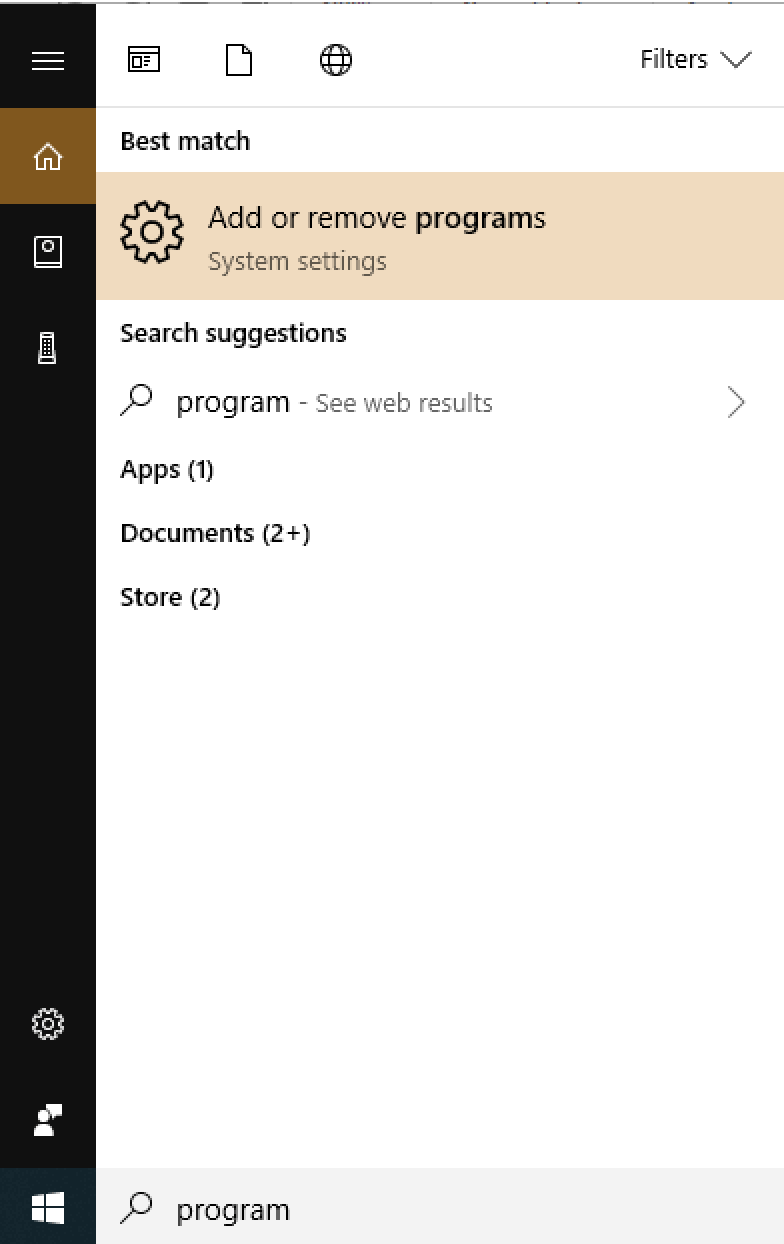 Once you open it up, click on Apps & Features and scroll down to the Skype application. As you see from the screenshot below, both versions appear on my computer. Click on one of them and hit the Uninstall button. Then do the same with the other once the first is done.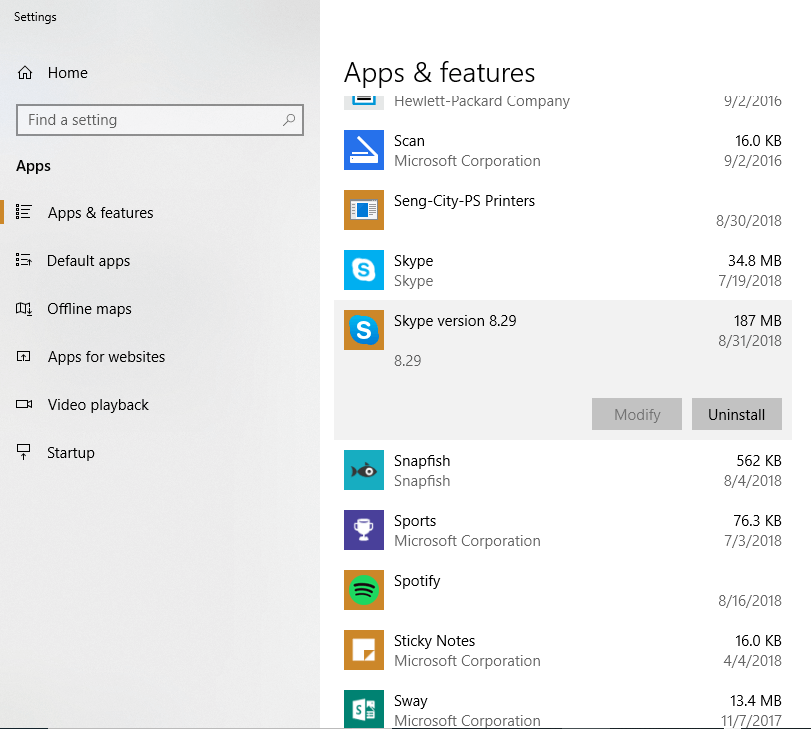 Removing Residual Files Associated with Skype
Although you've uninstalled the Skype app, it's very likely that some residual files related to Skype are still stored on your PC taking up unnecessary space.
To find and delete them, press the "Windows + R" keys and type in "%appdata%" in the dialog box that appears. Note: the Windows button is between ALT and FN on most PCs.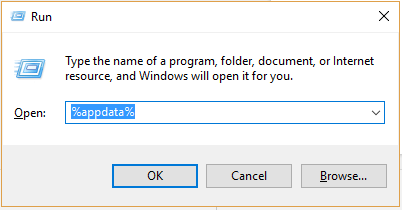 Once you click "OK" or hit the Enter key, the following window should appear in Windows Explorer: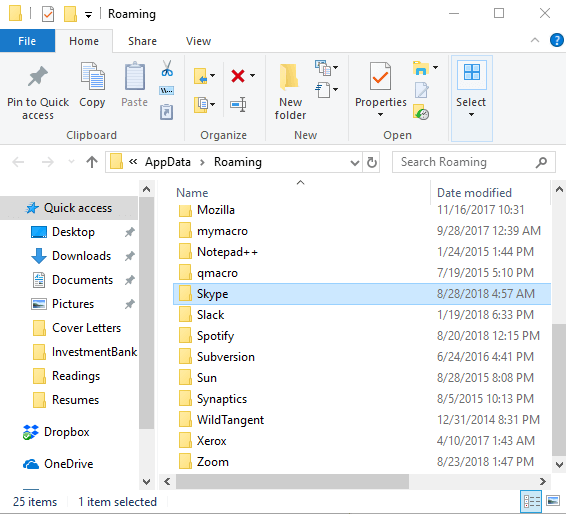 Scroll down to find Skype, then right-click and select Delete. Note that this will delete your chat history as well. If you want to save your history, open the folder and find the file with your Skype username inside. Copy and paste that file somewhere else.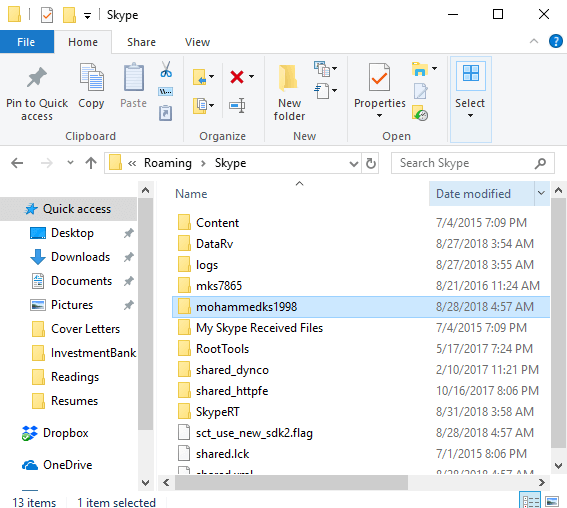 The last step is to clean out entries in your registry. Press the "Windows + R" combination keys again. Type "regedit" and hit enter.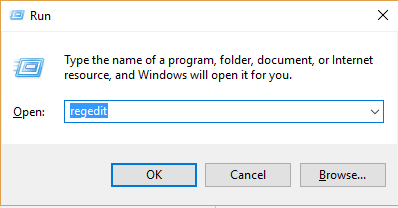 The following file should pop up: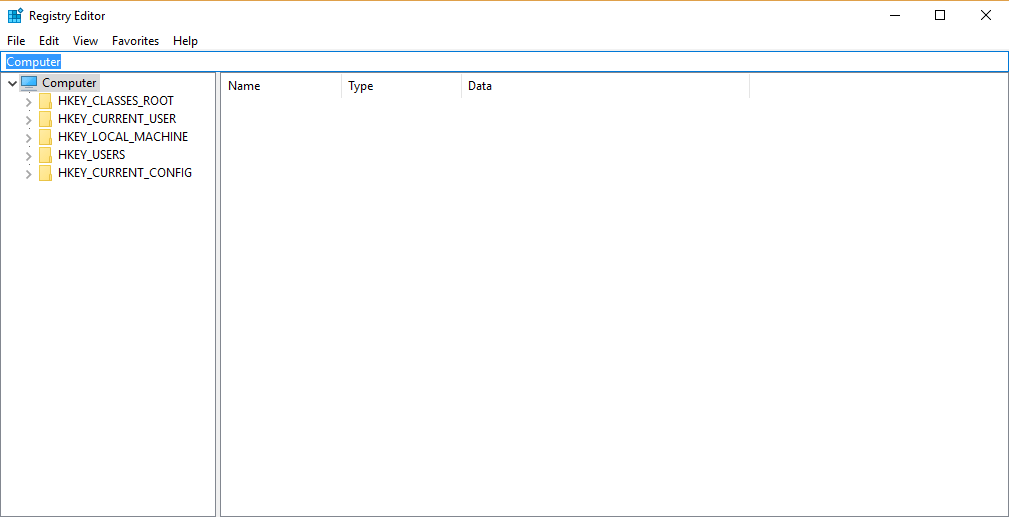 Select Edit and then Find.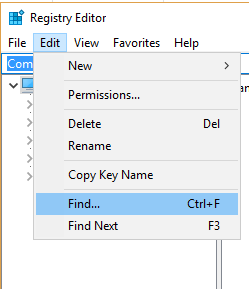 Type in Skype. You'll see up to 50 entries appear. Right-click and delete each one individually.
NOTE: You should be extremely cautious when modifying your registry as serious problems could arise. It is always a good idea to back up the registry before changing the registry.
Method 4: Use a Third-party Uninstaller
Once you've exhausted the other options and find Skype is still not uninstalling, you may want to turn to a third-party uninstaller. We recommend CleanMyPC for this purpose. While it is not free, it offers a free trial that can help uninstall most programs including Skype.
Once you get the program installed, navigate to the "Multi Uninstaller" feature through the left panel. Soon, you should be to see a list of all the programs you've installed on your computer. Scroll down to find Skype, then check the little box on the left side. Click the green "Uninstall" button when it pops up.
Some Extra Thoughts
Skype isn't used that much anymore. Although many corporate clients such as GE and Accenture still sign up for Skype for Business and stand by the new software, ordinary users have found replacements.
For example, Apple fans go to FaceTime, gamers use Discord or Twitch, and over 1.5 billion people worldwide (including myself) use WhatsApp. Other services such as WeChat and Telegram are "stealing" users from the once-iconic Skype.
Many consumers dislike Skype because of its relatively bad connectivity, outdated UI, and pushing a message-based platform instead of focusing on what made it a big name: video calls. For these purposes, Whatsapp and Facebook Messenger are two applications that perform very well for an ordinary user.
WhatsApp was made famous as a messaging and voice calling application that could use Wi-Fi. It has expanded to include video calling and remains free for users. It has a very simple design and is easy to navigate for first-time users. Group chats are seamless and can include a maximum of 256 members.
It's also great for international travel and will automatically change to your new phone number under certain plans with a new SIM. Some data plans in countries such as Singapore include unlimited WhatsApp usage. Additionally, there is also a web version that allows users to text from their laptops.
Messenger by Facebook offers similar services but is integrated with Facebook and is more focused on the messaging experience, although it offers voice and video calling features.
We can directly message our Facebook friends. The primary concerns with Messenger are its heavy data usage and battery drain. However, Facebook has released a Lite version of Messenger to address these concerns.
Final Words
Although I have fond memories of calling friends or chatting with fellow MMORPG players over Skype as a child, I've found Messenger and WhatsApp much more convenient for calling these days.
Skype's advantage over the others is the Microsoft ecosystem. It so often comes pre-installed, if not easily accessible or highly recommended, on Windows PCs.
The point is, most of us still have Skype on our PCs but usage and engagement probably won't be that high. And if you are actually reading this, chances are you are like me: you're annoyed by Skype's auto-running and wanted to disable or uninstall it.
I hope your uninstallation of Skype went successfully and you are able to find an alternative if you decide to permanently leave Skype. Please drop a comment below with further questions or concerns and let us know how it went for you.