DaVinci Resolve is an excellent, multifunctional video editing tool that works well for pros and beginners alike. Whether you are just learning to edit or color grade, or you have been doing it for 10+ years, DaVinci Resolve is a great software to use.
My name is Nathan Menser. I am a writer, filmmaker, and stage actor. When I am not on stage, on set, or writing, I am editing videos. Video editing has been a passion of mine for six years now, and so I am confident when I sing the praises of DaVinci Resolve.
In this article, we will be covering DaVince resolve and the reasons why it might be a good editing software for a beginner.
Reason 1: Simple and User-Friendly Interface
Editing is difficult, and launching any editing software for the first time as a beginner can be a daunting task. But, in stark contrast to its competitors, when you launch DaVinci Resolve, you will find a clean interface, that does not make you want to pull your hair out.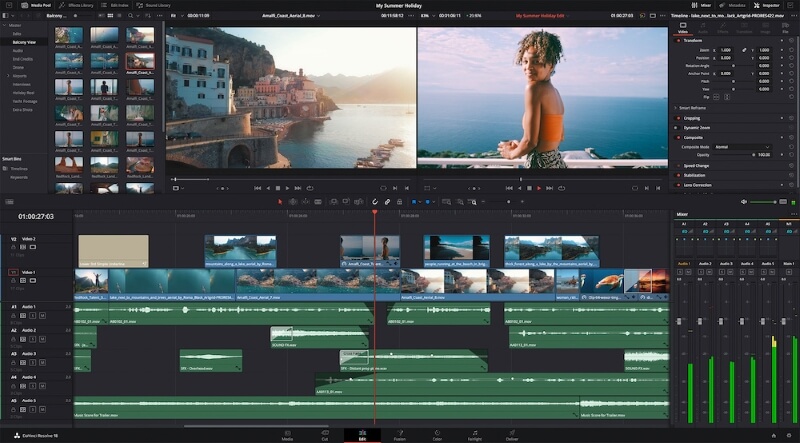 All of the tools are labeled with obvious icons, and learning the keyboard shortcuts is just a Google search away. They mitigate the learning curve by having each section concise and cohesive. The tools you need are not hidden, but they are not crowding the screen.
If you want to make simple edits then the controls and processes are simple. They do not make you jump through hoops to key out a green screen or make splits in the video.
Reason 2: It Has All Your Post-production Needs in One Spot
DaVinci Resolve is a multi-faceted video creation tool. The scope, (pun intended) of possibilities in Resolve is nearly limitless. From VFX, to color grading, to audio, or even just cutting and splitting your clips, DaVinci has it all.
Most other video editing software such as Adobe Premiere Pro, and VEGAS Pro are not all-encompassing software. This means if you want to get into the weeds of audio and VFX, or even if you want more than just mediocre color grading tools, you can find it in one spot.
When you are just starting to learn how to edit and color, switching between software can become confusing, difficult, and tedious. So, having all of this software packaged in a nice little bow can mitigate some confusion for beginners.
Reason 3: DaVinci Resolve is Free (Well, Sort of)
Resolve has a free version and a pro version. With the free version, you get everything you need as a beginner. Even as a professional, I used DaVinci Resolve in the "demo" form for 3 years before paying. It still has everything most editors would want out of an editing software.
If you are an editor on a budget, head over to the Blackmagic website to pick up a copy of this and be treated to a zero ad, no watermark, unlimited use, no trial period, and fully functional video editing software.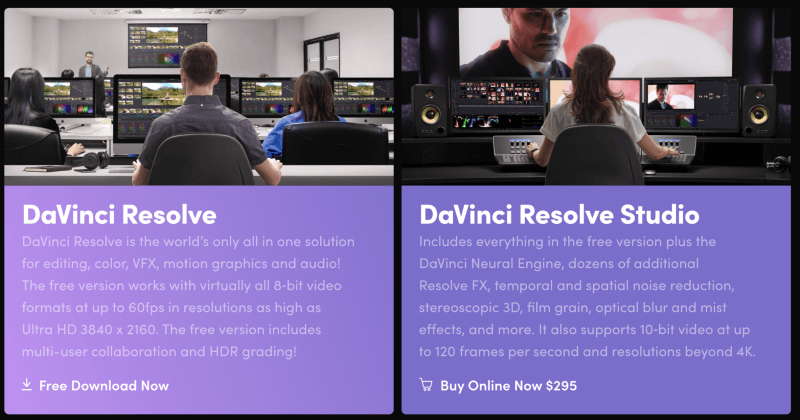 After you gain some editing experience and you decide that you need more features, I have some good news for you. It is affordable, and NOT subscription based! For a single payment of $295, you get all the Resolve features and a lifetime of free version upgrades.
Also, you may already have the pro version! They are giving out Pro versions of the software like it is candy. It comes with almost every physical BlackMagic video product. So if you have picked up a BMPCC go check your box, and you might find a treat.
Reason 4: It is Industry Standard
For many years Davinci Resolve was revered as just a color grading tool in the industry, but with recent updates, and more big creators giving the software attention, it has begun to rise in popularity, making it an Industry standard editing software too.
It has more features, it's all-in-one software, it is a one-time payment, and it does not constantly crash. It is no wonder it is becoming the standard all around the video-making industry.
Closing Thoughts
Don't forget that editing is difficult, just because you find software that is great for beginners, doesn't mean it will come to you naturally. So take your time, research, and don't get too frustrated, because everyone starts somewhere
I hope this article has helped you in deciding whether DaVinci Resolve is good for you and what video editing software would work best. Good luck with your video editing journey.
Please leave a comment letting me know if there is anything else you would like to know about the video editing and filmmaking world, and as always any feedback is welcome and appreciated.