Internet access is everywhere. Like oxygen, we just take it for granted. We don't have to plug in or dial up, it's just there—and we use it for just about everything. The only time you really think about it is when there's a problem, and when that happens, the most likely candidate is your wireless router.
Your router is probably the hardest working appliance in your home. It's powered on 24/7 and is connected to every internet-capable device in your home. It creates and manages your home network, shares your modem's internet connection, and keeps intruders out. We take it for granted until something goes wrong, then everyone notices and starts complaining within seconds.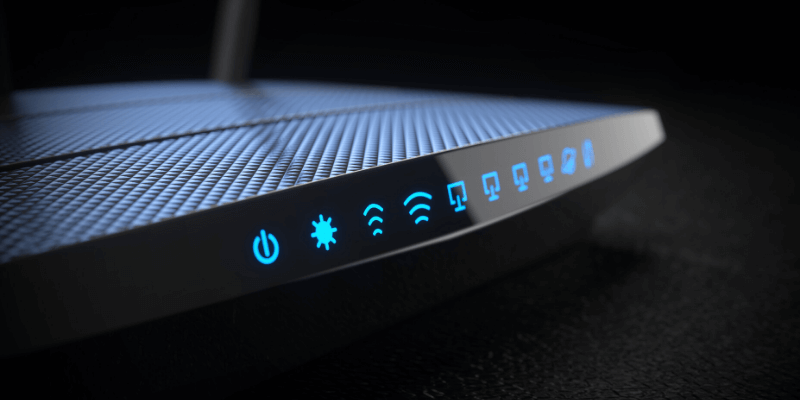 Chances are you use the wireless router that was supplied by your internet service provider. That would be an inexpensive device that's only just up to the job of getting your family online, and may even be built into your modem. If your internet feels slower than it should be, it may be that your router can't keep up. If your home Wi-Fi performance is suffering, that's probably because of your router, too. Don't put up with the one your ISP gave you for free. Upgrade!
Many families should consider replacing it with a whole-home mesh network. They consist of a number of devices you place around your home to ensure that the internet will be available in every space you'll expect it to be. It's not much more expensive than purchasing a single router, and the difference will be noticeable. The Netgear Orbi is an excellent choice, providing wide coverage of speedy internet to your whole home.
But maybe you care more about performance than coverage—for example if you've invested heavily in gaming or video production. In that case, a powerful gaming router will deliver more bandwidth to the devices that you care about. The Netgear Nighthawk AX12 is the router from the future. It's the only router we cover that supports the latest Wi-Fi and security protocols and is incredibly powerful.
For the more budget-conscious, we've included some affordable routers that perform quite well. Of these, our preference is the Linksys EA6900, which offers impressive performance and exceptional value for money.
We'll cover nine routers in total, three from each category: mesh systems, fast and powerful, and budget. We'll list the benefits and disadvantages of each so you can make an informed decision.
Why Trust Me for This Router Guide
My name is Adrian Try, and I've been using the internet since the 90s. To begin with, we'd just plug a single computer directly into a dial-up modem that was only connected to the internet when necessary. Things have changed drastically since then!
I've purchased and configured dozens of wireless routers, both for my large family at home and for the companies I've worked for. Some have been reliable, other have needed more attention. I learned to extend their range in various ways, both wirelessly and through a cable.
My current home network is made up of four wireless routers located strategically around the house and office. While it's working well, the hardware is several years old and quite outdated. I'm planning to replace it next year—possibly with a whole-home mesh system—and I'm keen to check out the best alternatives. Hopefully, my discoveries help you with your own router choice.
Best Wireless Router for Home: Top Picks
Not everyone has the same needs and priorities when choosing a wireless router, so we've given you three winners: the best mesh network system, the best powerful router, and the best budget router. If you're looking for a router capable of powering your VPN, we've given our recommendations in a separate VPN router review.
Best Mesh Network: Netgear Orbi Whole Home Mesh WiFi System
The Netgear Orbi RBK23 is a mesh networking system consisting of one router and two satellite units. It offers excellent coverage and speed at this price point, featuring tri-band technology that allows it to maintain the same speed with additional devices in use, and supports 20+ devices.
At a glance:
Wireless standard: 802.11ac (Wi-Fi 5),
Coverage: 6,000 square feet (550 square meters),
MU-MIMO: Yes,
Maximum theoretical bandwidth: 2.2 Gbps (AC2200).
The Orbi is a little different in design from other mesh networks: the satellites only connect to the main router, rather than to each other. That means that it's best to set up your router in a central location. Despite this, the coverage of the system is excellent.
Users who switch to Orbi seem thrilled with the extra wireless range and speed it offers. It's like they're experiencing the internet in a whole new way. Many of these had upgraded their home internet speed with their ISP but weren't seeing the improvement they expected with their old router. Even those who switched from other mesh networks were thrilled with the extra speed, and that includes those who switched from Google Wifi, which has similar specifications on paper.
Tri-band WiFi Maximizes Speed. An additional third band dedicated to your Orbi router and satellite frees up the other two bands for maximum speed to your devices
The system features a Gigabit Ethernet port on each unit, parental controls, and built-in anti-virus and data-theft protection. Set up is more complicated than, say, Google Wifi, but you only need to set it up once, but you enjoy the extra speed every day. The Orbi App (iOS, Android) certainly helps, but isn't as easy to use as it could be, and some users prefer using the more traditional (and less attractive) web app.
Other configurations: 2-pack and single units are available—they offer less coverage, but are significantly cheaper. Or upgrade to the more expensive AC3000 RBK53S or AX6000 RBK852 which offer even faster speeds.
Most Powerful: Netgear Nighthawk AX12
The Netgear Nighthawk AX12 looks like a stealth military aircraft—matt black, streamlined and sleek. It's the router you should choose if speed and power are your priority, and you're willing to pay a premium for performance.
It's the only Wi-Fi 6 router we feature in our roundup, and it can achieve speeds up to 6 Gbps spread across all of your devices. With 12 simultaneous streams, more devices can use Wi-Fi at the same time (that's six times better than dual-band), and the router can cope with 30+ devices. Coverage is excellent and is only beaten by a mesh network with three units.
At a glance:
Wireless standard: 802.11ax (Wi-Fi 6),
Number of antennas: 8 (hidden),
Coverage: 3,500 square feet (390 square meters),
MU-MIMO: Yes,
Maximum theoretical bandwidth: 6 Gbps (AX6000).
This is one nice-looking router, and users who spent their money on it seem very happy. Besides lots of comments about how cool it looks, almost all talk about the significant speed increase it brought to their network—even though most of their devices don't even support the new Wi-Fi 6 standard yet. Although the router is expensive, they felt it was money well-spent.
The unit features five Gigabit Ethernet ports, a built-in VPN, and supports the new WPA3 security protocol. The range of the router is sufficient for some users to replace their old mesh system with it—it will cover large, two-story homes. The Nighthawk App (iOS, Android) helps with setup and configuration and includes an internet speed test. Users seem to like this app a lot more than the Orbi's and find the setup process fast and easy.
Other options: If you require extra coverage, add on a NightHawk WiFi 6 Mesh Range Extender for an additional 2,500 square feet and the ability to connect additional 30+ devices.
And if you need even more power from your router (really?), upgrade to the Nighthawk RAX200, which supports 40+ devices and speeds of up to 11 Gbps (AX11000) over 12 streams, but offers less coverage.
Best Budget: Linksys EA6900
If you're looking for a less expensive router, you don't have to settle for slow speeds and unreliable coverage. The Linksys EA6900 router offers dual-band AC1900 speeds. That's great value for money—other routers at this price point only offer AC1750 and no MU-MIMO support. The EA6900 offers good performance and a nice set of features but doesn't have a wide enough range to cover larger homes.
At a glance:
Wireless standard: 802.11ac (Wi-Fi 5),
Number of antennas: 3 (adjustable, external),
Coverage: 1,500 square feet (140 square meters),
MU-MIMO: Yes,
Maximum theoretical bandwidth: 1.9 Gbps (AC1900).
For an inexpensive modem, the EA6900 is all that many users need. Setup is easy, Wi-Fi speeds are adequate for most uses, and the Media Prioritization settings mean more reliable content streaming. User reviews express satisfaction with the speed of the router, and often the coverage as well.
It features four Gigabit Ethernet ports and two USB ports—one 2.0 and the other 3.0—so you can attach a printer or external hard drive. The Linksys Smart WiFi App (iOS, Android) aids with the setup and configuration of the router—in fact, you have to set it up using the app. User comments about Linksys' support are quite positive.
Other Good Wireless Routers for Home
Mesh Networks
Google WiFi
Google WiFi is a mesh system that costs a little less than our winning Orbi but at the cost of speed and coverage. Although the router has a maximum bandwidth of 2.3 Gbps, the satellite units are only 1.2 Gbps, slowing the network.
As a result, reviewers who have used both units find Netgear's network noticeably faster. You also need more units to cover the same area. Where Google Wifi excels is in ease of use. Users consistently found it quicker and easier to set up and maintain.
At a glance:
Wireless standard: 802.11ac (Wi-Fi 5),
Number of antennas: 4 (internal) per unit,
Coverage: 4,500 square feet (420 square meters),
MU-MIMO: No,
Maximum theoretical bandwidth: 2.3 Gbps.
Each unit features two Gigabit Ethernet ports but no USB port. An easy-to-use app facilitates speedy setup of the system and ongoing monitoring of what's connected, including the ability to prioritize devices. Because the app focuses on ease-of-use, more technical users may find the lack of configuration options limiting.
Other configurations: If you have a smaller home, you can save money by purchasing a 2-pack or single unit.
Stop press: Google has recently announced a successor, Nest WiFi, which should be available by the time this review is published. The units look promising and claim faster speeds, wider coverage, and support for 100 devices. What's really different is that there's a Google Home smart speaker built into every unit. This product may become my new favorite.
TP-Link Deco M5
The TP-Link Deco M5 Smart Home Mesh Wi-Fi System is almost half the price of the other mesh networks in this review and still offers excellent coverage, though with slower speeds. The sleek units are quite unobtrusive and will blend into most homes, and they can cope with over 100 devices (compared to the Orbi's 25+) being connected at the same time.
At a glance:
Wireless standard: 802.11ac (Wi-Fi 5),
Number of antennas: 4 (internal) per unit,
Coverage: 5,500 square feet (510 square meters),
MU-MIMO: Yes,
Maximum theoretical bandwidth: 1.3 Gbps (AC1300).
The Deco features two Gigabit Ethernet ports (but no USB ports), WMM Quality of Service, and malware protection. It includes parental control with profiles and active content filtering using preset age-appropriate categories, making it ideal for families with younger children.
The Deco app lets you configure your system quickly and easily, and it seems to be updated from time to time to address customer requests.
Other configurations: If you don't need so much coverage, you can purchase a 2-pack or single unit and save some money. For additional speed, you can upgrade to the AC2200 Deco M9 for around double the cost.
Other Powerful Routers
TP-Link Archer C5400X
While the TP-Link Archer C5400X doesn't support Wi-Fi 6 as our winning Nighthawk AX12 does, it's still incredibly fast and powerful, as well as a little cheaper. With a focus on gaming, the router will minimize lag and prioritize traffic to the devices that are important to you. While TP-Link doesn't publicize the range of the router, it features eight powerful antennas and RangeBoost, a feature that increases the quality of the signal so devices can connect at greater distances.
At a glance:
Wireless standard: 802.11ac (Wi-Fi 5),
Number of antennas: 8 (external),
MU-MIMO: Yes,
Maximum theoretical bandwidth: 5.4 GHz (AC5400).
The C5400X is a full-featured tri-band gaming router and offers eight Gigabit Ethernet ports, game first priority, and airtime fairness to ensure maximum responsiveness when gaming. Power users will love how configurable it is, and non-technical users are able to set it up without difficulty.
Two ethernet ports can be combined for double the speed, and there's also two USB 3.0 ports, and built-in VPN and malware protection are included. A mobile Tether App is available for administrative tasks.
Asus RT-AC5300
The Asus RT-AC5300 is cheaper again, and boasts almost the same speed as the TP-Link Archer above but is powered by a slightly less powerful processor. However, it provides much better coverage—up to 5,000 square feet—which is suitable for very large homes and rivals mesh networks.
At a glance:
Wireless standard: 802.11ac (Wi-Fi 5),
Number of antennas: 8 (external, adjustable),
Coverage: 5,000 square feet (460 square meters),
MU-MIMO: Yes,
Maximum theoretical bandwidth: 5.3 Gbps (AC5300).
This tri-band router features four Gigabit Ethernet ports (you can combine two for an even faster connection) and built-in USB 3.0 and 2.0 ports. Additional features include quality of service, game first priority, airtime fairness, parental control, and malware protection.
Other Budget Routers
Netgear Nighthawk R6700
The Netgear Nighthawk R6700 is a little slower than our winning budget router and costs more. So why would you choose it? It has several advantages: it has a more powerful processor, can be configured with the Nighthawk App, has a built-in VPN, and works with up to 25 devices.
At a glance:
Wireless standard: 802.11ac (Wi-Fi 5),
Number of antennas: 3 (external),
Coverage: 1,500 square feet (140 square meters),
MU-MIMO: No,
Maximum theoretical bandwidth: 1.75 Gbps (AC1750).
The R6700 features four Gigabit Ethernet ports and one USB 3.0 port. Smart parental controls and malware protection are included, and the Nighthawk App (iOS, Android) lets you install your router in just a few steps.
While it provides enough bandwidth for general use, its slower speed and lack of MU-MIMO mean it's not the best choice if performance is important to you. The range of this router isn't suitable for larger homes.
TP-Link Archer A7
While not as fast or powerful as our winning budget router, the more affordable TP-Link Archer A7 will cover more of your house and supports 50+ devices. It's a good basic router for normal home office and family use.
At a glance:
Wireless standard: 802.11ac (Wi-Fi 5),
Number of antennas: 3 (external),
Coverage: 2,500 square feet (230 square meters),
MU-MIMO: No,
Maximum theoretical bandwidth: 1.75 Gbps (AC1750).
This dual-band router features four Gigabit Ethernet ports, one USB 2.0 port, quality of service and parental control, making it a great all-rounder. While this is one of the slowest routers we review, speeds will be sufficient for most purposes, and it offers greater coverage and supports more devices than our other budget picks.
What You Need to Know about Wireless Routers
Someone's Hogging the Internet!
Do you notice when your internet gets suddenly slow? If you're like me, you'll wonder who's hogging the internet.
What we require from a router is rapidly changing. More and more of our lives are spent online, and every year we seem to use more devices to achieve that. Someone may be gaming on one side of the house, another person is watching Netflix in the lounge room, and at the same time, others are watching YouTube on their iPads in their bedrooms. Meanwhile, every one of your computers, phones, tablets, and smart home devices are connected to your router 24/7. You need one that can cope!
So think about how you'll be using the internet next year and the year after. Every Wi-Fi gadget that you buy puts even more load on your system:
smartphones,
tablets,
computers,
printers,
gaming consoles,
smart TVs,
even smart scales.
In short, you need a better router. One that's able to cope with all of your devices being connected and provides more than enough bandwidth to serve them all. It needs to have enough range to cover every area of your home so that you have the internet every time you expect it. And it should be easy to set up and maintain.
Some Technical Terms
How Do You Spell Wi-Fi?
Everyone spells it differently! The problem started with "high fidelity" stereos, which are often referred to as "hifi" or "hi-fi", sometimes with strange capitalization. That term became the inspiration for the common way of shortening "wireless network": "wifi" or "wi-fi" or "WiFi" or "Wi-Fi". Note that this doesn't stand for "wireless fidelity" or anything else, it just sounds like "hi-fi".
So what's the correct way to spell it? While I personally prefer "wifi", the Oxford and Merriam Webster dictionaries have it as "Wi-Fi", and this agrees with the way the Wi-Fi Alliance (who own Wi-Fi-related trademarks) consistently spell the term. We'll follow their lead in this review, except in product names that use a different spelling.
I'm sure in the end simplicity will win out and "wifi" will come into vogue. It doesn't seem that long ago when we had to spell "email" as "e-mail".
Wireless Standards and Speeds
We're now up to our sixth wireless standard:
802.11a,
802.11b,
802.11g,
802.11n,
802.11ac (now also called Wi-Fi 5) supported by most devices,
802.11ax (or Wi-Fi 6), the newest standard, supported by only the newest devices.
Each standard supports faster speeds than the previous one. In this review, eight devices we cover support Wi-Fi 5, and only one supports the very new Wi-Fi 6. In 2019, you don't want to buy anything slower than 802.11ac.
You'll often see a speed expressed like AC2200 (802.11ac running at 2200 Mbps, or 2.2 Gbps), or AX6000 (802.11ax running at 6 Gbps). Those speeds are spread across several bands, so won't be available to a single device—it's the theoretical total bandwidth available to all of your devices.
The more bands a router has, the more devices it can serve simultaneously. The routers in this review are at least dual-band and many tri-band. The most powerful router we cover, the Netgear Nighthawk AX12, has an incredible twelve bands.
MU-MIMO
MU-MIMO means "multiple-user, multiple-input, multiple-output". It allows a router to communicate with multiple devices simultaneously, which is important for households that have several people using the internet at once.
Security Standards
For security, you should ensure that users need to log on to your router in order to use it. It keeps the bad guys out. When setting up your router, you can typically choose from a number of security protocols:
WEP, which has the weakest security, and shouldn't be used,
WPA,
WPA2, most commonly-used protocol,
WPA3, which is so new that very few devices support it.
We recommend you use WPA2, which is supported by most routers. Only the Netgear Nighthawk AX12 currently supports WPA3, but this will become better supported over the next few years.
Someone Will Hate Any Router I Recommend
I hate recommending products that get bad reviews, so this roundup only includes routers that have a 4-star consumer rating and above. Despite this, not everyone is happy with their purchase. I was surprised to discover that typically around 10% of consumer router reviews are only 1-star! Though the exact figure varies, that's true across the entire range of routers included in this roundup.
How could this be? Should we be concerned? The users who leave these negative reviews have genuine problems—signal drop-outs, interrupted streaming, the router restarting, and the wireless network simply vanishing—and are understandably upset. Often the problem is resolved, either by returning the unit under warranty for a refund or replacement.
Because of their negative experience, they express astonishment at the positive reviews the router receives and passionately recommend that potential buyers to choose another. Should we? How seriously should we take these negative reviews? That's something you'll have to wrestle with yourself.
I admit that I've had a few routers over the years with similar problems. That's not surprising—they're complex devices that are expected to work 24 hours a day. Do these reviews mean that 10% of the routers are faulty? Probably not. Angry and frustrated users are more likely to leave a review than happy users.
So, which router should you choose? They all have negative reviews! Don't be crippled by indecision—do your research, make a decision, and live with it. My approach is to expect the best, make use of the router's warranty if necessary, and first spend time reading both the positive and negative consumer reviews to get a balanced picture of what to expect.
How We Picked These Wireless Routers
Positive Consumer Reviews
I have my own router experiences and preferences, but the number of routers I've never used massively outnumbers those I have. And technology keeps changing, so the brand that was best a few years ago may have been leapfrogged by others.
So I need to take into account the input from other users. That's why I value consumer reviews. They are written by real users about their own experiences with routers they bought with their own money and use every day. Their complaints and praise add a lot more color to the story than just reading spec sheets.
In this roundup, we've only considered routers with a consumer rating of four stars and above that were reviewed by hundreds of users or more.
Router Specifications
Support the Most Recent Wireless Standards
You need a modern router for the modern world. All of the routers in this review support either 802.11ac (Wi-Fi 5) or 802.11ax (Wi-Fi 6).
Total Speed/Bandwidth
With so many devices connected to the internet, you need all the speed you can get. Most families would like this shared fairly across all devices, but gamers need as responsive service as possible and prefer their machines to get priority. There are routers perfect for both scenarios.
Routers with a single band can only serve one device at a time, so we've only considered routers that are dual- or tri-band (or better). Most smartphones and household appliances use the 2.4 GHz band, while more data-hungry laptops and tablets are able to use the 5 GHz band.
Wireless Range
It's hard to predict how much coverage each router will provide because it is affected by many factors. Your wireless signal can be hampered by thick brick walls or your refrigerator. Other wireless devices like your cordless phone, microwave, or neighbor's router can cause interference that adversely affects the range of your router. But we've included the manufacturer's estimates where available.
A router typically has a line-of-sight range of about 50 meters, but this depends on the type and number of antennas it has. Placing it near the middle of your home will improve the range because everything will be closer on average. Wi-Fi extenders help and are covered in a separate review.
Mesh networks are the easiest way to extend your network's range so that it fills the entire house, though the initial cost may be greater. These consist of a number of routers (or a router plus satellite units) that work seamlessly and don't require multiple network names and passwords, allowing you to move from room to room with your devices while remaining connected. A mesh network with three units will cover most large homes.
Number of Devices Supported
How many devices does your family own? Next year it will probably be more. Future-proof your router by choosing one that supports more devices than you currently need. Some can handle 100+ wireless devices.
Router Features
Routers may come with various additional hardware and software features that may be useful to you or not. They may include high-speed Gigabit Ethernet ports so you can plug into the network for even higher speeds. They may have one or more USB port so that you can plug in peripherals like older non-wireless printers and external hard drives. They may include QoS (quality of service) that ensures consistent bandwidth, parental controls, or anti-malware software.
Price
How serious are you about the quality of your router? There's a very wide range of prices, starting from inexpensive, sub $100 routers that will meet many users needs, up to the most powerful, cutting-edge units costing $500 or more.
Here are your options, starting with the most affordable.
TP-Link Archer A7
Linksys EA6900
Netgear Nighthawk R6700
TP-Link Deco (Mesh)
Google Wifi (Mesh)
Netgear Orbi (Mesh)
Asus RT-AC5300
TP-Link Archer C5400X
Netgear Nighthawk AX12
Mesh network 3-packs take up the middle ground in terms of the initial investment required and are the best choice for users who expect every device to have excellent service in every room of their home or business. They provide the best coverage, excellent speed, and great value for money. If you can get by with less coverage, you can save money by purchasing just one or two units.
But they're not the best for everyone. Some users—including serious gamers—prioritize power over coverage, and may choose a more expensive router. They prefer routers with powerful processors, eight wireless antennas, absolutely huge bandwidth, and an abundance of ethernet ports. Our winner even supports the next-gen 802.11ax Wi-Fi 6 standard. If more coverage is required, this can be achieved by adding satellite units, and we cover your options in a separate review.
Finally, many users have more basic needs. They just want to get on the internet and don't need to spend a pile of cash. We've included a range of routers that will suit.