If you are someone who has been curious about digital or graphic design, you probably have heard of Canva. It has become trendy over the past few years as it is one of the best graphic design platforms that serve both designers and non-beginners.
My name is Kerry and I have been dabbling in graphic design and digital art for years. I have been using Canva as a main platform for designing and am extremely familiar with the program, best practices for using it, and tips to make creating with it even easier! In doing so, I have researched and explored all of the subscription plans to find the benefits of each.
In this post, I'll highlight some of the best premade presentation templates that you can find one Canva. If you are looking to save time or just try out a new design (that you didn't have to create!), there are plenty to choose from directly from their library.
Key Takeaway
In order to find presentation templates, simply search for the keyword "presentation" in the search bar on the main Canva homepage and it will bring you to a selection of templates.
You can narrow down styles on the left side of the screen where users can check off specific styles such as minimalist, floral, corporate, and clean.
Any template that has a crown attached to it is only available in a Canva Pro or Canva for Teams paid subscription account.
Who Should Use Canva Presentation Templates
Anyone who is already on the Canva platform or anyone who needs to create a professional presentation should take advantage of the premade templates because they are such an asset that will save you time and give you design ideas that you may not have had before!
While the premade templates vary in the number of slides that are available, you can always duplicate slides to make your presentation longer. In addition, users have the ability to add additional elements, change the layout of slides, and further customize each of these slides with relevant information.
10 Best Free Canva Presentation Templates
Now that you know a little bit more about Canva's library of premade presentation templates, I picked out some of the best ones to use (of all different styles!).
1. Floral, Feminine & Calm Self-Introduction Presentation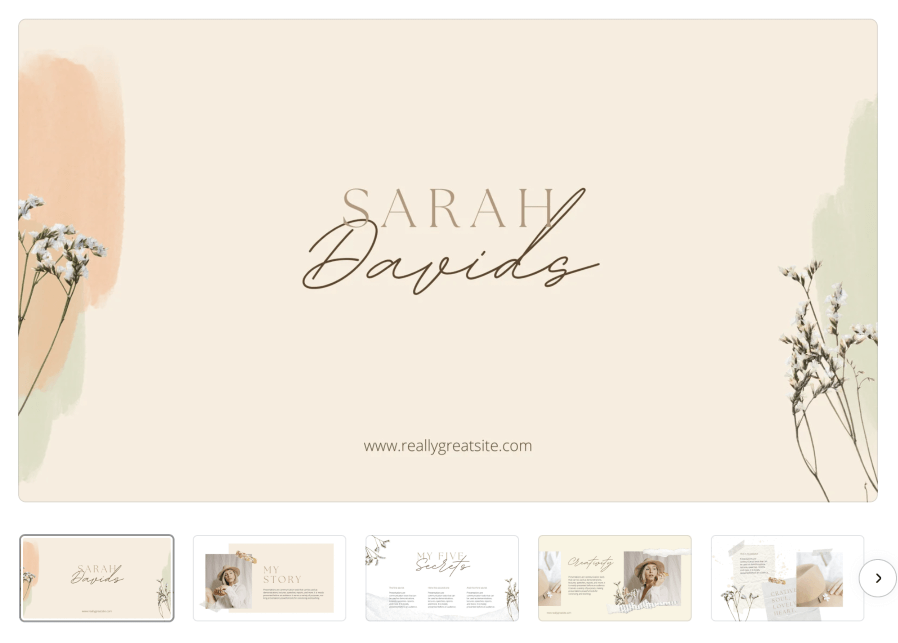 Great for: A minimalist and clean presentation with earth tones and nature-inspired elements to keep things clean and simple.
Number of Slides: 10
This elegant and neutral presentation template is an excellent choice for anyone who is looking to add some beautiful and calming earth tones to their presentation. The minimalist designs with floral accents provide a quaint touch and keep this template fresh.
2. Blue Modern Technology Business Presentation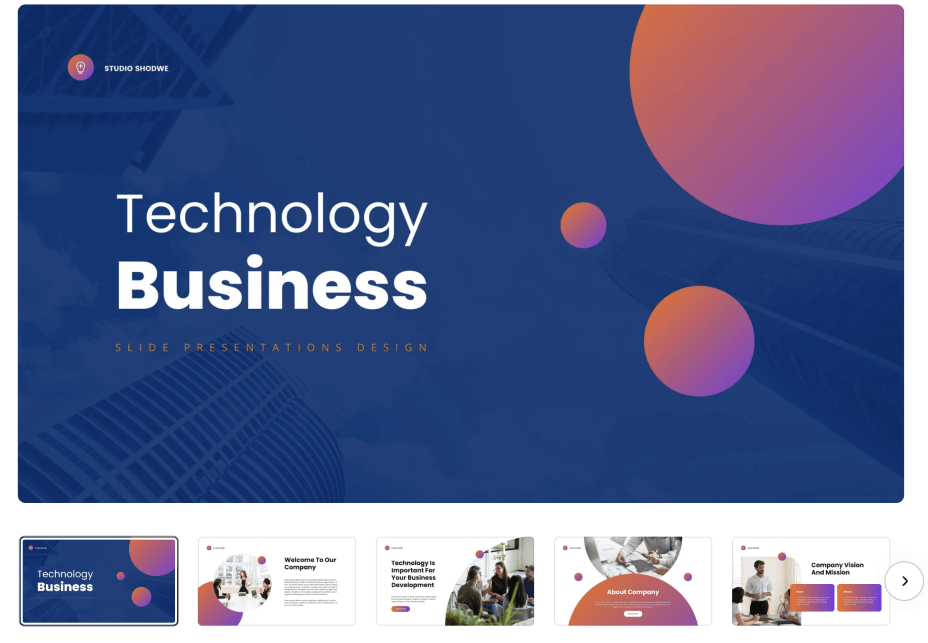 Great for: A business presentation that combines futuristic elements and graphics.
Number of Slides: 15
Looking for a futuristic pop of color? This modern technology-themed template will fit your needs if you want to capture your audience's attention without overwhelming them with too many graphics. The designs that are available within this presentation keep things consistent and captivating.
3. Grey and Yellow Minimal Modern Company Profile Presentation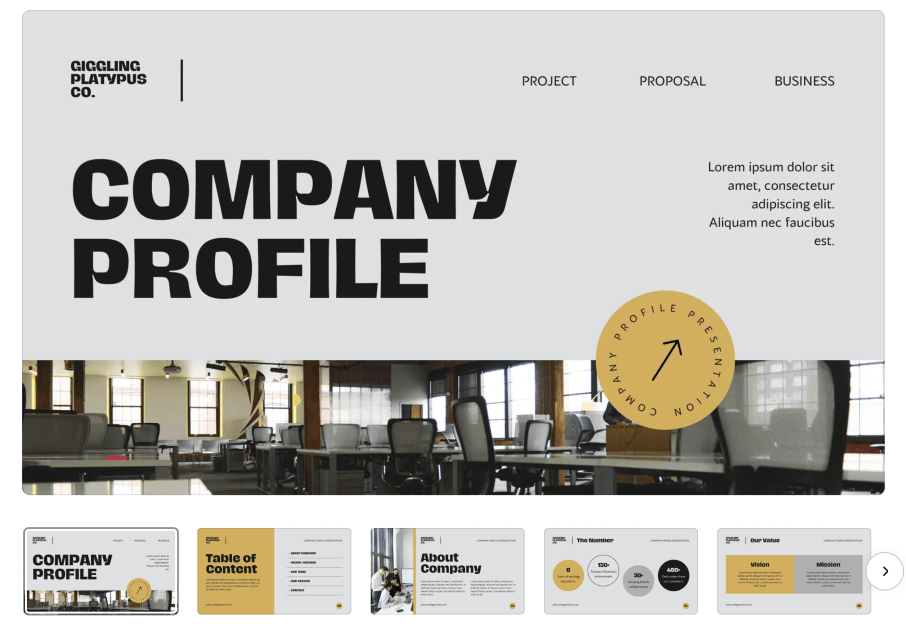 Great for: A presentation that combines classic and modernism to create a pristine and standout display of information.
Number of Slides: 10
This template maintains a classic yet modern look as its color scheme of gray, yellow, and black creates a seamless and consistent look throughout the template. It is a bold and fresh template that gives off a modern yet classic design and it is a great choice for those in a modern work environment.
4. Green and White Basic Cell Theory and Structure Biology Education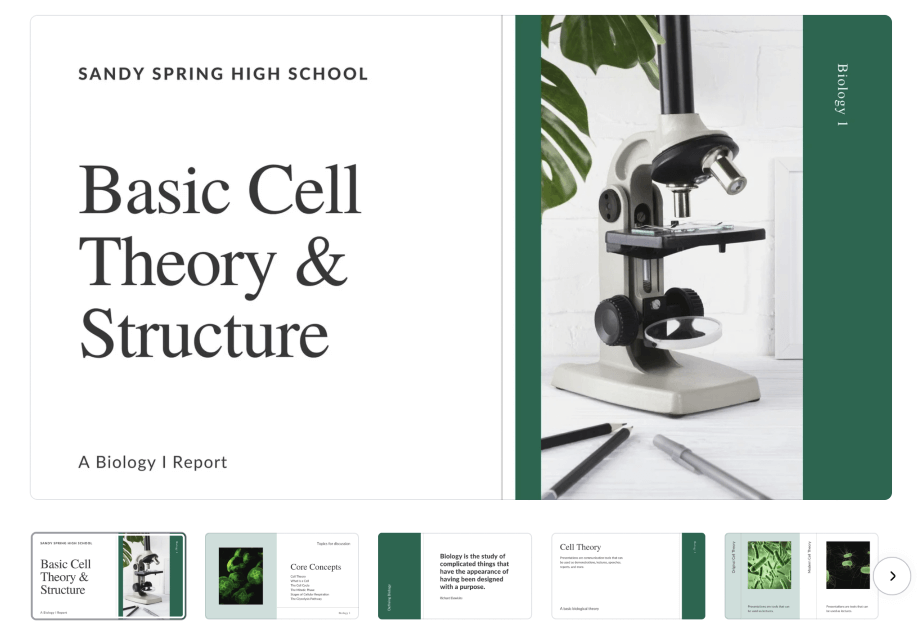 Great for: A structured presentation that truly highlights information and content paired with accents of color.
Number of Slides: 27
Don't worry! While this template is aptly named "Basic Cell Theory", users do not have to stay within the biology realm to use it. I love the clean and structured design of the 27 pages of this template which allow for some color pop but also keeps the content at the forefront of the presentation.
5. Brown Monochrome Simple Minimalist Presentation Template
Great for: A minimalist and rustic presentation that doesn't distract audiences with overwhelming graphics or added elements.
Number of Slides: 7
Another minimalist template for you, but this time it is a more rustic design with tones of brown and beige. While this grouping of slides isn't as varied as others within this article, I love that the designers focused on priority slides, which is perfect for those who want to create a direct presentation without all of the extras!
6. Orange Blue Simple Gradients Financial Technology (Fintech) Technology Presentation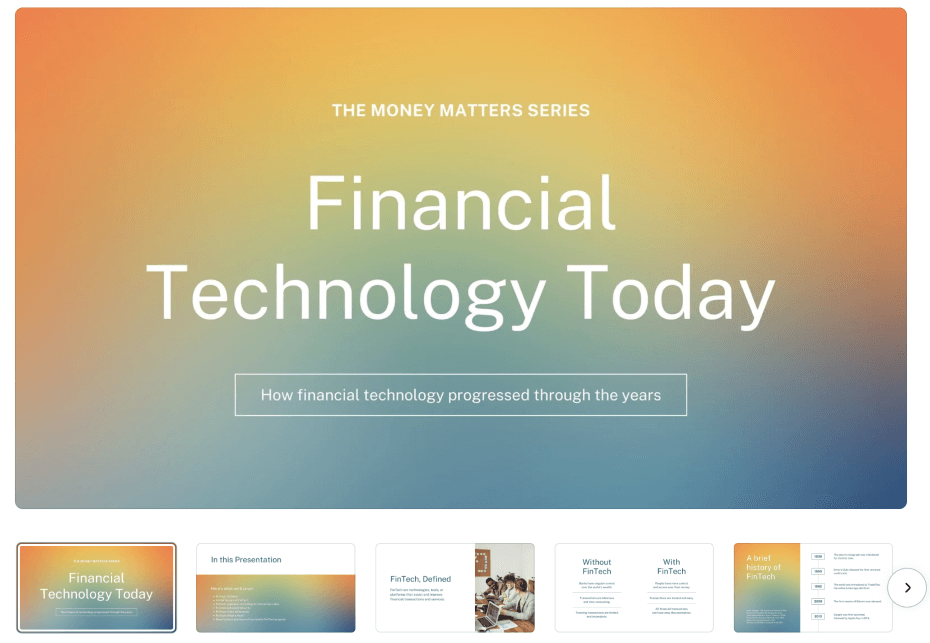 Great for: Fun and vibrant presentations that pair well with the rainbow colors on each of the slides.
Number of Slides: 16
If you are someone who is looking for a colorful palette and wants to wake up your audience so that they can pay attention to your presentation, this rainbow template is an excellent choice!
I love the gradient choices and throughout the sixteen different slides, you will be sure to find the layout that is best for all types of information, graphics, and content.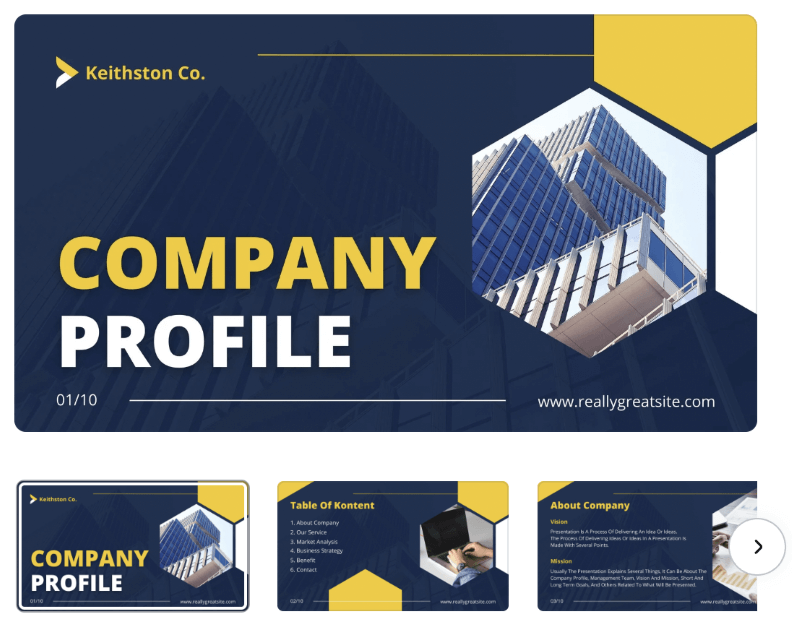 Great for: Serious business proposals and those who appreciate geometric features and architectural elements.
Number of Slides: 10
With the geometric designs and darker color scheme, this presentation template is a strong contender for business. The frames included in the slides are easily adjusted so that your customized photos can fit within them – highlighting visuals that go well with text information.
8. Black and White Pastel Scrapbook Company Profile Presentation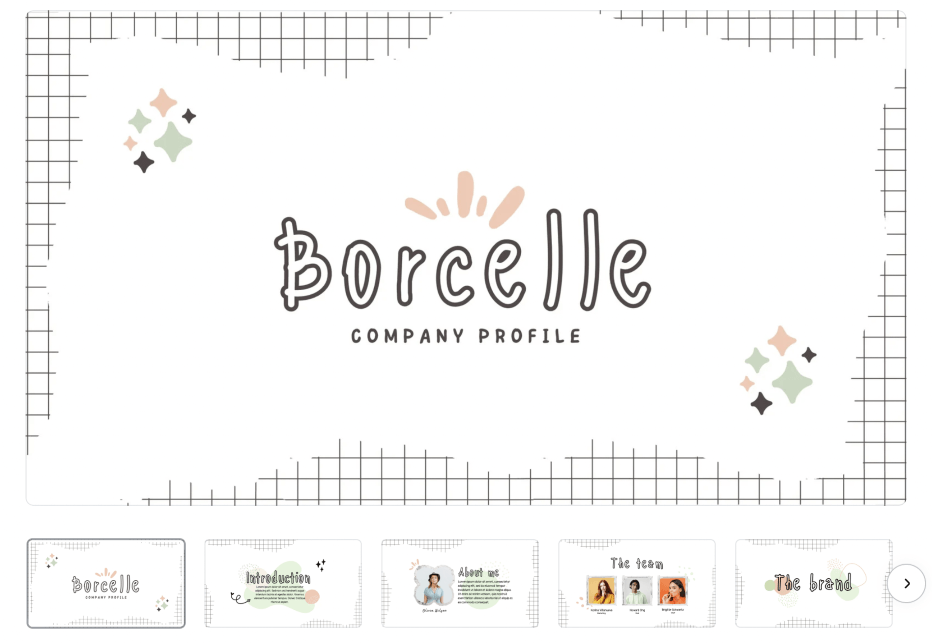 Great for: A nostalgic and quaint presentation that includes whimsical elements that add a playful element to your presentation.
Number of Slides: 18
This is a whimsical choice for those who may be looking to create a presentation with a nostalgic or more DIY feel to it.
There are 18 different pages in this template, which allows users to find the best slides for their information. The modern black and white color scheme plus scrapbook-type elements combine business with a lighter tone.
9. Black and White Minimalist Commercial Real Estate Architecture Presentation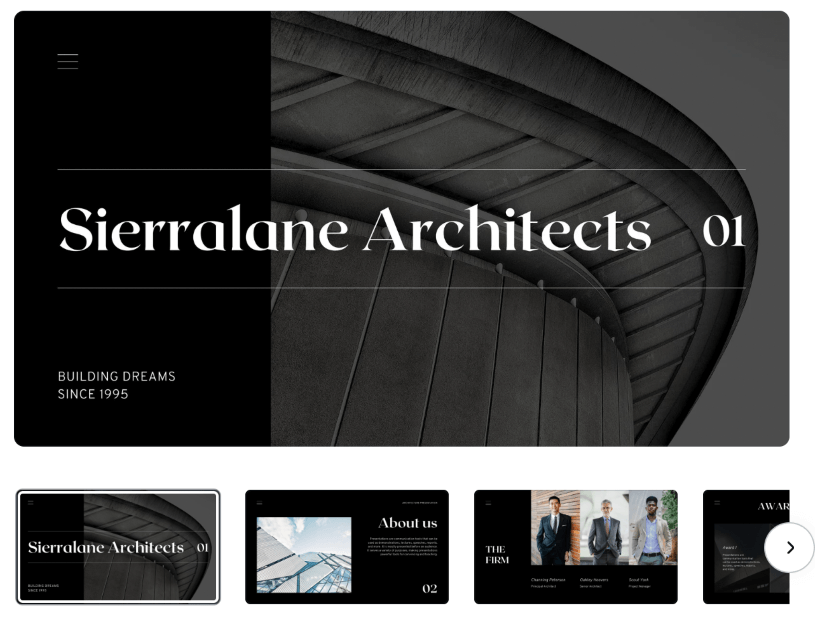 Great for: A classic presentation that doesn't distract with colorful elements. For those who want to have a stark contrast between included content and the design.
Number of Slides: 12
A classic presentation that is sure to showcase that you mean business. The heavy darker colors set the tone that allows any included content, images, or writing to become the prominent feature of the slide.
This is a great choice for those who are looking for a professional design and do not want to spend tons of money having someone else create it for them!
10. BOOST Playful Abstract Creative Presentation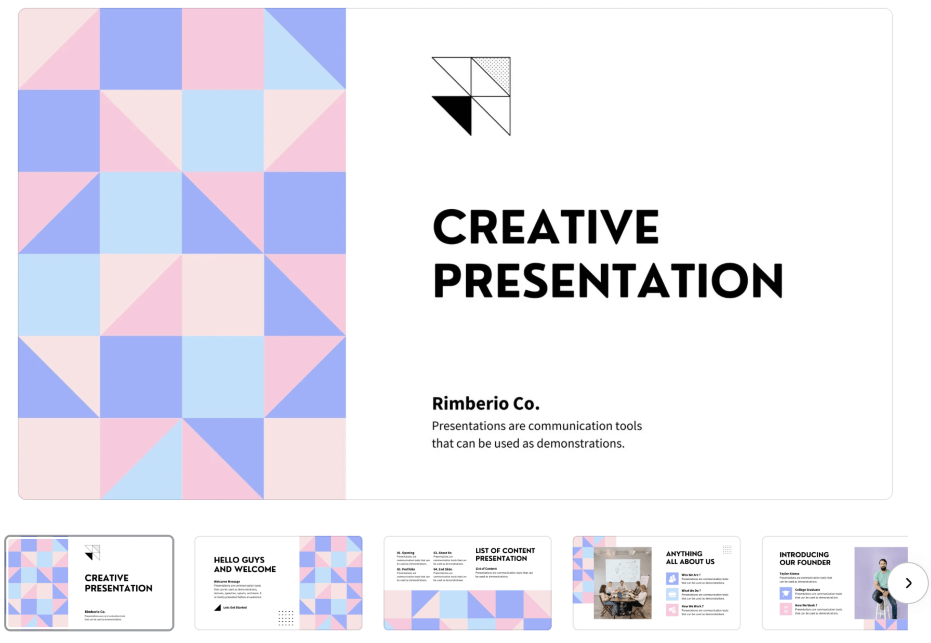 Great for: Playful presentations that incorporate colorful elements or fun ideas.
Number of Slides: 15
For the creatives out there, this template with fifteen slides is an excellent choice if you are looking to showcase products, information, or photos that you want to pop.
In contrast to the darker color scheme that was in the template above, this one has the same effect with a lighter and more fun style!
While Canva does offer thousands of fantastic presentation templates in their free plan, I have some of my top choices that can be found in the library for Canva Pro and Canva for Teams members.
1. Dark Green And Cream Vintage Classy Interior And Home Presentation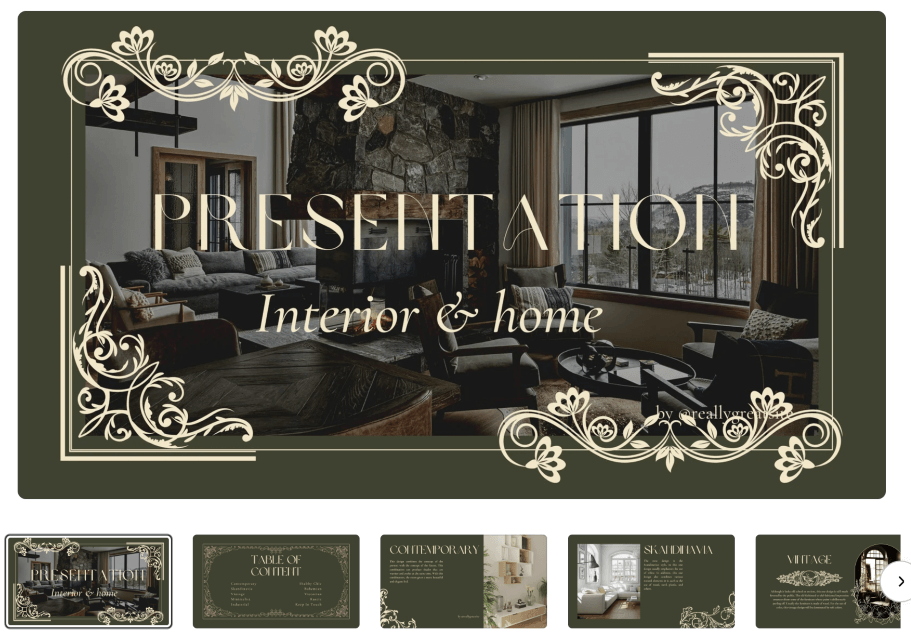 Great for: Any elegant and classic presentations that require added finesse.
Number of Slides: 12
The borders and corner graphics within this template are beautiful, as they give a feel of elegance and style. The contrast of the evergreen background with the light yellow accents allows for any content that is placed on these slides to find a spot that is sure to capture the attention of viewers.
2. Black and White Modern Minimalist Architecture Presentation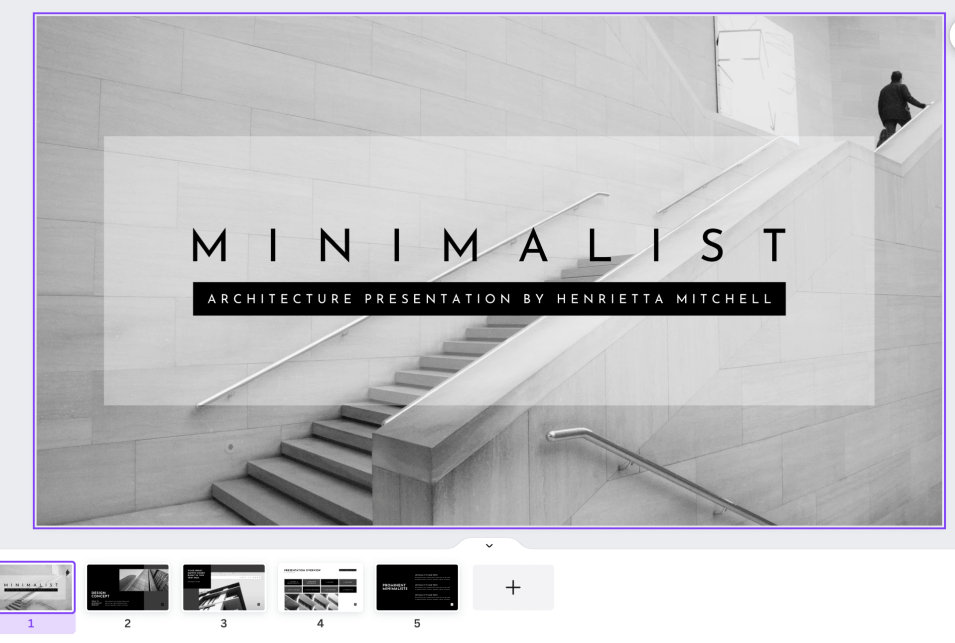 Great for: A minimalist and clean presentation with black and white tones to keep the information simple.
Number of Slides: 20
Another black and white themed presentation for you, but this one is sure to fit your needs. Minimalist, classic and stunning makes your content stand out in this professional and artsy-looking presentation template.
3. Light Pink Coral Modern Elegance Persuading Mom Get a Pet Mother's Day Presentation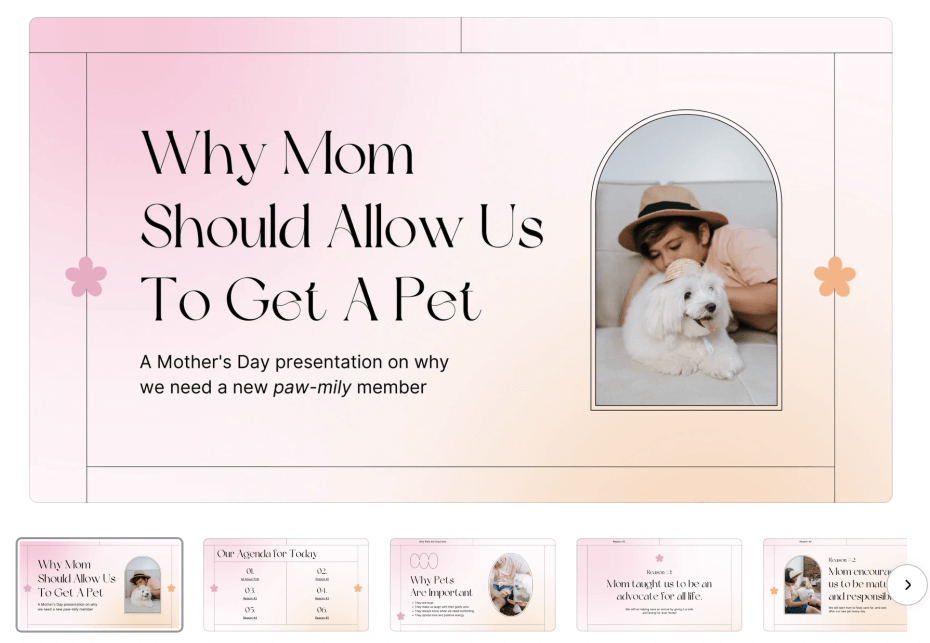 Great for: Those who want to create a lighthearted presentation that includes colorful components without it becoming overwhelming.
Number of Slides: 12
Okay. So the title of this one is funny as it is a persuasive presentation to get a pet. Don't worry. You do not have to keep any of the pre-inserted content and can theme this presentation to your liking.
What is great about this template is that throughout its 12 slides, there is a beautiful sherbert gradient applied to the background that is calming yet adds a bit of color!
Final Thoughts
It really doesn't matter if you have a free or paid Canva plan because with both there are so many different presentation templates that you can use to create beautiful and captivating designs.
We would love to hear from you! What are your favorite presentation templates on Canva? Share your opinions and any questions that you have in the comment section below!