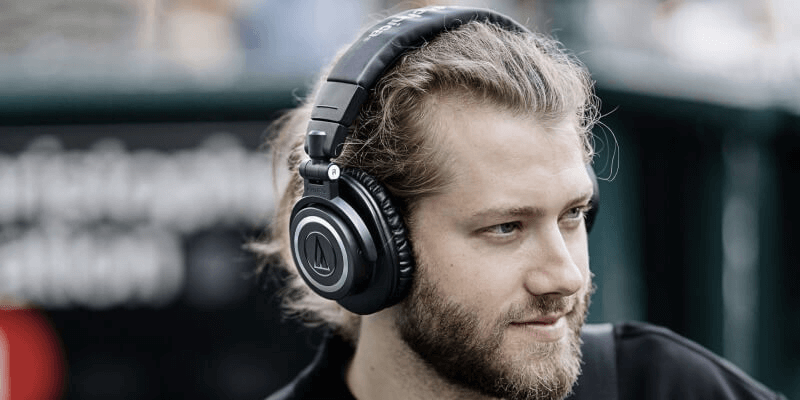 Audio-Technica ATH-M50xBT
Features: Quality sound, stable Bluetooth, long battery life
Price: Not cheap, but offers excellent value
Ease of Use: Buttons are a little awkward
Support: Mobile app, service centers
Summary
Audio-Technica's ATH-M50xBT headphones have a lot to offer. The option of a wired connection will suit music producers and video editors, and the headphones offer exceptional audio quality for the price.

The headphones sound fantastic when using them over Bluetooth, and they offer excellent stability and range, and a massive 40 hours of battery life. They're great for listening to music, watching TV and movies, and making phone calls.

The only thing they lack is active noise cancellation, and if that's important to you, the ATH-ANC700BT, Jabra Elite 85h or Apple iPods Pro may suit you better. But if audio quality is your priority, these are an excellent choice. I love my M50xBT's, and highly recommend them.

What I Like: Excellent sound quality. Long battery life. Collapsible for portability. 10-meter range.

What I Don't Like: Buttons are a little awkward. No active noise canceling.
Why Trust Me for This Review
My name is Adrian Try, and I've been a musician for 36 years and was the editor of Audiotuts+ for five. In that role, I surveyed which headphones were being used by our musicians and music-producing readers, and discovered that the Audio-Technica ATH-M50's were among the top six. That was a decade ago.
A few years later I went headphone shopping with my adult son. I wasn't expecting to find anything significantly better than the Sennheisers I was using, but after listening to everything in the store, we were both very impressed with the ATH-M50x's—Audio-Technica's previous version that was not yet Bluetooth. Anything better was in a much higher price bracket.
So my son bought them, and the following year I followed suit. We later discovered that my videographer nephew, Josh, was also using them.
We're all happy with the decision and have used them for many years. I eventually encountered a minor problem—the leatherette covering started to peel—and I was ready for an upgrade. By now my iPhone and iPad didn't have a headphone jack, and I was a little frustrated at needing to use a dongle.
I was thrilled to see that in 2018 Audio-Technica produced a Bluetooth version, the ATH-M50xBT, and I immediately ordered a pair.
At the time of this writing, I've been using them for five months. I use them predominantly with my iPad to listen to music and watch YouTube, TV, and movies. I also use them plugged into my digital pianos and synthesizers when playing at night.
Detailed Review of Audio-Technica ATH-M50xBT
The Audio-Technica ATH-M50xBT headphones are all about quality and convenience, and I'll list their features in the following four sections. In each subsection, I'll explore what they offer and then share my personal take.
1. Wired Monitoring Headphones: High Quality and Low Latency
These days everything is going wireless, so it may seem strange to buy headphones that allow you to plug in. There are two good reasons: quality and low latency. The nature of Bluetooth compression means you'll never quite attain the same quality as a wired connection, and some time is required to process and compress the audio, meaning there will be a short delay before the sound is heard.
The day I received my ATH-M50xBT headphones, I spent some time listening to them using Bluetooth, and I immediately noticed they sounded a little different from the older wired version. When I finally plugged them in, I immediately noticed two differences: they became significantly louder and sounded cleaner and more accurate.
That's important if you produce music or edit videos. Musicians can't play music accurately when there's a delay between hitting a note and hearing it, and video guys need to know the audio is in sync with the video. I also appreciate being able to plug directly into my musical instruments where Bluetooth isn't an option.
My personal take: Audio and video professionals need a quality wired connection to do their work. They need to accurately hear what the audio actually sounds like, and need to hear it immediately, with no delay. These headphones do that brilliantly.
2. Bluetooth Headphones: Convenience and No Dongles
While the headphones sound best when plugged in, they sound very good over Bluetooth, and that's normally how I use them. I don't need to worry about the cable getting tangled, and with headphone jacks vanishing from Apple devices, it's frustrating having to find the dongle every time I want to use them.
The headphones have a little more bass when listening via Bluetooth, which isn't necessarily a bad thing when consuming media. In fact, many reviewers prefer wireless sound. Bluetooth 5 and the aptX codec are supported for the highest quality wireless music.
What really surprised me was the long battery life. I use them for at least an hour a day, and after a month realized they were still running on the original charge. Audio-Technica claims they last for about forty hours on a charge. I haven't timed exactly how long I get from a single charge, but that sounds about right. It takes all day or night to charge them—around seven hours.
I don't use the pause, play, and volume buttons on the headphones. They're a bit inconveniently placed, and normally the controls on my iPad are in arm's reach. But I'm sure I'd get used to them in time.
I get a very reliable Bluetooth connection to my iPad and often wear the headphones while I wander around my home getting housework done, and even going out to check the letterbox. I get at least the 10-meter claimed range with no dropouts.
Audio-Technica offers a free mobile app for their headphones called Connect, but I've never felt the need to use it. It includes a basic manual, allows you to configure the headphones, and find them when you've misplaced them.
My personal take: Using these headphones over Bluetooth is everything I was hoping for. The sound quality is excellent, the battery life is very impressive, and the signal doesn't degrade when I walk around the house.
3. Wireless Headset: Calls, Siri, Dictation
The M50xBT's have a built-in microphone that can be used when making calls on the phone, FaceTime, and Skype, when using Siri, and when dictating. I have tinnitus and some hearing loss, so I really value getting a little more volume when on the phone, and these headphones work well for me.
You can activate Siri by touching the left ear cup for a few seconds. It could be a bit more responsive but works OK. If you're a fan of using Apple's dictation, the built-in microphone works well, particularly if you like to walk around your office as you speak.
My personal take: The headphones can serve as quite a good wireless headset when making phone calls. The microphone is also potentially useful if you're an avid user of Siri or voice dictation on your Mac or iOS devices.
4. Comfort, Durability, and Portability
Some days I wear them for many hours, and because they are in constant contact with my ears, they can eventually become a little painful.
I've broken hinges and headbands on headphones in the past, especially when they're made of plastic, but these have been rock solid, and the metal construction inspires confidence. However, after years of frequent use, the leatherette fabric on my old M50x's started to peel off. They look tattered but are still perfectly functional.
There's no sign of that happening on my M50xBT's yet, but it's still early days.
Audio-Technica sells replacement ear pads for the M50x, but not the M50xBT. I don't know if they are interchangeable between the two models.
The headphones' portability is reasonable. They conveniently fold up for storage and come with a basic carry case. But they aren't my first choice when working at a coffee shop—I normally use my AirPods, and others would opt for noise-canceling headphones. They're definitely not the right choice when exercising, and aren't intended to be.
Despite their lack of active noise canceling, I find the isolation pretty good. They passively block background noise in most situations, but not enough for noisy environments like a plane. The isolation doesn't go the other way: my wife can often hear what I'm listening to, but I do turn them up loudly because of my hearing loss.
My personal take: Both of my Audio-Technica headphones have been quite bulletproof, though, after years of heavy use, the fabric started to peel on my M50x's. They fold up well and I find them convenient to carry with me when I'm traveling. And despite their lack of active noise canceling, their ear pads do a good job of shielding me from external noises in most situations.
The Reasons Behind My Ratings
Features: 4/5
Sound quality is excellent, both when plugged in and connected via Bluetooth. They offer excellent wireless range and stability, and amazing battery life. Active noise cancellation is not included, though their passive isolation is pretty good.
Price: 4.5/5
The ATH-M50xBT's are not cheap, but considering the sound quality offered, provide excellent value.
Ease of Use: 4/5
The placement of the buttons on the left ear cup isn't optimal, so I tend not to use them, and touching the left ear cup to activate Siri could be more responsive. They easily fold down to a smaller size for storage.
Support: 4.5/5
Audio-Technica offers licensed service centers, helpful online information about the device's microphone and wireless system, and a mobile app. I'm personally impressed with their service. After years of use, my son's ATH-M50x's had blown a driver. They were out of warranty, but Audio-Technica reconditioned the unit with new drivers and earpads for just AU$80, and they work like new ones.
Alternatives to the ATH-M50xBT
You can also read our detailed reviews on the best noise-isolating headphones or the best headphones for home offices.
Conclusion
A quality pair of headphones is a useful tool for your home office. If you produce music or edit video, that goes without saying. Listening to music (especially instrumental music) can enhance your productivity, and the right pair can be used for phone calls, FaceTime, and Skype. Wearing them can warn your family that you're not to be disturbed.
I use a pair of Audio-Technica's ATH-M50xBT Bluetooth headphones. They're high-quality over-the-ear headphones that can be used either wired or wirelessly and with headphone jacks vanishing from so many Apple devices that wireless option is more useful than ever.
They're designed to be used as studio monitors by professional musicians, so the quality's definitely there, but you may find that some of the features you expect—including active noise cancellation—are not.
They're not cheap, but for the sound quality you get, that's very good value. You can still buy the non-Bluetooth ATH-M50x headphones a little cheaper.
What do you want from a pair of quality headphones? If you expect lots of features including active noise cancellation, then you'll be better with one of the alternatives we list later in this review. But if sound quality is your priority, they're a great choice. They're definitely favorites of mine.
Do you find this Audio Technica headphone review helpful? Leave a comment below.