Looking for a new productivity idea? Wear headphones while you work from home. Noisy home offices are a frustrating source of distraction that can be solved by noise-canceling headphones. They can also improve the clarity of your phone calls, and listening to music can make you happier and more focused. So get some good ones!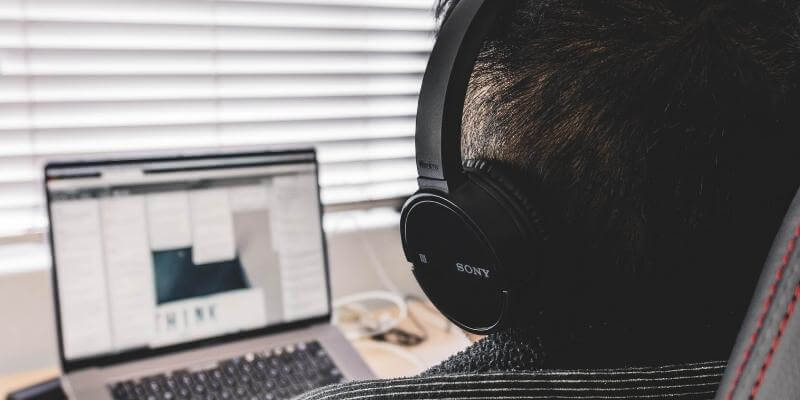 Most home office workers will love Bose QuietComfort 35 Series II. They're comfortable enough to wear all day and good at silencing distracting noises. They have excellent microphones and great battery life and sound quality.
If your work involves producing music or video, you'll need different headphones—ones that won't color your audio or delay the sound. That means headphones that you plug in. Audio-Technica ATH-M50xBT is a good choice, and also offer convenient Bluetooth audio for when you're listening to music for pleasure or making calls.
Finally, you might like to consider a pair of AirPods Pro, especially if you're an Apple user. They're highly portable, have strong integration with macOS and iOS, excellent noise-canceling and Transparency Mode, and reasonable audio quality. Android users may prefer the lower-quality Samsung Galaxy Buds.
We include a number of other quality headphones that have different strengths that may suit you better. If possible, see if you can test the headphones for yourself before making a final decision. Comfort and taste in audio are highly individual!
Why Trust Me for This Headphone Guide
My name is Adrian Try, and I've been a musician for 36 years and was the editor of Audiotuts+ for five. In that role, I kept up with audio trends, including surveying which headphones were being used by our musicians and music-producing readers.
I've used a lot myself, including both over-ear and in-ear, both wired and Bluetooth, and a number of brands including Sennheiser, Audio-Technica, Apple, V-MODA, and Plantronics. Choosing them involved lots of research and testing, which I've added to when writing this review guide. I hope it helps you with your own decision.
Best Headphone for Work from Home: Top Picks
Best Overall: Bose QuietComfort 35 Series II
The Bose QuietComfort 35 Series II are highly popular Bluetooth headphones with active noise cancellation, perfect for busy offices where noise can be a serious distraction. They're comfortable enough to wear all day and offer the best of both worlds, working either wirelessly or plugged in.
At a glance:
Type: Over-ear/Earbud
Battery life: 20 hours (40 hours when plugged in and using noise-canceling)
Wireless: Bluetooth and NFC, and can be used with a cable
Microphone: Yes, with an Action button to control voice assistants
Noise-canceling: Yes
Weight: 0.52 lb, 236 g
These Bose headphones sound very good, but arguably not as good as some of the other headphones in this review. But they're more versatile, making them best overall. They have an effortless bass, and automatically identify the type of music you're listening to in order to optimize the sound. Users report that it does a pretty good job.
They can connect to your phone and computer at the same time. When listening to music on your computer they will automatically pause when your phone starts ringing. You can then answer the call using the headphones.
Those calls will be clearer due to the noise-rejecting dual-microphone system. In fact, phone calls may sound better on these than any other headphones. For example, users who have tried both systems find that there is less background noise when making phone calls compared to the Sony headphones mentioned below.
Those microphones also allow you to interact with virtual voice assistants. They're optimized for both Amazon Alexa and Google Assistant but also work with Siri.
Many users absolutely love the configurable active noise canceling. It means they can work or study when people are being noisy around them, whether at work, home or a coffee shop. Some users don't even listen to music when wearing them. They just use the noise cancelation feature so they can have a quieter, less distracting work environment.
These closed-back earphones offer an effective seal designed to prevents sound leakage, but the reviewer at RTINGS.com found that they do leak a bit at high volumes, and consumer reviews confirm this.
They are very comfortable, at least for most users. They have a cushioned headband designed for all-day listening, and users (including some with multiple ear piercings) claim to achieve eight hours or more of comfortable listening.
They're made of hardy, impact-resistant materials, are engineered to survive life on the go, and come with a protective case. You can expect to get years of life from them. One user upgraded from the previous QuietComfort 3 model to QuietComfort 35 Series IIs after six years. That's durability!
The 20-hour battery life is excellent, though other headphones offer more. If your batteries do run out, you can use the supplied cable to plug them in and keep listening or charge them for just 15 minutes to get another 2.5 hours of use.
The Bose Connect mobile app (iOS, Android) acts as a user manual and help system, allows you to personalize your settings, and offers artificial reality features. It also allows you to connect two pairs of Bose headphones so someone else can listen with you. The headphones are available in black, silver, and a limited-edition rose gold.
Best Monitoring: Audio-Technica ATH-M50xBT
Audio-Technica ATH-M50xBT are professional studio headphones with excellent sound quality that have been loved and used by music producers and videographers for years. They're great value for money and provide incredible battery life. They don't offer active noise cancellation but provide reasonable passive isolation from outside noise. They're the headphones I choose to use every day myself. Read our full review.
At a glance:
Type: Over-ear
Battery life: 40 hours
Wireless: Bluetooth and can be plugged in
Microphone: Yes, with voice assist
Noise-canceling: No, but offers good noise isolation
Weight: 0.68 lb, 308 g
First and foremost, these are monitoring headphones designed for audio and video professionals. They offer audio that's clear and accurate, adding very little color to the sound due to their 45 mm large-aperture drivers utilizing rare-earth magnets. And while they can function wirelessly, they come with a 3.5 mm cable so that you can plug in, adding quality to the sound and removing latency.
The WireCutter's panel found that the headphones' bass blurred the mid frequencies so that male vocals become muddied, and that the highs were edgy. They didn't state this, but I assume they had connected the headphones via Bluetooth. I find the plugged-in sound much better, though the Bluetooth sound is still very good.
Bluetooth is convenient when making phone calls and listening to music for pleasure, and will keep your desk space less cluttered. I really appreciate the long 40-hour battery life. When using the headphones plugged in, no battery charge is required.
The controls are not placed as conveniently as the QuietControl's (above). I find that I rarely use them, opting for the software controls on my devices and computer instead. You can initiate your virtual voice assistant by touching the left earpad for a few seconds.
On the official website, Audio-Technica claims that the "professional-grade earpad and headband material" are designed for durability and comfort. I find them quite good, but not perfect. After quite a few years of heavy use, that material started to peel off, and my ears can become a little uncomfortable after wearing them for many hours. Your ears might have more luck.
However, I've found the headphones themselves, including the ear pads, headband, and hinges, are very durable, and my older non-Bluetooth version is still working perfectly after many years.
Best Earbuds: Apple AirPods Pro
Apple's AirPods Pro is a huge upgrade to the older AirPods, offering better sound, active noise canceling, and a Transparency Mode that allows you to (optionally) hear the outside world. If you're an Apple user, they have excellent macOS and iOS integration and will pair easily with your devices. They will work with other operating systems, but Windows and Android users should check our other earbud recommendations at the end of the review.
At a glance:
Type: In-ear
Battery life: 4.5 hours (5 hours when not using active noise canceling, 24 hours with case)
Wireless: Yes
Microphone: Yes, with access to Siri
Noise-canceling: Yes, with Transparency mode
Weight: 0.38 oz (1.99 oz with case), 10.8 g (56.4 g with case)
If you take headphones with you everywhere you go, you'll find that a lot easier with Apple's AirPods Pro compared to bulky over-ear headphones. By storing them in their tiny case, they'll have a full 4.5-hour charge any time you need it, and a full 24 hours of use with multiple recharges from the case.
Their sound quality is better than the older AirPods, but doesn't reach the same standard as the over-ear headphones in this review, and they don't offer the thumping bass some users prefer. You're spending your money on features rather than audio quality. For example, they use an inward-facing microphone to monitor how the shape of your ear affects the sound and automatically change the equalization to compensate.
That same inward-facing microphone can pick up how much-unwanted noise from the outside world is coming through, and the active noise cancellation will be automatically adjusted to remove it—up to 200 times per second. But you can't adjust the ANC yourself.
Pressing and holding the force-touch sensor on the stem will switch from noise-canceling to Transparency Mode so you can hear the world around you. That allows you to talk to those around you without removing them. But it isn't adjustable, so if you find yourself in a louder environment you can't turn the outside world down, your only option is to turn Transparency Mode off.
The AirPods Pro is designed to work with Siri, which can be activated by just your voice, no button presses are required. Two pairs of headphones can be paired to the same device so you can share your favorite songs and podcasts with others.
Three silicon tips of different sizes are provided so you can choose the one you find most comfortable, and that offers the best seal from outside noise. They fit many people better than the original AirPods, but not everyone. Some users find that these fit more snugly, but others found that they eventually hurt their ears, regardless of which tips they chose.
AirPods Pro comes with a USB-C-Lightning cable for charging. That will suit those with one of the latest Pro iPhones or iPads, but others will need to buy a new cable to fit their USB-A power bank.
Other Good Headphones for Home Office Workers
1. Sony WH-1000XM3
The Sony WH-1000XM3 headphones are a quality alternative to our winning Bose QuietComfort, offering similar features and a similar price tag, and may suit some users better.
They have the edge with sound quality and active noise canceling but offer a poorer experience when making phone calls and for many users inferior comfort. The battery lasts ten hours longer than our winner, but the headphones are a little bulkier and less stylish.
At a glance:
Type: Over-ear
Battery life: 30 hours
Wireless: Bluetooth, and can be plugged in
Microphone: Yes with Alexa voice control
Noise-canceling: Yes
Weight: 0.56 lb, 254 g.
These headphones are optimized for music listening, and it shows. Users love the sound quality and rate it higher than the Bose QuietControl, though it's a little heavy on the bass. This can be adjusted using the Sony Connect mobile app, which you can also use to control ambient sound settings, adjust sound levels, and adjust EQ. They can be used either wired or unwired, and battery life is excellent.
The headphones offer some "smart" features:
Unique Personal Optimizing automatically adjusts the sound to compensate for your head size, glasses, and hair.
Atmospheric Pressure Optimizing adjusts the sound when using active noise cancellation at high altitude.
Adaptive Sound Control adjusts the ambient sound settings so that you can hear the outside world.
Placing your hand over the earpad turns the volume down so you can speak to someone without taking your headphones off.
The Wirecutter finds Sony's active noise canceling better than Bose's. In a test designed to reflect the canceling of airplane-cabin noise, the review team found that the Sony headphones reduced the noise by 23.1 dB compared to the Bose's 21.6 dB. Both figures are impressive, and ahead of the competition.
But what lets these headphones down is mediocre quality when making phone calls. One user reports that they sound like a robot when talking on the phone, another that the other party hears echoes of their own voice, and a third that outside noises can sound louder than the voices on the call. Bose's microphones are quite superior, and it sounds like Sony's ambient microphones may become activated during phone calls due to a bug.
They're comfortable, and many users wear them all day without issue. Some find them more comfortable than the Bose QuietControl, while others find the opposite. Comfort is a very individual thing, and both headphones offer superior comfort. One user with large ears enjoys them, but Bose's larger ear cups may have worked even better.
They're also quite durable. One user used the previous version regularly for three years before upgrading to this model. However, another reported that a cosmetic crack developed in the headband by taking them on and off regularly in very cold weather. A carry case is included.
These headphones operate via touch gestures, and users find them intuitive. You answer phone calls with a double-tap, change tracks and adjust the volume by swiping the panel, and interact with your virtual voice assistant with a long press. However, one user found that the gestures can be triggered randomly in very cold weather.
They're available in either black or white.
2. Beats Studio3
Beats' Studio3 headphones are a second alternative to our winners, the Bose QuietComfort 3 Series II. They have a similar price, connect over Bluetooth, and offer active noise canceling. Their battery life is between the Bose and Sony headphones. They pair easily on iOS because they use Apple's W1 chip, allowing you to switch devices effortlessly. They look stylish and come in a wide variety of colors.
At a glance:
Type: Over-ear
Battery life: 22 hours (40 hours without noise-canceling)
Wireless: Bluetooth, and can be plugged in
Microphone: Yes
Noise-canceling: Yes
Weight: 0.57 lb, 260 g
While stylish, they're a little inferior to our other picks in many ways. According to the Wirecutter, they have average noise canceling and a boomy bass sound. Some users find that active noise canceling causes constant hiss. Noise reduction is turned on by default.
RTINGS.com found that the bass delivery varies significantly from user to user, depending on factors like whether they wear glasses. For those who are interested, detailed frequency-related test results are included in their review. The Studio3s have poor latency, making them inappropriate for watching videos.
The tests found that the microphone is mediocre, making it less suitable for phone calls, especially in noisy areas, and that noise isolation is inferior to the Sony and Bose headphones. They leak very little noise, however, so they're unlikely to be heard by your co-workers even if you're listening to loud music.
Durability also seems poor. There are more reports of failures from users of these headphones that the others in our roundup.
One user reported that the ear cups started to fail after less than three months when wearing them for about an hour three times a week. Another user's headband snapped within six months of use. A third user developed a crack in the casing within six months and a fourth's stopped working within three months. None of these users were successful in getting them fixed or replaced under warranty.
But there are positives. They're a little more portable than the competition, offering smaller ear cups and folding into a compact format that fits into a sturdy, hard case. The headphones can be plugged in, and even come with an iOS-specific cable, and they work well with Siri.
They're worth considering if you're an Apple user who appreciates the ease in pairing with multiple devices, prefers music with a strong, enhanced bass, and appreciate the stylishness and numerous color choices of the headphones.
When it comes to audio quality, active noise cancellation and phone calls, they don't measure up to our Bose and Sony recommendations above, though one user said that he prefers the sound to his Audio-Technica ATH-M50s when listening to music.
They're quite comfortable. One user who often finds headphones uncomfortable when wearing glasses can wear these comfortably all day as he works. Another reports that the earpads were not large enough to completely encompass his ears, but he still found them more comfortable than his previous Beats headphones.
Their biggest draw is that they are a fashion statement. Some users find them the best looking headphones on the market. They come in a huge range of colors: blue, matte black, red, shadow gray, white, blue skyline, desert sand, crystal blue, defiant black-red, forest green, and sand dune.
3. V-MODA Crossfade 2
The V-MODA Crossfade 2 are stylish headphones with excellent sound quality, but without active noise canceling. They're comfortable and have excellent build quality.
At a glance:
Type: Over-ear
Battery life: 14 hours
Wireless: Bluetooth and can be plugged in
Microphone: Yes
Noise-canceling: No, but offer some noise isolation
Weight: 1 lb, 454 g
The sound quality of these headphones is excellent. My wife uses them, and I find them significantly better than my Audio-Technica ATH-M50xBT headphones when using Bluetooth, but not when plugged in. They have 50 mm dual-diaphragm drivers for excellent clarity and separation. The Wirecutter describes the sound as "balanced, vivid, and exciting."
Like my ATH-M50xBT headphones, they don't offer active noise canceling. The Wirecutter finds that they lack isolation, so they are not the best in loud environments, but they have minimal sound leakage so you won't bother your coworkers.
The 14-hour battery life is enough to get through your workday but significantly less than the headphones we recommend above. Plugging them in alleviates the need for batteries, and they're suitable for producing music and editing videos without latency or sound coloration.
The microphone allows for clear communication over the phone. It's specially tuned for phone calls and voice recognition. With the lack of noise cancellation they can be noisy for the other party, especially in traffic or wind, but plugging them in rather than using Bluetooth helps significantly. They also give seamless access to Siri, Google Assistant, Cortana, and Alexa.
Users find the build quality superb. One described them as being "built like a tank". They have a steel frame and steel flex headband, have passed extensive durability testing, and work in high and low temperatures, and high humidity, salt spray, and UV exposure.
They have a durable cable with a 45-degree plug and are designed to bend over 1 million times (well above the industry standard). They fold up to a compact size, and a protective case is included.
Some users describe them as more comfortable than other high-end headphones they have used, despite their extra weight. They have an ergonomic headband and memory foam cushions. One user with larger ears finds them a little tight, though this can be adjusted, and larger ear pads are available as an extra purchase.
These headphones look gorgeous—in my opinion, they look nicer than the fashionable Beats Studio3s. They don't come in as many colors, but the matte black, matte white and rose gold options go well with most Apple devices.
Several users are not big fans of the placement of the buttons on these headphones. They initially found it hard to know which button does what. The headphones can be conveniently paired with two sources at the same time.
4. Sony MDR-7506
What do you do in your home office? If you spend most of your time producing music, making sounds for games, or editing videos, the Sony MDR7506 headphones may be for you. They're highly rated by audio professionals, but they're less suitable for the rest of us. They're not wireless (and have a very long cable) and don't offer a microphone for phone calls, but they do offer an accurate wired sound with no latency.
At a glance:
Type: Over-ear
Battery life: n/a
Wireless: No
Microphone: No
Noise-canceling: No
Weight: 0.5 lb, 230 g
The MDR-7506 headphones are not new—they've been around since 1991, but are still being sold because they remain strong favorites of recording engineers and sound professionals. There's a reason they haven't been changed in all of those years, and 25 years later, they're an industry-standard in radio and television studios.
Why? Because they're relatively affordable, quality headphones that you can use all day long for many years:
Their 40 mm drivers produce sound accurate enough for mixing
They have little noise bleed, so are suitable for wearing near microphones
Even the cable is of high quality and has gold connections, however, it's not detachable and is quite long
They're made of relatively durable plastic, and the ear pads can be replaced inexpensively (and you will need to replace them eventually)
They're quite light and not too tight for all-day comfort.
They have poor isolation, so they are not the best choice for loud environments, whether that's a noisy office, commuting on a train, or DJing at a club. Wirecutter found they reduce outside noises by just 3.2 dB, compared to the Sony WH-1000XM3's 23.1 dB and Bose QuietComfort 35's 21.5 dB when using active noise canceling.
However, they leak very little sound, and so won't be an annoyance to others. Detailed audio testing of these headphones has been carried out by RTINGS.com, and you can find detailed results and charts on their website.
Music professionals love the balanced and flat sound, where the bass is present but not overpowering. One user even calls them "perfection" for monitoring purposes. Several professionals prefer these to our Audio-Technica pick above.
Users tend to find them very comfortable, even for very long listening sessions. But predictably, not everyone agrees, particularly those with larger ears.
After thorough testing, RTINGS.com determined that the Audio-Technica ATH-M50x are better headphones for critical listening due to their more accurate sound, greater comfort, and superior build quality. That would also apply to the updated ATH-M50xBT headphones we recommend above. However, the MDR-7506 headphones are an excellent, affordable alternative for audio professionals.
5. Samsung Galaxy Buds
Samsung's Galaxy Buds are a reasonable alternative for those looking for the experience of Apple's AirPods on an Android device. They pair quickly, are highly portable, leak very little sound, and offer clear audio when on the phone. But while they're the highest-rated Android-specific earbuds I'm aware of, they're more comparable to the original AirPods rather than the Pros, most significantly because they lack active noise cancellation.
At a glance:
Type: In-ear
Battery life: 6 hours (and an additional 7 hours from the case)
Wireless: Bluetooth,
Microphone: Yes,
Noise-canceling: Yes with Ambient Mode
Weight: not stated
Besides omitting active noise canceling, Samsung's Galaxy Buds have a significantly shorter battery life than AirPods Pro, and inferior sound quality. But they're in the same price brackets as the original AirPods and compete much better with these.
Though they can't cancel the sound of the noise around you, they will help you hear it. Ambient Mode lets you hear your coworkers and the traffic when you need to.
Some users find them very comfortable and are reasonably happy with the sound quality. But others have reported that the person on the other side of a phone conversation can have trouble hearing them.
6. Bose QuietComfort 20
The QuietComfort 20 is Bose's best noise-canceling earbuds. To achieve that, they use a cable rather than a Bluetooth connection. While that's less convenient when you're working in your office, you may want to consider using them anyway if noise canceling is important to you, especially if you prefer not to spend money on a second pair of headphones for the office. Two different models are available: one optimized for iOS, the other for Android.
At a glance:
Type: In-ear
Battery life: 16 hours (only required for noise-canceling)
Wireless: No
Microphone: Yes
Noise-cancelling: Yes with Aware Mode
Weight: 1.55 oz, 44 g
According to the Wirecutter's tests, these are the most effective noise-canceling earbuds out there. They don't seem to produce "eardrum suck" as some other headphones do, and the lack of outside noise will mean you don't have to play your music as loudly.
They reduce outside noise by 23.3 dB. That's the best result from any headphones they tested, whether in-ear or over-ear. For comparison, the Sony WH-1000XM3 reduce by 23.1 dB, and our winners, the Bose QuietComfort 35 Series II by 21.6 dB.
Sound quality is excellent, though not as good as the over-ear headphones we recommend above. Users report that the sound is clear on both ends of a phone call, and Aware Mode lets you hear your surroundings and can be turned on at the touch of a button.
Battery life is a reasonable 16 hours, and you can achieve a complete charge in just two hours. They work without any battery charge when active noise canceling is turned off.
These are more comfortable than many other earbuds. That's because their tips are designed to create a secure fit without needing to be forced deeply into your ears. Many users report that they are the most comfortable earbuds they have ever worn and that they can wear them all day without issue.
However, their durability isn't what it could be. Quite a few users report that they lasted for no longer than two years before needing to be replaced. That's understandable for normal earbuds, but disappointing for earbuds with a premium price. However, one user said that they used the previous model for seven years before upgrading to this version.
The wired connection is less convenient when used with newer smartphones now that many of them no longer offer a headphone jack. You'll need to use them with a dongle.
Their portability makes them perfect for use while commuting and traveling, but if you only want to spend money on one expensive set of headphones, these will do a good job in the office as well, as long as the cable doesn't get in your way. They're comfortable, have the best noise-canceling out there, and sound pretty good as well.
Why Wear Headphones in Your Home Office
Why wear headphones when you work from home? Here are a few good reasons.
1. Headphones Can Mask Distracting Noises
Offices can be noisy, and when working from home, families can be even noisier! All of that noise is distracting. According to Science Direct, research has demonstrated that a noisy office is one of the top causes of productivity loss and unhappiness among white-collar workers.
Noise-canceling headphones can make those distractions vanish instantly so that you can focus on what is important. Choose headphones that don't leak sound so that you don't add to the noise!
2. Listening to Music Can Boost Productivity
Listening to music while you work can enhance your productivity. Your brain will release dopamine, easing work-related stress and anxiety. Music can improve both mental and physical performance by sharpening your focus and improving your mood.
Music without lyrics and music you're already familiar with seems to help most. Motivating music can help you power through physical tasks, while classical music can help you focus on mental ones. Some people find natural sounds preferable to music, especially the sound of rain or surf. Experiment to learn which sounds are most helpful to you.
3. Headphones Can Improve Office Communication
A lot of home office and inter-office communication is digital: conference calls, video conferencing, Skype, and even FaceTime. The right pair of headphones can cut out background noises and add clarity to the call, improving communication.
4. Music and Video Production
Headphones are obviously an essential tool if you're an audio or video professional. If that's you, choose monitoring headphones that won't unnecessarily color the sound, and wired headphones so there's no latency. Some headphones do this well while still offering the other benefits above, giving you the best of both worlds.
How We Picked Headphones for Home Office Workers
Positive Consumer Reviews
I've owned and tested quite a few headphones, but don't have personal experience with all of them. So I've taken into consideration the findings of other reviewers who have tested a wide range of headphones, especially when they've specifically focused on the needs of office workers.
I have also strongly relied on consumer reviews. These tend to be honest and detailed about both positive and negative experiences. The problems they encounter are also a good indication of how durable a product is.
In this roundup, we've only considered headphones with a consumer rating of four stars and above that were reviewed by hundreds or thousands of users.
Wired or Wireless
Bluetooth headphones reduce clutter on your desk, while wired headphones offer higher quality and less latency. Wired headphones allow you to connect to an in-flight entertainment system and don't require any battery charge (except when providing active noise canceling). In this roundup, we've included four wireless headphones, two that are wired, and three that do both.
Active Noise Cancelling or Passive Sound Isolation
Active noise cancellation (often referred to as "ANC") lets you work in total silence, and some people wear them without even playing music. They're also helpful when traveling or on noisy commutes that involve trains and planes.
But users can experience an uncomfortable "noise suck" with some models, and they let your fellow workers sneak up on you! Fortunately, ANC can be turned off when not needed, and a number of headphones allow you to turn up the volume of the outside world so that you're more aware of your environment.
Headphones without ANC may reduce outside noise passively through offering a good fit that doesn't let the noise in to begin with, though this is less effective. Headphones without ANC may be less expensive or offer better sound quality for the same money.
A Quality Microphone
If you're relying on your headphones to make phone calls, they need a quality microphone so the sound of the voices at both ends of the call are clear and there is little background noise. A microphone will also let you interact with virtual voice assistants like Siri, Google Assistant, Alexa, and Cortana.
Battery Life
Some people wear headphones throughout their entire workday and their commute as well. Long battery life is important, and most headphones will supply enough to get you through the day, and sometimes longer.
Comfort
If you do wear them all day, comfort is another important consideration. Headphones can feel tight or heavy after a number of hours, and the pressure they place on your ears can eventually cause discomfort. Because we're all built differently, comfort will differ from person to person, so if possible, try the headphones on before you make a final decision.
Durability
Finally, durability is another important consideration. Quality headphones are expensive, so make sure you purchase a pair that will provide years of reliable, problem-free use.
That wraps up this review guide. Any other headphones that are good for working from home? Leave a comment and let us know.