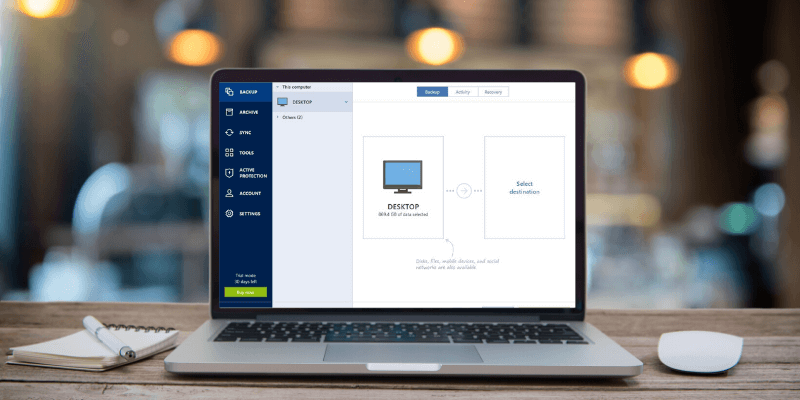 Acronis Cyber Protect Home Office
Effectiveness: Simple and effective backups and file restoration
Price: Priced higher than the competition, but good value
Ease of Use: Extremely easy to configure and use
Support: Excellent tutorials and online support available
Summary
Keeping your data safe is one of the most important jobs that gets regularly overlooked, but Acronis Cyber Protect Home Office (formerly Acronis True Image) makes the whole process simple enough that anyone can follow backup best practices. Setting up scheduled backups is extremely easy, and Acronis allows you to backup your mobile devices and even other cloud storage accounts in addition to your local files.

You can back up to a local device, an Acronis Cloud account, a network device or an FTP site, and you can encrypt your backup for added security. You can even 'notarize' your files with blockchain technology to make sure they haven't been tampered with, although this is a premium service and I'm not sure just how effective it really is.

Local backups are easily scheduled and proceed quickly, but if you want to use the Acronis Cloud, be sure to leave yourself plenty of time for the upload to complete. During my testing, my connection speed to the Acronis Cloud peaked at 22 Mbps, which meant my 18 GB test backup took upwards of 4 hours to complete, despite my extremely high-speed fiber connection.

If you wanted to back up an entire drive, it's probably better to stick to a local option. Annoyingly, Acronis is in the process of phasing out their social media backup feature, despite still promoting it in the newest version of the app.

What I Like: Extremely easy to configure & use. Store backups offsite with Acronis Cloud service. Back up mobile devices & other cloud storage. Ransomware & crypto mining protection. Lots of additional system utilities.

What I Don't Like: Cloud backup can be quite slow. Social media backups being phased out.
Editorial Note: Acronis recently changed the name of True Image to Acronis Cyber Protect Home Office. All the features remain the same. You can learn more from this post released by the Acronis blog. The screenshots in our review below are based on an earlier version of Acronis True Image.
Why Trust Me for This Acronis Review
Hi, my name is Thomas Boldt, and like many of you, I have fully embraced the digital lifestyle. Keeping my data safe, secure, and properly backed up is an essential part of that life, regardless of how tedious it can be. You only have to lose one hard drive to really start to appreciate how important backups are, but hopefully, I can convince you that it's worth the time before you lose any of your data.
Note: For the purposes of this article, I included screenshots from the Windows version of Acronis True Image, but it is also available for macOS.
Detailed Review of Acronis True Image
Configuring Your Backups
One of the biggest advantages of Acronis True Image is its simplicity. The setup and installation process is quick and painless, and it loads a quick interactive online tutorial to walk you through the process of setting up your first backup. It's simple enough that you probably won't need the tutorial, but it's still a nice addition.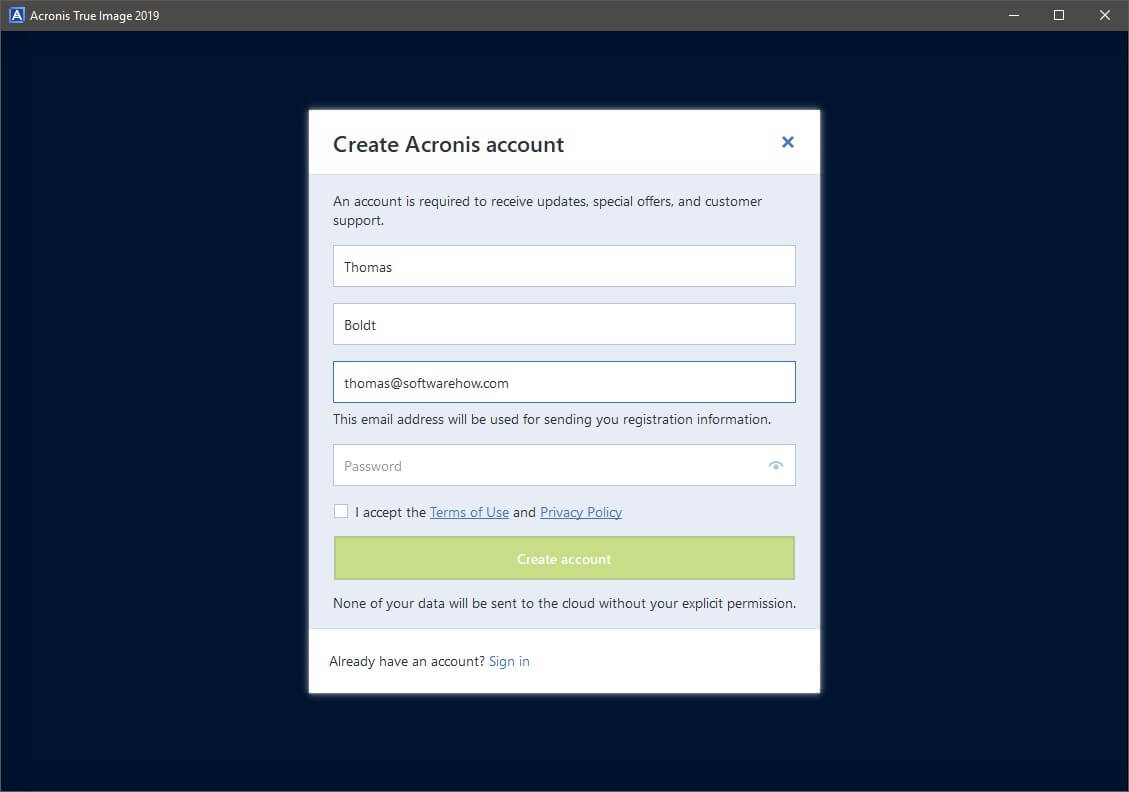 Online account signup is required to use the program, but I haven't been bombarded by spam from Acronis, just the usual email confirmation messages that you get with any email-based account setup. This may change once my trial subscription for the Acronis Cloud service is over, but they seem to be treading fairly lightly in terms of marketing messages. I'll update this review in future, depending on what happens.
Side note: The first time you run Acronis True Image, you're asked to read and accept the EULA, which of course you must do before you can use the program. At the same time, you're able to decide whether you want to participate in their product improvement program which monitors your usage anonymously to provide feedback for the developer. However, I very much appreciate the fact that Acronis doesn't force you to opt out the way many developers do, but rather allows you to opt-in if you want to. It actually makes me want to help them because they're not trying to trick me into it.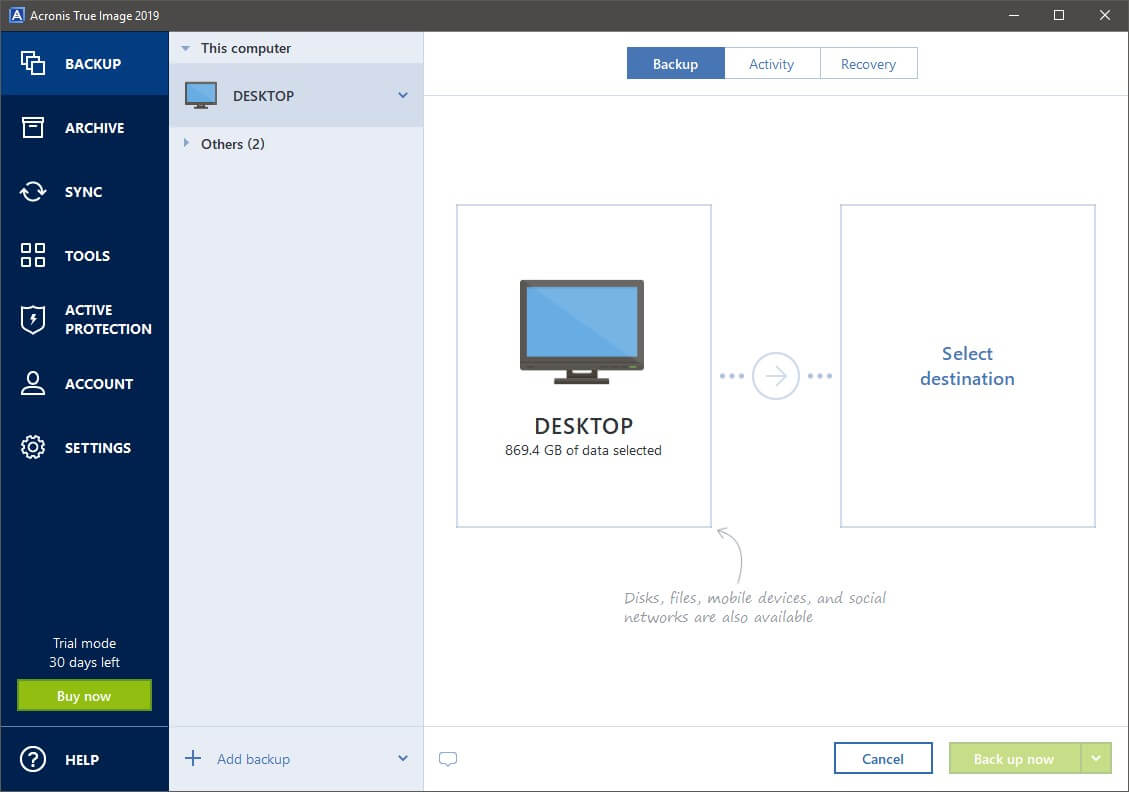 Configuring your backups is extremely simple, and Acronis has scattered some quick tooltips throughout the process in case anything remains unclear. Simply click the 'Add Backup' button, select what you want to back up, and decide where it will be stored.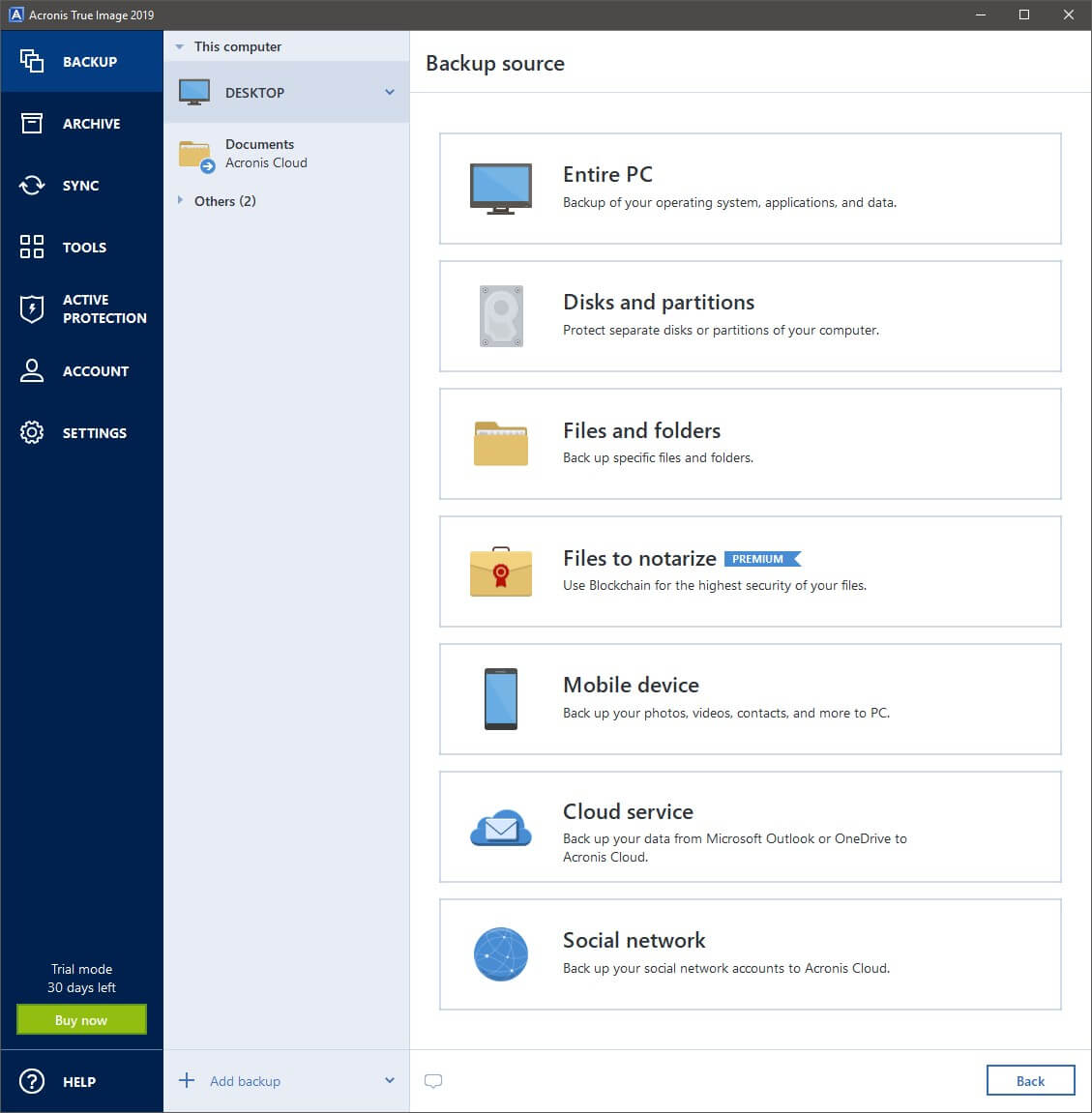 That's the base minimum required to make a backup, but if you want to get fancy with it, you can dive into the Options dialogue box once you've selected your source and destination. Acronis has included a huge range of options, allowing you an incredible degree of flexibility in the way your backup system is configured.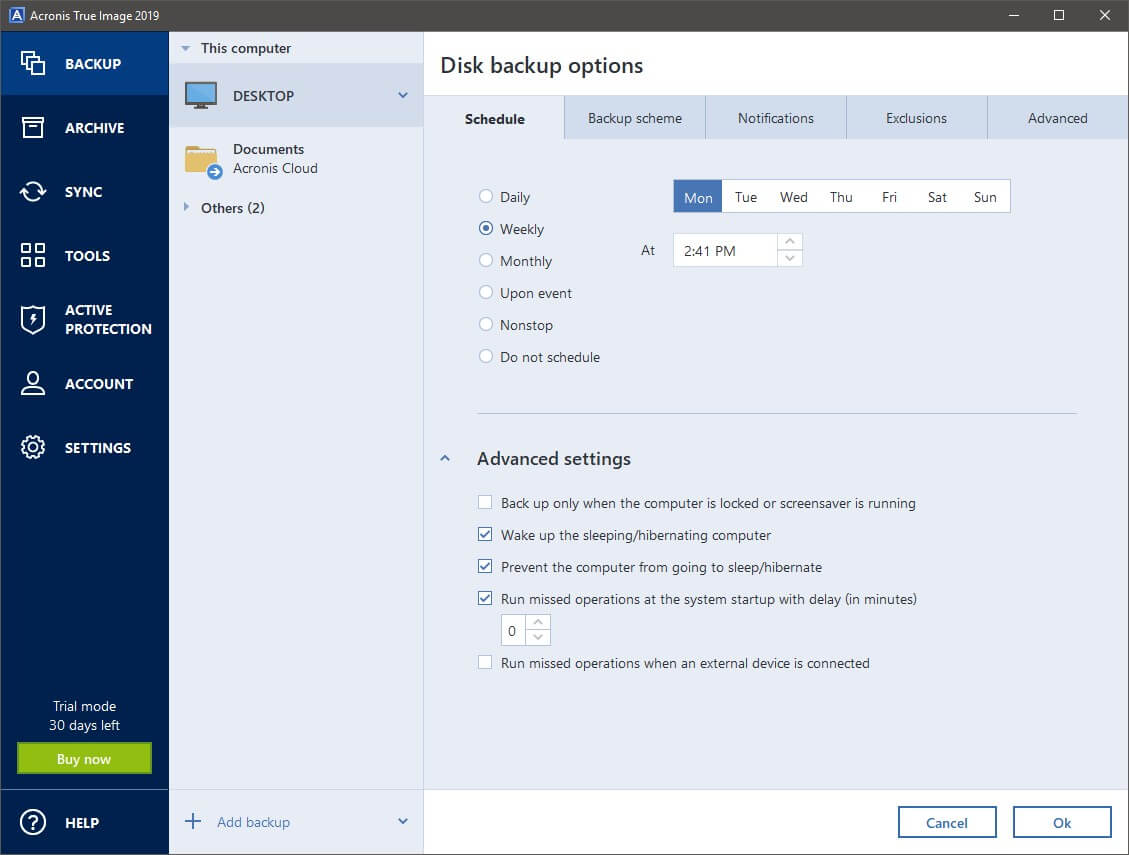 Scheduling is probably the most useful of these advanced features since one of the biggest problems that most users face when making backups is actually remembering to create them in the first place. Since you can automate it all, there's no reason to fall behind on your backups. You can even get the program to email you about any operations that it completes (or, more helpfully, fails to complete due to low disk space).
If you want to get more specific with your backup methods, you can choose from a range of backup schemes that allow you to customize exactly how your backups are created, balancing things like versions and disk space to your requirements. If you just want a single backup that gets replaced every time, no problem – but all the other schemes are more complex. Rather than dig into them here, the helpful 'Which scheme to choose' link takes you to the appropriate section of the manual to help you make the right decision for your situation.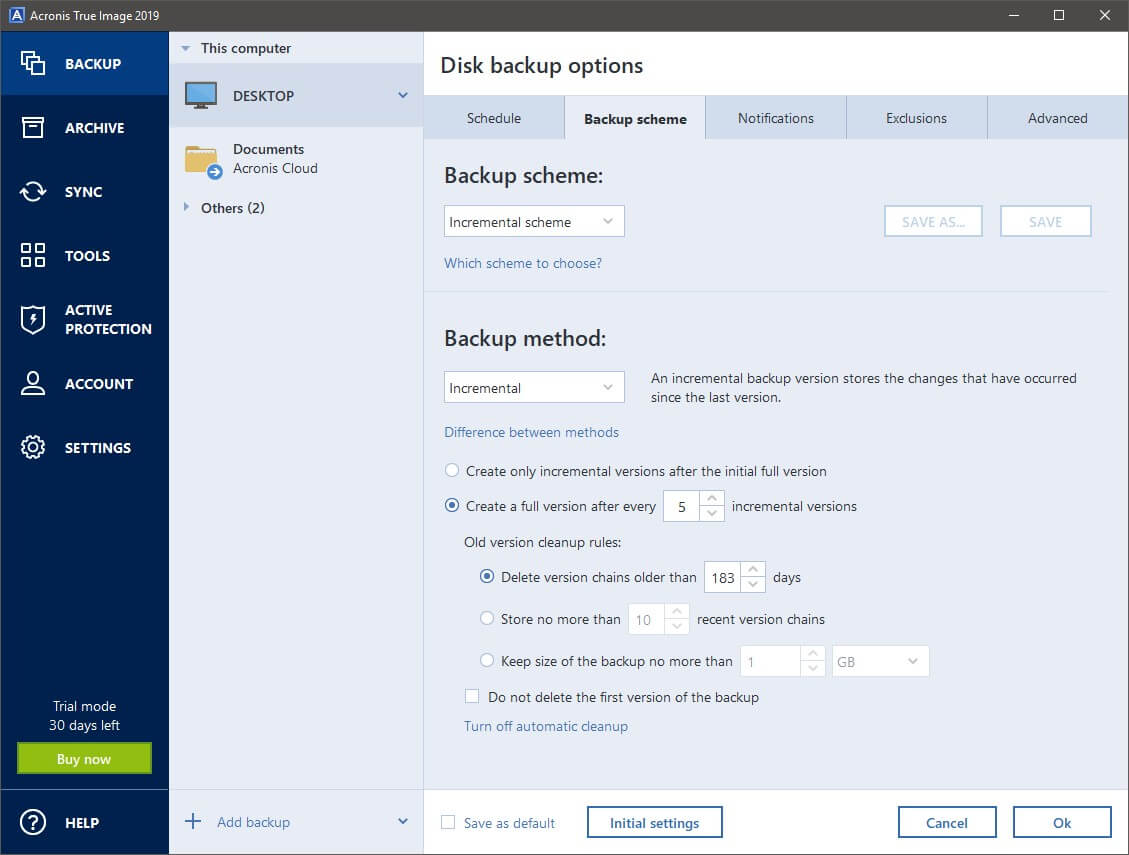 Power users can take things a step further by digging into the Advanced tab, which offers you options such as compression management, password protection, automatic splitting for optical media sizes, and custom commands to run before and after your backup process runs.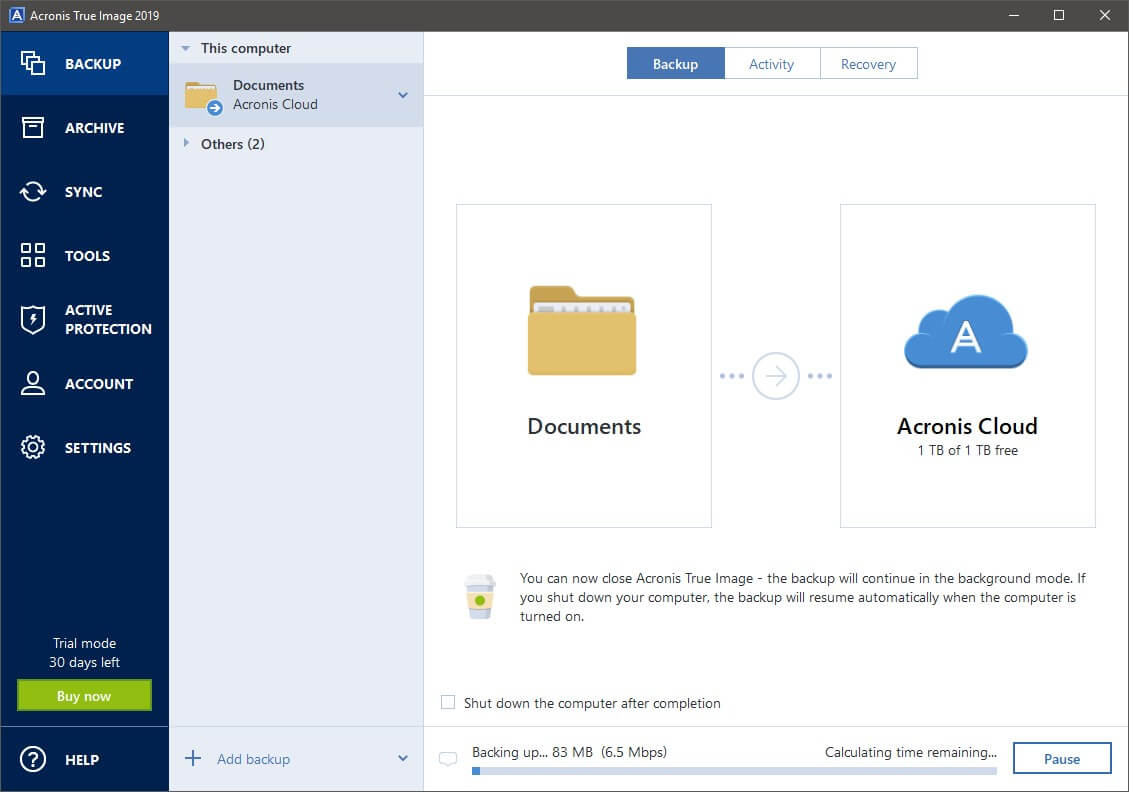 A free 30 day trial of Acronis Cloud is available to new users of True Image, so I quickly activated it and decided to run a test backup of my Documents folder. The process is simple and smooth, but unfortunately, it seems like Acronis hasn't invested very heavily in good connections for its cloud services. Perhaps I'm a bit spoiled by the super-fast content delivery networks used by services like Steam and Adobe, but I'm used to being able to transfer large amounts of data very quickly, and this seems like a perfect application for high-speed connections.
Additional Backup Features
In addition to backing up your local computer files, Acronis also offers the ability to backup your mobile devices using the Acronis Mobile app. I'm not sure if this is really a helpful feature since both Android and iOS devices have excellent backup systems already in place, but if you want to manage everything in one place, this does the job.
I noticed that many of the reviews of the Acronis Mobile app in the Google Play Store are decidedly negative, and it currently has more 1-star reviews than 5-star reviews. I didn't run into any of the problems that those users experience, but you may want to stick to the built-in backup features provided by Apple and Google just to be safe.
The first time I tried to configure a social media account backup, I ran into a bit of a problem – the only service available was 'Microsoft Office 365', which I don't even subscribe to, and is obviously not a social network. Unfortunately, it turns out that Acronis is in the process of phasing out their social media backup feature, despite the fact that they still include the option in the program itself. Losing this feature isn't a deal-breaker, but it seems unnecessarily confusing for new users. You can read more about the reason behind this decision here.
Active Protection & Additional Tools
One of Acronis' big selling points for True Image is their 'Active Protection', which prevents ransomware from locking you out of your own files and backups. If you don't know what ransomeware is, consider yourself lucky – it's a special kind of malware that encrypts your files and backups, and demands payment (usually in the form of Bitcoins) to provide the decryption key. This type of malware is growing more and more common, and many high-profile businesses and even municipal governments have had problems with it.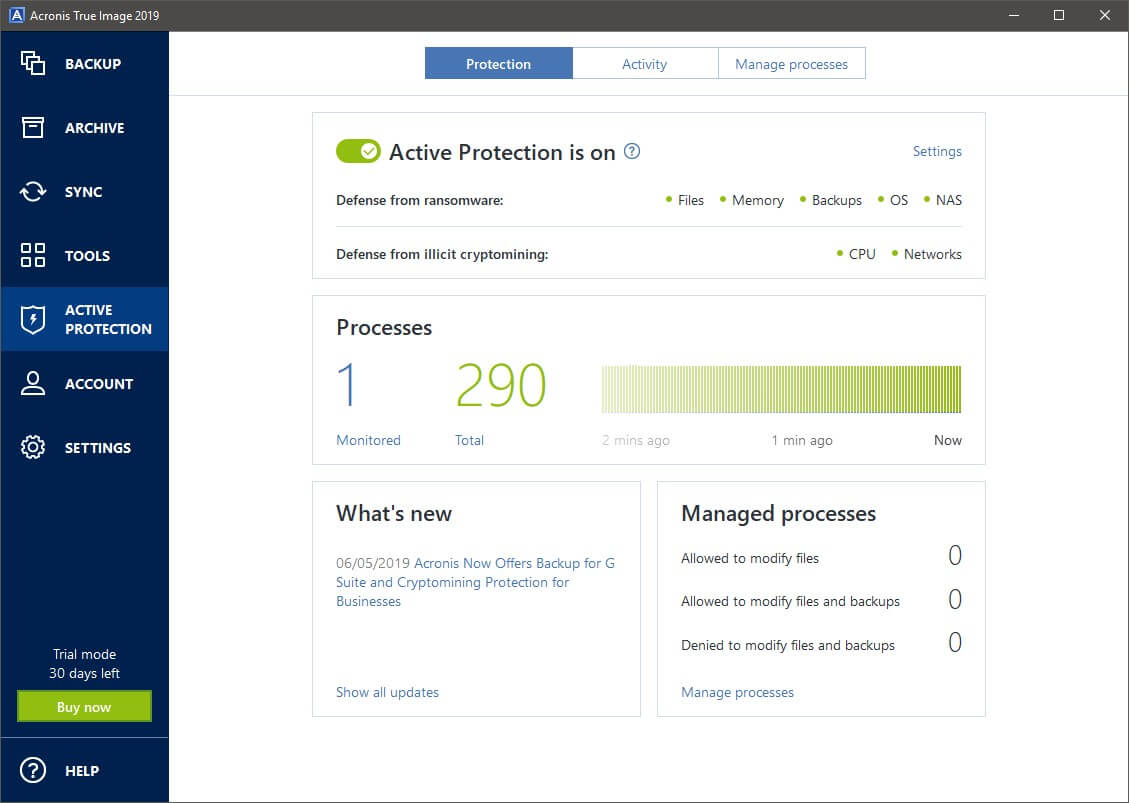 The second part of the Active Protection makes a bit less sense to me, simply because I'm not sure why it's included in a backup program. It concerns another new type of malware that hijacks your computer's CPU or GPU to mine cryptocurrency (performing lots of complex mathematical operations) without your consent. If your system is infected with a malware like this, you will find your machine slowing to a crawl as your computer struggles under a heavy computational load. It's a useful addition for any system, but it still seems like it belongs in an anti-malware security suite and not a backup tool.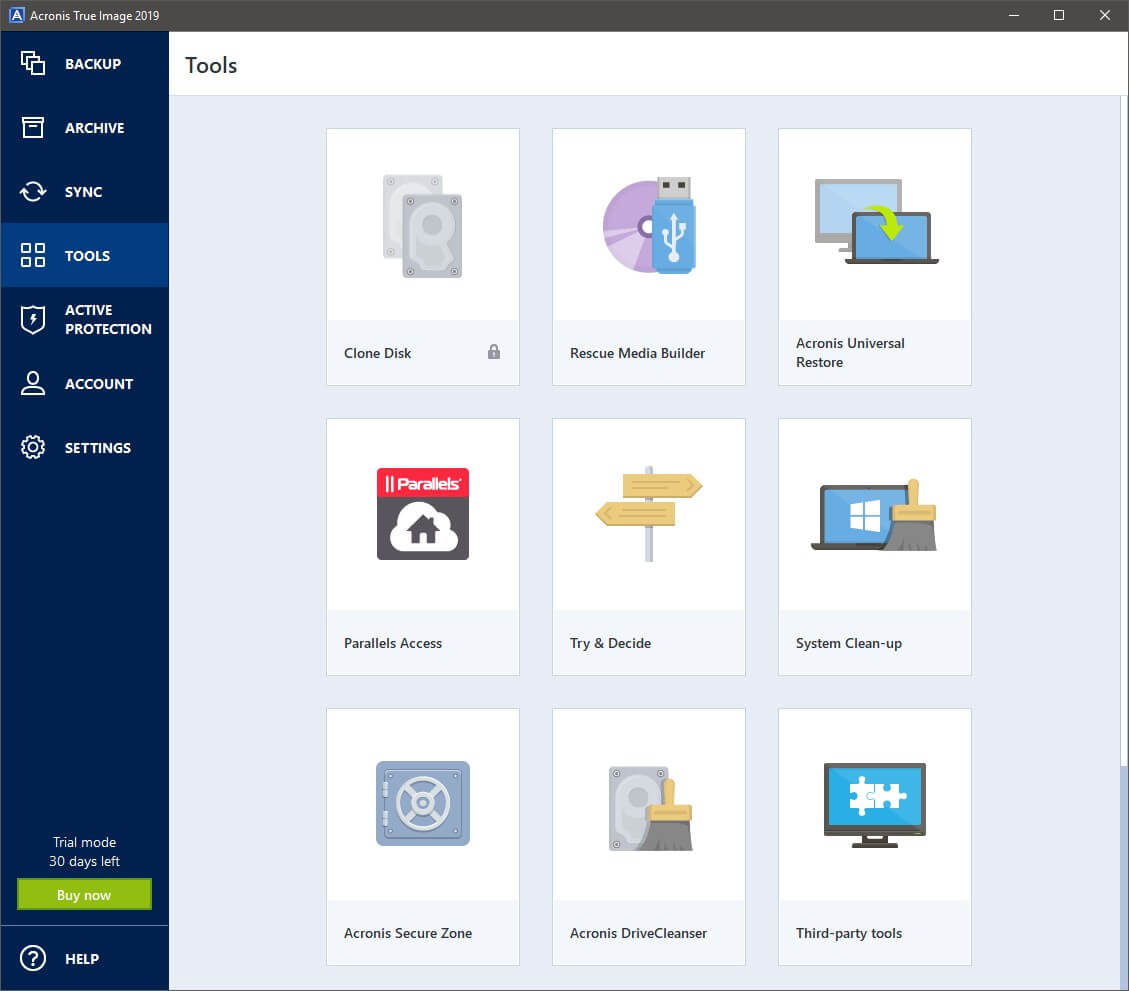 In addition to these features, Acronis packs in a wide range of additional system utilities that can help you with your backup needs. You can create rescue disks, clean your drive and system, and create special secure partitions on your drives. Perhaps the most interesting tool is 'Try & Decide', which acts as a sort of high-powered System Restore feature. You can turn it on, try new and potentially malicious software or websites, and it will allow you to immediately return your computer to the same state it was in before you enabled the tool, just in case something goes wrong. Unfortunately, it eats up disk space at a surprising rate, so it's a bit limited in terms of its functionality, but it's one of the more unique tools I've ever seen.
The most useful added feature is the Rescue Media Builder, which allows you to create a bootable USB device for restoring your operating system and files if the worst should happen and your main system drive fails completely. In a world where most people buy computers with their OS pre-installed, Microsoft and Apple have stopped providing operating system install drives by default the way they used to. If you've got a rescue drive, you're protected and you can get back to work as quickly as possible.
Acronis True Image Alternatives
Paragon Backup & Recovery (Windows, $29.95)
At a slightly more reasonable price point, Paragon Backup & Recovery offers slightly more basic functionality with a user-friendly interface. The main element that it's lacking is the ability to backup to a cloud service, although it does support backing up to a network drive for added security.
Carbon Copy Cloner (Mac, $39.99)
I haven't tested this one myself yet, but my colleague Adrian selected it as the winner in his roundup review of the best backup software for Mac. Bootable backups, incremental backups, file snapshots, and highly customizable scheduling all combine to make a great backup solution if Acronis isn't to your taste. There's also a free 30-day trial so you can give a test run yourself to see if it's the right solution for you.
AOMEI Backupper (Windows, Free)
Despite the fact that this is a free program with a silly name, it does a much better job than you might expect. It doesn't have any of the extra system utilities or ransomware protection, but it handles basic backup tasks with ease. If you've got a lot of Windows machines to protect, you can save yourself a great deal of money on licensing by trying out Backupper.
Windows Backup / Time Machine (Free)
I never understood why operating systems don't have more comprehensive backup solutions, but they do offer some barebones options. If you don't mind dealing with clumsy interfaces and limited options, you can still use these built-in tools to make automatic backups. They don't offer advanced features such as encryption, password protection or ransomware protection, but they will at least let you automatically make copies of your files. You sure can't beat the price!
You may also want to read our roundup review of the best backup software for Windows for more alternatives.
Reasons Behind My Review Ratings
Effectiveness: 4/5
Acronis provides a simple and effective way to create backups, store them in multiple locations for added safety, and easily restore your files if the worst should happen. Ransomware protection for your files is a nice feature and should help with your peace of mind. Additional backup options for mobile devices and other cloud storage services add functionality, although their utility is a bit limited since they both already have their own backup features.
Price: 4/5
At $49.99/year for a single computer license, Acronis is priced a bit higher than a lot of the competition, and that price scales upwards depending on the number of computers you want to install it on (up to $99.99 for 5 devices). You can also purchase a yearly subscription at the same rates, which includes 250 GB of cloud storage. That's enough to keep your documents safe, but you may find yourself running out of cloud storage space fairly quickly if you try to back up your whole computer there. You can upgrade to 1TB of cloud storage for an additional $20/year, which is a decent price, but I'd still expect faster transfer speeds for a paid cloud service.
Ease of Use: 5/5
One of True Image's great strengths is its simplicity and ease of use, despite the fact that it's possible to dive deeper and customize every aspect of how your backup is handled. If you're an average computer user who just wants to quickly protect their data, the program is easy to use, and if you're a power user who wants to control every aspect of everything, it's just as easy to use. That's a rare blend of capacities that you don't see every day in the software world.
Support: 5/5
For many home users, setting up a backup system can be a bit of a daunting task. Fortunately, Acronis makes it incredibly easy and provides a step-by-step interactive walkthrough of how to configure your first backup. In addition to this, there's a comprehensive online knowledge base that covers any question you might have, and there is also a full manual installed locally in case your machine isn't always online.
Final Words
If you're looking for a simple backup solution that offers great flexibility, Acronis Cyber Protect Home Office (formerly True Image) is an excellent choice for your local backup needs. Working with the Acronis Cloud should provide a convenient off-site option for added security, but you'll want to limit the amount of data you store there until Acronis is willing to shell out more cash for increased connection speeds, or you'll find yourself waiting hours for even relatively small backs.
So, what do you think about this Acronis Cyber Protect Home Office review? Leave a comment and let us know.