Add a new layer on top of your original artwork. Fill it with any shade of gray from the color wheel by dragging and dropping it onto your canvas. Adjust the new layer's blend mode to Hue by tapping on the N to the right of the layer's thumbnail.
I'm Carolyn and I've been using Procreate for over three years to run my digital illustration business. Being well-versed in color theory is a key part of what makes me an experienced Procreate artist and it is an essential part of my art practice when it comes to using the app.
There are many reasons that users will need to view or create their work in Procreate in grayscale. And lucky for us, Procreate offers a couple of different ways in which users can do this and they're not as complex as you may think.
In this tutorial, I'm going to show you how to change the color mode to grayscale and draw in grayscale in Procreate.
Note: Screenshots are taken from Procreate on iPadOS 15.5.
Key Takeaways
You can view artwork in grayscale in Procreate by adding a new gray layer on top of the original layers and adjusting its blending mode.
You can draw in grayscale by creating a new grayscale color palette in your Color Wheel.
This is a great way to identify your tonal values in artwork by eliminating the distraction of color.
Grayscale is a quick way to transform a colored image into a black-and-white or sepia artwork.
How to View Artwork in Grayscale in Procreate
This is the most efficient way to view your artwork in grayscale without affecting the values of your original color palette. Here's how:
Step 1: Create a new layer on top of the layer you want to view in grayscale. If you want to view the entire artwork in grayscale, add the layer at the very top of your layers menu. You can do this by tapping on the + symbol in your Layers menu.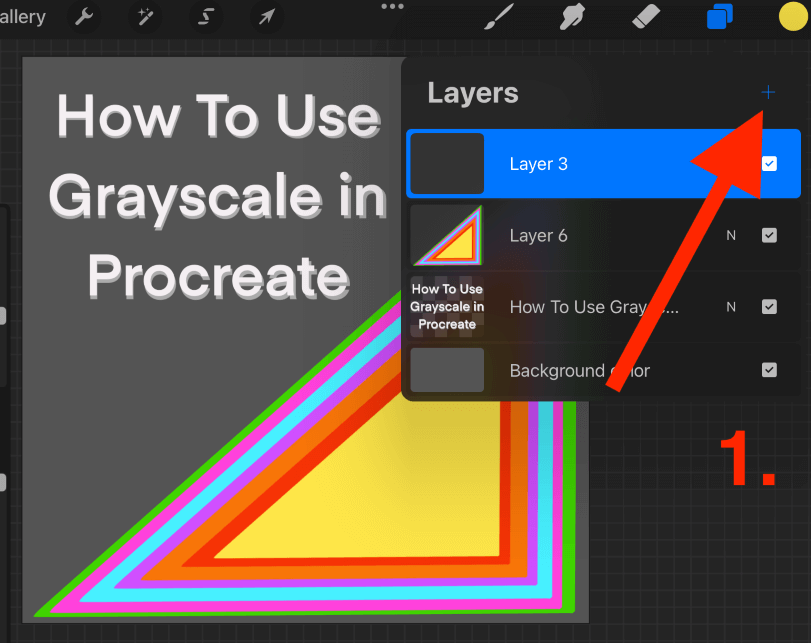 Step 2: Fill the new layer with any shade of gray from your color wheel by dragging and dropping it onto your canvas.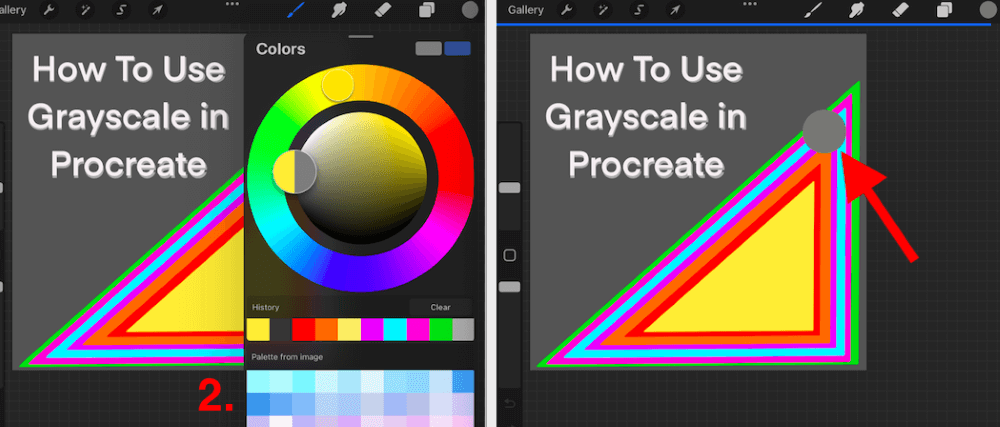 Step 3: Adjust the blending mode of your new layer by tapping on the N to the right of your Layers' title. When the drop-down menu appears, scroll down and select the Hue option.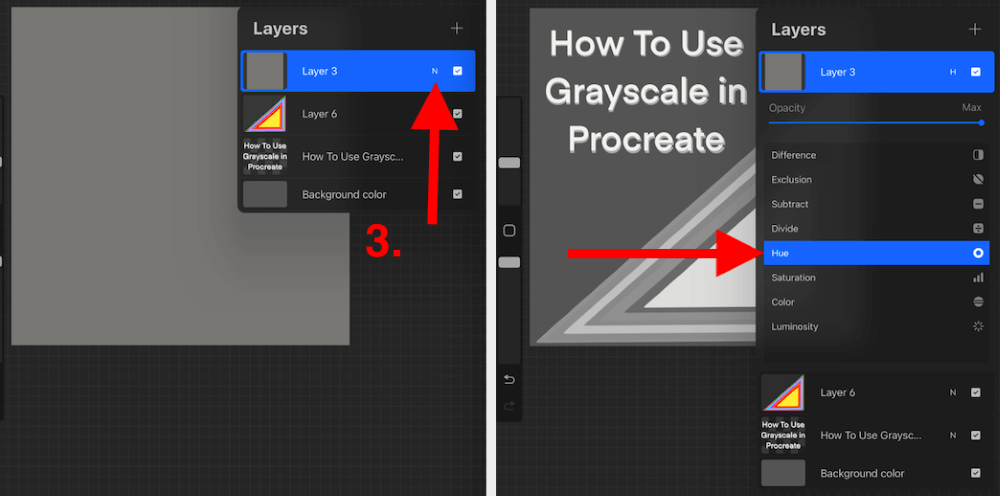 Step 4: You can easily switch between grayscale and full color by tapping on the active gray layer to deactivate and activate it.

Pro Tip: When adjusting the blending mode of your gray layer, you can actually select Hue or Saturation. Both of these settings will have the same effect on your canvas.
How to Draw in Grayscale in Procreate
You also have the option to create your own digital artwork in grayscale from the very beginning and draw using a specific palette. You can do this by creating your own grayscale palette from an image.
All you need to do is find a palette that you want to use online and save it to your device. I did this by searching "grayscale palette" in Google images and saving the file to my images. Once you have done this, it's time to get started. Here's how:
Step 1: Tap on the Color Disc in the top right-hand corner of your canvas to open your Color Wheel. In the bottom of the window, scroll to the right and select the Palette menu.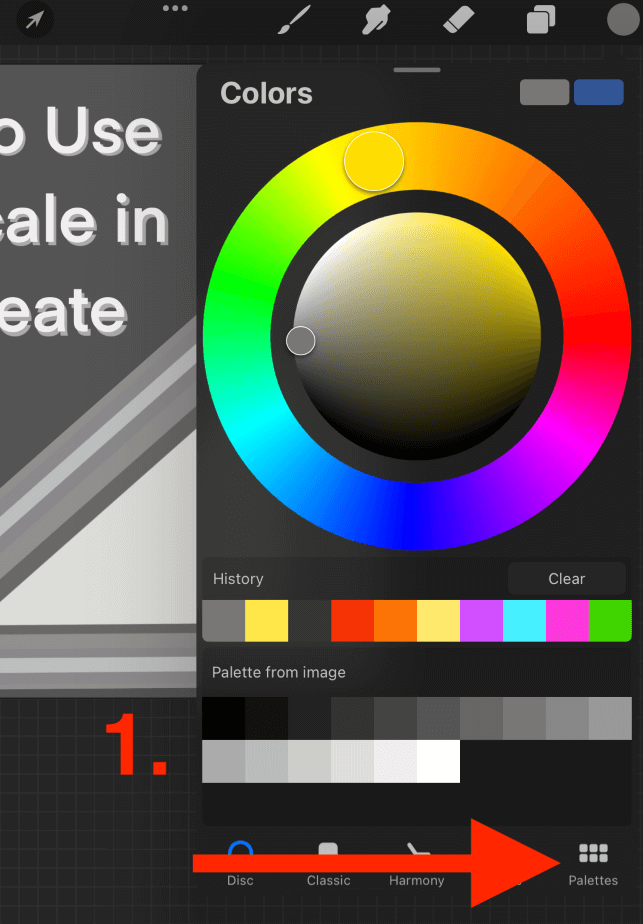 Step 2: In the top right-hand corner of your Palettes menu, tap on the + symbol. Then select New from photos.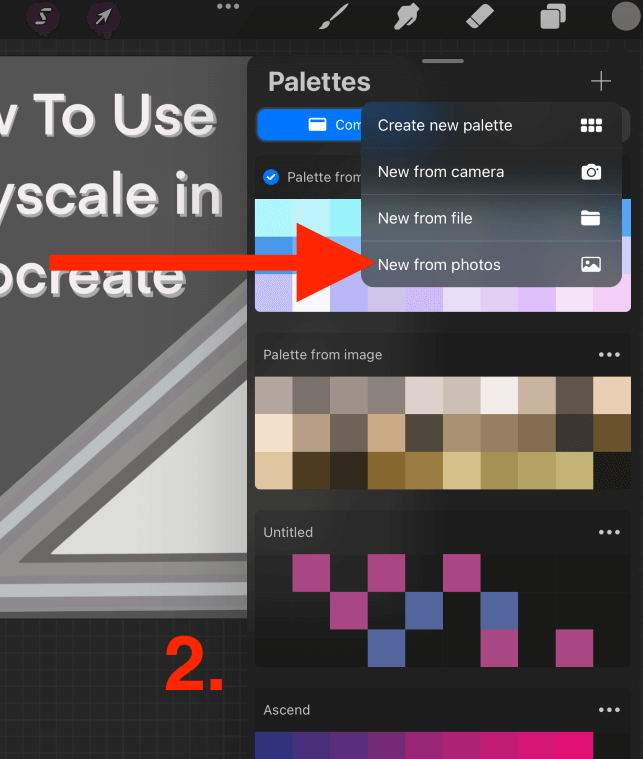 Step 3: Select your saved image and Procreate will automatically create a fresh new palette using all of the shades of color from the image. It will now be visible and active at the top of your Palettes menu. This will remain in the Palettes menu until you delete it.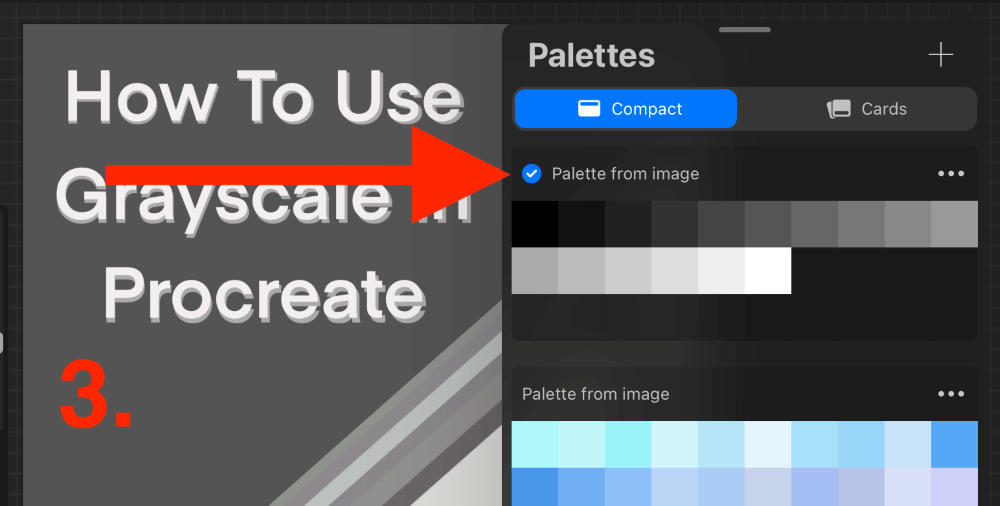 Reasons for Using Grayscale in Procreate
There are a couple of reasons why artists like to use grayscale in Procreate. I have highlighted them below. Some of the reasons you may not know about yet may be useful for you. Here they are:
Color Values
Many artists will like to view their artwork in grayscale to identify the color values of their artwork. This eliminates the focus on color which helps you to focus on tonal values over color values.
Black & White Effect
If you are collaborating with a client and want to produce various options for them, this is a quick way to provide a black and white option for them.
Shading
Sometimes shading a color artwork can be challenging for the human eye and viewing your work in grayscale can simplify the colors for you making it easier to identify tones in your work.
FAQs
I have gathered a selection of your frequently asked questions about using grayscale in Procreate. I have briefly answered them for you below:
How to get Procreate out of grayscale?
It depends on how you got into grayscale in the first place. If you created a grayscale layer, simply untick the gray layer to deactivate it and your artwork will go back to normal.
Are there free Procreate grayscale palettes?
You can purchase and download grayscale palettes online from other Procreate artists or you can create your own grayscale palette by downloading a palette you like online and adding it to your Color Wheel Palettes menu.
Why is Procreate in grayscale and how to fix it?
If you didn't manually add grayscale to your Procreate project, you may have accidentally adjusted the saturation of your layer. I recommend opening your Adjustments menu (magic wand icon) and ensuring your Saturation levels are where they should be.
Can I create a grayscale palette in Procreate Pocket?
Yes! You can add a grayscale layer and create a grayscale palette in Procreate Pocket using the same methods as shown above.
Final Thoughts
As some of you may already know from my previous articles, I am very passionate about color theory and I believe all digital artists should familiarize themselves with the color options available in the Procreate app. There are many so don't expect to be an expert immediately.
Using the grayscale settings available to you is the next-level color theory in Procreate and I strongly believe it will up your digital artwork game by spending some time to get used to it. You can create awesome new artwork and improve existing work by using these methods.
Do you use grayscale in the Procreate app and have anything to add? Feel free to leave your feedback in the comments section below.