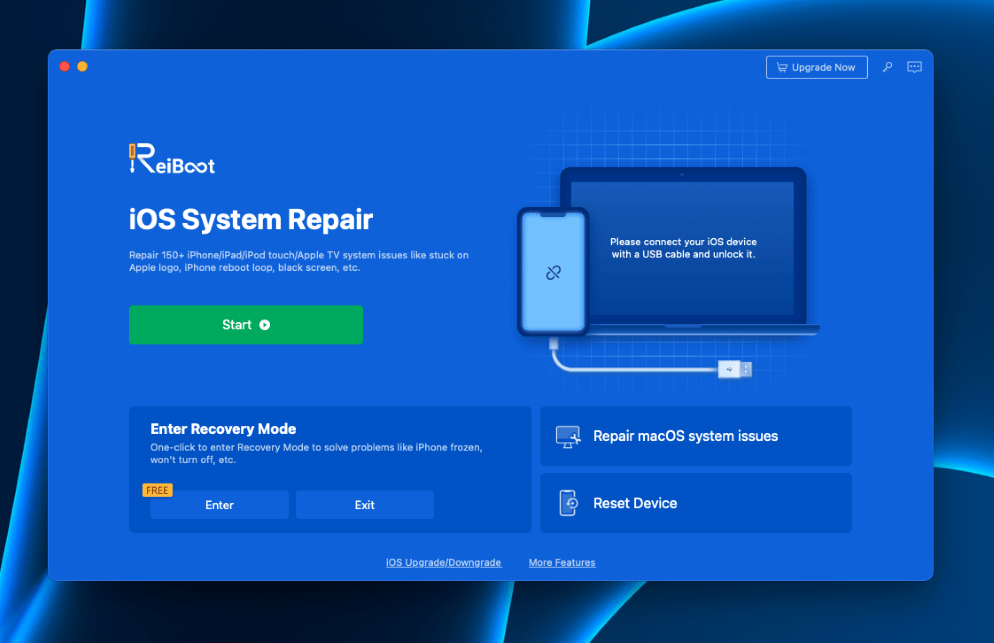 Tenorshare ReiBoot
Features: Designed to address over 50 issues with Android devices and 150+ iOS issues, this software features nearly everything you'd expect from a software of its kind.
Pricing: Starting at just $9.95 for a monthly Android license, this software is competitively priced and hard to beat.
Ease of Use: This software features a straightforward, user-friendly interface designed with simplicity and user experience at the forefront.
Support: Customers receive no shortage of resources, from an extensive list of software-specific resources to a dedicated customer support team.
Summary
Tenorshare Reiboot is a repair and recovery tool designed to help you troubleshoot booting problems with your smartphone. The software comes in two different types, one designed for Android and the other intended for iOS devices. 

Instead of attempting to wait out the booting issues, taking the device to a technician for repair, or meticulously troubleshooting the issue on your own, use Reiboot. This software is easy to use and simplifies the process with a few simple clicks. However, while it does its job well, it's important to note that some repairs may result in data loss.

What I Like: The software is easy to use and features multiple helpful tools designed to simplify the process of handling booting problems.

What I Don't Like: While this tool is incredibly helpful with booting problems and can help you avoid data loss in many cases, certain scenarios may result in data loss.
Is Tenorshare ReiBoot safe?
Tenorshare ReiBoot is safe, trusted software used by hundreds of device owners. It is virus-free and ad-free, so you can use it without worry.
What is the purpose of Tenorshare Reiboot?
Tenorshare Reiboot is software designed to help you troubleshoot common booting problems with smartphones. It also aids in repairing and recovering your devices.
Is Tenorshare ReiBoot free?
To use all of the features the software has to offer, you'll need to purchase a license. However, there are a select few features available with a free trial.
Why Trust Me for This Review
Hi, I'm Jon, an experienced tech and software aficionado. I'm an engineer, and learning the ins and outs of software, operating systems, and hardware is a top hobby of mine. I've been using and testing various software for nearly 15 years and using Android and iOS devices since they launched.
During that time, I've used countless apps and software to optimize the performance and fix issues of Android and iOS devices. Getting stuck on loading screens, your smartphone freezing, or it failing to boot can be frustrating in this digital age. That's where Tenorshare ReiBoot comes in handy.
Tenorshare ReiBoot has a simple interface for its Android and iOS versions that lets you fix common freezing and system issues with Android smartphones/tablets, iPhones, and iPads. If you're having these problems, Tenorshare ReiBoot can help solve them.
Tenorshare Reiboot is a handy tool designed to solve common booting problems on iOS devices. This software gives you the tools you need to easily troubleshoot pesky issues without having to leave the comfort of your home.
Here are a few key features of the Tenorshare Reiboot software, along with my personal take on each feature.
Compatible With iOS and Android
While some repair tools are designed for one OS or the other, Tenorshare offers separate programs for iOS and Android devices. Each version features repair options specific to your device, allowing you to quickly and easily troubleshoot common problems with a few simple taps.
Of course, you'll need to ensure you download the right option, as they're not interchangeable. However, since each option is explicitly marked for the type of system you have, it's easy to ensure you get the right fit.
My personal take: Finding a well-rounded repair tool for your device's system can be tricky, as you might find the perfect fit designed for the wrong system. With Tenorshare, you can select the option based on your situation, so there's no time-consuming research for another option required.
One-Click Exits
Like iOS devices, Android devices can become frozen, stuck in a loop, or on a particular screen. For example, you might see your device frozen on a screen saying, "Downloading… Do not turn off target."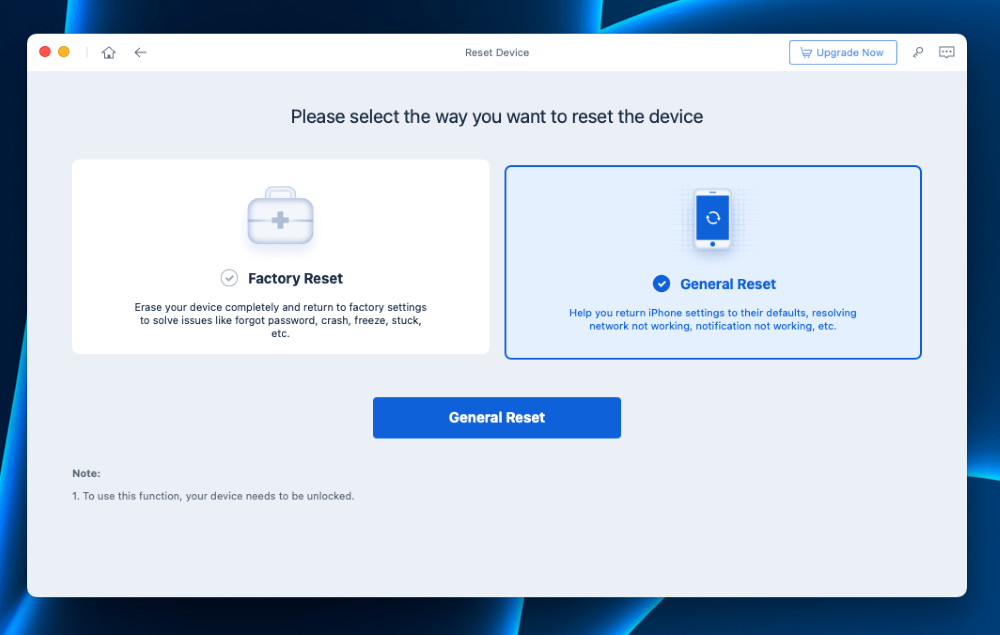 This can happen after a security mode when your device gets stuck in download/odin mode. While you could repetitively use key combinations to kick the device out of its stuck state, it isn't always easy. With Reiboot, all it takes is a simple click.
My personal take: A frozen screen can throw a wrench into your plans, preventing you from completing your to-do list for the day. With Reiboot, you don't have to go through the hassle of trying key combinations. Instead, skip the headache and remedy the issue with a quick click.
Promotes Smooth Operation
Android devices typically store temporary system files designed for use with various things, like OS updates in a cache partition. While they serve a function, some files can be corrupted, resulting in issues for your device.
Your device might become slow and clunky, bogged down for no apparent reason. The Reiboot software can help delete your device's system cache, wipe the cache partition without data loss, and restore the device to a fast, smooth working order.
My personal take: A lagging device is irritating, at best, as it slows you down from completing various tasks, from surfing the internet to communicating with friends and family. Having a tool in your arsenal designed to effortlessly dispel the lag can be the perfect solution to these problems.
Restoration and Recovery
On the Apple side of the story, Tenorshare Reiboot offers restoration and recovery features. For example, it can help you troubleshoot the frozen black screen that interrupts your browsing. It can also aid by restoring your device from recovery or DFU mode, which may happen when you lose connection during an iOS update.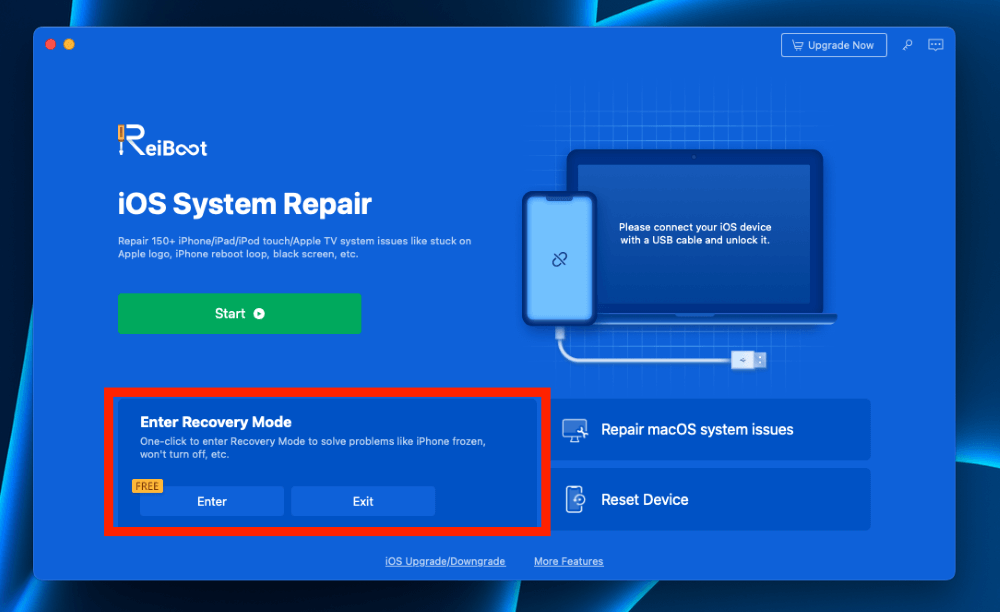 It also helps recover your device from the Apple loop or blue screen, ensuring you can repair the system without losing precious data.
My personal take: While hiccups are bound to occur every now and again, freezing, interrupted connections, and logo loops can threaten the safety of your data. But with Tenorshare Reiboot, you don't have to sacrifice your data in exchange for a functioning device.
User-Friendly Interface
Like many of Tenorshare's software options, Reiboot is designed with simplicity in mind. The interface is clean, sleek, and unobtrusive, featuring everything you need and nothing you don't. When you open the software, you won't find any complicated, confusing controls. Instead, there are only a couple of options available to keep things simple.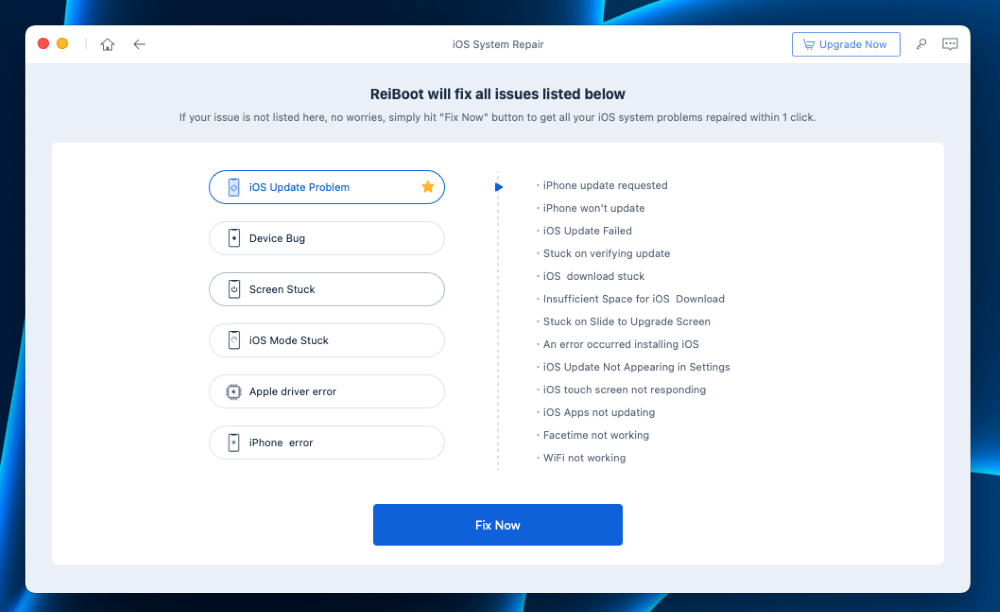 While there aren't any over-the-top bells and whistles in sight, the interface offers effortless usability and ample functions to get the job done.
My personal take: I don't know about you, but when I open software and see a confusing panel teeming with unfamiliar controls, I want nothing to do with it. This software is excellent for folks that might not be as tech-savvy as some, as it isn't overly complicated and doesn't require pro knowledge.
Reasons Behind My Ratings
Features: 4.8/5
Tenorshare Reiboot software is overflowing with all sorts of features you might expect from system repair software. While the features vary based on the system type, both options offer an extensive array of options to remedy common problems.
For example, the Android version is designed to address over 50 common issues associated with these devices, from frozen screens to crashing apps. Plus, it offers a system cache-clearing option to ensure your device continues to operate smoothly.
On the iOS side, there are plenty of features to use, including recovery from booting failure, system repair, and exit or recover from the recovery or DFU mode.
Pricing: 4.9/5
iOS Devices: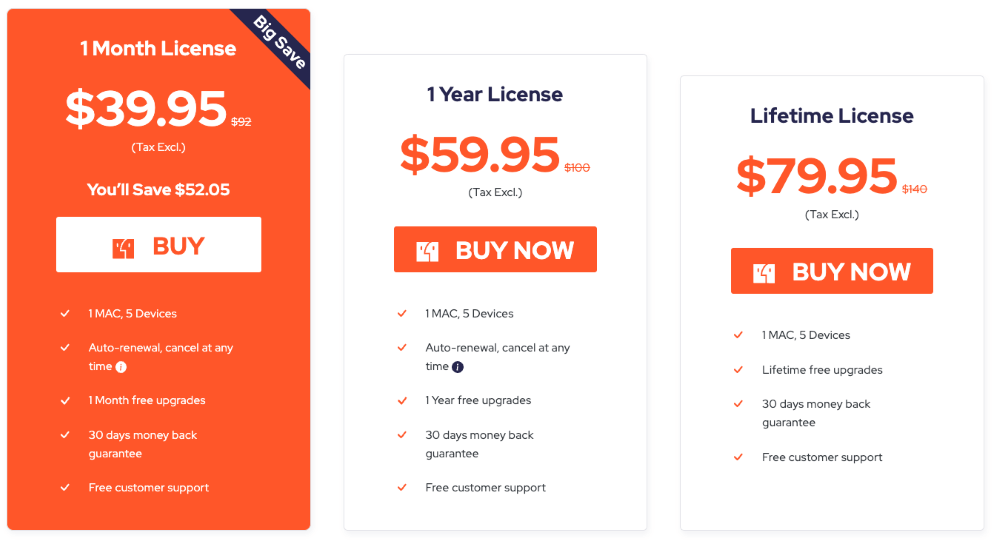 Android Devices: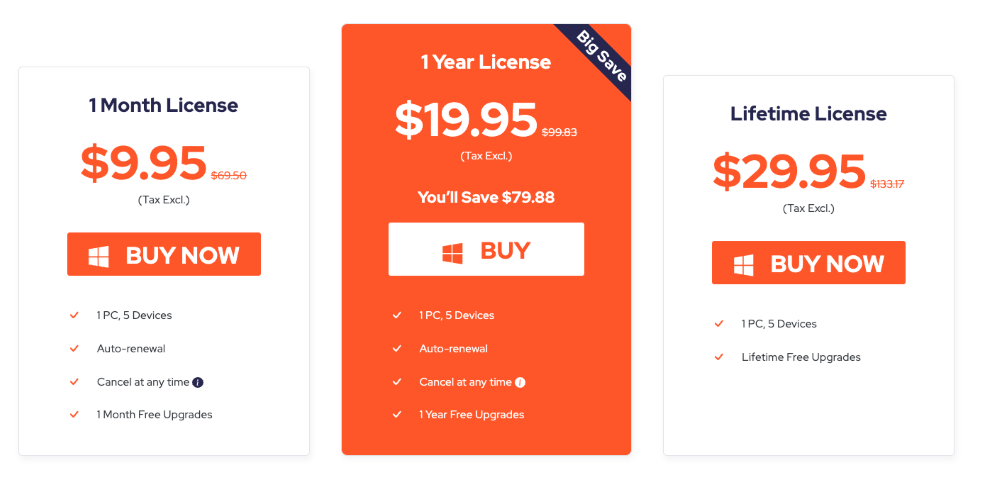 This software is priced exceptionally well, although prices vary based on the type of system you need it for. The software starts at a mere $9.95 for a monthly license to cover Android devices, but it's also available in annual and lifetime licenses.
For iOS users, the system starts higher, costing $39.95 for a monthly license as a starting point. However, the cost of the software also varies based on the type of device you'll use the software on, as certain options are cheaper than others. For example, if you plan on using it on a Windows device, it starts at $39.95, but if you'll use it on a Mac device, it starts at $66.95.
Ease of Use: 4.5/5
There are no complicated panels and tools requiring professional knowledge in this software. Instead, the software is designed with a user-friendly interface with simple repair options. When you open the software, you'll see a couple of options, each clearly labeled with what it does and things to note before using it.
Once you select the tool you want to use, the software will guide you through the process, offering prompts along the way. The step-by-step guidance is particularly helpful for folks who are less tech-savvy.
Support: 4.6/5
With Tenorshare software, you'll have no shortage of helpful resources. The company offers an extensive list of useful resources to guide you through any problems you may encounter. You can find these resources on the company's support page.
On this page, you'll find a list of software types. Scroll through the list to find the correct type, then click on one of the four available options, including FAQ, Video Tutorials, How to Use, and Knowledge Base, to start your journey.
If you can't find what you're looking for there, keep scrolling to the bottom of the page. As you close in on the bottom of the page, you'll find generic resources, including help with registration issues, order complications, and download and installation resources.
The company also has a customer support team that can guide you through any further questions or issues you can't find an answer to in the support resources.
Final Verdict
Tenorshare Reiboot is an excellent tool to have on hand when your device starts acting up, whether it's stuck in a boot loop or sluggish from cache issues. Its user-friendly interface and handy tools can help restore your device to smooth, rapid function with as little as a few quick clicks. 
This software is an excellent choice for many folks, but it's crucial to understand the risk of data loss with some processes, such as deep repair.