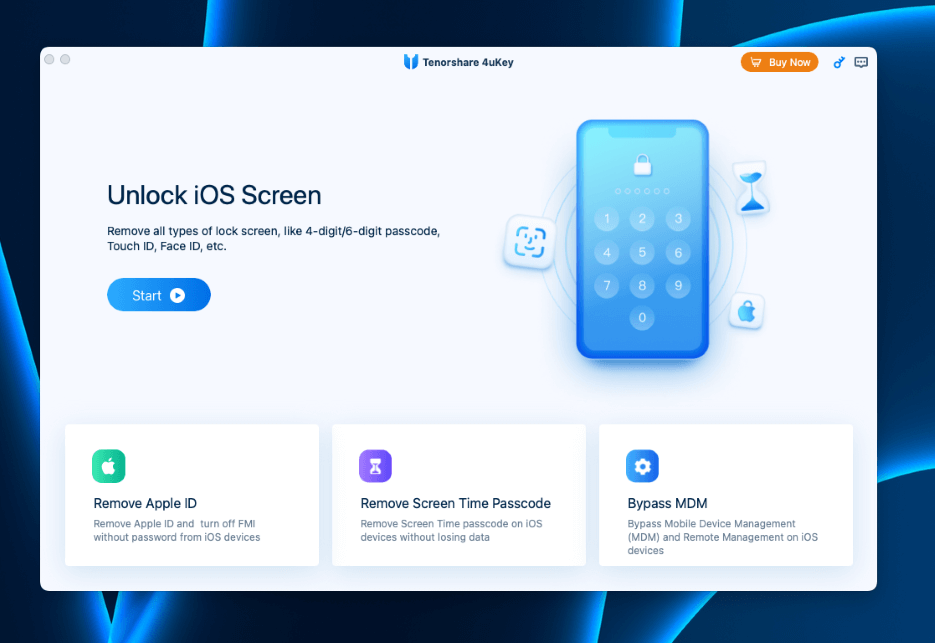 Tenorshare 4uKey
Effectiveness: This software has everything it needs and nothing it doesn't, remaining helpful without being overly complex.
Pricing: Starting at just $35.95, this software is a cheaper (and quicker) solution to iPhone unlocking problems.
Ease of Use: A user-friendly interface with a straightforward design ensures you have no issues finding what you need.
Support: Complete with extensive resources, plus a few general help answers and a customer support team.
Summary
Tenorshare 4uKey is an iOS unlocking tool designed to simplify the complications that can accompany owning an Apple device. You might forget your password or Apple ID, or maybe your device becomes unresponsive or disabled. This is where 4uKey comes in.

Instead of sending it in for decryption or bringing it to a local technician or Apple Store, you can troubleshoot the problem from the comfort of your own home. The software is well-designed and features a user-friendly interface and multiple helpful tools. It's an excellent option for iOS device owners who need help bypassing a password or something similar, but it might not be the solution to every situation.

But depending on your Apple device, it may not work. For example, it did not work on my iPad and iPhone.

What I Like: This software is easy to use, helps prevent data loss, and is available in a trial version to test compatibility before you commit to a subscription.

What I Don't Like: It does not work on most iPhones and iPads. Perhaps it works on earlier generations than I own.
Is Tenorshare 4uKey safe?
Yes, Tenorshare 4uKey is entirely safe to use and will not damage your device or lead to malware or virus attacks while using it.
Does Tenorshare 4uKey work on Android devices?
This particular software is designed specifically for Apple devices and will not work on Android devices. If you have an Android device, consult Tenorshare's other options for help.
What is the purpose of Tenorshare 4uKey?
This software is designed to help users skirt issues with their Apple iOS devices, from disabled and unresponsive devices to forgotten passcodes and IDs.
Disclaimer: At the time of writing and testing Tenorshare 4uKey, the software was not able to bypass Touch ID, Face ID, or 4-digit/6-digit passcodes on my iPhone 14 Pro Max or iPad Pro. Additionally, it was unable to remove my Apple ID. As of May 2023, there appears to be no software that can bypass the security on your Apple devices.
Why Trust Me for This Review
Hi, I'm JP, a writer and Apple enthusiast. I own several Apple products, including an iPhone 14 Pro Max, iPad Pro, Macbook Air, and several Apple accessories. I've been a happy customer for over a decade. 
I like to delve into the technical hardware and software details of the consumer electronics that I own. One of the most important things to me is device security. For example, if someone steals my iPhone, I don't want them to get access to my saved passwords, bank accounts, credit cards, etc. 
That is why I know so much about Apple's device security and encryption. And Tenorshare's claims of 4uKey being able to bypass this security piqued my interest. Thankfully, Tenorshare 4uKey was not able to bypass the security on my iOS devices. But it may work for you depending on your model and iOS version.
Tenorshare 4uKey is a helpful tool designed to minimize password complications and other similar problems among iOS device users. It's a convenient and faster alternative to traditional methods of decryption, allowing you to troubleshoot the problem from the comfort of your couch.
Here are a few key features of the Tenorshare 4uKey software, along with my personal take on each feature.
iPhone Unlocker
Uh oh. You forgot your screen lock password to your iPhone. In a digital age, this is a problem, as we use our phones for nearly everything, from communicating with friends and family to work-related tasks.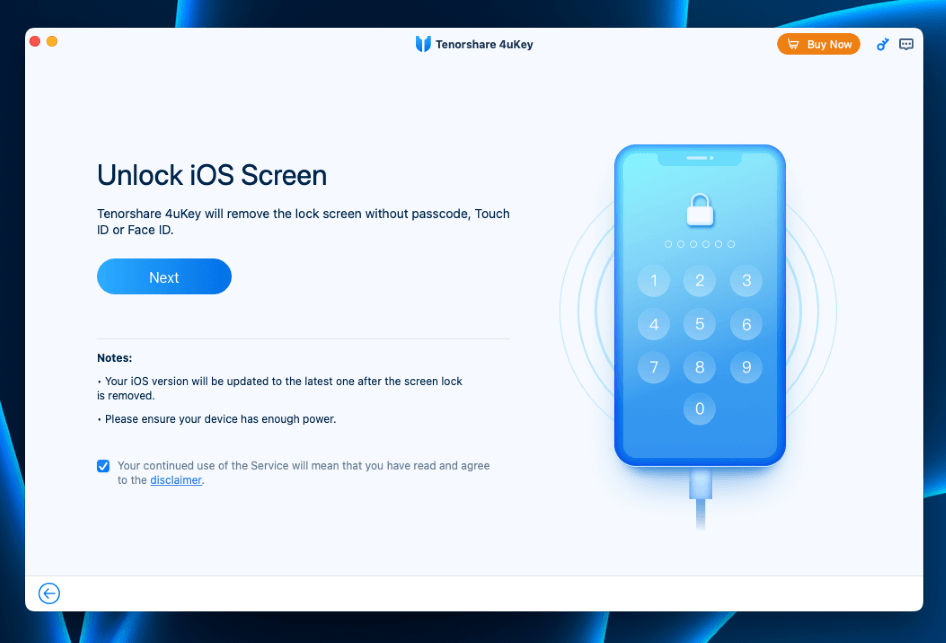 Or, maybe you tapped in the wrong passcode one too many times, and now your device is disabled. In this case, you can quickly and easily unlock your phone with a few simple taps in the 4uKey software.
My personal take: Accidentally typing in an incorrect passcode to your device is all too easy, but with 4uKey, you don't need to worry about waiting out the disabled period, in theory. However, this did not work with my iPhone.
Factory Reset
If you ever need to factory reset your device, you'll need to enter your Apple ID and password. And traditionally, if you don't have these pieces of information, you're out of luck. According to Tenorshare, with 4uKey, you can bypass the need for a password and reset the device without a hitch.
This is particularly handy if you purchase a second-hand device, as you'll want a clean slate but might not know the login information of the previous owner.
My personal take: Forgetting login information, especially your Apple ID and password, can throw a wrench into your reset plans. With this software, you may be able to reset it without remembering your credentials. That said, this did not work with my iOS devices.
Passcode Remover
While there are multiple tools available to bypass 4-digit and 6-digit passcodes, tackling Touch ID or Face ID locks is more complicated. With 4uKey, addressing these locks isn't an issue.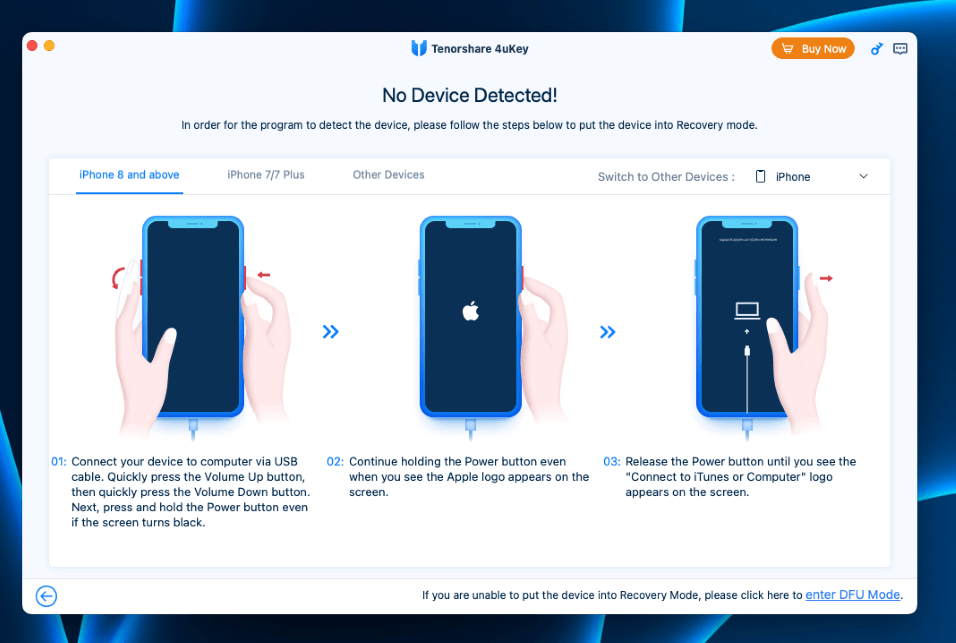 The software can handle all sorts of locks, including 4-digit or 6-digit passcodes, alphanumeric passcodes, Touch ID or Face ID, and custom codes. All it takes is a few clicks and a couple of minutes, and just like that, you can unlock your device without a hitch.
My personal take: The passcode remover did not work on my iPhone or iPad. However, it might work with older-generation Apple devices.
Screen Time Passcode Remover
The screen time limit passcode is a helpful feature for parents and children, as it keeps screen time to a reasonable amount. In today's digital age, screen time limits are the perfect way to ensure you don't waste the day away.
However, while screen time limits can be helpful, forgetting the combination isn't. With this tool, you can quickly and easily remove the passcode with a few quick steps.
My personal take: If you forget the passcode to your screen time limit, there's no need to reset your device and lose your precious data. Instead, use this feature and its three simple steps to resolve the issue and send you on your way. That said, this also did not work for my iOS devices.
User-Friendly Interface
Complicated, intricate software can be overwhelming, so a simple interface is essential to easily adjust to new software. The 4uKey interface is user-friendly, so while there might be a learning curve in the beginning as you begin to use the software, it's easy to get the hang of.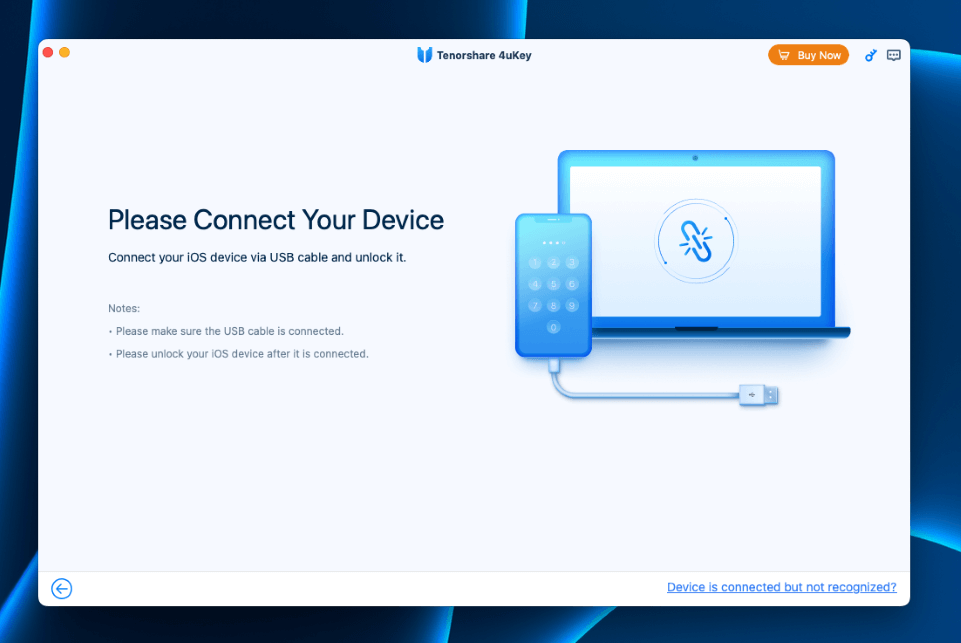 Once you download the software, you'll see a clean, straightforward home page with four options: Unlock screen, unlock ID, remove screen time passcode, and bypass MDM. Click the option you want, follow the prompts, and tada! You're good to go!
My personal take: Using new software can be intimidating, especially when the interface is cluttered and busy. With 4uKey, this isn't a concern, as the software has everything it needs but nothing it doesn't– and is very intuitive.
MDM Bypass
This software comes with a Mobile Device Management (MDM) bypass feature. The MDM feature on an Apple device allows the device's owner remote control and tracking abilities to see what the device is used for.
With this software, users can bypass the MDM feature on their iPhones, iPads, and Macs with a single click. So, if you need to pause the overwatch feature for a period, this bypass feature allows you to do it.
My personal take: This feature can be incredibly useful if you bought a used iPhone or iPad from a business that forget to take MDM off of it. NOTE: I had no way of testing the MDM feature.
Reasons Behind My Ratings
Features: 1/5
According to Tenorshare, this 4uKey software should help you remove every type of lock screen from your iOS device, including 4-digit/6-digit passcodes, Face ID, Touch ID, Apple ID, Screen Time Passcodes, and MDMs.

It also claims to be able to remove Apple IDs and disable Find My iPhone without your password.

However, none of these features worked on my iPhone 14 Pro Max and iPad Pro. As far as I'm aware, there is no way to break Apple's encryption.
That said, perhaps the software does work on previous versions of iOS, which I was unable to test.
Pricing: 3/5
In terms of pricing, 4uKey starts at a mere $35.95, which is a small fee to remove device encryption. But since most of the features did not work for me, the price of the software is not worth it.
Ease of Use: 4.7/5
The 4uKey user interface is incredibly straightforward. It features everything it needs and nothing it doesn't, all in an easy-to-use package. When you open the software, it opens to a simple home screen featuring each option: Unlock iOS screen, Unlock Apple ID, Remove Screen Time Passcode, and Bypass MDM.
There aren't any confusing or intricate panels packed with overwhelming options. Instead, you'll find everything you need on the home screen, easily accessible with a simple tap. Once you select an option, you simply need to follow the prompts to complete the task. The processes are simple and quick, ensuring you don't have to wait too long or spend excessive time poring over a confusing interface.
Support: 4.6/5
Tenorshare offers solid support to its customers, from detailed help pages to a helpful support team. You can find extensive help resources on its website – simply open the support page and scroll to the type of software you have.
Once you find the correct option, you'll see four options: FAQ, Video Tutorials, How to Use, and a Knowledge Base. Click through each option to find helpful information pertinent to the software you have.
If you can't find the information you need in the support information specific to the software you have, check the general FAQs at the bottom of the page, which address registration issues, common order questions, and download and installation resources.
If your question still remains unanswered, contact Tenorshare's customer service team by clicking the link at the bottom of its help page.
Final Verdict
Tenorshare 4uKey can be a helpful unlocking tool to alleviate the stress of a forgotten passcode or disabled iOS device. However, it did not work for my iOS devices– iPhone 14 Pro Max and iPad Pro. Perhaps it does work for older Apple devices or previous versions of iOS, but I had no way to test that.