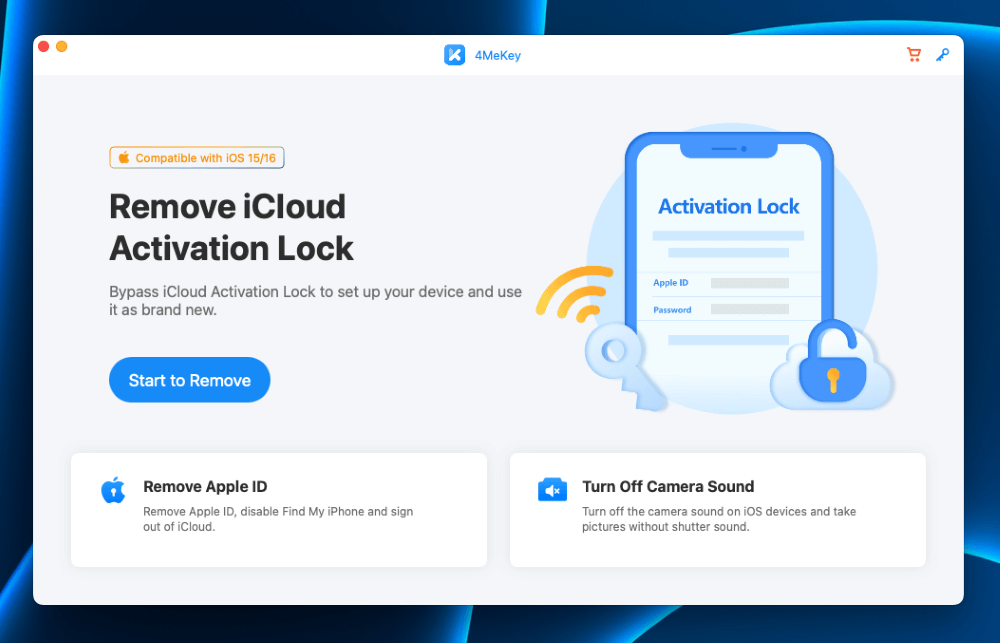 Tenorshare 4MeKey
Effectiveness: The setup is simple, with a handful of tools to help you troubleshoot activation lock issues for certain iOS devices. However, you will have to re-use the 4MeKey software any time the iOS device reconnects to Apple servers.
Pricing: Starting at just $45.95 for a monthly license, $59.95 for a yearly license, and $69.95 for a lifetime license, this software is an affordable alternative to hiring a technician.
Ease of Use: This software features a well-designed, user-friendly interface that is easy to use.
Support: Complete with an extensive support page with software-specific resources, plus generic information and a customer support team, customers using this software have all the help they'll need.
Summary
Tenorshare 4MeKey is a professional-style software designed to bypass the iCloud activation lock on iOS devices. It's helpful in a pinch, particularly when setting up a second-hand device or exiting an ID locked for security reasons. 

The software allows you to troubleshoot activation problems from the comfort of your couch, with no technician necessary. While the interface is designed like a professional tool, it's incredibly user-friendly and features multiple helpful tools. It's a great tool for activation lock problems, but it's not ideal for folks that want to avoid jailbreaking their devices.

What I Like: This software is well-designed, user-friendly, and has an impressive success rate.

What I Don't Like: While this software is incredibly helpful, once the iPad/iPhone tries to reconnect to Apple services, it will re-associate the iCloud account with the device and lock you out again. Then you will have to rerun the 4MeKey software.
Is Tenorshare 4MeKey safe?
Yes, Tenorshare 4MeKey is completely safe to use. The software maintains your device's security while effortlessly removing the iCloud activation lock.
What is the purpose of Tenorshare 4MeKey?
Tenorshare 4MeKey is designed to help users safely bypass the iCloud activation lock on their devices without the hassle of tracking down IDs and passwords.
Is Tenorshare 4MeKey legit?
While it might seem too good to be true, 4MeKey is a legit, trusted software that you can use to quickly and easily remove the iCloud activation lock from your iOS device.
Why Trust Me for This Review
Hi, I'm Jon, a tech geek and engineer. I've owned many Apple devices– iPhones, iPads, Macbooks, etc. for well over a decade.
I love to learn the technical aspects related to hardware and software on devices that I own. One of those aspects is activation locks. While I've never been in a situation where I needed to remove an activation lock on my iOS devices without knowing the password and Apple ID, I like to be prepared if I ever need to.
That is why I researched software that can help me bypass the activation lock without knowing the Apple ID and password. And Tenorshare 4MeKey claims to do just that. Surprisingly it works, but it is not a permanent solution. Keep reading to learn why.
Below, I'm going to review the key features of Tenorshare 4MeKey and show you my personal take on each of them.
Disable Find My iPhone
The Find My iPhone feature is a handy tool to track down your Apple devices when you misplace them. But in some cases, you might need to turn the feature off. And if you forgot your Apple ID and password or bought a used device from a pawn shop, you'll be out of luck to disable the feature.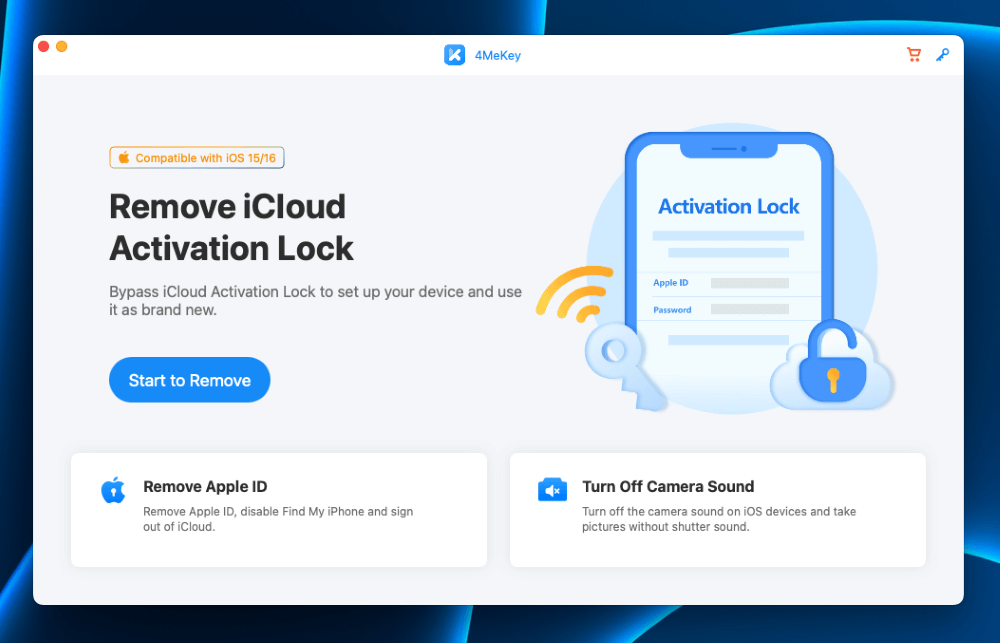 However, with 4MeKey, you can turn off this feature in a few simple steps on iPhones, iPads, and iPods. After you complete the steps, you will be able to disable the feature with no password necessary.
However, once your iPad or iPhone "calls home" to the Apple servers, it will reassociate itself with the original Apple ID. But you can re-run 4MeKey to remove it again, which isn't ideal.
My personal take: Although helpful in many cases, there are some scenarios where the Find My iPhone feature can be a hindrance– maybe you bought a used device online, and the seller didn't deactivate it, or you inherited an iPad from a deceased family member. The 4MeKey can save a lot of stress associated with this, so it's a handy tool to have. But you'll have to re-run the software every time the Apple device connects to the Apple server (for iOS updates and other tasks).
Bypass iCloud Activation Lock
The iCloud activation lock feature on iOS devices is an excellent way to protect your data's security. It ensures nobody can reset or activate your device without knowing the iCloud account information.
However, if you share this information with family members or have a work device with this lock, it can be a headache. This software allows you to quickly and easily bypass the lock with three simple steps, sending you on your way.
My personal take: While data security is essential, the activation lock can be a nuisance on shared devices. So, when you need to bypass this lock to complete a task, there's no need to trace down the login information. Instead, use this software to effortlessly crack the code.
Turn Off Camera Sound
Another feature of 4MeKey is turning off the shutter sound on your iOS devices. So, when you take photos, your iPhone or iPad will no longer make an annoying snap noise.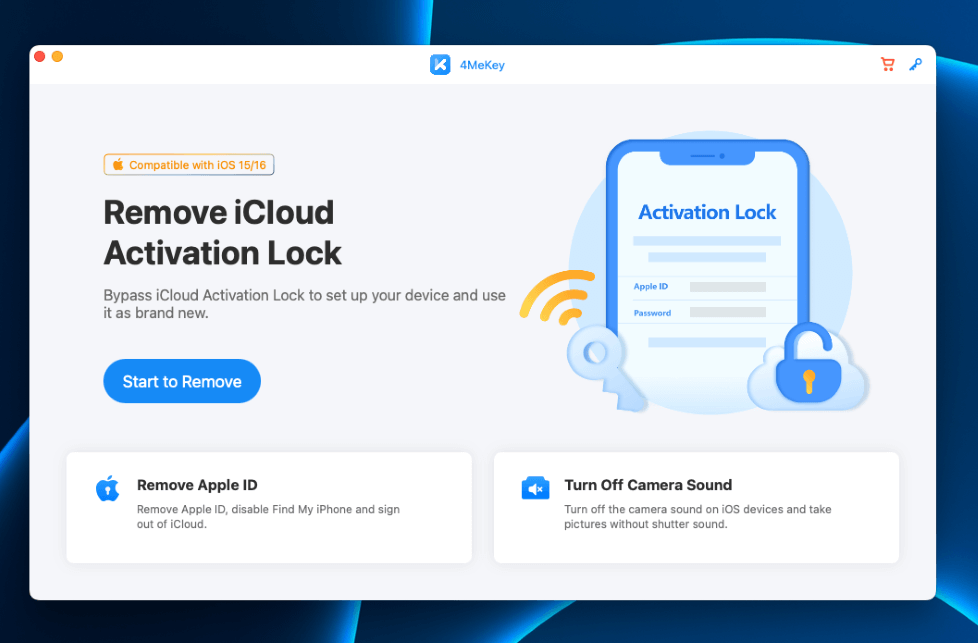 This is easy to set up with 4MeKey, just plug your device into your computer with a USB cable and click the "Turn Off Camera Sound" button in the software.
My personal take: The Turn Off Camera Sound feature wasn't of any use to me. With my iPhone 14 Pro Max, all I have to do to disable the shutter sound is put my iPhone in silent mode. That said, perhaps you can't disable the shutter sound through iOS in different regions of the world.
User-Friendly Interface
The Tenorshare 4MeKey interface is well-designed and easy to use. Unlike some types of software, which feature a cluttered interface that can overwhelm new users, this software features a user-friendly design.
The software has a professional yet simple interface that provides everything users might need in a straightforward format. Once you select the tool you want to use, you simply need to follow the prompts to complete the task. There's no guesswork involved, as the processes are simple, so it's easy to use.
My personal take: A complicated layout in software like this can be overwhelming to use, especially for newbies. However, the 4MeKey setup features a user-friendly format, so while there might be a slight learning curve, it's not overly difficult to use.
Reasons Behind My Ratings
Features: 3/5
The 4MeKey software is complete with a couple of helpful features, including most things you might expect from the software of its kind. While you won't find any fancy or complicated controls, you'll have everything you need to complete what the software is designed to do.
From the ability to quickly disable the Find My iPhone feature to effortlessly removing the iCloud activation lock, this software has plenty of helpful features to get the job done. The downside is that you will have to re-run the 4MeKey software any time your iPhone or iPad reconnects to Apple's iCloud server. It will do this for updates to iOS and randomly for certain tasks.
Pricing: 4/5
This software is fairly affordable, with prices starting at just $45.95 for a monthly license. You can purchase other options, including annual and lifetime passes, which cost $59.95 and $69.95, respectively.
Considering what you might pay for a technician to handle the same thing, these prices are quite affordable. When you purchase the software, you'll receive it instantly via email. If you don't like it, you can take advantage of Tenorshare's 30-day money-back guarantee.
Ease of Use: 4.5/5
The Tenorshare 4MeKey software is designed for ease of use. The setup is simple and clean, free of complex, overwhelming panels packed with confusing controls. Instead, you'll find a straightforward setup with everything you need and nothing you don't.
When you decide which function you want to use, you simply need to tap the proper feature to select it. The software will guide you through the process, offering prompts along the way to ensure everything goes smoothly.
Unlike some types of software similar to 4MeKey, this software doesn't have complex controls, so there are little to no learning curves.
Support: 4.5/5
Customers using Tenorshare products have ample resources readily available. The company has an extensive network of support pages, with different sections for each type of software it offers.
Once you open the support page, you simply need to scroll through the options until you find the option that matches the software you have. When you find the correct option, you'll have four helpful resources: FAQ, Video Tutorials, How to Use, and a Knowledge Base. Browse through each option to find the information you need.
If you can't find the answer to your question, scroll to the bottom of the page, where you'll find generic help questions, including registration issues, order questions, and download and installation resources.
Beyond that, the company also has a customer support team ready to help you through any hiccups you might encounter. So, if you can't find the answer to your question in any of the help resources, scroll to the bottom of the support page and click the customer support link to initiate a conversation.
Final Verdict
Tenorshare 4MeKey is a helpful tool designed to simplify the process of troubleshooting iOS activation issues. Complete with a user-friendly interface and several helpful tools, this software is a solid pick among the software of its kind. However, you will have to rerun the software once your iOS device reconnects to the iCloud server (as it will automatically reassociate the device with the original Apple ID). 
If you're struggling with the iOS activation lock, this tool might be the perfect solution to help navigate the problem. Since it requires multiple uses, it might not be the best pick for everyone, but if you don't mind that, it could be an excellent option.