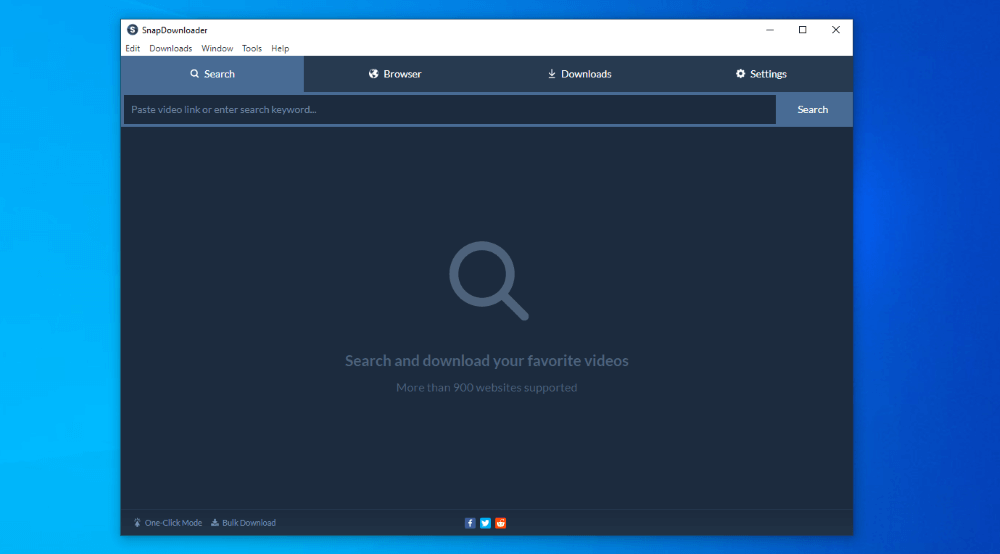 SnapDownloader
Features: fully-featured video downloader with many options
Pricing: reasonable lifetime pricing for what you get
Ease of Use: point and click downloads with easy-to-access features and options
Support: good interactive support with extensive program documentation
Summary
SnapDownloader is a simple and straightforward tool that streamlines online video content downloading. The SnapDownloader website makes the claim that it can download up to 8k video, depending on the source resolution. It also claims that 900 websites are supported natively. 

It's no frills but does what it is designed to do almost perfectly. I really appreciate that kind of focus on substance over form. It doesn't shirk a good UI, which is also greatly appreciated with any software. 

If you have video content you want to download, this product is for you. If not, then it probably isn't. There are free programs that do what SnapDownloader does. They may or may not come bundled with malware. It's up to you if the cost/benefit tradeoff is there. It's a no-brainer for me.

What I Like: very straightforward usability while maintaining a robust selection of download features and customization.

What I Don't Like: for the price, I think there should be a live support option. At $8/month for a monthly subscription, it would be a great way to differentiate subscription tiers from a lifetime license, for example.
Here are some common answers to questions related to SnapDownloader.
Is SnapDownloader Any Good?
Absolutely and you should read the rest of my review to learn why!
Are there Free Alternatives to SnapDownloader?
Yes, but you get what you pay for. They may not work on some websites or break when websites update to prevent content downloaders from working. Since you're reliant on an uncompensated development team, that could take a while to fix. You're also rolling the malware dice, which is a terrible thing to do.
Do You Have to Pay for SnapDownloader?
Yes. SnapDownloader lets you purchase it outright or subscribe. There's no feature differentiation between purchase and subscription.
Why Trust Me for This Review
Hi, I'm Aaron. I'm a technology and information security professional. I spent my formative years in the early days of dial-up internet when downloading a single song could take the better part of, if not the entire day.
Media downloading tools have existed for at least that long. They haven't always performed as well as SnapDownloader purports to do. SnapDownloader's true value is its breadth of support.
Detailed SnapDownloader Review
Let's dive into some of SnapDownloader's features. While there aren't many, SnapDownlaoder really doesn't need more than it has and they work very well.
Search
When you first open SnapDownloader, it defaults to the Search window.

That search window lets you either paste a specific video link or enter a search keyword. With respect to a specific video link, pasting the link will highlight the video and provide numerous options for parsing your video file.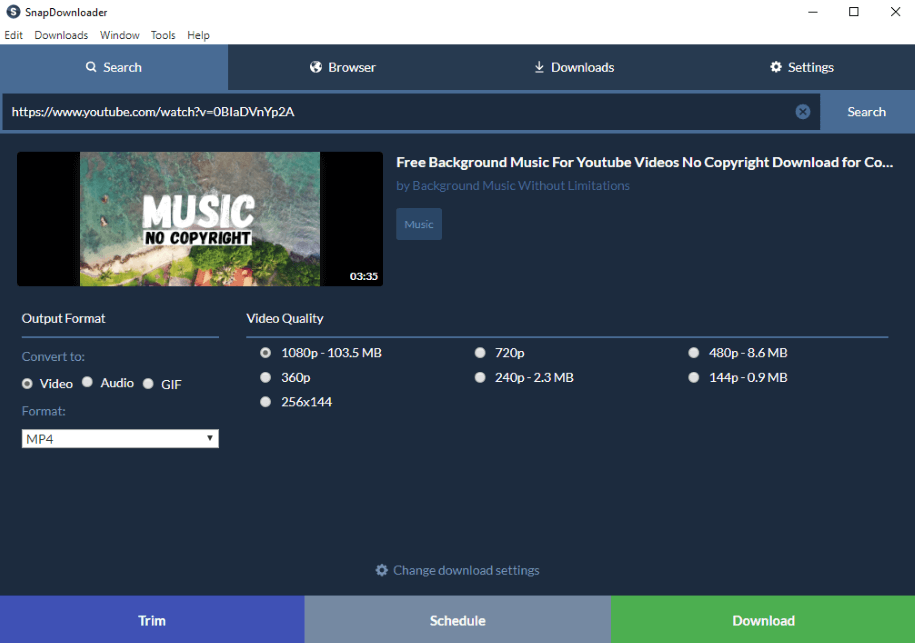 I'll cover those options in the next section, but needless to say, they are extensive.
With respect to the keyword search, it works well returning more relevant videos than not. Searching for a specific website, here Reddit, returns many of the same results as a generic search. It's unclear which videos are on YouTube, Reddit, or otherwise and there's not an easily identifiable way to learn that.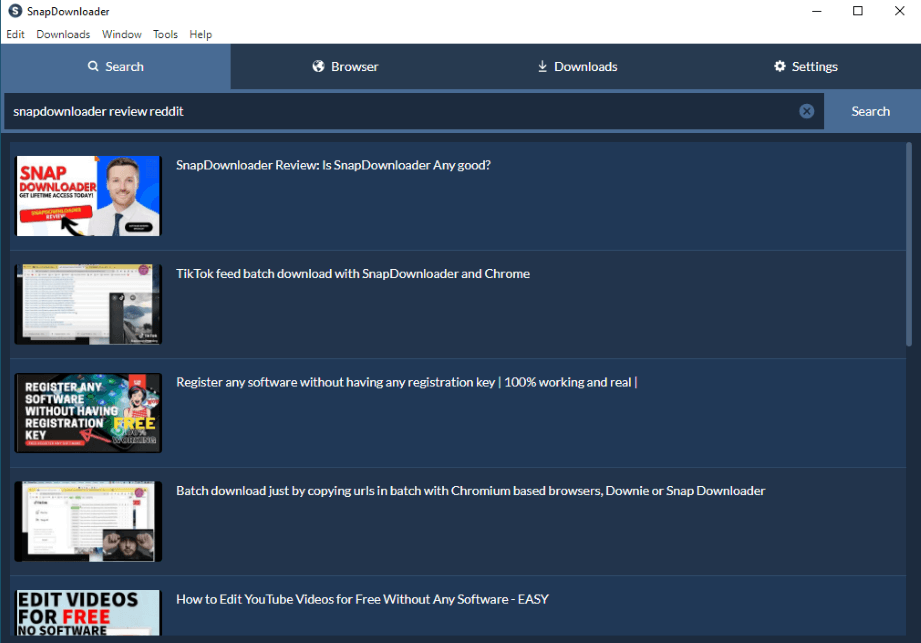 Interestingly, but not completely surprisingly, live videos aren't supported. I would imagine that has something to do with how a video is parsed and encoded by SnapDownloader.

My personal take: The search function provides everything you need in an easy-to-use compact format.
Download Formats
SnapDownloader provides many options for downloading, which you may find more or less helpful depending on your needs. Those options change depending on the kind of format to which you download. Let's start with video.

Downloading to video is a snap. Simply pick your video format, subtitle choice, and video quality. Formats include commonly supported MP4, AVI, and MOV formats. You can also pick whatever format the video comes in–YouTube supports 144p to 8K, so you'll be able to pick whatever is available. SnapDownloader also helpfully provides file sizes.
Switching to Audio, the options one would expect to see are there.

Formats range from standard and highly compressed audio like WMA and MP4 to lossless formats like AAC and FLAC. Unfortunately, if the audio source is 128 kbps then selecting FLAC won't upscale the quality. In other words, you'll still be listening to lossy audio in a lossless format.
Finally, GIF lets you make a GIF with some common options like length, resolution, frames per second, and looping. 

If you want to add text to your GIF, you'll need Aftereffects or a similar local program or a web-hosted solution.
My personal take: I'm a big fan of the multiple formats offered and the variety of options for customizing your download needs. This makes incredibly straightforward things that were much more complexly presented even a few years ago.
Download Options
There are four download options available to all output formats.

Trim gives you the ability to shorten the video and only capture part of it.
Chapters let you select a specific chapter if the video supports that, like many YouTube videos.
Schedule provides the ability to defer processing in case your computer can't handle video capture along with other tasks.
Download activates the download based on selected parameters.
My personal take: I like the flexibility offered by the different options. My favorite is scheduling, which acknowledges that people might have other things to do with their computer at the moment and doesn't have a monster of a computer that can handle multiple intensive tasks. It's a very thoughtful addition from the developers.
Browser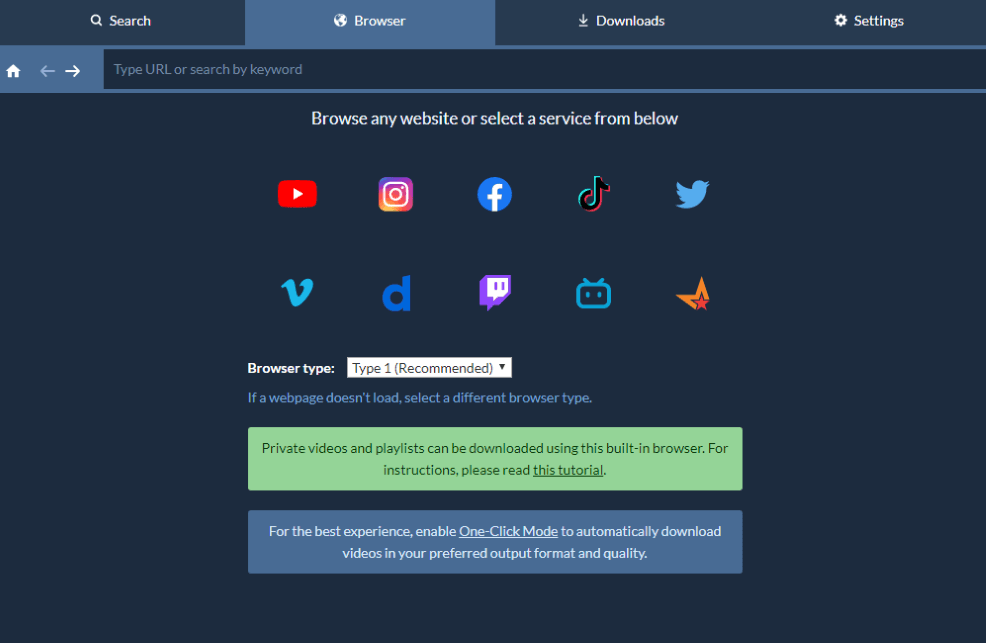 Browser mode is, in my opinion, where SnapDownloader really shines. It opens a webpage in SnapDownloader's browser, which allows you to select video or audio content to capture. Simply navigate to a page and click the download button to add it to SnapDownloader's Search tab.

You can also enable One-Click Mode to expedite downloads on click.

That provides you with a limited set of download options compared to the Search tab, but you can always use the download button if those options are needed.
My personal take: the browsing feature is really fantastic because of its simplicity. Instead of relying on the user to understand what a URL is and how to parse settings, the browser setting can be a set-it-and-forget-it option for users who just want copies of their favorite videos.
Reasons Behind My Ratings
Features: 5/5
SnapDownloader does what it sets out to do and downloads video content. It does so with elegant and simplistic flourishes that effectively walk users through achieving their desired experiences.
Pricing: 5/5
This is more expensive than some alternatives. It also provides a wide range of support and an elegant and simple UI. You can do everything with free tools that you can do with SnapDownloader, but the experience won't be as nice.
Do I think that's worth $40? If you download a lot of video content from the internet, then absolutely. If you don't then the pricing might be a bit steep and certainly, the monthly cost of $7.99 doesn't make sense. Neither do the $16.99 3-month or $29.99 annual subscriptions.
You can try before you buy and SnapDownloader provides a 48-hour full-featured trial period.
Ease of Use: 5/5
Where SnapDownloader provides a point-and-click interface allowing you to download, it literally doesn't get easier than this. Their feature presentation doesn't lack functionality or simplicity and has both in spades. I haven't encountered an easier-to-use tool than SnapDownloader.
Support: 4/5
SnapDownloader support leaves a little to be desired but provides what I'd expect. There's a blog that provides instructions on how to use the product. It also provides a list of fully-supported websites.
While there's no SnapDownloader-hosted support, they do have a somewhat active subreddit in which the developers participate and respond to inquiries. It appears that they respond to almost every support question, but do not respond to new features. They provide a separate changelog and you can see whether or not those features were incorporated. 
Final Verdict
SnapDownloader makes video content downloading a snap. It's literally in the name and it's encouraging to see such a well-supported and functional tool. Its no-nonsense and straightforward UI presents all options intelligibly and easily. 
I think this is an excellent product for moderate to prolific video downloaders. Try the product and see if the $40 price tag makes sense for you. If you think it does, then great! If not, then I'm not sure I'd recommend it. Anything short of the lifetime license seems like a poor value proposition.