We write to create, remember, plan, research, and collaborate. In short, we need to be productive. When it comes to our computing life, one key to productivity is to choose apps with features and workflow that match your needs.
In this article, we'll compare two very different apps: Scrivener vs. Evernote, and explore what they're best at.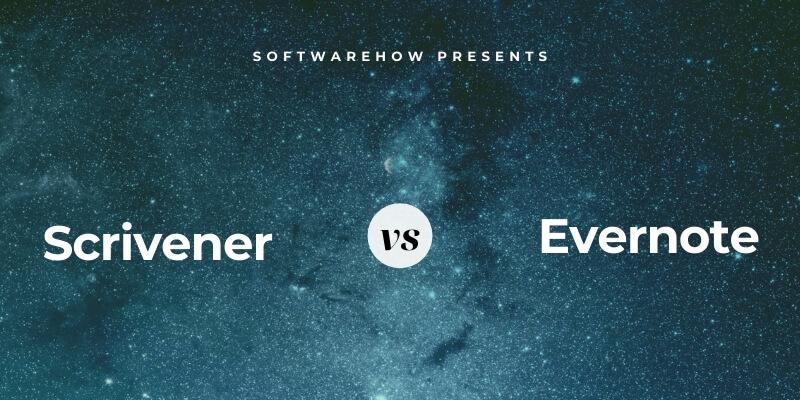 Scrivener is a popular app among serious writers, especially those who write long-form projects such as books, novels, and screenplays. It's not a general-purpose tool: it offers highly targeted features so individual writers can run their own version of a marathon. It helps them stay motivated, track progress, and move book-length projects toward completion.
Evernote is a well-known note-taking app. It is a general-purpose application; it excels at helping you store and find short notes, reference information, web clips, and scanned documents. It also lets you set reminders, create checkboxes, and collaborate with others.
Some writers use Evernote to manage their book-length projects. While it isn't specifically built to do so, it offers features that are very similar to Scrivener's.
Scrivener vs. Evernote: How They Compare
1. Supported Platforms: Evernote
Scrivener offers apps for Mac, Windows, and iOS that allow data to be synced between devices. You can't access Scrivener from a web browser; its Windows app lags several versions behind.
Evernote offers native apps for Mac, Windows, iOS, and Android, as well as a full-featured web app.
Winner: Evernote. It runs on all major desktop and mobile operating systems, as well as in your web browser.
2. User Interface: Tie
With a writing pane on the right and a navigation pane on the left, Scrivener looks and feels familiar—but it hides a lot of power under the surface. If you want to take advantage of Scrivener's full functionality, study some tutorials to learn how to best set up your writing project.
Evernote looks similar but is more general in design. It's easy to jump in and start typing a short note. Over time, you can develop ways to structure and organize your notes.
Winner: Tie. Evernote is easier to get started with, while Scrivener offers more features.
3. Writing and Editing Features: Scrivener
Scrivener's writing pane functions like a traditional word processor. A formatting toolbar at the top of the screen allows you to adjust fonts, emphasize text, adjust paragraph alignment, and create lists.
You can also use styles to define functional roles for your text, such as titles, headings, and block quotes. Modifying the formatting of these styles adjusts them throughout your document.
When writing, too many tools can side-track your attention. Scrivener's distraction-free mode hides them to let you focus.
Evernote also has a familiar formatting toolbar. A more comprehensive selection of tools is available in the Format menu. It has useful buttons for highlighting and checkboxes.
Tables and attachments are supported, but styles are not. That makes changing formatting in a lengthy document time-consuming. There is also no distraction-free mode.
Winner: Scrivener allows you to format your text using styles and provides a distraction-free mode.
4. Note-Taking Features: Evernote
Note-taking in Scrivener would be awkward, while Evernote is perfect for the job. It lets you quickly navigate your notes and keep track of what you need to do using checklists and reminders. You can quickly capture information using your phone's camera, say from a whiteboard or message board.
Winner: Evernote is better for short notes, essential task management, and capturing information with a camera.
5. Organizational Features: Tie
Both apps offer a variety of ways to organize and navigate your text. However, the goal of these features is quite different. Scrivener aims to make large writing projects less overwhelming by breaking them up into manageable pieces. They are displayed in the Binder—its navigation pane—where they can be arranged in a hierarchical outline.
Selecting several sections displays them as a single document. This is known as Scrivenings Mode. It's extremely useful when editing and publishing your work.
Outline Mode adds configurable columns to your outline, showing you more information about each section, such as its type, status, and word count.
The Corkboard is another way to see the big picture. It displays the sections of your document on virtual index cards. Each card has a title and synopsis and can be rearranged via drag-and-drop.
Evernote organizes your notes more loosely. You can't manually order them, but you can sort them alphabetically, by date or size, or by URL.
A note can be stored in a single notebook and associated with multiple tags. Notebooks can be grouped together in stacks. You can use stacks for the big categories like Work and Home, then use notebooks for individual projects.
Because you can add more than one tag to a note, they are more flexible. Use tags to track people related to the note, the note's status (such as To-Do, To-Buy, To-Read, Tax2020, Done), and topics that interest you.
Winner: Tie. If you need to order and arrange individual sections precisely, like when you're writing a book, Scrivener is the better tool. But Evernote's notebooks and tags are better when tying together loosely-related notes.
6. Collaboration Features: Evernote
Scrivener helps a single author get a big job done more efficiently. According to Scrivener support, "there are no plans to either make Scrivener a web application or to support real-time collaboration."
Evernote, on the other hand, is all about sharing notes and collaborating with others. All Evernote plans allow for this, but the Business plan is the strongest. It offers collaboration spaces, a virtual bulletin board, and editing notes in real-time with others (a beta feature).
You can share individual notes and define the rights each user has, such as:
Can view
Can edit
Can edit and invite
I can share a shopping list with members of my family, for instance. Everyone with edit privileges can add to the list; whoever goes shopping can tick off the items as they are purchased.
Unless you subscribe to the Business plan, two people can't edit the note simultaneously. If you try, two copies will be created.
You may prefer to share an entire notebook rather than individual notes. Everything inside that notebook will be automatically shared. Again, individual rights can be defined for each person.
You can even publish a notebook publicly so that anyone with a link can view them. It's a great way to share product and service documentation. It has been used by some (such as Steve Dotto) as a publishing tool.
Winner: Evernote allows you to share individual notes and entire notebooks with others. Unless you subscribe to the Business plan, only one person should edit a note at once. You can even publish notebooks on the web.
7. Reference & Research: Tie
Scrivener and Evernote both offer strong reference and research features, but they are designed to achieve different outcomes. Scrivener's will help you with the background research you need to do for your book or novel, including plot and character development. For each writing project, a separate research area is provided.
Anything written here won't count towards your word count goal or be included in the final publication. You can type the information yourself, paste it from elsewhere, or attach documents, images, and web pages.
Evernote is an excellent tool for storing reference information. Its web clipper easily adds information from the web to your library. Evernote's mobile apps scan documents and business cards and attach them to your notes. These are then converted to searchable text behind the scenes; even text in images will be included in search results.
Winner: Tie. The best app depends on your needs. Scrivener offers features to help you develop and store reference material for your writing projects. Evernote provides a more general reference environment, including clipping from the web and scanning paper documents.
8. Progress & Statistics: Scrivener
Scrivener offers multiple ways to count words and plan your work to finish on time. The Target feature is where you record your project's word count goal and deadline. Scrivener helps you meet your deadline by automatically calculating the number of words you need to type each day.
The deadline and other settings are found under Options.
You can also define word count requirements for each section by clicking on the bullseye icon at the bottom of the screen.
Keep track of your progress in the Outline view, where you can see columns that display the status, target, progress, and label for each section.
Evernote's features are primitive by comparison. Displaying the details of a note shows you its size measured in megabytes, words, and characters.
While there's no deadline feature, you can set a reminder on each note to notify you when it's due. Unfortunately, you can't display a particular message with the notification, so you'll have to develop your own system.
Winner: Scrivener lets you keep a close eye on your time- and word-based goals.
9. Export & Publishing: Tie
Eventually, you'll need to share your information with others to make it useful. That may involve printing a hard copy, creating an ebook or PDF, or sharing it online.
Scrivener can export the final document in several useful formats. Many editors, agents, and publishers prefer the Microsoft Word format.
Scrivener's Compile feature offers a lot of power and flexibility for publishing your own work as a paper or electronic book. You can use their well-designed templates or create your own and have full control over how the final publication looks.
Evernote's export function is designed so that someone else can import your notes into their own Evernote. You'll find the Share and Publish features we mentioned above more useful. Sharing allows others to access your notes in their own Evernote; Publish allows anyone to access them from a web browser.
Publishing a notebook gives you a public link to share with others.
Clicking on the link will give them the choice of viewing the notebook in Evernote or their web browser.
Here's a screenshot of the web version.
Winner: Scrivener. Its Compile feature provides many options and precise control over the final appearance of the publication. However, Evernote's Publish feature may better suit some users by providing a quick and easy way to make information public on the web.
10. Pricing & Value: Scrivener
Scrivener offers apps for three platforms. Each needs to be purchased separately. The cost varies:
Mac: $49
Windows: $45
iOS: $19.99
An $80 bundle gives you the Mac and Windows versions at a reduced price. Upgrade and educational discounts are available. A free 30-day trial allows you to evaluate the app over 30 actual days of use.
Evernote is a subscription service with three plans available. A single subscription lets you access the service on all platforms.
Evernote Basic is free and has a focus on taking notes. You are limited to uploading 60 MB each month and can use Evernote on two devices.
Evernote Premium costs $9.99/month and adds organization tools. You are limited to uploading 200 MB each month and can use it on all your devices.
Evernote Business costs $16.49/user/month and has a focus on working in a team. The team can upload 20 GB each month (plus an additional 2 GB per user) and can use it on all their devices.
For an individual to use Evernote productively, they'll need to subscribe to the Premium plan. That costs $119.88 each year.
At a one-time cost of $49, Scrivener is much less expensive. That doesn't include cloud storage, but that's not a significant concern. Most free cloud storage plans offer more than the 2.4 GB that Evernote Premium allows you to upload each year.
Winner: Scrivener. Purchasing it outright (for a single platform) costs less than half of what you pay for Evernote Premium every year.
Final Verdict
Which writing or note-taking app is best for you? That depends on your goals and how you intend to share or distribute the final document. Scrivener and Evernote are two popular apps that serve different purposes.
Scrivener lets you split massive writing projects into achievable pieces and rearrange them into a cohesive structure. It helps you keep track of your goals, including the final manuscript's length, each chapter's length, and how much you need to write each day to meet your deadline. Finally, it offers the best tools in the business to turn your manuscript into a well-formatted printed or electronic book.
Evernote's focus is on shorter notes. Rather than building a careful structure, you loosely connect notes using tags and notebooks. It lets you pull in outside information using the web clipper and document scanner, share your notes and notebooks with others, and publicly post them on the web.
I can't choose a winner—the apps have different strengths; it's likely you'll find a place for both. I wouldn't want to write a book in Evernote (though I may use it to record my research), and I wouldn't want to scribble random notes in Scrivener. I recommend you try both apps and see whether one or both meet your needs.