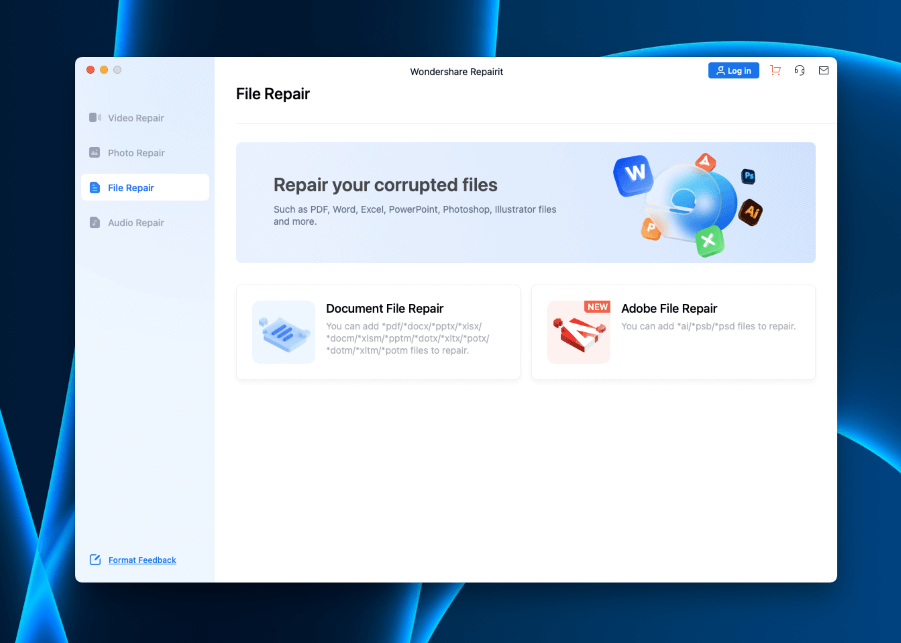 Wondershare Repairit
Features: Complete with everything it needs and nothing it doesn't, Wondershare Repairit features what it needs to get the job done.
Pricing: While monthly and annual plans can be steep, the lifetime subscription is the perfect solution for long-term repair support.
Ease of Use: With a straightforward interface and a cut-and-dry design, Repairit is a user-friendly option.
Support: Wondershare offers a comprehensive support center, ChatBot, and customer service contact page for support when you need it.
Summary
Wondershare Repairit is a tool designed to simplify repairing corrupted files. The software can handle most major file types, effortlessly restoring videos, photos, documents, and audio to ensure you don't lose precious memories or crucial information.

The powerful software is easy to use and features a user-friendly interface, making it an excellent choice for those who aren't tech-savvy or used to contending with complex software. 
The tool can be the perfect repair solution for anyone requiring help with restoring corrupted files, as it is simple to use and surprisingly effective.  

However, if you prefer the bells and whistles of a tool geared toward tech-savvy individuals, this tool might not be the best fit for you.

Pros: Wondershare Repairit is optimized to be user-friendly and easy to use.

Cons: This software doesn't feature any customization options, and users cannot save files when using the trial version.
Is Wondershare Repairit software safe?
This software is safe to use, as it is virus and malware-free.
Does Wondershare Repairit really work?
According to many satisfied users, Wondershare Repairit is a helpful tool that can actually help repair and restore files, including various files, photos, audio, and videos.
Is Wondershare Repairit expensive?
Wondershare Repairit isn't a free tool, and the price ranges based on the license type and computer. The cost ranges between $69.99 and $199.99, so while it isn't the least expensive option, it isn't the priciest option either.
Why Trust Me for This Review
Hello, I'm Jon, an engineer with a passion for computers, software, and everything in between. I almost always back up my important data. But I have had my fair share of corrupted files.
I don't often have corrupted data I need to recover, but I like having a good program to restore recovered files in my back pocket. For many people, keeping their data– whether it be tax documents, family photos, music, movies, etc.– secure is essential. And if any of these files gets corrupted, it can be detrimental.
That's where Wondershare Repairit comes in handy. It can restore almost any corrupted file type, including movies, documents, and photos. The software is simple and easy, but it does have some downsides.
Repairit is a handy tool that aids in restoring corrupted files to their former glory. It's a simple way to skirt the complicated, meticulous, and time-consuming process of restoring corrupted files, as the tool handles it all for you.
Here are a few key features of the Wondershare Repairit software, along with my personal take on each feature.
Supports Major File Types
Wondershare Repairit works on an array of file types, making it an ideal pick for restoring and repairing various corrupt files. It works for videos of M2TS, MKV, MTS, INSV, 3GP, M4V, WMV, MPEG, MOV, MP4, 3G2, 3GP, AVI, ASF, and FLV formats.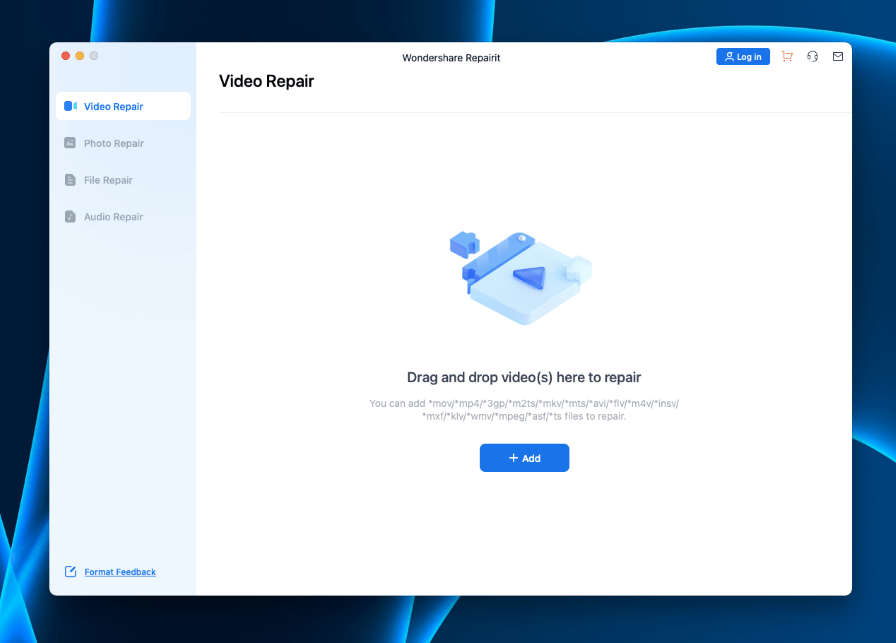 Repairit works with almost all music file types.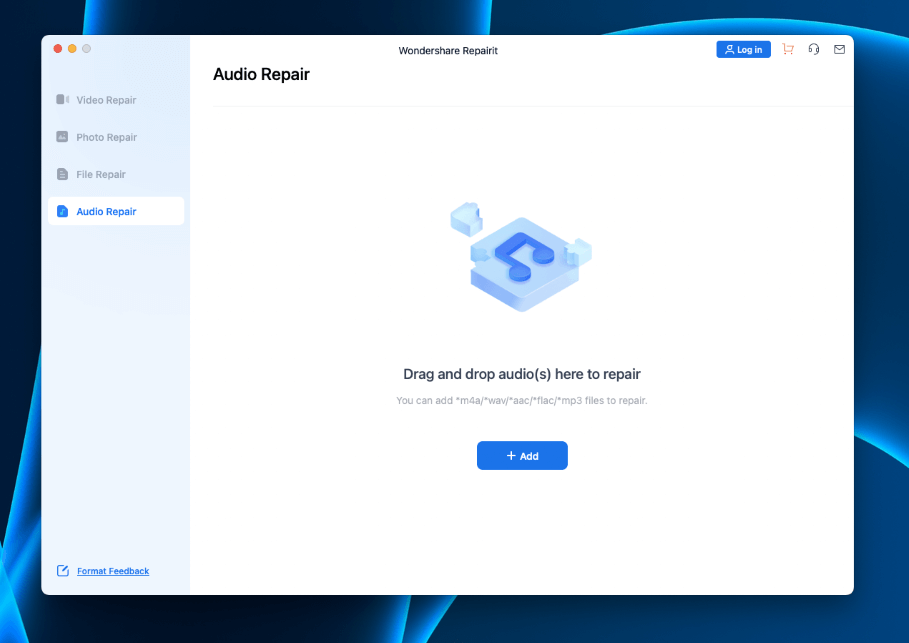 Additionally, it can fix all Microsoft Office file extensions (Word, Excel, Powerpoint, etc.) and PDFs.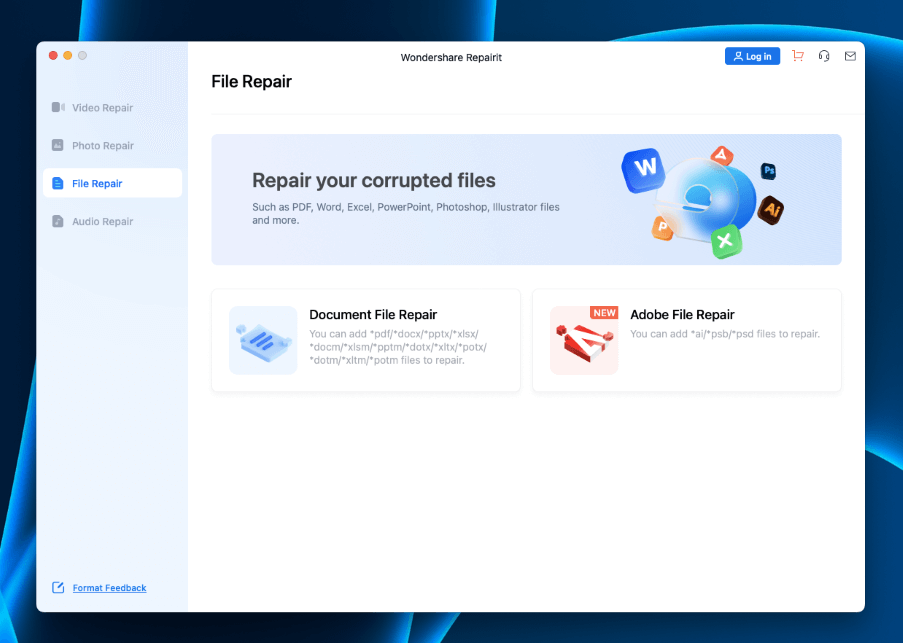 Since it works with virtually all file types, you won't need to use another file-repairing software for varying files.
My personal take: Finding software that can handle specific file types can be tricky, and the subscriptions accompanying them can be steep. Since Wondershare's Repairit software can handle most major file formats, I think it's an excellent tool for tackling all sorts of repairs.
User-Friendly
Some repair tools can be complex, nearly requiring a detailed, lengthy list of instructions to decipher. With Wondershare's Repairit software, users can quickly and easily maneuver to where they need to go, ensuring they waste little to no time working through a clunky interface.
The user interface is straightforward – simply select the corrupted video or file, then choose the Repair option. And just like that, the tool handles the rest!
My personal take: Wading through pages upon pages of careful instructions for simple software is overrated, not to mention time-consuming. So, the user-friendly interface of this software is a win in my books!
Preview Option
The Repairit software is complete with a preview option, allowing users to quickly preview the repaired file in varying formats. This feature supports all popular formats, including AVI, FLV, MTS, MKV, and M2TS.
The preview feature makes it much easier to ensure your file is properly restored and avoid downloading files that don't match your expectations.
My personal take: Some repair tools don't offer a preview feature, leaving users in the dark regarding the restoration's quality. Of course, you'll see the restored file eventually, but it's helpful to preview it beforehand.
Batch Processing
Have a bunch of files that need help? With the batch processing feature of Repairit, you can upload multiple files at once. The software allows you to add multiple files in one go, eliminating the need for slow, single uploads.
On top of that, the system will process multiple files in each batch, even if they're in different formats. It saves a bunch of time and the time-consuming process of manually loading each file one by one.
My personal take: Save yourself time by uploading corrupted files in batches. Gone are the days of uploading each file one at a time! Plus, the files will all be ready without having to manually start the repair process on each one, saving you even more time!
Affordable Lifetime Access
Users can purchase several packages, including monthly, yearly, and lifetime licenses. While the monthly and annual access packages are pricey, the lifetime subscription is an excellent deal.
If you choose a lifetime subscription instead of a year-long license, you only pay approximately $20 more. Of course, this might not make sense for all folks, but it can be a great option if you think you'll use it regularly in the future.
My personal take: Accidents happen, and files capturing precious memories or containing vital information might become inaccessible. With a Repairit lifetime subscription, you can use the software whenever you need it. I think the subscription is well worth the cost, as you'll skirt steep monthly or annual fees if you need the software in the future.
Solid Success Rate
While Repairit can't fix every single file, it has a surprisingly good success rate. It tackles everything from corrupted files to blurry videos and photos in an array of media types. Given its efficacy, it can be an ideal fit for numerous situations.
My personal take: Although Repairit is unable to repair every file you throw at it, especially if it's in an incompatible file format, it offers a strong success rate. It can be tough to find effective repair tools, so it's well worth considering.
Reasons Behind My Ratings
Features: 4/5
Wondershare Repairit features everything it needs and nothing it doesn't. The number of features doesn't complicate the interface or bog down your computer, ensuring it's easy to use.
The user-friendly interface is easy to navigate, and kicking off the repair process is straightforward. While the tool doesn't feature complicated or fancy bells and whistles, it has everything it needs for basic file repair.
Pricing: 3.8/5
If you're looking for a short subscription to tackle a few corrupted files, Wondershare Repairit is an expensive tool. Since the monthly license starts at a whopping $69.99, this software isn't particularly budget-friendly for the short term.
However, if you think you'll use the tool in the future, it's well worth the price. After all, it's tricky to predict future failures that might result in a wealth of corrupted files, so investing in a lifetime subscription can be a worthwhile venture. If you go this route, you'll save yourself the money you might spend on a few more monthly subscriptions down the road.
Ease of Use: 4.6/5
Repairit is complete with a straightforward, easy-to-use interface. Users don't need to spend time combing through a detailed, step-by-step process to begin using the tool. Instead, it's as simple as selecting the corrupted file, clicking the Repair option, and waiting for the tool to do the rest!
It doesn't feature unnecessary bells and whistles that complicate the interface. Instead, it's fairly cut and dry, only featuring the things you need to get the job done.
Support: 4.3/5
Wondershare has a straightforward support center on its website to help users troubleshoot various problems. The page features essential information, like downloads and updates or installing and uninstalling the software.
In addition, the page outlines program crashes, repair issues, preview and save functions, purchase issues, and more. There are also how-to guides to help customers navigate common questions.
The site also features a Chatbot in the bottom right corner of the screen, allowing customers to find answers to basic questions. If the support center and ChatBot can't help, customers can seek assistance through Wondershare's contact page.
Final Verdict
Wondershare Repairit is an excellent solution for those hoping to restore corrupted files to their former glory. While it isn't a magical tool that can fix everything, it's surprisingly effective in tackling the repair process of most major file formats. 
From its user-friendly interface to the convenient preview feature, Wondershare Repairit offers everything you need to repair most files but nothing you don't. It can be the perfect option for folks at any level, whether tech-savvy or far from it, as it's easy to use.
However, if you're looking for a fancy repair tool equipped with extra bells and whistles, Repairit might not be the best option.
What do you think about this Repairit review? Share your thoughts below.