REAPER and Audacity are similar in many ways. Both are multitrack audio editors. Both run on Windows, macOS, and Linux. Both programs support virtually every plugin type under the sun. But as much as the programs are similar, some key differences make REAPER stand above its counterpart.
REAPER, an acronym for Rapid Environment for Audio Production, Engineering, and Recording, can simultaneously record multiple tracks from multiple inputs. Audacity cannot. REAPER also supports MIDI files and instruments in contrast to Audacity. These two features alone give the edge to REAPER–if you're willing to pay.
Hello, I'm Andrew, and I've been installing, configuring, troubleshooting, and working with audio software for over a decade.
In this article, we will compare REAPER and Audacity so you can choose the program that best fits your needs. Each application has its own strengths and limitations that we will explore below.
Reaper vs. Audacity: Basic Information
Here is a quick overview of the two programs:
| | | |
| --- | --- | --- |
| | Reaper | Audacity |
| Pricing | $60 for a personal license, $225 for a commercial license. 60-day free trial available | Free |
| Recording | Arm multiple tracks for recording with unique inputs using aggregation software or hardware audio interfaces. Supports recording MIDI | No true multitrack record mode, but Audacity can record multiple inputs onto the same track |
| Editing | Feature-rich editing capabilities including a separate mixing panel and Undo History | Straightforward interface. Supports multiple tracks and multiple clips per track |
| Effects and Plugins | Supports almost every type of nonproprietary plugin format, including DX, VST, VST3, VSTi, LV2, AU, and JS, and also comes prepackaged with a couple of hundred effects. | Large library of built-in effects. Supports VST, VST3, AU, LV2, and Nyquist plugins |
| Ease of Use | Not the easiest software to master, but keyboard shortcuts and understanding the interface will make life easier. | Easy to get started recording and editing. More advanced features may take time to learn |
| OS Compatibility | Windows, macOS, Linux | Windows, macOS, Linux |
Reaper vs. Audacity: Detailed Comparison
Let's examine the following features of each program in more detail: pricing, recording, editing, effects and plugins, ease of use, and operating system compatibility.
Pricing
REAPER costs $60 for a personal license and $225 for a commercial license. According to REAPER's licensing terms, you can use a personal license if you earn less than $20,000 per year in gross revenue. The software comes with a generous 60-day trial.
The license is good in perpetuity–this isn't a subscription model–and purchasers are entitled to free updates through the end of the next major version, 7.99. This would likely equate to 3-5 years of free updates based on historical releases.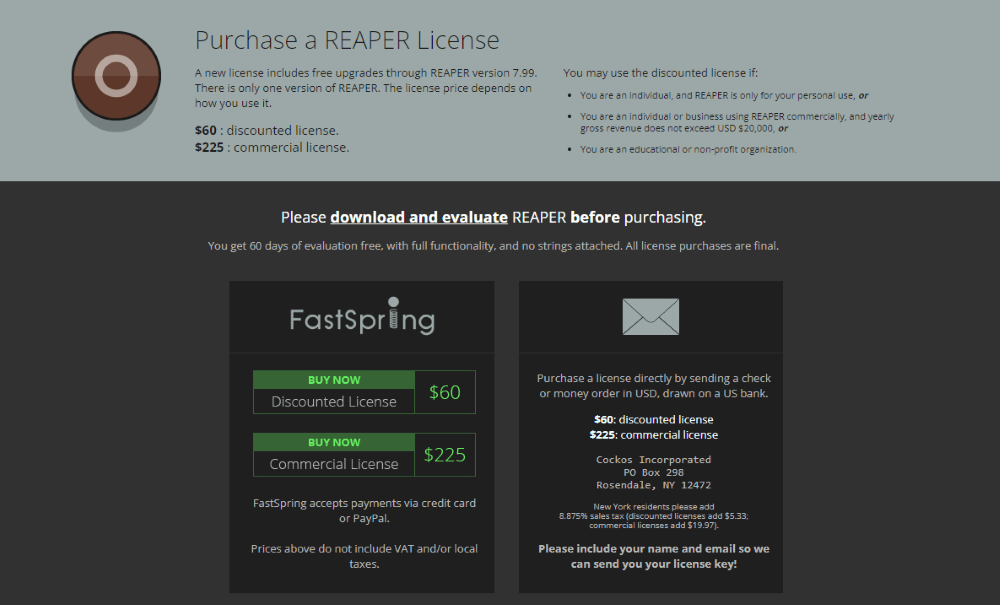 Audacity is free to download and use. Not only is the software free but Audacity is also an open source application meaning that people are free to download the code and compile the software themselves.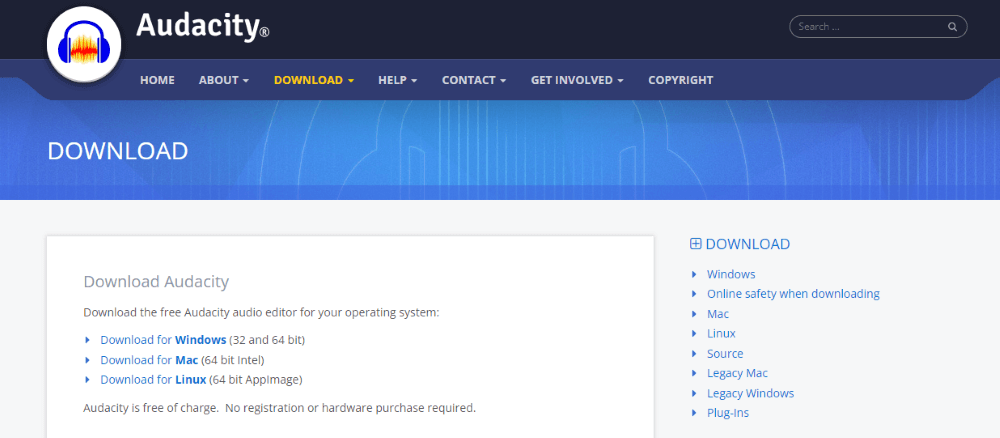 Winner: Audacity.
Recording
REAPER's recording setup is similar to that of other digital audio workstations (DAWs). After adding a track or multiple tracks, you must click the Record Arm button to enable recording on each track.
Once enabled, you can select the input for the track and adjust levels before clicking the record button. Multi-input recording is possible, but you might need to install an aggregation program like ASIO4ALL on Windows or create your own aggregate device using the MIDI utility in macOS. REAPER can also handle MIDI inputs.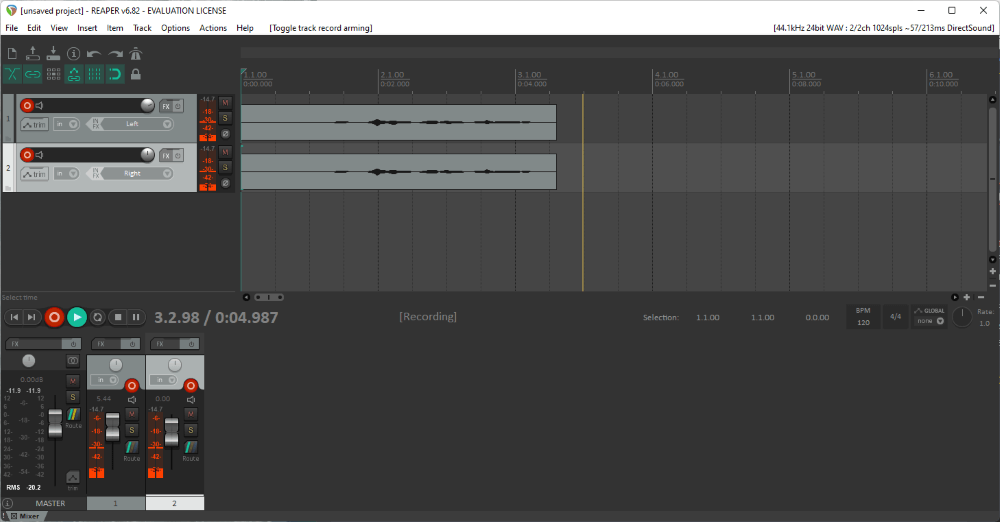 Recording in Audacity is easy to set up and initiate with just a few clicks. The Audio Setup toolbar allows you to select your recording device and whether to record in mono or stereo. Because true multitrack recording is not possible, you cannot select recording inputs per track.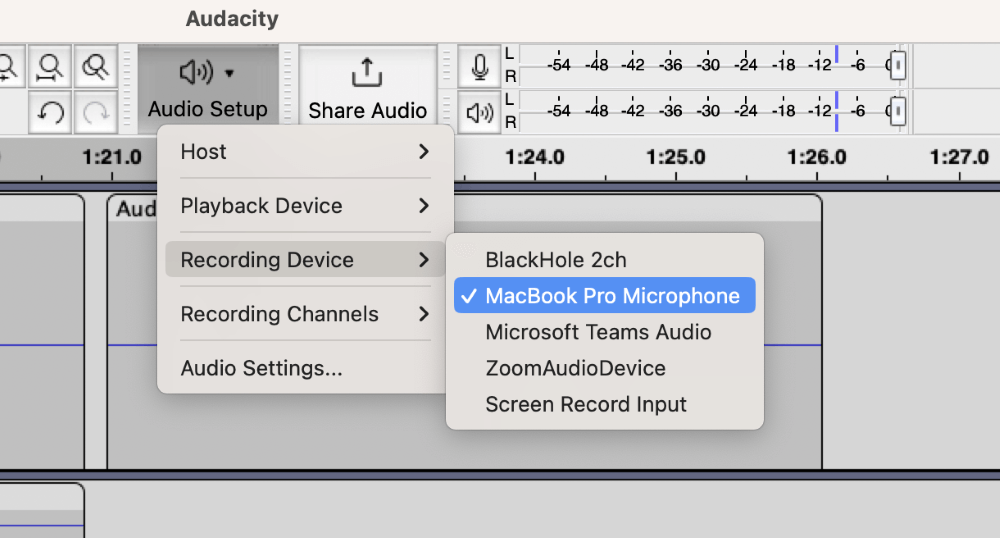 Instead, you select a recording device, and then you must click to place your cursor in the location and track where you want to record. You can use an audio interface device to capture multiple inputs simultaneously, but they will record on one track.
Winner: REAPER. Recording may be more complicated to set up, but you'll appreciate REAPER's advanced features.
Editing
Owing to its large feature set, REAPER's editing interface and workflow can initially be daunting. The basics–like splitting tracks, copying and pasting, and creating new tracks–are straightforward enough, but more advanced tasks will take some time to master.
I love the detailed Undo History panel, but unfortunately, the history only persists while the project is open. Nevertheless, REAPER's editing is nondestructive to source audio with a prompt to save audio in separate files as soon as you stop recording, a feature lacking in Audacity.
Taking some time to learn the interface and keyboard and mouse shortcuts will pay dividends. You can accomplish common tasks like normalizing audio using Shift+Ctrl+N (Shift+CMD+N on a Mac) and create instant fades simply by dragging the corner of a clip.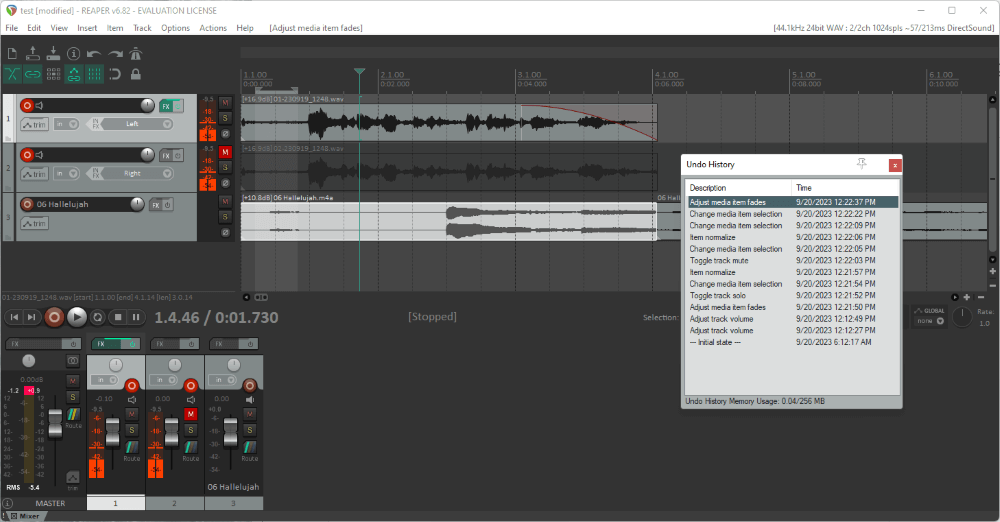 Audacity's editing process is much simpler. Using the selection tool, you can select audio to split to a new clip, cut, or move to a new track. You don't have a separate mixing panel, and Audacity applies changes permanently save for the ability to undo–also only available until you close the software.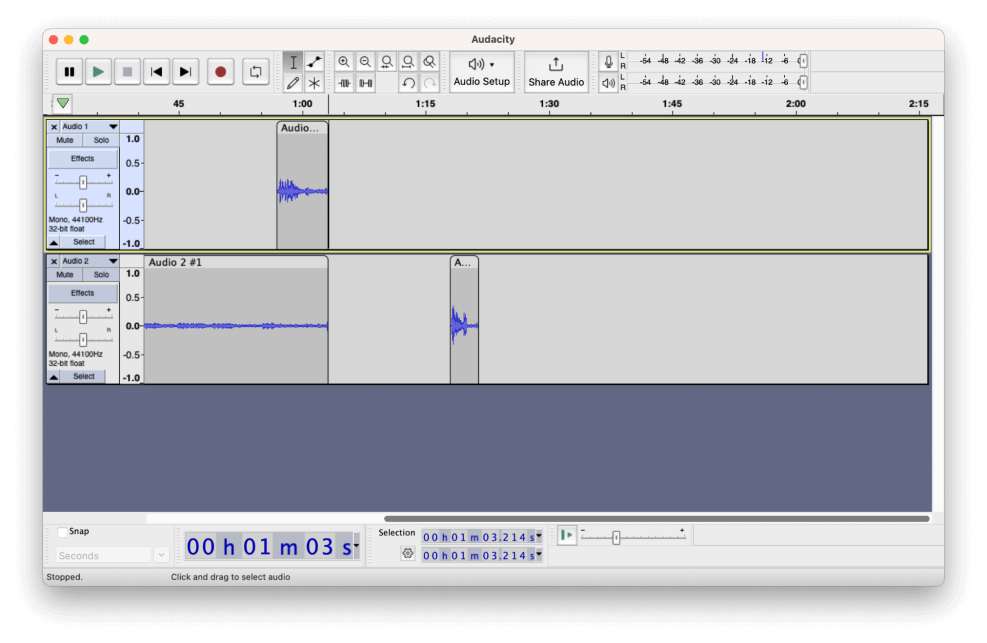 Audacity excels at cleaning up audio, containing several effects and presets. The program saves changes in an Audacity project file and doesn't overwrite imported audio. But if you record directly into Audacity, back up your audio before editing.
Winner: With more features and greater versatility, REAPER is the winner in editing.
Effects and Plugins
REAPER comes prepackaged with over 200 hundred effects in various formats, from the standard VST and VST3s to the more obscure, like the Jesusonic (JS) format. Users can bring in their own plugins in almost any format, including LV2, Audio Units (AU) for macOS users, and virtual instruments (VSTi).
Applying effects involves clicking the FX button next to the track and selecting your effect. These modifications are non-destructive, and you can turn off effects on a track by deselecting the FX button. One of the most useful features is the ability to assign a custom keyboard shortcut to any plugin so you can bring up the effect quickly.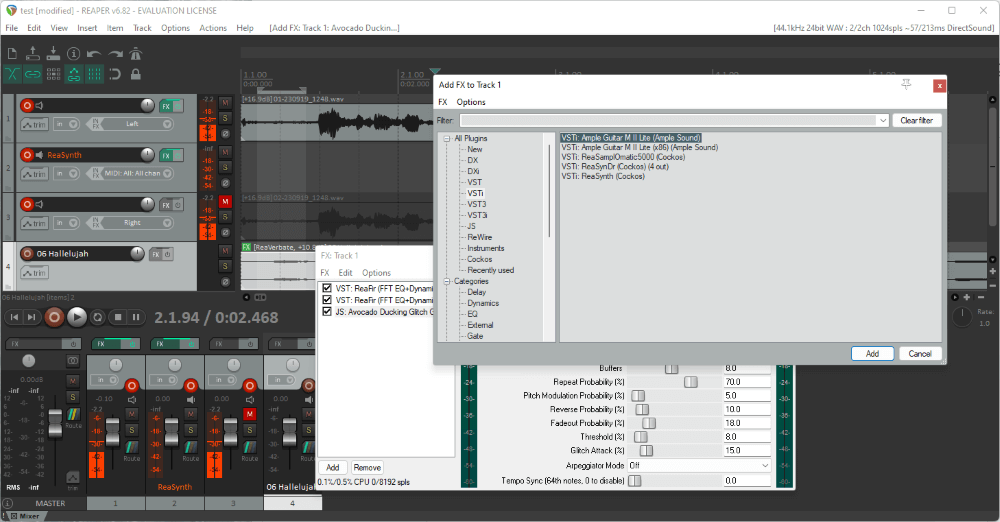 Audacity also supports various plugins and comes with many included effects. The open-source application has its own plugin format called Nyquist, which helps ensure compatibility with the program.
Although effects is one of Audacity's strengths, the software doesn't support MIDI, which includes any VSTi plugins. Additionally, Audacity's effects apply immediately to tracks. You can always undo–so long as you haven't closed the program–but there's no convenient toggle switch to disable effects.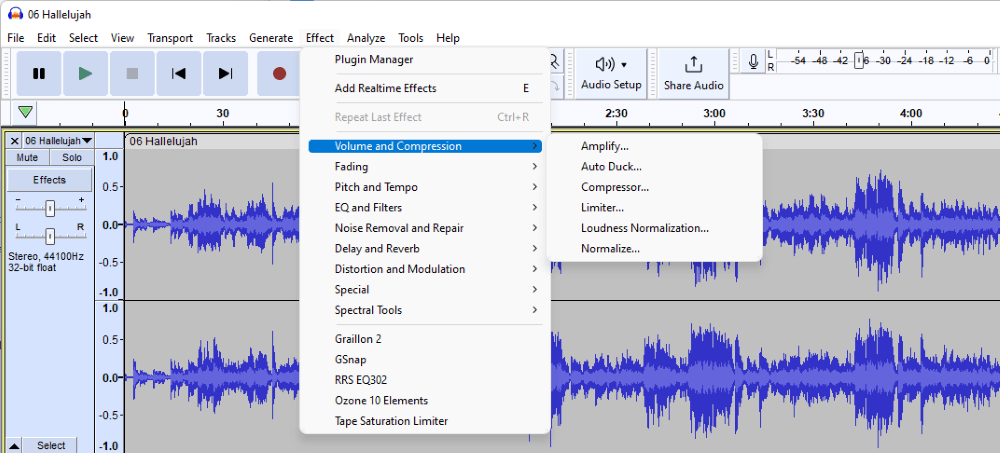 Winner: REAPER.
Ease of Use
With a user manual over 400 pages in length, REAPER can require some time to learn. Even basics like recording and selecting tracks aren't as intuitive as the process is in other DAWs and audio editors like Audacity.
Add in a separate mixer panel, hundreds of effects, MIDI instruments, and multitrack recording, and you've got a recipe for a pretty complex piece of software.
Audacity, on the other hand, is straightforward compared to REAPER. Things can get complicated when it comes to applying advanced effects, but overall the software is intuitive in nature.
Winner: Audacity.
Operating System Compatibility
REAPER is available for Windows, macOS, and Linux. Audacity is also available for all three platforms.
Winner: Tie.
Who and What is REAPER Good for?
REAPER is great for experienced music producers and audio engineers on a budget. Cockos (the company behind REAPER) charges very little for a program packed with so many features.
But even if you're not a professional, the program is an excellent choice for anyone who wants to graduate beyond entry-level DAWs like GarageBand without breaking the bank.
Who and What is Audacity Good for?
Audacity is great for users dipping their toes into audio editing. The program has enough tools and features to produce great-sounding audio. And since the program is free, the only upfront investment you'll need to make is time to learn the software.
One of the software's strengths is cleaning up audio and working with spoken word. One could produce simple podcasts and audiobooks using Audacity.
FAQs
Here are a few frequently asked questions about REAPER and Audacity.
Is REAPER better than Audacity?
Generally, yes, REAPER is better than Audacity. The program can do everything Audacity can do and so much more. As a free program, Audacity does have the edge over REAPER when it comes to price.
Do professionals use REAPER?
Yes. While other DAWs like Pro Tools and Ableton are more popular, artists Tycho and Deadmau5, among others, have used REAPER in music production and live performances.
What are the disadvantages of REAPER DAW?
The primary disadvantage of REAPER is that it can be difficult to learn compared to other DAWs. Other quibbles include an uninspired default interface and text that is too small on menus and toolbars.
Final Thoughts
REAPER's low price tag might cause some to perceive the program as an entry-level DAW. It's not. The software developers have packed all the necessary features to achieve full-blown DAW status with VSTi support and professional-grade mixing tools.
REAPER prides itself on being lightweight and fast, so you can even run the software from a flash drive. And the support for multiple operating systems is a huge plus.
Audacity is great at what it does. The program is quite impressive for a free application, but don't mistake it for a DAW. Audacity's lack of MIDI support and some other critical features preclude it from landing in this category.
Nevertheless, hobbyists will love the relative ease of use when converting analog audio to digital or producing straightforward audio projects.
Have you used both REAPER and Audacity? How do you think they compare? Let us know in the comments. We'd love to hear from you!