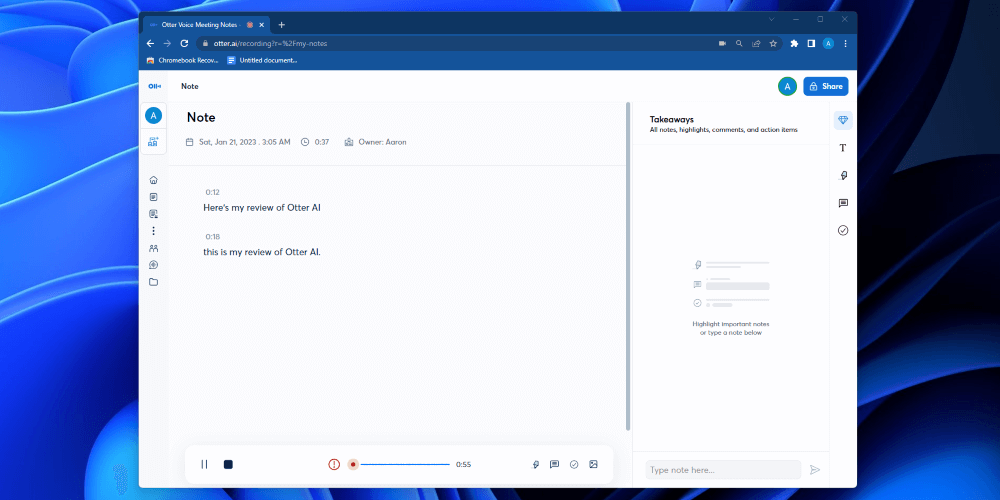 Otter.ai
Features: Accurate transcription for meetings with great features like live sharing, export, editing, and statement replay
Pricing: Is reasonably priced and transparent about what that pricing covers
Ease of Use: Straightforward to use for anyone who's used Zoom or another online meeting service
Support: Limited support options in the form of documentation and hidden email support options
Summary
Otter.ai is a browser-based meeting management, recording, and transcription service. It helps organize and schedule meetings across numerous common remote meeting platforms and, of course, transcribes them for future review. 

I'm a fan of Otter.ai and think that it's a great addition to anyone's remote meeting toolbox. Otter.ai has a couple of quirks, but those are common to voice transcribing software. All in all, having notes available is better than not and the accuracy is good. 

Otter.ai also provides flexible pricing plans and a full-featured free version. I think the pro version is delineated on truly professional features. Those features are also accessible for free through a referral program.

What I Like: solid automated transcription, easy meeting management, and additional features.

What I Don't Like: the recording can be quirky and will take a mix of equipment tuning and reevaluating how you speak for completely accurate transcription.
Can Otter be Trusted?
I think so! The software performed well and seemed incredibly reliable. As with any cloud service, Otter.ai has possession of your information and uses it to improve its product, if you opt in.
How long does it take for Otter.ai to Transcribe?
According to Otter, about 5 to 6 minutes per 15 minutes of audio.
Is Otter Completely Free?
Otter is not completely free, but the free Basic plan is feature-rich and facilitates the use of most of Otter.ai's features.
Can Otter.ai Record Phone Calls?
Yes! If you have the iPhone or Android app. If you have audio passthrough on your computer for a virtual phone, then it can record that too.
Why Trust Me for This Review
Hi, I'm Aaron! I'm an information technology professional and used to be an attorney. In both roles, I've attended more online meetings than I can count. Nowadays most of my meetings are remote and I spend most of my days talking to people through a microphone and webcam.
I've also been fascinated by transcription software since it's been commercially available. While transcription software was often inaccurate in the 1990s, it's come a long way since then. Let's see how Otter.ai measures up!
Detailed Review of Otter.ai
Otter.ai crams numerous helpful features into a simple and straightforward platform. Let's dive into some of those features and I'll share my thoughts about them.
App Integration
Otter.ai integrates a few different meeting platforms and services. According to their website, development is ongoing, so I'd expect more integrations over time.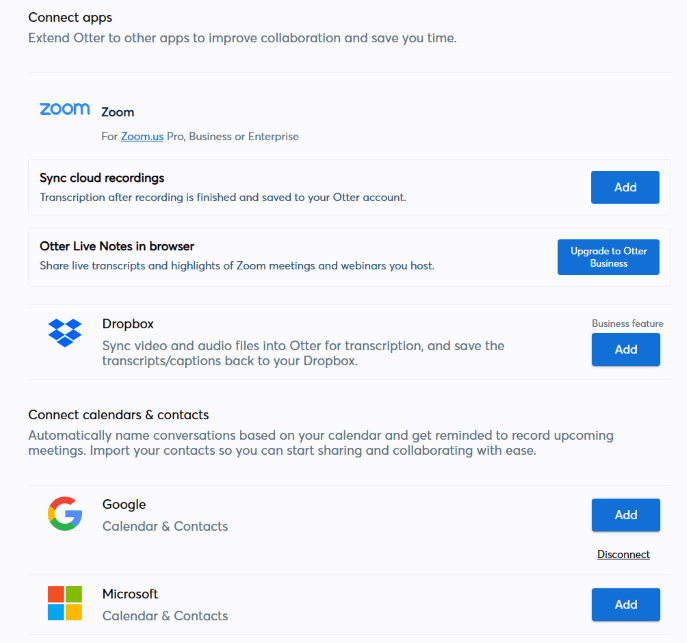 Currently, Otter.ai will connect with your Google and Microsoft calendars. Connection pulls in meeting information from both platforms and lists them helpfully as cards on the main page. You can then join meetings with a click and enable Otter Assistant. More on that in the next section.
Otter.ai also provides integration for zoom cloud recordings. You can upload cloud recordings to Otter.ai for transcription. If you have an Otter.ai business account, you can even show live transcriptions during zoom meetings and modify and highlight on the fly.
Finally, Otter.ai business will let you sync your otter audio files and transcriptions to Dropbox. That can be helpful, for example, if you have a truly prolific number of meetings and transcriptions.
My personal take: I'm a fan of the integrations available so far and think they make sense given the popularity of the associated services. I'd like to see more, like live integration with Teams and Google Meet and maybe automated storage in Sharepoint or Google Drive.
Otter Assistant
Otter.ai's primary function is Otter Assistant. Otter Assistant records meetings and transcribes the audio into text. It's as easy as clicking a button. If a meeting is available, a toggle switch will appear on the meeting card. If not, you can still enable Otter Assistant which will record your microphone audio.

I'll note that the toggles for zoom meetings aren't consistently available. I had a couple disappear when I reloaded the main page in testing. Opening the meeting card, however, showed the toggle. Also, I started a couple of Otter Assistants for test meetings and couldn't get them to stop. I would press the stop button, but it took 5 or 6 tries for it to actually stop.
If you are successful in opting for Otter Assistant to join a meeting, it will appear as a participant in the meeting. If the meeting has a host, the host will need to admit it. Otter.ai lets you know if that hasn't happened. Otter Assistant will join whether or not you do.
My personal take: Otter.ai has a couple of quirks and enabling or disabling the Otter Assistant is one of them. They're easy enough to work around and I imagine with more use it would be a minor inconvenience, at worst. I think it's a simple and easy-to-use solution.
Transcription
The Otter Assistant transcription provides a real-time transcription service that you can watch as people speak. It's very accurate too. In my use, it seems to be about 97% accurate. That's fantastic, in my opinion.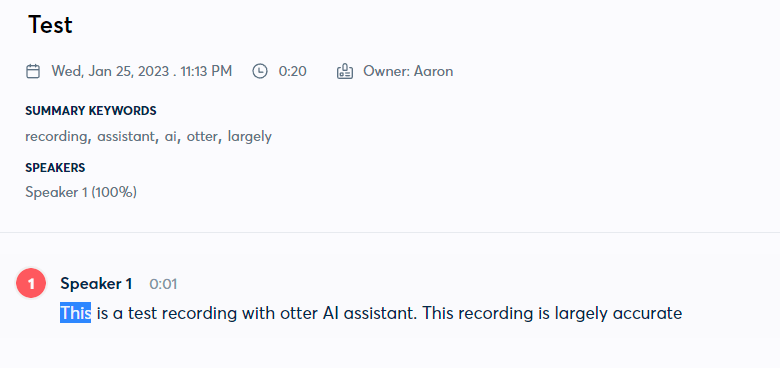 What you'll notice when using it live is that it's not 97% accurate in real-time. The Otter Assistant displays what it immediately hears and then processes and edits the information. In my tests, as I was talking, I noticed changes to prior statements which more accurately captured what I said.
Otter Assistant also identified statements from different speakers, which is a must, in my opinion. It also follows some standard transcription practices, like omitting filler words. You also have the option of manually editing transcriptions, if you don't like how Otter Assistant modified something.
My personal take: Overall, the transcription process worked great and the speaker identification makes it a breeze to pick up and review. It dropped the first word of a few statements, but that was likely due to the noise cancellation on my microphone, and that's something to be aware of with use.
Storage and Export
Otter has a few different plans, each of which provides a different number of transcription minutes and conversation length. Otter.ai will store all of those, though if you have a free Basic plan, it will only show the 25 most recent conversations.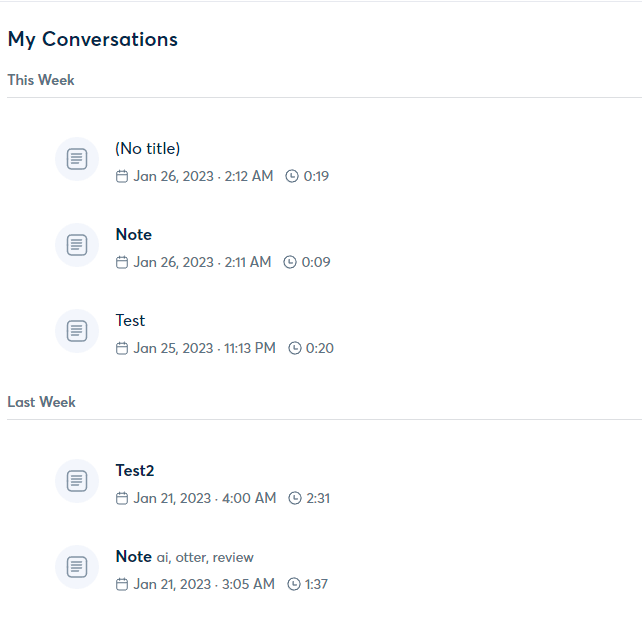 The Basic plan only lets you export conversations as a text file. The Pro, Business, and Enterprise plans will export more file formats including PDF and Word documents. As highlighted above, Business accounts also integrate with Dropbox accounts for the automated transfer of recordings and transcriptions.
My personal take: I'd expect storage and access of transcriptions and audio files, so it's nice to see that as an offered feature. I like the flexibility of format outputs too.
Reasons Behind My Ratings
Features: 4/5
Otter.ai does what it sets out to do. It provides accurate transcription for meetings with great features like live sharing, export, editing, and statement replay. The features work well and would definitely make meeting management and summaries easier.
As I outlined in my detailed review, Otter.ai has some quirks. I had some difficulty consistently using the features. The transcription also isn't 100% accurate, not that I'd expect that. In my opinion, the quirks may slow down a workflow that incorporates Otter.ai.
Pricing: 5/5
Otter.ai is reasonably priced, in my opinion, for what it does. Otter.ai also provides very clear information about what different tiers get you and what's included in your licensing fees. There are discounts for purchasing annual licenses compared to their monthly plan–obviously, they want to incentivize people to adopt and remain on the platform.
What is less documented is the Pro lite program, which provides the Otter.ai Pro features for free. To qualify, you need to invite people to the platform who then sign up with the platform.
Ease of Use: 4/5
I thought Otter.ai was very straightforward to use as will anyone who's used Zoom or another online meeting service. All of the options are well-labeled and iconized for quick reference.
Otter'ai's ease of use was hampered by the inconsistent display of features and their inability to function as they should consistently. Minor issues, to be sure, but over time will compound in end-user frustration and lost time trying to address them.
Support: 2/5
Otter.ai provides limited support options in the form of documentation. After you access that documentation, you can also submit an email request. You cannot submit a request prior to accessing documentation.
I get why Otter.ai would design support like that: they're trying to minimize interaction with end-users because of how time-consuming that can be. I think the software is straightforward enough not to need that interactive support most of the time, but its absence is noticeable.
If there are more than basic problems with Otter.ai, I wouldn't expect robust support. Certainly not immediate or quick support.
Final Verdict
Is Otter.ai worth it? I think so! This is a great tool for professionals who find themselves increasingly responsible for taking meeting notes or who want to save information for later use. Otter.ai sets out to achieve virtual meeting transcription and does so well.
I also think others could benefit from the transcription for taking quick notes or thinking aloud. Given the limited historical availability for the Basic plan, you may need to pay to take notes, but it works well for that. Otter.ai also provides iOS and Android apps for transcription on the go.
What's your feedback on this Otter.ai review? Share your thoughts below.