You may end up with a .mts file if you are trying to play video from a digital camera or specific types of DVDs. macOS often has trouble with this format, so how do you open it?
If you're wondering how to play your video files, don't worry. You have come to the right place. We're going to explore a few options for how to open .mts files on Mac, so you can start enjoying your videos in no time.
Key Takeaways
QuickTime can't play .mts files by default, so you will need a third-party application.
Elmedia Player is a great option to open your .mts file and is simple to use. You can find it in the App Store.
Other great options for playing .mts files include VLC Media Player and 5K Player.
If you don't have any luck with these apps, you can always try converting your .mts file to a Quicktime-compatible format using a converter like Permute.
Best Way to Open .mts Files on Mac
The .mts file is one that you may run into when trying to watch DVDs or as a video input from your digital camera. Apple has not allowed its default video player, QuickTime, to be compatible with the .mts files.
Unfortunately, this means that you will not be able to open, watch, or convert the video with QuickTime.
To make matters worse, there are very few safe-to-download .mts players available on the internet. But the good news is that we have gathered the best options for you here.
In order to successfully download software from the internet, ensure the following settings on your Mac are configured.
Click the Apple Menu and select System Settings.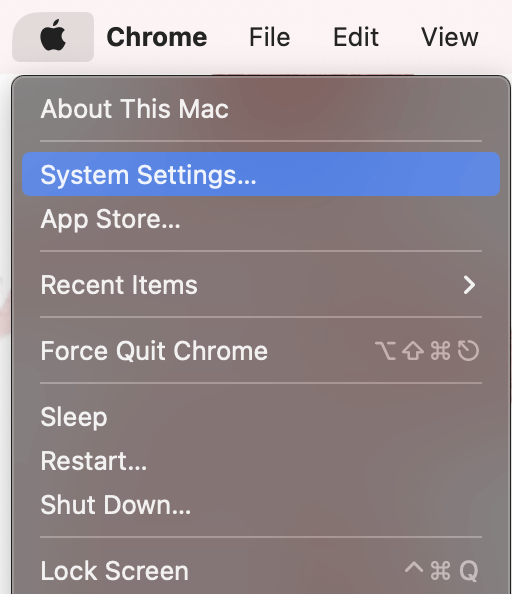 Navigate to Privacy & Security on the left.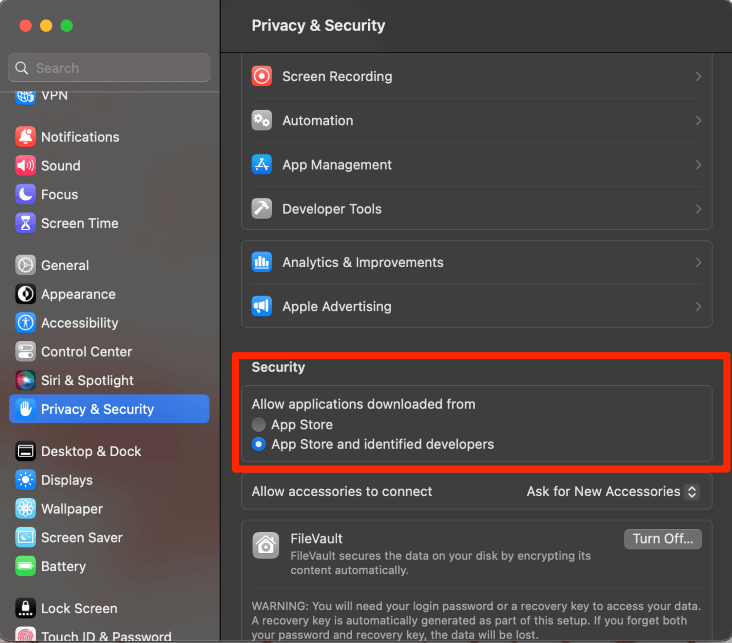 Choose to Allow applications downloaded from: App Store and identified developers. This allows you to download and utilize applications off the internet.
Now, let's get to the apps!
Option #1: Elmedia Player
The Elmedia Player is available for free download from the App Store. Elmedia is a reliable Mac media player that is compatible with the .mts file type. It also offers a paid "Pro" version for additional features, such as picture-in-picture, flip, rotate, mirror video, and more. 
However, if you are looking for simple playback, then the "Pro" version is not required. Elmedia is also able to be utilized as a streaming service for Chromecast, Apple TVs, and other media devices.
Since this is an App Store downloadable application, no additional settings need to be changed. Open the App Store and hit Get.

Once installed, you can see the app is relatively similar to other media players.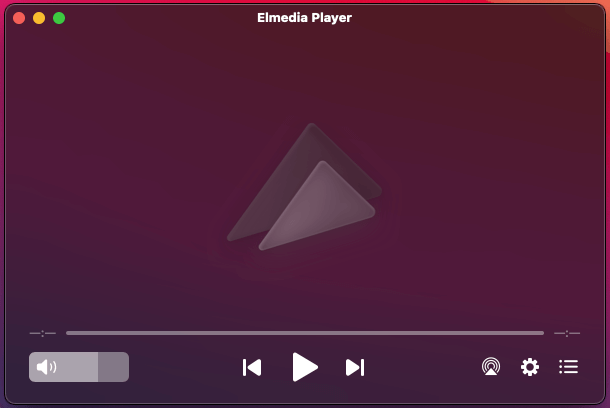 To open your .mts file, locate the File drop-down at the top of your screen, and hit Open. From there, you can find the file in your folders.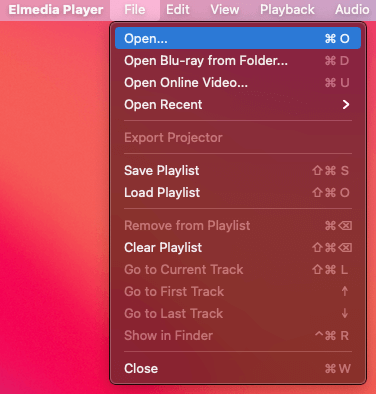 Option #2: VLC Media Player
The VLC Media Player is an open-source multimedia player. This means that not only is the software free for download and use, but it is also free for software modifications.
It is unlikely that you will need the ability to make modifications to the VLC software. However, the option is there.
VLC is now available on Intel and Apple Silicon Macs for free download on their website videolan.org/vlc. Simply click Download VLC and ensure that the proper macOS is selected (Apple Silicon vs. Intel).
Option #3: 5K Player
5K Player is a free-to-use internet-downloadable application. 5K Player allows for you to watch your .mts videos, stream via AirPlay, and even download some .mp3 (music) files from a large range of websites. The application is available for download on their website: 5kplayer.com.
Similar to the VLC Media Player above, you will need to ensure the App Store and Identified Developers option is selected in the Privacy & Security Settings.
Follow any remaining prompts to use 5K Player.
Option #4: Convert Your File Using Permute
If you are unable to play your .mts file directly, you can always convert it to a compatible format instead. I only recommend using this option as a last resort, since it is a little more complicated than the others.
To convert your file, you can use a third-party application, since macOS does not include any built-in video converters.
Setapp also offers a video conversion tool called Permute that is able to take your .mts video and convert it to another video format. It also allows for video editing within the same application. This could be helpful if you are looking to edit and save your video as one that is playable on your Mac without a third-party media player. 
Permute is available for $14.99 on the Mac App Store, or is available as part of the Setapp subscription that allows you to use any of the Setapp applications starting at $9.99/month.

Once you download and install the app, simply launch it and look for your .mts file through the File drop-down.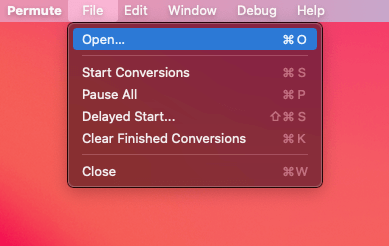 After you successfully convert the file, you will be able to play it in Quicktime or another video player of your choice.
Final Thoughts
With .mts files becoming more widely available with high-quality digital formatting, it is likely that you will run into the desire to open and play at least one at some point while using your Mac. This article provided you with a few good options for playing or converting your file so you can view it.
Which media player or converter did you choose? Why was it the best for you? Let us know in the comments!