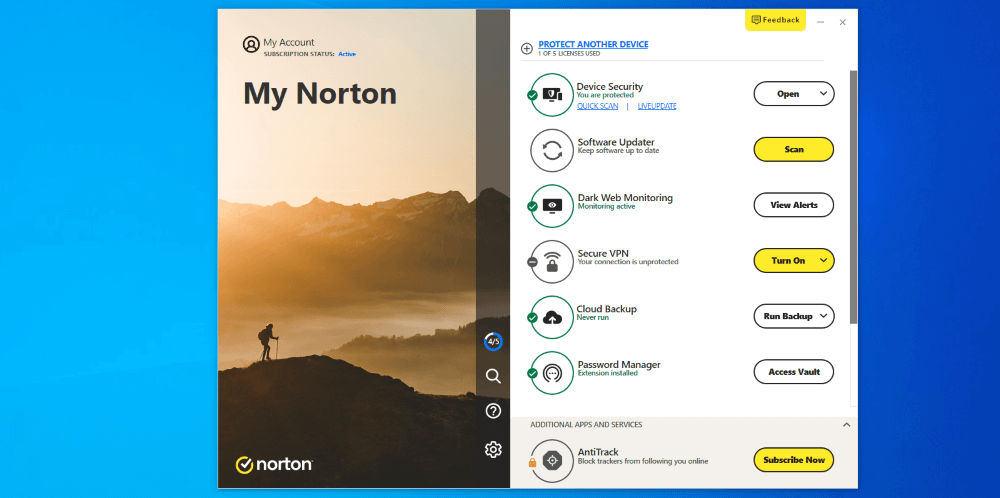 Norton 360 Deluxe
Features: Norton 360 Deluxe packages numerous useful products together and puts them in one place, but creates a false sense of safety.
Pricing: Expensive at $110/year for features that can be found for free or significantly less expensive elsewhere.
Ease of Use: Very straightforward and easy to use, which is Norton 360 Deluxe's main selling point.
Support: Detailed FAQ pages and live support paired with robust forums.
Summary
Norton 360 Deluxe is an antivirus, cloud backup, VPN, and parental control system for PCs, Macs, tablets, and smartphones. At the time of writing this article, you can purchase it for between $80 and $110 for a one-year subscription, with autorenewal. That covers up to five devices.

Using the product shows it to be feature-rich with a very attractive graphical user interface (GUI). It makes protecting your computer easy and keeps you safe online. Independent testing shows that Norton 360 performs very well at detecting viruses and addressing scam websites. 

That's a pretty significant change from even a couple of years ago when Norton was close to the bottom of the pack for detections and remediation. They have been for over a decade, so it's encouraging to see the change. 

Unfortunately, the price and feature combination plus that historical performance makes recommending Norton 360 Deluxe a tough proposition for most users. You can get the same feature set, including consistently better-performing malware detection and remediation, for free. However, if you want to protect multiple computers from one console, this is a good solution for that. 

What I Like: easy setup and a smooth UI that puts all your protection needs in one place.

What I Don't Like: Norton 360 Deluxe is expensive and only gets more expensive the more features you add to it. Combined with the fact that Norton's antivirus performance–the core Norton 360 product–has only recently performed well (and could backslide) makes the price difficult to justify.
What's the difference between Norton 360 and Norton 360 Deluxe?
Norton 360 provides the same antivirus functionality as Norton 360 Deluxe, but only for 3 instead of 5 computers. It also only provides 2 GB of cloud backup, compared to 50 GB for Norton 360 Deluxe. Finally, Norton 360 Deluxe also provides a Privacy Monitor and Parental Controls.
How Much Does Norton 360 Deluxe Cost Per Year?
Norton 360 Deluxe costs $109.99 per year.
What Happens if I Don't Renew My Norton Subscription?
Norton AntiVirus will stop working. You'll also lose access to data stored in ancillary services like the cloud backup and password manager.
Does Norton offer a Lifetime Subscription?
No. Norton only offers one-year licenses.
Why Trust Me for This Review
I'm Aaron, an information technology and information security professional. I've worked with and around technology for the better part of two decades.
I've also evaluated numerous different antivirus, antimalware, and endpoint detection and response (or EDR) solutions. A core part of any security program is endpoint security and core to that is an antivirus, antimalware, or EDR solution.
I've personally used many consumer antivirus, antimalware, and EDR solutions over the years including Norton, McAfee, Windows Defender, Malwarebytes, Avast, Kaspersky, and others. Given the fast-paced changes facing endpoint security, I think keeping an open mind to solutions and adopting the best performer at any given time is important.
Detailed Review of Norton 360 Deluxe
Norton 360 Deluxe provides numerous solid features that, if you decide to use it, make the product very easy and convenient to use. Let's dig into those and I'll also share my personal opinions about them.
Easy Setup and Configuration
Norton 360 Deluxe's biggest selling point, in my opinion, is that it aggregates numerous services and makes protecting your computer and internet browsing simple and easy to manage.
That ease of management begins when you first install the software. Norton 360 immediately opens to a configuration wizard that helps you set up most of its services. First on the list is Dark Web Monitoring.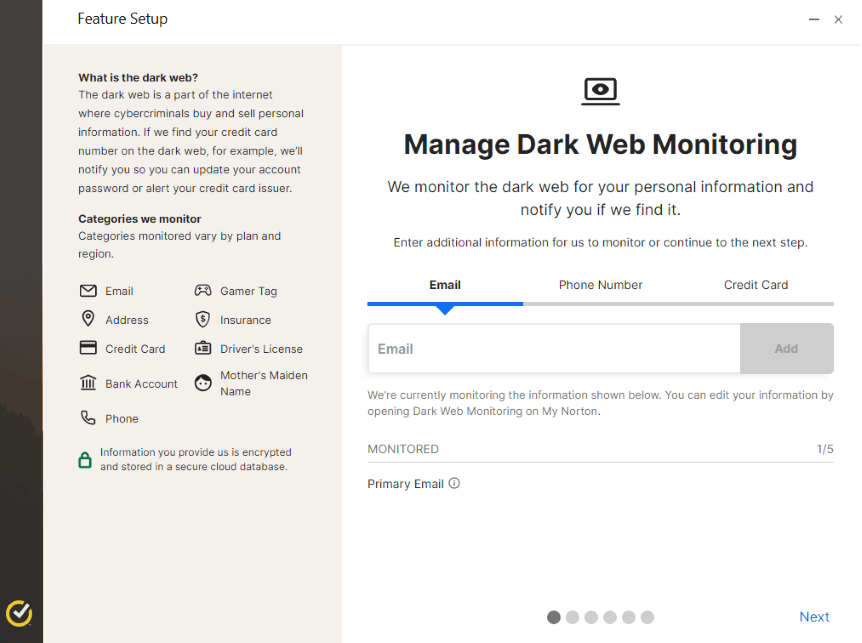 Dark Web monitoring is a great service, in my opinion. While most news reporting around the Dark Web has sensationalized the Dark Web to the point of absurdity, it is a place where threat actors exchange stolen personal information outside the watchful eyes of most internet users.
You can monitor up to five email addresses, including the email you used to sign up for Norton 360. You can also monitor up to five phone numbers and ten credit cards.
In my opinion, this has limited usefulness. While an email address can be paired with a password for account access, it isn't always. While your credit card number is a bad thing to have in the wild, it's not nearly as valuable as your social security number, medical records, or bank account information.
Unfortunately, Norton is only picking up information correlated with the information you're allowed to provide. It's a good start, but there are many coverage blind spots. I feel like the solution gives the illusion of safety and security without truly providing either. As you'll see, that's a theme in this review.
Next up is 50 GB of cloud backup space.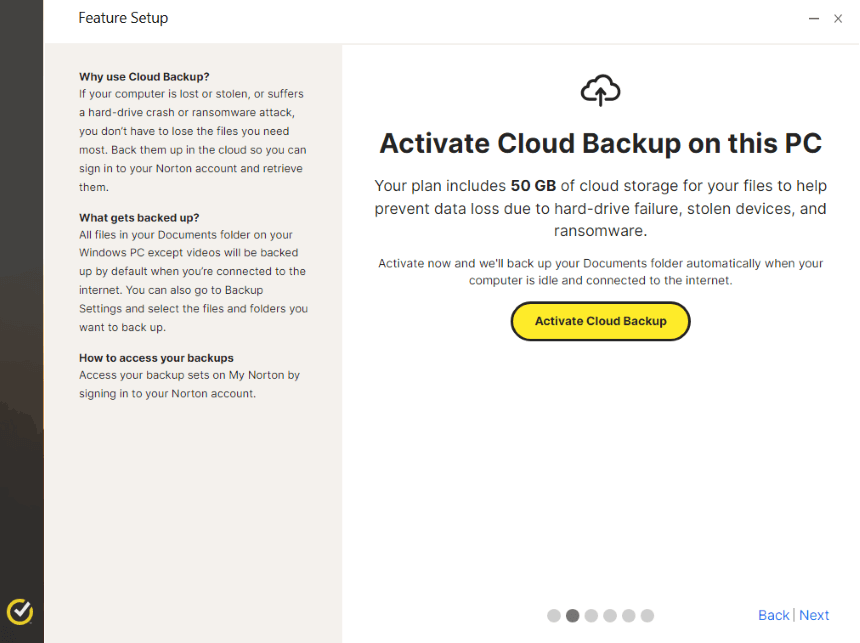 Norton sells this as a way to protect against device theft or ransomware. There are other solutions like OneDrive, iCloud, Google Drive, Box, Dropbox, and others that provide more space for less cost. They operate identically: this backs up a folder on your computer that lets you access your files somewhere else.
While you don't lose your files if your device is lost, stolen, or encrypted via ransomware it's not protecting your files. If someone steals your computer and they can access your computer, they can still access those files.
If the files are encrypted with ransomware, the encrypted copies could be uploaded. If you're not able to recover older versions of those files from your cloud storage then they're gone forever.
Again, this feature and the way it's presented gives the illusion of security that may result in riskier behavior online. In some ways, that's less secure than using other solutions that aren't presented like that.
The next feature you're prompted to configure is Auto VPN.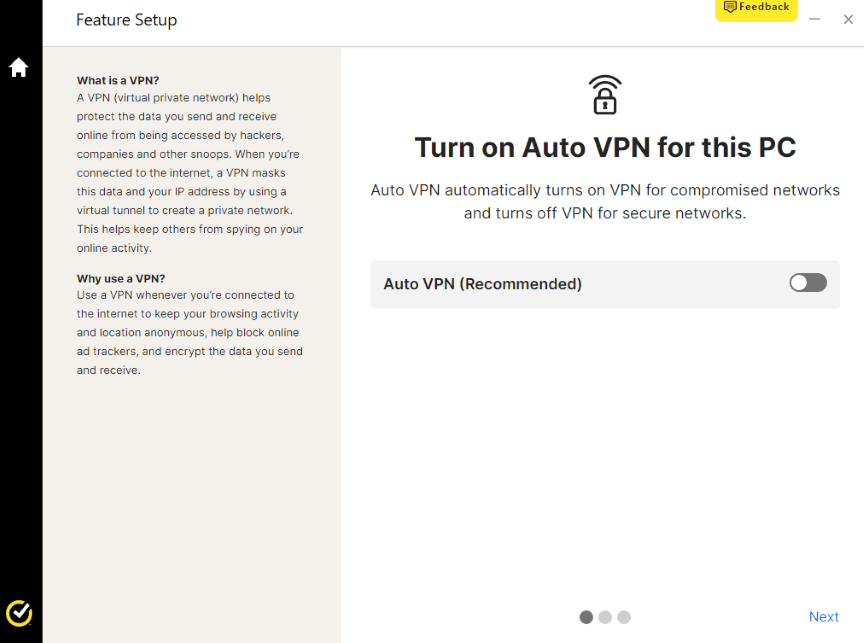 Auto VPN claims to activate VPN services for compromised networks and disables it for secure networks. It's unclear what's a secure network or a compromised network, or why it would even let you connect to a compromised network in the first place.
My guess is that compromised network is another name for public network, which is a designation Windows makes for networks to configure Windows Firewall and device discovery.
I've previously written about why I believe VPN marketed as a security solution is security theater and encourages a false sense of security. As with other Norton 360 deluxe components, I think Auto VPN absolutely does that. It implies that some networks are inherently secure and don't need safeguards which, again, will encourage risk-taking behavior.
The penultimate configuration feature is Norton's Password Manager.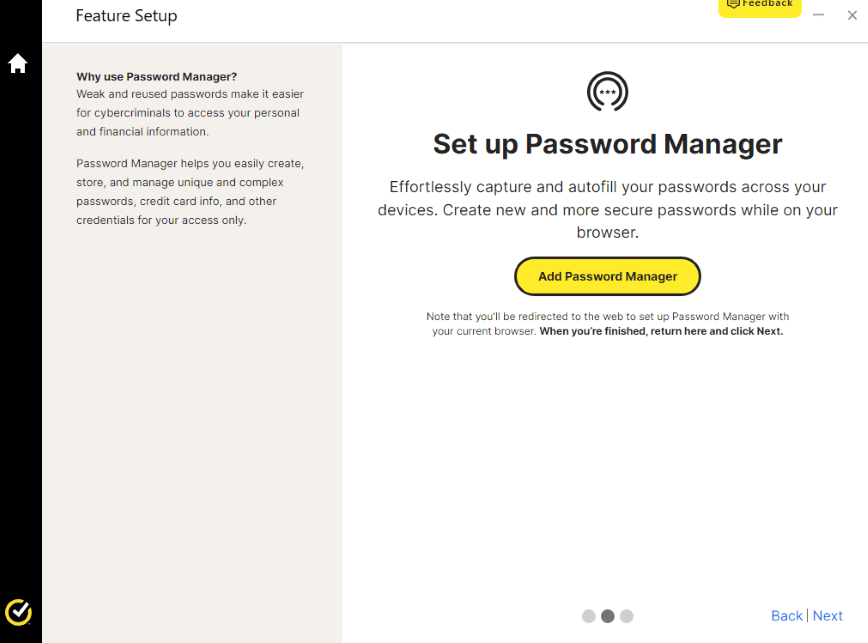 The password manager, when set up, looks like a straightforward offering that stores log-in information, payment card information, addresses, and notes. It also includes a password generator so that you can create strong random passwords for websites.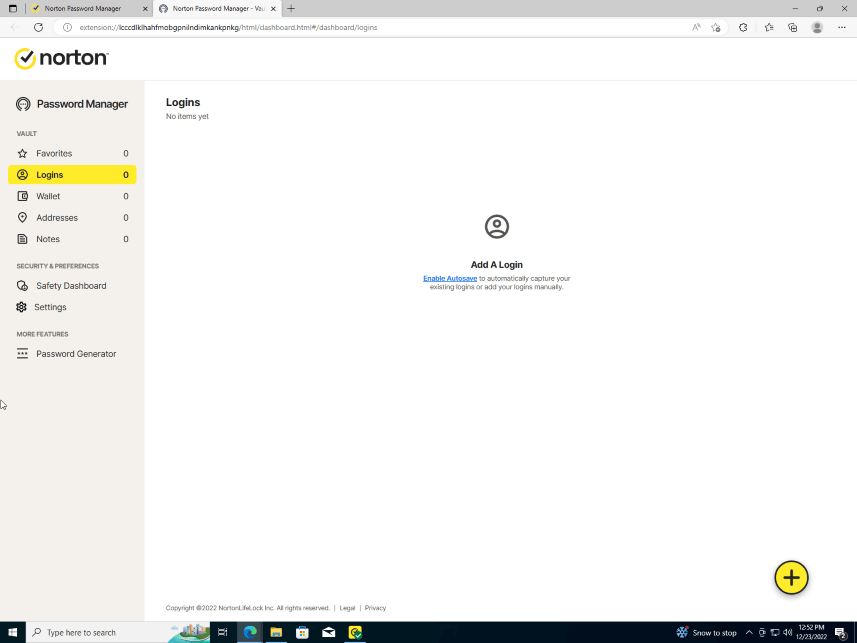 I always encourage the use of a password vault and am glad to see it included in the Norton 360 Deluxe package.
Finally, Norton 360 Deluxe provides Browsing Protection.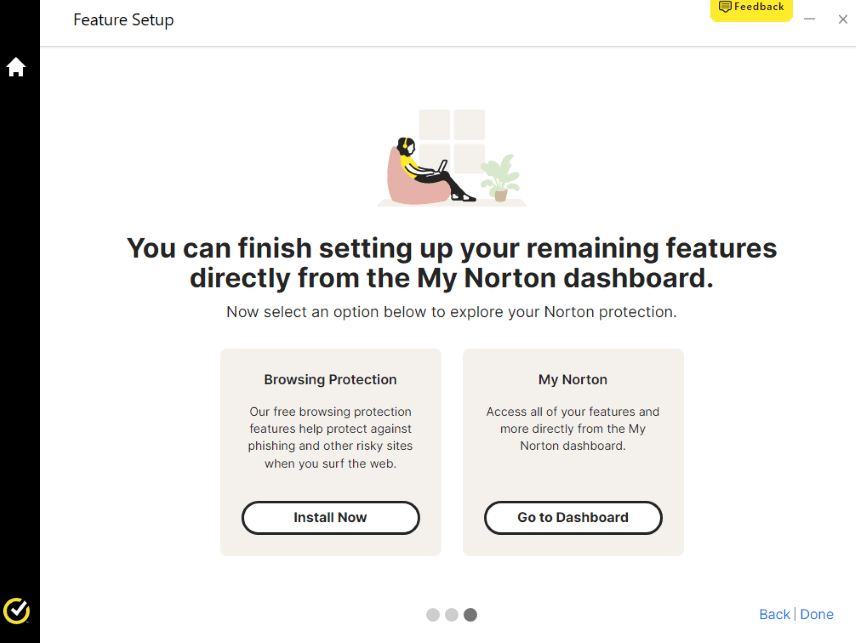 That feature uses a database of known malicious URLs and domains to protect your online browsing. What it protects you from, it does well.
What about the unknown unknowns–the phishing sites and malicious code not in the database? Unfortunately, you're likely at risk. So if you use the internet with reckless abandon because you have browsing protection in place, you'll likely make riskier decisions than you would have without that safety blanket.
This is the fourth of five features that encourages risky behavior by providing a false sense of security.
My personal take: Norton provides a lot of great features and helps you configure them quickly and easily. Norton also leans heavily into security theater to convince of the need for its product. I think that can be useful because it can drive awareness of serious cybersecurity concerns. In this case, I think Norton missed the mark and really instills a false sense of security in its users. It reads like having these protections will make a user invincible online when that couldn't be further from reality.
Central Dashboard
Once configured, Norton 360 puts everything in one place with its My Norton dashboard.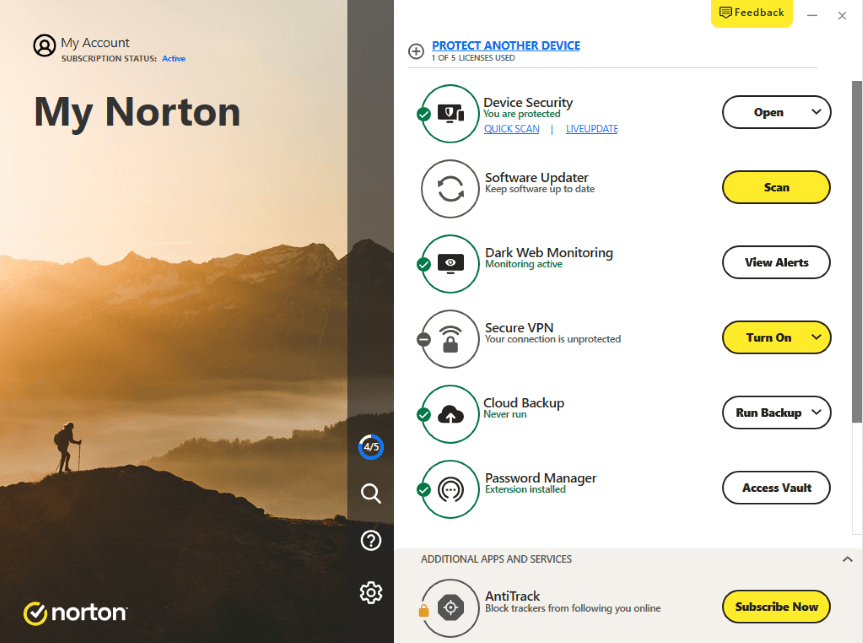 I really like that. The My Norton dashboard is simple and convenient, putting all the various Norton 360 Deluxe services at your fingertips. It also highlights clearly and brightly what you haven't configured.
Having everything easily accessible in one place makes it easy to manage and use all of Norton's services. Where users are likely downloading Norton 360 Deluxe exactly for that, the design choices seem very intentional and well thought out.
My personal take: This is one of the best user interfaces for a product I've encountered. I'm enamored by the design choices and think it makes securing your computer a breeze. If Norton's able to keep up the recent high performance of its antivirus solution, I think this is a solid solution for people who want a simple and straightforward personal security platform.
Norton Device Security
This is the core of the Norton 360 Deluxe software. It is accessed by clicking the Open button next to Device Security on the My Norton dashboard.

Once accessed, it provides five major functions and the ability to return to the My Norton dashboard.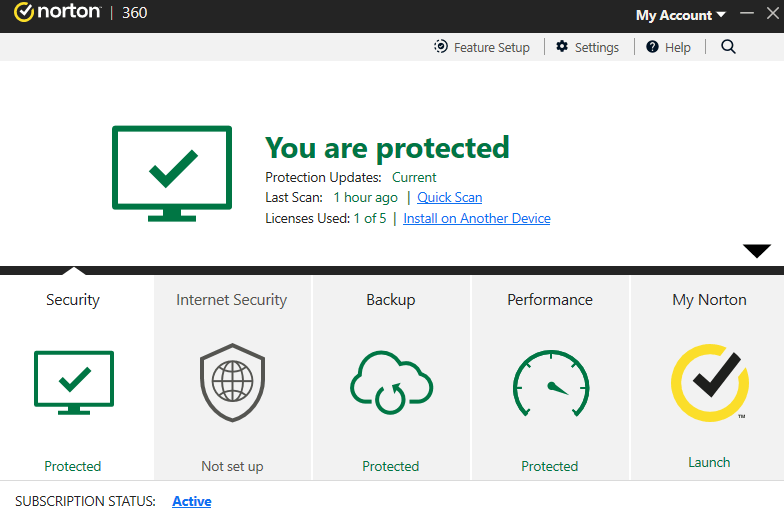 I won't highlight all the features–things like Internet Security and Backup were covered above–but I'd like to take a moment to highlight a couple of additional features.
Like Windows Defender, which is free and built into Windows, Norton 360 Deluxe scans your files during state changes: when something is downloaded or modified. Also like Windows Defender, Norton 360 Deluxe allows you to perform a quick scan by pressing the Quick Scan link.

Unlike Windows Defender, there's no way to target specific files or folders for scanning.
The next feature I'd like to highlight is Performance.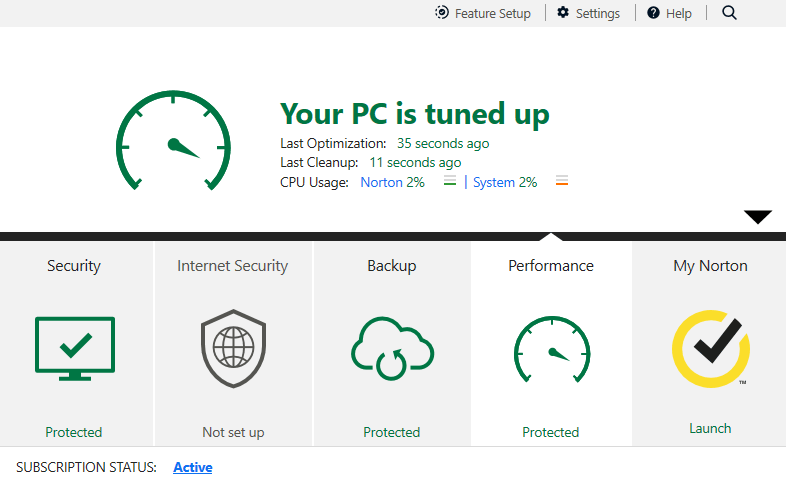 When you click the Performance tab, other features are exposed including Optimize Disk, File Cleanup, Startup Manager, and Graphs.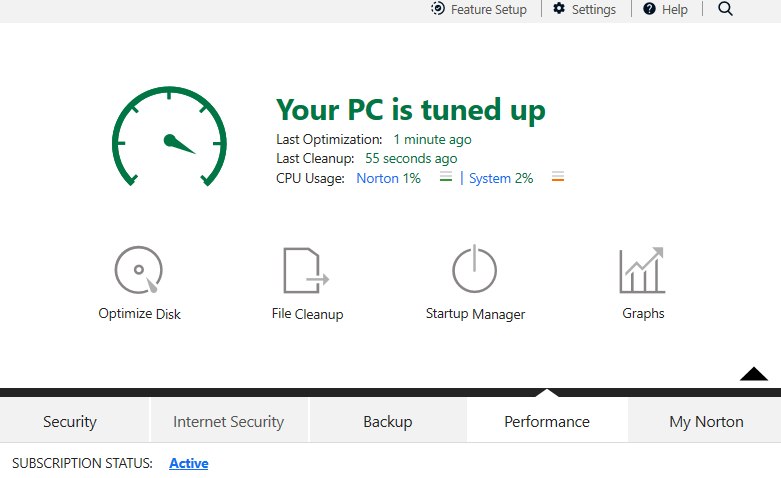 Optimize Disk defragments your hard disk drives or runs a TRIM command on solid-state drives, similar to Optimize Drives, which is free and included with Windows.
File Cleanup empties your Recycle Bin and deletes Windows Temporary Files and internet browser temporary files. This functionality is identical to the free Disk Cleanup built into Windows.
Startup Manager allows you to enable and disable programs starting up with Windows. This can help address certain Windows issues you might experience and can help speed up Windows boot. This feature is identical to the free Startup Apps setup item built into Windows.
Finally, Graphs provides you with a record of what you've done with Norton 360 Deluxe including scans, configurations, and detections. It also provides you with system monitoring which is identical to the Performance tab of the free Task Manager built into Windows.
My personal take: Norton's core functionality, Device Security, just repackages free Windows features and puts them in one window instead of four, while also giving you fewer options and flexibility. If that's worth $110/year for you, then Norton 360 Deluxe is for you!
Reasons Behind My Ratings
Features: 3/5
As I highlighted elsewhere in this review, Norton 360 Deluxe's main selling point is the aggregation of all its features in one place. You can access the equivalent of handy built-in Windows tools, Dark Web Monitoring, Cloud Backup, Password Manager, and a VPN from one console. If that convenience is what you want or need from a security solution, then this may be a good product for you.
I think Norton's presentation of those services is disingenuous and creates a false sense of safety and security for its users. In doing so, it really does a disservice to its users and may even make them prone to engage in riskier behavior on the internet because they're safe. Norton really sells Norton 360 Deluxe as a silver bullet for security and it's definitely not that.
Pricing: 2/5
Norton 360 Deluxe costs $110/year. The features it provides can be purchased in separate products elsewhere for a fraction of that cost. The solution you can build yourself can do more and give you more control over endpoint security.
That being said, you can't really purchase the convenience Norton 360 Deluxe provides elsewhere. There isn't another product that combines all the Norton 360 Deluxe features in one place on as nice of a dashboard. You have to decide if that's worth $110/year to you.
Ease of Use: 5/5
This is where Norton 360 Deluxe really shines. It is incredibly easy to use and comes with very straightforward explanations of what each component does. I think it elegantly combines form and functionality to make the process of securing your computer very easy.
Support: 4/5
Norton provides extensive support whether that's delivered through FAQs, live chat, or message boards. They even have employees scan message boards and respond to questions when no other responses are forthcoming.
Overall, I think everything Norton provides is pretty standard for a product offering in the endpoint security space.
Final Verdict
Is Norton 360 Deluxe worth it? I don't think so, but you might. When you buy Norton 360 Deluxe, you're effectively paying $110 for a dashboard. Admittedly, it's one of the best-designed dashboards I've yet encountered. Having all the tools Norton 360 Deluxe in one place is great, especially if you're security conscious online and acknowledge that this is a supplement to safe browsing and internet use.
The protection of Norton 360 Deluxe's core functionality, Device Security, is provided for free with Windows. At the time of writing this article, Microsoft Defender performs largely identically to Norton AntiVirus with Norton AntiVirus in the lead.
That's a recent development and Norton's historical performance wasn't always up to par. I'm excited to see the change and hope that continues. If it does, then I would absolutely recommend Norton 360 Deluxe.
Do you find this Norton 360 Deluxe review helpful? Share your thoughts below.