A Virtual Private Network (VPN) offers effective protection from malware, ad tracking, hackers, spies, and censorship. But that privacy and security will cost you an ongoing subscription.
There are quite a few options out there (TORGuard and NordVPN seem to be quite popular), each with varying costs, features, and interfaces. Before making a decision about which VPN you should go for, take the time to consider your options and weigh up which will best suit you in the long term.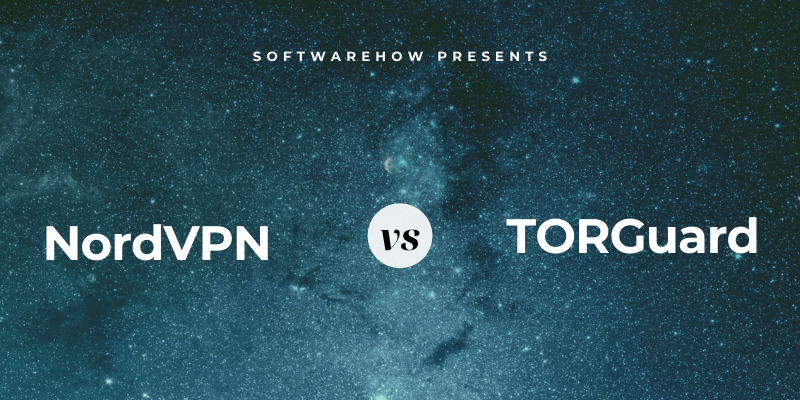 NordVPN offers a wide selection of servers around the world, and the app's interface is a map of where they are all located. You protect your computer by clicking on the specific location in the world you want to connect to. Nord focuses on functionality over ease-of-use, and while that adds a little complexity, I still found the app quite straightforward. Read our detailed NordVPN review here.

TorGuard Anonymous VPN is a service better suited to more experienced VPN users. A range of additional services are offered that will appeal to the tech-savvy, but each one will add to the cost of your subscription. I assumed the service's name was related to the TOR ("The Onion Router") Project for anonymous browsing, but I was wrong. It's a reference to privacy when using BitTorrent.
How They Compare
1. Privacy
Many computer users feel increasingly vulnerable when using the internet, and rightly so. Your IP address and system information are sent along with each packet as you connect to websites and send and receive data. That's not very private and allows your ISP, the websites you visit, advertisers, hackers, and governments can keep a log of your online activity.
A VPN can stop unwanted attention by making you anonymous. It trades your IP address for that of the server you connect to, and that can be anywhere in the world. You effectively hide your identity behind the network and become untraceable. At least in theory.
What's the problem? Your activity isn't hidden from your VPN provider. So you need to choose someone you can trust: a provider that cares as much about your privacy as you do.
Both NordVPN and TorGuard have excellent privacy policies and a "no logs" policy. That means they don't log the sites you visit at all and only log your connections enough to run their businesses. TorGuard claims to keep no logs at all, but I think it's likely they keep some temporary logs of your connections to enforce their five-device limit.
Both companies keep as little personal information about you as possible and allow you to pay by Bitcoin so even your financial transactions won't lead back to you. TorGuard also allows you to pay via CoinPayment and gift cards.
Winner: Tie. Both services store as little private information about you as possible, and don't keep logs of your online activity. Both have a large number of servers around the world that help make you anonymous when online.
2. Security
When you use a public wireless network, your connection is insecure. Anyone on the same network can use packet sniffing software to intercept and log the data sent between you and the router. They could also redirect you to fake sites where they can steal your passwords and accounts.
VPNs defend against this type of attack by creating a secure, encrypted tunnel between your computer and the VPN server. The hacker can still log your traffic, but because it's strongly encrypted, it's totally useless to them. Both services allow you to choose the security protocol used.
If you unexpectedly become disconnected from your VPN, your traffic is no longer encrypted and is vulnerable. To protect you from this happening, both apps provide a kill switch to block all internet traffic until your VPN is active again.
TorGuard is also able to automatically close certain apps once the VPN disconnects.
Nord offers a malware blocker to protect you from suspicious websites to protect you from malware, advertisers, and other threats.
For additional security, Nord offers Double VPN, where your traffic will pass through two servers, getting twice the encryption for double the security. But this comes at an even greater expense of performance.
TorGuard has a similar feature called Stealth Proxy:
TorGuard has now added a new Stealth Proxy feature inside the TorGuard VPN app. Stealth Proxy works as a "second" layer of security that connects your standard VPN connection through an encrypted proxy layer. When enabled, this feature hides the "handshake", making it impossible for the DPI censors to determine if OpenVPN is being used. With TorGuard Stealth VPN/Proxy, it is virtually impossible for your VPN to be blocked by a firewall, or even detected.
Winner: Tie. Both apps offer encryption, a kill switch, and an optional second layer of security. Nord also provides a malware blocker.
3. Streaming Services
Netflix, BBC iPlayer and other streaming services use the geographic location of your IP address to decide which shows you can and can't watch. Because a VPN can make it appear that you're in a country you're not, they now block VPNs as well. Or they try to.
In my experience, VPNs have wildly varying success in successfully streaming from streaming services. These two services use completely different strategies to give you the best chance of watching your shows without frustration.
Nord has a feature called SmartPlay, which is designed to give you effortless access to 400 streaming services. It seems to work. When I tried nine different Nord servers around the world, each one connected to Netflix successfully. It's the only service I tried that achieved a 100% success rate, though I can't guarantee you'll always achieve it.
TorGuard uses a different strategy: Dedicated IP. For an additional ongoing cost, you can purchase an IP address that only you have, which almost guarantees you'll never be detected as using a VPN.
Before I purchased a dedicated IP, I attempted to access Netflix from 16 different TorGuard servers. I was only successful with three. I then purchased a US Streaming IP for $7.99 per month and could access Netflix every time I tried.
But be aware that you'll have to contact TorGuard's support and request them to set up the dedicated IP for you. In most cases, it doesn't happen automatically.
Winner: Tie. When using NordVPN, I could successfully access Netflix from every server I tried. With TorGuard, purchasing a dedicated streaming IP address virtually guarantees that all streaming services will be accessible, but this is an additional cost on top of the normal subscription price.
4. User Interface
Many VPNs offer a simple switch interface to make it easy for beginners to connect and disconnect the VPN. Neither Nord nor IPVanish takes this approach.
NordVPN's interface is a map of where its servers are located around the world. That's smart since the service's abundance of servers is one of its key selling points, and is suitable for intermediate VPN users. To change servers, just click on the desired location.
TorGuard's interface is suitable for users with technical knowledge of VPNs. All the settings are right there in front of you, rather than being hidden behind a more basic interface, giving a more immediate experience to advanced users.
The list of servers can be sorted and filtered in various ways.
Winner: Personal preference. Neither interface is ideal for beginners. NordVPN is aimed at intermediate users, but beginners won't find it hard to pick up. TorGuard's interface is suitable for those with more experience using VPNs.
5. Performance
Both services are quite fast, but I give the edge to Nord. The fastest Nord server I encountered had a download bandwidth of 70.22 Mbps, only a little below my normal (unprotected) speed. But I found that server speeds varied considerably, and the average speed was just 22.75 Mbps. So you may have to try a few servers before you find one you're happy with.
TorGuard's download speeds were faster than NordVPN on average (27.57 Mbps). But the fastest server I could find could download at only 41.27 Mbps, which is fast enough for most purposes, but significantly slower than Nord's fastest.
But they're my experiences testing the services from Australia, and you're likely to get different results from other parts of the world. If a fast download speed is important to you, I recommend trying both services and running your own speed tests.
Winner: NordVPN. Both services have acceptable download speeds for most purposes, and I found TorGuard a little faster on average. But I was able to find significantly faster servers with Nord.
6. Pricing & Value
VPN subscriptions generally have relatively expensive monthly plans, and significant discounts if you pay well in advance. That's the case with both of these services.
NordVPN is one of the least expensive VPN services you'll find. A monthly subscription is $11.95, and this is discounted to $6.99 a month if you pay yearly. There are larger discounts when paying even further in advance: the 2-year plan costs just $3.99/month, and the 3-year plan a very affordable $2.99/month.
TORGuard is similar, starting at just $9.99/month, with the cheapest subscription being $4.17/month when you pay two years in advance. That's not much more than Nord.
Unless you need to access streaming services, when you'll need to pay extra for a dedicated streaming IP address as well. Paying two years in advance, the combined subscription comes to $182.47, which works out at $7.60/month, more than double Nord's cheapest rate.
Winner: NordVPN.
The Final Verdict
Tech-savvy networking geeks will be well-served by TorGuard. The app places all the settings at your fingertips so you can more easily customize your VPN experience, balancing speed with security. The service's basic price is quite affordable, and you get to choose which optional extras you're willing to pay for.
For everyone else, I recommend NordVPN. Its three-year subscription price is one of the cheapest rates on the market—the second and third years are surprisingly inexpensive. The service offers the best Netflix connectivity of any VPN I tested (read the full review here), and some very fast servers (though you may have to try a few before you find one). I highly recommend it.
Both services offer a good range of features, excellent privacy policies, and advanced security options. If you're still not sure which to choose, take them for a test drive. Both companies stand behind their service with a money-back guarantee (30 days for Nord, 7 days for TorGuard). Evaluate each app, run your own speed tests, and explore how configurable each service is. See for yourself which one best meets your needs.