Open your Gallery, find the icon of the artwork you wish to rename, tap on the name of the artwork, and type in the new desired title. Once you have completed this, tap on Done and it will automatically save the artwork name for you.
I'm Carolyn and I've been running my digital illustration business for over three years. I use Procreate to create all of my work so it is essential for me to be on top form when it comes to labeling and organizing all of my client's projects.
This is a really simple and quick step and it's particularly useful if you're like me and your gallery is full to the brim with hundreds of different projects. Today, I'll show you how easy it is to name each of your individual artworks in Procreate.
Note: Screenshots are taken from Procreate on iPadOS 15.5.
Key Takeaways
There are two ways to name your artwork in Procreate
When you export your projects, the files will automatically be saved with their new titles
Naming and labeling your projects can help with organizing your Procreate Gallery
2 Ways to Name Artwork in Procreate
There are two ways to rename your artwork in Procreate and both ways are incredibly simple and quick. I have created the step-by-step guide below to walk you through it:
Method 1: From Your Gallery
Step 1: Open your Procreate Gallery. Select the artwork you wish to rename and tap on the text right below the thumbnail image. A zoomed-in view of the thumbnail will appear.
Step 2: The text is now highlighted. You can now type the new name of your artwork. When you are finished, tap on Done.
Step 3: The new name will now be visible under the thumbnail image of your artwork in the Procreate Gallery.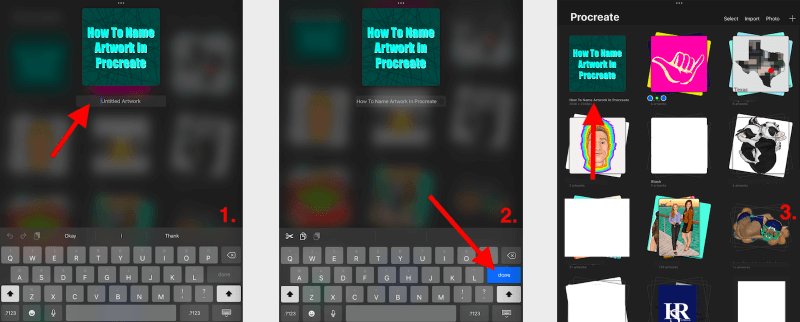 Method 2: From Your Canvas
Step 1: Open your project in Procreate. Tap on the Actions tool (wrench icon). Then select the Canvas option. At the bottom of the drop-down menu, tap on Canvas information.
Step 2: The Canvas Info window will open. Tap the text at the very top of the window that says Untitled Artwork. You can now type your desired name for your project. When you are done, select Done.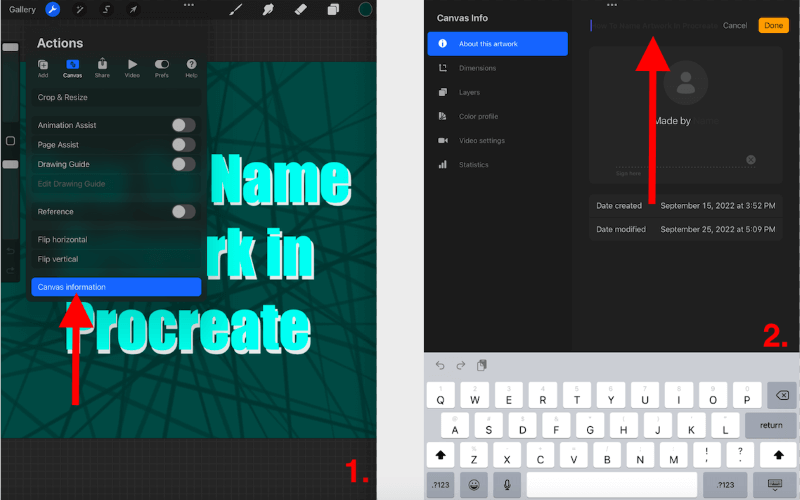 The Benefit of Naming Your Files in Procreate
There are two great reasons to rename your files on Procreate:
Organization
Renaming your files is a great way to organize your gallery so that it is easy to navigate. Labeling each draft of a project can save you time when you have to go back to certain versions for your clients.
For this reason, I always recommend also adding the date to your renamed projects as you never know when you will have to filter back through hundreds of artwork to find the fourteenth version you made with the right shade of blue.
Exporting Artwork
Another key reason to rename your artwork is that when you export it to your device, it will automatically save the file name with the label you chose. This will save you hours of time going back through your files and images and renaming them before sending them to your client.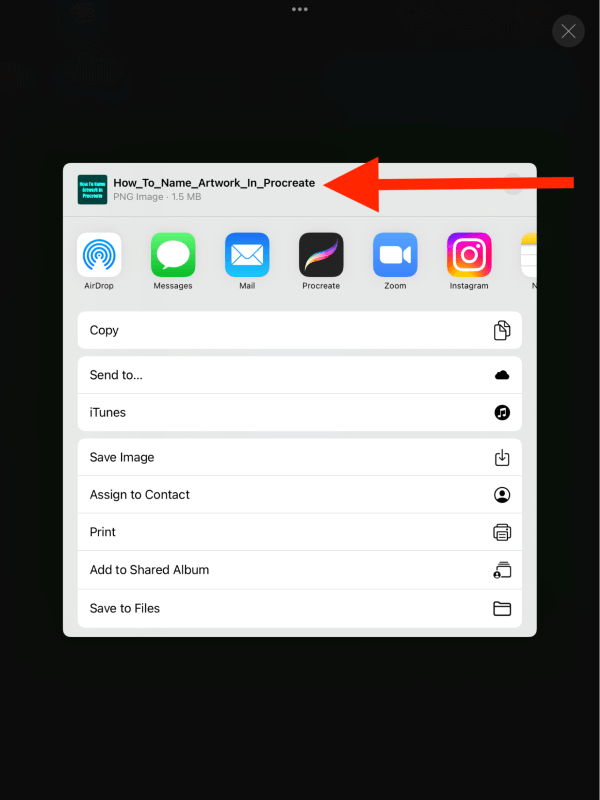 FAQs
Below is a selection of frequently asked questions about this topic. I have briefly answered them:
How to name stacks on Procreate?
You can follow the same steps as the first method above. Tap on the text below the thumbnail icon of your stack, type your new name, and select done. This will rename your stack.
How to rename files in Procreate Pocket?
You can follow both of the methods above to rename files in Procreate Pocket. The process for naming artworks and stacks is the same in both Procreate and Procreate Pocket.
How to rename artwork in Procreate?
You can name and rename your artworks as many times as you want using both of the methods shown above. There is a very large character limit and there is no limit to the number of times you can do this.
Conclusion
Naming each individual artwork on Procreate may be very time-consuming, but it is worth it, I promise. It's a great habit to adopt when creating each of your projects so you don't have to go back and rename them further down the line.
And the biggest perk of doing so is having those file names automatically saved when you export your files. And having an organized gallery will absolutely save you time in the long run.
Do you have any tips for naming your artwork? Share them in the comments below.