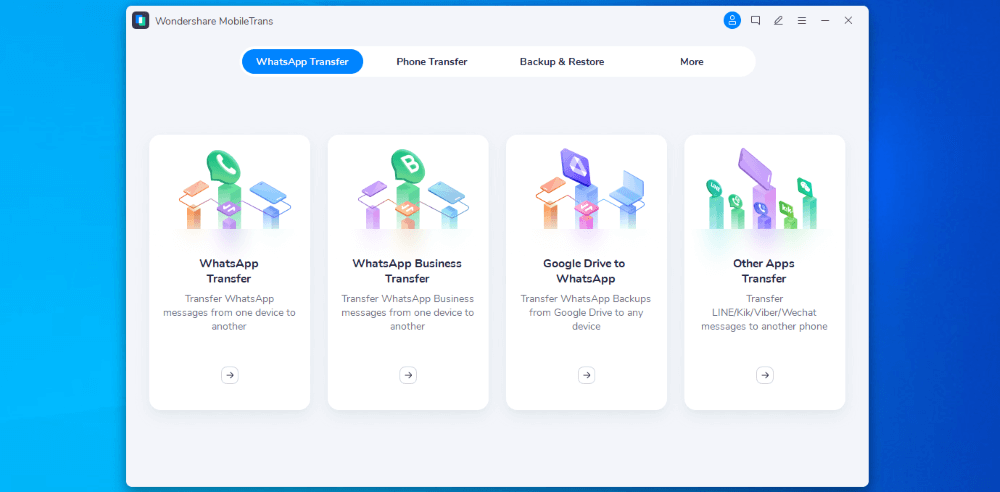 Wondershare MobileTrans
Features: full-featured WhatsApp backup and restore product that requires opening your device to attack and installs unexpected and unexplained content
Pricing: clear pricing and the ability to only buy the granular WhatsApp backup options, which is what this adds onto existing native backup solutions
Ease of Use: beautiful UI and easy-to-use software
Support: extensive help articles and email communication, but no live support
Summary
Wondershare MobileTrans is an odd product in my opinion. Most of its functionality comes from other applications or is replicated from other functionality. The only benefit I can see from Wondershare MobileTrans is its ability to give the user granular control over data backup and transfer. 

That just means that I'm not the target audience for the software. Clearly, there's a market for that functionality and MobileTrans seems to fill it well. From a functionality standpoint, it does what it says it will do, which is a lot more than other backup and restore products can claim. It does that in wholly suspicious and unsafe ways, though, which makes this an instant No for me.

MobileTrans is likely best for people who want to transfer some content from their phone or tablet to another, using their computer, while not transferring all content, who absolutely understand the extreme risk to which MobileTrans exposes you. I think that's a very esoteric use case.

What I Like: MobileTrans purports to provide granular phone backups and does exactly that.

What I Don't Like: MobileTrans is more invasive than like products I've used and puts user data at extreme risk. It does so using inappropriate and highly suspicious methods.
Is MobileTrans Completely Free?
No, but you can transfer ten files for free as a test. After that, you must pay for a license.
Can MobileTrans be Trusted?
I don't believe so, but other reviewers have touted its backup and restore functionality without addressing the security implications of its operations.
Where Does MobileTrans Save Files?
It saves files to your desktop or laptop computer. You can specify where backup files are saved.
Why Trust Me for This Review
I'm Aaron. I've worked in technology for the better part of two decades. I've also owned a lot of mobile devices, starting with the Palm Tungsten all the way through my current Android phone and iPad.
All of those have their own brand of backup and restore functionality. Androids and iOS devices seem to have largely standardized that either using inbuilt cloud storage, relying on Apps, or providing desktop backup and restore platforms.
I'm going to cover the main features and functionality that MobileTrans offers. Those effectively break down into four groups. We'll cover each in turn. Starting with…
WhatsApp Transfer
WhatsApp and its ilk like Kik, WeChat, and others are social media platforms allowing instant communication. By and large, when you back up and restore messages from those services, it's on a full platform basis: you back up everything and restore everything associated with the user account.
MobileTrans lets you restore and transfer data from those services piecemeal. So if you just want to send messages, for example, or audio you can do that with MobileTrans.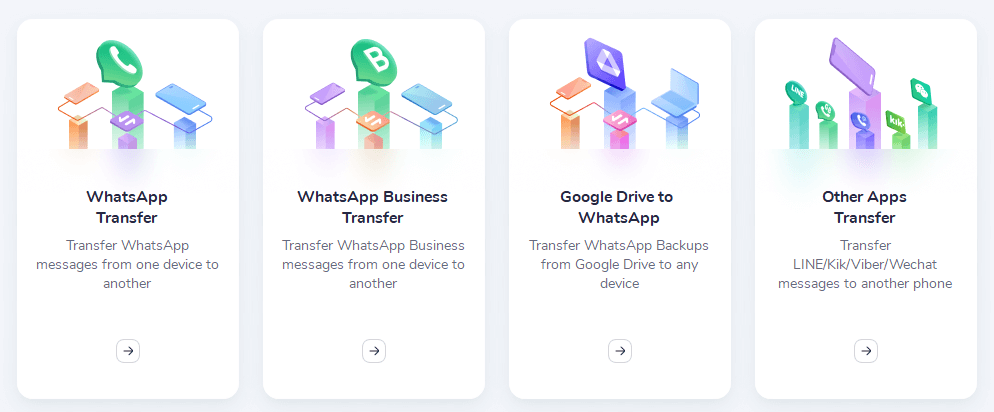 Transferring is a breeze. Simply connect two devices, specify the kind of content you want to transfer, and hit Start. You can even flip the transfer direction at the press of a button.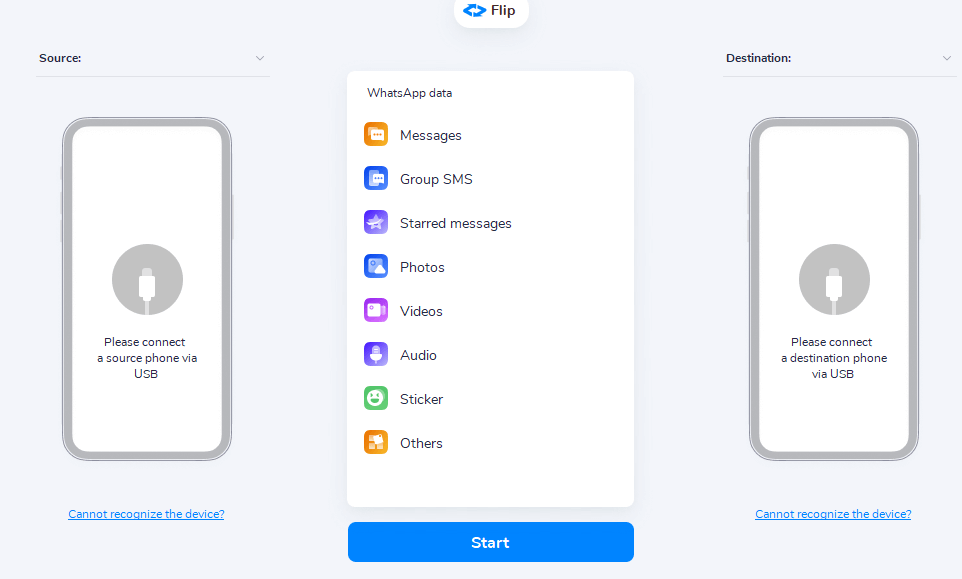 MobileTrans will also transfer data from selected programs other than WhatsApp including Line, GBWhatsApp, Kik, Viber, and Wechat.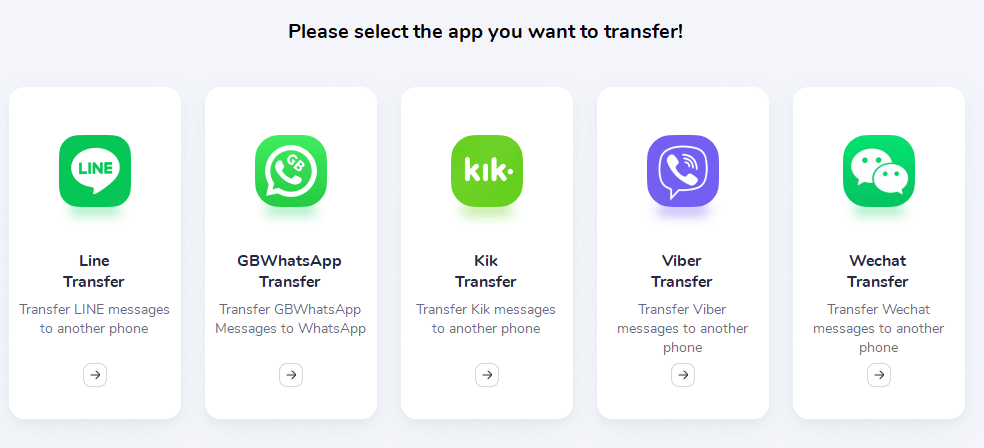 My personal take: I'm not a prolific WhatsApp user or use similar apps. The information transfer works, but I can't speak to the performance with large volumes of photos, audio, or text data.
Phone Transfer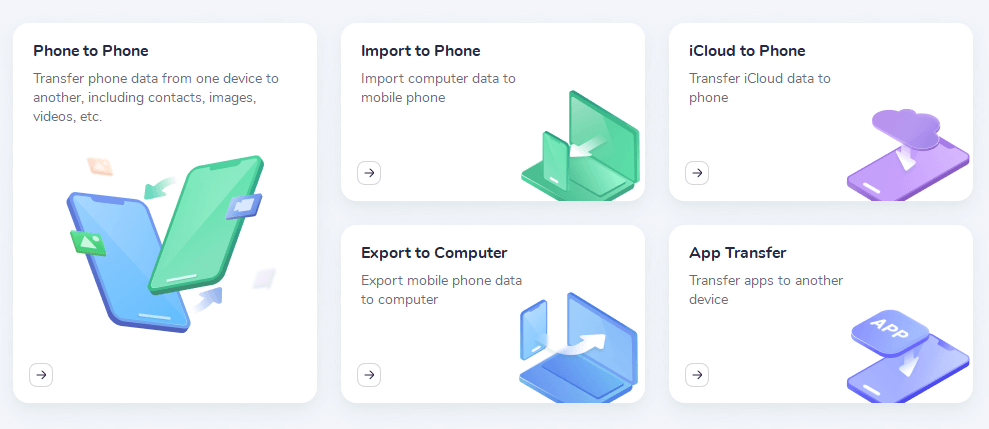 Phone transfer allows you to transfer data and applications to another phone, a desktop computer, and iCloud (but not Google Drive). It does so well and transfers the same kind of content as WhatsApp: photos, notes, video, audio, etc.
To facilitate this transfer, MobileTrans does a couple of things that I really don't like and think pose a threat to most of its likely user base. The first is requiring a user to enter developer mode and enable USB Debugging.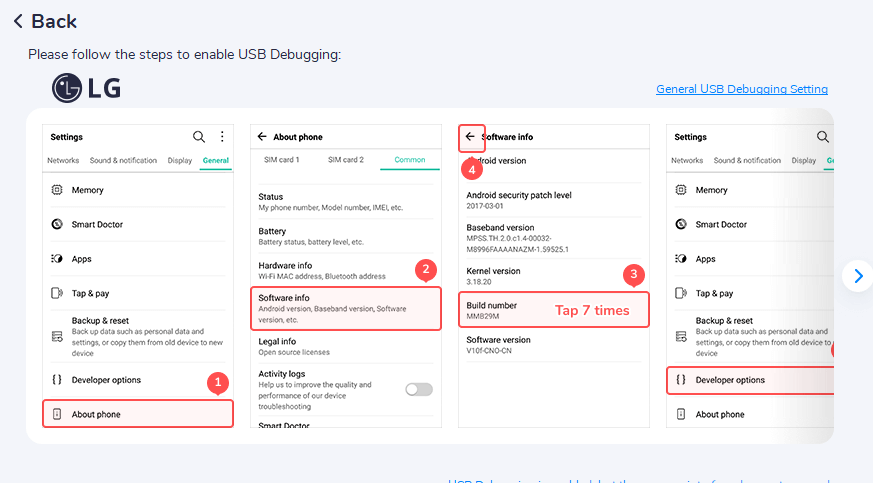 This effectively circumvents safeguards built into Android to protect users against code not signed by Google. That means that malicious content can be loaded onto the phone without the user knowing.
The second is installing an app called Connector on the phone. It installs the app automatically and without requesting permissions, which is a huge red flag. The app runs in the background and can't be accessed from the home or program screen. The splash screen informing me of the installation came and went so quickly that I almost missed it completely.
I've never seen another phone backup product that is as invasive. That invasiveness is accomplished through extremely suspicious activity. I'm not saying that Connector or MobileTrans is malicious, but installing an app with broad permissions onto a phone stealthily makes me feel very uncomfortable.
My personal take: the transfer functionality works, but it does so using incredibly suspicious methods. As a long-time information security professional, it raises so many red flags as to make it completely unusable for me.
Backup & Restore
The backup and restore functionality is similar to what you'd see with an iPhone on iTunes. It will backup or restore data from your phone, your applications (including WhatsApp), and also iTunes.
If you have Google Services or use iTunes, everything but the WhatsApp backup and restore is superfluous. If you don't want to just back up some of your WhatsApp messages, then it's entirely superfluous.
My personal take: the backup and restore functionality is great if you don't use the inbuilt functionality within Google or iTunes. If you do, then I'm not sure why you'd want to use this.
More

The More tab offers three things: playlist transfer, contact management, and raw photo format conversion. If you know what the HEIC format is, then you likely already have a tool to convert and downsample photos to jpeg and other formats.
Additionally, contact management duplicates what you can already do on your phone in largely the same way. You can select two or more contact entries and merge them. Or you can delete one or more of them.
Playlist transfer seems like it could be incredibly useful if, for example, you have a Spotify playlist and want to move that to another service. Unfortunately, you're limited to five: YouTube, YouTube Music, Spotify, deezer, and Apple Music. If you use another platform, you're out of luck.
My personal take: the only really novel service offered under the More tab is playlist transfer, but it's hampered by its limited selection and availability.
Reasons Behind My Ratings
Features: 2/5
This is effectively a granular WhatsApp backup appliance. If you're a heavy WhatsApp, kik, Wechat, etc. user then this could be good product for you. Otherwise, inbuilt Google and Apple functionality addresses everything this software does.
What those other platforms don't do is install potentially invasive software very suspiciously and intentionally open your device to further exploitation. I'm not sure why MobileTrans needs to do that – like I said above, I haven't encountered another solution that does and that raises a lot of red flags for me. 
Pricing: 5/5
The pricing model is very clear and comparable to competing solutions. Licenses come in perpetual and annual solutions for phone transfer, WhatsApp transfer, or the full solution. The individual software costs $29.99/year or $39.95 perpetually. The full solution costs $39.95/year or $49.95 perpetually. 
Mac and Team pricing differs where Mac pricing is $20 more. I'm not sure why that is, but if you want to use this for your Mac, you're paying a premium.
Team plans are only billed on an annual basis and are divided by user and device. You'll pay anywhere from $59.95 for one user and 6-10 mobile devices on one PC up to $5999.50 for unlimited devices for unlimited users on one PC. I can't speak to the propriety of that pricing since I've never used this kind of software professionally.
Ease of Use: 5/5
MobileTrans is very easy to use. It explains every step you need to follow to transfer your data, including opening it to further compromise and install unknown software on your phone. The slick user interface makes it difficult to incorrectly transfer your data.
Support: 3/5
MobileTrans provides help articles and email communication for support. I think, two decades into the 21st Century, that companies can and should do better. The lack of a chatbot or other instant assistance is problematic, especially given the pricing. I'd hope that Team or corporate clients have access to live assistance.
Final Verdict
I can't recommend any software that puts you at risk of serious data loss. Backup software shouldn't do that, ever, and MobileTrans does. That makes it an incredibly risky and personally unappealing product.
That being said, if you understand the risks and want to proceed, then it does what it sets out to do with a UI that's a pleasure to use and clearly demarcated operational steps. I think if you want a WhatsApp, kik, WeChat, or other supported chat app backup and transfer, then MobileTrans is a serviceable option.