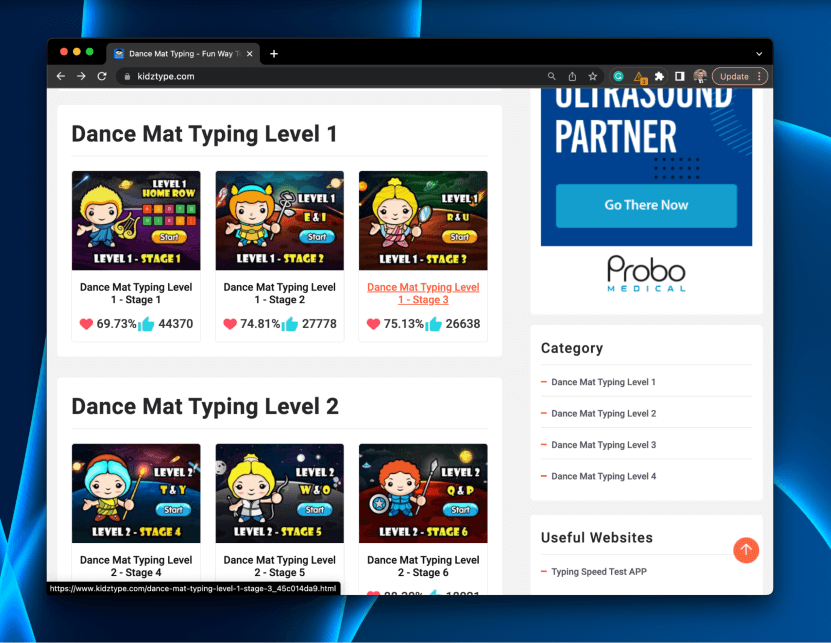 KidzType
Features: Complete with infographics, typing lessons, typing exercises, games, and tests, this website has everything you'd expect from a typing site.
Pricing: As a free typing website, pricing doesn't get much better than this!
Ease of Use: With a user-friendly interface, using KidzType is straightforward and easy.
Support: The site has very few support options aside from a contact page with a contact form.
Summary
KidzType is a typing website that helps kids learn how to type quickly and accurately. The site offers infographics, lessons, exercises, games, and tests to send them in the right direction. With colorful graphics, interactive games, and challenging tests, the site is a great way to get started learning how to type. 

KidzType is an excellent solution for parents seeking a free, engaging typing tool to teach their children how to type. It offers everything your child needs to start typing, making the transition from beginner to intermediate much easier. However, while it's an excellent introductory tool, some children might become too advanced to feel challenged on the site.

Pros: The site is free to use and offers a complete set of tools to initiate the process of learning how to type.

Cons: As children grow older and hone their typing skills, they might not find the site as exciting or challenging.
Is KidzType software safe?
Yes, KidzType software is safe. It doesn't require any downloads to use it, as it's an online website.
How often should kids practice typing?
Ideally, kids should practice their typing skills for around 15 to 30 minutes each day instead of longer sessions once or twice weekly. The shorter sessions don't demand prolonged concentration, allowing your child to stay engaged without getting bored as quickly.
When is the best age to learn typing?
Most kids begin learning to type around 6 or 7 years old, as this is usually when their hands are big enough to fit comfortably on a standard keyboard. On top of that, this is when they're learning how to read and write, so learning to type allows them to practice their English spelling skills while they type.
Why Trust Me for This Review
Hi, I'm Jon, an engineer, and parent of two young kids. I've been using various teaching programs for several years and am passionate about various software.
As my two children grow and learn, I'm starting to research software that my wife and I can use to teach them various skills. This includes typing, which is of the utmost importance to most parents in this digital age. Keeping the kids interested in learning typing is another factor, which is where KidzType comes in handy.
If you want an easy and fun way to teach your children how to type through various stages and levels, KidzType is an excellent choice. It makes learning to type fun and engaging. But it does have a few minor drawbacks.
Detailed Review of KidzType
KidzType is a handy website designed to aid in learning to type. The website features an array of tools to keep your child interested and engaged while honing their typing skills, making it an excellent way to start the learning process.
Here are a few key features of the KidzType software, along with my personal take on each feature.
Introductory Typing Finger Chart
KidzType offers a dedicated color-coordinated chart that provides an introduction to typing. Learning the proper finger placement and best typing practices can be tricky, especially for newbies.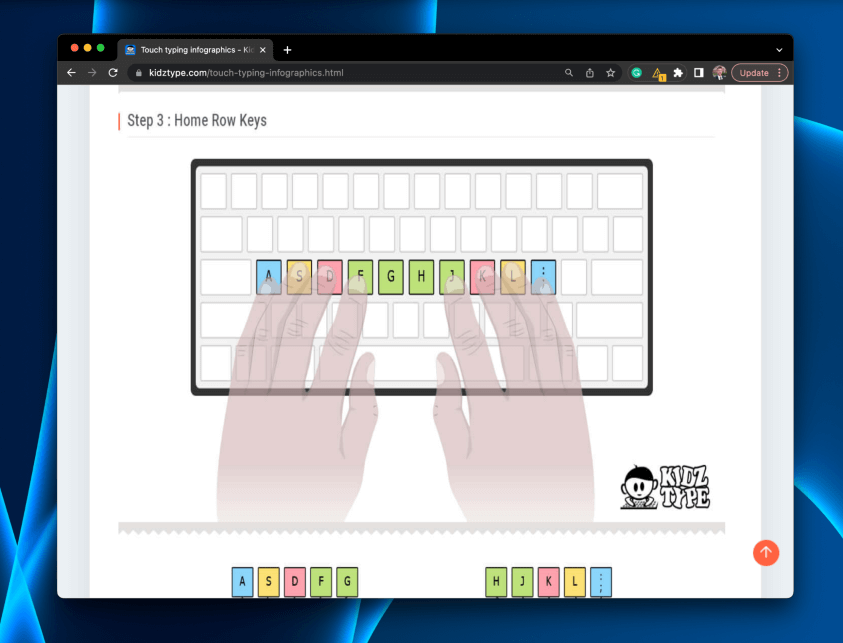 The chart takes the guesswork out of the entire thing by providing a color infographic with a step-by-step guide to typing. From its tips on finger placement to focusing up while typing, the chart offers everything you need to know to get started.
My personal take: The chart is an excellent tool in the early stages of learning, especially if your recollection of proper typing practices is a bit fuzzy. It offers a quick-start guide to learning the ins and outs, keeping guesswork out of the picture.
Engaging Dance Mat Typing
When you open KidzType's home page, you'll find an array of Dance Mat typing lessons stacked in four levels with three stages a pop. The layout of the dance mat typing is bright, colorful, and bold, but there's not so much going on that your child won't be able to focus.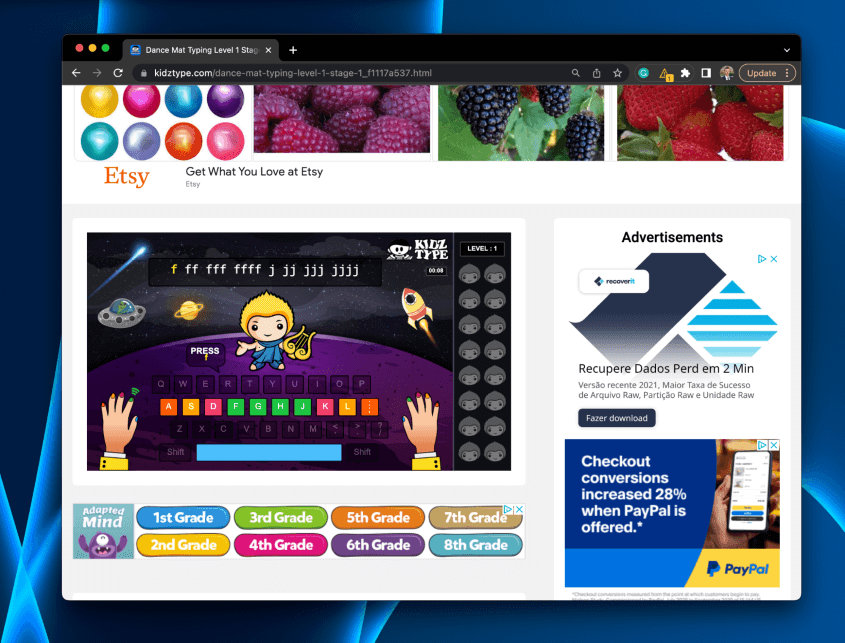 A box on the top of the screen outlines which letters your child needs to type, and the keyboard at the bottom of the screen highlights the focus keys. As your child presses the correct keys, they'll rack up a score.
The layout is simple but intuitive, offering an intriguing take on the learning curve typing can be.
My personal take: Learning to type can be tedious and irritating, especially for children with short attention spans who are just beginning to learn. This part of KidzType offers an interesting yet simple way to start taking steps in the right direction.
Visually Appealing Typing Games
In addition to its Dance Mat typing lessons, KidzType offers action-packed typing games. The games emulate arcade-style video games, offering the perfect blend of entertainment and learning.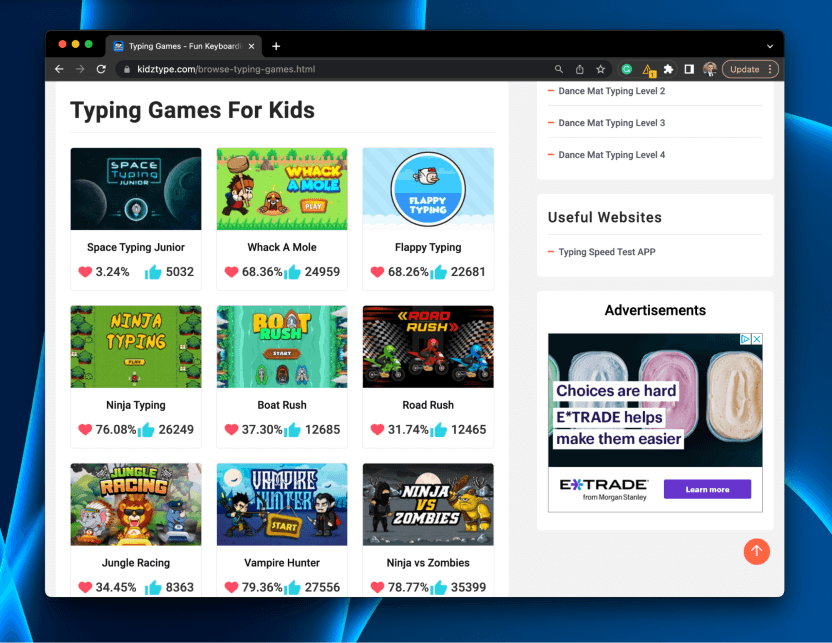 Kids can choose from an array of options to keep things interesting. For example, one option is Road Rush, a bike racing game that requires selecting a word length and correctly typing it correctly to advance the biker.
My personal take: These games challenge your child's dexterity and push the learning curve while keeping them engaged and interested. If your child struggles with their typing speed or accuracy, these games are an excellent way to inspire them to learn.
Useful Typing Lessons
KidzType's typing lessons offer the perfect approach for easing into the typing world. The lessons range in difficulty, allowing the child to choose the letters they want to focus on. Each lesson targets a different section of the keyboard, so as your child moves through each lesson, they'll begin to learn the entire keyboard.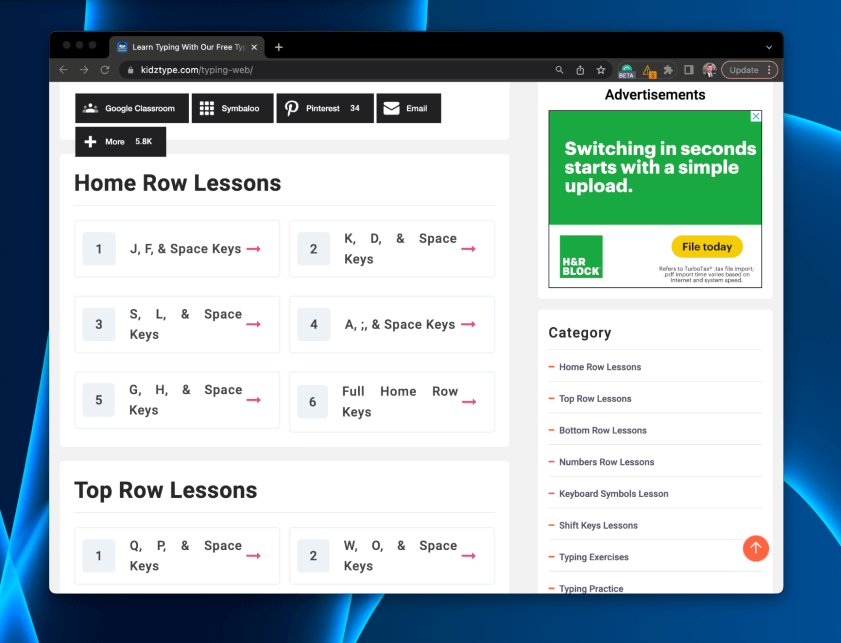 For example, if you want to focus on the keyboard's home row, the lesson will target keys in the middle row of the keyboard, starting with the letter A and ending with the symbol '. The site evaluates your child on accuracy and average WPM (words per minute) rate, producing a final score for each section.
My personal take: This tool is an excellent way to target trouble sections of the keyboard. So, if your child is struggling with one particular part, have them focus on that typing lesson until they begin to feel more comfortable with those keys.
Typing Tests
KidzType also provides a link to typing tests, complete with a professional certificate upon completion. The test is available in three lengths: 1 minute, 3 minutes, and 5 minutes. Each test challenges your child to improve their speed and accuracy by offering a fancy certificate of accomplishment when they're done.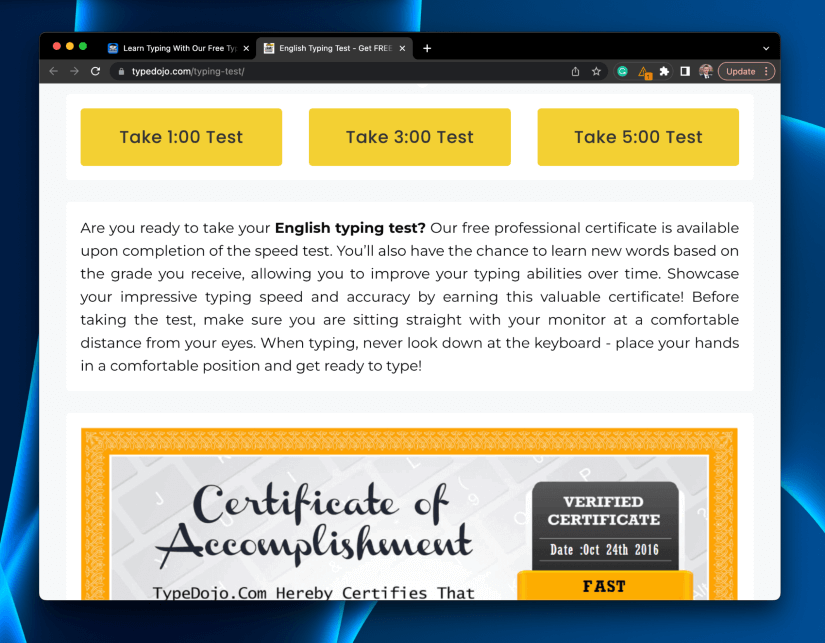 The test is an excellent way for your child to test their skills after practicing with KidzType's other features, like its lessons, games, and Dance Mat sessions.
My personal take: The prospect of a professional-like certificate upon completion of these typing tests can be an excellent motivator for kids. After all, what child doesn't want a certificate to show all their hard work?
Reasons Behind My Ratings
Features: 4.7/5
Equipped with an array of features, KidzType has just about everything you'd expect from a typing site. It has a learning infographics chart, typing lessons, typing exercises, interactive games, engaging Dance Mat lessons, and even tests to display the accomplishment of learning!
The site is complete with everything you need to get started on typing, as it teaches you everything from how to sit while typing to where your fingers should go. The only thing that isn't ideal about these games is they may become too easy for kids as they advance their skills.
Pricing: 5/5
KidzType's lessons, games, tests, and everything else are entirely free. It doesn't get much better than that! While the site has quite a few ads on its page, you don't need to worry about footing the bill for an expensive subscription or pay-to-play fee.
Ease of Use: 4.5/5
The design of KidzType is straightforward and easy to use. When you open the page, the Dance Mat lessons greet you, so it's easy to jump right in and get started with learning. Navigating around the website is simple, as the layout is easy to understand and doesn't have complex features.
Support: 4/5
The site is pretty straightforward and doesn't have complex intricacies, so, unsurprisingly, KidzType doesn't have a ChatBot or anything similar. On top of that, the site is free to use, so there are no issues that could arise with billing or payments.
However, the site does have a contact page where parents can reach out to the company for assistance or concerns.
Final Verdict
KidzType can be the perfect solution to help your child learn the ins and outs of typing in a fun, interactive way. The site offers visually appealing graphics, complete with bright pops of color, which helps keep children engaged and interested as they hone their skills. While learning to type can be a tedious task, the site makes it much more enjoyable.
It's an ideal way for kids to start the journey of learning to type quickly, accurately, and efficiently. However, given the inherent simplicity of the site, your child might grow out of it as they advance their skills.