iMyFone Lockwiper
Features: Remove passcodes very straightforwardly
Pricing: Seem reasonable for the functions and in line with competitors
Ease of Use: Couldn't be more straightforward and is very simple to use
Support: Average support compared to competitors and I would have liked to see more interactive options
Summary
iMyFone Lockwiper is an aptly named piece of software that gives you access to an iOS device in your possession. It's very straightforward to use and does exactly what it purports to do.

In my opinion, iMyFone Lockwiper is a good tool for unlocking an iOS device in your possession. Some of the features don't fully accomplish what they purport to do and the explanations in the software could be better, though the limitations are clearly explained on the iMyFone site.

What I Like: If you need an iOS device unlocked, iMyFone Lockwiper will do that for you.

What I Don't Like: Limited interactive support options and unclear messaging for application features.
Does iMyFone LockWiper Actually Work?
Yes! It removes iOS passcodes so you can use the device. It doesn't usually preserve the data, however.
Is LockWiper Safe to Use?
Yes! iMyFone Lockwiper will remove your iOS passcode and wipe your device. While not ideal, Apple's iOS security necessitates that. Ultimately, having access to your device is better than not having access to your device.
Is iMyFone LockWiper Free to Use?
No. There is a free trial version, but it won't do more than unlock your screen passcode.
Does iMyFone Jailbreak Your Phone?
No. iMyFone Lockwiper only removes device passcodes. It does not jailbreak your device.
Why Trust Me for This Review
Hi, I'm Aaron. I'm a technology enthusiast, information security professional, and attorney. In various technology-centric careers, I've had the opportunity to legitimately circumvent authentication measures on various devices.
While that's not a common occurrence, it does teach what to do when needing to recover a personal device. Unfortunately for me, tools like this weren't very reliable a decade or so ago. Fortunately for you, they seem to be very reliable now.
Detailed Review of iMyFone Lockwiper
iMyFone Lockwiper purports to unlock iOS devices with aplomb. Let's take a look and see if that's really the case. Whether or not it is, I'll provide my impressions of iMyFone Lockwiper as I run it through its paces.
Unlock Apple ID
The first of four options in iMyFone Lockwiper, Unlock Apple ID states that it will do exactly that. The iMyFone website cites some common issues: being locked out of an Apple account, not being able to reset a phone, and other options.
On running it for the first time, iMyFone Lockwiper downloaded iTunes for me as I didn't have it on the PC I used for testing. Upon connecting the device, the functionality was explained: it removes Apple ID from a device with two-factor authentication turned on. Doing so would wipe the device.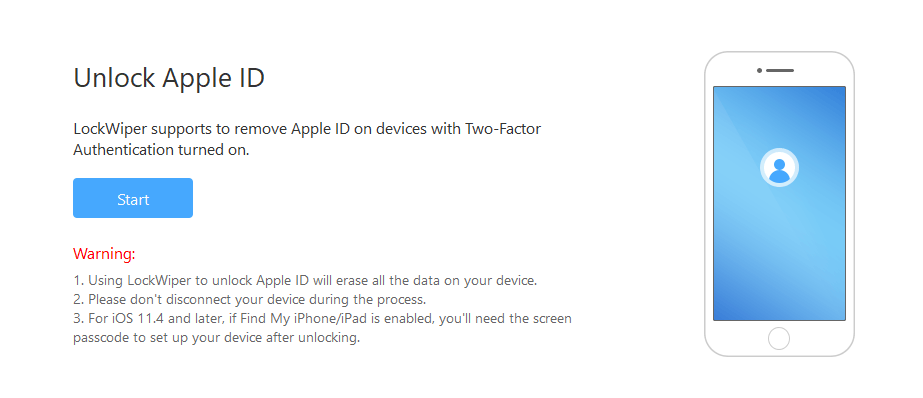 I suppose this feature is helpful: it gives you access to a device that has two-factor authentication enabled and therefore cannot be otherwise reset without the second factor. It doesn't, as claimed, somehow unlock the password for an Apple ID.
My personal take: Unlock Apple ID is a misleadingly named feature with questionable legitimacy. I can think of a lot of uses for this feature, only a few of which I'd use with a device that I own. Still, it wipes a device and lets you access it, as outlined by the instructions.
Unlock iPhone Screen Passcode
Sometimes you forget the passcode to your iPhone or iPad. Sometimes you've entered the code too many times and completely lock the device. At that point, all seems hopeless.
Not so with the iMyFone Lockwiper Unlock iPhone Screen Passcode function. Unlock iPhone Screen Passcode will wipe your device and remove the passcode. The only limitation is that if Find My iPhone or iPad is enabled prior to wiping, you'll need the Apple ID and password associated with the device to set it up.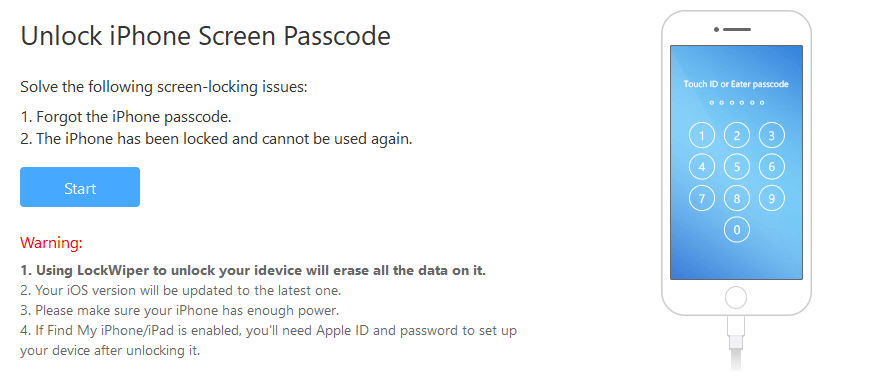 Once you have access to the device, you can use another iOS data recovery application to recover data from the phone. While it's not a perfect solution to being locked out of your phone, it works and you're in a better place than you were with a completely locked phone.
My personal take: Unlock iPhone Screen Passcode sort of does what it purports to do. It doesn't unlock the device so much as wipe and reset the device to circumvent the passcode. While effectively the same thing, don't think that you'll be able to run this and just have access to your data.
Unlock Screen Time Passcode
iMyPhone Lockwiper's Unlock Screen Time Passcode will remove the screen time passcode from your iOS device. Unlike other features, this one can work without completely erasing the device depending on how screen time was applied to the device.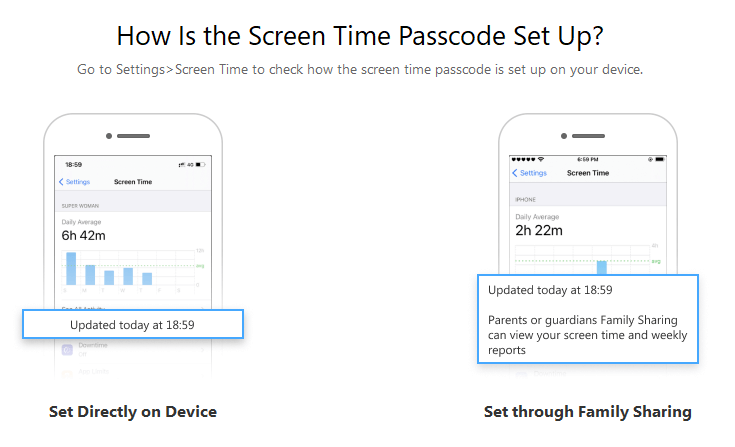 If Screen Time was set on the device and not through Family Sharing, then it's possible to preserve the data on the device. That's only possible, however, if you can disable Find My iPhone
If Screen Time was set through Family Sharing, the device will need to be wiped to disable Screen Time. You'll also need to sign in with a different Apple ID than the one with Screen Sharing, or none at all. So you'll lose access to your already purchased apps.
My personal take: if you're desperate to circumvent Screen Time restrictions, then this will work for you. But don't try this at home, kids. Your parents will eventually realize that you're still using your iPhone or iPad outside of permitted hours.
Bypass MDM
Of all the options iMyPhone Lockwiper provides, this is the most obviously geared toward stealing an iOS device. Having implemented and managed MDM systems and oversaw their integration into corporate logging and alerting solutions, your employer will see the subversion of MDM. Best case scenario: you narrowly avoid losing your job.
That being said, iMyPhone Lockwiper provides two flavors of MDM bypass: bypassing MDM or removing it from the device entirely. It's unclear to me how that works and unfortunately, I didn't have a full-fledged personally-available MDM solution to test.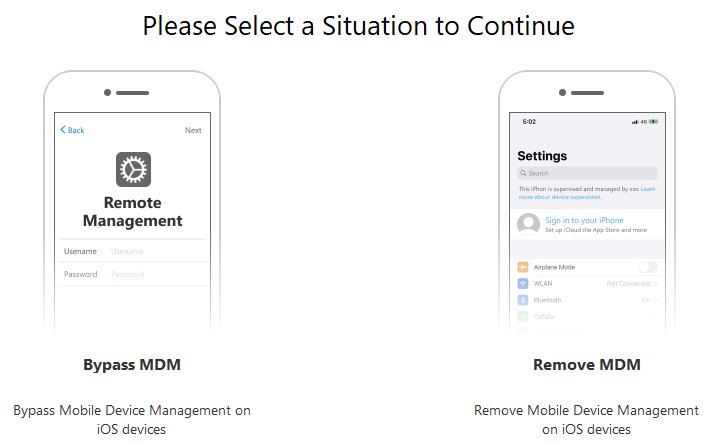 If the Bypass MDM function operates similarly to others, I have no reason to doubt that this will circumvent the MDM solution on your iOS device.
My personal take: Bypass MDM will do exactly that. Whether you want to risk employment for a little more freedom with corporate resources on a corporate or personal device is another matter entirely. I don't judge, but I do know for a fact that the MDM subversion will be detected.
Reasons Behind My Ratings
Features: 5/5
iMyPhone Lockwiper does, in fact, wipe locks. It does so very straightforwardly and for some very common situations where restrictions exist. Unfortunately, it won't always do so while preserving data, but that's a consequence of Apple's iOS security measures. Fortunately, software exists to help you recover data.
I'll also note that while this is feature-rich, a couple of the features will create alerts or raise suspicion. If you think that you need those features, think carefully about their use.
Pricing: 3/5
Pricing comes in three flavors: monthly, annual, and lifetime. Pricing clearly favors a lifetime license, which costs $59.99. That makes sense: someone's probably not going to use this more than once or twice for a device. Those buyers likely wouldn't think about a more expensive license if it weren't aggressively priced.
Overall, the prices seem reasonable for the functions and in line with competitors.
Ease of Use: 5/5
iMyFone Lockwiper couldn't be more straightforward. Functions come in four tiles and each walks you through the process step-by-step. I also like that iMyFone Lockwiper explains what will happen with each tile. In most cases, you lose your data, but you get access to the device.
Support: 3/5
iMyFone provides average support compared to competitors. It doesn't really stand out in this space. There are FAQs, email support, and a chatbot.
I would have liked to see more interactive support. The documentation is solid and comprehensively addresses general use.
Final Verdict
Is iMyFone Lockwiper worth it? It definitely is if you need access to an iOS device and you don't have the credentials to access it. iMyFone Lockwiper performs well and seems to do all the things it sets out to do.
I'm going to charitably say that this tool is perfect for people who are forgetful or are otherwise easily locked out of their iOS devices. This tool will help you unlock the device but, because of Apple's iOS security, won't provide access to the underlying data.
Some of the functions don't really have a legitimate use and, well, I suppose it's for people who want to achieve those goals. People buying iMyFone Lockwiper for those purposes really need to think about why they need to and whether they should. As I said above, not judging, but what you're planning is detectable and likely will be.
So, what are your thoughts on this iMyFone Lockwiper review? Share your feedback in the comment below.