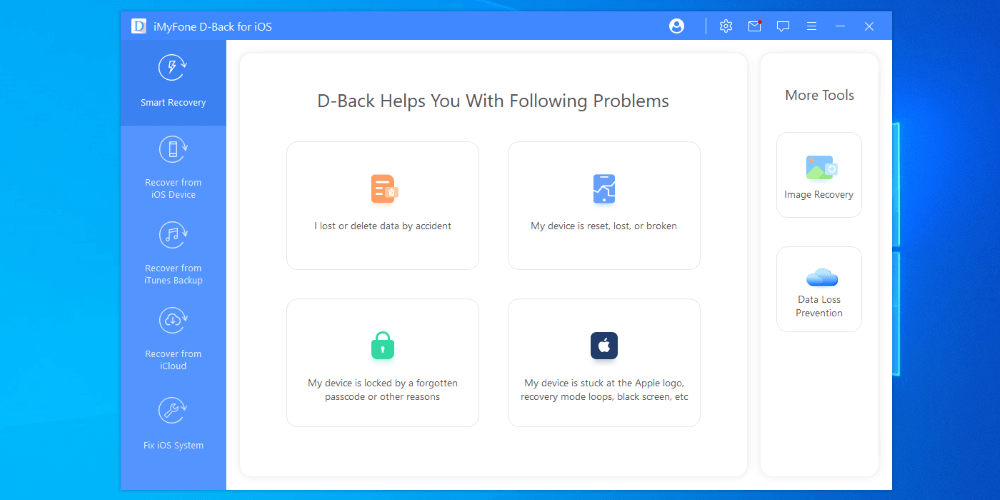 iMyFone D-Back
Features: Solid features to recover your data and device, in most circumstances
Pricing: Pricing is average compared to competitors and most iOS recovery solutions fall in the $50 price range
Ease of Use: I don't think iMyFone D-Back could be made simpler and more approachable
Support: iMyFone provides average support for modern software and is comparable to competitors
Summary
iMyFone D-Back is a data recovery tool for iPhones, iPads, and other devices that run iOS. It provides multiple recovery options, including potential data repositories. 

This is a solid product for anyone who wants to recover data from their iOS device. It's important to understand the limitations of data recovery: not all data can be recovered under all circumstances. 

It's also not hyper-technical. iMyFone D-Back has a straightforward interface and provides clear information about each step of the recovery process. That's a must for a tool like this and the developers clearly had ease of use in mind.

What I Like: Easy-to-use interface and performs well at data recovery tasks on iOS devices.

What I Don't Like: More interactive support would be nice, like a forum or live chat above and beyond a chatbot. People who need data recovery solutions feel urgency and iMyFone doesn't cater to that.
Is D-back iPhone Recovery Safe?
I thought so! It works well and didn't seem to have ill effects on my PC or iPad.
Is iMyFone Really Free?
No. The free version lets you see what will be recovered. The recovery costs money. That's a typical model for consumer data recovery products.
How Effective is iMyFone?
iMyFone seems to be very effective at what it does and in small-scale tests did a good job recovering information that I thought would be trickier to recover.
Does iMyFone Jailbreak Your Phone?
Not iMyFone D-Back. It recovers information without apparently modifying the iOS device.
Why Trust Me for This Review
Hi, I'm Aaron! I'm a technology professional and attorney. I've worked in high-pressure data recovery situations in information security, forensics, and eDiscovery matters. I'm familiar with tools used to recover data and the frustration that accompanies those tools not working.
I'm a huge fan of personal data recovery tools. While the best solution to recover lost data is a solid backup of that data, that's not always available. It's critical for the average person to have a tool that will permit easy recovery of some data.
What I really like about tools like iMyFone D-Back is that they help build an education around technology. Data is recoverable or not because of different factors and data recovery tools expose those factors and explain them. For a curious or savvy individual, that can begin at least an amateur interest in technology.
Detailed Review of iMyFone D-Back
iMyFone D-Back provides numerous options for data recovery. The main purpose of iMyFone D-Back is to get your data back–and you up and running–as quickly as possible.
Let's see how it accomplishes that. I'll also provide some of my throughs on iMyFone D-Back's data recovery abilities.
Smart Recovery
iMyFone D-Back opens to a wizard that facilitates easy recovery of iOS devices. It provides a few common situations including accidental data deletion, device loss or reset, an unbootable device, or a device that's locked. Mousing over those options provides a recovery recommendation.
Notably, a couple of options require an iCloud or iTunes backup. Specifically, if the device is lost or fails to power on, then it's impossible to recover the data from the device.
If you are able to recover data from the device, the wizard will walk you through a selection of the apps or kinds of data you want to recover. iMyFone D-Back provides coverage for many different popular apps that store, transmit, or process data.
My personal take: The wizard is very straightforward to use. If you know what you want to recover or where you want to recover from, you can also just pick that as an option. I like the options and flexibility it provides.
Recovery Accuracy
iMyFone D-Back provides good recovery accuracy. All data recovery tools will have some issues recovering data outside of perfect conditions: data is deleted and the storage media is immediately powered off.
That's because devices constantly write information to storage media. When that happens, it can overwrite other information and make it unreadable. If data is unreadable, it's unrecoverable.
For my test, I used my iPad, which was full to the brim of photos, voice memos, and videos before I reset it a few months ago. iMyFone D-Back found and recovered most of the photos and videos. That was much more than I expected and I was pleasantly surprised by the performance.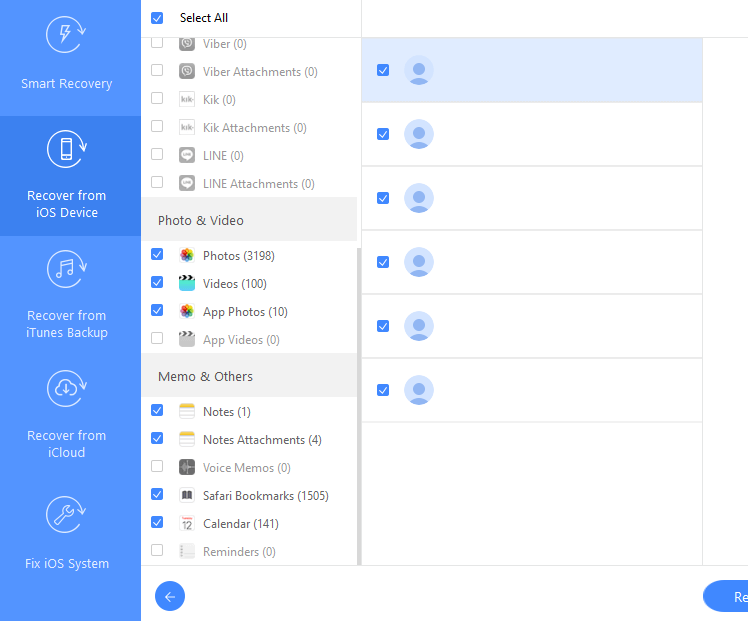 My personal take: iMyFone D-Back did a commendable job recovering data under what I'd consider suboptimal recovery circumstances. It's not going to be 100%. That's not a limitation of the software, though, and is just a part of standard data recovery.
iTunes or iCloud Recovery
If you don't have your iOS device, your iOS device is inaccessible, or you can't recover the data, iMyFone D-Back can try to recover information from an iTunes Backup or from iCloud.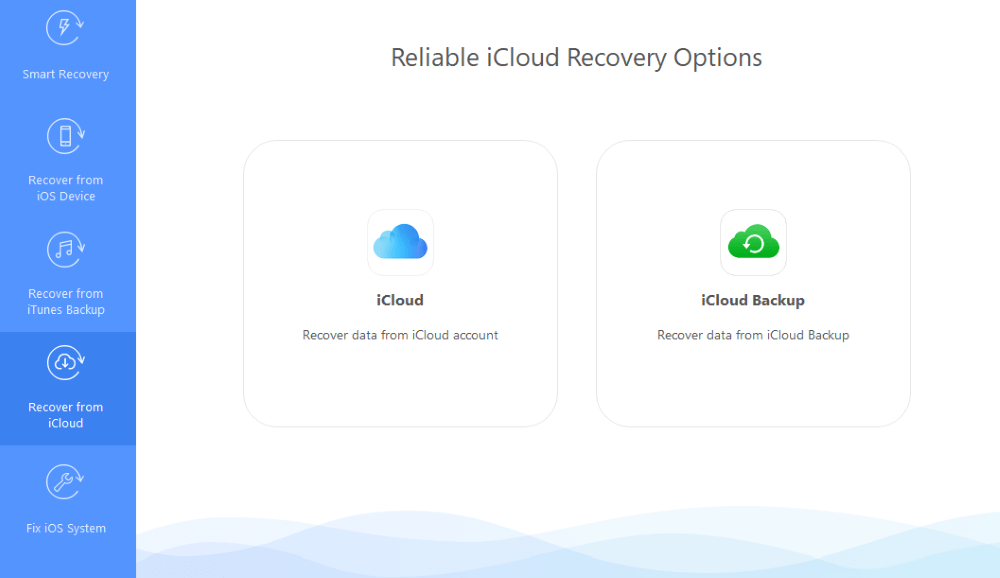 While anyone can technically do that, if the backup is an iOS device image, typically that must be restored to a device to access specific data. iMyFone D-Back lets you access specific data without loading that to a device.
iMyFone D-Back will scan for files in different apps and let you recover some or all the information from that app for later review.
My personal take: if you can't access your device, this is the next best thing. It will let you access your information from backups that would normally be made from your device. If those aren't perfectly up to date, you may not find the information you need.
Fix iOS System
Your issue might not only be data recovery. You may have a device that works: it powers on, but for some reason won't let you access your apps. You can recover the data but what you really want is to be able to use your device.
iMyFone D-Back gives you some options here too. After you recover the data from the device–because if you don't you may lose it permanently fixing your device–you can use iMyFone D-Back to attempt to repair the device.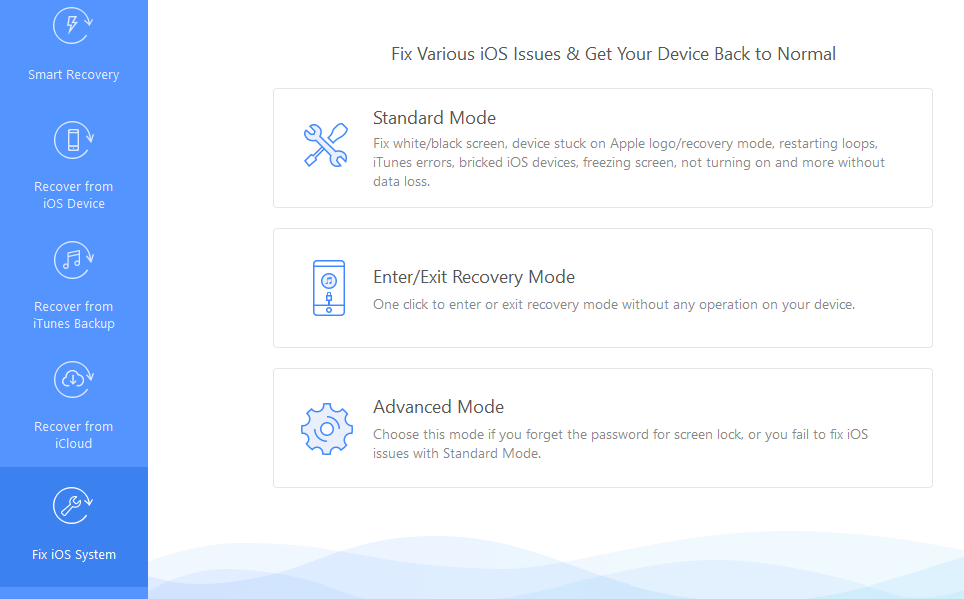 If your issue is a hardware issue, like faulty memory or a faulty processor, then this won't help. If your issue is corrupted software, however, this will likely be able to assist you with recovering your device. Either you'll be able to fix it as-is, or iMyFone D-Back will help you recover the device.
My personal take: iMyFone D-Back could have stopped at data recovery and been well worth the price tag. I consider this an extra and it's a great one. Not only can you get your information back, but you can get your device back too.
Reasons Behind My Ratings
Features: 5/5
iMyFone D-Back provides solid features to recover your data and device, in most circumstances. It pulls from multiple data sources to maximize success. While that's not going to result in perfect success every time, it'll do an appreciable job.
I like that this tool suite included device recovery. I think it's a solid feature and I'd consider it a nice addition to a data recovery tool suite.
I also like that all the tools work well without a lot of complexity or fanfare. You know what's happening every step of the way and recovery is straightforward.
Pricing: 3/5
Pricing is average compared to competitors and most iOS recovery solutions fall in the $50 price range. That's a bit expensive overall. But that's just the data recovery software market. If you're looking for data recovery software you're at a point where you're desperate to get your data back. Vendors know that you'll pay for that privilege.
When you compare the price to cloud backup solutions, it's also comparable to the annual cost of that storage. That's not to say this is an either-or proposition. It's definitely not and backups are critical to data preservation. But I think it contextualizes the price.
Ease of Use: 5/5
I don't think iMyFone D-Back could be made simpler and more approachable. Every step is clearly iconized and explained. Options are clearly identified and explained. Everything that can be recovered is a couple of clicks away from recovery.
I've used more complex solutions that might have better recovery rates using advanced options. Those are highly technical and significantly more expensive. With respect to comparable products, iMyFone D-Back is very straightforward to use and effective.
Support: 3/5
iMyFone provides average support for the industry. There are FAQs, email support, and a chatbot. I think that's the bare minimum for modern software and I'm happy to see it all.
The support documentation is good. It provides the right amount of detail approachably. If you have a unique issue or need extra support, email's your only practical option. Fortunately, data recovery doesn't have to be urgent: if you power down the device until you get an email response you're not going to lose any more data.
Final Verdict
Is iMyFone D-Back worth it? I think so! It's absolutely worth it if you need to recover files from your iOS device and don't have another readily available backup. You'll pay for the privilege, but at the point where you're evaluating tools like iMyFone D-Back, you're doing that anyway.
Like most tools, iMyFone D-Back provides a free version of its software that will show you what it can recover. You have to pay to recover, but that's par for the course with data recovery tools. So if you're on the fence about iMyFone D-Back, try it out and see if it's worth it before you buy.
What's your feedback on this iMyFone D-Back review? Share your thoughts below.