Adobe Premiere Pro costs only $20.99 per month, but its cost can vary depending on the plan you choose and whether or not you take advantage of any promotions or discounts that may be available.
My name is Dave. I'm an expert in Adobe Premiere Pro and have been using it for decades while working with many known media companies for their video projects. Adobe Premiere Pro is part of the Adobe Creative Cloud suite of applications and is available for purchase on a subscription basis.
This article will give you information on how to buy, where to buy, the benefits, and how much an Adobe Premiere Pro package costs.
How Much Does it Cost to Buy Adobe Premiere Pro?
Individuals pay US$20.99 per month for Premiere Pro, while teams pay US$35.99 per month per license. Premiere Pro and 20+ other creative tools, including Photoshop and After Effects, are included with the Creative Cloud All Apps package.
Individuals (US$54.99/mo), students and teachers (US$19.99/mo with eligibility requirements), and teams (US$84.99/mo per license) may all subscribe to Adobe All Apps. Prices may vary from time to time.
Where Can I Buy Adobe Premiere Pro Software?
One way to purchase Adobe Premiere Pro is through the Adobe website, where you can choose from a range of subscription options, including a single app plan for Premiere Pro or a complete Creative Cloud plan that gives you access to all of Adobe's creative apps.
Another way to purchase Adobe Premiere Pro is through authorized resellers such as Amazon, B&H Photo, and other online retailers. This option is often more convenient for users who prefer to buy their software in a physical format or want a backup DVD or USB.
It's always good to check the reviews and ratings of the seller before placing an order. It's important to note that Adobe Premiere Pro is only available for purchase as a subscription, and a valid subscription is required to use the software.
What Are The Benefits of Buying Adobe Premiere Pro?
There are many benefits to purchasing Adobe Premiere Pro, including:
Compatibility with other Adobe apps: Adobe Premiere Pro is part of the Adobe Creative Cloud suite of apps, which means it can easily integrate with other Adobe apps such as After Effects, Photoshop, and Audition for a seamless workflow.
Access to updates and new features: When you purchase a subscription to Adobe Premiere Pro, you will have access to the latest version of the software and updates and new features as they become available.
Wide range of supported file formats: Adobe Premiere Pro supports many file formats, including popular video, audio, and image file formats, making it easy to work with footage from various sources.
Large and active community: Adobe Premiere Pro has a large and active community of users and professionals, which means you can find a wealth of resources, tutorials, and support to help you learn and use the software effectively.
Cross-platform compatibility: Adobe Premiere Pro is available for both Windows and Mac, which means you can use it on either platform, depending on your preference or existing setup.
Collaboration: With the new Team Projects feature, multiple users can work on the same project simultaneously, making it easier to collaborate with others on your video projects.
Output to multiple platforms: Adobe Premiere Pro allows you to export your videos to a wide range of platforms and formats, including YouTube, Vimeo, and social media platforms, as well as professional formats such as ProRes and H.264.
How to Buy Adobe Premiere Pro
Premiere Pro is available only as a membership, with monthly or annual commitment options.
To buy Adobe Premiere Pro, go to the official Adobe Website, select your region, and click on Buy now.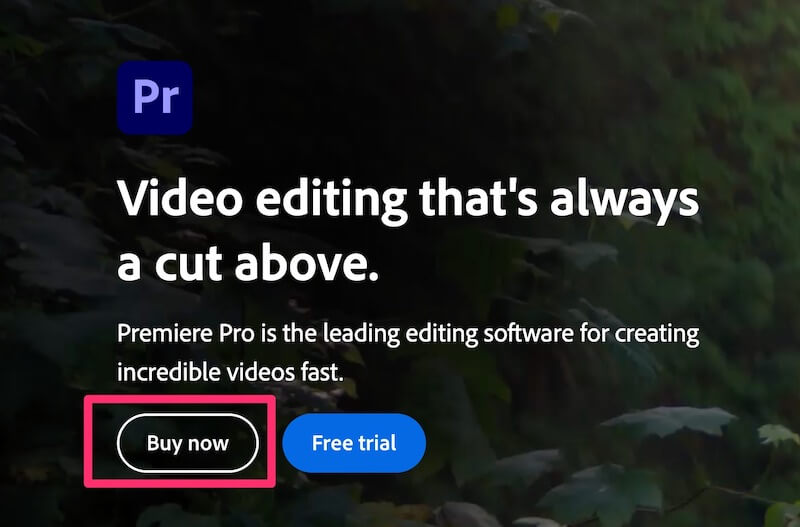 You will then choose your preferred subscription plan and follow the process to checkout.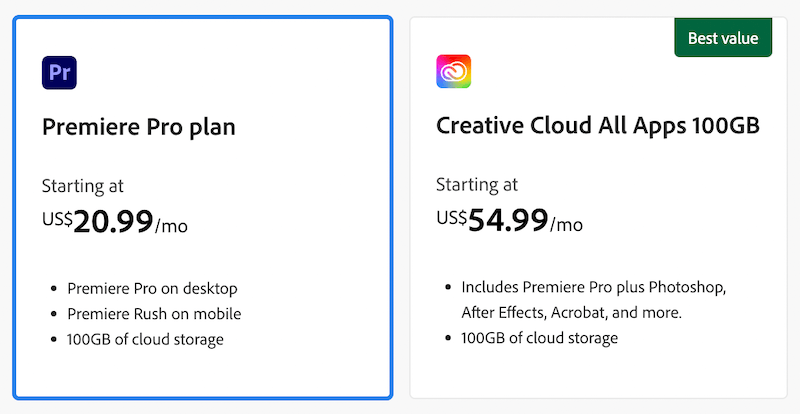 Recommendations Plans
Here are what you should opt in for. It will benefit you in all aspects. I started with all these back then!
Adobe Premiere Pro – the industry's leading desktop video editing program for both Mac and Windows.
Adobe Premiere Rush – a free video editing program for PC, mobile, and tablet that focuses on quick content production. Shoot, edit, and distribute movies fast and effortlessly.
100GB of Cloud Storage – enough to safely back up many high-definition movies and projects. Allows you to exchange and modify content across several devices.
Frame.io – a sophisticated review (feedback) and collaboration solution for rapid media sharing, direct camera-to-cloud transfers, and several concurrent projects.
Adobe Typefaces or Fonts – an online service that provides access to a massive font library containing fonts that are free to use commercially or for personal projects under a single licensing agreement.
Adobe Portfolio – a free online portfolio and website creation tool for displaying your creative work.
Conclusion
The cost of Adobe Premiere Pro is available on a subscription basis, with various options available to suit your needs.
The single-app plan for Premiere Pro costs $20.99/mo, and the complete Creative Cloud plan that gives you access to all of Adobe's creative apps costs $52.99/mo. It's important to note that these prices are subject to change and may vary depending on the region and the currency.
Additionally, Adobe sometimes runs promotions and discounts, so it's worth checking their website or authorized resellers to see if discounts are currently available.