I saw a post on Facebook tonight that said you're judged by your spelling. I'm not sure that's true in chats and text messages, but it certainly is in business.
A Business News Daily survey reveals that spelling errors change the way people see you and that most business people find typos unacceptable. Yet, on average, we're quite poor at spelling and grammar—and that's true of all age groups and educational backgrounds.
Grammarly and Ginger are two popular applications that check for and correct errors before you send critical messages. How do they compare? Read this comparison review to find out.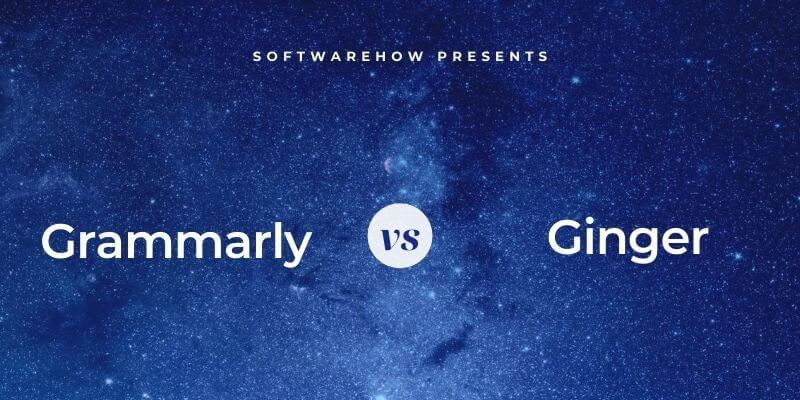 Grammarly checks spelling and grammar for free. For a fee, it will help you improve your writing and guard against copyright violations. Grammarly works on all popular platforms, integrates with Microsoft Word and Google Docs, and is the winner of our Best Grammar Checker roundup. Read our full Grammarly review here.
Ginger is an affordable Grammarly alternative. It won't check for plagiarism, but it covers most of the other features that Grammarly offers.
Grammarly vs. Ginger: Head-to-Head Comparison
1. Supported Platforms
Where do you do your writing? Is it Word, Google Docs, even on your phone or tablet? That's where you need your grammar checker to work for you. Fortunately, Grammarly and Ginger run on many platforms.
On desktop: Grammarly. Both run on Windows, but only Grammarly runs on a Mac.
On mobile: Ginger. You can access both apps on both iOS and Android. Grammarly provides keyboards, while Ginger offers full mobile apps.
Browser support: Grammarly. Both offer browser extensions for Chrome and Safari, but Grammarly also supports Firefox and Edge.
Winner: Grammarly. It beats Ginger by providing a Mac app and supporting more browsers. However, Ginger's mobile solution is better.
2. Integrations
Rather than using a new app for all your writing, you may find it handier to access a spelling and grammar check from the app you're writing in. Besides, getting your text into and out of these standalone apps requires a bit of work, and you may lose formatting and images in the process.
Many writers use Microsoft Word. Even if they don't write in it, they're often required to submit their work in that format so that the editor's changes can be tracked. Fortunately, you can install an Office plugin so you check their work before submitting it—Grammarly on both Mac and Windows, and Ginger on Windows only.
Grammarly goes a step further by integrating into Google Docs, another app commonly used by writers and editors, especially those writing for the web.
Winner: Grammarly. It plugs into Microsoft Office on both Mac and Windows and supports Google Docs.
3. Spell Check
There's an article on Entrepreneur.com titled "Don't Underestimate How Much Spelling Matters in Business Communications." The author quotes a study by BBC News that found spelling mistakes can mean lost sales and lost money—in fact, a single spelling mistake could cut online sales in half.
The article recommends passing everything you write past a second pair of eyes. If you can't find a person, a grammar checker is the next best thing. How reliable are the eyes of our two apps? I created a test document to find out. It contains these intentional spelling errors:
"Errow," an actual spelling mistake that any spelling checker should easily identify since it's not in the dictionary.
"Apologise," which is spelled correctly in the UK but not in the US. As an Australian, I often need help with this type of error. I wanted to see if they'd pick it up, so I set both apps to detect US English.
"Some one," "no one," and "scene" are all spelled correctly, but are wrong in context. Both apps claim to do context-sensitive checks, and I wanted to test those claims.
"Gooogle," a misspelled company name. Spelling checkers aren't always reliable when it comes to correcting proper nouns, and I hoped that these internet-connected apps could do better.
Even Grammarly's free plan checks spelling and grammar. It checked my document in Google Docs and successfully corrected every spelling mistake.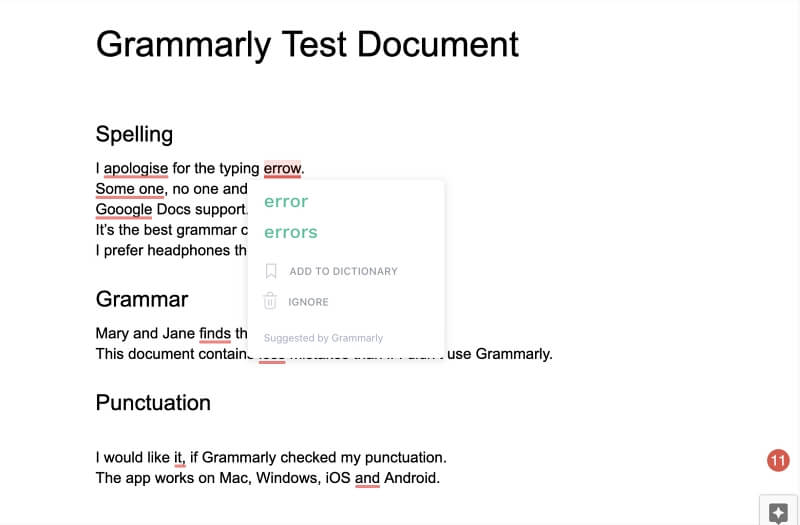 I subscribed to Ginger Premium. Since it doesn't support Google Docs, I had to copy and paste the text into its online app. Its spelling check was helpful and identified every error except one. In the sentence, "It's the best grammar checker I've scene," the last word should be spelled "seen." Ginger missed it.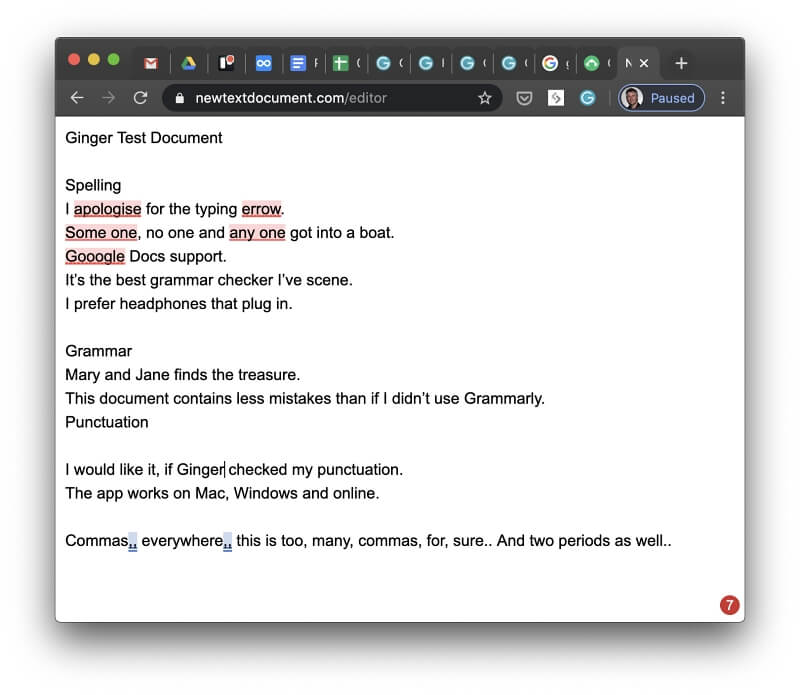 I then had Ginger check a test email I composed in Gmail's web interface. Again, it corrected most errors but missed a big one: "I hop you are welle."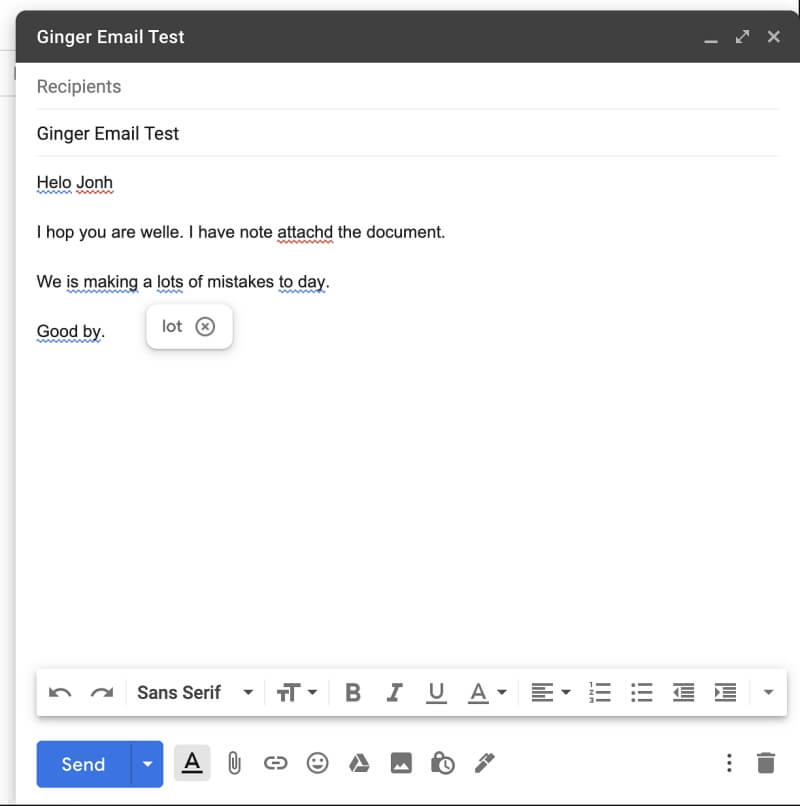 When checking the same email, Grammarly corrected every error successfully except for the first line, "Helo Jonh."
Winner: Grammarly. Both apps found most of the errors. In my tests, though, Grammarly consistently does better. It's been rare for Grammarly to miss a mistake in the last year and a half that I've been using it. I can't say the same for Ginger.
4. Grammar Check
Another article on Entrepreneur.com is entitled "Bad Email Grammar Ain't Good for Getting You a Job or a Date." Bad grammar creates a bad first impression that's difficult to overcome. We need to be confident in our grammar checkers! My test document also contained several grammar errors:
"Mary and Jane finds the treasure," a mismatch between the number of the verb (singular) and the subject (plural).
"Less mistakes" uses the wrong quantifier, which should be "fewer."
"I would like it, if Grammarly checked…" contains an unneeded comma.
"Mac, Windows, iOS and Android" is missing a comma after "iOS." The final comma in a list is known as the "Oxford comma," and its use is debated. I'm curious to see what these two apps make of it.
Grammarly correctly identified each error, including the missing Oxford comma. In my experience, Grammarly is the most reliable app when it comes to punctuation. Other grammar checkers tend to leave it alone for the most part.
Ginger is a prime example of missing punctuation errors. It didn't identify the extra or missing comma. I was curious, so I added a sentence with some blatant punctuation errors. Even here, Ginger only flagged the use of double commas. It didn't even correct a double period I added.
More disappointing is that it missed both grammar errors. The first error is a little tricky since the word directly before "finds" is "Jane," and "Jane finds the treasure" makes perfect sense. It didn't parse the sentence well enough to discover that the subject is actually "Mary and Jane"—its AI isn't intelligent enough.
Ginger isn't the only grammar checker to miss this error. It's interesting to note that when I change the sentence to "People finds…" every program that I tested found the mistake. That makes Grammarly's success even more impressive.
Winner: Grammarly. It identified all of the grammar and punctuation errors while Ginger didn't recognize any of them.
5. Writing Style Improvements
Both apps can improve the quality of your writing, especially when it comes to clarity and readability. Grammarly's Premium page claims, "Grammarly Premium goes beyond grammar to ensure that everything you write is clear, engaging, and professional." Ginger's home page boasts: "Ginger will be there to make sure your text is clear and is of the highest caliber."
Grammarly marks spelling and grammar errors in red. Grammarly Premium also advises you about your writing's clarity, engagement, and delivery.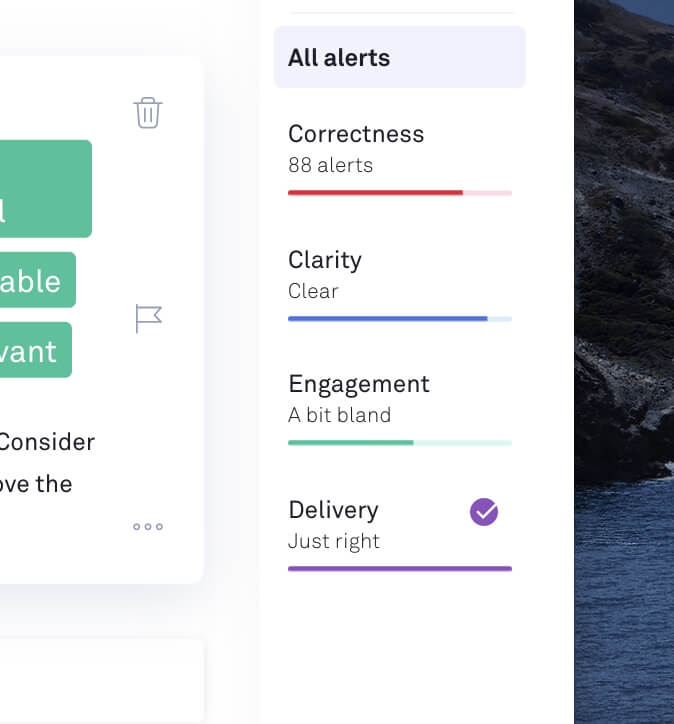 To find out how helpful Grammarly's advice is, I signed up for a free trial of its Premium plan and had it check the draft of one of my articles. Here's some of the feedback I received:
Because the word "important" is often overused, Grammarly recommended I use the word "essential" instead. That makes the sentence more engaging.
The word "normal" is similarly overused. Grammarly suggests that "standard," "regular," or "typical" are less boring alternatives.
I also frequently used the word "rating," so Grammarly suggested I use other words like "score" or "grade."
Sometimes I used several words where one would do. Grammarly suggested alternatives—for example, "daily" instead of "on a daily basis."
Grammarly also warned about long, complex sentences, taking into account the intended audience you select. It left me to work out the best way to simplify them and suggested splitting them into multiple sentences.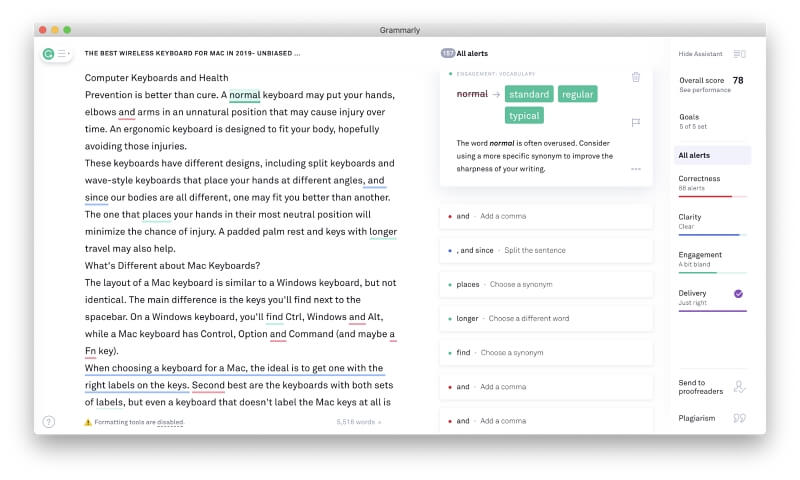 I wouldn't make every change that Grammarly suggested, but that doesn't mean it wasn't helpful. I particularly appreciated notifications about repeated words and complex sentences.
Ginger takes a different approach: Instead of giving suggestions, it provides tools, starting with a dictionary and thesaurus. Unfortunately, you can't click on a word to get its definition or synonyms and have to type them manually.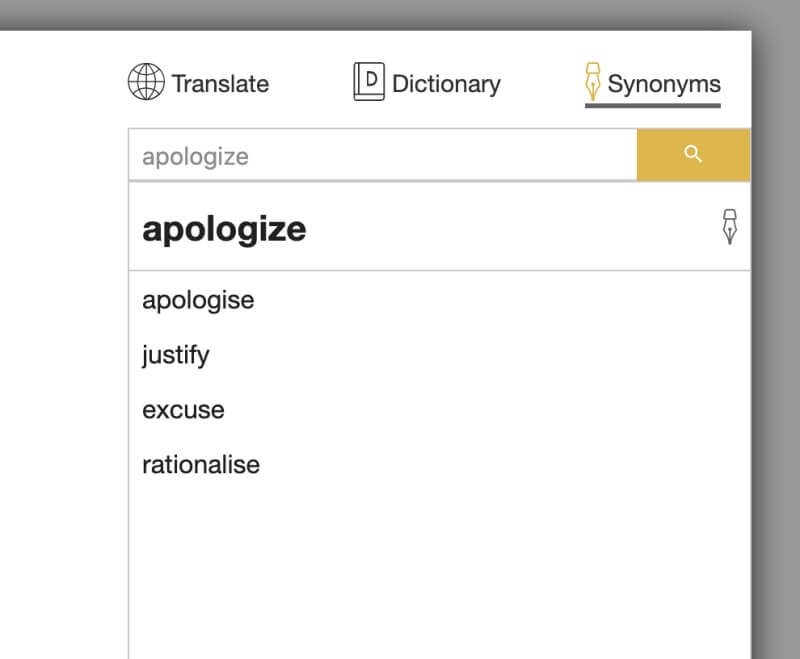 Another tool is the Sentence Rephraser, which lets you "explore different ways to phrase your text." That sounds helpful, but I'm disappointed with its implementation. Rather than rearranging your sentences, it merely replaces a single word, usually with a synonym.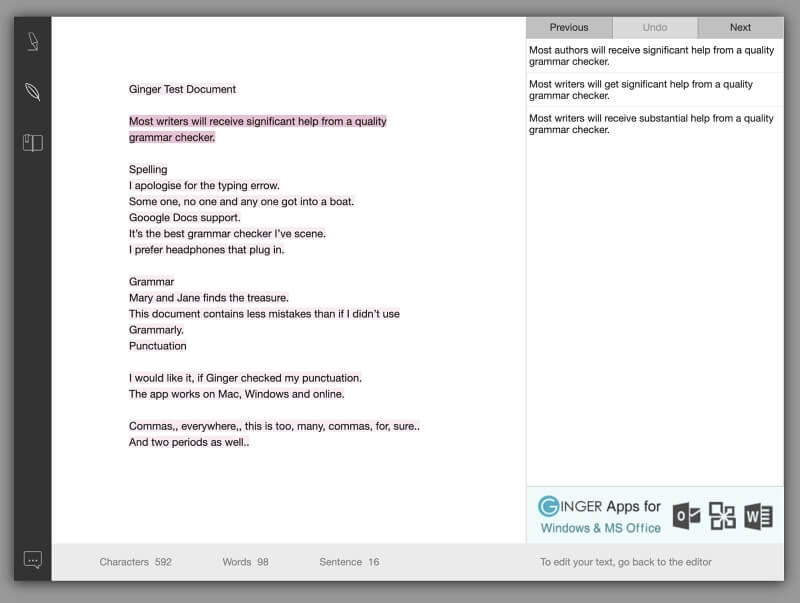 Ginger's final tool is an online personal trainer. It takes note of your mistakes and gives you multiple-choice drills to help you improve. However, they seem to be designed for students rather than professionals.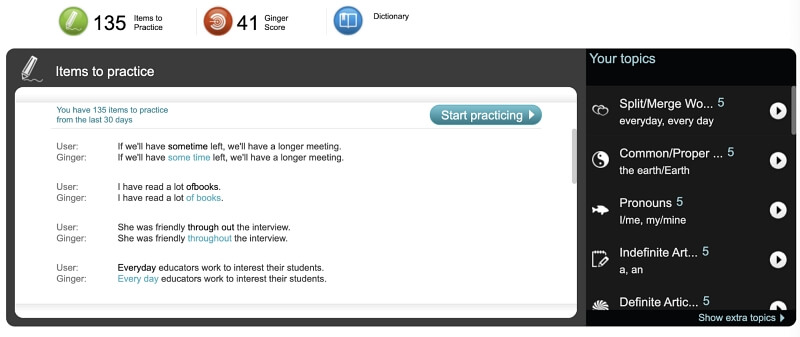 Winner: Grammarly, which highlights where you can improve the clarity, engagement, and delivery of your text, taking your intended audience into account.
6. Check for Plagiarism
Ginger does not include this feature, so Grammarly wins by default. It compares your document with billions of web pages, academic papers, and published works to make sure there are no copyright infringements, then links to the sources so you can check for yourself and cite them correctly.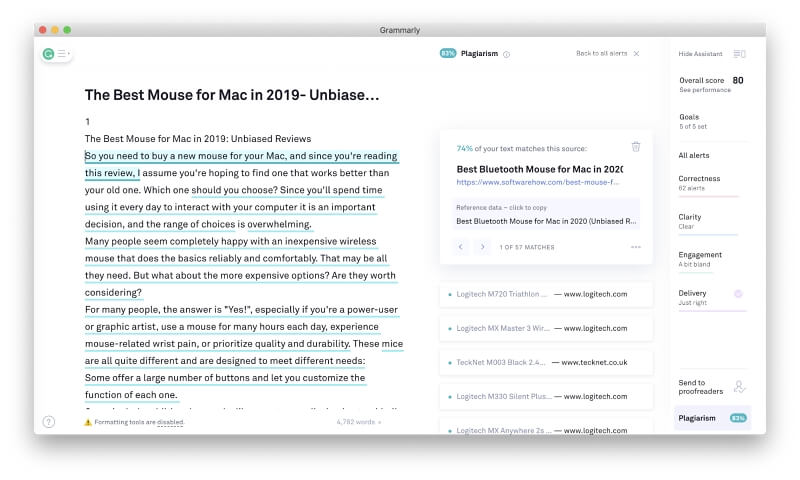 Winner: Grammarly. Ginger is unable to check for plagiarism.
7. Ease of Use
Both apps highlight errors in the text and allow you to make corrections with the click of a mouse. They approach this in slightly different ways. With Grammarly, you click on each underlined word to see an explanation of your error and some suggestions. By clicking on the desired word, it will automatically replace the incorrect one in the text.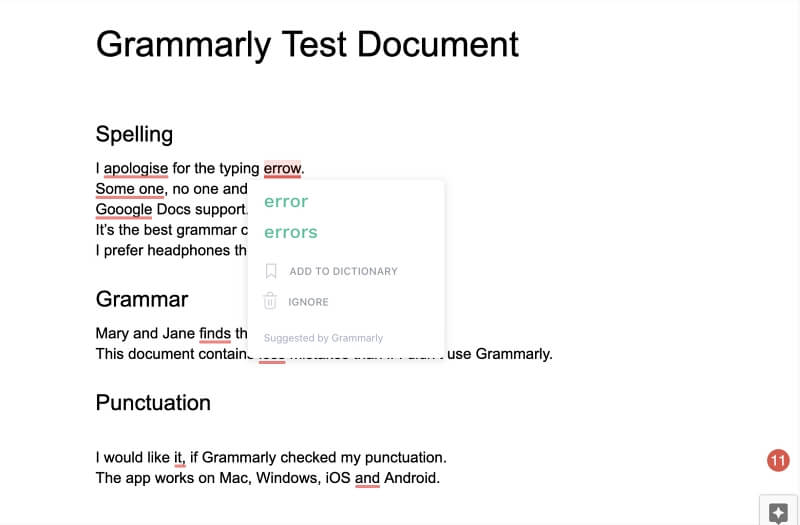 Rather than working word-by-word, Ginger can make corrections line-by-line. When you click on an error, it suggests how to reword the entire line, which you can achieve with a single click. If you only want to correct a single word, hovering over it will give you the chance to correct it. The app doesn't explain your errors.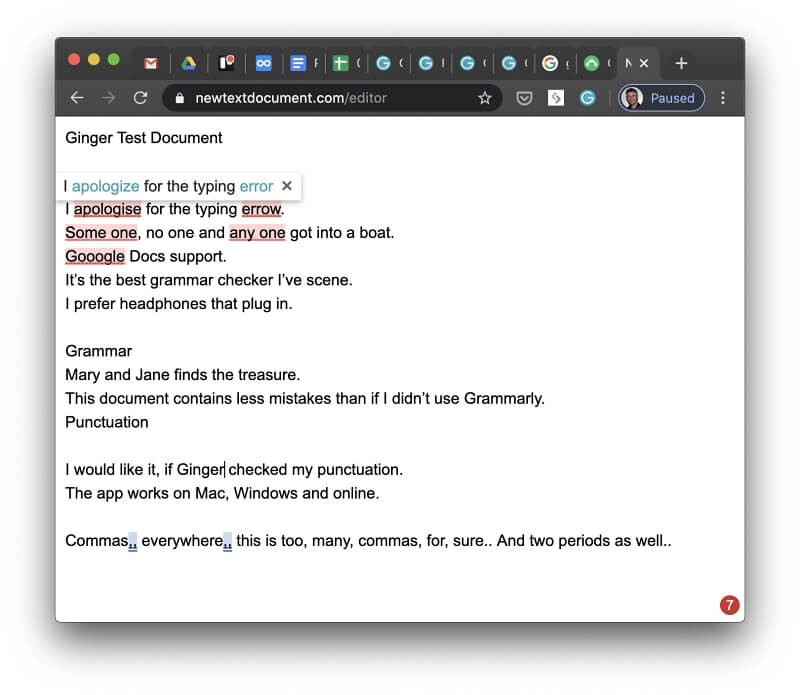 Winner: Tie. Both apps are easy to use.
8. Pricing & Value
Let's start with the value offered by each app's free plan. Grammarly wins here by offering unlimited spelling and grammar checks with full functionality. Ginger's free plan will do a limited number of checks (the number is unspecified) and only works online.
It's with the Premium plans that Ginger seems to have a significant cost advantage. Grammarly's yearly subscription is $139.95, while Ginger's is $89.88, about 36% cheaper. Their monthly subscription prices are very close, $20 and $20.97, respectively.
They're the currently advertised prices, but the value proposition is a little more complicated than it looks. Ginger's Premium plan offers fewer features, and its current prices are listed as 30% off. It's not clear if that's a limited-time offer. If it is, the cost may increase to $128.40.
Meanwhile, Grammarly regularly offers significant discounts. Since signing up for a free plan, I have been emailed a discount offer every month; they've ranged from 40% to 55% off. If I was to take advantage of the offer of 45% off I have in my inbox right now, a yearly subscription would cost $76.97, which is somewhat cheaper than Ginger's current price.
Winner: Grammarly. While at first look it seems that Ginger is significantly cheaper, we need to take into account Grammarly's very generous free plan, as well as discounts that are regularly offered.
Final Verdict
Errors in your writing affect your reputation. If you can't be trusted to make sure your spelling and grammar are correct, people may wonder how reliable you are in other areas of life and business. A quality grammar checker can pick up a wide range of errors before it's too late, saving you embarrassment and money. Our shootout between Grammarly and Ginger has been one-sided.
Grammarly works on more platforms and identifies a greater variety of spelling and grammar errors—for free. Its Premium features are better suited for writers and business professionals and are easy to use.
At first glance, the only thing Ginger has going for it is its lower price. But when you consider what Grammarly's free plan provides, and the regular discount offers for the Premium plan, this advantage is quickly erased.
As a result, I can't recommend Ginger. Grammarly is reliable and offers the features needed by writers and business people. The only question is which plan suits you best: Free or Premium?