Adobe Premiere Pro is not an open source software, but most time, you can get the seven (7) days free trial that Adobe itself offers.
I am Dave. A professional video editor. I have been using Adobe Premiere Pro since I was ten years old. I have used both paid and trial versions of Premiere Pro for my project over the years.
In this article, I will be explaining how to get Adobe Premiere Pro CC for seven (7) days – free trial and how you can have full access to Adobe Premiere Pro CC.
How to Get Seven (7) Days Free Trial
Premiere Pro is a close source software license by Adobe company. Adobe itself offers a seven (7) day free trial to any user, whether students or business enterprises. The following are the steps to follow:
Log on to the Adobe website and select the region you are visiting it from (e.g. the United States).
Click the Start Free Trial button on the website. Then you have to set up your Adobe ID and download your free trial setup. Simple as that, now you can enjoy your seven (7) days free trial.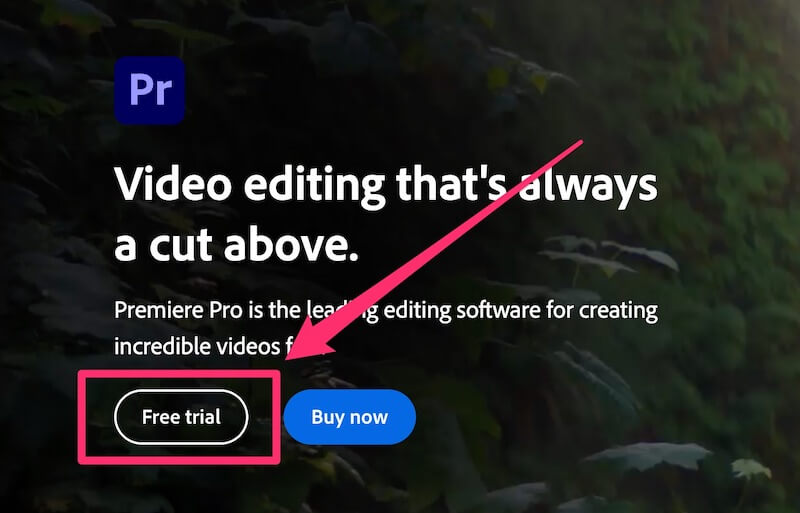 How to Get Full Access to Use Adobe Premiere Pro CC
Meanwhile, after the end of your seven (7) days free trial, you may decide to pay for the subscription if you have fallen in love with the software, just like me. Just log in to the Adobe website and sign in with the Adobe ID you created earlier. 
After that, click on Buy now and enter your payment details. Follow the instructions, Click on agree, and subscribe. Wait for a few seconds, and your Adobe Premiere Pro will be ready for use.
Other Ways to Get Adobe Premiere Pro Free
Kindly note that this is only for Educational Purposes. I do not support this in one way or the other. Yes, some websites offer a cracked version; they modify the software by disabling or removing the feature that makes you pay and use the software freely.
There are tons of them online, which you can get through using Search Engines.
Conclusion
Now that you know how to access the seven (7) days free trial and the paid subscription, you can start creating incredible videos. I hope you try out the free trial today. Premiere Pro is the real deal. It's my love anytime, any day.
If you have questions, feel free to ask me in the comment section, you will get the answers you need.