Yes, it is possible to recover deleted messages on iPhone without using iCloud in many scenarios. But successful recovery depends on a variety of factors. The best solution is to use the Show Recently Deleted option from the Edit menu in the Messages app.
What if your deleted message isn't in the recently deleted folder? Don't despair. I'll show you a few other options you have at your disposal.
Hi, I'm Andrew Gilmore, and I've been helping people use iOS devices for nearly ten years.
Keep reading for the details you need to know to restore your precious messages from the grips of deletion. Let's get started.
Can You See Deleted Messages on iPhone?
Did you know Apple's iPhone operating system, iOS, retains a copy of deleted messages?
When you delete a text from the Messages app, the item is not immediately erased from your phone. Instead, deleted messages go to a folder called Recently Deleted. Here's how to find deleted text messages without using iCloud:
Open the Messages app.
Tap Edit in the screen's top left corner and choose Show Recently Deleted.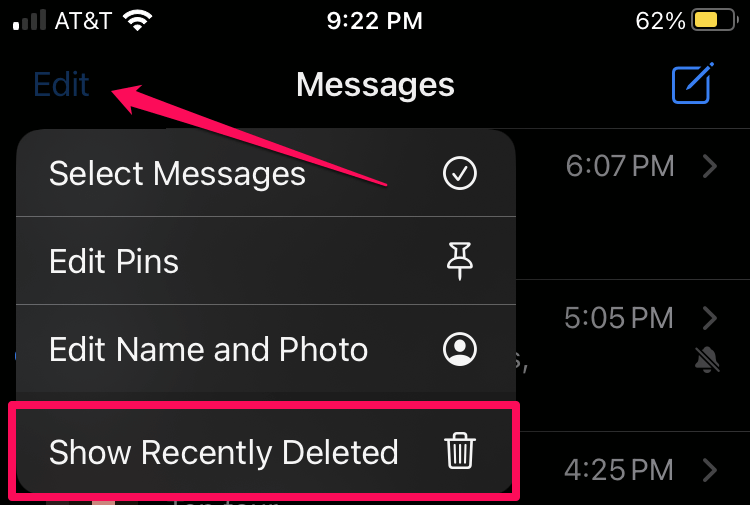 Note: You won't see the Edit option if the app is already open to a conversation. Tap the back arrow at the top to get back to the main screen showing all your conversations, and then Edit will appear.
Tap the circle to the left of each conversation you wish to restore, and then tap Recover in the bottom right corner of the screen.
Tap Recover Message(s) to confirm.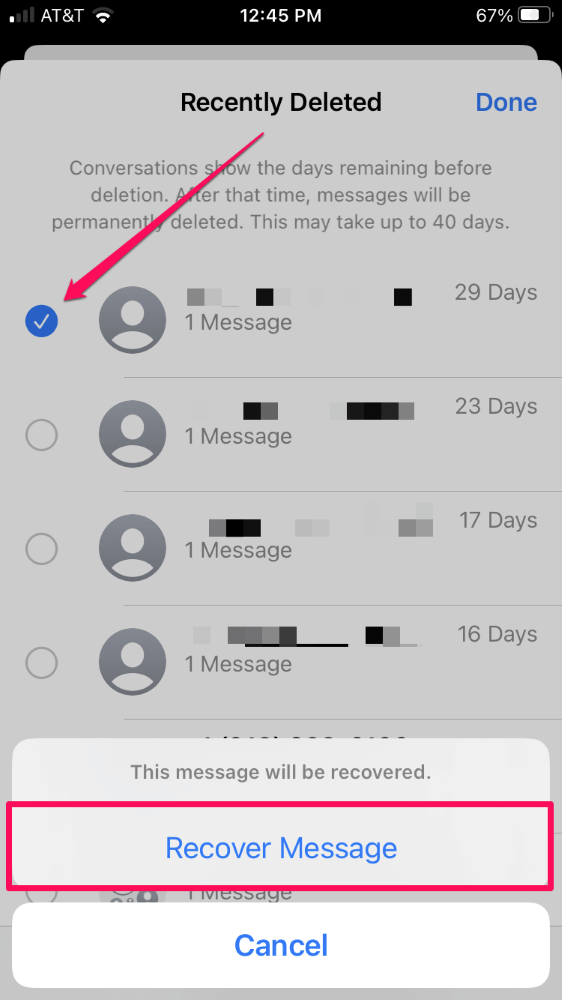 You can also choose Recover All or Delete All with no conversations selected.
When finished recovering messages, tap Done to exit the Recently Deleted screen.
iOS sorts recently deleted messages with the most recently deleted at the top. Apple does not specify exactly how long it holds messages in this folder before permanent deletion, but the range is 30-40 days.
Use a Local Backup to Restore Deleted Messages
Do you back up your phone to your computer?
If so, you can recover messages by restoring the backup onto your iPhone. Doing so will erase everything on your phone and restore it to the point of the last backup, so make sure you've manually backed up any data you have added to the phone since the last sync.
From a Mac:
Open Finder.
Plug your iPhone into the Mac.
If prompted, select Trust This Computer on the phone to enable the device to connect to the Mac.
Click on your iPhone in the left sidebar in Finder.
Click Restore Backup…
Select the date of the backup you wish to restore (if you have multiple backups) and then click the Restore button.
This process can take some time, so be patient during the restoration phase. Wait for the phone to reboot and show up in Finder again before disconnecting.
Then open the messages app to find your deleted messages.
These instructions are almost identical if you use a Windows device, except that you will use iTunes–yes, it still exists for Windows–instead of Finder.
Can You Recover Deleted Text Messages That You Didn't Back Up?
If neither of the options above works for you, you might be out of luck.
Nevertheless, some third-party utilities claim to be able to retrieve your deleted messages without requiring a local or iCloud backup or relying on the Recently Deleted folder.
I won't mention any specific piece of software because I haven't vetted any, but here's how they (claim) to work. When a user deletes a file on a computing device, the file is (usually) not deleted right away.
Instead, the operating system marks that space on the storage drive as available to be written to. The user and the operating system can't see the files, but they sit on the hard drive until the OS needs that space for something else.
Third-party utilities claim to be able to access the entire drive and see if the messages you're missing are still on the drive, just waiting to be deleted.
Suppose your iPhone storage is close to full, and the message was deleted more than 40 days ago. In that case, there's a good chance the message has already been overwritten because the iPhone would need to utilize the limited storage space for other files.
As I said, I haven't vetted any specific utility, so I can't speak to how well they work. But if you're desperate to recover data, this avenue might yield what you're looking for. Do your own research, and be prepared to pay for the software.
Don't Risk Losing Your Messages
Whether you can retrieve your deleted text messages or not, you can prevent this tragedy by syncing your messages to iCloud or else by using iCloud backup.
If you don't want to use iCloud or simply don't have enough space, take care to back up your phone to a PC or Mac at regular intervals. This will protect you if all other options fail.
Were you able to find your deleted messages? What method did you use?