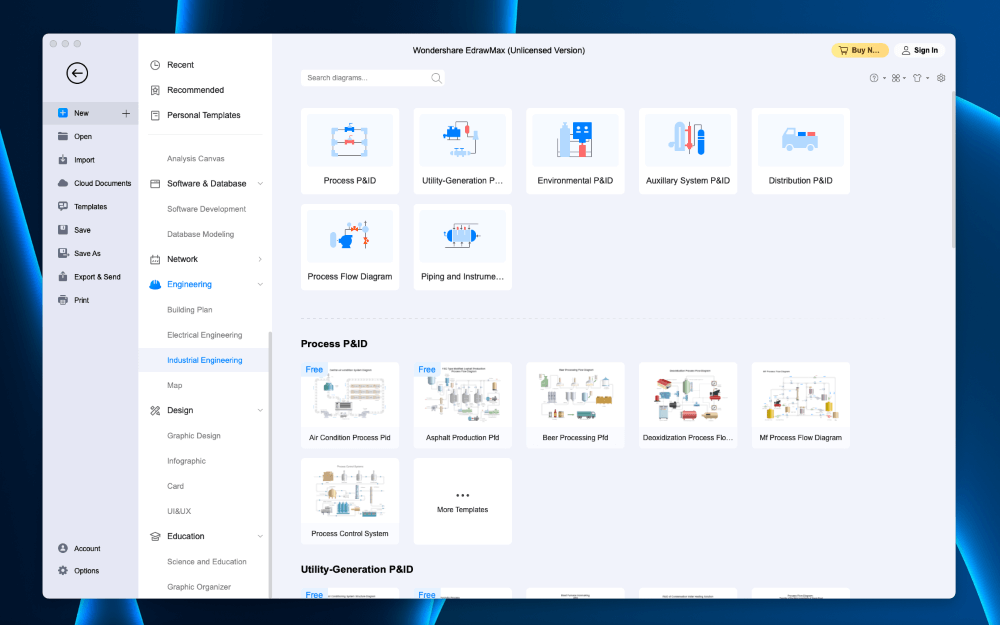 Wondershare EdrawMax
Features: As a highly intuitive and powerful graphic design tool, EdrawMax has nearly every feature you might expect from it.
Pricing: Customers of all types, including individuals, businesses, and educational, can select a tailored plan that best meets their needs.
Ease of Use: While EdrawMax has no shortage of features, the clutter can be overwhelming for inexperienced users but ideal for experienced users.
Support: EdrawMax's Support Center offers answers to common questions and easy access to customer support for extra assistance.
Summary
EdrawMax is a powerful, intuitive graphic design solution and flowchart software designed to simplify the process of developing and creating graphs, infographics, diagrams, and more. 

With the Edrawmax software, users can quickly develop beautiful flowcharts, infographics, business cards, and more. The tool is highly intuitive and impressively powerful, equipped with various features to simplify design, development, collaboration, communication, and sharing.

The software is ideal for experienced users and organizations with various graphic design needs but might not be the best fit for inexperienced users due to its complex features. In addition, its extensive features might be overkill for smaller businesses and organizations.

Pros: With over 280 types of diagrams and a massive library of templates and examples, Edrawmax is an excellent solution for graphic design.

Cons: Although Edrawmax is a powerful design tool, its extensive list of features can be overwhelming for those less tech-savvy and overkill for beginners.
Is Wondershare Edrawmax software safe?
Yes, Edrawmax software is safe to use.
Is Edrawmax free?
Edrawmax is a paid tool, but customers can start with a free trial to test the tool and check for compatibility with their needs.
How much does Edrawmax cost?
The cost of an Edrawmax plan varies based on the situation. Individual plans start at $99 annually, team and business plans start at $595 annually, and educational plans start at $62 for semi-annual coverage.
Why Trust Me for This Review
Hi, I'm Jon, an engineer, and writer passionate about understanding and explaining how things work. I have been studying, designing, and using various computer hardware and software for over a decade.
As an engineer, project manager, and marketer, I often use block diagrams to outline electrical circuits and workflow processes and use other tools for graphic design. Block diagrams, mind maps, Gantt charts, flow charts, circle-spoke diagrams, and infographics are all elements I frequently use in my career.
If you want an all-in-one program for graphic design, block diagrams, flowcharts, engineering design, and more, Wondershar Edrawmax is an excellent choice. It makes creating unique digital content easy, no matter what industry and career you're in, but it has a few drawbacks.
Wondershare Edrawmax is a practical graphic design tool that offers powerful, extensive features applicable to numerous applications. Packed with intuitive features and convenient templates, Edrawmax can be an ideal solution for those seeking complete graphic design software.
Here are a few key features of the Wondershare Edrawmax software, along with my personal take on each feature.
Flowcharts
Edrawmax features an extensive range of flowcharts to accommodate varying needs. From its intuitive point-and-click interface for Gantt charts to its architectural diagrams, there's something to meet almost any need.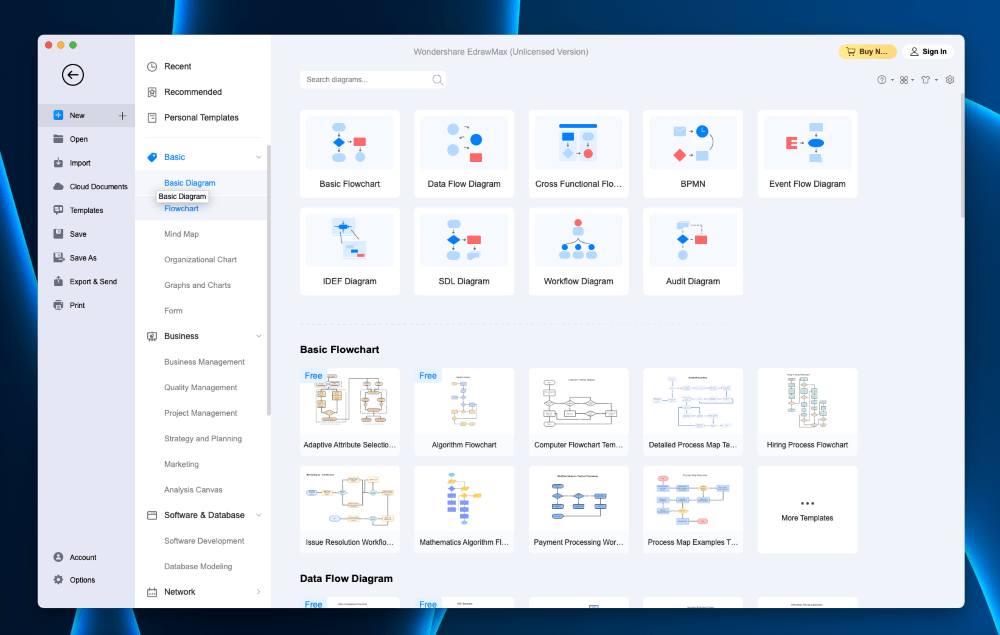 Each flowchart features a standardized design with colorful components that command attention and are easy to digest. There are several shapes and customizations available in the easy-to-use interface.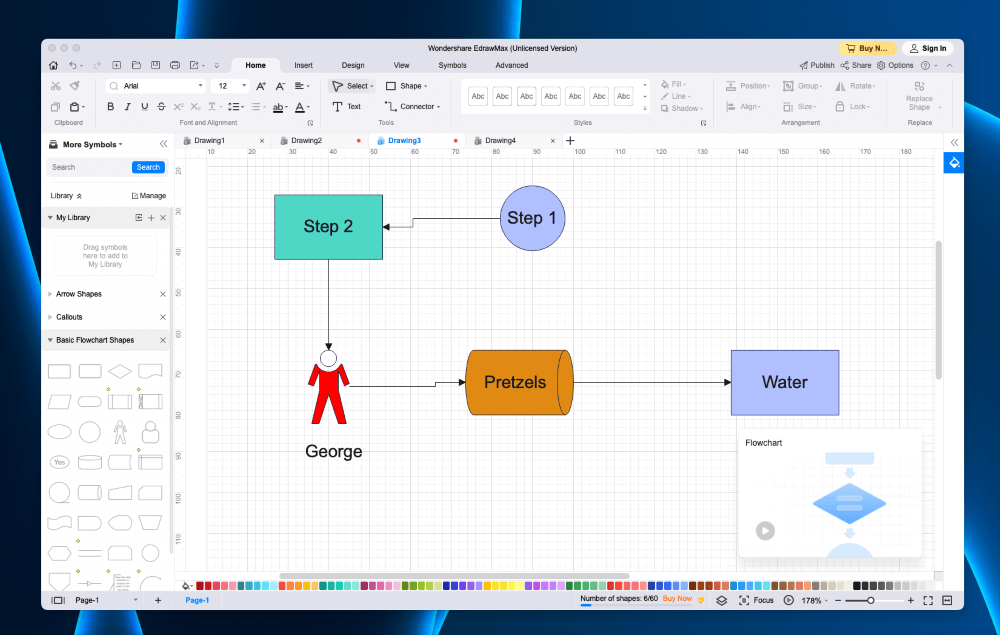 My personal take: Flowcharts fit a variety of industries, so having access to a comprehensive array of standardized flowchart designs is handy. Users can easily access flowcharts with simple, well-planned designs, simplifying the process.
General Graphics
With Edrawmax, the design process is simple. Posters, flyers, maps, infographics, business cards, and more – whatever it might be, Edrawmax makes it more accessible. The tool features enhanced graphics processing to offer impressive, full-fledged design capabilities.
The tool effortlessly joins the two sides in an easy-to-use setup, making the design process much more straightforward.
My personal take: Intuitive graphics are essential in the design process, and Edrawmax doesn't disappoint. The tools offerings are impressive, providing general graphics to accommodate a variety of purposes.
Detailed Layouts
Edrawmax goes beyond designing basic posters or business cards. On top of these features, the tool allows users to create advanced layouts for things like office spaces, fire escape plans, and entity relationship (ER) diagrams.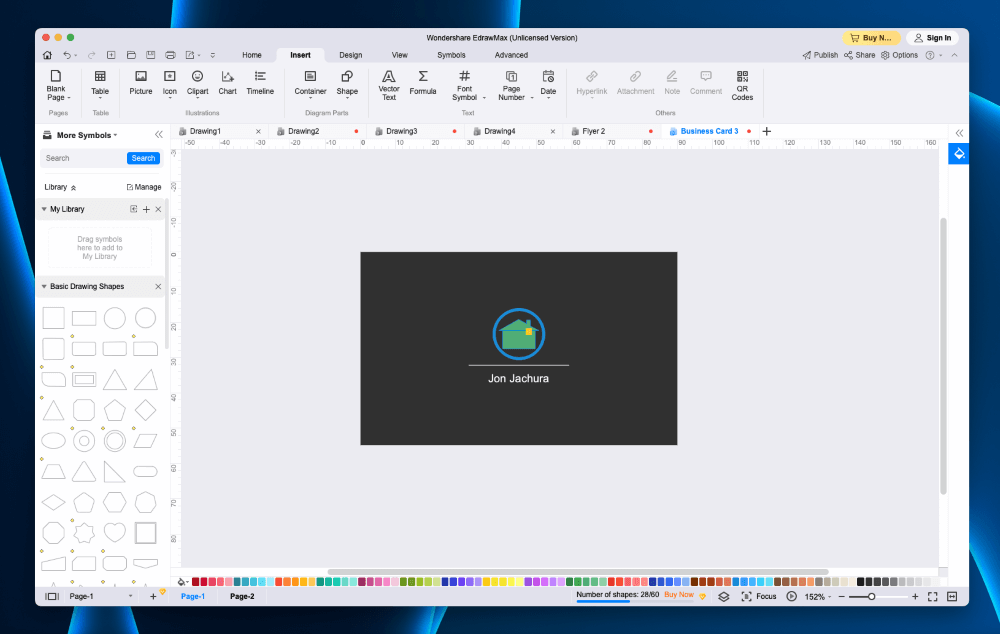 The space planning concept takes it a step up from the basic design tools, providing a one-stop shop for various needs. While this type of advanced concept is usually an afterthought with similar design tools, Edrawmax has it covered.
My personal take: The extra functionality of this tool is handy, as your business's needs may extend beyond a business card or poster design. The space planning concept is surprisingly advanced, allowing users to easily incorporate other aspects of their business's needs within a single tool.
Data Visualization
Edrawmax features a convenient data visualization tool to simplify the potentially cluttered array of data. Users simply need to import the necessary data, and the tool will help visualize the data and logistics in an easily digestible manner.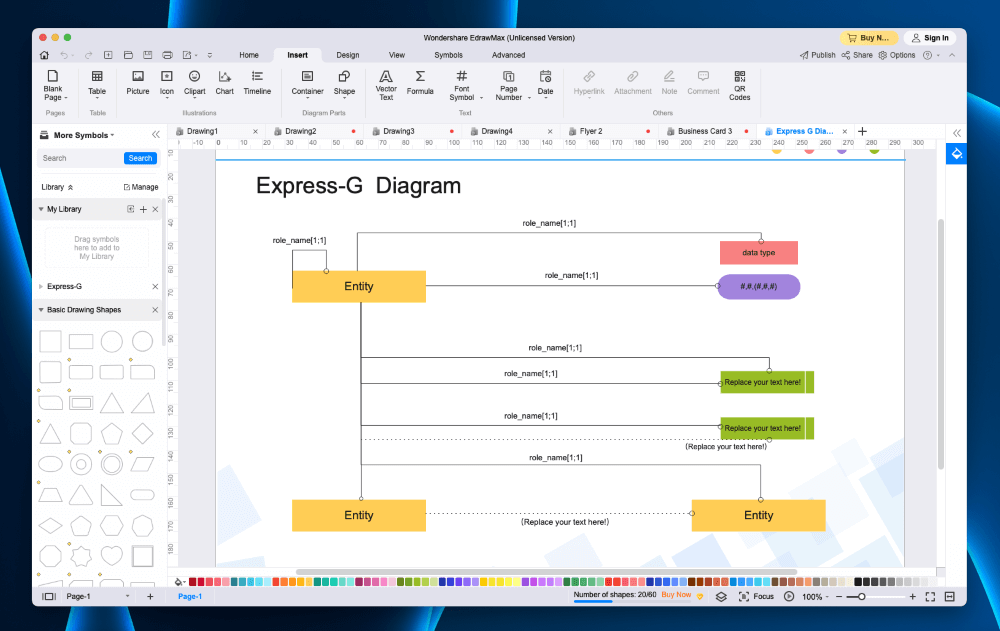 While the process is entirely automated for convenience, users have complete control of the process. So, if you don't like part of the layout, make a minor tweak to the design to better accommodate the intention of the piece.
My personal take: Manually importing and shuffling data into a practical design can be time-consuming. With Edrawmax's data visualization feature, this meticulous process is a thing of the past. It's a handy tool, giving you complete control of the final product without the time-consuming effort.
Flexible Compatibility
With a tool like Edrawmax, compatibility is essential. Otherwise, you will likely encounter inconvenient roadblocks as you export your work for external use. The tool offers extensive compatibility, eliminating the possible headache of related concerns altogether.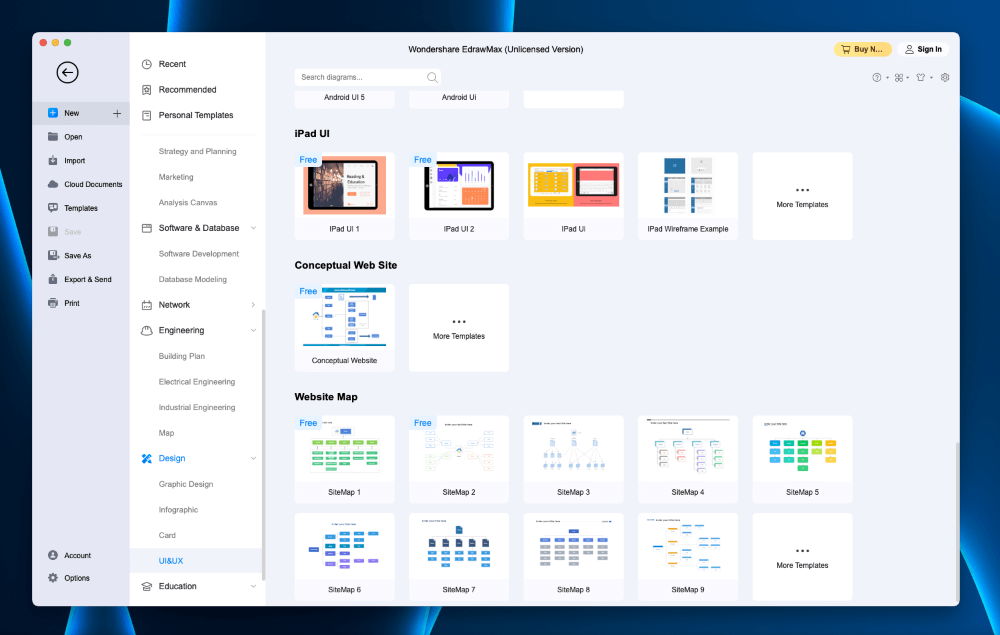 Users can export their work in a range of standard format options, from document formats to HTML and more.
My personal take: After completing a graphic design, exporting complications are an unnecessary and inconvenient roadblock. With Edrawmax, you don't need to worry about this, as the tool is compatible with a wide range of formats, which is surprisingly helpful.
Convenient Collaboration
Collaborating on projects and convenient sharing are a staple in the Edrawmax software. The tool is well-designed, allowing users to collaborate and share information as they build their projects.
The tool is a handy way to effortlessly communicate and collaborate on various projects, as it combines parallelism, cloud support, file compatibility, and perceptive social functionality.
My personal take: While communicating outside the design software and exporting work for sharing isn't the end of the world, it's much easier to have everything on one platform. Edrawmax provides the ultimate convenience in communication, collaboration, and compatibility.
Appealing Business Forms
Edrawmax offers handy tools to create beautiful, appealing business forms that blow the offerings of a basic word processor out of the water. The tool provides editing, sharing, and export features, allowing you to create attractive and comprehensive business forms without the headache.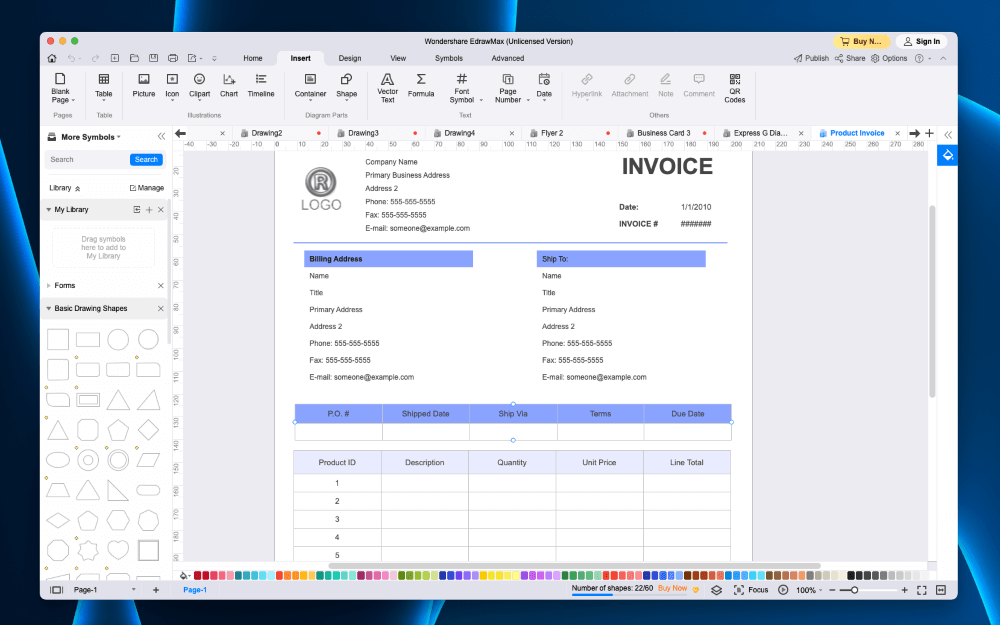 On top of that, the tool offers HTML compatibility, so you can add interactive features and keep the form completely digital to keep folks interested as they work through the form.
My personal take: Gone are the days of bumbling through tedious business forms that lack any appeal. Edrawmax's tools help you edit, share, and export well-designed, attractive, and interactive business forms to draw interest and command attention.
Reasons Behind My Ratings
Features: 4.4/5
Edrawmax is equipped with extensive features for simple and convenient use. The user interface is well-designed with the consumer in mind, facilitating easy collaboration and communication while working together on projects.
In addition, the software offers intriguing and visually appealing layouts and flowcharts to command attention and keep things interesting. The software even features a space planning feature, which is often forgotten in similar software, making it an ideal fit for numerous purposes.
Pricing: 4.2/5
Wondershare Edrawmax is available in several subscription options, each geared toward different customers. The individual subscription plan is available in semi-annual and annual price plans, starting at $69.
The team and business plan allows use on more than one device, and plans start at $595 per year. Edrawmax is also available for educational customers in semi-annual, annual, and 2-year plans, with its semi-annual plans starting at $62.
Ease of Use: 3.8/5
Edrawmax is somewhat of an advanced software tool, and while it has a well-designed user interface, it can be overwhelming for beginners and those who are less tech-savvy. However, users with experience using graphic design software will likely have little to no issues navigating the platform.
The tool has an extensive range of features with a lot going on, which can be overwhelming initially, but once you get the hang of things, it's reasonably easy to use.
Support: 4.5/5
Edrawmax offers a support center complete with answers to common questions. The support center is divided into sections, including Download & Activate, Account Management, and Payments & Billing.
If customers have additional questions, there's a convenient contact page for additional assistance.
Final Verdict
EdrawMax can be the perfect solution for individuals and businesses alike, as it's packed with intuitive features and convenient templates. 
From its extensive array of flowcharts and graphics to its built-in collaboration feature, Edrawmax has plenty to offer. The tool provides nearly every feature expected of a graphic design platform, complete with a space planning feature and data visualization option.
Wondershare's EdrawMax software can be the perfect solution for experienced users and businesses seeking an advanced graphic design tool. However, it might not be the best fit for inexperienced users or smaller organizations, as the layout is extensive and might be overkill.
What's your feedback on this EdrawMax review? Share your thoughts below.