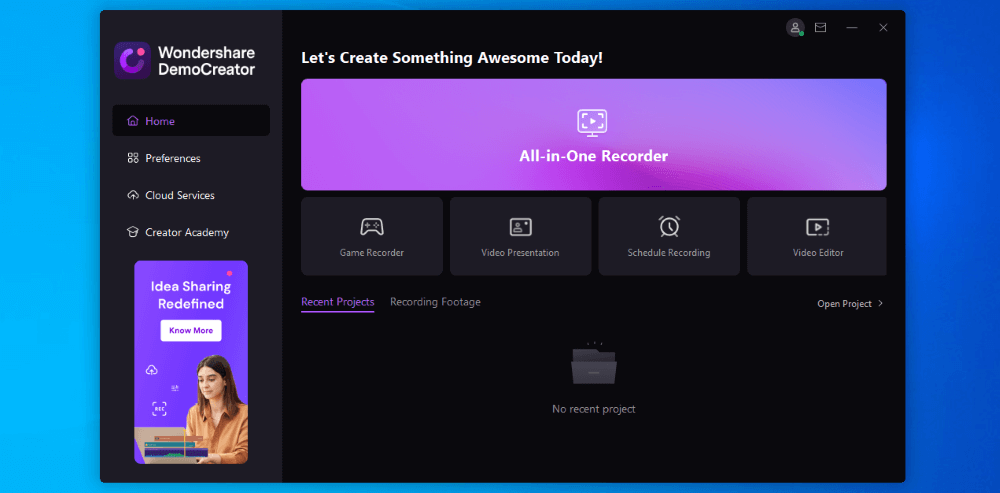 Wondershare DemoCreator
Features: Great features with surprising distinctions for premium tiers
Pricing: Somewhat steep price, especially compared to free alternatives, but requires much less setup and configuration work
Ease of Use: Very straightforward workflow automation
Support: One support page for dozens of products and no interactive support
Summary
At first glance, Wondershare DemoCreator fills a niche that's already filled. Streamlabs, OBS, Twitch, and YouTube provide exemplary screen, game, and video recording. Shotcut and its ilk provide video editing and modification. What's best: all those solutions do so for free without limit on Mac or Windows. 

Wondershare DemoCreator Standard Edition does all those things at a price point of $45 with relatively significant limitations and only on Windows.

It's when you get into the Perpetual and Premium licenses that a more comprehensive feature set is opened up. Those are still replicated by free functionality, but the convenience of having them work out of the box and be available in one place may be worth it for you.

What I Like: Automated workflows with a minimum of setup. Works well out of the box.

What I Don't Like: Surprising and confusing feature differentiation between paid tier versions.
Is Wondershare DemoCreator Free to Use?
Yes! If you're ok with a very limited feature set and watermarks on your videos.
Does DemoCreator Record Audio?
Yes! It will record webcam, your screen, and audio at the same time. You can also record each of those individually and edit sounds or visuals to your liking.
How Do I Export A Video from DemoCreator?
Use the export button! It's very visible and easy to use.
Why Trust Me for This Review
Hi, I'm Aaron. I work in technology, love watching YouTube and Twitch, and have dabbled in my own game recording. I understand what products exist for streaming, how they work, and how to use them in a publishing workflow.
I used DemoCreator side-by-side with my typical software stack and here's how it measures up.
Detailed Review of DemoCreator
DemoCreator stacks up well against competing products. I evaluated the standard version but will talk about the additional features offered by the Perpetual and Premium versions.
Game Mode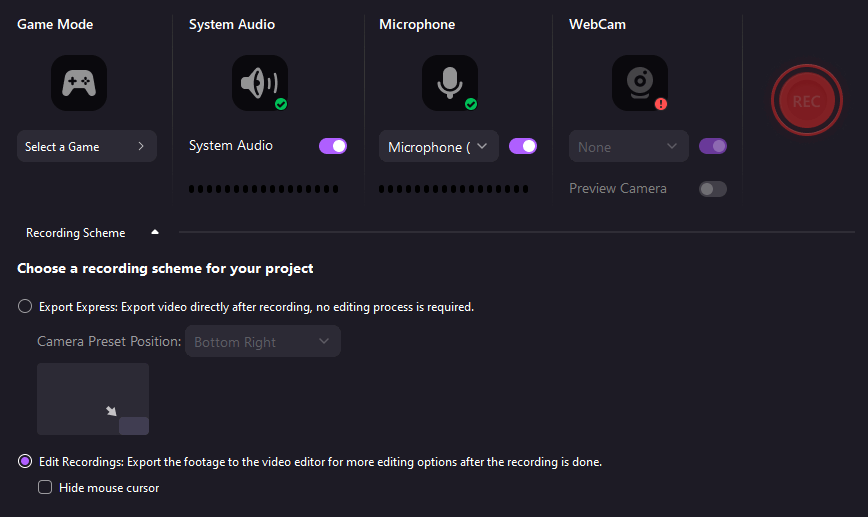 Game mode is simple and straightforward. It has some of the options provided by programs like Twitch, OBS, and Streamlabs, but condenses them into a straightforward user interface.
You can select the window or screen you want to record, audio input and output, and camera if connected (mine wasn't). It's handy to just open up the software and go. That being said, once you get the hang of OBS, Streamlabs, or Twitch after a couple of uses they're effectively open and go too.
The Recording Scheme options also provide easy export to a video editor, if that's what you want, or to a raw video file for use or editing elsewhere.
When you hit the record button, you're given a countdown from 3 before the recording starts. The transition from the countdown to the recording is seamless and works fluidly.
My personal take: DemoCreator has a simple and very sleek user interface. Even on a very low-power virtual machine, it works fabulously. Could you replicate the same functionality elsewhere for free? Sure. Do you want to pay the premium for it to work flawlessly out of the box?
Editor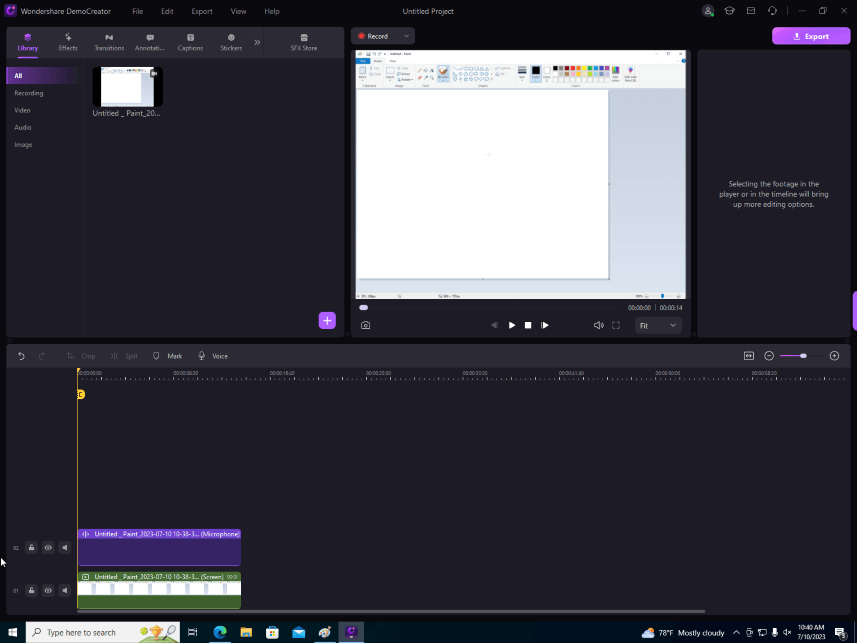 If you've ever used Shotcut or its ilk, or most other video editors for that matter, you'll recognize DemoCreator's editor's layout. You can edit audio and video tracks at the bottom half of the screen and see the output in the top half of the screen.
Notably different is the Effects panel.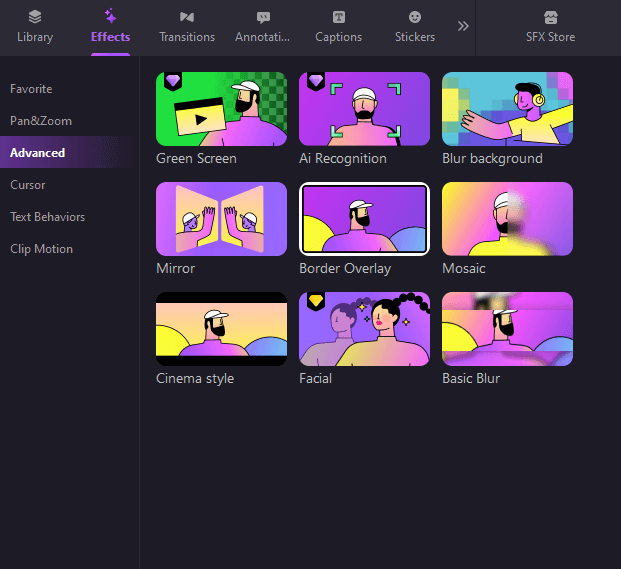 That panel allows the addition of camera effects, transitions, annotations, and other special effects. OBS, Streamlabs, and Shotcut need readily available plugins to add those in pre- or post-production. Twitch has some of those features, but not all of them.
Again, the question comes down to how much tinkering you want to do. You can get the same results elsewhere with a lot of work. If you want to put in the work to save money or learn, then more power to you! If you want to pay for the functionality out of the box, it's hard to recommend something different.
My personal take: the editor works, it works well, and you don't have to hunt and peck for the recording. There's a lot to be said for an aspiring streamer who can just have an end-to-end workflow that moves through each step automatically.
All-In-One Recorder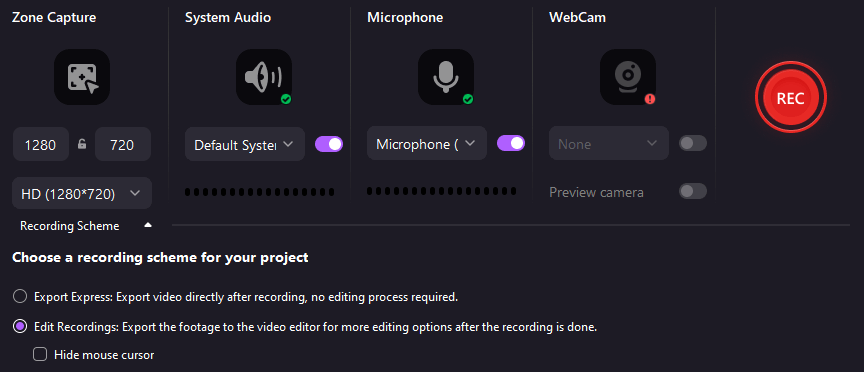 The all-in-one recorder works identically to the Game Recorder except instead of only capturing a specific application screen, it lets you capture some or all of your desktop.
Like the Game Recorder, the All-In-One Recorder lets you move directly from recording to post-processing.
My personal take: if you liked recording a window, then you'll like recording your screen. This is a great extra mode. I'm a fan of separating them into two.
Video Presentation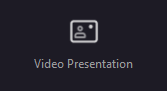 Video Presentation mode lets you add content to a live presentation through Teams, Zoom, and any other platform that lets you use your webcam. If you meet the minimum requirements, that is.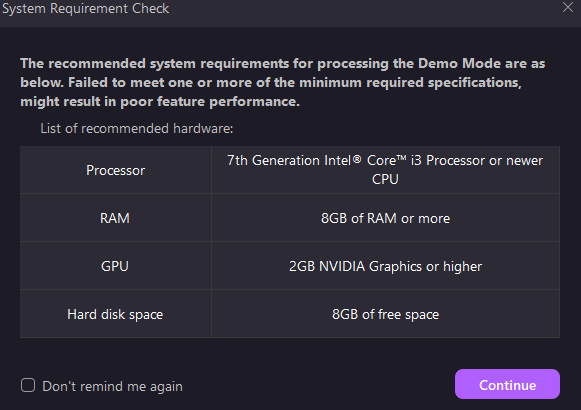 My virtual machine likely didn't meet the graphics requirements. I was able to run it on a laptop with an i5-8250U and an Intel UHD 620 with some lag.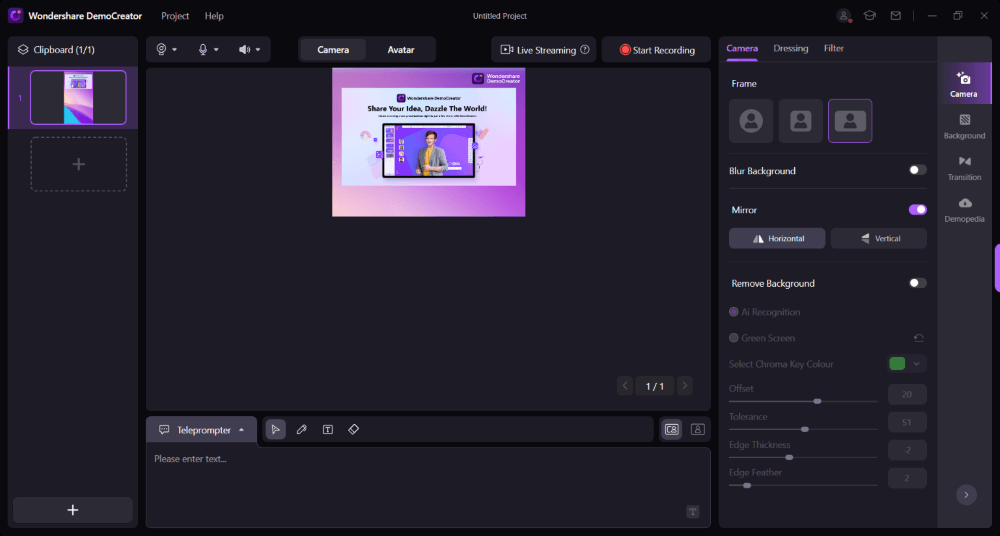 The Video Presentation screen shows you with your presentation either side-by-side in 16:9 or vertical in 9:16. You can chose an avatar or your actual face, apply some filters, and edit the background for presented content.
During the presentation, you can overlay information on your screen. You can also annotate in real-time directly on screen.
My personal take: this is a cool feature not offered natively by videoconferencing apps.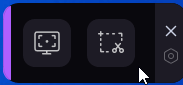 The quick menu widget sits to the right-hand side of your screen. It supports two options: on-the-fly screen recording and screenshots. Both work well and provide a reticule to drag a selection box to screenshot or record.
My personal take: I've used screen capture software before, including to take the photos used in this article. Seeing that simple functionality applied to screen recording is great.
Reasons Behind My Ratings
Features: 4/5
Wondershare DemoCreator is an excellent tool for creating and editing computer video content. It replicates the functionality of other recording software and ties all of it together into one singular package that moves videos through a singular editing workflow.
I think it falls down with its feature offering. Unless you pay $65/year for premium, you can only record in 720p. If you pay for premium, you can only record in 1080p. Where I can use OBS or Streamlabs to record in 4k with a plethora of quality options and add effects in post-processing, that seems like an odd choice.
Then again, if you want a flawless recording experience out of the box and don't care about tweaking performance, then DemoCreator works great.
Pricing: 4/5
The price is a little expensive for Premium at $65 per year. The distinction between that and standard, priced at $45/year, really doesn't make sense to me. Upscaled resolution and voice changing aren't worth $20 in my opinion, when you can get both for free elsewhere.
You're effectively paying a premium not to have to configure your video workflow too much. If that's worth it to you, then by all means you should get this product. It does what it does really well.
Ease of Use: 5/5
This is where DemoCreator really shines. It provides a seamless workflow from end to end. It also provides excellent instructions along the way. DemoCreator strives to make streaming and editing easy, and it accomplished that task.
Support: 3/5
Wondershare has a single support page for all its many products. You can search instruction pages to see if your issue is addressed. Alternatively, you can email support for help.
The lack of a chatbot or other live or interactive support is unacceptable in 2023, especially for streaming when issues can be immediate and very impactful.
Final Thoughts
Wondershare DemoCreator fills an odd niche. It competes in a market where there are popular and ubiquitous full-featured solutions. DemoCreator also lacks some of the key features afforded by those solutions without needing to pay $65/year for them. 
Even still, there are going to be users who don't want to have to learn those solutions or deal with customizations. They just want streaming that works out of the box.
Demo Creator is about as close as one can get to that. It works and it works well. You'll need to pay a premium if you're a Mac user or want to use advanced features.