Writing a book is like running a marathon—and the vast majority of writers never finish. It takes time, planning, and preparation. You'll need to persevere when you feel like giving up, type tens of thousands of words, and meet deadlines.
Some tools can help: specialized writing software helps in ways that a word processor can't. In this article, we'll focus on two popular options: Dabble and Scrivener. How do they compare?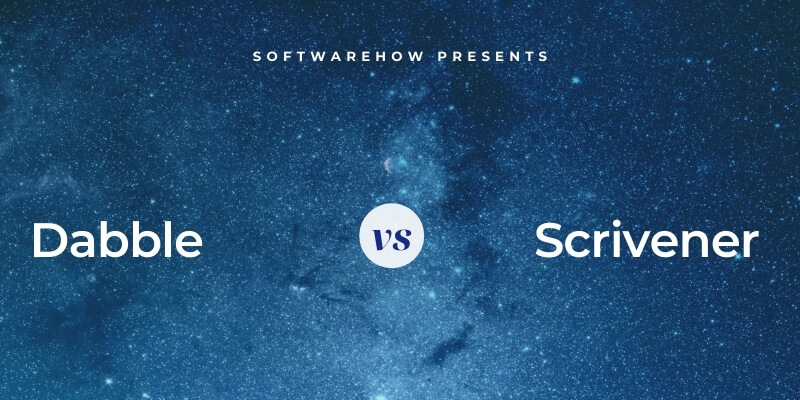 Dabble is a cloud-based novel writing tool designed to help you plan and write your novel. Because it's on the cloud, it's available everywhere, including your mobile devices. Dabble offers tools that help you plot your story, elaborate on your ideas, and track your progress. It's designed with an emphasis on ease of use.
Scrivener is a popular long-form writing app for Mac, Windows, and iOS. It's feature-rich, has a steeper learning curve, and is a favorite among serious writers. You can read our detailed Scrivener review to learn more.
Dabble vs. Scrivener: Head-to-Head Comparison
1. User Interface: Tie
Dabble aims to take the features other writing apps offer and make them simple and easy to digest. When you create a new project, you'll see a writing area. A navigation panel is on the left, and your goals and notes on the right. The interface is immaculate; its lack of toolbars is impressive. Dabble's designed so that you can jump in and start without first watching some tutorials.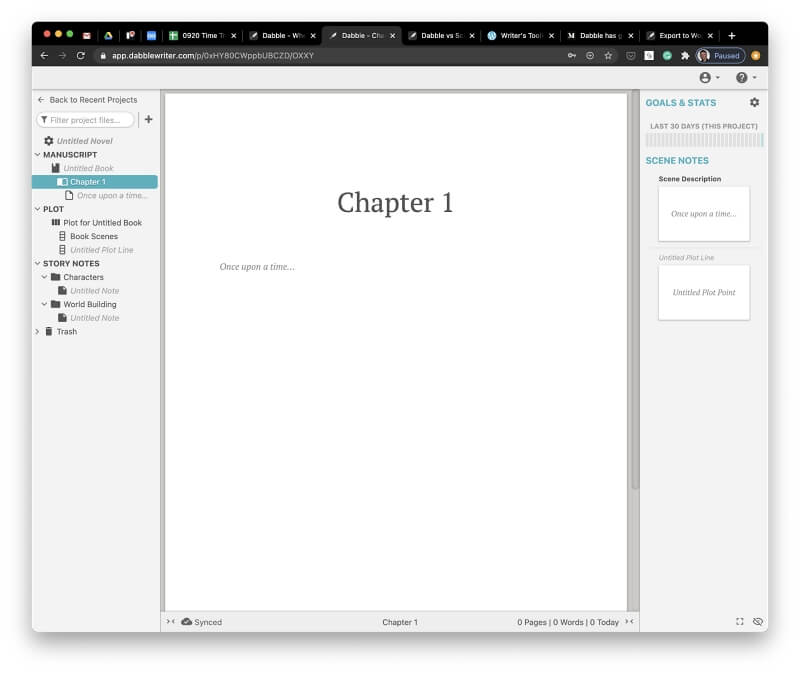 Scrivener's interface is similar but looks a little dated. It offers a large writing area with a navigation pane on the left, like Dabble, and a toolbar at the top of the screen. Its features go a lot further than Dabble's. To make the most of its potential, you should take some time to learn about it before diving in.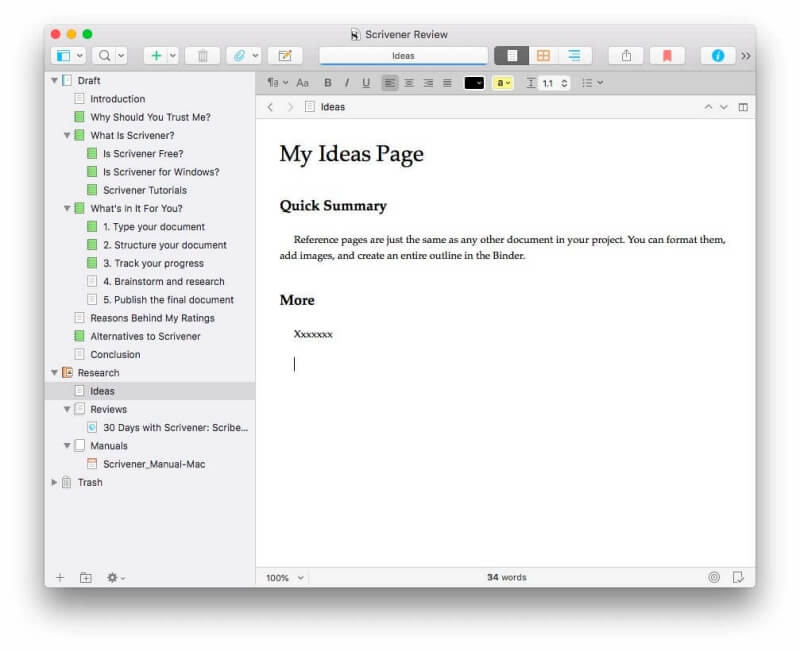 Which app is easiest? Dabble claims to be "Like Scrivener. Minus the Learning Curve" and criticizes other writing apps of being overly complicated and difficult to learn.
Writers like Chyina Powell and Sally Britton agree. Chyina tried Scrivener and grew frustrated when it wasn't clear to her how to get started. She found Dabble's more intuitive design a better fit. That's not to say there's no case for Scrivener; she's convinced it's better for those who are tech-savvy or would benefit from its more advanced tools.
Winner: Tie. Dabble's interface is simpler but at the expense of functionality. Scrivener offers more features, but you'll need to do some tutorials to get the most out of them. The two apps suit different people.
2. Productive Writing Environment: Tie
Dabble offers a clean slate for your writing. There are no toolbars or other distractions. You format text by first selecting it, then clicking on a simple popup toolbar.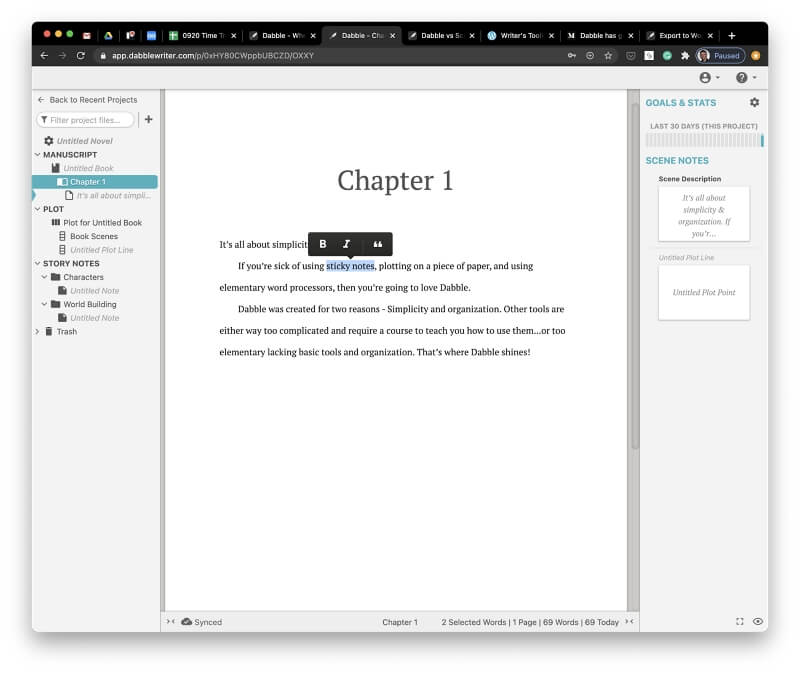 You can set format defaults using a form near the top of the manuscript.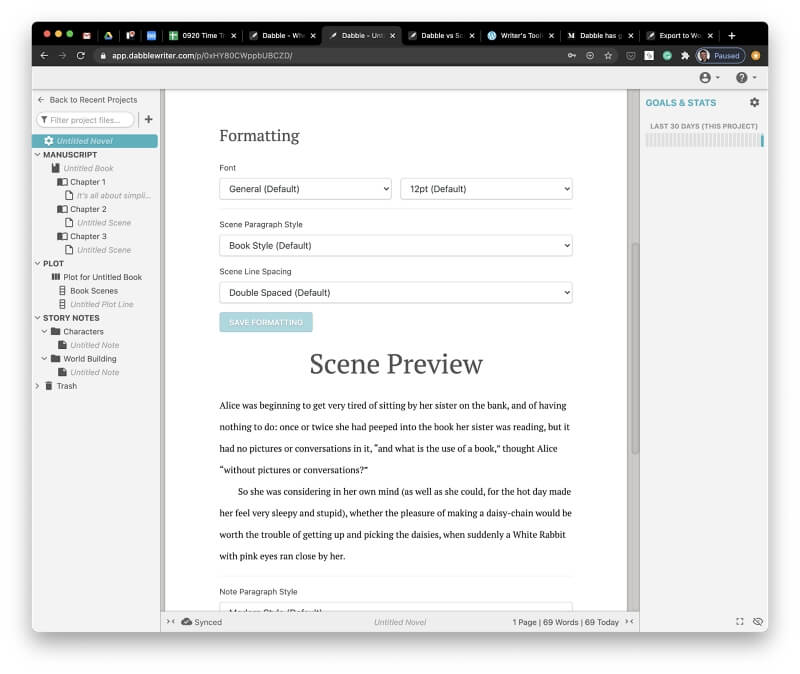 There is no special distraction-free mode in this app because distractions fade automatically. I mean that literally: as you type, other interface elements subtly fade away, leaving you with a clean page to type on. Your document will automatically scroll as you type so that your cursor stays on the same line as you started.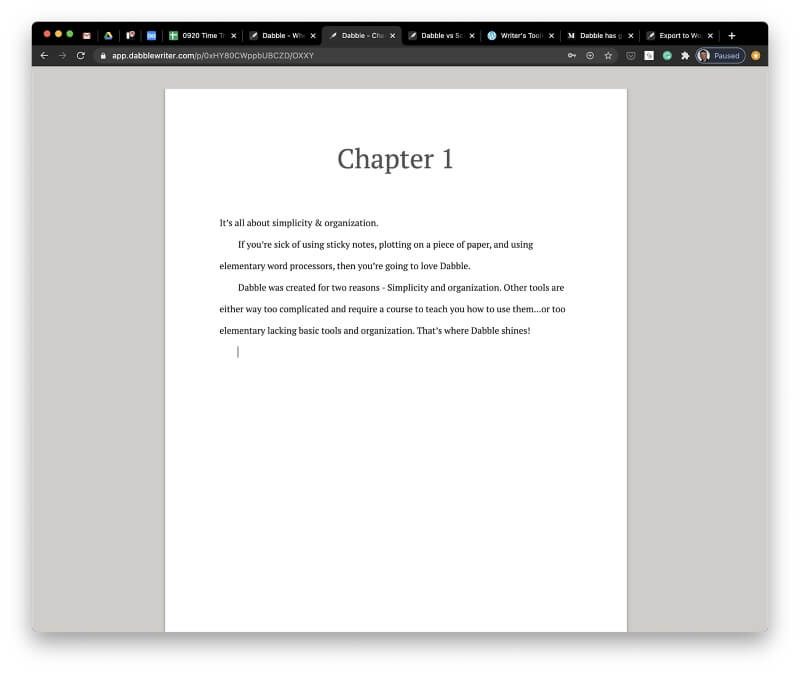 Scrivener offers a traditional word processing experience with a formatting toolbar at the top of the screen.
You can format your text with styles such as titles, headings, and block quotes.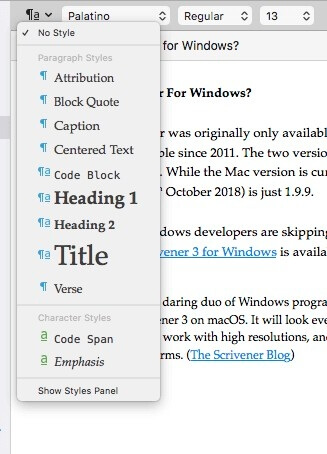 When you want to focus on writing, those tools can become a distraction. Scrivener's distraction-free interface removes them.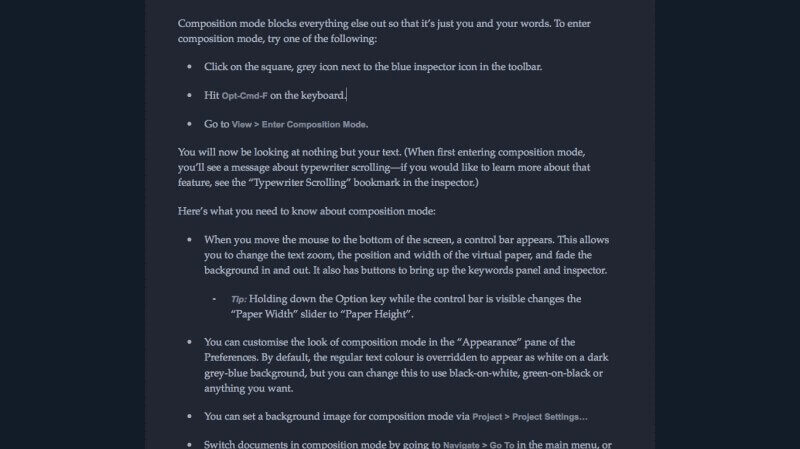 Winner: Tie. Both apps offer the tools you need to type and edit your manuscript. Both offer distraction-free options that remove those tools from the screen when you're writing.
3. Creating Structure: Scrivener
One benefit of using a writing app over a conventional word processor is that it helps you break your large writing project into manageable pieces. Doing so aids with motivation and makes it easier to rearrange the structure of the document.
A Dabble project is split into books, parts, chapters, and scenes. They're listed in an outline in the navigation pane, known as "The Plus." Elements can be rearranged using drag-and-drop.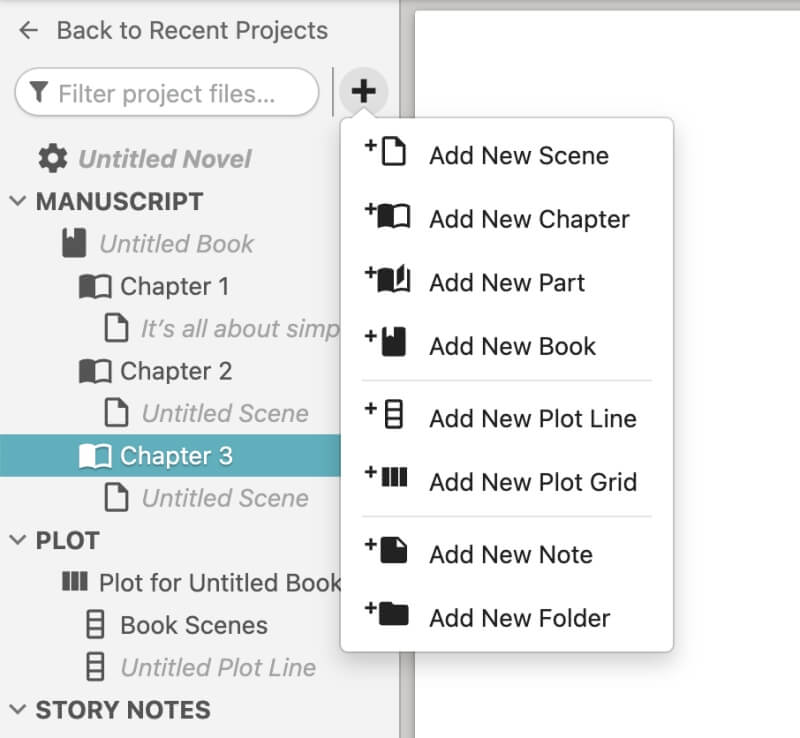 Scrivener structures your document in a similar way but offers more powerful and flexible outlining tools. Its navigation pane is called "The Binder." It splits your project into manageable pieces, as Dabble does.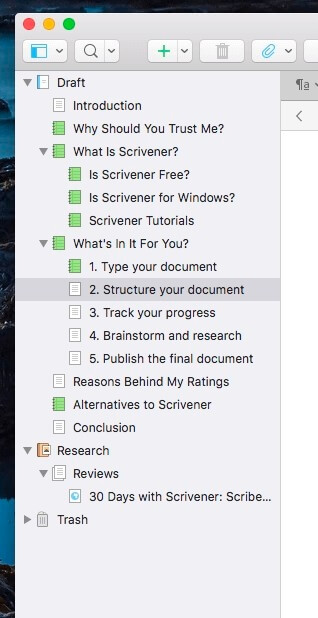 Your outline can be displayed with more detail in the writing pane. Configurable columns reveal additional information, such as the status and word count of each section.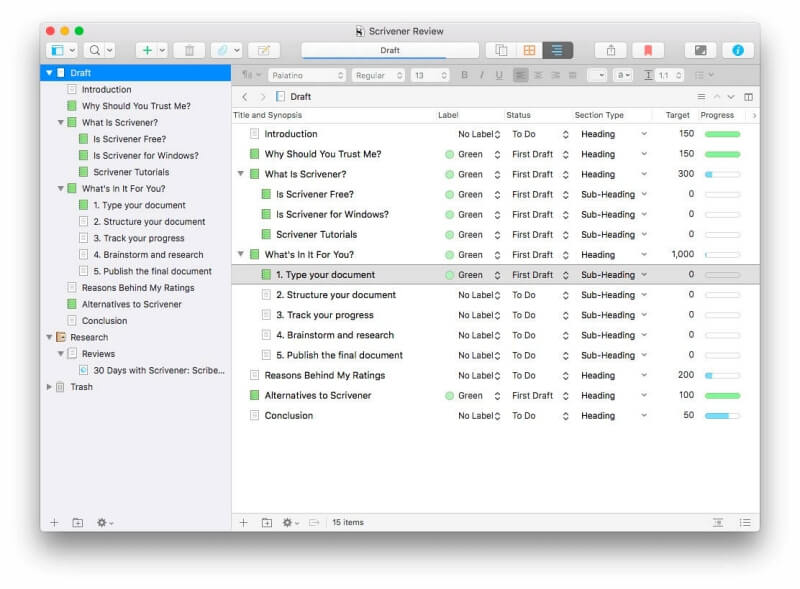 Scrivener offers a second way to get an overview of your document: the Corkboard. Using the Corkboard, the doc's sections are displayed on separate index cards that can be reordered at will. Each one contains a brief synopsis to remind you of its contents.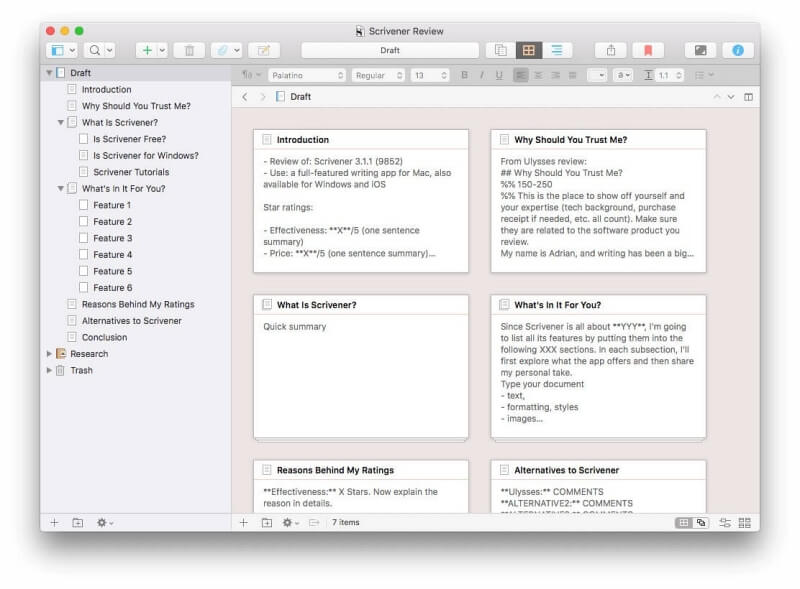 Dabble doesn't display a summary of your manuscript on index cards. However, it uses them extensively for your research (more on that below).
Winner: Scrivener. It offers two tools for working on your manuscript's structure: an Outliner and the Corkboard. These give a useful overview of the entire document and allow you to easily rearrange the pieces.
4. Reference & Research: Tie
There's a lot to keep track of when writing a novel: your plot ideas, characters, locations, and other background material. Both apps give you somewhere for this research right alongside your manuscript.
Dabble's navigation bar provides two research tools: a plotting tool and story notes. The plotting tool lets you keep track of various plotlines, such as developing relationships, conflict, and achieving goals—all on separate index cards.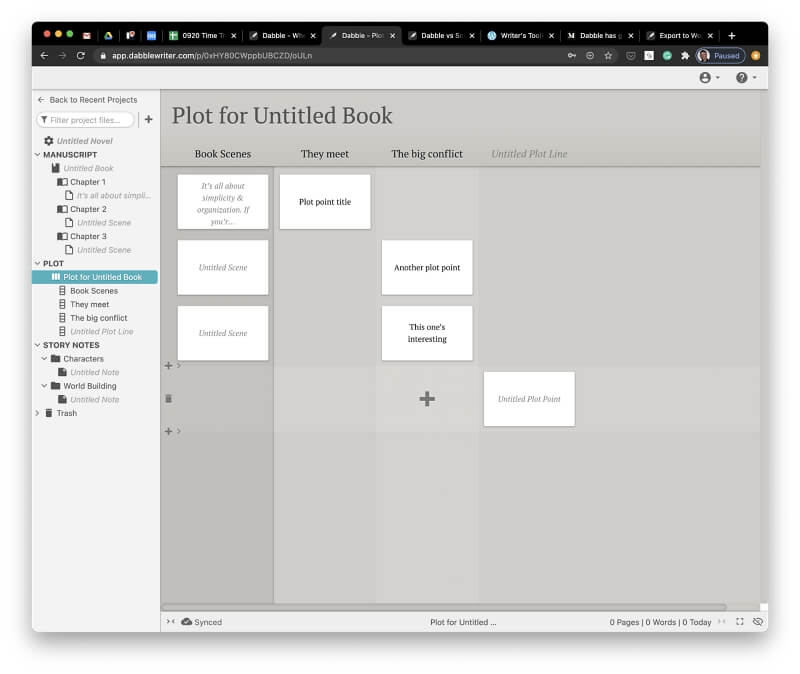 The Story Notes section is where you can flesh out your characters and locations. A couple of folders (Characters and World Building) have already been created to give you a head start, but the structure is totally flexible. You can create folders and notes according to your needs.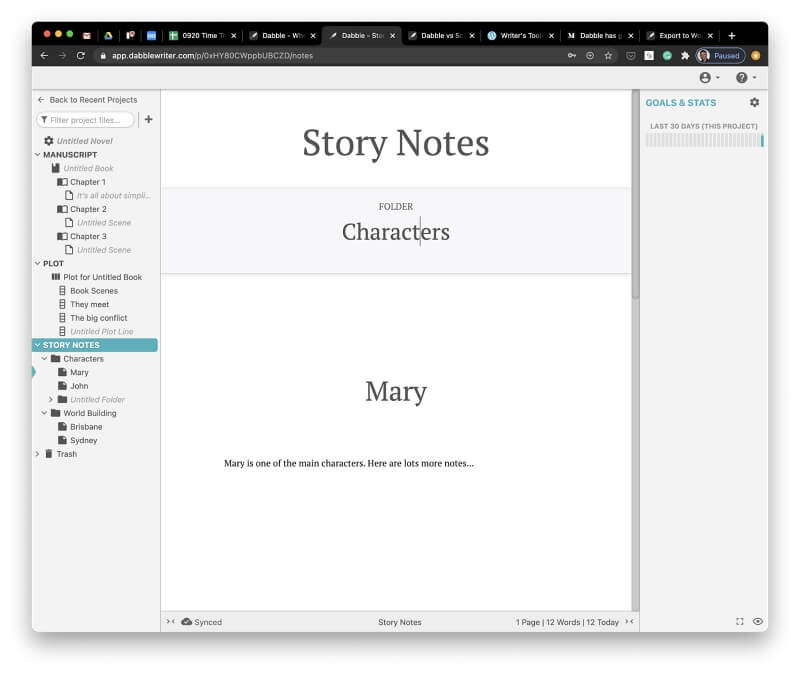 Scrivener's Research area is also free-form. There, you can organize an outline of your thoughts and plans and structure it as you see fit.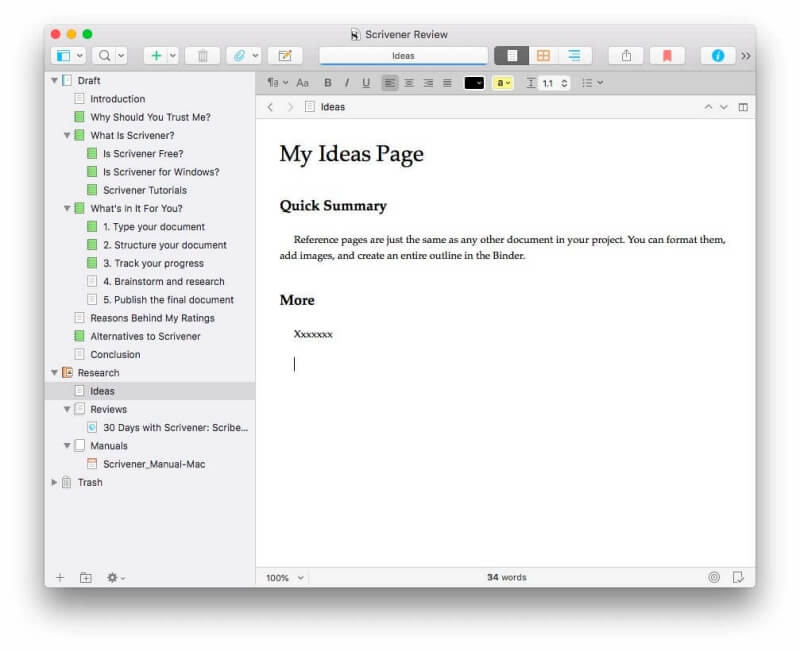 You can include external information like web pages, documents, and images.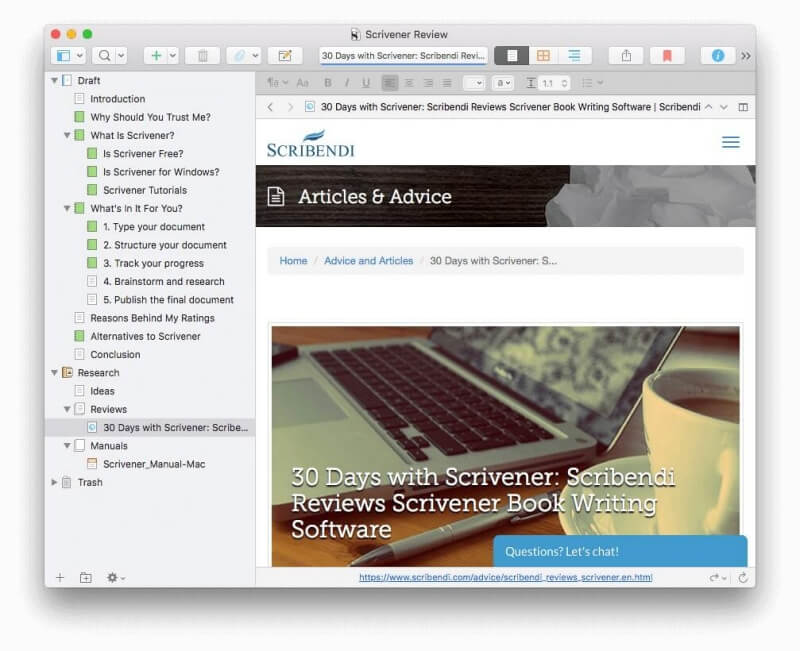 Winner: Tie. Both apps provide a dedicated area (or two) in the navigation pane, where you can keep track of your research. It's easy to access, but separate from your manuscript and won't interfere with its word count.
5. Tracking Progress: Scrivener
Writers often have to contend with deadlines and word count requirements. Traditional word processors do little to help you stay on track.
You can set a deadline and word goal in Dabble, and it will automatically calculate how many words you need to write to reach that goal. If you don't want to write every day, just mark the days you want to take off, and it will recalculate. You can choose to track the project, manuscript, or book.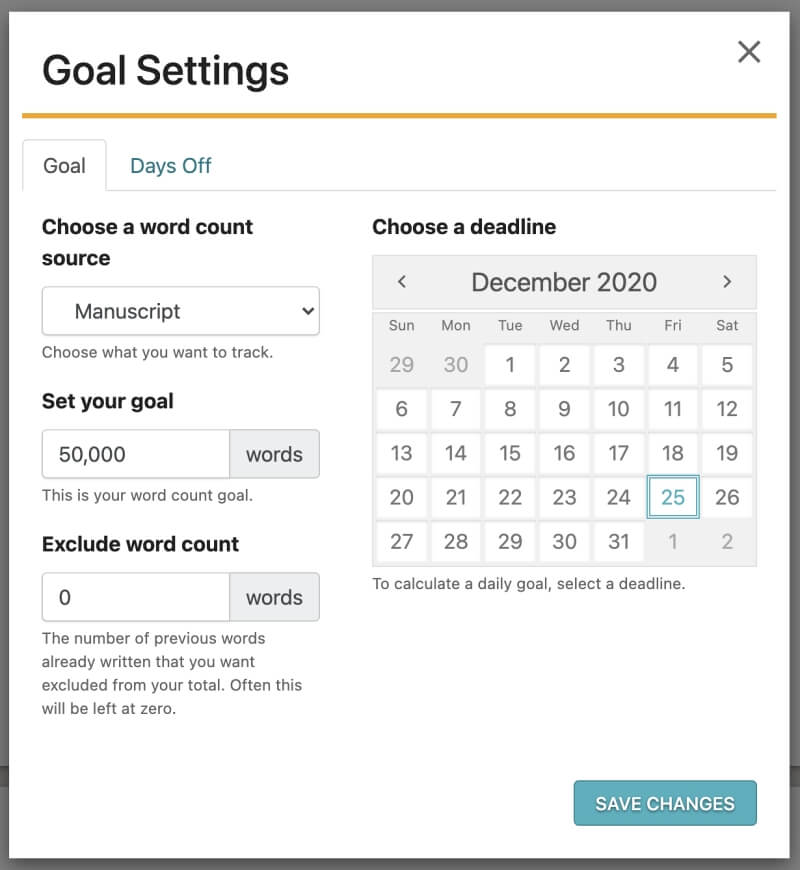 Scrivener does the same. Its Targets feature lets you set a word count goal for your project. The app will then calculate the number of words you need to write in each target to finish on time.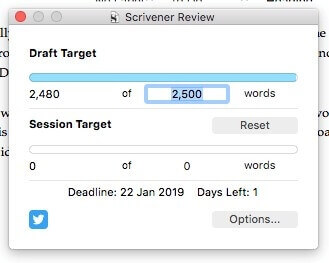 By clicking Options, you can set a deadline and fine-tune your goals.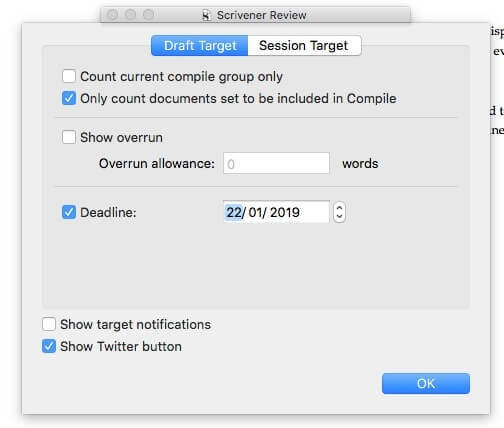 But Scrivener also allows you to set individual word count goals for each section. Just click on the bullseye icon at the bottom of the screen.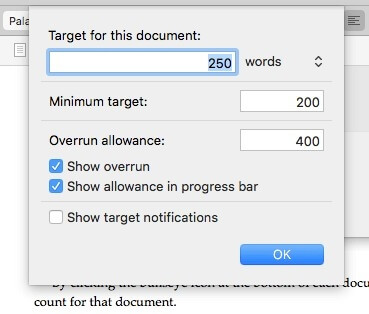 The Outline view allows you to track your manuscript's development in detail. You can display columns that show the status, target, and progress of each section.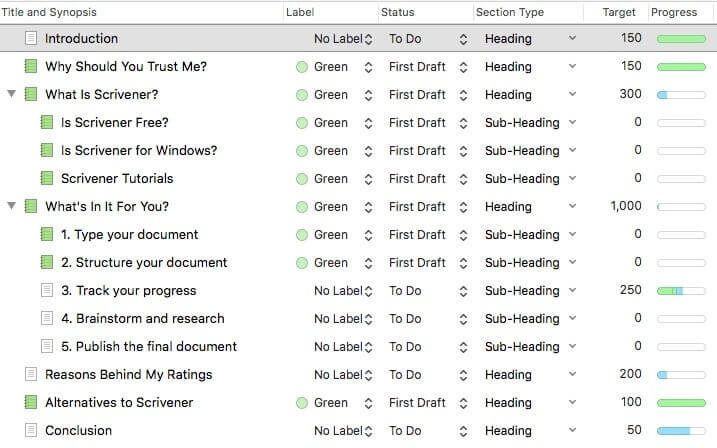 Winner: Scrivener. Both apps allow you to set deadlines and length requirements for each project. Both will calculate the number of words you need to write each day to stay on target. But Scrivener will also let you set word count goals for each section; it also clearly displays your progress on an outline.
6. Exporting & Publishing: Scrivener
Once you've finished your manuscript, it's time to publish it. Dabble lets you export your book (in part or whole) as a Microsoft Word document. That's the format preferred by many editors, agents, and publishers.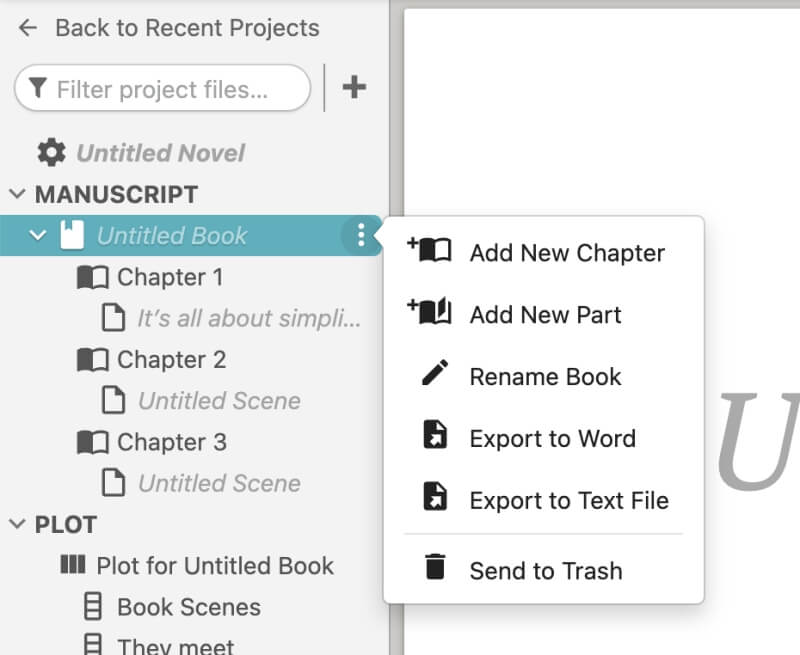 Scrivener goes much further, offering the tools for you to publish your book yourself. This starts with export. Like Dabble, you can export your project as a Word file; several other popular formats are also supported.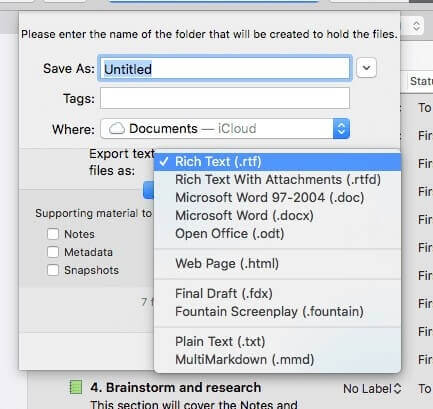 But Scrivener's Compile feature is where all of its power lies. Compiling is what really sets it apart from other writing apps. Here, you can start with an attractive template or create your own, then create a print-ready PDF or publish your novel as an ebook in ePub and Kindle formats.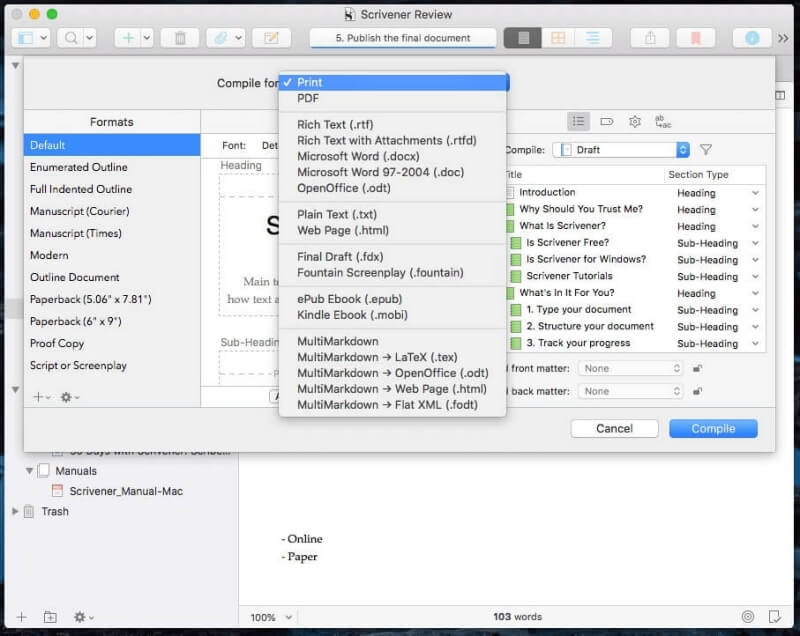 Winner: Scrivener's Compile feature gives you lots of options and precise control over the publication's final appearance.
7. Supported Platforms: Dabble
Dabble is an online app that works equally well on computers and mobile devices. Its apps are available for Mac and Windows. However, they simply offer the web interface in a separate window.
Some writers are wary of using online tools; they're concerned about not being able to access their work without an internet connection. You'll be happy to know that Dabble has an offline mode. In fact, all of the changes you make are saved first to your hard drive, then synced to the cloud every 30 seconds. You can see your sync status at the bottom of the screen.
However, I encountered a problem with Dabble's online app. I was unable to sign up for an account for almost twelve hours. It wasn't just me. I noticed on Twitter that a small number of other users couldn't sign in—and they already had accounts. In time, the Dabble team resolved the issue and assured me that it only affected a small number of users.
Scrivener offers apps for Mac, Windows, and iOS. Your work is synchronized between your devices. The experience isn't the same on each platform, however. The Windows version lags behind the Mac version in features. It's still at 1.9.16, while the Mac is at 3.1.5; a promised Windows update is years behind schedule.
Winner: Tie. You can access Dabble's online app from any computer or mobile device, and all of your work will be accessible. Scrivener offers separate apps for Mac, Windows, and iOS, and your data is synchronized between them. There isn't an Android version, and the Windows app doesn't offer the latest features.
8. Pricing & Value: Scrivener
Scrivener is a one-time purchase. Its cost varies depending on the platform you use:
Mac: $49
Windows: $45
iOS: $19.99
No subscriptions are required. Upgrade and educational discounts are available, and an $80 bundle gives you both the Mac and Windows versions. The free trial version gives you 30 non-concurrent days to test the software.
Dabble is a subscription service with three plans:
Basic ($10/month) gives you manuscript organization, goals and stats, and cloud sync and backup.
Standard ($15/month) adds focus and dark mode, story notes, and plotting.
Premium ($20/month) adds grammar corrections and style suggestions.
There is currently a $5 discount on each plan, and the price reduction will be locked in for life. You receive a 20% discount when paying annually. A lifetime plan that includes all features costs $399. A 14-day free trial is available.
Winner: Scrivener. Dabble's Standard subscription plan is closest to the functionality that Scrivener offers and costs $96 each year. Scrivener costs less than half of that as a one-time purchase.
Final Verdict
In this article, we explored how specialized writing software is superior to standard word processors for long-form projects. They let you break your project up into manageable pieces, rearrange those pieces at will, track your progress, and store your research.
Dabble does all of this in an easy-to-use web interface that you can access from any computer or mobile device. You can just dive in and pick up the features you need as you go. If you've never used writing software before, it's a good way to get started. However, it leaves out quite a few features that Scrivener offers and will end up costing you more in the long run.
Scrivener is an impressive, powerful, and flexible tool that will serve many writers better in the long run. It offers a wider range of formatting options, an Outliner and Corkboard, superior goal-tracking features, and an unmatched publishing system. It won't run in a web browser, but it will sync your projects between your devices.
If you're still undecided, take them for a test ride. A free trial period is available for both apps—14 days for Dabble and 30 days for Scrivener. Spend some time writing, structuring, and planning a project in both apps to discover which best meets your needs.