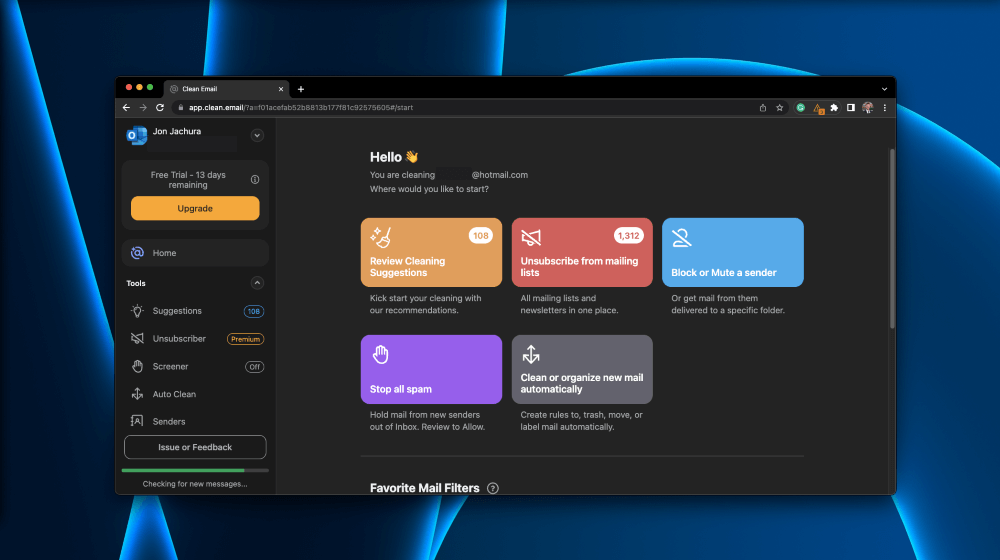 Clean Email
Features: Easy-to-use cleaning suggestions, unsubscribe function, and spam stopper, but sometimes hard to navigate.
Pricing: Affordable and offers one year of coverage for five email addresses.
Ease of Use: Easy to use and decently intuitive, besides a few features.
Support: Thorough support pages and tips, but no live support.
Summary
Clean Email is a cloud-based software that you can use to automatically unsubscribe from spam emails, filter emails into folders, block, and trash old emails in your inbox. You can also create custom Auto Clean rules to mark particular messages as read, "keep newest," pause, and move to custom folders.

In my opinion, Clean Email is a helpful tool for those that have an unmanageable email account. For example, you have hundreds, thousands, or even tens of thousands of unread emails – with many of them being spam – in your inbox. This can make it nearly impossible to take back control on your own. In this case, Clean Email is the perfect tool.

With that said, Clean Email isn't a good option for everyone. If you have a relatively new email account or only get a few emails a day, you might be better off using built-in tools from your email provider (Gmail, Hotmail, Yahoo, etc.) to keep it clean. However, Clean Email is free and can make maintaining a clean inbox easier.

Pros: Simple method to unsubscribe from a batch of spam emails.

Cons: Some functions are not intuitive and take some time to understand.
In this detailed review, I'll show you all the features and benefits of Clean Email to help you decide if it's right for you.
Is Clean Email safe?
Yes, Clean Email is completely safe. Clean Email accesses your mailbox, but your credentials are always encrypted and never available to anyone.
Is Clean Email Really Free?
Yes, Clean Email is free. However, you can upgrade at any time for their paid service ($49.99/year), which provides coverage for five email accounts.
Does Clean Email Work with Gmail?
Yes, Clean Email works with Gmail. You just have to give Clean Email permission to your account so it can do its job.
Why Trust Me for This Review
Hello – my name is Jon, and I am a software, computing, and network enthusiast. I'm an engineer, and reviewing how stuff works is burned into my core. I've been analyzing/testing various types of software for over ten years.
Throughout the years, I've used various software, browser extensions, and manual processes for cleaning my inbox with the various email accounts I own. Needless to say, cleaning an email account can be a meticulous process, especially if you have an older account.
The easy setup and minimal time commitment drew me to Clean Email. I have an email account that is a target for many spam emails (to put it lightly). I decided to try Clean Email to see if it could help me clean up over 30,000 unread emails.
Detailed Review of Clean Email
Clean Email's goal is to revitalize your clogged-up email inbox. It does this by automatically unsubscribing from email senders, organizing emails in folders, and using various settings like only keeping the newest email in a thread. It can save you a lot of time cleaning up an unruly email account, making it an ideal choice for anyone facing an onslaught of spam.
Let's dive into Clean Email's key features. I'll share my personal assessment of each of them.
Unsubscriber
Clean Email's unsubscriber feature finds emails in your inbox from email lists, newsletters, and unwanted subscriptions. It then serves you the option of unsubscribing from all or some of the lists by simply clicking "Keep Receiving" or "Unsubscribe."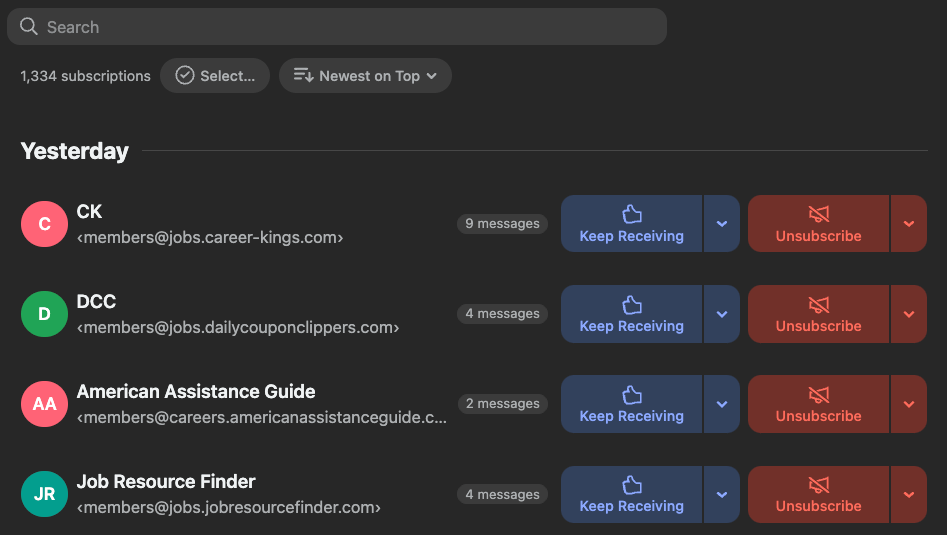 Being able to easily unsubscribe from these email lists in a batch process is terrific. However, with Clean Email's interface, it can be a bit recursive and time-consuming. But you can select multiple email lists simultaneously instead of clicking one at a time.

If your email inbox is like mine, this should be your go-to method. I have over 1,300 unsubscribe suggestions – this can take you some time to select all the ones I want to unsubscribe from if you have this many. But compared to manually unsubscribing, I estimate Clean Email could save you countless hours.
However, in Clean Email's free trial, you can only unsubscribe from a handful of email lists before you have to upgrade to the paid version.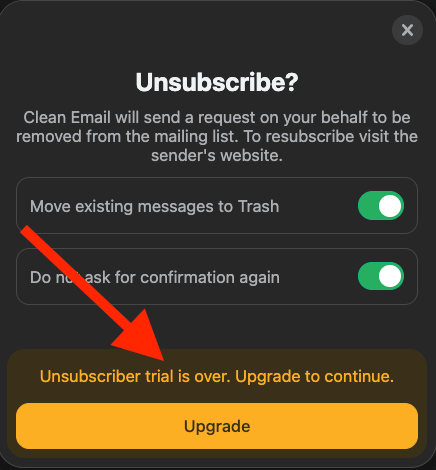 My personal take: Clean Email's unsubscribe feature works as they promise; it can unsubscribe you from several email lists with just a few clicks. However, the free version leaves more to be desired since it only lets you unsubscribe from a few lists before you have to buy the paid version. However, Clean Email doesn't advertise their service as "free," but they welcome you to "try it for free." So, it's completely understandable they would limit some features in the free trial.
Cleaning Suggestions
The cleaning suggestions feature on Clean Email helps you batch delete emails from various senders. Let's say you subscribed to an email newsletter 10+ years ago and have since received 1,000 or more emails from that sender.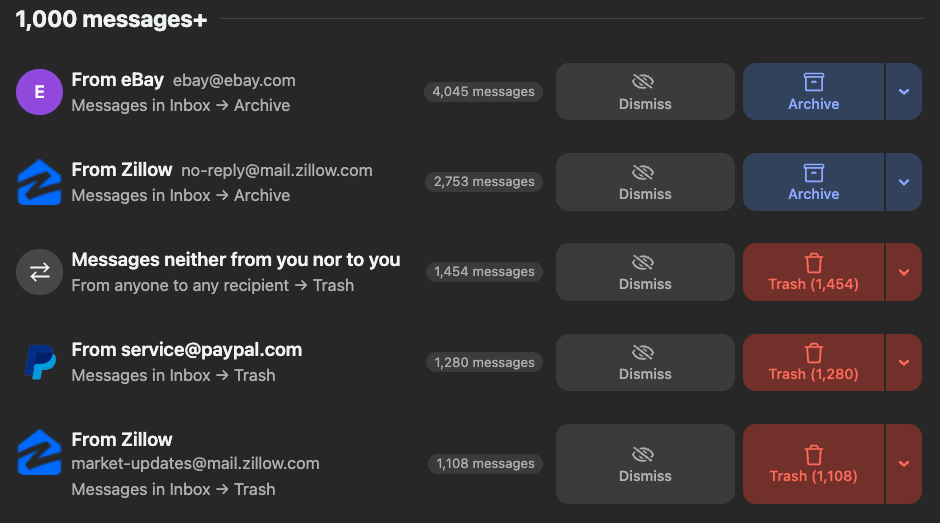 In that case, Clean Email can delete, mark read, flag, keep the newest, mark as spam, or create a rule for all the messages from that particular sender with just a few clicks.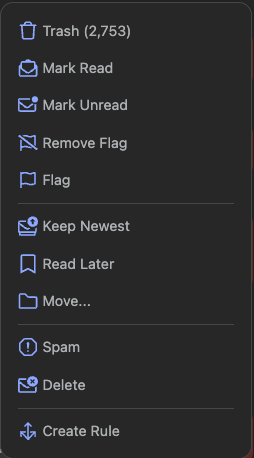 However, you must upgrade to the paid version of Clean Email to use this feature.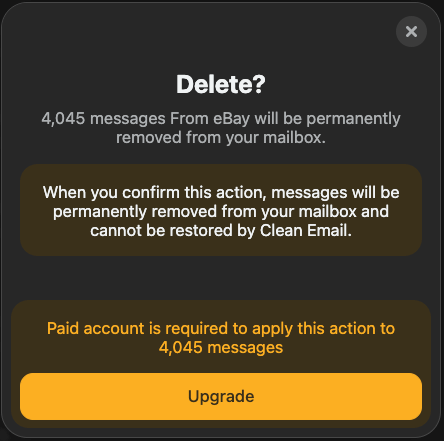 My personal take: The ability to batch delete, mark read/unread, flag, keep newest, move, mark as spam, etc., is undoubtedly appealing. I have over 1,000 emails from four senders, and deleting these all at once would help me quickly clean my email inbox. However, I couldn't use this feature since I did not upgrade to the paid account. With that said, hundreds of testimonials and thousands of reviews say this features works like a charm.
Block or Mute Sender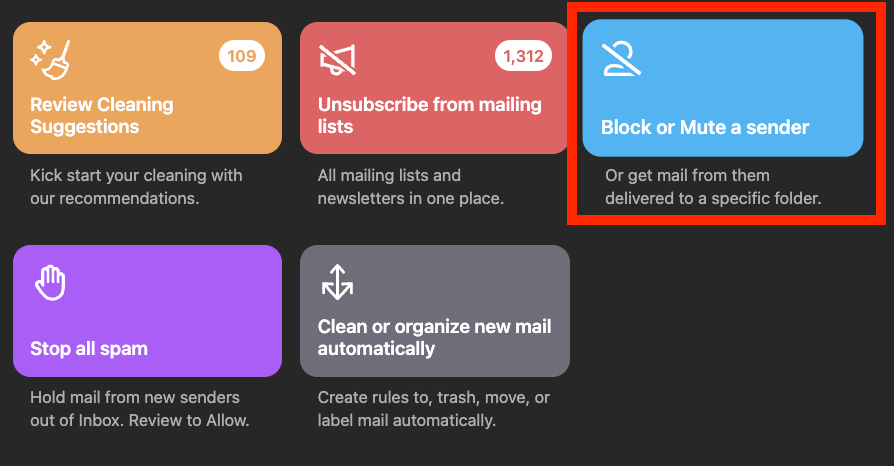 The Block or Mute Sender feature lets you block, mute, and automatically move emails from a specific sender to a folder or your trash. You can also set the emails to be automatically deleted after they hit a specific age. This feature serves a list of senders you might want to mute or delete. It likely chooses accounts that send you many emails you don't open.
My personal take: Deleting emails from your inbox is one thing– but preventing more from coming back is a different ball game. This feature is a game-changer because it lets you stop emails from reclogging your inbox. Yes, you can use the unsubscribe feature to do this, but that doesn't always work with certain senders.
Stop All Spam (Screener)
The Stop All Spam feature (also known as "Screener") prevents emails from new senders coming to your email inbox. You can review them periodically and either block them permanently or allow them in. This is yet another method to prevent new and unwanted emails from filling up your inbox.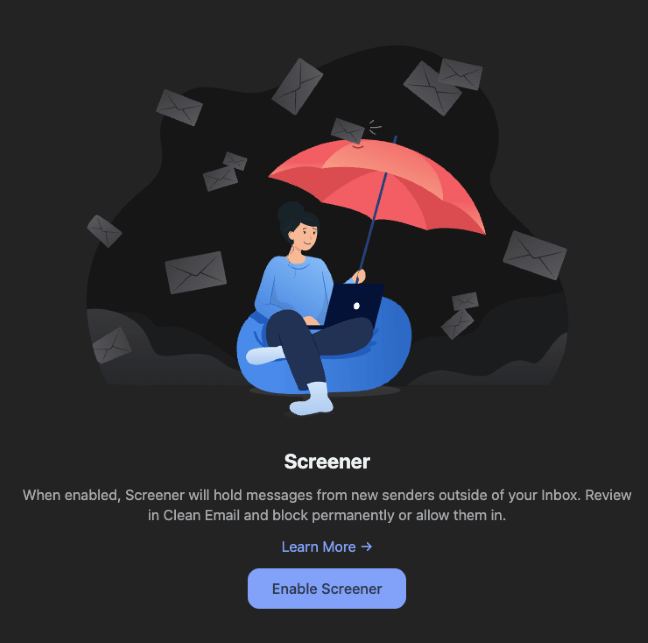 My personal take: The Screener tool is helpful if you constantly have new spammers emailing you. But I suspect to use this feature infrequently as the other features should stop most of the spam emails anyway. However, it is always good to have another line of defense.
Clean or Organize New Email Automatically (Auto Clean)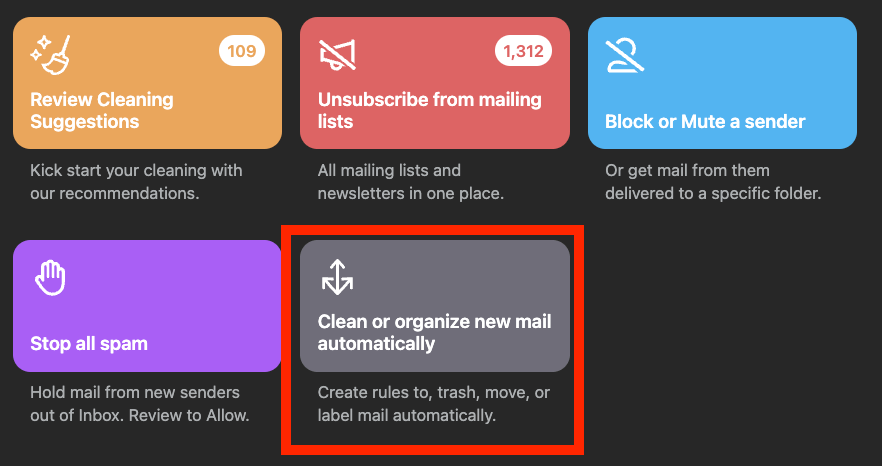 Auto Clean allows you to create rules about emails that arrive in your inbox. You can establish various cleaning routines to:
Label
Move to trash
Move messages to folders
Flag or unflag
Mark as spam
Delete
Plus, you can choose which emails, senders, email subjects, and email age your rule(s) apply to. You can create various rules to ultra-optimize your inbox so you never have to sort and delete messages again.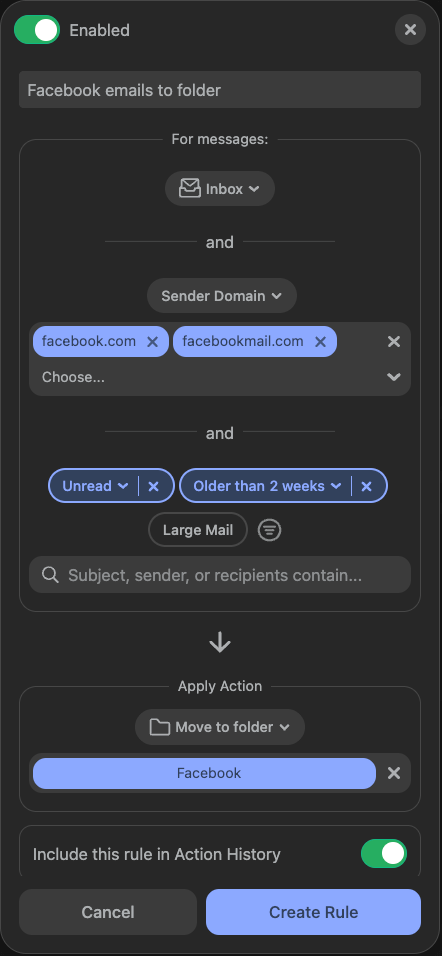 My personal take: The Auto Clean feature is arguably one of the best features of Clean Email. Allowing you to set customized rules with if statements, and/or statements, and having it perform a specific action (delete, move to folder, etc.) is the key to keeping your inbox clean for years to come.
Reasons Behind My Ratings
Features: 4.5 / 5
Having multiple methods to clean up your email account beyond just deletion really helps you clean your inbox and keep it clean. Clean Email has five main methods to help you clear up your email:
Ubsubcriber: Lets you batch unsubscribe from various senders quickly.  
Cleaning suggestions: Allows you to delete large swathes of emails in one go.
Block or mute sender: Blocks and mute specific domains to keep your inbox clean.
Screener: Gives you the ability to triage new emails coming in.
Auto clean: Allows you to create custom rules for filtering new incoming emails.
All these features combined help keep your inbox sparkling clean. However, I was hoping for full access to all of these features in the free trial version. But I understand this would allow users to get its full benefits without ever paying.
Pricing: 4.5 / 5
Clean Email is a cloud-based software that you have to pay for. It costs $49.99 annually and renews automatically– and it lets you clean up to five of your email accounts.
However, they do have a 14-day free trial, but it doesn't give you access to all the features.
In my opinion, $49.99 a year to clean five email accounts is totally worth it. Money is time, and cleaning my email accounts manually would take tens of hours longer without Clean Email. Plus, after your initial cleaning, you can cancel your subscription if you're satisfied with its service and don't need it any longer.
Ease of Use: 4 / 5
Clean Email is reasonably easy to use. When you create an account, all five main features show on the main page. You can navigate to each one and adjust each of their settings. It is easy to use once you know where things are located.
But your first few times, you might be going back and forth excessively trying to find a spam block feature or something else. I had these issues myself– it gets confusing sometimes because you can use various features within other features.
Support: 4.5 / 5
Clean Email provides excellent support for its software. On the front end, the user interference gives you plenty of tips and suggestions to help explain what each feature does. And if you need more help, their website has entire tutorial articles to further explain how to use it.
However, we can't forget about live customer support, which appears to be slow and non-responsive at times, according to customer reviews. But Clean Email seems to have all the resources you need to solve problems yourself.
Final Verdict
Clean Email is a low-cost software that you can use to clean up to five email accounts for a yearly price of $49.99.
If you have one or more email accounts overflowing with spam emails, newsletters, notifications, etc., Clean Email makes sorting, deleting, blocking, and filtering to folders easy. It can quickly clean up your inbox and save you many hours.
But if you have a new email account that gets little to no spam emails, newsletters, etc., this tool would be overkill.
What's your feedback on this Clean Email review?