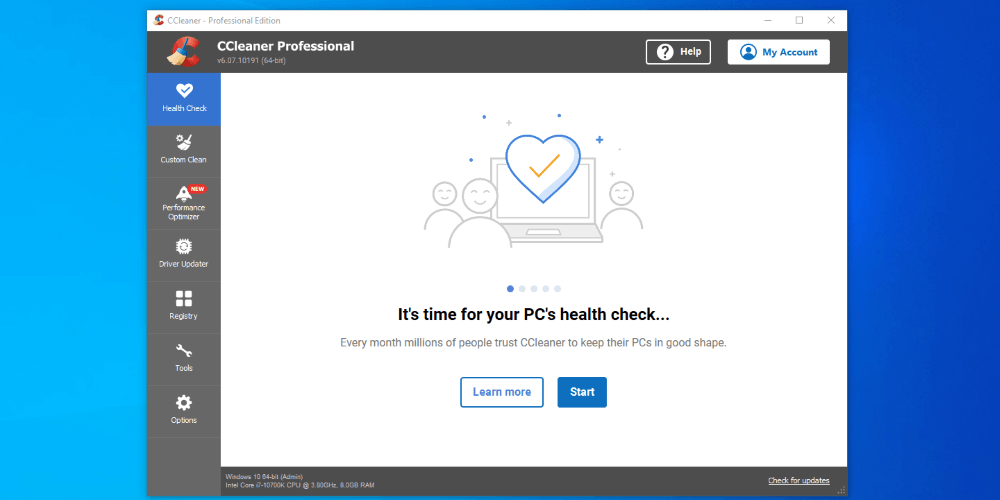 CCleaner Professional
Features: Provides useful features, but is less robust than some competitors
Pricing: Has very transparent pricing and is priced lower than competitors that are more feature-rich
Ease of Use: Provides an updated UI that is simple, straightforward, and consistent
Support: Has a user forum and 4-hour turnaround time for email support during business hours. Live support is absent.
Summary
CCleaner Professional is a computer management utility platform that's been around for the better part of two decades. Anecdotally, I feel like it was the premier and most recommended solution back in the day. It was my go-to for computer diagnostics. 

I've questioned the need for computer management utility platforms in recent years. Computer registries, memory, and processes needed to be cleaned on the regular with older hardware and versions of Windows. That's just not the case with modern operating systems or hardware.

That being said, I've also highlighted how these can be excellent learning and diagnostic tools for budding amateur IT support technicians. They also aggregate numerous Windows tools and telemetry into one place, which I think is incredibly useful.

What I Like: great User Interface and approachable features with better support than some competitors.

What I Don't Like: fewer options than competitors' free options.
Is CCleaner Professional Safe?
Yes! When used responsibly. Don't delete dangling registry entries you may need. Otherwise, it collates a lot of Windows 10 and 11's inbuilt functionality and supplements it well.
Is CCleaner Pro a One Time Purchase?
No. That is an annual license that must be updated regularly.
Does CCleaner Sell Your Data?
Yes! Aggregated data that are not identifiable to you. You can read more about it here.
Does Microsoft Recommend CCleaner?
Microsoft recommends against using registry cleaners. It has done so consistently for many iterations of Windows.
Can CCleaner Remove Malware?
No. CCleaner does nothing to remediate viruses or other malware on your computer.
Why Trust Me for This Review
I'm Aaron, an information technology and information security professional. I used CCleaner for about a decade from the early 2000s to the mid-2010s. Back then Windows did a measurably worse job of managing registry entries and cleaning up after uninstalled programs.
While I updated my toolbox in the 2010s for different tools, it still holds a special place in my heart. It helped me start my amateur journey into IT support which helped pave the way for a successful career in IT. I owe at least a small part of my own professional success to CCleaner and its generational ilk.
Detailed Review of CCleaner Professional
CCleaner is a computer management utility platform, in the same realm as Glary Utilities, Norton Utilities, and Auslogics BoostSpeed. Let's see how it measures up to those tools.
User Interface and Experience
I've questioned the value of computer management utility platforms as computer cleaners and their ability to manage computer speed. I see their value more in driving telemetry and information delivery. They're a diagnostic tool marketed to laypeople. Consequently, my focus is on their ability to deliver that information straightforwardly.
CCleaner doesn't disappoint. The entire User Interface, or UI, is very straightforward. Not quite as straightforward as Norton Utilities, which I've gushed about having the best UI in a consumer product that I've seen, but very straightforward.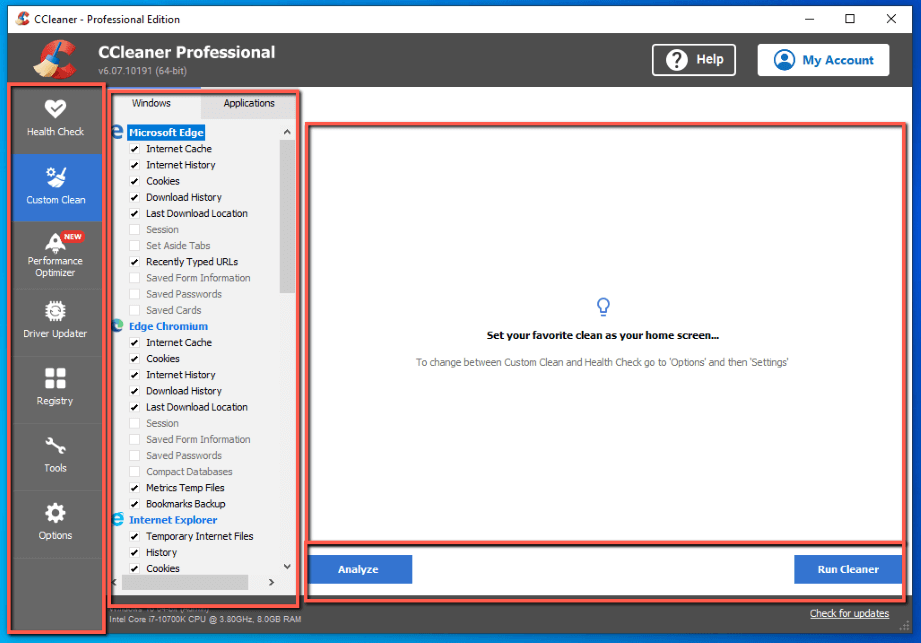 As seen in the image above, every screen is split into four sections:
To the far left is the feature menu,
To the right of that is granular feature selection
The right side of the screen is an information readout
Beneath that are the action buttons
The Tools screen changes that up slightly by putting the selection buttons to the far right, but preserves the general look and feel.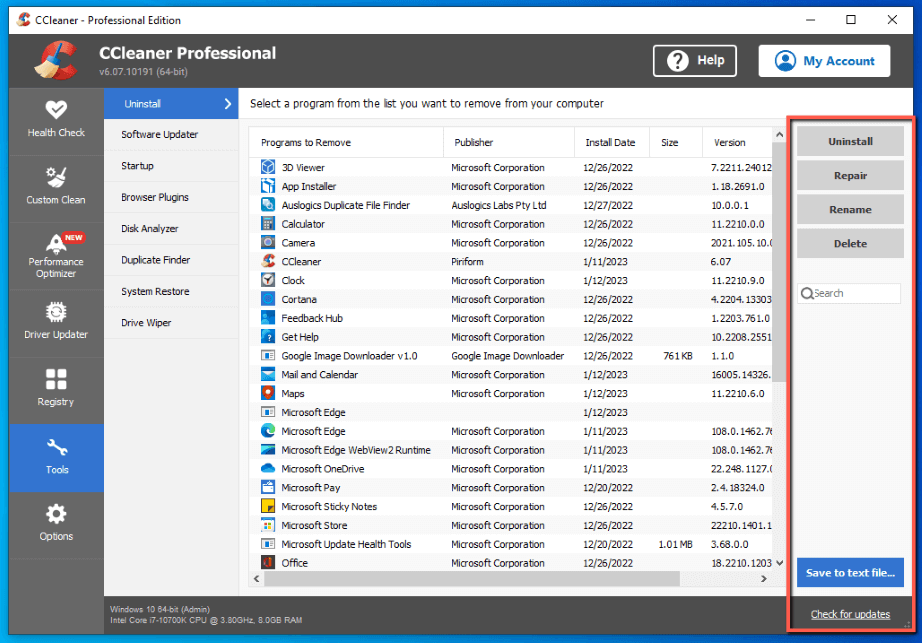 My personal take: I love a good UI. CCleaner has one. It presents information in a simple and consistent manner. It also doesn't force the user into complexity, but readily provides the option.
Health Check
This is the general set-it-and-forget-it mode for CCleaner. I don't like these because they tend to make recommendations without supporting them or highlighting the potential damage to PCs. For example, some programs will defragment an SSD without a second thought, which can damage the SSD.
Thankfully, CCleaner is low-touch in this space. It scans for cookies and other web trackers, junk files, slow startup apps, and updates.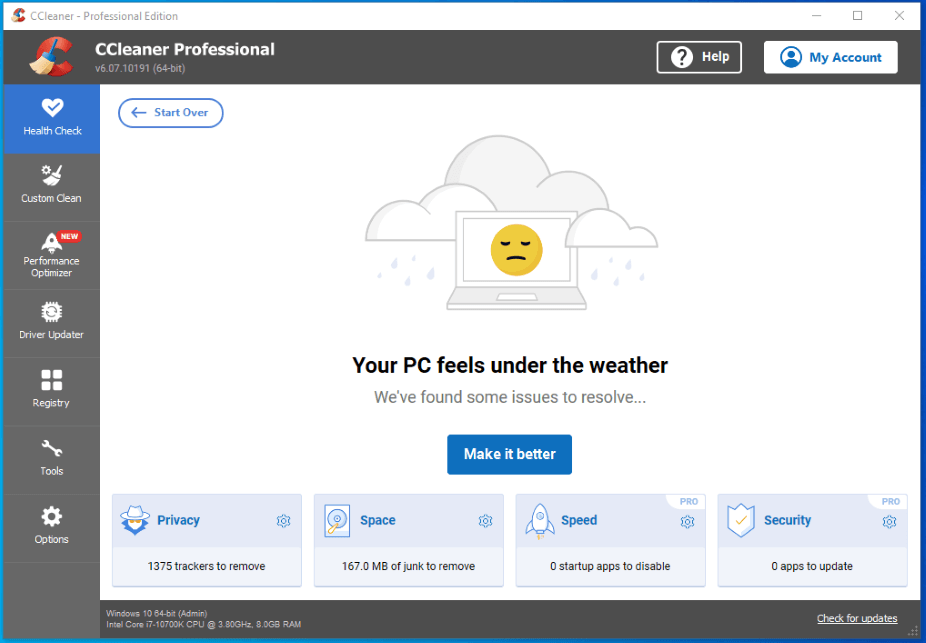 Clicking on any option drills down into what's covered. I clicked space which highlighted that I had temporary files that could be deleted.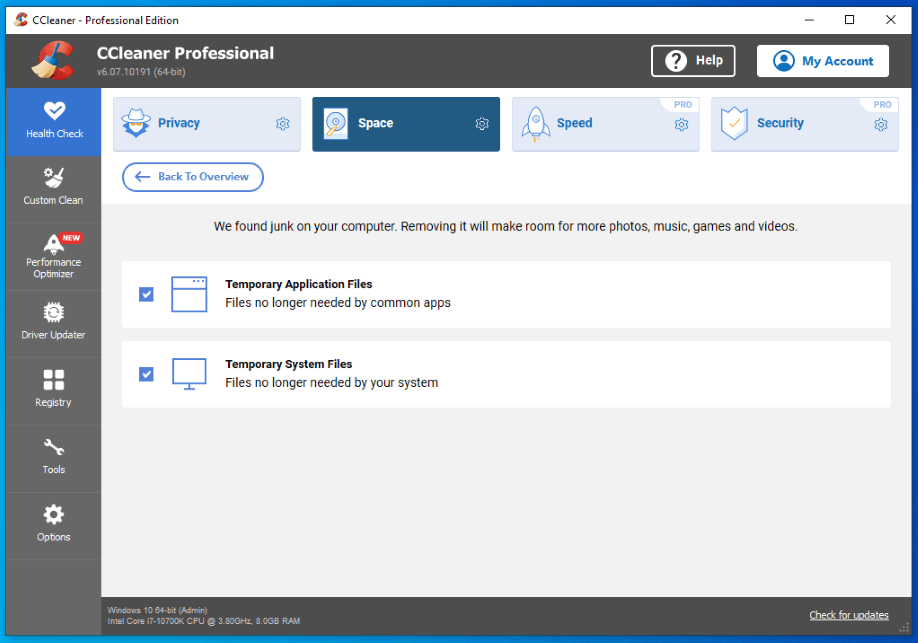 I like that CCleaner doesn't force complexity on the end user. Someone can just click Make it better on the Overview screen and not have to worry. Users who want elaboration can find that easily.
My personal take: I don't like low-touch features generally, especially when they can compromise how a computer functions, which can complicate their users' lives. CCleaner avoids automating that functionality and provides automation around reasonable cleaning features.
Performance Optimizer
CCleaner's Performance Optimizer feature purports to boat PC performance and speed it up while also empowering the end user through greater control. That's a compelling pitch: who doesn't like getting more out of something they've bought while also having more control over it?
The Performance Optimizer wizard highlights how it does that. The explanation is a bit hokey, but it effectively disables and reenables services on an as-needed basis.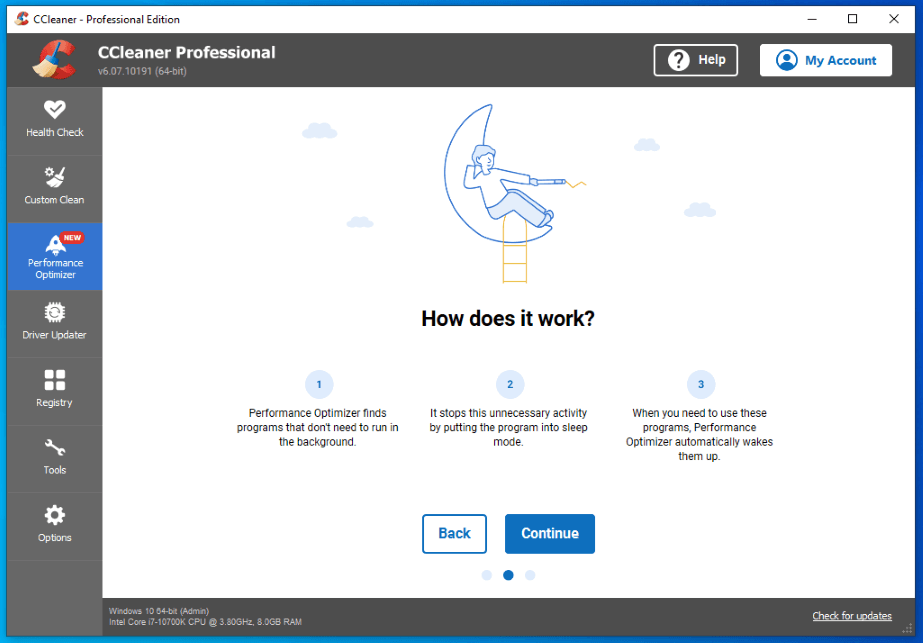 That's a fairly archaic approach to the management of operating system resources. Windows 10 and Windows 11 do that natively, so I'm not sure what benefit is gained from having external management of that.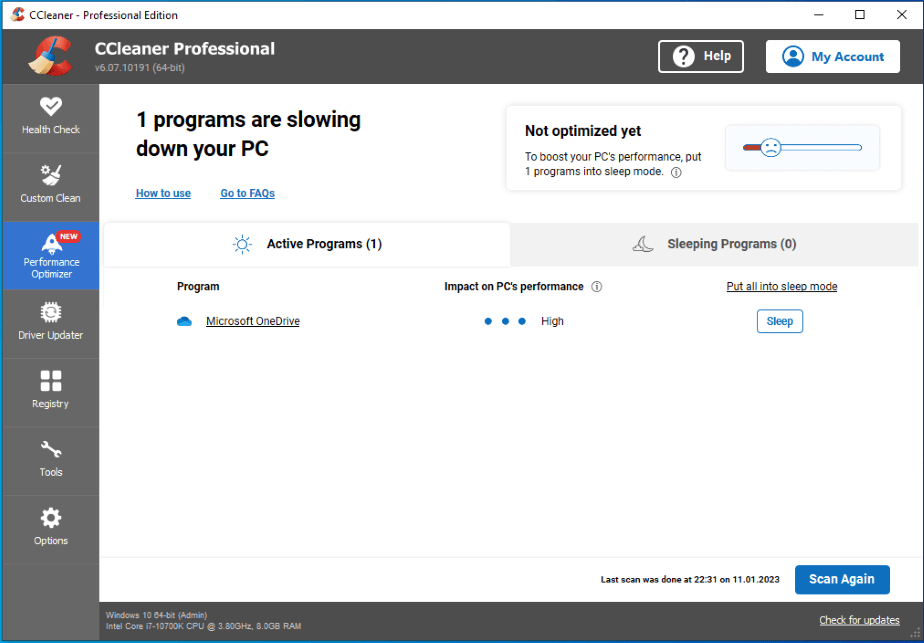 When I ran it on my test virtual machine, CCleaner identified OneDrive as the sole app that purportedly slowed down my PC. Having used OneDirve extensively, even on a slow hard disk drive (or HDD), there's not much of a performance impact. OneDrive only runs when it needs to.
Conversely, having OneDrive replication is critical to be able to access cloud files, so I wouldn't want to disable it. I'm sure that on a more used computer, this might look different, but it wasn't particularly useful on my test bench.
My personal take: This may have been a valuable tool a decade ago, but really isn't today. Windows 10 and 11 are highly optimized to prioritize services that are currently in use in many ways.
Driver Updater
Driver update functionality was great in the 2000s, when Windows XP and Windows 7 didn't have great third-party driver integration in Device Manager or Windows Update. That isn't really the case with Windows 10 or Windows 11, which have much more robust support and integration.
That isn't to say that CCleaner doesn't have a place today. Driver integration isn't at 100% and CCleaner has an independent repository and search. It even identified an updated virtualized CD-ROM driver for my test bench, which is ostensibly updated on my Windows 11 PC.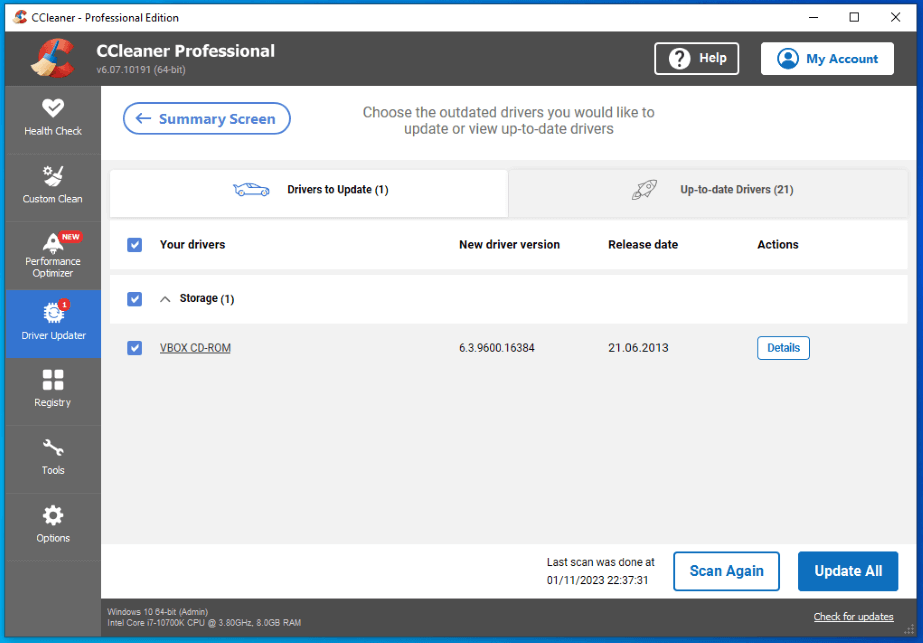 My personal take: this is a neat feature that can be helpful for those straggler drivers that Windows Update doesn't pick up. However, Windows 10 and 11 are really good at picking up even esoteric drivers.
Registry Cleaner
CCleaner has a registry cleaner comparable to other computer management utility platforms. I don't think these bring anything to the table, but it would be disingenuous not to cover them since they're ubiquitous and one of the main marketing points of these platforms.
CCleaner seems to identify a comparable number of registry entries to competitors, though that changes through use. Windows 10 and Windows 11 are also more robust in their treatment of software and registry handling.
Consequently, the performance boosts from registry cleaning just aren't what they used to be. The risks, however, remain: incorrectly cleaning currently used registry entries can impact how currently installed applications run. Sometimes, deleting those entries can completely disable those installed applications. It's critical to be careful when using registry cleaners.
My personal take: I don't like registry cleaners because of the risks they pose to currently operational applications and the lack of performance improvement this provides in recent years. That being said, objectively measuring the performance of CCleaner's registry cleaner, it identified dangling registry entries, which is what it sets out to do.
Tools
CCleaner lumps most of its advanced functionality into Tools. That includes an updater, startup process monitor, uninstallation manager, system restore, drive wiper, duplicate finder, and other functionality.
This option provides numerous points of information and aggregates a few very useful Windows functions. I like the collected functionality instead of hunting and pecking for the various features in numerous Windows menus.
My personal take: it's very convenient to have all of these tools under one roof. You can find all of them in Windows somewhere, but this aggregates them into one place.
Reasons Behind My Ratings
Features: 3/5
CCleaner Professional has fewer options and tools than Glary Utilities or Auslogics BoostSpeed, but more than Norton Utilities. Overall, I think that the features CCleaner provides are useful, but I feel like some competitors are more robust.
Pricing: 3/5
CCleaner Professional has very transparent pricing, which I really appreciate. It's cheaper than competitors in the computer management utility platform space, but provides fewer tools and information, so that makes sense. 
Like many of its competitors, CCleaner provides a free version. Unlike its competitors, I think CCleaner arbitrarily separates regular and professional licensing. I appreciate that some of CCleaner's competitors differentiate between truly professional support options (paid) and regular user options (free).
Ease of Use: 4/5
CCleaner provides an updated UI that is simple, straightforward, and consistent. It's not as good as Norton Utilities but is on par with Glary Utilities in my opinion.
I like how CCleaner segments different functionality via complexity. I also appreciate the consistency between screens. While the look and feel can change a little, it's generally consistent and the changes are easy to follow.
Support: 3/5
CCleaner Professional provides Priority customer support, but not 24/7 premium technical support, which requires CCleaner Pro Plus. What that translates into is email support within 4 hours during business hours for priority support. CCleaner Pro Plus provides live chat, priority email, or remote access on a 24/7 basis for premium support.
Premium support is another $15, which puts pricing on par with competitors. It also adds Recuva Pro and Speccy Pro, which include features comparable with competitors.
Additionally, there's a forum for user engagement and it seems the forum is lively. I think it's difficult in 2023 to fail to provide a live chat or support option for a professional product. Paying more can get that, but that's outside the scope of this review.
Final Verdict
Is CCleaner Professional worth it? CCleaner Professional provides good functionality for the price with support. Glary Utilities provides more functionality with similar ease of use and slightly more delayed support for free. Consequently, it's difficult to recommend CCleaner Professional over other free options. 
I think that CCleaner Professional is a great option for people who want to delve into lower-level computer management and optimization. However, CCleaner Professional Plus is a better comparison with more fully featured computer management utility platforms and is comparably priced with those.
So, what do you think about this CCleaner review? Share your thoughts below.