It hardly seems possible, but even as recently as 10 years ago, nobody would have believed that online video was a serious challenge to the supremacy of broadcast television. Many people had been claiming that this change was just around the corner since the first days of the internet, but we needed a combination of high-speed internet access, plenty of content, and a stable, reliable platform to make it a success.
Youtube finally came along to check all of those boxes, and as a result, it has taken over the digital video market and almost completely dominates the space.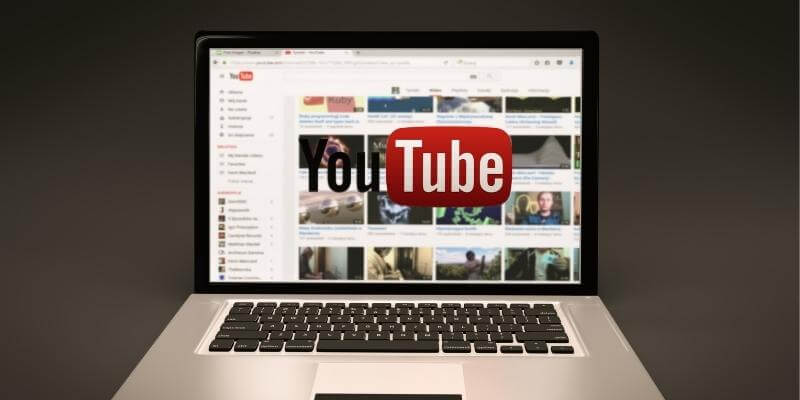 But Youtube comes with a basic, obvious, and fairly major flaw: it's only useful with a high-speed internet connection. In a world of slow mobile data and monthly bandwidth caps, it's not always possible to watch what you want whenever you want it. It's not as though you can simply pop in a DVD containing your Youtube content, kick back and relax – but there is a way around this problem.
Whether you're a casual viewer or a video creator, you've probably wanted to save some of the videos you come across for times when you can't watch them on Youtube directly. There are a number of apps designed to help you save online videos, and we've sorted through the options to pick out the best Youtube video downloading software.
The best paid Youtube downloader I found during this roundup review was Wondershare AllMyTube. Wondershare has a great history of producing user-friendly video creation and editing apps, and they don't disappoint with AllMyTube. It allows you to download from a number of different video sources such as Youtube, Facebook, Vimeo and more, in a range of resolutions (including 4K). It comes with a browser extension for quick saving, and it supports playlist downloading which makes it much simpler to download a number of videos at once. You can also convert your downloaded videos to different formats based around a range of mobile device profiles, saving you from having to memorize which format is compatible with which device.
The best free YouTube downloader I found is the unimaginatively named 4K Video Downloader. Created by a company named Open Media LLC, it does more or less exactly what it says on the tin: you can download videos from Youtube, and that's about it. You can't convert videos, download entire playlists or anything like that, you just download one by one in the native Youtube format. But because of this simplicity, it is extremely easy to use, and you can't argue with the price. If you're just looking for the best free Youtube downloader, that's all you need!
If you are on a Mac and prefer the sleek app experience, Folx is a great option worth considering. The app allows you to download almost anything (including YouTube videos, direct downloads, and torrents) from the Internet to your Mac. You can then watch the videos when your Mac is offline, or transfer them to your iPhone or iPad via AirDrop. The best part about Folx is that you can define the video output quality and file format so you save time by not having to run your videos through a separate conversion program.
Why Trust Me for This Software Guide
Hi, my name is Thomas Boldt, and I've got extensive experience with the website and software industries. I have eagerly watched the rise of online video from the early days of broadband internet access, and I worked on designs for online TV websites back in the early 2000s. Those projects didn't pan out because the technology just wasn't ready, but they did give me a great deal of insight into the world of online video from both a content producer and a content consumer perspective.
In terms of software, I spend a great deal of time experimenting with new programs in the search for better solutions. All of my work takes place in the digital world, so I rely heavily on having the best program for the job, whether it's a hacked-together open source project or an industry-standard software suite. I bring this constant pursuit of the best software to all my reviews, which saves you the time of having to test every program yourself!
Note: None of the developers mentioned in this review have provided me with any compensation for writing this article, and they have had no editorial input or review of the final content. All views expressed here are my own.
The Realities of Modern Online Video
When you first start looking for a YouTube video downloader, you're probably just hoping to store a few videos for your personal use. You might want to watch them on your smartphone during your morning commute without using your mobile data, or you might want to start creating your own mashups, remixes and other video content. Whatever the reason, it's important to consider the consequences of these choices.
Video streaming services have long searched for ways to monetize their content, and Youtube is a great example of a successful model. There are people of all ages and walks of life making millions of dollars a year from their Youtube channels, but there are also people who make just enough money to keep going. When you download videos to watch later, you may (unintentionally) be taking away some of their revenue.
If you're planning to create new video content based on someone else's work, be very careful that you're following all the laws regarding copyright infringement. Don't download and repost other people's content and claim it's your own – not only is that sure to bring you some bad karma, it's probably against the law, no matter where you live.
That being said, most copyright laws include a provision for something known as 'fair use'. If you're republishing someone else's work in a way that transforms it, satirizes it, or critiques it, you're usually in the clear. Some of the internet's favorite videos use other video content in these ways, and hopefully, there won't be any legal trouble as a result.
So let your video creativity loose!
While you're at it, you'll probably want some video editing software. Fortunately for you, we've already spent a bit of time reviewing a few good options here at SoftwareHow. Be sure to check out our reviews of Adobe Premiere (great for pro-level work) and Adobe Premiere Elements (the best choice for getting started with video editing).
Important note: We are not lawyers, and this is not legal advice – we just review software from other developers. We are not responsible for your actions and strongly encourage you to read the Terms of Service for any video hosting service you may want to download from. It's up to you to make sure that you're following all of your local laws and service agreements.
Best Youtube Video Downloader Software: Top Picks
($19 per year license, $29 lifetime license, Mac/PC)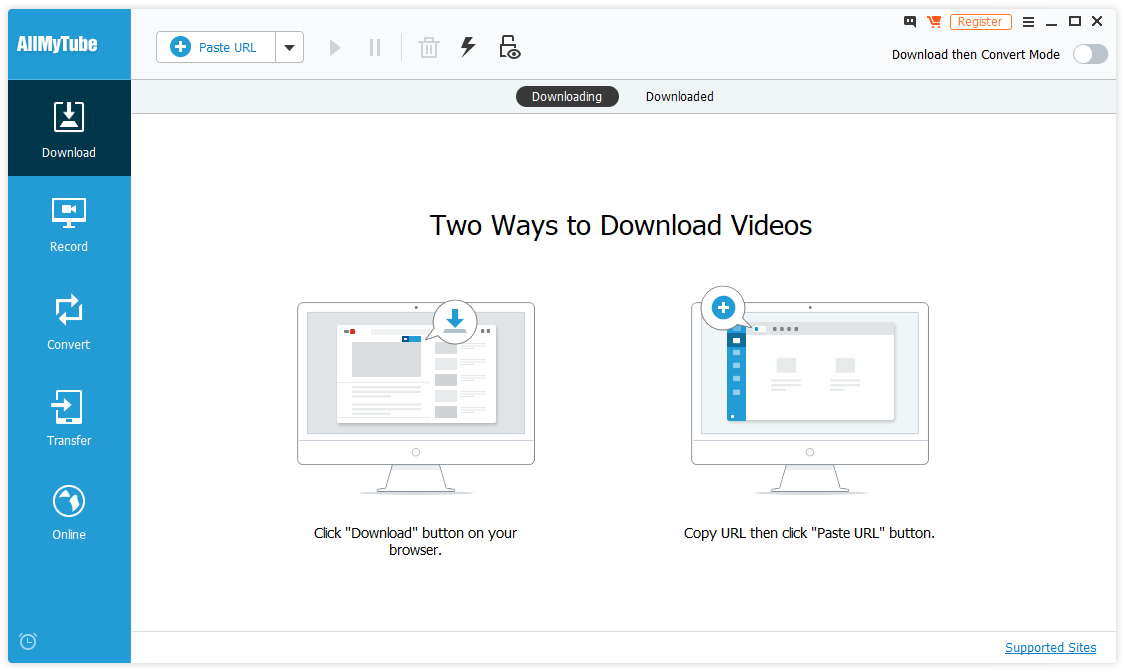 Wondershare makes a number of programs in the digital video sector, and AllMyTube is an excellent addition to their software library. It covers the very basic requirement of downloading videos from Youtube and then goes well above and beyond.
You can download from over 10,000 different video hosts in any resolution, and even screen record from any source that it can't download from directly. Once you've downloaded your videos, you can convert them into a wide range of formats to ensure they will play on any device you own. You can even transfer them directly from the program to a mobile companion app, which makes AllMyTube your one-stop video download shop.
The interface is cleanly designed, and breaks the program down into 5 basic sections: Download, Record, Convert, Transfer, and Online. To download videos, you unsurprisingly need to visit the 'Download' section (shown above). It gives you simple instructions on how to download your videos, although the first method only works with Internet Explorer or Firefox, not Chrome or Edge.
The second process is almost as simple and will work no matter what browser you use since it just requires a quick copy and paste of the video URL.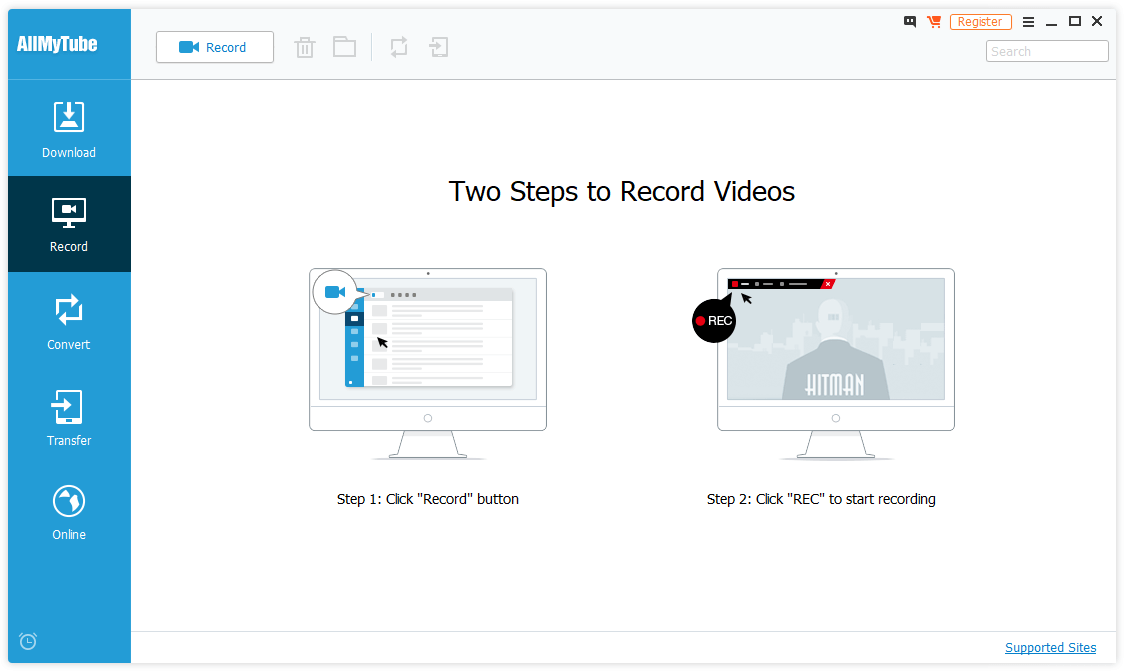 The 'Record' section is just as simple and uses a basic screen recorder to capture anything your screen can display. You simply click the Record button, set the size of the capture area, and choose whether you want to record system sound, your microphone, or both/neither.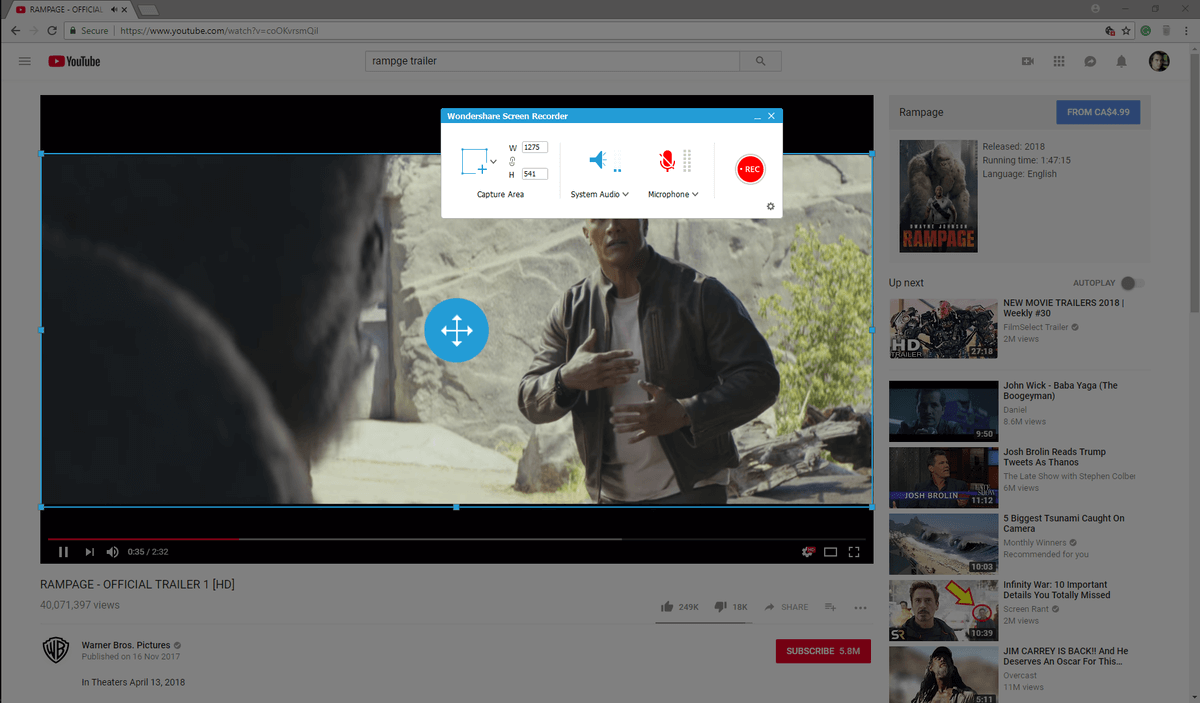 The conversion process is as easy as the rest of the functions: simply choose the video you want to convert, and then choose the device that you want to play the resulting video on.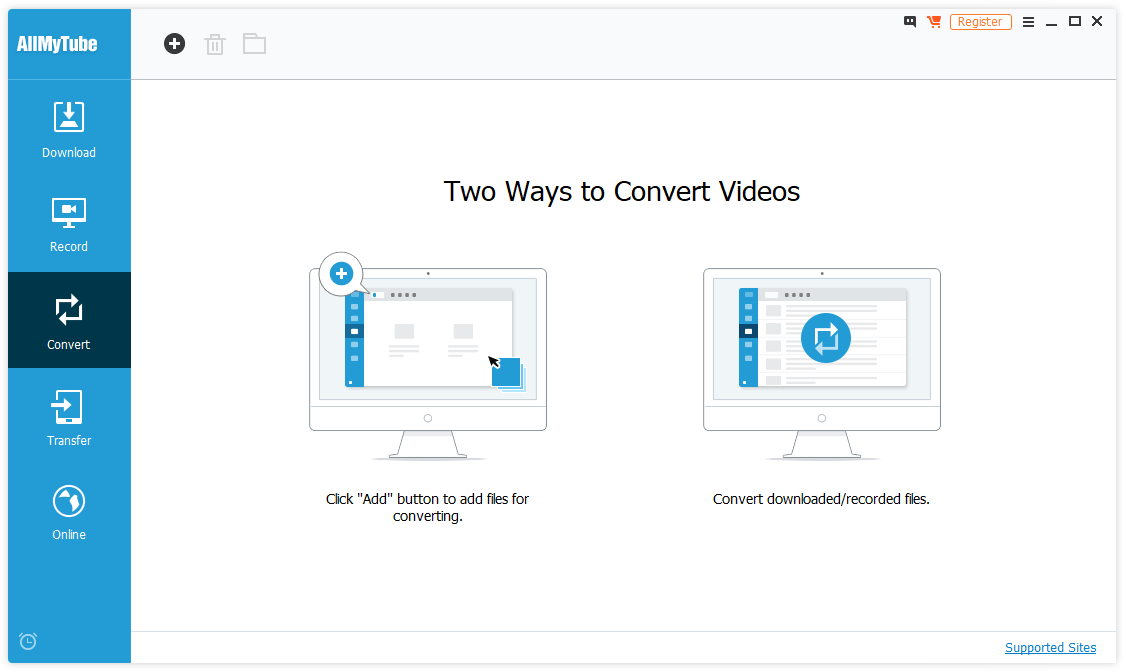 AllMyTube offers a wide range of device presets, from iPhone to Android to PlayStation Portable and everything in between. If you want to streamline the download and conversion process, you can set AllMyTube to 'Download then Convert Mode', and specify what resolution and format you want to output to in the Preferences. This is especially helpful when you're downloading and converting an entire playlist of videos.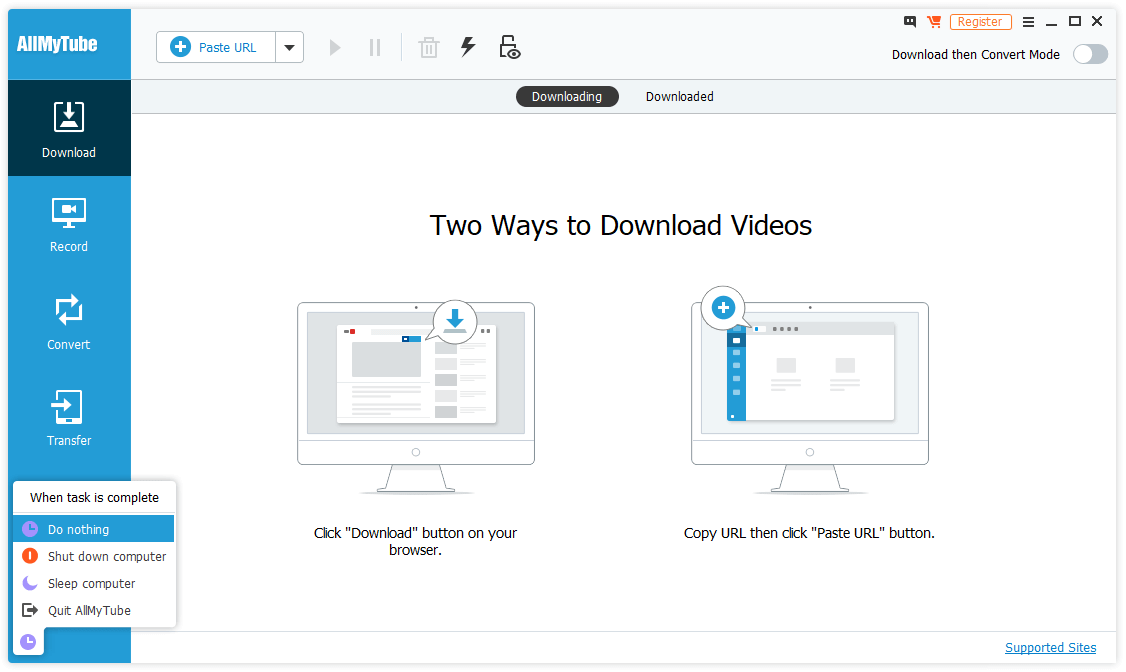 If you want to download several videos at once, you can either download playlists or copy and paste multiple URLs. You can even set the program to follow certain actions once it's finished downloading, including quitting the program and even shutting off or sleeping your computer.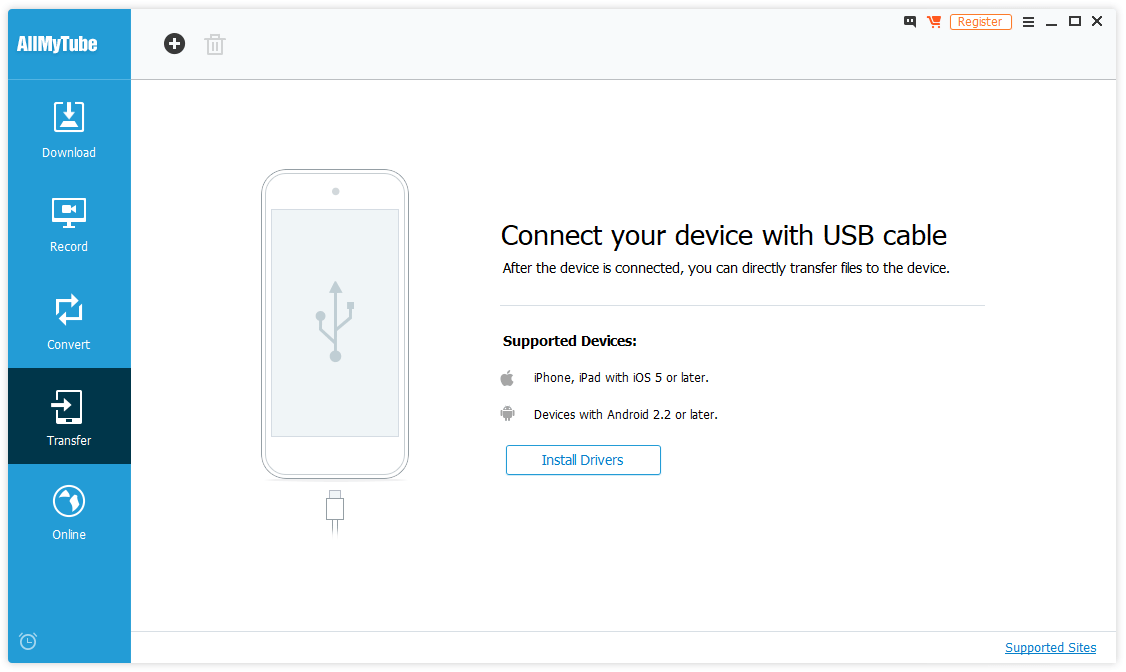 The Transfer section requires a bit more work to use, but it's fairly simple in principle. Simply connect your device, and click the 'Install Drivers' button. I'm not sure why Wondershare doesn't include drivers in the installation package, but my guess would be that it would make the download much larger in order to cover every device out there.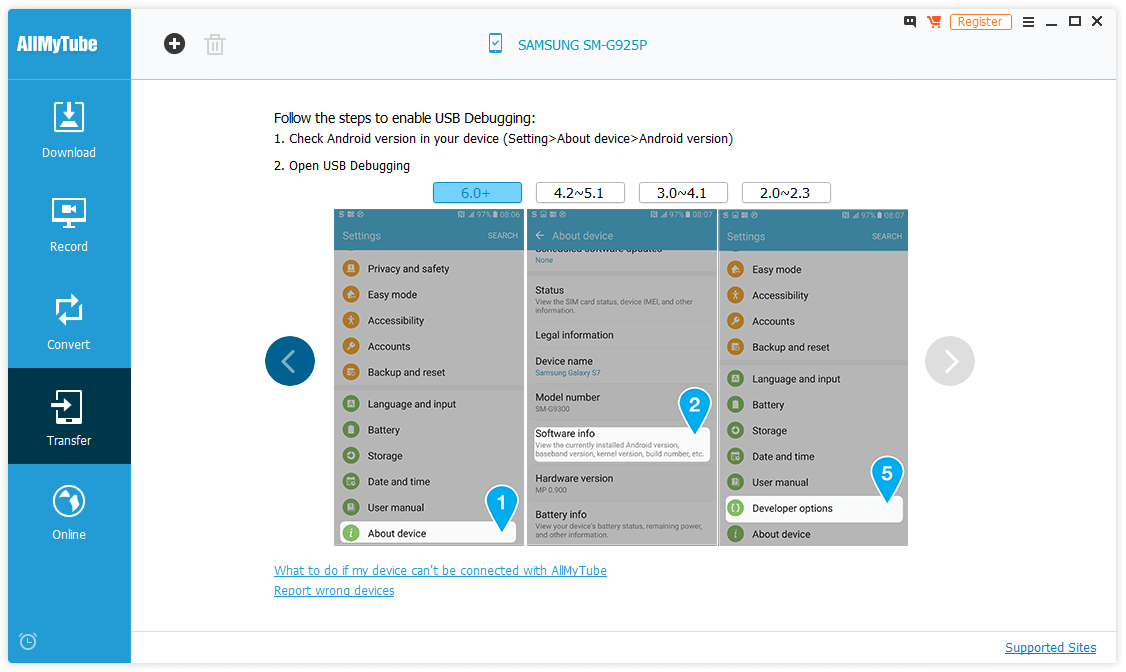 Yet for all its seeming simplicity, and despite the fact that I followed the handy step-by-step instructions displayed on the screen, I couldn't manage to make the transfer feature work properly on my desktop with my Samsung Galaxy S7 or my Asus Zenfone 2. It said that it detected a Samsung device, but the model number it lists actually refers to a Galaxy S6 Edge, which I have never owned. Amusingly enough, the link titled 'What to do if my device can't be connected with AllMyTube' actually just points to the installation file for a different Wondershare program called TunesGo.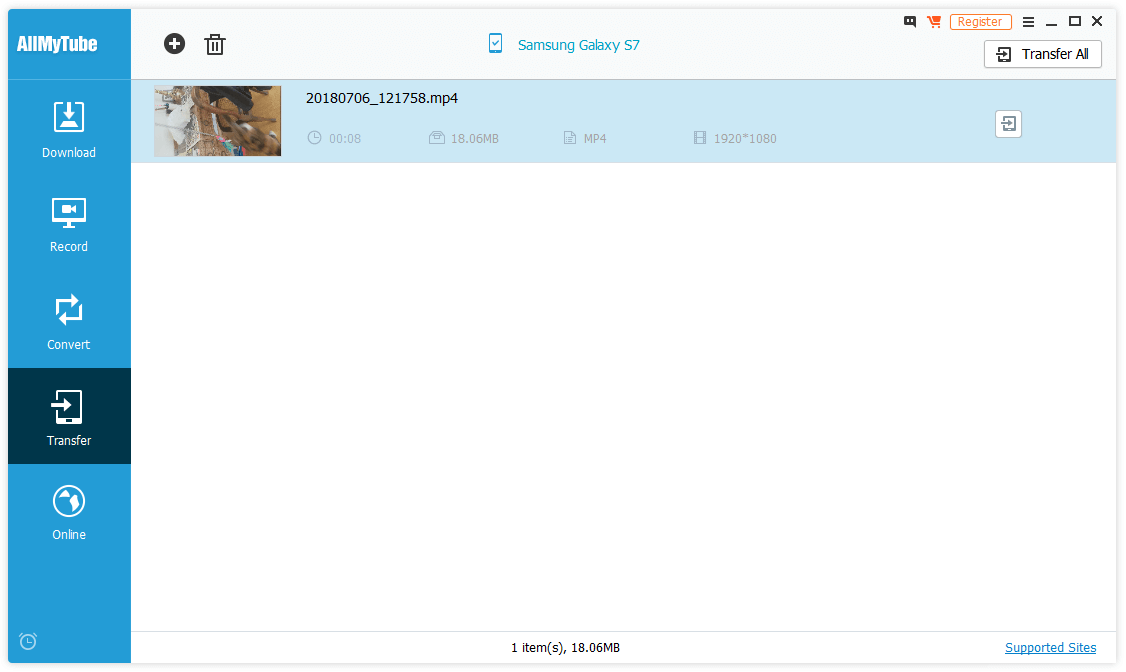 However, when I tested it using my laptop, the process worked instantly as described by the program, and I was able to transfer videos without any problems whatsoever. I'm not sure what caused this issue, but it's probably due to some bizarre driver conflict or misconfiguration on my desktop, as I have had similar problems with other programs in the past. One of these days, I'll have to track down the cause, but that will be a story for another post.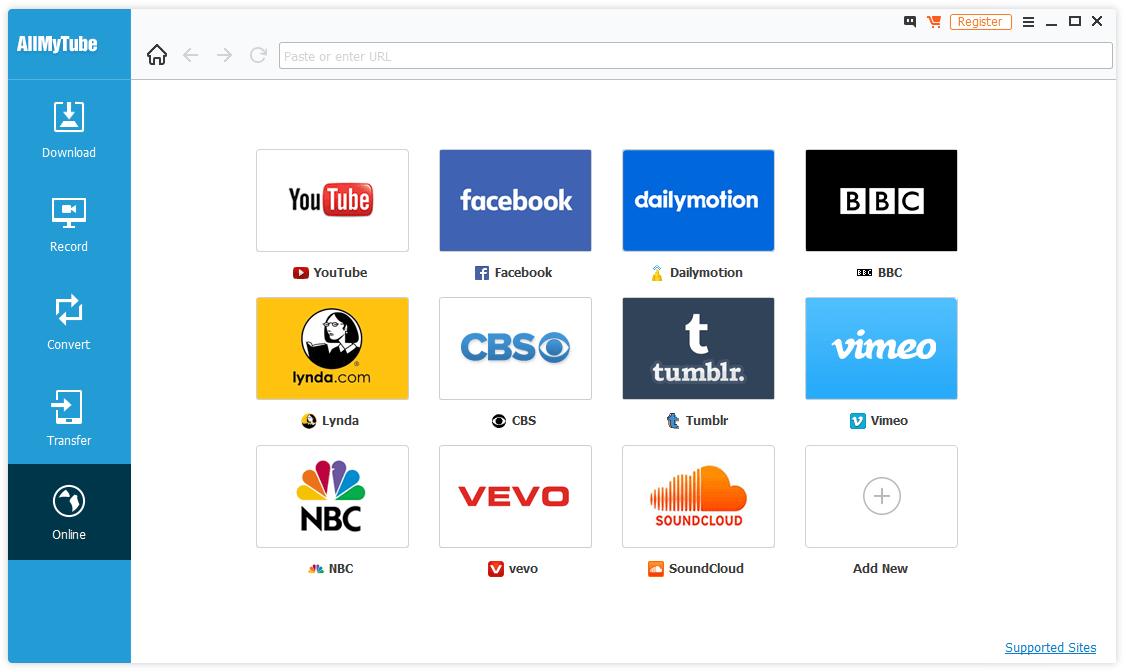 The 'Online' tab simply provides quick access to some of the more popular video streaming sites. As always, make sure that you have the correct rights and permissions before you download from a video host.
If you ever get stuck while using AllMyTube or you want a quick introduction that covers how to use all the features, Wondershare provides a decent quick start guide.
If you're not sure whether AllMyTube is right for you, you can download the trial version in order to test the functionality of the program for yourself. It's not time-limited the way most free trials are, but it is limited in terms of which functions are available and how many times you can use each, as you can see below.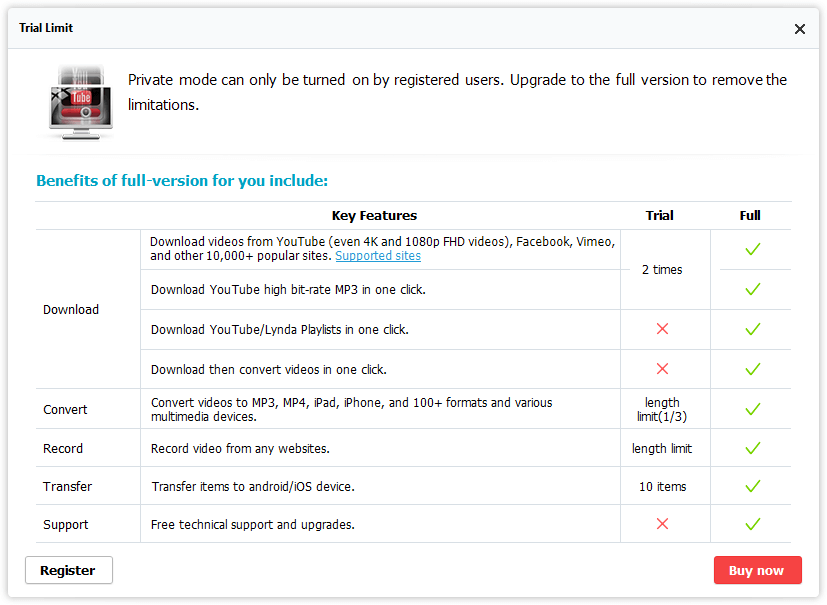 Important Note: AllMyTube really does refer to 'all' video sites – including sites that host adult content. As a result, this program is not always family/work safe, but it does offer a 'Private Mode' that hides and locks out adult content. There is no adult content directly within the program, except for some references in the 'Supported Sites' section.
Best Free Option: 4K Video Downloader
(Available for Mac/PC)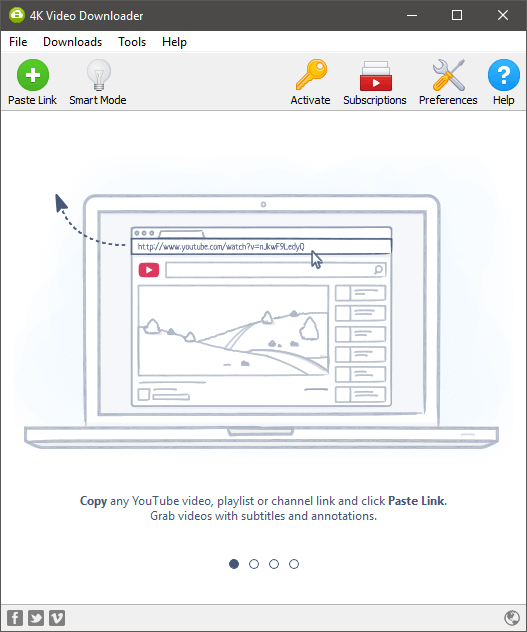 I'm not sure what it is about free software that makes developers give such basic names to their projects, but at least you can't fault them for directness. 4K Video Downloader does exactly what it says, and not much more: download videos in resolutions of up to 4K.
You can download from a variety of sources, not just Youtube, and you can set up channel subscriptions to start downloads automatically whenever a new video is uploaded to the channel.
The download process is quite simple: you simply copy the URL to the video and click the 'Paste Link' button. It reads the URL directly from the clipboard and asks you what resolution and format you want to save the clip as. You can also extract the audio as an MP3 file, if you'd prefer.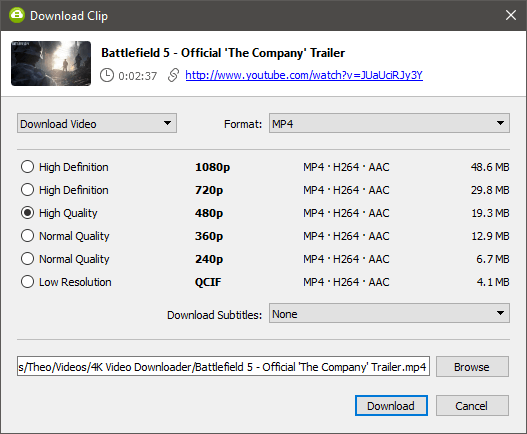 If you only ever download at one resolution and in one file format you can enable 'Smart Mode', which allows you to specify your settings once, and then every subsequent download follows those same rules.
Interestingly enough, you can also import a spreadsheet in CSV format containing a list of URLs, although if you want to download more than 25 at a time, you need to purchase a license key. This is the only way to download multiple files at once, as 4K Video Downloader doesn't support playlist downloading in the free version.
You also need to purchase a license key if you want to download subtitles along with your video clips, although the rest of the program is completely free. It almost seems like they don't want you to buy one, since if you're just browsing the website it's actually difficult to find a purchase link.
Of course, the downside to this program is that it doesn't have any conversion or transfer features, although you can save files in MP4, MKV, or 3GP format. But if you're on a tight budget and looking for a simple video downloader, 4K Video Downloader has you covered.
Best for Mac Users: Folx
Free, PRO version available (though you probably don't need it)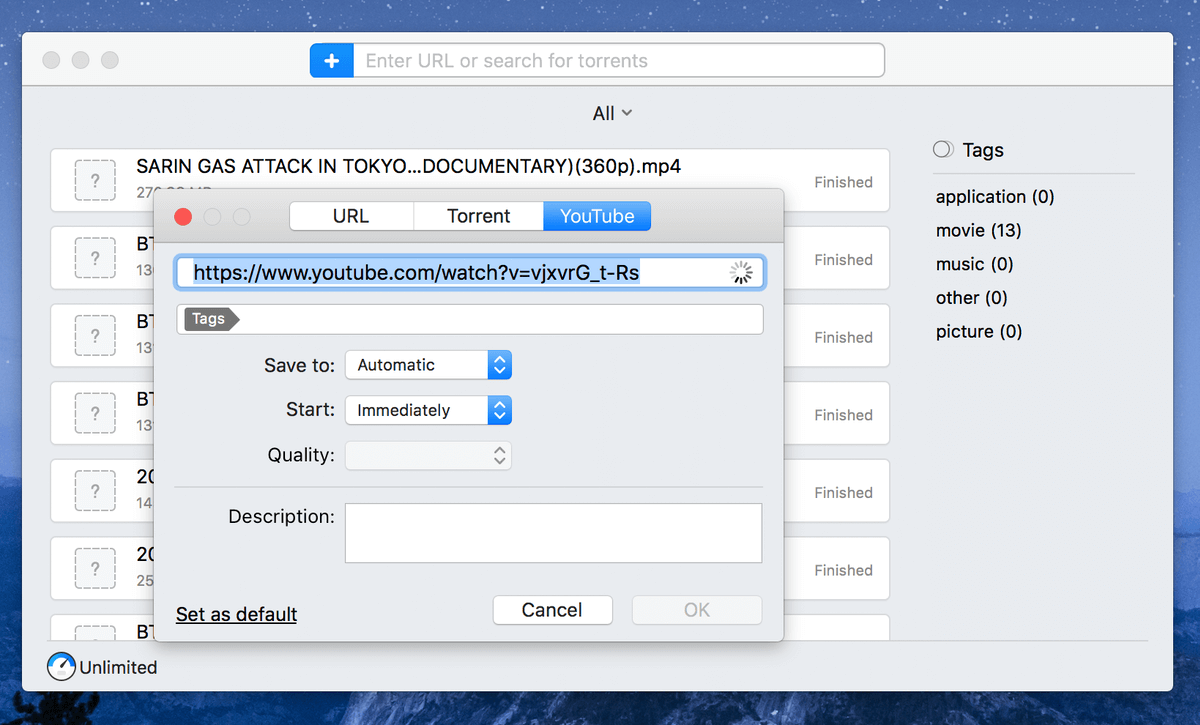 If you are looking for a pure Mac YouTube video downloader, then Folx is for you. The app has a super sleek interface that makes it extremely easy to manage your downloads.
Eltima Software, the maker of Folx, boasts that the app is "a free download manager for macOS with a true Mac-style interface" — and it certainly lives up to the claim. It's worth noting that Folx isn't 100% free because it also has a PRO version that costs $19.95, but I don't think it's worth purchasing the PRO version just to download YouTube videos (I'll explain the differences between the Free and Pro versions later on).
To get started, what I usually do is copy the URL of a YouTube video and paste it in the search bar right next to the blue "+" icon. Folx immediately detects that the video is from YouTube and a new window pops up (see the screenshot above). There you'll be able to specify the desired destination to save the downloaded video as well as to define the quality settings.
Since my goal is actually to transfer the videos to my iPhone and watch them during a commute or in the air, I usually set the video quality to be 720p or 360p as it tends to take less disk space on my device (as I'm sure you know, storage is a precious thing on iPhones). If you don't have any storage space issues, you can set the video quality to be a higher resolution if you want to play the video on your laptop or another bigger screen.
After you hit the "OK" button, Folx will start the downloading process. The download speed is blazingly fast! In my experience, it usually takes seconds to finish downloading a 100MB YouTube video — of course, it also depends on your Internet speed.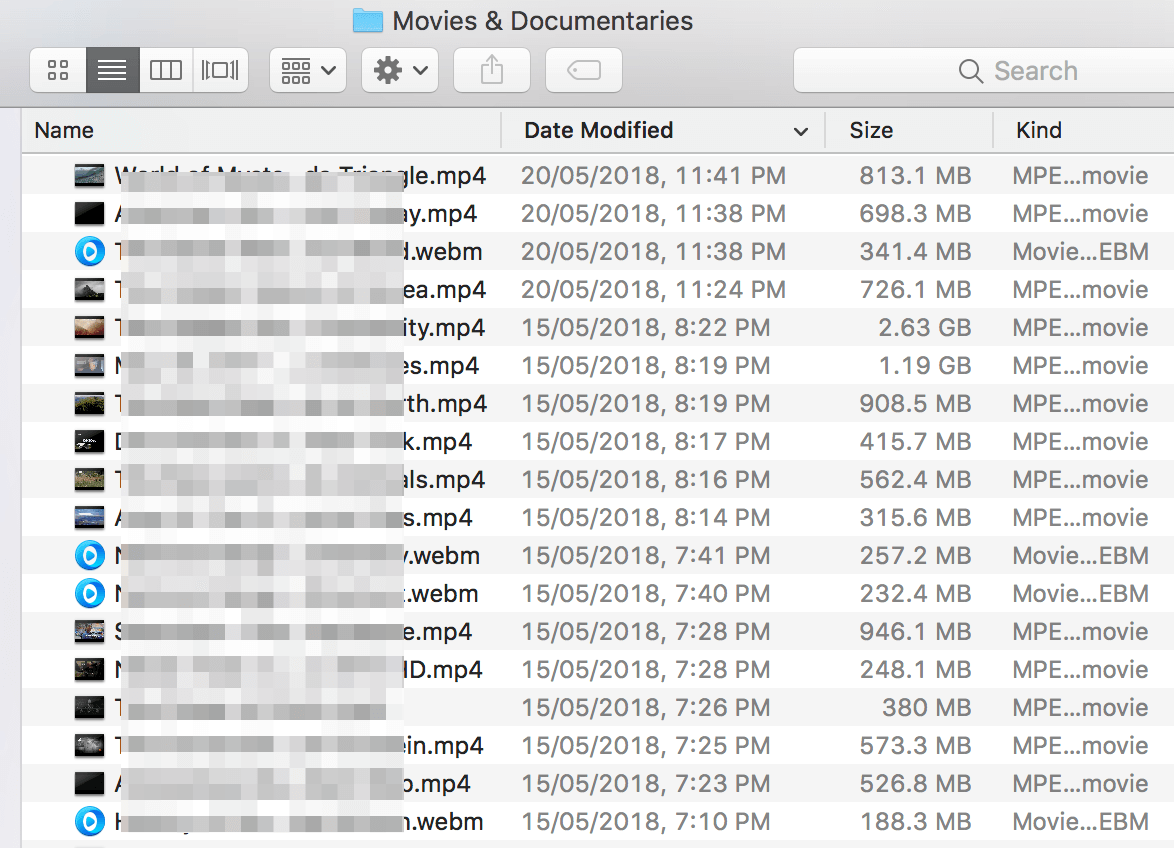 Folx also offers an extension for major web browsers (Safari, Chrome, Firefox, and Opera), making it even easier to download videos. All you have to do is install the extension in your browser, though a restart may be required. Once you come across an interesting video on YouTube, just click on the Folx browser icon and the Folx app will respond automatically.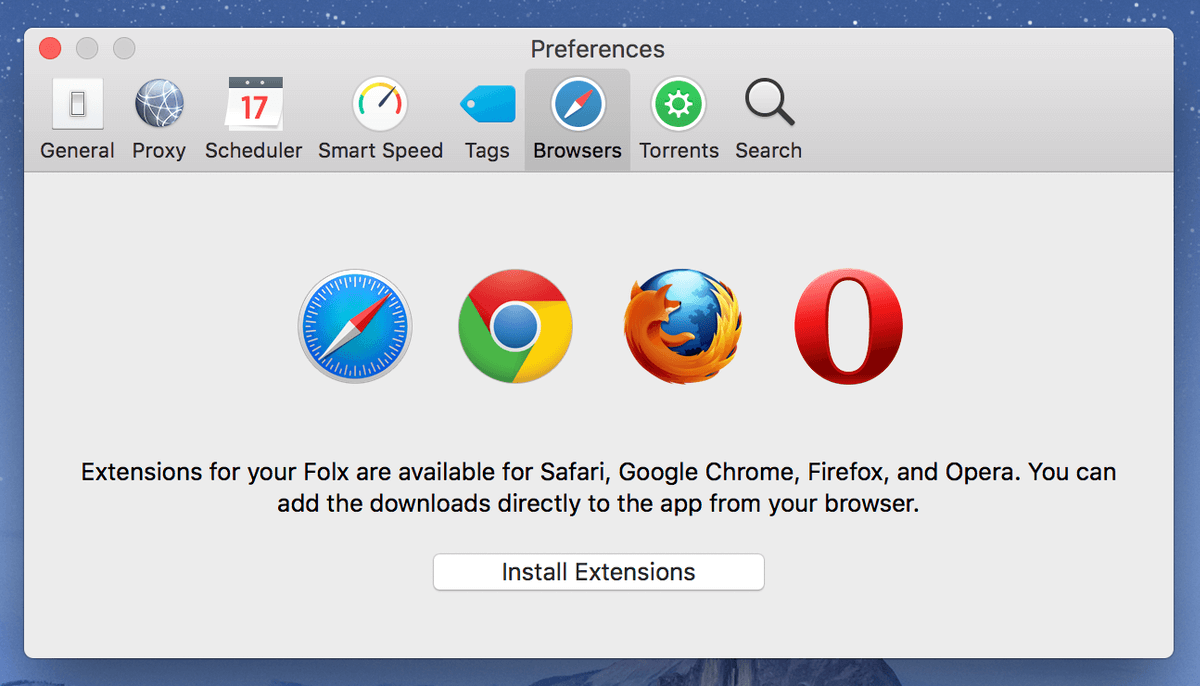 As I mentioned earlier, there's a Pro version of Folx available, but you probably don't need it. Below is a quick comparison table that shows all the differences between the two versions. Simply put, if you don't need to schedule the downloads, split them, or control the playback speed, the Free version is totally enough. Even if you decide and want to upgrade later, the app is inexpensive ($19.95) considering the value and convenience it offers.
Best Youtube Downloader: The Paid Competition
1. Airy
($19.99 for 1 computer, $39.95 for 3 computers, Mac/PC)
Airy is a very basic Youtube downloader, which makes it all the more surprising that it asks you to accept responsibility for your usage habits before allowing you to use the program.
The interface itself is as basic as possible, which is a bit refreshing compared to some of the other downloaders I reviewed. You simply paste the URL you want, choose the resolution, and click Download. You're prompted to choose a location to save the file, and that's all there is to it. I found it to be oddly slow when it came to downloading, but there could be a number of reasons for that.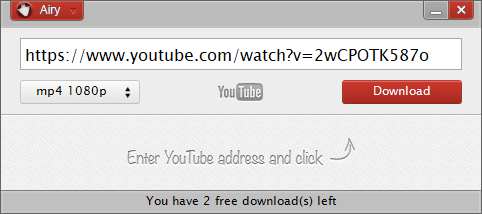 As you can see in the screenshot above, the free trial of Airy only allows you to download 2 videos before forcing you to purchase a license key. The only added feature that it has is an interesting method of browser integration which somehow uses bookmarks to simplify the process of copying and pasting the video URL. It was a simple process and worked flawlessly as a result.
Despite its charming simplicity, the lack of features keeps Airy out of the Winner's Circle. But if you want the most streamlined Youtube video downloader possible, you may find that Airy meets your needs.
($29.95 for Mac, $49.95 for PC)
I haven't tested the Mac version of this software, so I can't speak to why it's so much cheaper than the Windows version, but I assume it's related to the features that are available (JP has confirmed this, after testing it on his MacBook Pro).
The Windows version does have several features that aren't mentioned in the feature list of the Mac version, and it falls short of the Winner's Circle partly because of this difference and partly because of its extreme complexity. It required the installation of a number of additional drivers, virtual devices and the adjustment of firewall rules just to make it through the setup process, which is definitely excessive for a Youtube video downloader.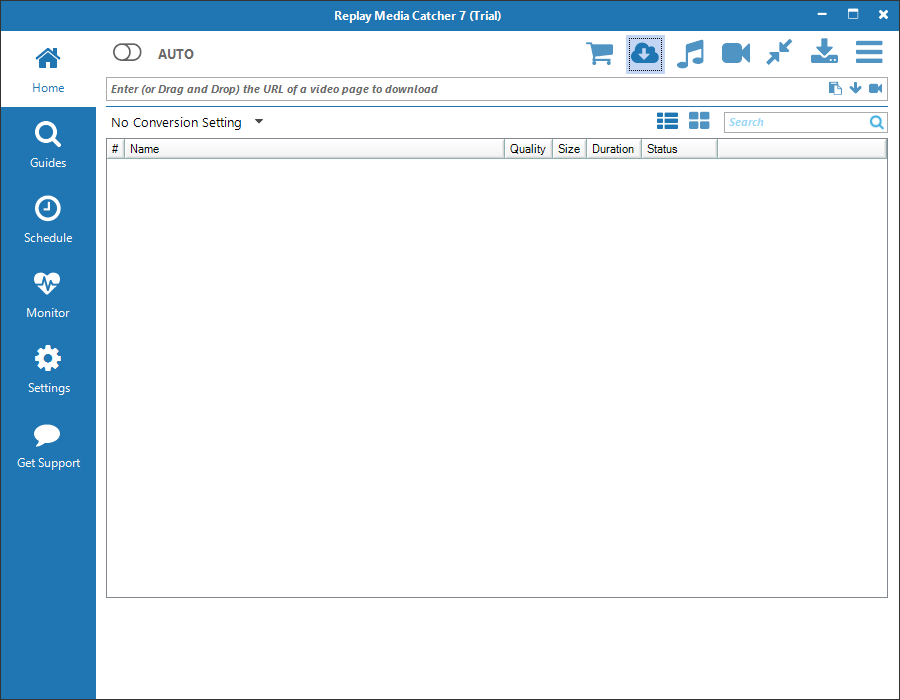 The interface seems simple at first, but the rest of the functionality of the program strikes me as overly complicated. It provides the functionality for recording Youtube videos as well as a number of other video services and also offers a feature it refers to as a digital video recorder or DVR for streaming services such as Netflix, Prime Video and Hulu.
However, the DVR would not work for me when using the URL copy and paste method, and the alternative requires providing login credentials through the program, which I'm not comfortable with – especially when these services all provide their own 'Download' features that are entirely legal and within their respective Terms of Service.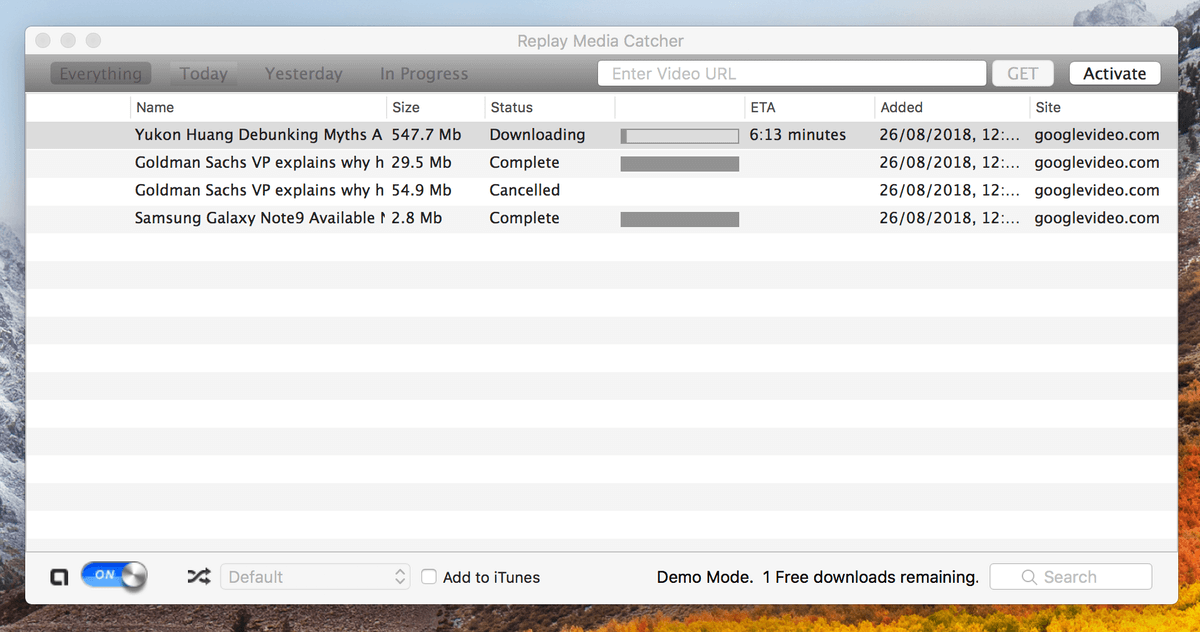 If you're comfortable working with complex programs and looking for a powerful digital video recorder this might appeal to you, but it's definitely going to take a bit of time to learn how to use it. There are other programs that provide similar functionality in a simpler and more user-friendly package, and casual users would probably be better off with one of our recommended apps.
3. Downie
(Mac only, Free trial available, $19.99 to buy, 10% off coupon code: SOFTWAREHOW10)
Downie is another great YouTube video downloader for Mac users. It tied neck-to-neck with Folx and I almost selected it as one of the winners, but the one thing that held me back is that it doesn't let you specify video format. It's not a big problem most of the time as the default format is .mp4.
But I came across several times when the videos were actually in WebM format, which can't be played on my iPhone unless I convert them into MP4 — that's an extra step and hassle too. That said, Downie is a beautifully designed app with incredibly sleek interfaces and the download speed is fast.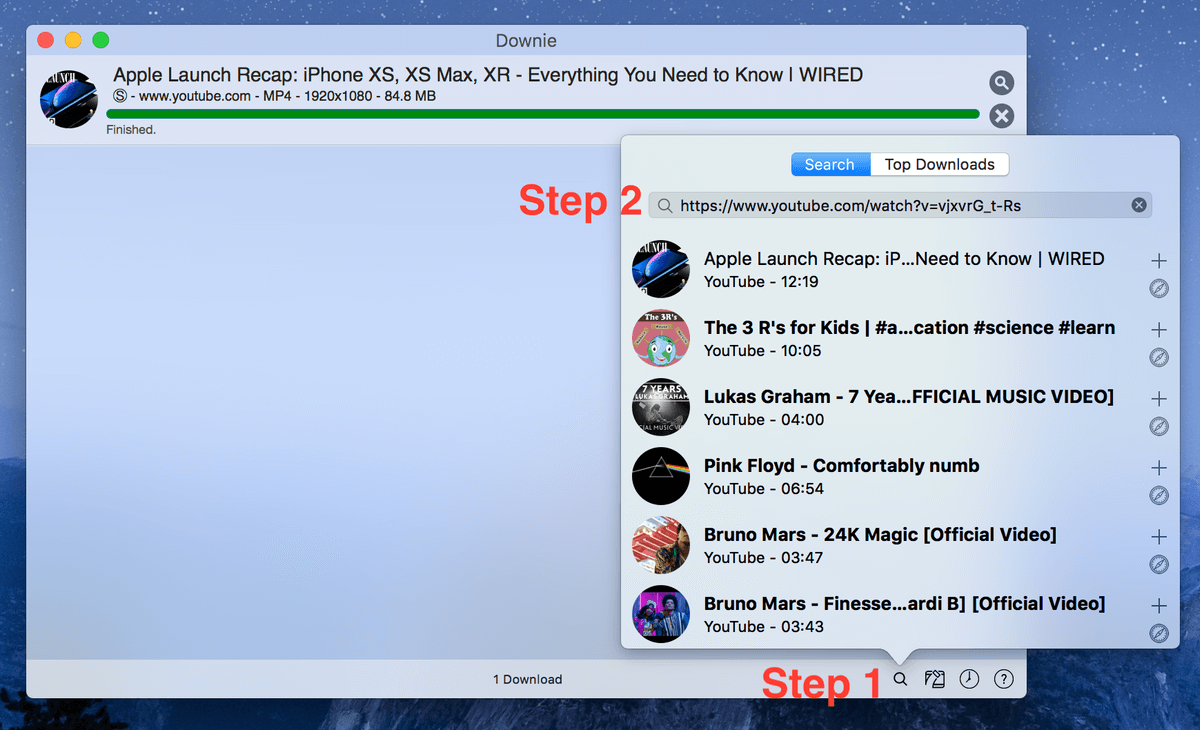 Once you download and install the app on your Mac. Launch it, you'll see the main interface like this. Getting started, click on the search icon located at the bottom right corner, then paste the YouTube video URL, and hit the "+" symbol to start downloading. In my case, it took the app less than 10 seconds to complete downloading the Apple Launch Recap video from WIRED.
Pay attention to the resolution, it's 1920×1080 (Full HD)! In my opinion, it's too clear to be played on the small screen on my iPhone. If Downie allowed me to define the resolution, that would be perfect and I have no problem switching to the app for my YouTube download needs.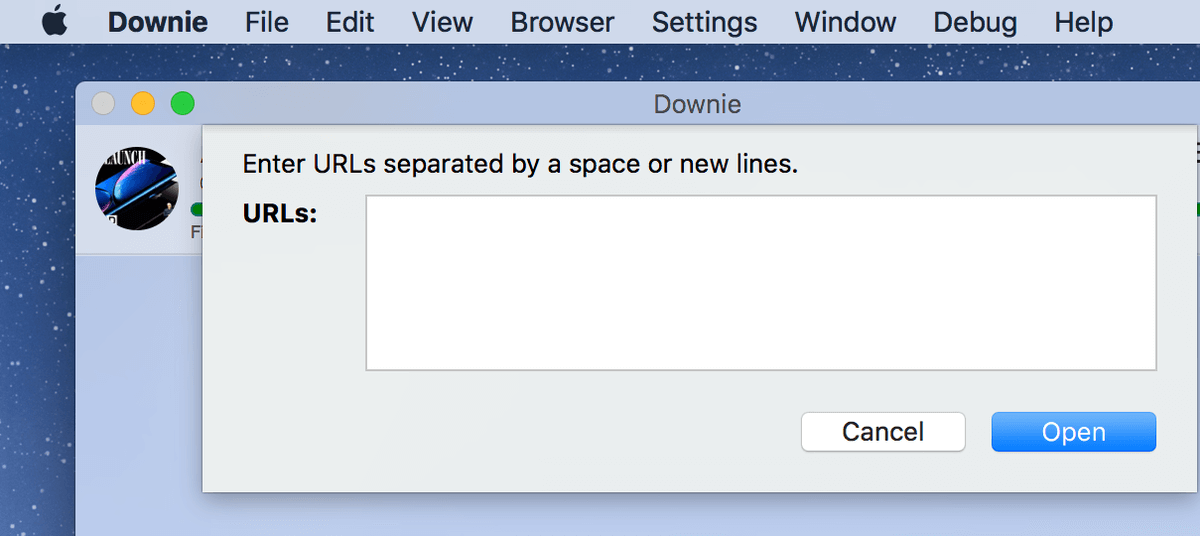 One thing I especially like Downie (and that Folx doesn't offer) is the batch download feature — you can enter multiple video URLs into Downie and download the videos all at once. This saves you time without you manually copying and pasting one by one, which gets tedious fast.
Read our full Downie review here.
4. Leawo Youtube Downloader
($29.95 1 year license, $39.95 lifetime license, Mac/PC)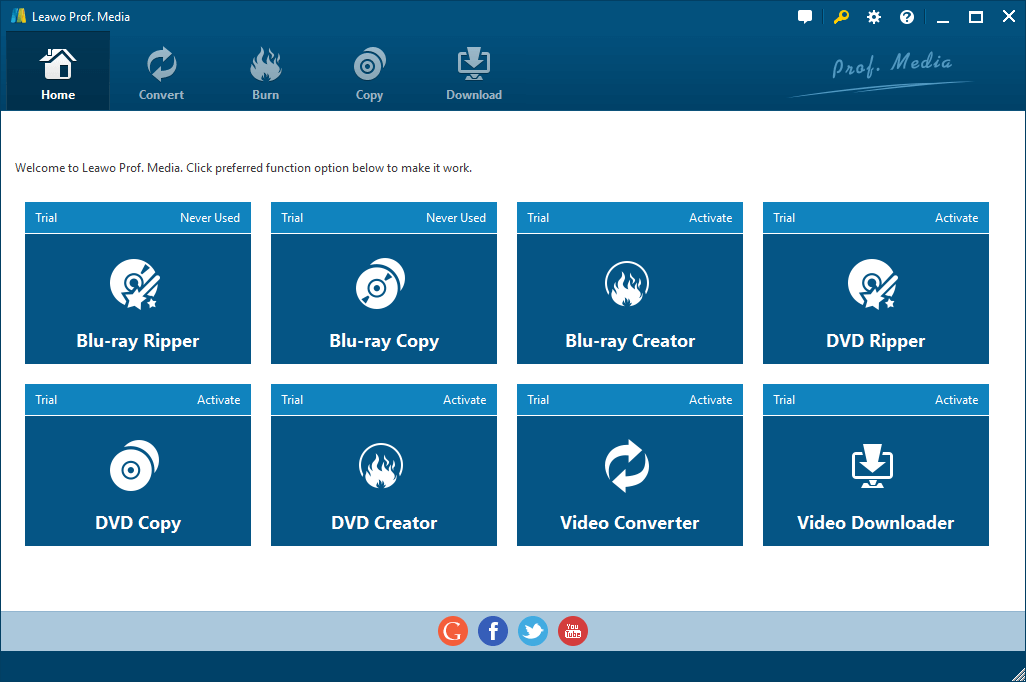 I discovered once I had downloaded the program that Leawo was being somewhat misleading about exactly what it was that I was installing. The page I downloaded from indicated that I was getting just the Youtube Downloader, but it actually downloaded Leawo's full media program called 'Leawo Prof. Media'. This program seems to act as a hub to connect a range of 8 different feature programs, although I only wanted one.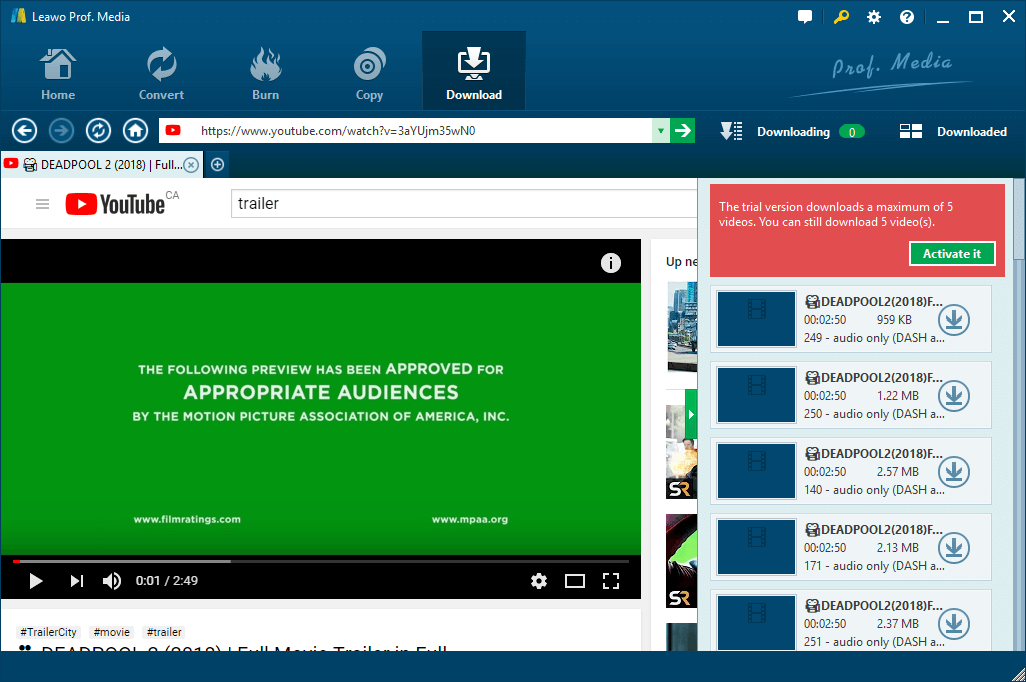 This is sort of a shame, because in some ways it's a good program – it has a wide range of features with a nice built-in browser for the Youtube downloading feature. It can download from a number of different video hosts, but the user interface can be quite frustrating.
As you can see above, it's difficult to differentiate between the different files and settings it offers for download. In some cases, you can't even read all of the information that it's providing for you, and there's no way to adjust the size of the file selection panel. The version I actually wanted – 1080p MP4 video with audio, the most common format – is unhelpfully located at the bottom of the list for no good reason.
With a bit more work on the interface (and a website that clearly communicates what program you're actually downloading) this program could be a real contender. But for now, you're better off with a more user-friendly choice.
5. Xilisoft Youtube Video Converter
($29.95, on "sale" for $17.97, Mac/PC)
Xilisoft follows the trend of developers who don't bother to give their software creative names, but a simple name describes a simple program. You can download videos from Youtube, but no other video hosts are supported. You can download in any resolution, but you can't download playlists or batches of videos all at once. You can add multiple files to download, but you can't control their order or priority.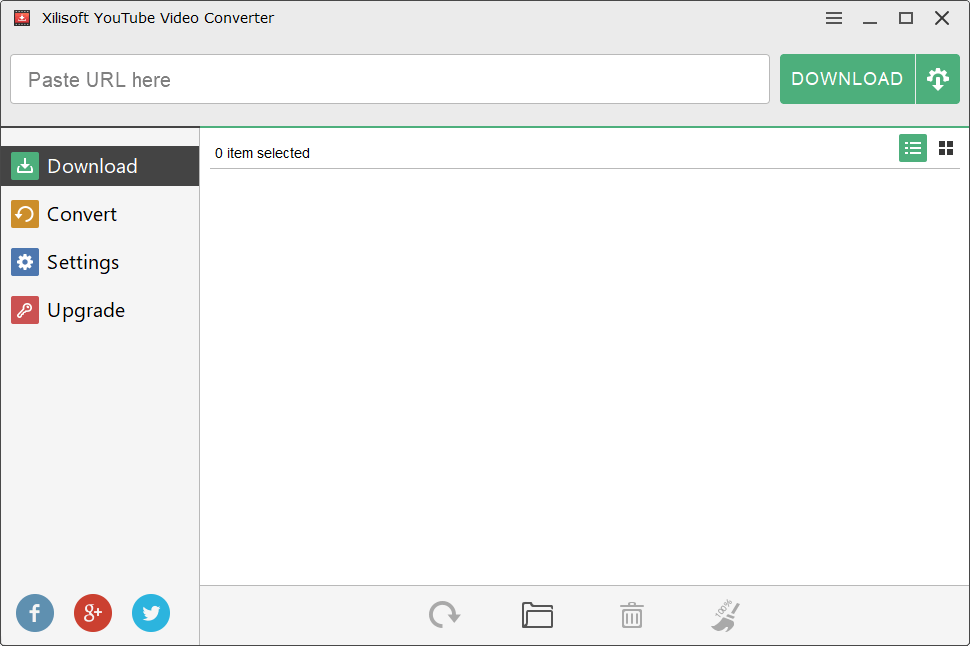 The only part of the program that isn't qualified with a 'but you can't' is the conversion aspect, which is well done and allows you to convert videos into a range of formats complete with device-specific profiles to make conversion a breeze. However, this feels like the only aspect of the program that is fully realized, so if you're going to spend money on a video converter you're better off with our Winner's Circle pick.
Free Youtube Video Downloader Software
A Quick Note About "Free" Software: Some developers who release software for free are interested in contributing to the open source community, but there are still quite a few who release 'free' software that makes money in other ways (such as showing ads). Some developers make deals with unscrupulous companies that bundle adware into their software, and it can be a huge headache to remove once it's been installed. I ran into several programs during the review process that attempted to install unwanted programs (which immediately disqualified them) so the list is a bit shorter than I'd like. None of the programs listed here have third-party software bundled in as of the time of writing this review, but developers often change their money-making strategies. Always keep your antivirus and antimalware software up to date!
Youtube Downloader HD (Mac/PC/Linux)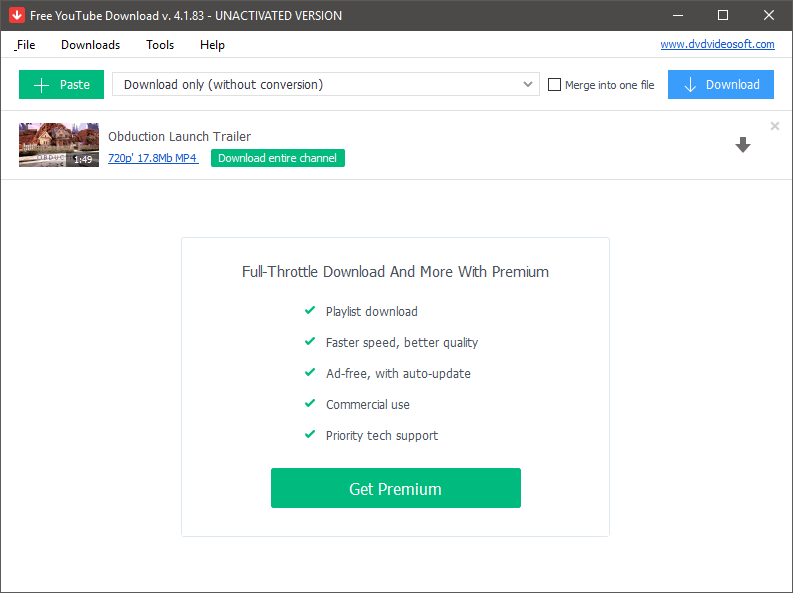 This free downloader comes with a number of restrictions, but it still does the basic job of a Youtube video downloader. You can download videos in 720p HD resolution, but not much else. As a result, the program is extremely simple to use, which is a big point in its favor, but you're constantly reminded of what you could be getting if you were using a 'Premium' subscription. A full set of resolution options, batch downloading, file format conversions – all of these are restricted in the free version of the software.
But if you only want to download a few videos, and you don't mind the 720p quality restriction, then this might do the job for you – but I still think you'll be better off with one of our recommended apps.
WinX Youtube Downloader (PC only)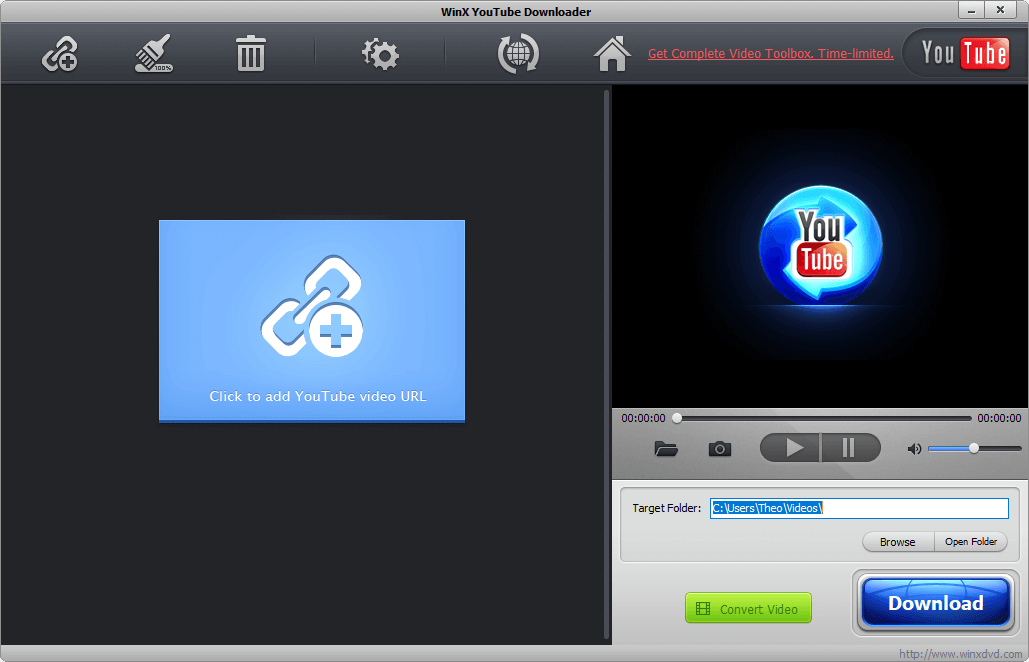 Despite the outdated interface design style, WinX is a decent Youtube downloader for Windows users. It allows you to download videos from a range of video hosting sites in addition to Youtube, and you can queue up a number of downloads and process them all at once. However, the 'Convert Video' button is actually a link that takes you to the developer's website, hoping that you'll buy their Complete Video Toolbox program.
Once you've pasted in your video URL, WinX analyzes the video and provides a range of possible download options. This process was quite slow the first time I used it, and there doesn't seem to be a good reason for the slow response when other programs are quite fast at the same task.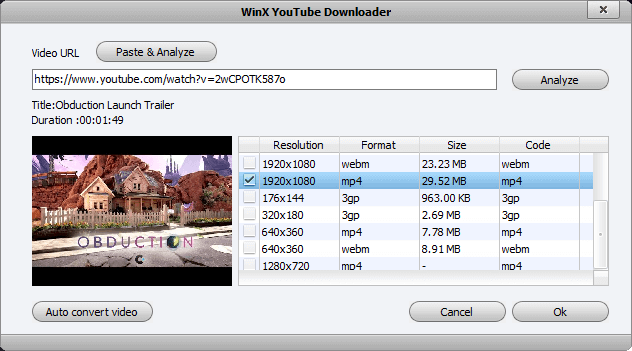 Overall, there's nothing really wrong with this program aside from the fact that it's a bit slower than some of the other options. With a bit more interface work and some speed optimizations, it could be a contender for the title of Best Free Youtube Downloader, but our current pick in that category is still a better option at the moment.
Xilisoft Youtube Video Converter (Mac/PC)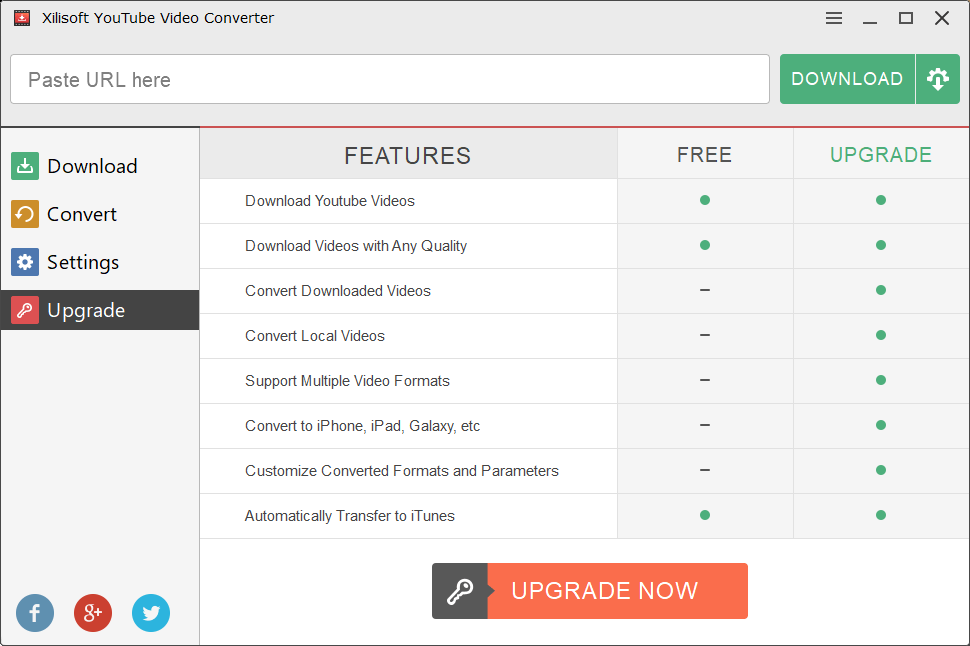 No, don't worry, you're not seeing double – this is a second entry in the list. If you liked the look of the paid version above but don't have the budget, there is a free version available that has a more limited featureset, as you can see below. If you're looking for a basic, easy-to-use video downloader then this might be enough for you, but both of our Winner's Circle programs are better choices, whether you want a free program or not.
How We Tested These Youtube Downloader Apps
In order to differentiate between the huge number of Youtube downloaders out there, we developed a few criteria that all the best download software would have. Here's the list of questions we asked when reviewing each program:
Does it offer a range of quality options?
There's a wide range of quality out there in the world of digital video, and online streaming is no exception. While it's still not quite standard to find 1080p videos everywhere due to bandwidth considerations, they are out there – but many people are pushing the envelope even further.
While it creates extremely large files, 4K video is the best quality currently available for the general consumer, and Youtube does provide a 4K quality option for certain content. The best video downloaders will allow you to choose what resolution you'd like, including the option to download content in the very best quality available.
(As a technical exercise, there are some pieces of Youtube content available in 8K, but as there are very few 8K-capable screens available to the general public, it's sort of pointless to focus on them at this point)
Can it automatically download entire playlists?
If you're just downloading a single video, then doing everything manually won't be a problem. But if you've found a bunch of different videos to save, you'll probably want the ability to automate this.
Fortunately, Youtube has long had the ability to create your own video playlists, and the best downloader apps will allow you to use this feature to your advantage and save yourself time by downloading entire playlists automatically.
Does it offer video conversion natively within the app?
There is a wide range of different video file formats, and not all devices can play all formats. Depending on how you're planning to use your saved videos, you may need to convert them into a different file format.
You can use a video editing program or a dedicated video converter to handle this stage, but it's a lot faster and more convenient to do your file conversions directly within your downloader app. The best downloaders will allow you to convert to popular video formats designed for compatibility with a wide range of devices.
Does it have a browser extension available for quick downloading while browsing?
You may not be in 'download ALL the things' mode when you find something you want to save but just scroll through your favorite sites using your web browser. If you stumble across a video you want while browsing, it's more convenient to have a browser extension installed that allows you to save videos without a big interruption. Not all downloaders offer this functionality, but it's a nice extra.
Is it limited to just Youtube, or can it download from multiple different sites?
While Youtube is definitely the largest and most popular video streaming site, it's far from the only one. Vimeo, DailyMotion, and even social sites like Facebook and Instagram have a great deal of video content. The best downloaders will be flexible enough to save videos from a wide variety of content sources, and the very best will be able to do it automatically.
Is it easy to use?
Last but definitely not least comes user-friendliness. Saving video files and converting them between formats is second nature to some of us, but not everyone who wants to download videos is a computer expert. The best Youtube video downloaders should be easy to use and provide some kind of tutorial or knowledgebase to help their users with any questions they may have.
A Final Word
Digital video is everywhere online today, and with the right YouTube downloader app, you can bring the online video world to your hard drive and all your mobile devices. You can enjoy videos on your own terms, or turn yourself from a video watcher into a video creator by adding a good video editor into the mix.
Just remember – be careful to follow all your applicable local laws and the Terms of Service agreements for all the sites and files you access. We are not responsible for your actions, only you are!