If you're a gamer, your wifi connection is critical. You may have an ethernet connection for your central gaming location. However, sometimes you need to move to another part of the house, or you don't have a wired connection available—and that means you use wifi.
Wifi technology has advanced to the point where you can game reliably over a wireless connection. The key is to find an adapter fast enough to keep you from experiencing lag or buffering. The adapter you choose also needs enough range to provide a steady and reliable signal.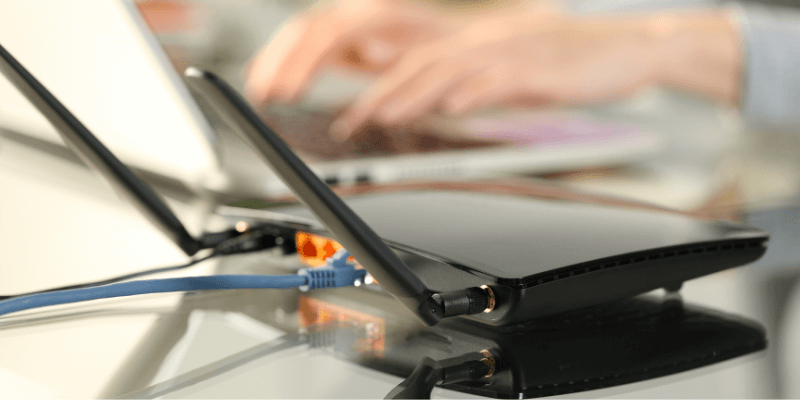 In this roundup, we look at the best wifi adapters for gaming. Looking for spoilers? Here's a quick summary:
If you're looking for speed, speed, and more speed, our Top Pick is the ASUS PCE-AC88 AC3100. This hardware will keep your desktop moving as fast as possible.
The Trendnet AC1900 is our pick for the Best USB WiFi adapter. It's a fast yet versatile adapter. It's great for desktop or laptop computers. It has a superb range. And because it is a USB, you can just unplug it from one computer and plug it into another, providing top gaming performance in a portable package.
The Best Gaming WiFi Adapter for Laptops is the Netgear Nighthawk AC1900. It's a super-powerful USB and is feature-rich while remaining extremely portable. Fold it up, put it in your pocket, and take it with you for gaming on the go.
Why Trust Me for This Buying Guide?
Hi, my name is Eric. I've been working with computers and hardware since I was a kid. When I'm not writing, I work as a software engineer. I've also worked as an electrical and communications engineer. I have always loved building computers and packing in the best hardware available.
Over the years, I've learned how to research and evaluate computer components to identify the most suitable hardware for a particular need. It's something I enjoy doing. Using my expertise to help others makes it that much more satisfying.
As for gaming, I've enjoyed a variety of them since I first got involved in computers. It's something that drew me to them in the first place. The computer games that I started out playing years ago were nothing like what we have today. They were simple and required no internet connection. Still, they kept me interested in computers and helped me understand the tech necessary to play the intense online games we have today.
Who Should Get a WiFi Adapter for Gaming
Nowadays, most computers come with wifi either built into the motherboard or as a PCIe card. So why would you need a wifi adapter? Sometimes the built-in wifi that comes with a new computer is not that good. Computer manufacturers often use lower quality, cheaper interfaces.
Some computers, especially desktops, may not come with wifi. It may be assumed that the user will be plugging into a network instead of using wireless. Let's say you have an older computer with a fast processor, plenty of memory, and tons of disk space—yet it's still slow, and you don't know why.
You may have an awesome machine, but your old or cheap wifi card may be slowing you down. The solution? A new wifi adapter might really improve your online gaming experience.
While a hard-wired connection is still the fastest and most reliable solution for playing online games, sometimes you need to be mobile. In that case, a USB adapter is what you're looking for.
Best WiFi Adapter for Gaming: The Winners
Top Pick: ASUS PCE-AC88 AC3100
If you are a serious gamer, do your gaming on a desktop computer, and don't have an ethernet connection available, the ASUS PCE-AC88 AC3100 is the best adapter on the market. It provides some of the fastest speeds possible and has the range to connect from anywhere in your home. The specs:
802.11ac wireless protocol
Dual-band supports both 5GHz and 2.4GHz bands
Its NitroQAM™ provides speeds of up to 2100Mbps on the 5GHz band as well as 1000Mbps on the 2.4GHz band
The first-ever 4 x 4 MU-MIMO adapter provides 4 transmit and 4 receive antennas to deliver speed and an incredible range
Customized heat sync keeps it cool for stability and reliability
Magnetized antenna base with extension cable gives you the flexibility to place your antenna in an optimal location for the strongest possible reception
Individual antennas can attach directly to the PCIe card if a more compact setup is desired
R-SMA antenna connectors provide the ability to connect aftermarket antennas
AiRadar beamforming support gives you greater signal strength at farther distances
Support for Windows 7 and Windows 10
Stream video or play online games with no interruption
This ASUS is one of the fastest and most powerful wifi adapters that you can find. Its 5GHz band speed is blazing; even the 2.4GHz band speed is unheard of. This card will definitely keep up with any online gaming that you are taking part in. It'll also let you do that from almost anywhere in your home or office without the need to be physically plugged in.
Its heat sync ensures the device will stay cool when you're in an all-important head-to-head match. The magnetized antenna base attaches the antennas to surfaces away from your computer for a stronger signal.
But is it perfect? Not quite. It's a PCIe card, so you can only use it with a desktop computer. You'll have to take the cover off of your computer to install the PCE-AC88. Some of us may be comfortable with that, but some might seek a professional to get the device working.
Asus's AC3100 also does not support Macs. If you're looking for something that will keep you gaming on a laptop or a Mac, take a look at our next two choices—they are top performers as well.
Best USB: Trendnet TEW-809UB AC1900
The Trendnet TEW-809UB AC1900 is a versatile, yet high-performance wifi device for desktop, laptop, PC, or Mac. While its speed is not quite as insane as our Top Pick, it's the fastest USB adapter money can buy.
Take a look under the hood:
Uses 802.11ac wireless protocol
The dual-band capability can operate on 2.4GHz or 5GHz bands
Get speeds of up to 600Mbps on 2.4GHz band and 1300Mbps on the 5GHz band
Uses USB 3.0 to take advantage of the high speed
High powered radio for strong reception
4 large high gain antennas provide increased coverage so you can pick up signals in those difficult places in your home or office
The antennas are removable
Included 3 ft. USB cable gives you more options of where to place the adapter for better performance
Beamforming technology helps provide maximum signal strength
Compatible with Windows and Mac operating systems
Plug-n-play setup. The included guide gets you set up and going in minutes
Performance that will support gaming video conferencing and 4K HD video
3-year manufacturer's warranty
The Trendnet's four antennas provide range and signal strength to compete with any other wifi device. Its included 3ft. cable gives you the option to place the device away from your machine for optimal performance.
This adapter can be used on almost any computer system. No need to take the cover off your computer—simply plug it in, follow the instructions, and you are ready to play. The 3-year manufacturer's warranty is outstanding for this type of device, ensuring years of uninterrupted online game time.
The only downside to this adapter is that it's a bit bulky, especially if you're using a laptop on the go. Some may be put off by its spider-like appearance, but others might think it looks cool. Either way, it performs like a champ. There's no doubt it will enhance your gaming experience.
Best for Laptops: Netgear Nighthawk AC1900
The Netgear Nighthawk AC1900 is an amazing adapter in a relatively small package. Its speed, long-range capability, and reliability make it our pick as Best For Laptops. It's designed for portability, but it'll work just as well with a desktop computer as with a laptop.
Here's what you can expect from the Nighthawk AC1900:
Uses 802.11ac wireless protocol
The dual-band wifi lets you connect to 2.4GHz or 5GHz bands
Capable of speeds up to 600Mbps on 2.4GHz and 1300Mbps on 5GHz
USB 3.0 and compatible with USB 2.0
Beamforming boosts speed, reliability, and range
Four high-gain antennas create a superior range
3×4 MIMO gives you more bandwidth capacity when downloading and uploading data
Folding antenna can adjust for better reception
Compatible with both PC and Mac. Microsoft Windows 7,8,10, (32/64-bit), Mac OS X 10.8.3 or later
Works with any router
Cable and magnetic cradle allow you to set the adapter in different locations
Great for both laptops and desktops
Stream video uninterrupted or play online games without issues
Use WPS to securely connect to your network
Netgear Genie software assists you in set up, configuration, and connection
This wifi plugin has all the features of our other top picks. It's fast, dual-band, USB 3.0, and uses beamforming and MU-MIMO technology. The Nighthawk is the perfect way to connect your laptop for gaming. If you're mobile, its folding antenna makes it easy to store the device in a bag or even your pocket.
It's Mac or PC compatible. Helpfully, it comes with Netgear Genie software to set up, configure, and manage your connection. It also has WPS to get you connected quickly, allowing you to jump into your favorite online game.
There's not a lot to complain about with this one. It can be somewhat cumbersome when the antenna is extended, making it a little difficult to move around. It comes with a cable and a cradle so you can extend the device a distance from your computer if you wish. Overall, the Nighthawk is a quality plugin that will provide you with everything you need to game on the go or at home.
Best WiFi Adapter for Gaming: The Competition
Looking for alternatives? If our top three picks don't cover your particular need, take a look at some of these other top-tier options for a gaming wifi adapter.
1. Ubit AX200
The Ubit AX200 is another PCIe card, and it's built to be fast. On the 5GHz band, it can get up to 2402Mbps using the newest WiFi 6 technology. With this type of speed, you shouldn't ever have to worry about lag time while playing your favorite online games. The AX200 provides plenty of other features as well:
Latest WiFi 6 802.11ax protocol
Dual-band provides both 2.4GHz and 5GHz bands
Speeds of 2402Gbs (5GHz) and 574Gbs (2.4GHz)
Newest WiFi 6 features such as OFDMA, 1024QAM, Target Wake Time (TWT), and spatial reuse
Card also gives you 5.1 Bluetooth for the fastest way to connect to your Bluetooth devices
Advanced 64-bit and 128-bit WEP, TKIP, 128-bit AES-CCMP, 256-bit AES-GCMP encryption provide the ultimate in security
This is a high-performance card that can keep up with just about any multimedia tasks—including the most resource-intensive online gaming. Since it is a PCIe adapter, you will need to use it with a desktop system, and it only has support for Windows 10. If you are a PC user, you may consider taking advantage of this lightning-fast card.
It also requires an AX router to get to full throttle. Even if you do not have one, you may still see significant improvement in your wireless connection due to its 8-2.11ax protocol.
The Ubit only has a 2 x 2 antenna setup. That might seem like a downside, but it still provides immense coverage due to the use of beamforming. This card also utilizes 5.1 Bluetooth, which transfers data at 24Mbs. That's twice as fast as previous versions.
While this flashy adapter has truly impressive speed and a megaton of features, it's not a longtime trusted name brand such as Asus or Netgear. That means we don't have a lot of data on its reliability. The cost of this one is much lower than our top pick, so it might be worth the risk if you have a router that supports 802.11ax.
The ASUS USB-AC68 looks like some type of hybrid windmill with only two blades. While it's not powered by the wind, it is packed full of power. This USB adapter from Asus works wonders on laptops or desktops. Its speed and range make it a top competitor, not to mention its other features:
Uses 802.11ac wireless protocol
Dual-band provides both 2.4GHz and 5GHz bands
Speeds of up to 600Mbps (2.4GHz) and 1300Mbps (5GHz)
3×4 MIMO design
Dual 3-position external antennas
Dual internal antennas
ASUS AiRadar beamforming technology
USB 3.0
Included cradle lets you place it separately from your desktop
Antennas can be folded for portability
Supports Mac OS and Windows OS
This is the second Asus product on our list, which is no surprise. Asus has been a leader in wireless products for a while now. I currently own an Asus router, and I'm very happy with the performance that it provides.
The USB-AC68 has only 2 antennas. Its extension cable is a little short, which prevents you from placing the unit too far from your system (sometimes placement is crucial for getting the best signal). The cable issue can be solved by using your own longer cable. As for the antennas, their position is still adjustable. This product has exceptional reception and range; it's easily comparable to the others on our list.
With this unit, you get a versatile, mobile adapter from a brand name that you can trust.
As good as the Nighthawk AC1900 is, there are still products like the TP-Link AC1900 on its heels. This adapter matches the Nighthawk in almost every category, such as speed, range, and technology features. Let's see what it has to offer.
Uses 802.11ac wireless protocol
The Dual-band capability gives you 2.4GHz and 5GHz bands
Speeds of up to 600Mbps on 2.4GHz and 1300Mbps on the 5GHz band
The high gain antenna ensures superior range and stability
Beamforming technology provides targeted and efficient wifi connections
USB 3.0 provides the fastest possible speeds between the unit and your computer
2-year unlimited warranty
Stream video or play games with no buffering or lag
Compatible with Mac OS X (10.12-10.8), Windows 10/8.1/8/7/XP (32 and 64-bit)
WPS button makes setup simple and secure
Which is better—the Netgear Nighthawk or the TP-Link AC1900? Most users will not detect a difference in speed. However, the range on the Nighthawk is just a bit better, which is why it edged out the TP-Link. Make no mistake, this one still has remarkably good range, and it will satisfy most gamers' needs.
The price of the TP-Link AC1900 is significantly less than the Nighthawk. If you're on a budget or just don't want to shell out as much money, it will surely meet all your game-related needs. Its software and WPS button makes setup quick and easy. It even has a 2-year unlimited warranty.
The D-Link AC1900 not only has a cool looking spherical shape, but it also provides ridiculously fast high-performance gaming speed. Great for any desktop or laptop, this uniquely designed adapter gives an outstanding balance of speed and range.
Uses 802.11ac wireless protocol
Dual-band provides both 2.4GHz and 5GHz bands
Speeds of up to 600Mbps (2.4GHz) and 1300Mbps (5GHz)
Advanced AC Smartbeam provides beamforming technology
USB 3.0 for ultra-fast connection to your computer
Easy one-button setup gets you up and running in no time
Enjoy HD video, quickly transfer files, and play intense online games
Compatible with PC and Mac
The D-Link AC1900 wifi adapter performs as well as it looks. Packed with 802.11ac, dual-band technology, and beanforming, it has the speed to provide buffer-free gaming. Its high-powered amplifiers give it great range, allowing you to extend your wifi experience to just about anywhere in your living space.
This device does not have any adjustable antennas like many of the others discussed in this article. To make up for that, it includes an extension cable so you can move it around, ensuring you find the strongest available signal. Overall, the D-Link AC1900 is a wonderful and unique adapter that will give you plenty of power for your gaming activities.
If you're looking for a mini wifi dongle that packs some real power, the TP-Link AC1300 is worth checking out. Its size is a considerable advantage. It's perfect for laptops on the go; you can continue your playing experience just about anywhere. While it's great for laptops, it's also versatile enough for desktops. You can switch devices easily, getting plugged in and running in just seconds.
Uses 802.11ac wireless protocol
Dual-band provides both 2.4GHz and 5GHz bands
Speeds of up to 400Mbps (2.4GHz) and 867Mbps (5GHz)
Beamforming technology
Uses MU-MIMO
USB 3.0
Support for Windows and macOS
Easy setup
Also known as the Archer T3U, this mini can get the job done with just about any system. While it's slightly slower than some of our other picks, the T3U is still more than capable of providing adequate bandwidth for most gaming. In addition, its range is incredible for such a small device.
I own one of these and use it on an older laptop that I frequently carry around the house. It has significantly improved connection speeds over the built-in wifi that I was previously using on this machine. Its tiny dimensions make it one of the most convenient adapters you can find—and there really isn't much of a tradeoff in the way of performance.
While this adapter may not provide the superior speeds that others on our list do, it will satisfy the majority of online game needs. It also comes at a very affordable price. It might not be a bad idea to purchase one of these as a backup if one of your wireless adapters fails. It's so small you can just throw it in your computer bag, and it will be there whenever you need it.
PCIe vs. USB 3.0
While many serious gamers once thought an ethernet cable was a necessity, wireless technology is now fast and reliable enough to stream HD quality video, providing lag-free, reliable connections for even your most competitive games. The key is to find a quality high-performance wifi adapter.
In general, adapters come in two flavors of interfaces: PCIe and USB.
In previous days, PCIe type adapters were preferable to USB. With the advent of USB 3.0, that is not necessarily true anymore. While USB 2.0 can create a bottleneck between your adapter and your machine, USB 3.0 is fast enough to use the entire bandwidth of a version 2 PCIe x1 slot. It runs at about 600 MBps, while the PCIe slot runs around 500 MBps. All that to say, USB 3.0 is the way to go.
There are faster PCIe slots (x4, x8, and x16). At 600MBps, though, we are already running much faster than our wifi speeds. Wifi might ratchet up to 1300Mbps, which is about 162.5MBps. Note that there is a difference in MBps (Megabytes per second) and Mbps (Megabits per second). 1MBps = 8Mbps.
In any case, USB 3.0 gives you plenty of bandwidth. One qualifier: most USB adapters have more than one port. If you have multiple USB devices plugged in simultaneously, the other devices eat up some of your bandwidth.
There are benefits to both USB 3.0 and PCIe adapters. A PCIe wifi card doesn't have the bandwidth issues that a USB device will. However, a USB device is super easy to install and can be easily moved from one computer to another.
How We Pick WiFi Adapter for Gaming
There is an abundance of wifi adapters to choose from. Since we are looking for a device to enhance our online gaming, speed and range are essential. But there are other things to consider as well. Let's see what factors we should look at when picking wifi adapters for gaming.
Technology
For most people, speed and range are the first considerations. Before that, though, we need to look at the technology inside the device.
First of all, you need a device that uses 802.11ac wireless protocol. It's the latest technology; without it, you can't achieve top-end speeds. You also need to connect to a router using the same protocol in order to have that rocket-fast connection.
MU-MIMO is another technology to look for. It stands for multi-user, multi-input, multi-output. It increases speed by allowing multiple devices to communicate at the same time instead of waiting for their turn to talk to the router. This can make a difference in speed when you have others using your wifi network.
Beamforming is another feature listed on many wifi adapters. It takes the wifi signal and focuses it directly at your device instead of broadcasting it randomly around the target. This makes the signal much more efficient, providing a stronger connection at greater distances.
We will discuss other features, such as dual-band and USB 3.0, below.
Speed
Most gamers are looking for speed in their internet connection. 802.11ac provides the highest speeds on 5GHz. Older protocols using the 2.4 GHz band will only see speeds up to 600Mbps. Just remember that you won't go any faster than the network you're connecting to.
With 802.11ac, PCIe cards can be faster than USB adapters–a couple of Gbs with 802.11ac vs. a max of around 1.3Gbps with USB 3.0.
Range
This is important if you move around where you game, especially if you're on a laptop. You want to have enough range to move away from the router and maintain a fast, reliable signal. What's the point of having a wifi adapter if you have to sit right next to it? You might as well use a network cable.
USB or PCIe
We have discussed the advantages and disadvantages of USB vs. PCIe. As long as you are using USB 3.0, the performance between the two is about the same. Do you want a permanent card installed in your workstation for dedicated wifi or an easy-to-install gadget you can share with other computers?
If your gaming machine is a laptop, you probably want to go with a USB adapter. Some PCIe mini cards will work with your laptop, but taking your machine apart to install the adapter can be difficult. Additionally, most PCIe minis don't perform as well as some of the USBs.
Dual Band
This is a feature that you see on most modern adapters. Dual-band adapters connect to both 2.4GHz and 5GHz bands. Usually, you want to use 5GHz for the highest speeds. Why use 2.4GHz at all? For backward compatibility. It allows you to connect to older networks as well as new ones.
Reliability
You don't want to lose your connection in the middle of an intense game. Reliability means that your adapter holds us under heavy use.
Compatibility
What types of computers and OSs is the adapter compatible with? Look for hardware that is compatible with PC, Mac, and possibly Linux machines. This can be important if you are a gamer who uses different types of computers.
Installation
As mentioned above, USB adapters are going to be the easiest to install. PCIe cards can be a little more complicated; you need to open your computer up or take it to someone who knows what they're doing.
Installation software can also make a difference. Look for an adapter that is either plug-n-play or has easy-to-use installation software. Some will have WPS, which can make things super easy.
Accessories
Take notice of any accessories that are provided. They might come with antennas, cables, cradles, USB adapters, software, and more. These items are often secondary to the performance of the device, but they are something to consider.
Final Words
Choosing a quality gaming adapter can be a difficult task. There are so many out there that you may feel overwhelmed. I hope that our list has shown you what type of features to look for and provided the best options available when conducting your search for the ultimate gaming wifi adapter.