If you're not geeky, finding the right gift for a computer programmer can be tough. The typical programmer's interests might be more technical than yours. They can have strong opinions about what they love and hate. And there are many different types of programmers. Yikes!
We're here to help. You don't have to get the coder in your life something technical or computer related. There are a lot of good choices. It may be wise to get guidance from someone close to them or who understands computers.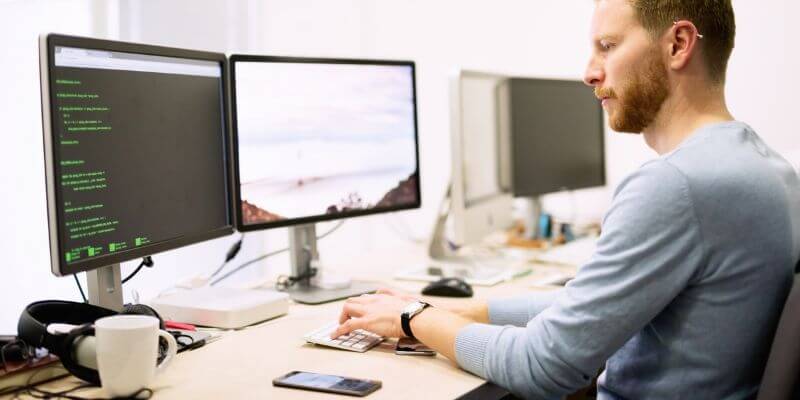 Socks and t-shirts aren't necessarily bad ideas, and there are plenty of both that feature tech and coding themes. You could get them a bag for their laptop, a binary watch, a coffee machine, or even a rubber ducky (not kidding–more on that later)!
Books are always a good idea. Even if you don't know which computer language they program in, they're likely to be interested in learning another. A subscription to a range of online computer programming training courses is a thoughtful idea, as well.
There are plenty of computer-related gift ideas, like a new keyboard or mouse, or a new software program. Programming is fun when it's not work-related, too, so robot kits, programmable drones, electronic kits, and digital assistants are all great ideas. So is home automation, where your programmer friends can tell their computer to turn off all the lights when it's time for bed.
Our goal in this article isn't just to tell you what to buy but to stir your imagination. Maybe one of our suggestions will spark your creativity as you seek the perfect present for the programmer in your life. I'm sure you'll choose something amazing.
Why Trust Me for This Guide
My name is Adrian Try, and I'm a tech geek who loves to receive gifts. While writing this roundup, I thought about the best tech-related gifts I've received (and the ones I had to buy for myself), as well as the gear my friends have that makes me drool. I've brainstormed, surfed Amazon, explored gear reviews, and asked others for input.
The result is hundreds of gift suggestions. I hope one will be perfect for your coding friend or loved one, or will spark some new ideas. Happy shopping!
Computer Accessories for Programmers
A Quality Keyboard
A programmer's fingers are their livelihood, so a quality keyboard is a perfect gift idea. But don't cheap out!
An accurate, tactile keyboard will enable them to work quickly and productively. A comfortable, ergonomic keyboard will protect their fingers and wrists in the long term. We discussed the keyboard needs of developers at length in our best keyboard for programmers review.
If your friend already has their perfect keyboard, another one might be tepidly received. But they may be dreaming of a better keyboard or open to having a variety of them. They might even have several computers, so a new one may be a very welcome gift. Knowing whether they use a Mac or PC will help with your decision, so do some homework first.
Many developers love keyboards with mechanical switches. They're a bit old-fashioned—large, often wired, and quite noisy—but they last forever and provide a confidence-inspiring, tactile experience when typing.
Ergonomic keyboards are designed for comfort. They achieve this by using shapes and contours that place your hands and wrists in their most natural position. Compact keyboards are small, light, and easy to carry. They make a great second keyboard.
A Responsive Mouse or Trackpad
Instead of a keyboard, a quality mouse or trackpad is something any developer would appreciate. The best are customizable, responsive, and ergonomic. We rounded up the best options in our review, Best Mouse for Mac (most of these mice work on Windows as well). Here are a few recommendations:
Noise-Canceling Headphones
Noise-canceling headphones block distractions and allow coders to listen to focus-enhancing music. We rounded up the best options in our review, Best Noise-Isolating Headphones.
A Backup Hard Drive
Computer backup is vital, especially when you make your livelihood on your computer. An external drive provides one of the best backup strategies, and can also be used for additional storage. We list many options in our backup drive and external SSD roundups, and here are a few we recommend.
An Extra Monitor
Many developers love multi-monitor setups. Read our detailed review of the best monitors for programming to get some great models.
Desk and Workspace
Here are a few gifts to enhance a programmer's office and workspace:
Also Read: Best Chair for Programming
Computer Software for Programmers
A Text Editor or IDE
The developer's primary software tool is a text editor or a fully integrated development environment (IDE). Programmers can have strong opinions about their tools. Different applications may better suit one type of development over another. But few programmers would complain about an extra tool being added to their kit.
Many development applications are free, some can be purchased outright, and others require an ongoing paid subscription. We covered the best of them in our roundup, The Best Text Editor for Mac (many of them work on Windows as well). Here are some you might consider as a gift:
Another application, Panic Nova, will be available soon. It's written by the same people as the popular Coda app and looks promising for Mac users.
Productivity Software
When you make your livelihood on a computer, backups are more important than ever. We fully spell out backup options for Mac, Windows, and online backup in our roundups. Carbon Copy Cloner is a good alternative and offers an Online Gift Store as does Backblaze and Acronis Cyber Protect.
Developers often use a lot of passwords. A password manager is an essential security precaution, encouraging them to use a different complex, secure password for every site. Two of our favorites are LastPass and Dashlane, which require a subscription, though gift cards are available (LastPass, Dashlane).
A good note-taking app also makes a terrific gift for a developer. Evernote is a well-respected option. On the Mac, Bear Notes is my preference.
Time is an important commodity for programmers. They can track how they have used their time using apps like Timing and Timings. On the Mac, Things is an excellent to-do list app, and OmniPlan and Pagico are powerful project management apps.
Some programs can help developers keep on track while working. Be Focused Pro and Vitamin-R are timing apps that encourage them to work in short, focused bursts, and HazeOver, Focus, and Freedom block computer-related distractions.
If none of those options feel quite right, we cover a range of other programs in our Best Productivity Apps roundup, including scientific and programmer's calculators, file management tools, and search tools.
Robots, Virtual Assistants and Automation
It's the year 2021. Do you know what that means? It's the year that the Jetsons' home was cleaned by their robot maid, Rosie. Can you have a robot maid too? Absolutely. Any developer would love the gift of a cleaning robot, programmable drone, digital assistant, or automated home.
Robots and More
Smart Speakers and Digital Assistants
Smart speakers are small computers in your home. You can speak to receive information or initiate action in a smart home. Amazon, Google, and Apple offer high-quality, affordable smart speaker devices.
Home and Office Automation
These devices allow household appliances, lights, and more to be connected to your computer and controlled in a variety of ways.
The Gift of Education
Online Programming Courses
Developers can learn new skills and languages almost entirely online. Consider gifting a subscription to one of these training providers:
Kindle Books and Devices
The gift of a Kindle device will allow your coder friend to carry a complete reference and training library with them everywhere. They are backlit and have ridiculous battery life (measured in weeks, not hours).
There are plenty of books for programmers in the Kindle ecosystem. We recommend quite a few of them below. Even better, an Amazon Kindle Unlimited subscription gives unlimited access to over a million Kindle books, current magazines, and Audible audiobooks.
Audible Audiobooks
Audiobooks help us consume books when we don't have time to read—for example, when driving, exercising, and doing housework. Audible is the premier provider of audiobooks in the world.
Audible book subscriptions are available as gifts for one month, three months, six months, or twelve-month periods. The recipient receives three new books a month, 30% off additional titles, audiobook exchanges, and an Audible book library they will own forever.
Books
Here is an extensive, but not exhaustive, collection of books for programmers. Many of them are available for Kindle devices and as Audible audiobooks, or as hardcover or paperback.
Fun and Unusual
Coffee Makers and Mugs
Coders are fueled by coffee. Here are some great gifts to keep them topped up.
What about one of these coffee mugs with just the right message for a coder or tech geek?
Rubber Ducks
The book "The Pragmatic Programmer" (see above) recommends a peculiar way of debugging: explain your code line-by-line to a rubber duck. The idea caught on, if only tongue-in-cheek, so if your coding friend doesn't already have a rubber duck, buy them one!
Messenger Bags and Laptop Cases
Coders tend to carry their laptops with them everywhere. A quality bag is a top-notch gift idea.
Clothes
T-shirts and hoodies:
Socks:
Caps:
Gift Certificates
Gift certificates are perfect when you can't physically give a gift. You can send them electronically, and they show you've put a degree of thought into your decision.
Other Ideas
That is a long list of gift ideas. Any other good gifts for programmers and software developers? Leave a comment below and let us know.