Are you overwhelmed by paper? Sick of filing cabinets and a cluttered desk? You may be reading this review article because you decided it's time to go paperless. You may never entirely eliminate paper from your office, but you can easily make an electronic version of every piece of paper you have. Your documents will be easier to access, easier to find, and easier to share. To get started, you'll need a quality document scanner.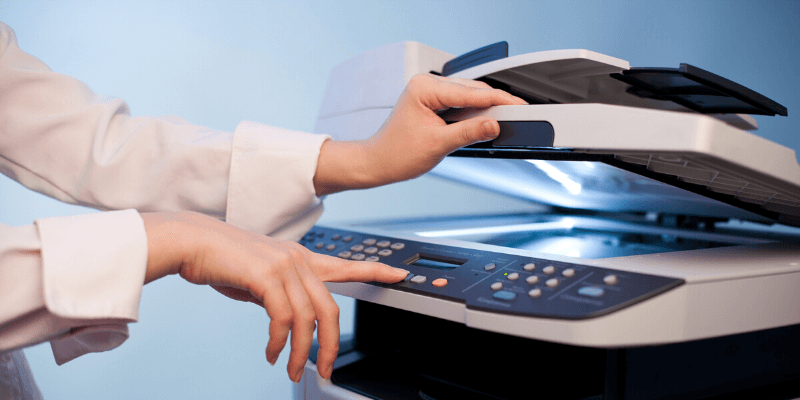 A document scanner is designed to quickly scan multi-page documents and turn them into searchable electronic documents. They typically feature reliable sheet feeders that can hold dozens of pages of paper, can scan both sides of a page at once, and come bundled with software that can save all of those pages in a searchable PDF.
Many are now wireless, so they don't have to live on your desk tethered to your computer. They can scan to multiple locations, including computers, mobile devices, and the cloud.
Fujitsu's ScanSnap iX1500 is believed by many as the best document scanner available. I agree, and have one in my own office. It's fast and reliable, and its large touchscreen allows you to scan long documents to a variety of locations without a computer even being involved.
For mobile use, the Doxie Q is definitely worth considering. It's light and tiny, battery-powered, offers a basic sheet feeder, can wirelessly connect to your devices, and even scan to an SD card with no other devices being required.
Most users will be perfectly happy by choosing either (or both) of these scanners, but they aren't your only options. We include a number of other highly-rated scanners that may also suit you. Read on to discover which is best for you.
Why Trust Me for This Buying Guide?
I've been through the same struggles with paperwork as you have. Six years ago I had trays, drawers, and boxes full of paperwork, and it wasn't always easy to find the right document. I was a keen Evernote user and had been considering going paperless for a while. After doing some research, I purchased the Fujitsu ScanSnap S1300i.
Before diving into scanning all of those pages I spent some time experimenting with settings and working out what I wanted. I finally configured the bundled software to create multipage PDFs, perform OCR so the PDFs were searchable, and send them straight to Evernote. Scanning that way was fast and effortless and happened at the press of a button on the scanner.
Next came the hard work: months of scanning. I did it in my spare time, usually just a few minutes at a time, sometimes longer. I had very few problems. Occasionally a page would become jammed (because of a staple or tear), but once I unjammed the machine scanning would continue from where the jam occurred. I didn't have to start over. Overall, the process was very smooth.
I disposed of most of the documents once they were scanned. There were some financial documents I had to keep for several years for legal reasons, so I placed these in large, clearly-labeled envelopes and put them in storage. I kept some documents for sentimental reasons. Any new paperwork was scanned as it came in, but I tried to minimize this by making sure that my bills and other correspondence were emailed to me.
I've been very happy with the way everything worked out. Being able to access and organize my documents digitally has made a huge difference. So this year I decided to upgrade to the Fujitsu ScanSnap iX1500.
Here's why:
Its document tray can hold more sheets of paper, so I can more easily start on some large-scale scanning projects, including a large collection of training manuals from courses I have done.
It's wireless, so it doesn't have to live on my desk.
I can place it somewhere more accessible so other family members can use it.
Because it's wireless, they can scan straight to their own phones, so I don't have to send them their scans from my computer.
Because it can scan directly to the cloud, no computers or devices are required. It's an all-in-one solution.
To add to my own experience of using document scanners I carefully checked out other scanners as well, taking into account industry testing and user reviews. I hope this roundup helps you to make your own choice of a document scanner.
Best Document Scanner: The Winners
Best Choice: Fujitsu ScanSnap iX1500
The Fujitsu ScanSnap iX1500 is arguably the best document scanner you can buy. It's wireless and offers a large touchscreen that makes it easy to use, and offers very fast duplex color scanning of up to 50 sheets at a time. Scans are processed so that they may even look better than the original document, and the bundled software will create searchable multi-page PDF files.
At a glance:
Sheet feeder: 50 sheets,
Double-sided scanning: Yes,
Scanning speed: 30 ppm (double-sided),
Maximum resolution: 600 dpi,
Interface: Wi-Fi, USB
Weight: 7.5 lb, 3.4 kg
The ScanSnap iX1500 is almost universally considered the best document scanner available, albeit a reasonably expensive one. The only people who don't seem to like it are users of the preceding model, the ScanSnap iX500.
Many of those users feel that the previous scanner felt sturdier and that pressing a single button was easier than dealing with the new touchscreen. As a result, many of them gave the iX1500 a one-star rating—rather unfairly if you ask me.
Although the iX500 is now discontinued, it's still available for purchase and is included as an option below. Is it better than the iX1500 in every way? Absolutely not, and many users are thrilled with the upgrade. There's that new 4.3-inch touchscreen that makes it easier to use, and if you scan directly to the cloud it operates as a standalone device without the need for a computer.
Why is the ScanSnap iX1500 so popular? It has an excellent combination of speed, features, and ease of use. It's fast, scanning both sides of up to 30 pages per minute (though three scanners listed below are faster), and scanning is quiet. 50 sheets of paper fit in its reliable automatic document feeder, and connecting over Wi-Fi to your computer or mobile device is dead easy.
Then there's the bundled software that automatically enhances the scan and removes blank pages, and gives the option of OCR.
The scanner automatically senses the size of the paper and whether it's color or black and white, automatically rotates the scan if you put the paper in the wrong way, and can even decide on the image quality settings required by the document.
While it's very intelligent you can also precisely tell the scanner what to do. The easiest way to do that is by creating multiple scanning profiles that predefine the scanning settings and where the scanned document is sent. An icon for each profile is available on the scanner's touchscreen for maximum convenience. The scanner is quite compact and available in black or white.
It doesn't come with a user manual, though there's a good one available online. I particularly like the detailed "Usages" section that explains in detail how to use the scanner for a long list of applications, including sharing documents, scanning magazines, creating a photo album, organizing postcards, and scanning envelopes and receipts.
But the scanner's not perfect. Some users point out that images lose a little quality, and that's true—after all, it's not a photo scanner. Some users reported bugs in the bundled software, but most of those seem to have been sorted out by subsequent updates. I'm still waiting for tech support to help me with an issue about saving to the cloud, and it looks like I'm not alone. But I'm confident of a positive outcome.
Most users seem thrilled with the scanner. The iX1500 is quite durable, and one user updated his review after a year to report that everything was still working reliably—motors, rollers, feeds, and software. It succeeds at taking a complex job and making it as quick and easy as possible.
Read my full ScanSnap iX1500 review if you want to learn more about this scanner.
Most Portable: Doxie Q
If you're looking for a scanner for portable use, I recommend the Doxie Q. Its rechargeable battery can manage 1,000 scans on each charge, so you won't need to carry a power cable. And you can save your scans directly to its 8 GB of SD memory, so you don't even need to turn your computer on.
If you do want to use your computer or iOS device, the scanner is wireless so you don't have to carry a USB cable with you, and the flip-open ADF allows you to scan documents up to eight pages in length.
At a glance:
Sheet feeder: 8 sheets,
Double-sided scanning: No,
Scanning speed: 8 ppm (single-sided),
Maximum resolution: 600 dpi,
Interface: Wi-Fi, USB,
Weight: 1.81 lb, 0.82 kg.
The Doxie Q is slim and compact, and it's the scanner I would choose if I did lots of scanning on the road, away from the office. It's specifically designed for mobile use, and you won't have to carry a power cable, USB cable, or even a computer.
By default, your scans will go directly to a memory card, and this is great for mobile use, but it also means you'll have to perform OCR on your computer later, as an additional step. If you prefer, you can also scan to your computer via USB by enabling Connected Scanning, but even then you're performing an automated import from the SD card rather than scanning directly to the computer.
For portable use, this scanner seems close to ideal, but some compromises were made to achieve its portability. It's slow—almost one quarter the speed of our winning scanner above—has a quite limited automatic document feeder, and can't scan perform duplex scanning. Using it will require more time and effort, but you can do it on the road without even turning your computer on.
For a portable scanner, that seems reasonable – but not if it's your only scanner. The Doxie Q is much too slow if you also want to use it regularly in the office.
If you want one scanner that can do it all, I recommend the Fujitsu ScanSnap S1300i or Brother ADS-1700W below. They're faster and can scan both sides of the page at once while remaining quite portable. But they don't run on battery, and the S1300i doesn't offer a wireless connection—you'll have to turn your computer on and plug the scanner into a USB port.
Other Great Best Document Scanners
1. Fujitsu ScanSnap iX500
Although now discontinued, the ScanSnap iX500 is still very popular and is still available. While it only has a single button and no touchscreen, many users love its simplicity and flexibility—initiating a scan with a short press will perform a different type of scan than a long press. Some users feel this scanner looks better and feels sturdier than its successor, the iX1500 (above).
At a glance:
Sheet feeder: 50 sheets,
Double-sided scanning: Yes,
Scanning speed: 25 ppm,
Maximum resolution: 600 dpi,
Interface: Wi-Fi, USB
Weight: 6.6 lb, 2.99 kg.
Other than the lack of touchscreen, the iX500 is very similar to the iX1500 above: it has the same 50-sheet feeder, 600 dpi resolution, Wi-Fi and USB interfaces, and compact design. It scans a little slower (but still in duplex), and allows you to set up scanning profiles, though you won't find an icon for each of them on the scanner.
Users call it a workhorse. It's been available since 2013, so there's been a lot of opportunities to test its durability, and some users scan hundreds of pages every day. It seems to be a favorite in law offices, where staff need to deal with a crazy amount of paperwork. One law office bought one in 2013, and when it died in 2017 they went out right away and bought another one.
Another user bought one for a scanning project they thought would take weeks and finished in a day. That's due not just because of the speed of the scanner, but also the ease of use.
But judging by some users comments, it seems setting up Wi-Fi is not as easy as with the iX1500. Some users found the software more difficult to set up than they expected, and those users come from both the Windows and Mac camps. But once the ScanSnap software is set up, the time taken from hitting the Scan button to getting a searchable, multipage PDF tends to be significantly faster than printers by other manufacturers.
2. RavenScanner Original
The RavenScanner Original is a highly rated scanner with many features in common with our winner. It has a large touchscreen for computer-less scanning, a 50-sheet document feeder, a maximum resolution of 600 dpi, and works either wirelessly or wired (but uses Ethernet rather than USB). Its scanning speed is almost half that of our winner, however.
At a glance:
Sheet feeder: 50 sheets,
Double-sided scanning: Yes,
Scanning speed: 17 ppm (double-sided),
Maximum resolution: 600 dpi,
Interface: Wi-Fi, Ethernet,
Weight: 6.17 lb, 2.8 kg.
You're able to do even more from the scanner's touchscreen than with our winner. Like the ScanSnap iX1500, the RavenScanner can send your scanned documents to a number of locations including the cloud, but can also email or fax them directly from the scanner, and can save to a connected flash drive. You can even do basic document editing using the 7-inch touchscreen.
This scanner is a new product for 2019, so it's difficult to gauge how it stands up to long-term use. Users seem very happy so far, and the scanner has the highest rating out of any in this review but doesn't yet have enough reviews to give that rating too much weight. Users love being able to scan without a computer and compare it very positively to the Fujitsu scanners.
If you're looking for something a little more powerful and are willing to pay extra, the company also offers a more expensive scanner with better specs, the RavenScanner Pro. It has an 8-inch touchscreen, 100-sheet feeder, and can scan 60 pages per minute.
3. Epson DS-575
The Epson DS-575 looks similar to our winner when closed, though has a series of buttons and lights instead of a touchscreen. It also has similar specs, including a slightly faster scanning speed. Although it has been around longer than the iX1500, it hasn't gained the same traction in the marketplace.
At a glance:
Sheet feeder: 50 sheets, 96 reviews,
Double-sided scanning: Yes,
Scanning speed: 35 ppm (double-sided)
Maximum resolution: 600 dpi,
Interface: Wi-Fi, USB,
Weight: 8.1 lb, 3.67 kg.
The Epson DS-575 has more in common with the older ScanSnap iX500 than the new iX1500. It offers wireless or USB connectivity, allows you to scan to your computer, mobile device, or the cloud, and includes a 50-sheet feeder and very fast duplex scan times. Profiles can be created for different types of scans. But it doesn't have a touchscreen, making you more reliant on your computer or device when choosing scanning options.
Consumer reviews are generally positive. Users found the software easier to install than Fujitsu's—though complained about having to download it—but less capable once installed. Users also found that recovering from a paper jam isn't as pain-free as when using a ScanSnap—though fortunately, jams seem quite rare—and black and white scans are not of the same quality as color scans.
Another very similar alternative from Epson is the ES-500W. It has identical specifications and a very similar design but is black rather than white. One problem with Epson's lineup is a lack of differentiation. These scanners are so similar it's difficult to know why you would choose one over the other. Non-wireless versions of both scanners are also available at a reduced price.
4. Fujitsu ScanSnap S1300i
The S1300i is the ScanSnap iX1500's little brother. It's half the speed and needs to be plugged into your computer to work. It's more powerful than the Doxie Q, but not as portable. I used one to scan thousands of sheets of paper for a number of years, and never had a problem.
At a glance:
Sheet feeder: 10 sheets,
Double-sided scanning: Yes,
Scanning speed: 12 ppm (double-sided),
Maximum resolution: 600 dpi,
Interface: USB,
Weight: 3.09 lb, 1.4 kg.
While not as fast as our winner, 12 double-sided pages per minute isn't bad. (But note that the speed drops to just 4 ppm when using USB power, so for larger scanning jobs you'll definitely want to plug into the power.) If you have a huge backlog of paperwork to scan, you'll get the job done twice as fast with the iX1500, but if portability or price is important to you, this scanner makes an excellent alternative.
The document feeder only holds 10 pages, but I sometimes managed to fit more. And for very large documents, I was successful at adding more pages as the last sheet was being scanned to produce a single multipage PDF that contains every page.
The single button operation was quite intuitive, and I was able to create a number of scanning profiles on my computer. I wasn't able to select them from the scanner, though, like you can with the iX1500.
5. Brother ADS-1700W Compact
For a portable scanner, the Brother ADS-1700W has a lot of features. It has a 2.8-inch touchscreen, wireless connectivity, and a 20-sheet automatic document feeder. It can perform duplex scanning at a fast 25 ppm (significantly faster than the other portable scanners we cover).
But you need to plug it into a power outlet. It doesn't have a battery like the Doxie Q or works off USB power like the ScanSnap S1300i.
At a glance:
Sheet feeder: 20 sheets,
Double-sided scanning: Yes,
Scanning speed: 25 ppm (double-sided),
Maximum resolution: 600 dpi,
Interface: Wi-Fi, micro-USB,
Weight: 3.3 lb, 1.5 kg.
Like the ScanSnap iX1500, you can create shortcuts for specific types of scans, and these will be displayed as icons on the touchscreen. You can scan directly USB flash memory, so computer-less scanning is possible.
Alternatively, you can scan directly to your computer or mobile device. However, users were surprised to learn the scanner can't scan directly to the cloud, FTP, or email without the help of a computer. The official website seems to be a little misleading here.
Scan speeds are significantly faster than other portable scanners, and the automatic document feeder can hold 20 sheets, better than the competition again. That makes this an excellent scanner if you want to use it both in the office and on the road. While you will need to carry a power cord with you, the Wi-Fi connection makes carrying a micro-USB cable optional.
While I think the Doxie Q offers the best portable experience—you don't need to plug into the power or bring a computer—the ADS-1700W is a better choice for users who prioritize faster scanning and a larger capacity document feeder. Just be aware that it's twice as heavy and you'll have to carry a power cable with you.
6. Brother ImageCenter ADS-2800W
Let's turn to some more expensive options. The Brother ADS-2800W is larger and heavier than our winner but offers faster 40 ppm scanning and a choice of Wi-Fi, Ethernet, and USB. It's designed for small to medium workgroups and supports scanning destinations more relevant to that environment, such as network folders, FTP, SharePoint, and USB flash memory drives.
At a glance:
Sheet feeder: 50 sheets,
Double-sided scanning: Yes,
Scanning speed: 40 ppm (double-sided),
Maximum resolution: 600 dpi,
Interface: Wi-Fi, Ethernet, USB,
Weight: 10.03 lb, 4.55 kg.
Like the ScanSnap iX1500, the ADS-2800 allows you to scan to a number of destinations directly from the device's (slightly smaller) 3.7-inch touchscreen. The scanned image is optimized by removing hole punches, cleaning up edges, and removing background noise.
But despite the fast scanning speed, one user became frustrated with the length of time it took to process the document after scanning. He reported that one 26-page document took 9 minutes 26 seconds, and the scanner was unusable during that time. It seems he was using a powerful computer, and I'm not sure that any user error was involved.
The software sounds more limited than Fujitsu's. For example, when initiating scans from the touchscreen, only one computer can be the destination. To send scans to other computers you need to initiate the scan from that computer.
If you want more power and are willing to pay for it, consider the Brother ImageCenter ADS-3000N. It offers even faster 50 ppm scanning, and is designed for medium to large workgroups, but does not have a touchscreen or support Wi-Fi.
7. Fujitsu fi-7160
Fujitsu's ScanSnap series of scanners are designed for the home office. The fi-7160 is one of their workgroup scanners. It costs significantly more, but has a document feeder that can hold 80 pages (instead of 50), and scans at 60 ppm (instead of 30). However, the device is larger and heavier and lacks a touchscreen.
At a glance:
Sheet feeder: 80 sheets,
Double-sided scanning: Yes,
Scanning speed: 60 ppm (double-sided),
Maximum resolution: 600 dpi,
Interface: USB,
Weight: 9.3 lb, 4.22 kg.
This scanner is designed to enable a workgroup to scan large multipage documents faster than ever. To achieve this, it offers a faster scanning speed and larger document feeder than any other scanner that we cover, and it's rated to handle a massive 4,000 scans a day. If your goal is to take a no-nonsense approach to complete a large scanning job, the fi-7160 is a good choice.
But that power comes at a cost: this scanner doesn't offer wireless connectivity or a touchscreen. You'll have to keep the printer plugged into the USB port of one computer in the office, and select your scanning options from the bundled software running on that computer.
Users find it a solid scanner when processing large volumes of paper at a single desk, for example, in a law office, and many offices buy multiple units. The quality of the output is very high, and with the right configuration, you can normally just start a scan by pressing the button on the machine.
Why Go Paperless?
"Where's that document?" "Why is my desk so cluttered?" "Do we file alphabetically?" "Can you photocopy it for me?" "I think it's on page 157." "Sorry, I left the document at home."
That's six things you'll never have to say once you go paperless. Every business should consider it. Here are six good reasons:
You save space. You can access all of your documents from your computer or mobile device. You won't have piles of paper on your desk or a room full of filing cabinets.
Search. You can find the information you want more easily. You'll be able to search for the file you need, and if optical character recognition has been performed, search for text inside the file as well.
Access any time, anywhere. You can access all of your documents from your computer, and take them with you on a mobile device.
Document organization. Use the file system to organize and sync your documents, or place them in a document management system like Confluence, Microsoft SharePoint or Adobe Document Cloud for greater flexibility.
Sharing and communication. Digital documents can be accessed by anyone in your office, and easily shared with others via email and various cloud services.
Security. Digital documents can be easily backed up, password-protected, and stored on secure media.
What You Need to Know Up Front about Going Paperless
Scanning every paper document in your office is a big job. Don't make it harder than it needs to be. That begins with choosing the right tool for the job.
You're likely to already own a scanner—probably a flatbed scanner attached to an inexpensive printer. You may be tempted to start with that scanner, but you'll probably regret it. Placing each page on the scanner manually and slowly scanning one side at a time is a recipe for frustration. You're more likely to give up than finish. A job that would take seconds on the right scanner will take you hours.
A document scanner is designed to quickly scan large multi-page documents. They have a document feeder that allows you to scan up to 50 pages at a time, and will typically scan both sides of the paper at once (duplex scanning). The bundled software will store them as multipage PDFs and perform optical character recognition to make them searchable – all in real-time.
But it's useful to keep other types of scanners around. A photo scanner will do a more accurate job with images, and a flatbed scanner will handle bound material and delicate paper better. A scanning app on your phone will allow you to scan a receipt at a restaurant there and then, rather than having to remember to do it later.
Once you've scanned all of your documents, keep on top of it as new paperwork comes in, and try to stop the flood. If there's an option to receive that paperwork electronically, take it!
How We Picked These Best Document Scanners
Positive Consumer Ratings
I've been scanning documents for years but only have real experience with two scanners, so I need to draw on a wider range of experiences. In this review, I've taken industry tests and consumer reviews into consideration.
Tests by industry experts give a detailed picture of what to expect from a scanner. For example, the Wirecutter has spent 130 hours researching and testing a range of scanners over a number of years. Consumer reviews are equally helpful. Someone who purchased a scanner with their own money tends to be honest and candid about their positive and negative experiences.
In this roundup, we've included scanners with a consumer rating of 3.8 stars and above, preferably with reviews left by hundreds of users.
Wired or Wireless
Traditionally, a document scanner would sit on your desk and be plugged into one of your computer's USB ports. In many situations that works perfectly, and it was my setup for many years.
But it makes it difficult for others to access the scanner and adds clutter to your desk. When a scanner is used by multiple people, it makes sense to choose a wireless model that can be placed in a central location and scan to a number of locations, including mobile devices, or even directly to the cloud.
Fast Multi-page Scanning
As an initial step, many people will have a huge backlog of paperwork that needs to be scanned. That was certainly my experience. In that case, a fast scanner can save you weeks of work.
Choose a scanner with an automatic document feeder (ADF) that lets you scan up to 50 sheets at once. That's particularly useful for very long documents where you expect to have a multi-page PDF. Also look for fast scanning speeds (measured in pages per minute, or ppm), and the ability to scan both sides of the paper at once.
Portability
If your job takes you away from the office for days at a time, you might like to purchase a more portable scanner. Many of the most portable document scanners don't feature a sheet feeder. They're suitable for scanning just one page at a time, but become frustrating with bigger jobs.
So we've only included portable scanners with an ADF in this roundup. If you're purchasing a second scanner for this purpose, I recommend the Doxie Q. If you'd prefer to purchase just one scanner for both in the office and traveling, the Fujitsu ScanSnap S1300i or Brother ADS-1700W offers a better balance of features.
Any other good document scanners worth getting into this recommended list? Let us know your opinion.