Audacity is an extremely useful and free application for capturing and manipulating audio, but the program is only available for desktop platforms. Does that mean we're out of luck, or are there apps like Audacity for Android?
Hi, I'm Andrew, an Audacity aficionado, and in this article, we'll look at four possible alternatives to Audacity for the Android platform. We'll look at 4 Android apps: Lexis Audio Editor, WavePad Audio Editor, AudioLab Audio Editor Record, and Dolby On.
We'll weigh the pros and cons of each, see how they stack up with Audacity, and then I'll answer some frequently asked questions at the end.
Let's dive in.
1. Lexis Audio Editor
Best for: Those who want a basic audio editor.
Cost: Free with advertisements. Pro version is $6.99.
Developer: Pamsys
Lexis Audio Editor is a quality mobile recording and editing app. With just a few taps, you can start a new recording or import an audio file you want to edit. You can even record a voiceover on top of an existing track.
Lexis comes preloaded with several effects you might be used to seeing in Audacity. The list includes standards like change tempo, noise reduction, and a few distortion effects. You can access effects from the kebab menu in the top right corner of the screen.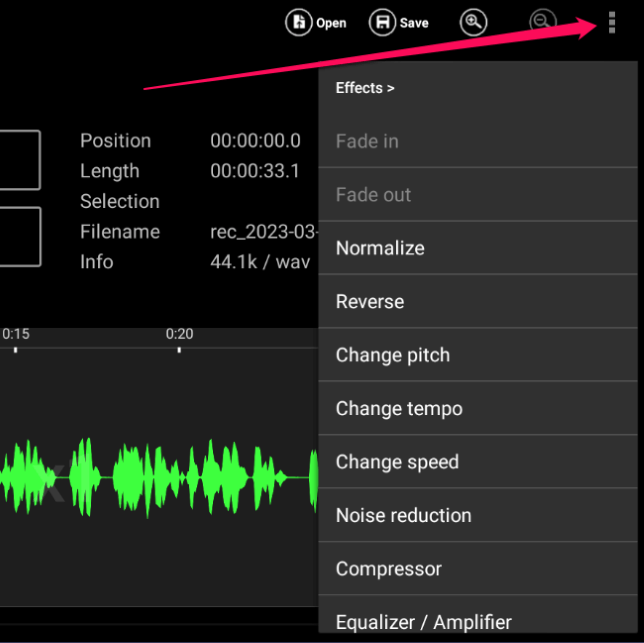 The app is relatively intuitive, but some features can take a few minutes to find. For example, you must use the Import/Mix menu to export audio. That said, the help documentation in Lexis is pretty decent.
One big drawback to the app is the inability to have multiple tracks on your timeline. If you want to import another track you must mix it with your current track.
Like most apps these days, Lexis Audio Editor employs a freemium model. The app is free to download and use, but with advertisements. That said, I never experienced a pop-up or video ad to endure when testing.
Removing ads isn't the only impetus for spending the $6.99 to upgrade to the pro version. While Lexis supports .wav and .m4a files, you can't export to MP3 without upgrading.
In all, Lexis is a decent mobile audio editing app.
2. WavePad Audio Editor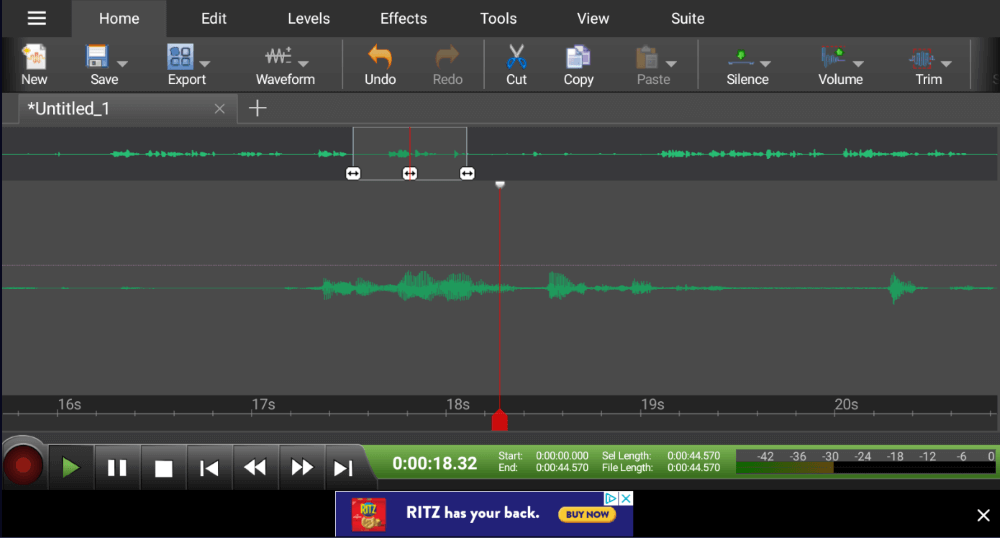 Best for: Those who want some advanced editing options.
Cost: Free, with banner ads and upgrade options ranging from $0.99 to $9.99.
Developer: NCH Software
WavePad Audio Editor has a wealth of features, but many of these come at a cost. Although the app is free to download and use, there are several tiers of upgrade options starting at a one-time $0.99 upgrade to remove ads.
You'll have to pay more to gain access to more advanced features like the ability to export in multiple formats, save as ringtone, and access WavePad's sound library. The full version is $9.99. WavePad also offers some subscription packages.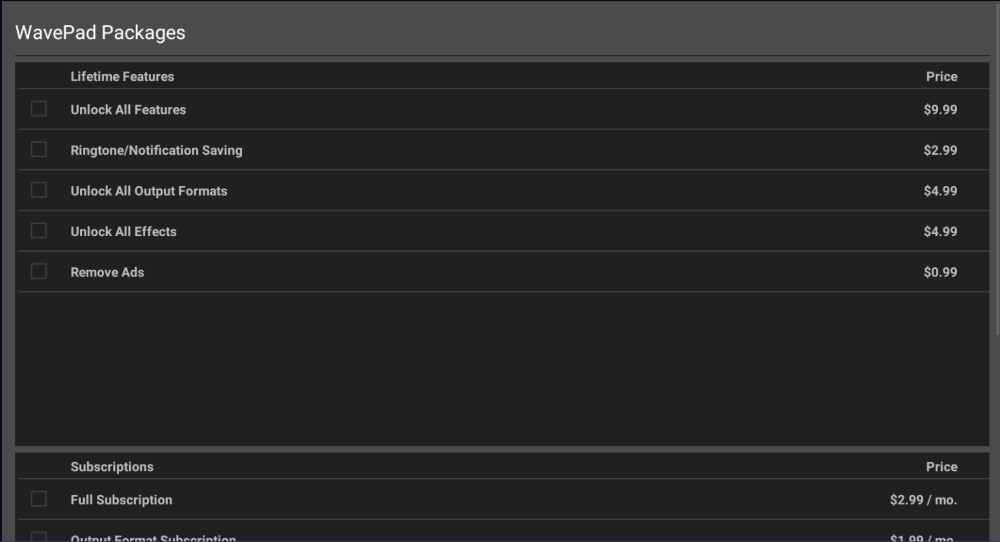 Regarding functionality, the app has several intriguing features. WavePad will auto-suggest effects like trimming leading silence or normalizing audio after recording, but this feature can be disabled if preferred.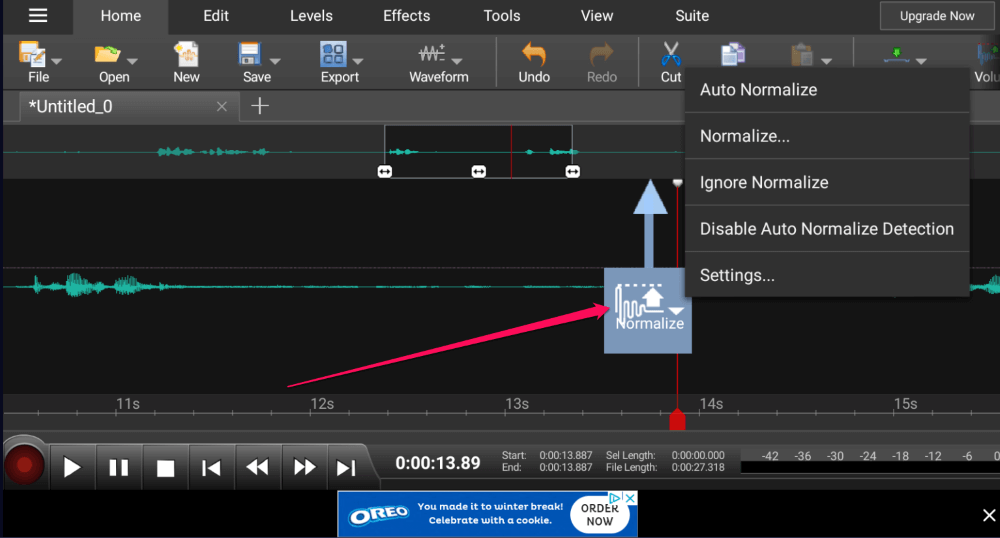 Navigation is easy, thanks to a scrub bar above the timeline that allows you to quickly swipe to reach other parts of your timeline. You can also zoom in and out as well.
Although not all are free, WavePad has a lengthy list of effects, including some presets to generate a specific sound. For example, I applied the "Demon Vocal" effect to a voice recording. The effect sets the reverb and bass frequencies as you would expect.
As with Lexis, WavePad doesn't support multi-track editing, so adding additional tracks requires mixing them into one.
Overall the app is intuitive and probably worth the ten dollars if you plan on editing audio more than once or twice on your Android device.
3. AudioLab Audio Editor Recorder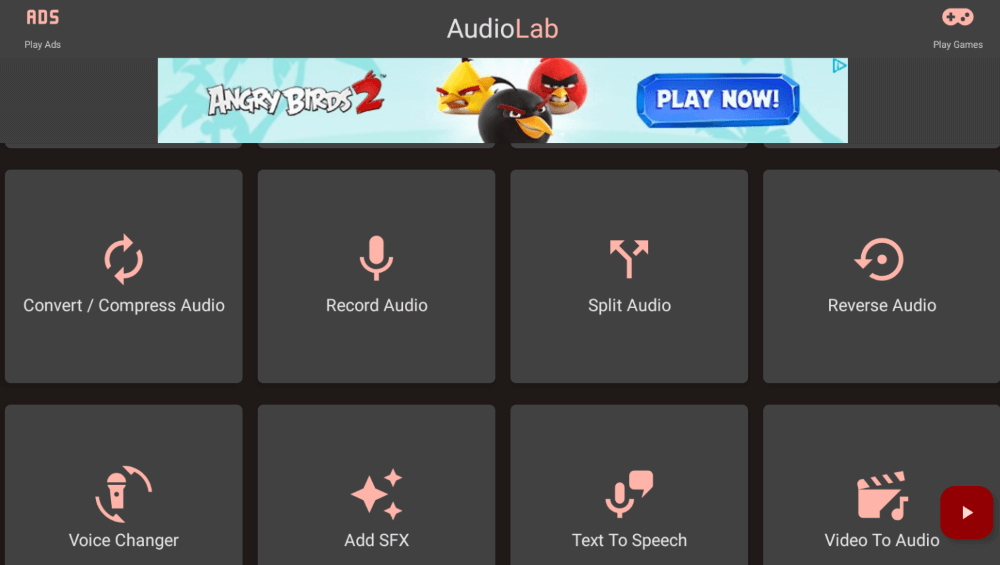 Best for: Those who want a truly mobile experience.
Cost: Free with advertisements; upgrade to the Pro version costs $1.99.
Developer: HitroLab.
AudioLab bills itself as "the only audioeditor (sic) app you will ever need." So how well do the developers back up that claim?
If you're looking for an app with a traditional timeline and waveform, this isn't the app for you. While you can see a timeline in various functions like Trim, AudioLab takes a different approach to manipulating audio.
Instead, the app presents a menu of large mobile-style buttons–one for each possible function. Essentially that app only allows you to perform one action at a time and then saves the track upon confirming the action.
Although this isn't a traditional way to do things, it is not all bad. On a mobile platform, the layout works fine. Nevertheless, the workflow takes some getting used to for those accustomed to software like Audacity, and at times the interface can be challenging to navigate.
AudioLab has several features, but many, such as Speed Changer and Equalizer, require an upgrade to the pro version. Text-to-speech is an excellent feature that leverages Google's TTS service to read and record text.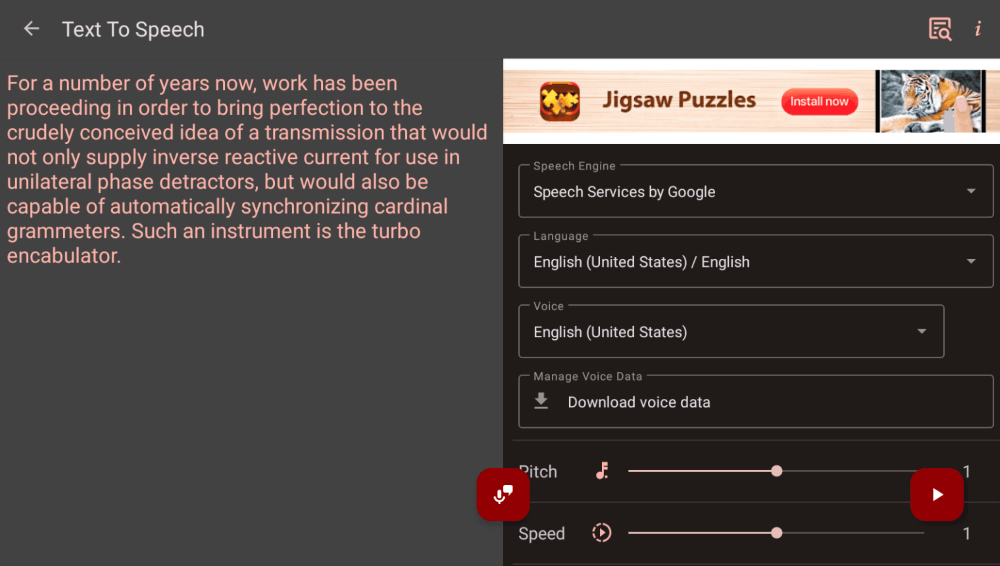 Besides the interface, which can sometimes feel unintuitive, the app's biggest limiter is the copious amount of advertisements and reminders to upgrade. When working in the app, full-screen video ads would unexpectedly pop up. These appear in addition to the ever-present animated banner ads.
At $1.99, the one-time upgrade is a minimal investment–something I recommend if you plan on using AudioLab for more than a couple of projects.
4. Dolby On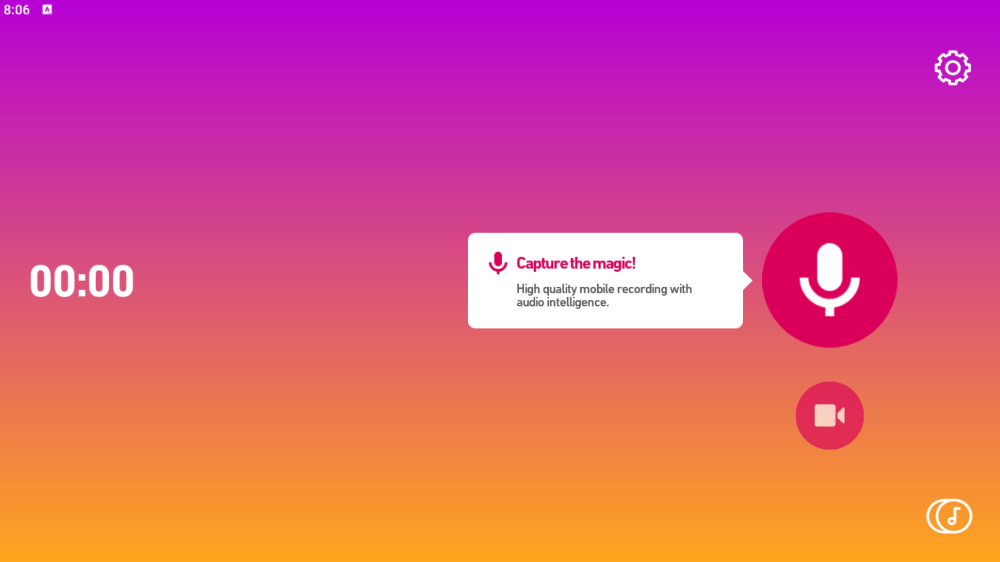 Best for: Good quality mobile recording.
Cost: Free.
Developer: Dolby Laboratories Inc.
Dolby On by Dolby Laboratories is a no-frills audio and video recording app for Android.
Simply press the record button and start speaking, playing, or singing into your microphone. After tapping the stop button, Dolby On automatically applies effects such as normalization, dynamic EQ, and noise reduction.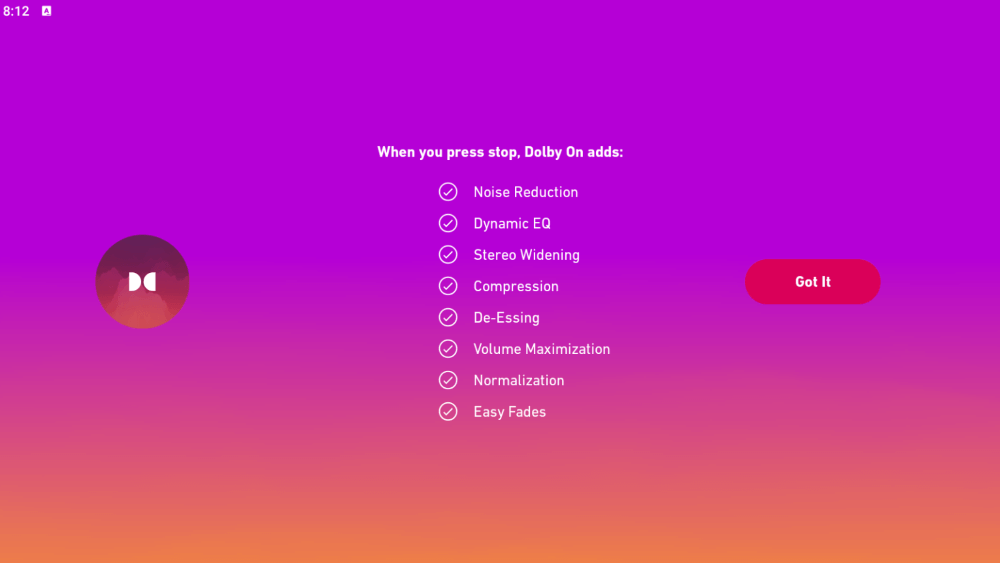 You can fine-tune some of these effects in post, but your options are limited. Essentially, Dolby thinks it knows how best to process your audio to give you the best sound.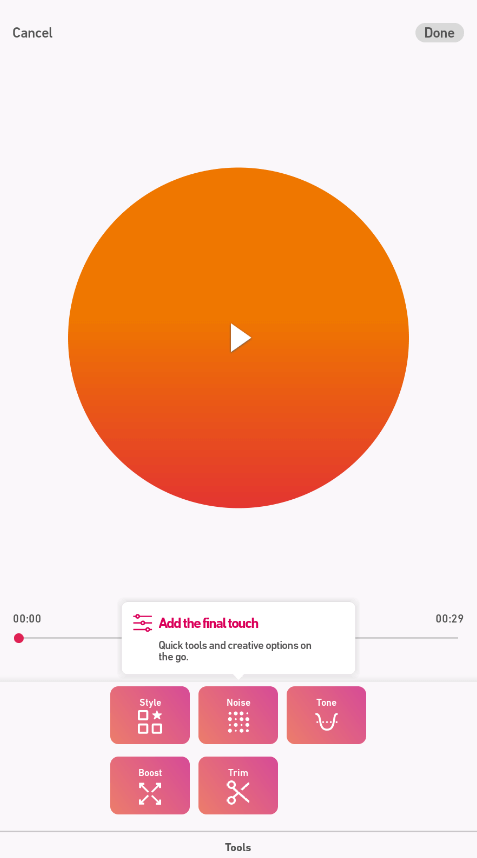 So how does the app perform? I must admit I was impressed with the result. The app provides a Dolby On/Off switch (hence the app's name), so you can listen to the difference between the original recording and the audio with Dolby On's effects applied.
The stereo-widening and compression, among the app's other effects, gave my sample recording a much warmer, fuller sound.
Perhaps the most refreshing is that the app contains zero advertisements.
While you can import and export (.m4a and .wav only) files, Dolby On provides no waveforms, timelines, and no ability to mix tracks.
For what it does, Dolby On is a high-quality app. The Google Play Store even awarded the app an Editor's Choice label. But if you're expecting a granular timeline or multi-track editing, you will need to turn elsewhere.
FAQs
Here are some other questions regarding Audacity-like apps for Android.
Why is Audacity not on Android?
Audacity's graphical user interface is built on wxWidgets, which is supported on Windows, macOS, and Linux–but not Android yet.
Additionally, because of the fine controls in Audacity, the app would likely be difficult to use on a small touch screen.
Is Audacity available for iOS?
No, Audacity is not available on iOS for the same reasons above.
What is the best audio editor for Android?
Assuming you're willing to pay the $9.99 upgrade fee, I'd go with WavePad. The app has the most feature-rich and intuitive design of all the apps in this article.
Conclusion
While these apps are all useful for recording and manipulating audio, nothing compares favorably with the diverse feature set of Audacity. Nevertheless, if you need an audio editing app for Android, you do have some decent options available.
What about you? What's your favorite audio editing app for Android?