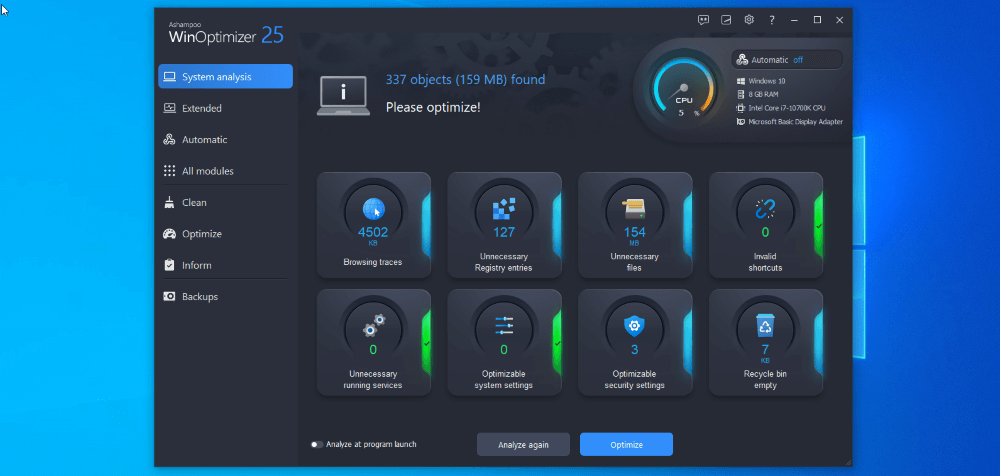 Ashampoo WinOptimizer
Features: Full-featured computer management utility platform that performs well compared to many of its competitors
Pricing: More expensive than competitors for comparably less support and features available for free with competitors
Ease of Use: Simple and straightforward to use with a clean user interface
Support: The lack of any meaningfully interactive support is problematic
Summary
Ashampoo WinOptimizer is a computer management utility platform that provides solid features at a staggering price. In a space where most competitors offer full-featured versions of their offerings for free and differentiate on truly professional features, it's tough to justify spending $50 on an annual WinOptimizer license. 

I'll note that a free version of WinOptimizer exists. As of writing this article, there is no documentation explaining the difference between the paid and free versions. Their appearance and obvious feature set are different. As such, I'm treating them as distinct products. 

WinOptimizer is tough to recommend for a lot of the same reasons as Auslogics BoostSpeed. Other competitors offer better user interfaces, or UIs, or offer more feature-rich free versions. Its pricing and feature set aren't competitive

What I Like: it's an easy to use full featured computer management utility platform.

What I Don't Like: there's no price transparency between free and paid versions, the pricing isn't competitive with other similar offerings, and this will actively shorten the life of your PC.
What does Ashampoo WinOptimizer Do?
Per Ashampoo, WinOptimizer speeds up your PC, removes junk files, and fixes common Windows issues.
What is the Latest Ashampoo WinOptimizer?
Ashampoo WinOptimizer 25.
Is Ashampoo Adware?
In my use of Ashampoo WinOptimzier 25, I didn't think it was adware or experience the installation of any adware. Some users have reported the opposite for other Ashampoo software.
Why Trust Me for This Review
I'm Aaron and I've been working with and around technology for a long time. It's not only a passion of mine, it's what I've built into a successful career. That career started with tinkering on my and my family's computers.
Some of that tinkering came from computer management utility platforms, like WinOptimizer. Back in the early-to-mid 2000s, computer management utility platforms were a necessary tool in every amateur IT support person's toolbelt. Disk fragmentation and unoptimized registries really impacted how computers worked.
Nowadays, modern operating systems and hardware obviate the need for these tools. Computers work differently in a lot of ways and are optimized well in others. That being said, tools like this can really help understand what's going on with a PC.
Detailed Review of WinOptimizer
Let's take a look at WinOptimizer's key features. I'll also share my thoughts about each.
User Interface
A straightforward user interface is a must for a computer management utility platform like WinOptimizer. These tools are largely marketed at computer laypeople and immediately forcing a user into complexity makes one of these tools confusing and unapproachable.
WinOptimizer has a good and consistent user interface. It keeps menu options on the left, operative information in the middle, and action buttons on the bottom. While that isn't the case for every screen, it is for all function screens. That's important because the user experience is consistent and straightforward.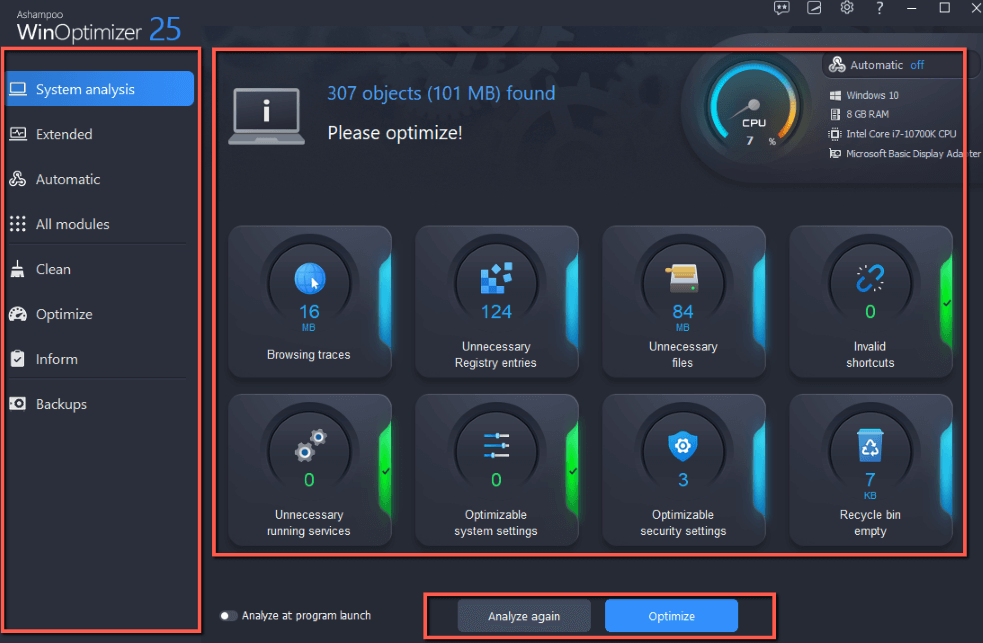 Comparatively, I think that WinOptimizer has a similar user experience to CCleaner and Glary Utilities. I think the clear leader in this space–and in UI design more generally–is Norton Utilities.
My personal take: the UI is straightforward to use, which is great for people who might be less technologically adept. It's also very consistent across different functions, which assists with easy and predictable navigation.
System Analysis
Greeting users on launch is the initial functionality for a general system optimizer. It's a two-click solution: there's a blue Analyze button, which turns into a blue Optimize button. Most users probably won't interact with WinOptimizer more deeply than that.
I, personally, think that people should be more aware and mindful of what their computer does. I get why some people wouldn't want to be, though. The great thing about WinOptimizer is that it doesn't force that additional complexity on users.
It does facilitate it, though. Users can click on any optimization category and see additional information about what that category means and what it contains. It also reveals detailed information, so if someone wants to discover more they can.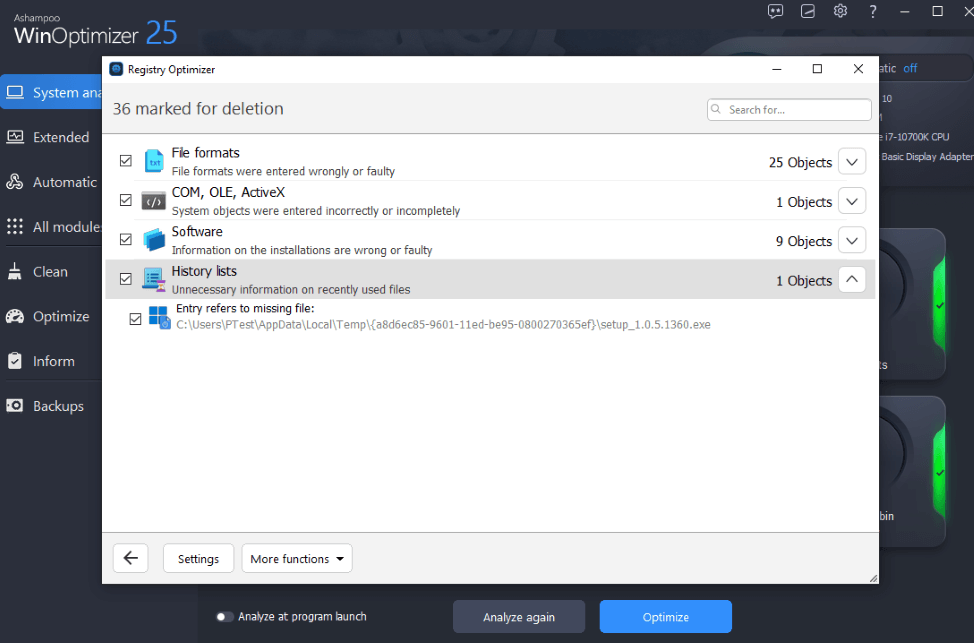 My personal take: I like the availability of detailed and complex information available with a couple of clicks. The information is easy to access and read. I also like that users aren't forced into that complexity and need to opt into it.
Module Variety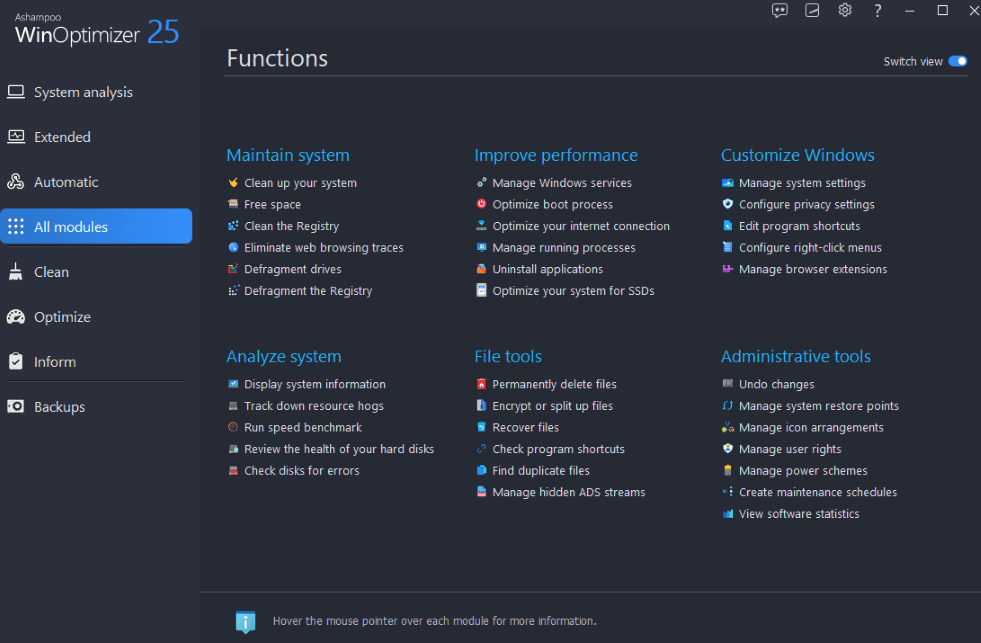 WinOptimizer provides a great variety of features. Most of those features are telemetry functions available within windows in many different places. WinOptimizer pulls those data sources and functions into one place for further consumption and diagnostics purposes.
I think that's the real value of computer utility management platforms. Dangling registry entries and unnecessary files just don't have the impact on computer performance that they used to. 
WinOptimizer collates critical Windows diagnostic tools in one place, which makes them easy to use and access. I think that's incredibly valuable. Unfortunately, the same functionality is also provided completely free by Glary Utilities and CCleaner.
My personal take: WinOptimizer collects a lot of great Windows features in one place. So do competitors, for free.
Pricing
WinOptimizer provides extensive details about what's included with the $50 annual licensing cost. That cost covers up to three computers, so is $16.67 per computer per year. That's less expensive than Auslogics BoostSpeed, but more expensive than CCleaner and Glary Utilities.
It's difficult to compare WinOptimizer to CCleaner and Glary Utilities in price because the pricing for those competitors is largely for support and multiple PCs. Much of the paid functionality of WinOptimizer is available for free with those competitors. I wish Ashampoo was more candid about what the paid license actually covers.
If the license payment largely covered support, it would still be difficult to recommend WinOptimizer on price. Support is in the form of a blog, FAQ, and contact web form. There's no blog, live chat, or other interactive support.
My personal take: WinOptimizer is clear about what's included in the licensing cost, but not clear about the distinction between paid and free versions. When compared to other competitors, even including paid support, WinOptimizer proves a difficult value proposition.
Defragmentation
I wrote about this issue with Auslogics BoostSpeed and I think it's a huge problem for any computer utility management platform. Some computer utility management platforms let you defragment solid state drives, or SSDs, without any warning. 
Defragmenting your SSD will significantly shorten the lifespan of your SSD. If that SSD is soldered to the computer's motherboard, which is increasingly popular with modern laptops and Windows tablets, then your computer will be non-functional and you'll lose your data.
BoostSpeed provides no warning before allowing you to defragment your SSD. Glary Utilities provides a warning but still lets you defragment your SSD. So does WinOptimizer.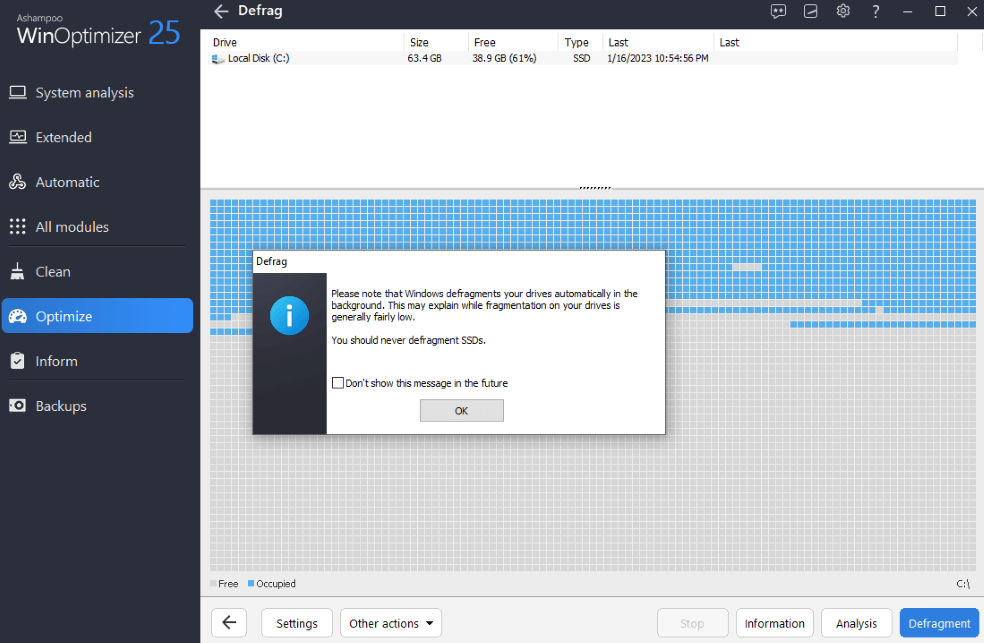 My personal take: I don't like that any computer management utility platform facilitates SSD defragmenting. It's inexcusable. While I think it's lazy to just put a warning in front of that, it's better than nothing and apparently standard for the market. 
Reasons Behind My Ratings
Features: 4.5/5
WinOptimizer is a full-featured computer management utility platform. It performs well compared to many of its competitors. Most of its features are comparable and straightforward.
I like that it collates a lot of useful features into one place. I've questioned the value in registry management, but I really appreciate the collation of many different windows functions into one place. A lot of them can be tricky to find and not needing to hunt them down is very appreciated. 
Pricing: 2/5
WinOptimizer is more expensive than competitors for comparably less support and features available for free with competitors. So if you don't need support, I'd recommend most competitors on price. If you do need support, I'd still recommend most competitors on price.
Ease of Use: 4/5
I'm a sucker for a clean, consistent, and straightforward user interface. WinOptimizer doesn't disappoint. It allows for a significant amount of discovery, information, and complexity. That's also really easy to access if a user is interested in doing so.
It doesn't force that on the user, though. I really like that. Where these computer management utility platforms are typically marketed to less tech-savvy users who want to speed up and clean their computers, that's critical.
Support: 2/5
I see live or interactive support as a baseline, especially when software costs $50 per year. I can understand the lack of live chat–most of WinOptimizer's competitors don't offer it–but the lack of forum support is disconcerting. 
I also don't like that there are no published timelines on email turnaround time. Most of WinOptimizer's competitors are more upfront about email support times.
Final Verdict
Is WinOptimizer worth it? I don't think so. WinOptimzier provides some excellent features, many of which are provided for free by competitors. WinOptimizer also provides less robust support than competitors, who charge less for that.
I think WinOptimizer is a solid tool, but the value proposition never materialized for me. I racked my brain to figure out how it outperformed competitors to justify a higher license fee and I just couldn't.
Overall, I think a computer management utility platform can be helpful. It collects a lot of inbuilt Windows tools and data in one place, which is collectively helpful with Windows and computer diagnostics. I just don't think WinOptimizer is the tool to do that.