Adding music, sound effects or custom recordings to your Final Cut Pro movie project is quite simple. In fact, the hardest part of adding music or sound effects is finding just the right music to add and listening for just the right sound effect to drag into place.
But, honestly, searching for the right sounds can be both time-consuming, and fun.
As a long-time filmmaker working in Final Cut Pro, I can tell you that – despite there being over 1,300 installed sound effects – you get to know them, or at least learn how to zero in on the one you might want.
And a secret pleasure of mine when making movies is all the time I get to spend listening to music, waiting till I hear that "perfect" track for the scene I am working on.
So, without further ado, I give you the pleasure of…
Adding Music in Final Cut Pro
I'll break down the process into two parts.
Part 1: Choose the Music
This may sound obvious, but before you can add music to Final Cut Pro, you need a file. Maybe you downloaded the song from the internet, maybe you recorded it on your Mac, but you need a file before you can import it to Final Cut Pro.
Final Cut Pro does have a section in the Sidebar to add music (see the red arrow in the screenshot below), but this is limited to music that you own. Subscribing to Apple Music (the streaming service) doesn't count.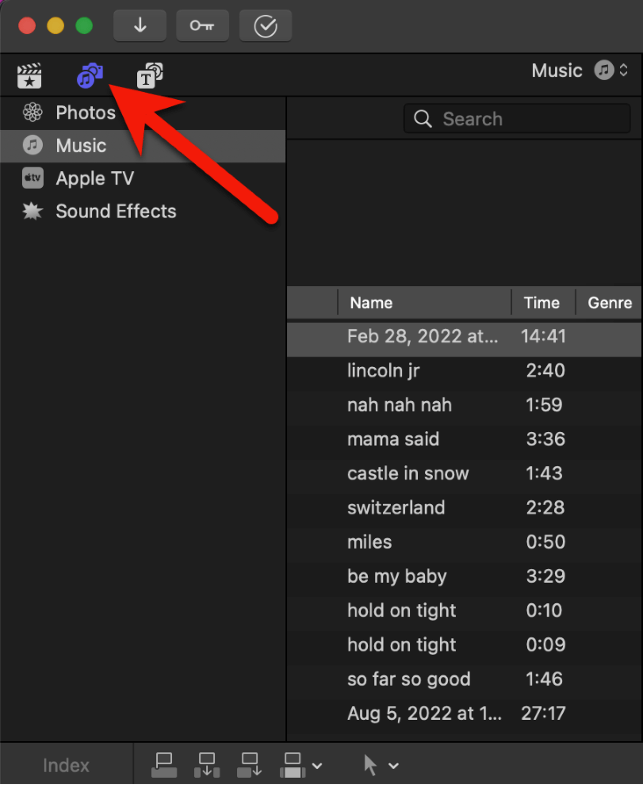 And you can't copy or move any music files you may have downloaded through Apple Music. Apple tags these files and Final Cut Pro won't let you use them.
Now you can use special audio software to record streams of music playing on your Mac – whether through Safari or any other application.
But you need good tools for this or else the audio can sound, well, bootlegged. My personal favorites are Loopback and Piezo, both from the geniuses over at Rogue Amoeba.
However, do remember that any audio you use that is not in the public domain is likely to run afoul of the copyright sensors embedded in distribution platforms like YouTube.
The easy solution that both avoids ripping (sorry, recording) audio through your Mac and not having to worry about copyrights, is getting your music from an established provider of royalty-free music.
There are tons of them, with varying one-time fees and subscription plans. For an introduction to this world, check out this article from InVideo.
Part 2: Import Your Music
Once you have the music files you want to include, importing them into your Final Cut Pro project is a snap.
Step 1: Click the Import Media icon in the upper left corner of Final Cut Pro (as shown by the red arrow in the screenshot below).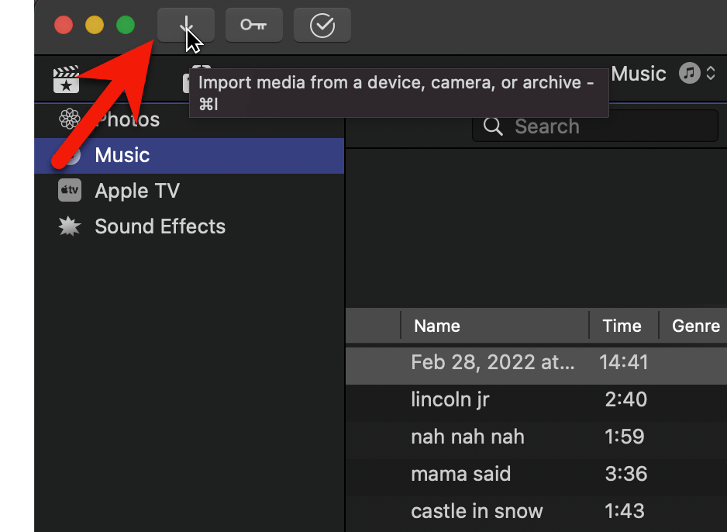 This opens a (usually quite large) window that will look like the screenshot below. For all the options on this screen, it is essentially the same as any program's popup window to import a file.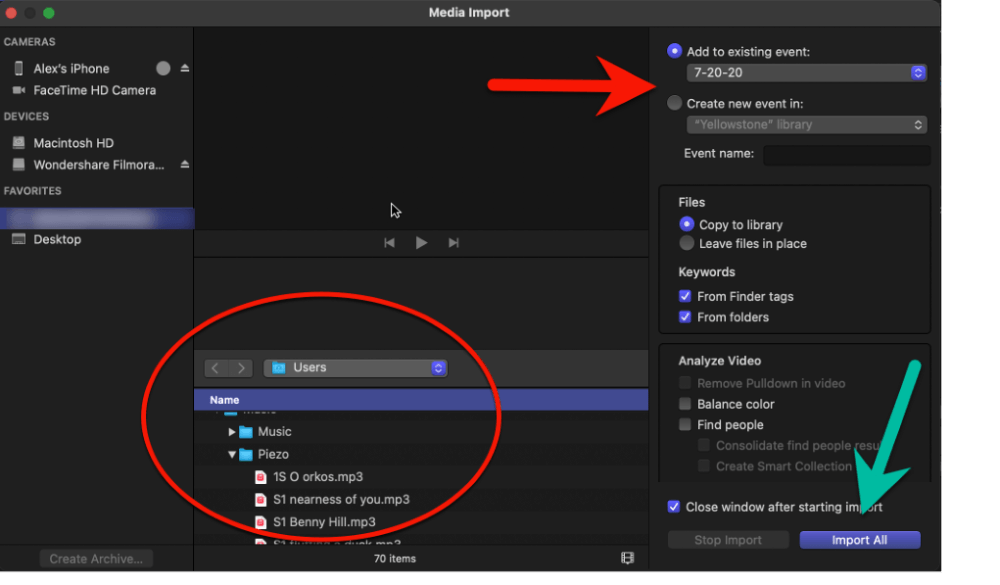 Step 2: Navigate to your music file(s) via the folder browser highlighted in the red oval in the screenshot above.
When you've found your music file or files, click on them to highlight them.
Step 3: Choose whether to add the imported music to an existing Event in Final Cut Pro, or create a new Event. (These options are shown by the red arrow in the screenshot above.)
Step 4: Finally, Press the "Import All" button shown by the green arrow in the screenshot above.
Voila. Your music is imported into your Final Cut Pro movie Project.
You can now find your music files in the Sidebar in the Event folder you choose in Step 3 above.
Step 5: Drag the music file from the Event folder into your timeline as you would any other video clip.
Pro Tip: You can bypass the whole Import Media window by simply dragging a file from a Finder window into your Timeline. Please don't be mad at me for saving this incredibly efficient shortcut for the very end. I thought you needed to know how to do it the manual (if slow) way.
Adding Sound Effects
Final Cut Pro excels at sound effects. The library of included effects is huge, and easily searchable.
Step 1: Switch to the Music/Photos tab in the Sidebar by pressing the same Music/Camera icon you pressed above to open the Music options. But this time, click on the "Sound Effects" option, as shown by the red arrow in the screenshot below.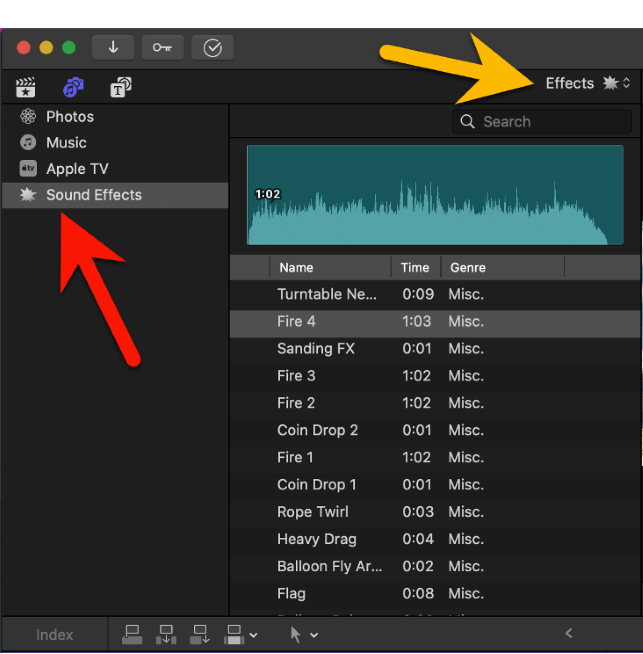 Once you have selected "Sound Effects", the massive list of every sound effect currently installed in Final Cut Pro appears (in the right side of the screenshot above), which includes more than 1,300 effects – all of which are royalty free.
Step 2: Zero in on the effect you want.
You can filter this massive list of effects by clicking "Effects" where the yellow arrow is pointing in the above screenshot.
A dropdown menu will appear allowing you to filter by type of effect, such as "animals" or "explosions".
You can also just start typing in the search box below the yellow arrow if you know roughly what you are looking for. (I just typed "bear" in the search box to see what would happen, and sure enough one effect is now shown in my list: "bear roar".)
Note that you can preview all the sound effects simply by clicking on the "play" icon to the left of the sound effect title (shown by the red arrow in the screenshot below), or by clicking anywhere in the waveform above the effect and pressing the spacebar to start/stop the sound from playing.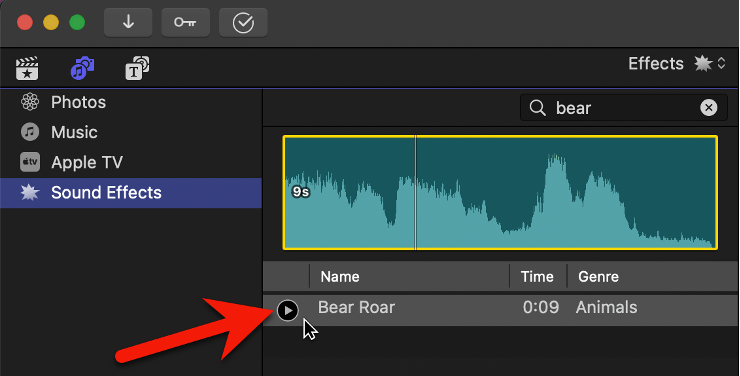 Step 3: Drag the effect to your timeline.
When you see the effect you want in the list, just click on it and drag it to where you want it in your Timeline.
Voila. You can now move or modify this sound effect clip just like you would any other video or audio clip.
Adding Voiceover
You can easily record audio directly into Final Cut Pro and automatically add it to your timeline. Read our other article on how to record audio in Final Cut Pro as it covers the process in detail.
Final (Quiet) Thoughts
Whether you want to add music, sound effects, or custom recordings to your movie, I hope you have seen that the steps are straightforward in Final Cut Pro. The hard part is finding the right (ideally, royalty-free) tracks for your movie. 
But don't let this deter you. Music is too important to the experience of a movie. And, like everything else about movie editing, you will get better and faster in time.
In the meantime, enjoy all the audio features and sound effects Final Cut Pro has to offer and please let us know if this article helped or if you have questions or suggestions. I appreciate your feedback. Thank you.