I'm an avid fan of DaVinci Resolve. It's definitely one of the smoothest editing software I've used, and there's a fully functional free version.
Despite the constant updates, sometimes technology still fails. I hate it when I'm working on a project and my computer crashes. While you probably have the program set to automatically save and back up your work, little setbacks can cost a time of time and effort when you're on a deadline.
My name is Nathan Menser. I am a writer, filmmaker, and stage actor. When I am not on stage, on set, or writing, I am editing videos. Video editing has been a passion of mine for six years now, so I have had my fair share of crashes, and bugs.
In this article, I will talk about a few reasons why your DaVinci Resolve may not be opening, and some possible solutions to this problem.
Reason 1: Your Computer May Not Be Powerful Enough to Run The Program
All editing software takes a good amount of computing power to run smoothly. Make sure that you are meeting the minimum system requirements to run DaVinci Resolve.
The requirements vary widely from project to project, however as a general rule you want at least a quad-core processor, 16 GB of DDR4 RAM, and a video card with at least 4GB of VRAM.
Reason 2: You Could Have Too Many Instances of The Program at Once
These can be interfering with each other causing crashes, slowdowns, or preventing it from booting up.
How to fix it? Let's start with the least time-intensive methods. The first option you need to try is to completely stop the program from running.
For Windows Users
Go to the search bar in the bottom left corner of your screen and search for Task Manager.
For me, the task manager icon is of an old computer with a blue screen. Open the program. You will see the names of several applications you have on the computer. Find where DaVinci Resolve is listed and click on it.
Once you've selected DaVinci Resolve, click End Task in the bottom right of the pop-up window. This will stop the program from running and you can then attempt to reopen it.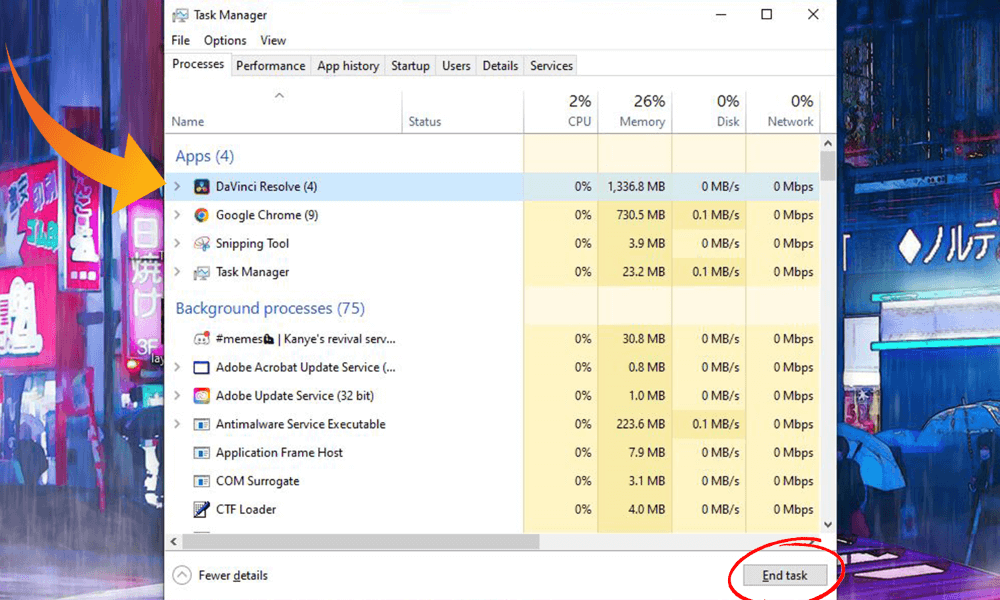 For Mac Users
macOS doesn't have task manager. Instead, it has an application called Activity Monitor. You can access this app by going to the Applications folder, then the Utilities folder.
From here, double-click "Activity Monitor." This will open an app that lists several various applications.
You should see everything currently running on the mac system. You'll also be able to see how taxing each app is on the system. Find DaVinci Resolve from the list and click it. This will highlight it.
In the top left corner of the Activity Monitor, find the octagon with an X inside. This is the "Stop" button and will force DaVinci Resolve to shut down. Then, try relaunching DaVinci Resolve.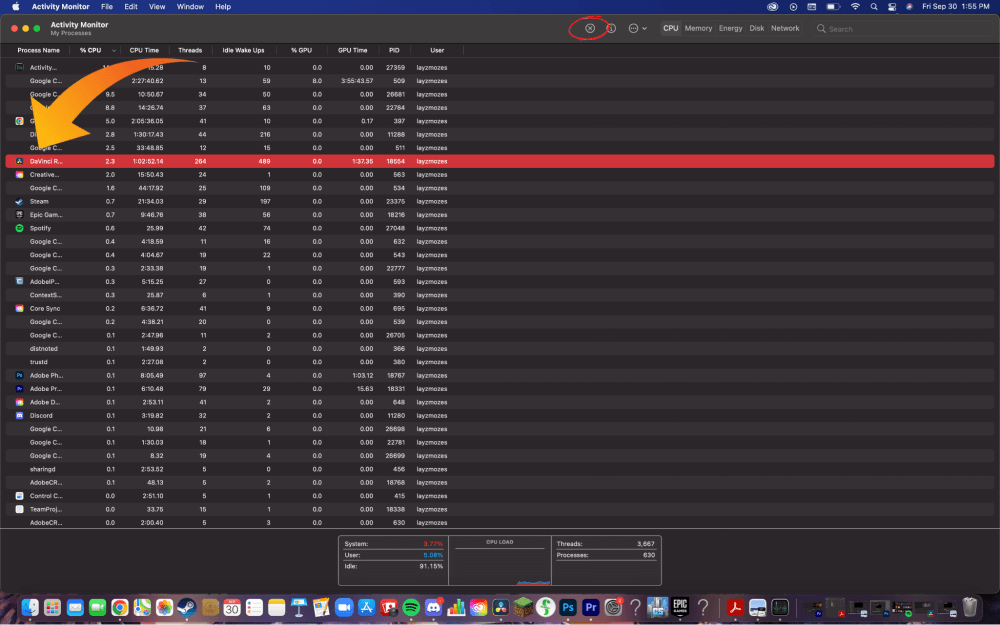 Reason 3: The Newest Version of Windows Could Be Corrupting Your Software
Sometimes right after an upgrade in Windows versions, it creates an incompatibility that BlackMagic Studios, the developer of DaVinci Resolve, needs to patch. There is something you can do while you are waiting for the new patch.
How to Fix It
Step 1: Launch DaVinci Resolve in Compatibility mode.
Step 2: Right-click The DaVinci Resolve Logo on your desktop screen. This should open up a vertical menu with several different choices such as Open File Location and Add to Archive. Select Properties from the very bottom of the list.
Step 3: From here, you will be able to open the Compatibility tab on the right side of the pop-up. Then check the box for run this program in compatibility mode. Then in the drop-down list directly below select the previous version of windows.
Step 4: Once all of the options are selected, click Apply and OK in the bottom right corner to save the changes. Try to open the program again.
Reason 4: DaVinci Resolve Has Corrupted or Otherwise Missing Files
Sometimes files mysteriously go sour or missing for no apparent reason, if this is the case, luckily Resolve is not that big of a program.
How to Fix it
If none of the options listed above work for you, try uninstalling the DaVinci Resolve software.
Before deleting the software back up the necessary assets, fonts, LUTS, media, database, and projects in a separate file location.
After uninstalling the program, go back into the file data and delete all of that as well. After you have completed these steps, go to the DaVinci Resolve download website, and reinstall DaVinci Resolve.
Final Thoughts
Remember to always back up your data before doing any major changes to the software, as there is always the possibility of losing projects, and whatever media you have.
Thank you for taking the time to read this article. Hopefully one of the solutions fixed your DaVinci Resolve not opening issue. Leave a comment letting me know what filmmaking, acting, or editing topic you would like to hear about next, and as always critical feedback is very much appreciated.