Is your name incorrect on your iCloud email account?
Perhaps you changed your last name or want to go by a nickname. Is it possible to change the sender name on iCloud email?
Yes, it is possible. To change the name on iCloud email, go to Accounts in the preferences pane of iCloud mail at icloud.com. Select your email address and modify the Full Name.
Hi, I'm Andrew, a former Mac administrator. In this article, I'll walk you through two methods for changing your display name on iCloud email. We'll also discuss iCloud email aliases and answer several frequently asked questions.
Let's get started.
How to Change the iCloud Sender Name at iCloud.com
To change the name that shows up when you send an email from your iCloud account, visit iCloud.com in a web browser and click on the Mail icon.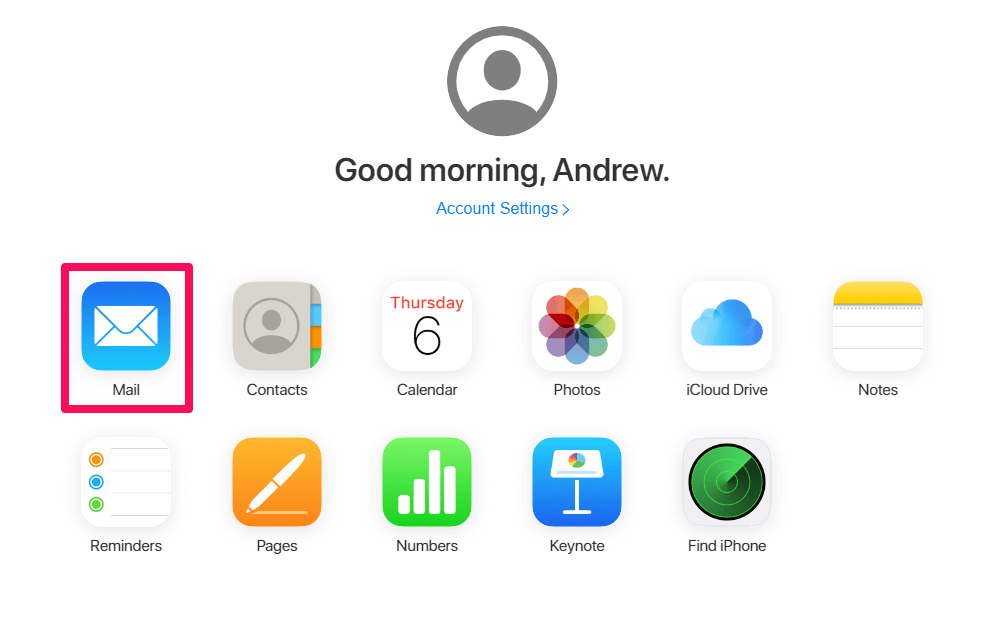 Click the gear in the left pane and select Preferences.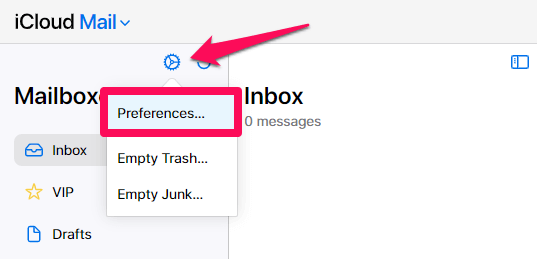 Click Accounts and then click on your email address.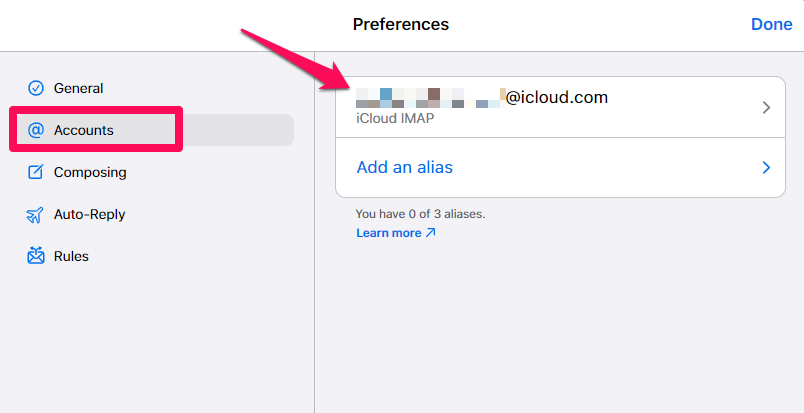 Edit the Full Name field and then click Done.
How to Change the Email Display Name on Your iPhone
To change the name of your iCloud email address on your iPhone, open the Settings app, and tap on your name at the top of the screen.
Tap on iCloud.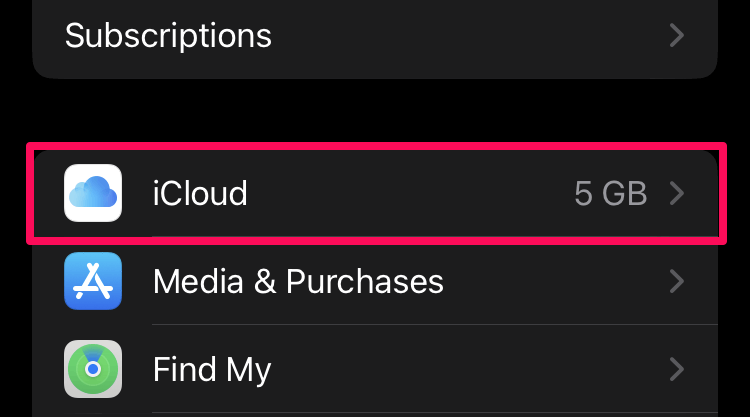 Tap on iCloud Mail, then iCloud Mail Settings.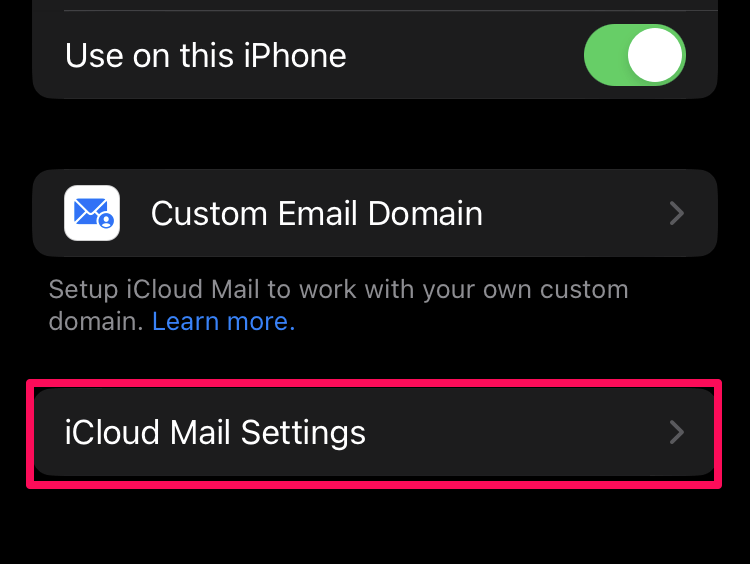 Tap the Name field in type in your desired name. Be sure to tap Done when finished to apply your changes.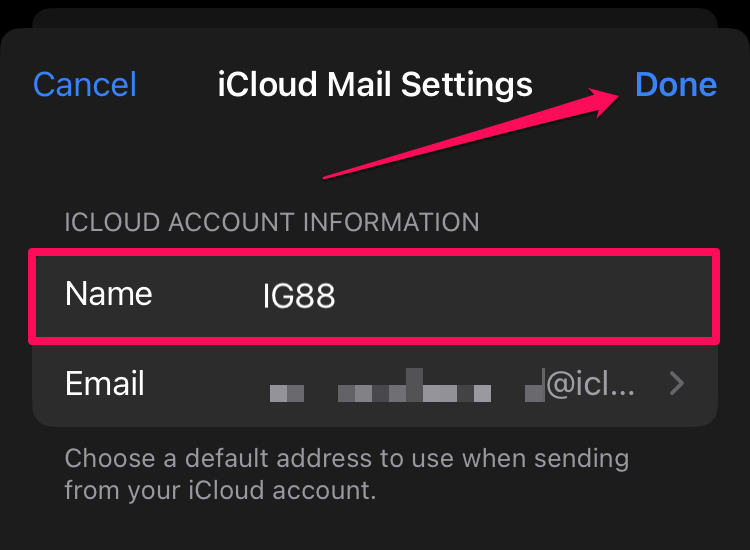 In my testing, changes I made to the name on icloud.com did not propagate to the iPhone's settings, so make sure to change the send-as name on both platforms if you use them both. Changes made on icloud.com will sync with macOS.
How to Create and Use iCloud Email Aliases
Apple allows iCloud users to create up to three email aliases. An alias allows you to have multiple addresses that all feed to one inbox, and you can even send emails as the alias account. This feature can come in handy when you don't want marketers to know your actual address.
To create an alias, head back to the account preferences pane at icloud.com/mail and click on Add an alias.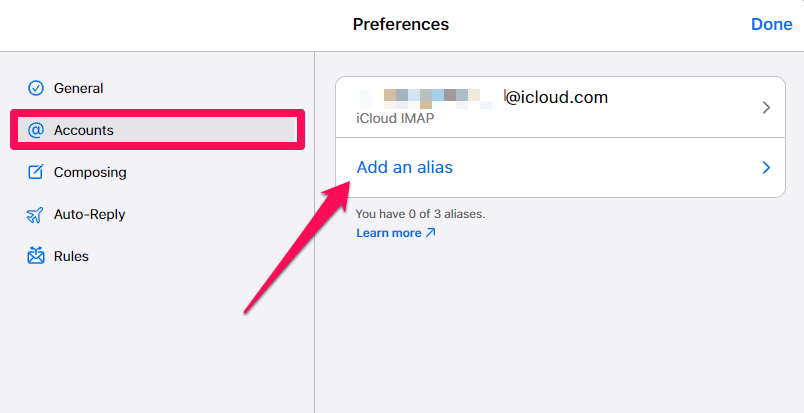 Type in the desired address, desired name, and an optional tag for the alias. Then click Add.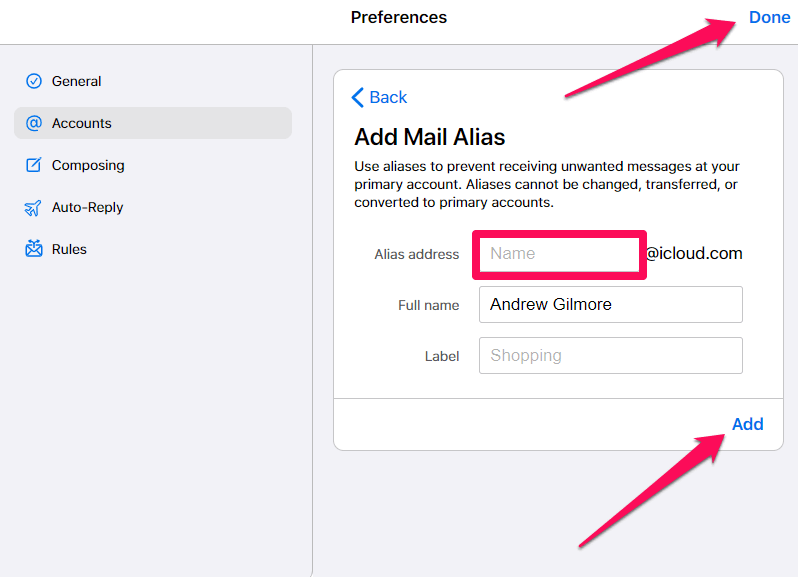 You can now send and receive emails from that alias address. The alias will be available on any device using iCloud mail.
FAQs
Here are some other questions about changing your name on your iCloud email.
Can you edit your iCloud email address?
You cannot change your primary iCloud email address, but you can use aliases to send and receive emails. You can add up to three aliases, and you can delete and replace these aliases if you need to change them.
How can I change my Apple ID display name?
The name associated with your Apple ID is not necessarily the same as the Full Name on your iCloud email address.
To change the name on your Apple ID, sign in to appleid.apple.com and click on Personal Information. Click on Name and enter your preferred information.
Conclusion
Now you know how to modify the name associated with your iCloud email address.
Apple makes it easy to update this setting, so you can confidently send emails knowing the recipient will see exactly the name you want them to see.
Were you able to change your name on your iCloud email? Let us know in the comments!