To change your iCloud email address, sign in to appleid.apple.com and click "Apple ID." Enter your new email address and then enter the verification code sent to the email.
Hello, I'm Andrew, a former Mac administrator, and iOS expert. In this article, I'll expand upon the option above and give you a couple of other options for changing your iCloud email address. Also, don't forget to check out the FAQs at the end.
Let's get started.
1. Change Your Apple ID Email Address
If you want to change the email address you use to sign in to iCloud, you'll need to change your Apple ID.
You can change your Apple ID by visiting appleid.apple.com in a web browser. Sign in to the site and click Apple ID.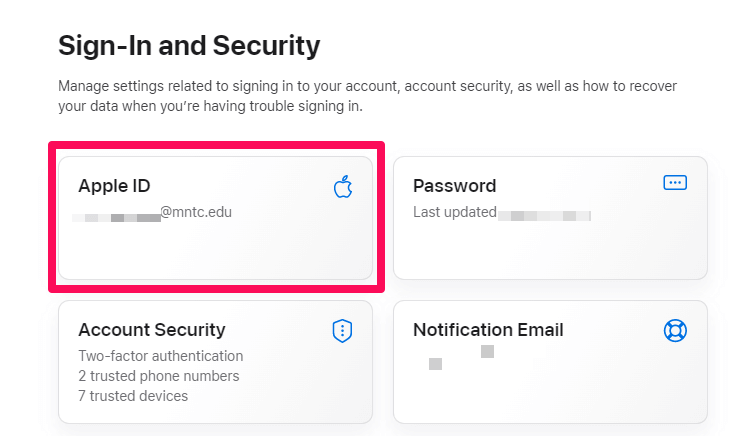 Type in your new email address and then click Change Apple ID. You'll need to verify that you have access to the email address provided to complete the process using a code sent to the provided inbox.
2. Change Your iCloud Mail Email Address
If you don't want or need to change your Apple ID but instead want to change your iCloud email address, then follow these steps.
First, you should know that you cannot modify your primary iCloud address, even if you change your Apple ID. Nevertheless, you do have other options.
With iCloud mail, Apple gives you the ability to create up to three email aliases. These alternate email addresses mask your primary address; you still receive mail from aliases at the same inbox, and you can even send mail as the alias address.
In this way, the alias functions just like an email address.
To create an iCloud email alias, visit iCloud.com/mail and sign in.
Click on the gear icon and select Preferences.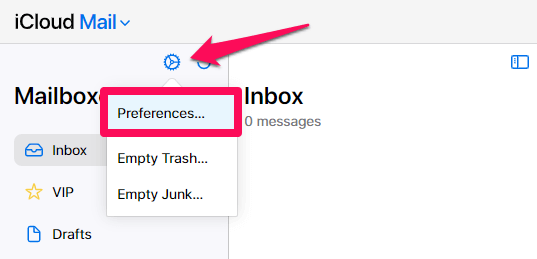 Click Accounts and then click Add an alias.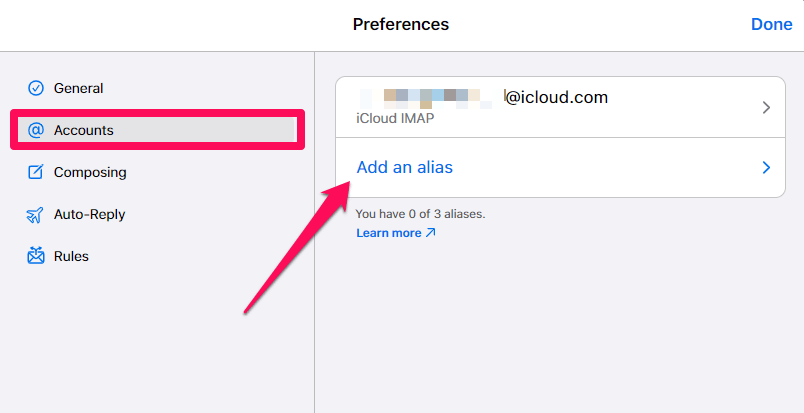 Type in your alias address and click Add.
Your email alias can only contain letters (without accents), numbers, periods, and underscores. If the email address you choose is already in use, you will get a message that This alias is not available when you click the Add button.
From an iPhone or iPad, visit icloud.com/mail in Safari. The account preferences will automatically pop up, and you can tap on Add an alias as in the instructions above.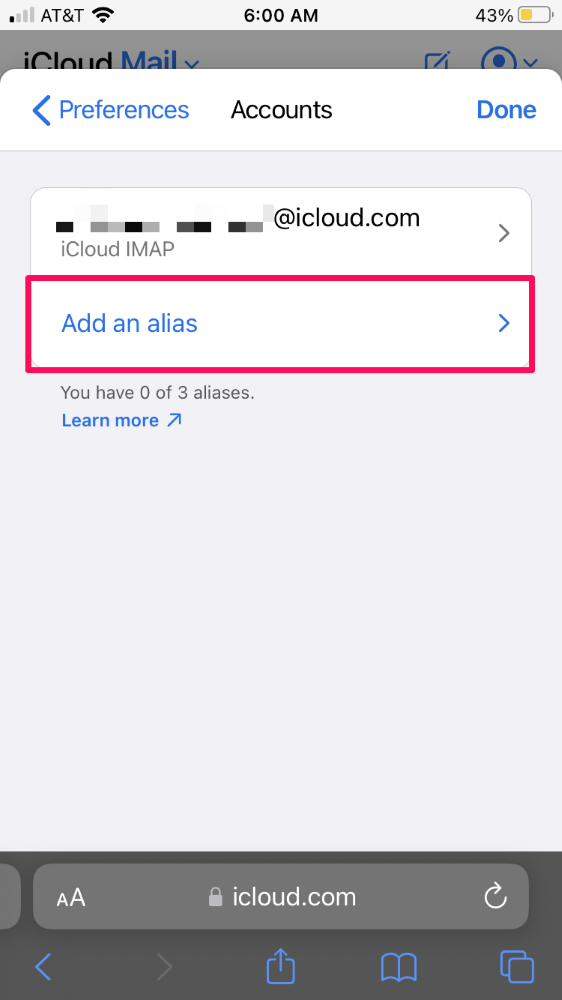 In addition to @icloud.com email addresses, you can generate and use your own custom email domain name by paying for an iCloud+ account. Apple will provide you with a custom domain, like [email protected], provided the domain is available.
3. Create a New iCloud Account
If none of these options suit your fancy, you could create a new iCloud account, but doing so has some ramifications. With a brand new account, you won't have access to previous purchases or any photos or documents stored in iCloud.
You could set up a family plan and share purchases with your new account, which adds a layer of inconvenience. Therefore, I wouldn't recommend starting over with a new Apple ID unless you understand the implications and are willing to live with them.
Creating a new iCloud account is straightforward. Go to appleid.apple.com and click Create Your Apple ID in the top right corner.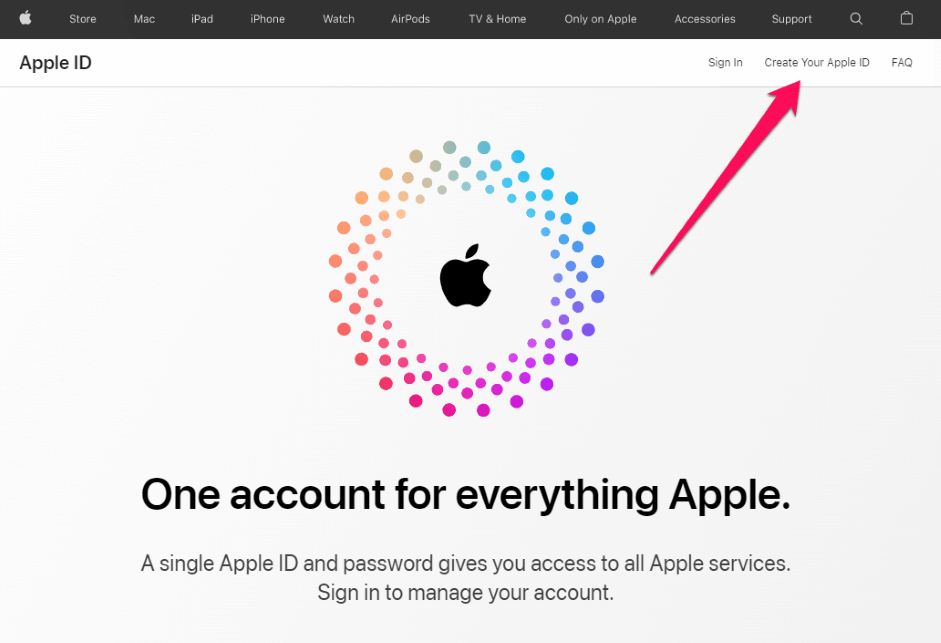 Fill out the form, including the email field.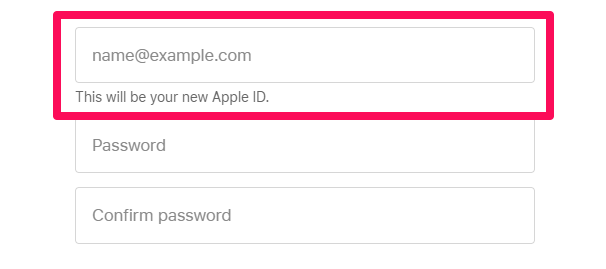 The email address you specify here will be your new Apple ID.
Once you finish creating the account, you can use it to sign in to iCloud. You will have to accept the iCloud terms and conditions the first time you sign in.
FAQs
Here are some other questions you might have about changing your iCloud email address.
How do I change my primary email address for iCloud?
To quote Apple's iCloud support page, "You cannot delete or turn off a primary iCloud Mail address." You can, however, create an alias email and set it as the default address on your phone.
To do so, open iCloud settings on your iPhone and tap on iCloud Mail, then iCloud Mail Settings. Under ICLOUD ACCOUNT INFORMATION, tap the Email field to change your default send as email address.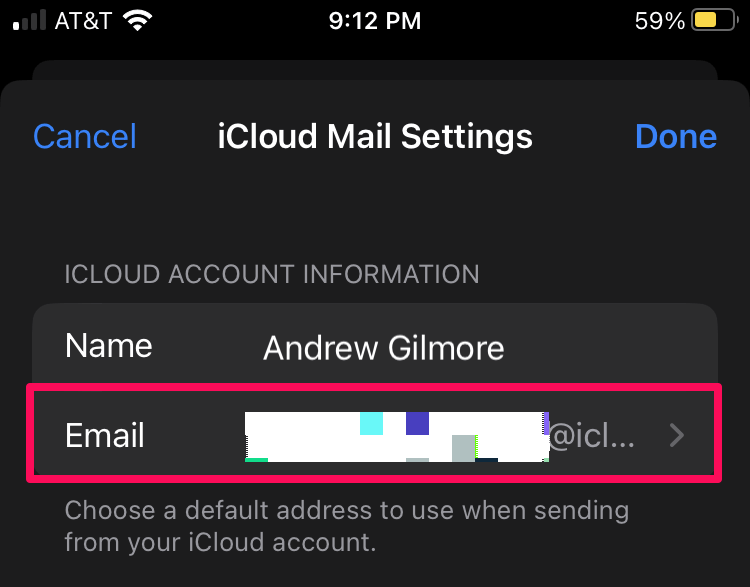 You won't be able to change this option unless you first set up an alias in iCloud.
Note: this applies to your iCloud mail email address. If you simply want to change the email address you use to log in to iCloud, follow the steps above to change your Apple ID email address.
Can I change my iCloud email address without losing everything?
Yes. As long as you don't create an entirely new Apple ID, all of your contact, photos, and other data will remain right where it was.
How can I change my iCloud email address on my iPhone without the password?
If you need to log out of iCloud on your iPhone but don't know the password, you can use your iPhone's passcode instead. At the Apple ID settings screen in the Settings app, swipe to the bottom and tap Sign Out.
When prompted to enter the password, tap Forgot Password? and your phone will prompt you to enter the passcode you use to unlock the device.
Conclusion
People need to change their iCloud email addresses for a variety of reasons.
Whether you need to change your Apple ID or your iCloud email address, you can do so by following the instructions in this article.
Your iCloud account is the hub of your interaction with the Apple ecosystem, so whatever you do, be sure to keep your account secure.
Did you have success changing your iCloud email address? Let us know in the comments.