Do you want to sound like an alien or a ghost to prank your friend? Or make a cute baby voice to troll someone while playing Minecraft? Whether you're making a funny video or want to add more fun to your gaming experience, a voice changer software can help you with that.
Changing the sound of one's voice is very popular, especially among youth. Don't underestimate the power of voice modifiers. Your game partner with an angelic voice might actually be a guy!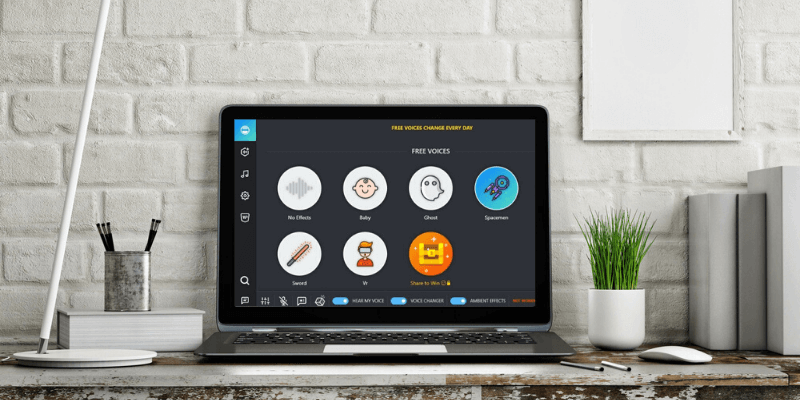 In this article, we are going to show you the best voice changer software for different platforms and needs. Here's a quick summary.
Voicemod (Windows) is the best real-time voice changer and soundboard software with a rich feature set as well as a minimalistic and user-friendly interface. It supports a significant number of online games and chat apps, including the most popular ones such as Skype and TeamSpeak. The software also provides a custom voice generator for making personalized voices and sound effects. Note that this and some other tools, as well as sound effects, are limited to the paid pro version.
Voxal Voice Changer (Windows/Mac) is the best paid voice changer that's super easy to use and has a simple UI. Voxal allows you to use voice effects in real-time as well as modify the recorded audio files. The free version of the software has limited voice changing options. To make the most of the advanced features, you'll have to buy a lifetime license, which is quite expensive. However, there is a 14-day trial period for you to try before making the final decision.
MorphVox Pro (Windows/Mac) is the second multi-platform voice modifier in our list with a library of voice effects for changing your voice online and in-game. It has a well-running background noise filter that will come in handy if you're using your computer's built-in microphone. Another excellent feature is the ability to add background sounds, which can help you pretend you're far away from your computer. MorphVox is a paid software, but it has a fully functional 7-day trial version.
You may also want to try these two alternatives:
Clownfish Voice Changer (Windows) has 14 voice effects and a slider for a custom pitch. The program includes several tools that go beyond the standard feature set of typical voice changer. For instance, it has a built-in music player that can reproduce sounds in the background of your recordings. There is also a sound player that can trigger sounds with the help of hotkeys, and perhaps the most useful tool is Text to Speech/Voice Assistant, which converts your text into spoken words.
VoiceChanger.io is a free web-based voice changer. It can't alter your voice for games and chats in real-time. However, the tool allows you to upload a pre-recorded audio file or use the microphone to record a new one and change it online. It's an excellent option for those who don't want to download any extra software.
Disclaimer: The opinions in this review are solely our own. No software or developers mentioned in this post have any influence on our testing process.
Why Use Voice Changer Software
Have you ever changed your voice just for fun? We all do that at least once in our life, especially when we were kids. Just remember how hilarious it was when you tried to prank-call your friend! Technology has come far enough so that you can now easily change your voice, at least digitally.
Today, voice changer technology is integrated into apps like My Talking Tom or Snapchat. But imagine if you could talk by Skype, Viber, or any other call app and change your voice in real-time with dozens of different variations. All this and more are possible with voice changer software.
Voice changers allow you to alter your voice while talking online or modify pre-recorded audio files. Generally, they come with multiple preset voice types (men and women voices, robotic voice, cartoon character voices, etc.) and special effects (underwater, in space, in a cathedral, etc.). The best voice changers can also help you change your voice manually by adjusting the tone, pitch, frequency, and other characteristics.
A voice changer could also be useful while playing your favorite online game. Sounding like the character that you're using brings a personal touch and creates an unforgettable role-playing experience.
If you are a person who likes playing jokes, you're already thinking about using this software to make fun recordings or to prank your friends. The voice changers can also work great for concealing your identity online and creating voices for characters in podcasts or audiobooks.
How We Tested and Picked Voice Changer Software
To determine the winners, I used a MacBook Air and a Samsung computer (Windows 10) for testing. These criteria were implemented:
Range of features. The best voice changer software should offer a vast feature set to help you create a unique sounding. Good software allows users to make real-time voice change, record voice, and modify it right away. It also supports the editing of pre-recorded files with the help of various effects and sound equalizer.
Online use. To add some fun to your online calls, this kind of software has to be compatible with most VoIP applications or web chat services such as Skype, Viber, TeamSpeak, Discord, etc.
Gaming & Streaming Support. The best voice changer is also useful for gamers who want to disguise their voice while playing WOW, Counter-Strike, Battlefield 2, Second Life, or any other online game with voice chat. It should work well with most video and game streaming platforms, including Twitch, YouTube, and Facebook Live.
Library of sounds. A rich built-in collection of voices and effects is required for any voice changer software that claims to be the best one. Some voice changers also offer a library of background sounds, so that you can add one while you talk and sound like you're somewhere else. It also allows users to upload their own library.
Ease of use. Choosing the right voice changer is not only about features and sounds it offers, but also the user experience it creates. Is it user-friendly enough? An intuitive interface is especially important when you use the software online and need it working as smoothly as possible.
Affordability. The perfect apps offer the best value for your money. Most voice changers listed below are paid. However, all of them have free feature-limited or trial versions that are surely worth a try.
Are you getting excited about using a voice changer software? Let's have a closer look at the list of the top options you can use to modify your voice.
Best Voice Changer Software: The Winners
Best Free Option: Voicemod (Windows)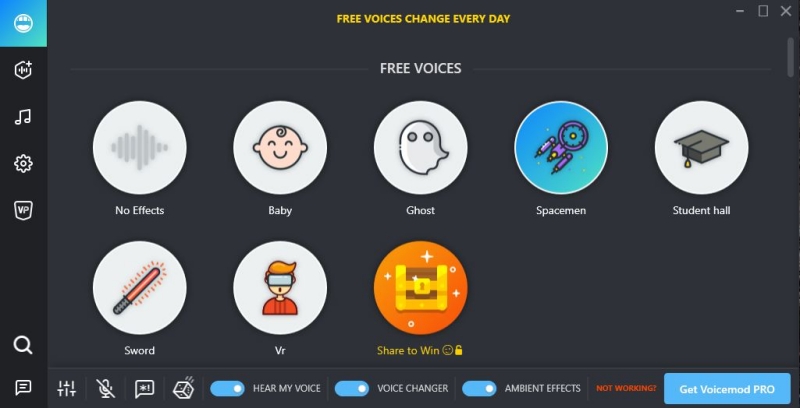 Designed for Windows users (with macOS and Linux versions coming soon), Voicemod is the best voice changer and soundboard software. The app has an appealing and up-to-date interface, which makes it stand out among other voice modifiers on our list.
Voicemod offers support for numerous online games such as PUBG, League of Legends, Fortnite, GTA V, and others. The ability to alter voice in real-time makes the app a perfect option for online chatting and streaming. It's compatible with a significant number of streaming platforms and chat tools, including Skype, Discord, Twitch, TeamSpeak, Second Life, and VRChat.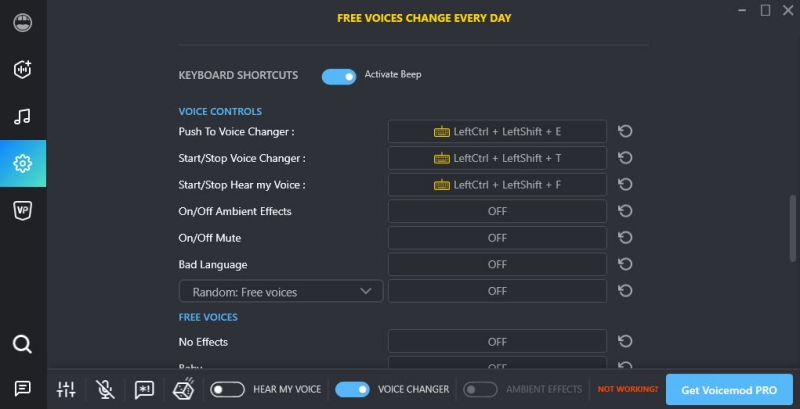 Are you looking for software to play a prank on a friend? With a vast collection of voice options and effects, Voicemod surely deserves your attention. From spaceman and chipmunk to dark angel and zombie — this app can convert your voice right away. There are 42 voice effects you can choose from, though only six of them are available for free.
Voicemod also offers the Meme Sound Machine which works as a soundboard. With its help, you can upload funny sounds in WAV or MP3 format and assign shortcuts to each of them. There is also a library of meme sounds. Just add them to your soundboard and use it in online gaming, streaming, or chatting. Note that only three sounds can be used in a free Voicemod version.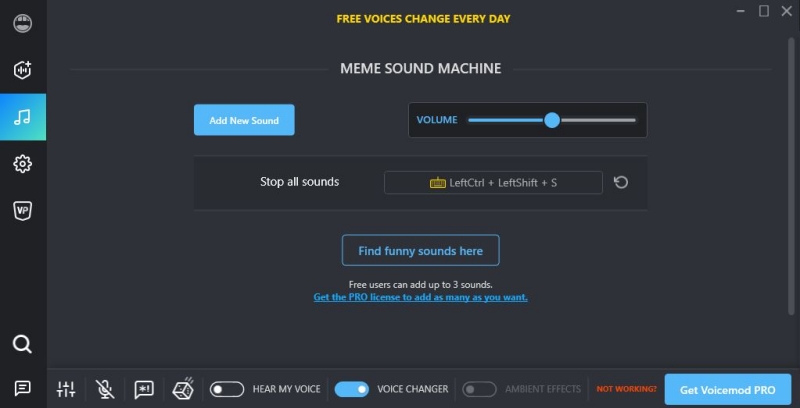 The application also allows users to create unique voices and personalized sound effects. Among the available tools for voice changing you can find vocoder, chorus, reverb, and autotune effects. However, these features come only in the PRO version.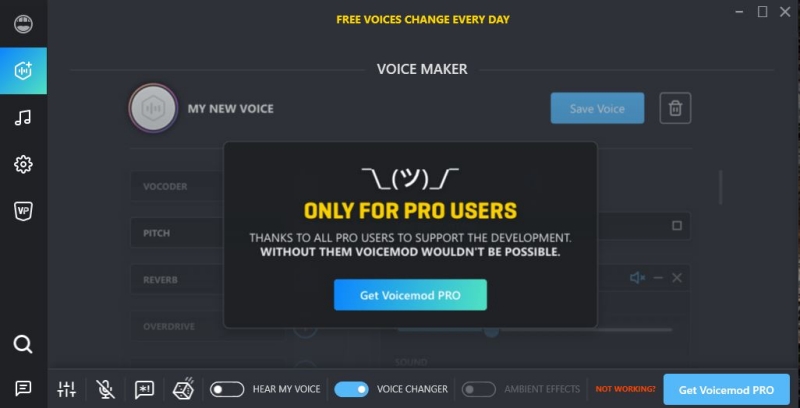 Although Voicemod is free to download, only pro users have access to a complete feature set and voice library. There are three types of subscription: 3-month ($4.99), 1-year ($9.99) and lifetime ($19.99).
Best Paid Option: Voxal (Windows/macOS)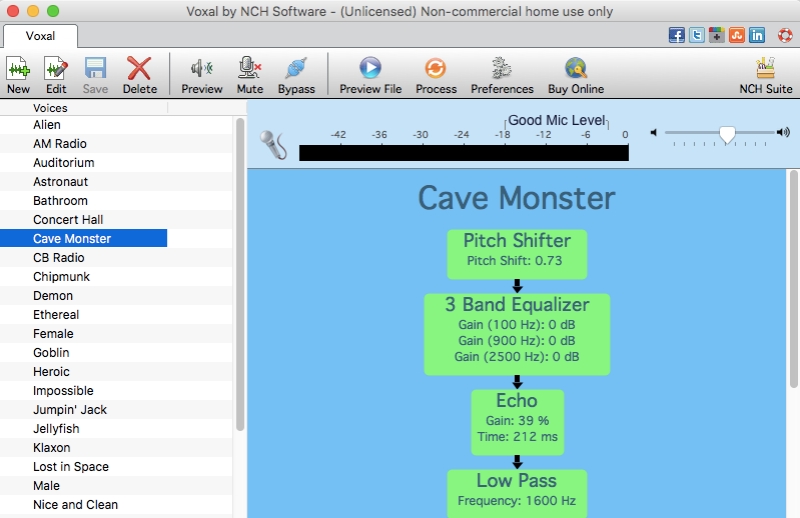 Voxal Voice Changer works perfectly well both on Windows and Mac. The app is designed to help you disguise your voice for anonymity on the web and create voices for videos, podcasts, and games.
It comes with a vast library of voices and vocal effects which help you sound the way you want. The voice changer is compatible with a bunch of popular applications and online games that use a microphone, including Skype, TeamSpeak, CSGO, Rainbow Six Siege, and more. With Voxal Voice Changer, you can apply voice effects in real-time using a headset, microphone, or other audio input devices.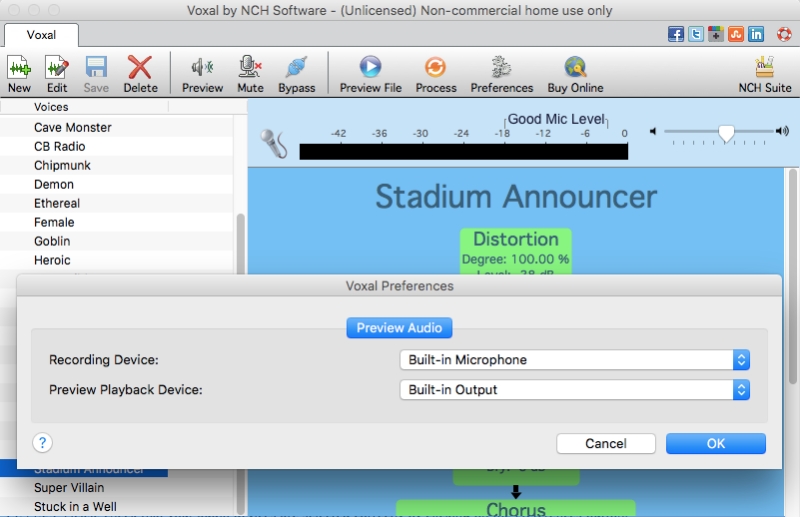 The voice changer has an intuitive and easy-to-use interface that makes the process of editing your voice a piece of cake. Voxal is quite lightweight too, which means it doesn't affect your system performance while you're using the voice changer with other apps. Apart from real-time voice changing, the software also allows you to alter an already existing audio file.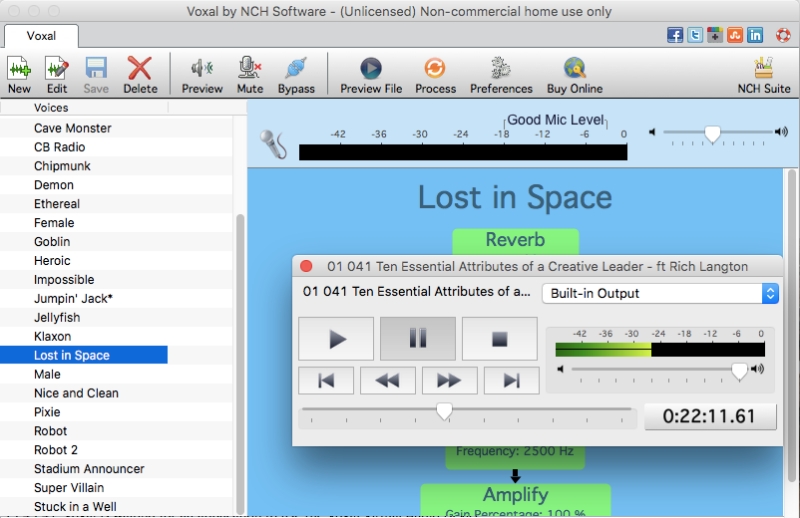 From cave monster to astronaut, the number of voice types and effects are more than enough. Voxal enables users to create customized voice effects as well. Additionally, you can assign hotkeys for the most frequently used voices.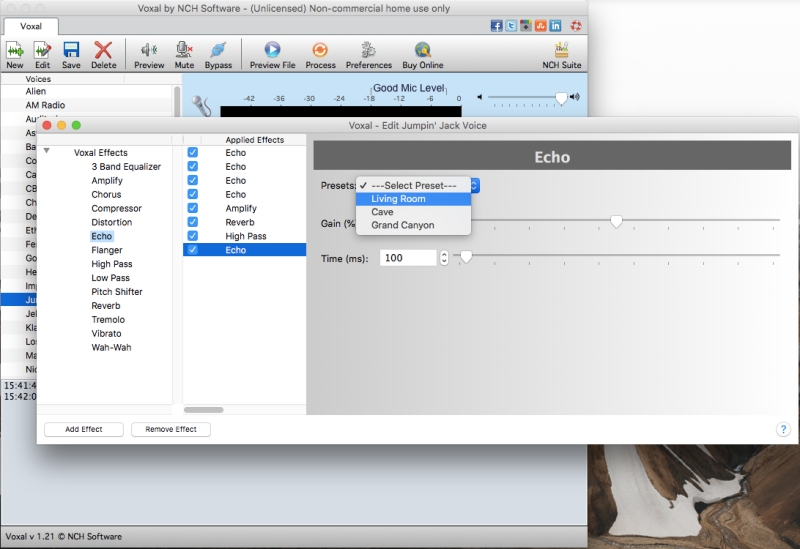 A free version of Voxal is available for non-commercial use only during the 14-day trial period. If you want to continue using the software at home, you have to buy a lifetime license for $29.99. The commercial license costs $34.99. There is also a quarterly subscription plan comes at $2.77 per month.
Also Great: MorphVox (Windows/macOS)
MorphVox is a voice changer software that easily integrates with online games as well as VoIP and Instant Messaging applications such as Skype, Google Hangouts, TeamSpeak, and more. It also works with multimedia software for audio editing and recording, including Audacity and Sound Forge.
The voice changer can not only modify your voice with various effects but also adjust it by pitch shift and timbre. Six voices come by default: child, man, woman, robot, hell demon, and dog translator. The app allows users to download and add new voices and sounds to create even more audio combinations.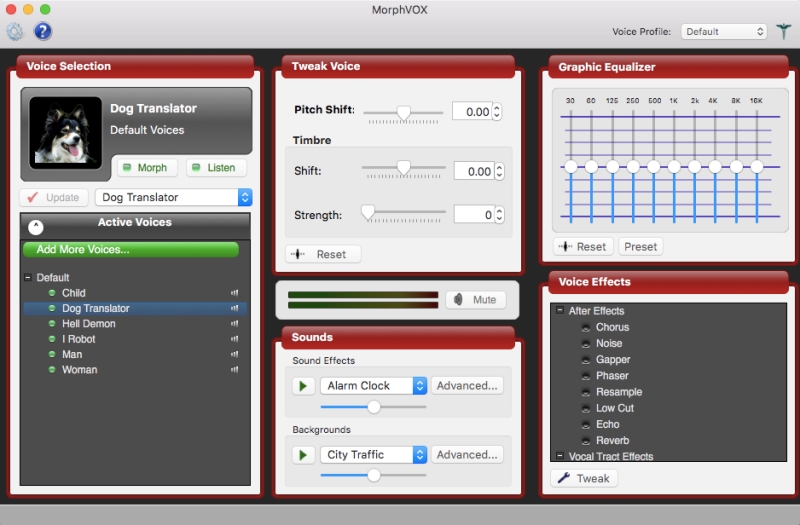 With available background sounds, MorphVox can help you pretend you're in a traffic jam or at a shopping mall. Because of well-running voice changing algorithms and ultra-quiet background cancellation, the app is perfect for making voice-overs for videos or any other audio projects.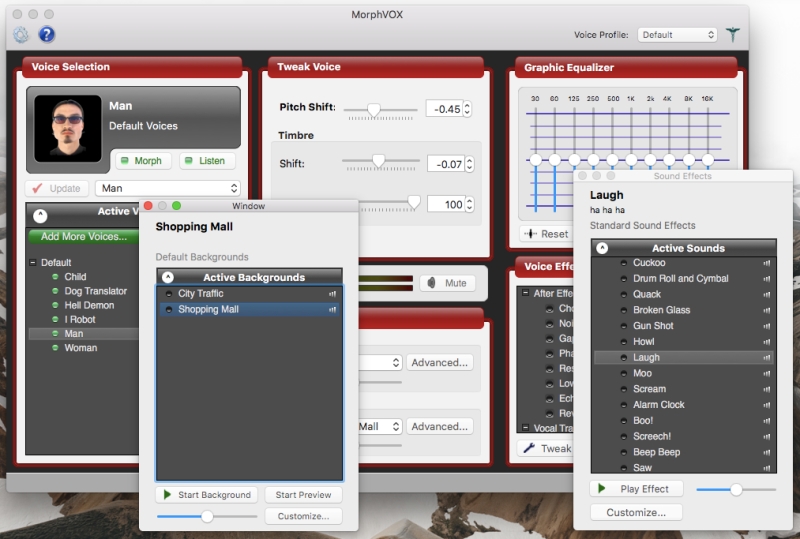 Although the voice changer has simple and easy-to-use UI, it looks a bit out-of-date. MorphVox is available for macOS and Windows. It costs $39.99 but has a fully functional 7-day trial version.
Best Voice Changer Software: The Competition
Clownfish Voice Changer (Windows)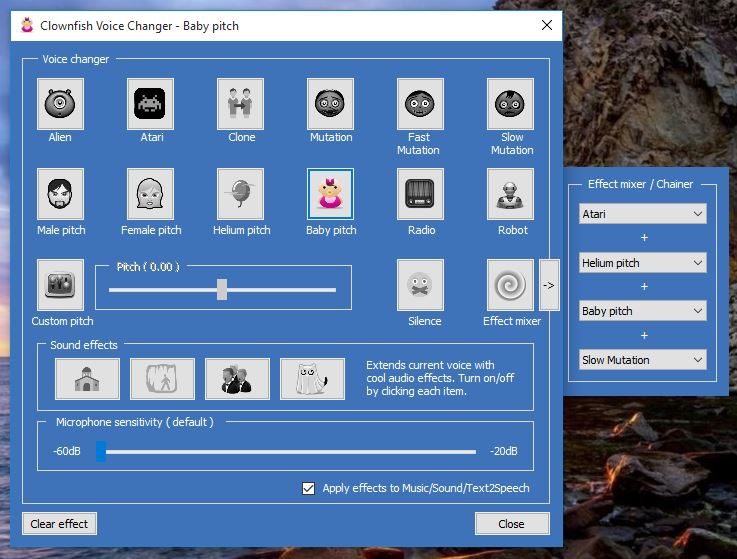 Clownfish is a free voice changer for Windows with an incredibly simple interface that doesn't put too much load on your system. It can also work as a music/sound player, but the most useful from the offered tools is Text to Speech/Voice Assistant. This tool converts your text into speech and reads it in one of the voices you choose from the drop-down menu.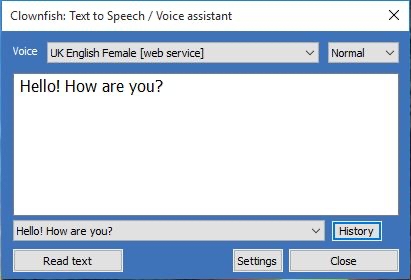 The voice changer is compatible with almost all apps on your computer that use a microphone, including Skype, Viber, and TeamSpeak. Clownfish also works smoothly with Steam, so that you can use it for playing online games. There are 14 voice effects to choose from, such as clone, alien, baby, radio, robot, male, female, and more.
VoiceChanger.io (Web-based version)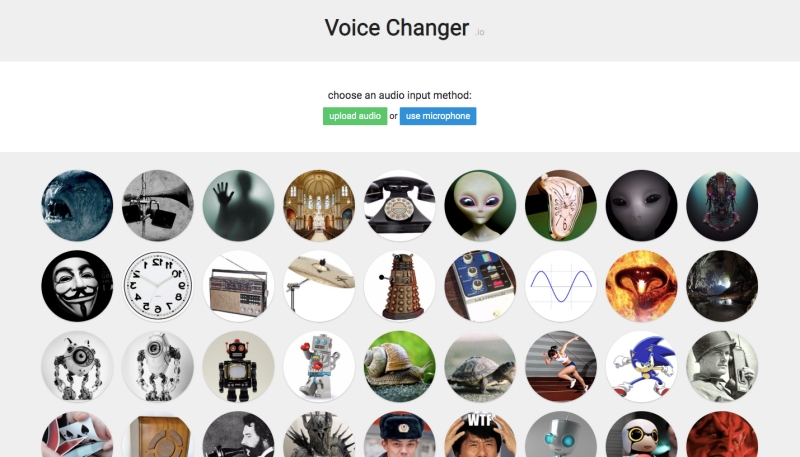 A free online voice changer, VoiceChanger.io is an amateur project that is not regularly updated. Even so, it offers 51 voice effects to change your voice online — no need to download extra software. Just visit the website and click on the icon of the preferred voice effect to hear how it sounds.
Note that for some voices, you'll have to pronounce the words very clearly and with the right accent to make the voice transformation work correctly. For example, if you want to sound like Dalek or Bane, you should try to parody the target character, and the voice modifier will add the rest.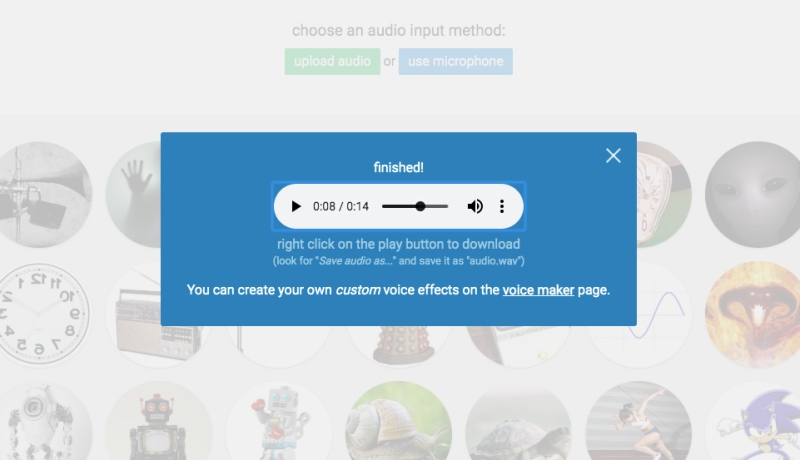 VoiceChanger.io can't modify your voice for online games and chats in real-time. However, it allows you to change your voice via two audio input methods — upload a pre-recorded audio file or use the microphone to record a new one. The web-based voice changer also offers a voice maker tool that helps users combine effects to create their own original voices.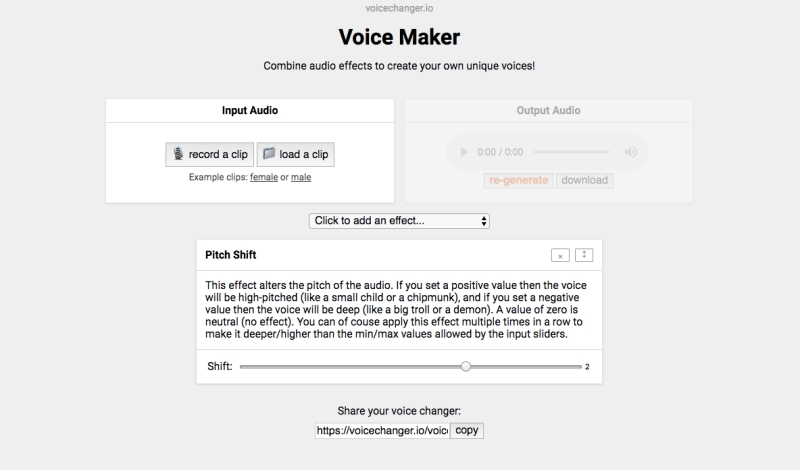 The developers allow using the generated audio files for any purposes, including commercial use — no need to credit VoiceChanger.io if you don't want to do that.
Final Words
Whether you want to take your gaming experience to a new level or play a joke on a friend, the voice changers listed above will surely help you have fun. We hope that you'll find an app that meets your budget and needs.
If you think that any other voice changer software deserves our attention, feel free to let us know in the comment section.