Do you get bored with the default Mac wallpapers? Of course, you do! But hunting awesome pictures on endless web pages and changing them manually takes a lot of time. You'll be happy to hear there are user-friendly live wallpaper apps that can deliver gorgeous hand-picked pictures right to your desktop every hour, day, or week.
If you want to keep the look of your Mac's desktop screen fresh and regularly see inspiring background pics, check out our list of the best wallpaper apps for macOS. Interested?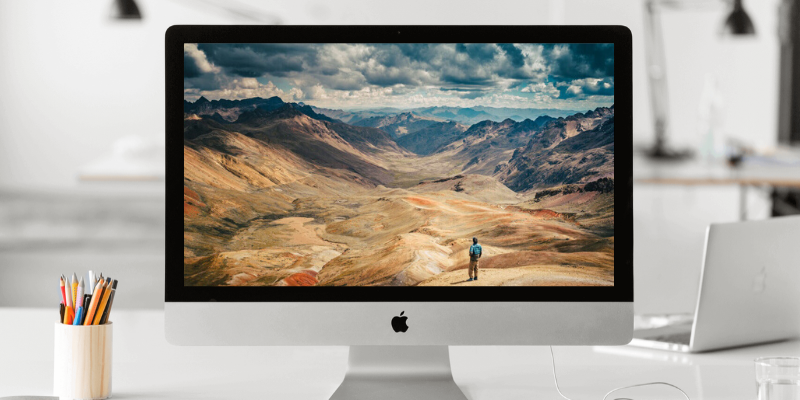 Here's a quick summary:
Wallpaper Wizard 2 is an app with more than 25,000 wallpapers and new arrivals every month. All images are grouped into collections for fast browsing. Although the app is paid, it's worth the money as it offers enough awesome background pictures in HD quality for your Mac's entire lifetime.
Unsplash Wallpapers and Irvue are two different apps that bring spectacular wallpapers to your Mac from one source — Unsplash. It's one of the biggest collections of high-resolution images made by a community of talented photographers. Both applications that use Unsplash have intuitive interfaces and a bunch of customization options.
Live Desktop delivers a unique experience to your desktop with animated wallpapers in HD quality. Most of them come with integrated sound effects which can be easily turned on or turned off. The application also lets users upload their own videos to create customized live desktop backgrounds.
How We Tested and Picked Wallpaper Apps
To determine the winners, I used my MacBook Air and followed these criteria for testing:
Wallpaper Collection: As the macOS collection of default wallpapers is quite limited and flat, this criteria was the most important during our test. The best wallpaper app must have a great selection of wallpapers to meet the needs of the most exacting users.
Quality: The best wallpaper application for Mac should offer HD pictures and allow downloading images at the resolution that is most appropriate for the user's desktop.
Feature set: What makes the best wallpaper application stands out from competitors is a great set of features such as the ability to change wallpapers automatically depending on the user's time preferences, multi-display support, live wallpapers support, and various customization settings.
User Interface: If the application is claimed to be the best software for Mac's desktop, it should stay user-friendly and have an attractive and intuitive interface to create the best possible user experience.
Affordability: Some of the apps in this category are paid. In this case, they must offer the best value for the money if a user decides to purchase it.
Disclaimer: The opinions on the wallpaper apps listed below were formed after in-depth testing. No developers of the applications mentioned in this article have any influence on our testing process.
Best Mac Wallpaper Apps: The Winners
Best HD Wallpaper App: Wallpaper Wizard 2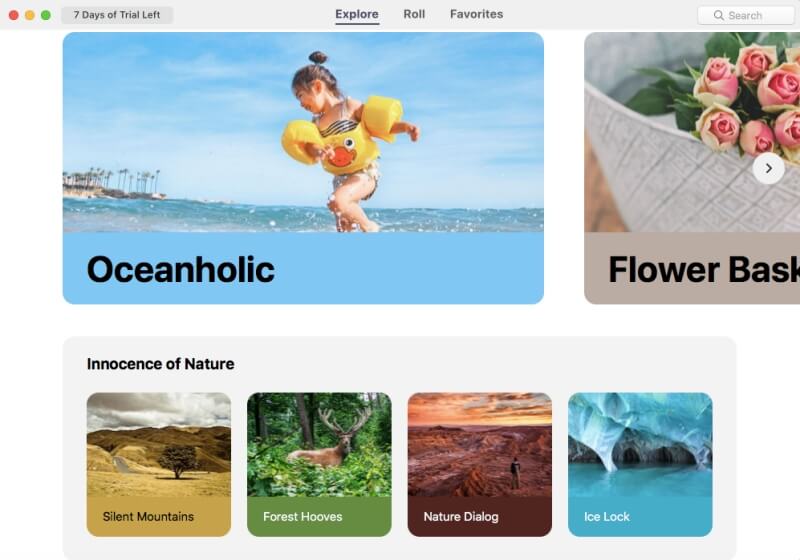 Wallpaper Wizard is designed to bring a fresh look to your Mac's desktop from an enormous collection of HD, retina-compatible wallpapers. From urban landscapes to portraits and nature views — this wallpaper app has them all, and you'll easily find a picture you like by browsing through the categories on the Explore tab or using the search function.
The collection of wallpapers is perfectly organized in a catalog of thumbnails. When I downloaded Wallpaper Wizard 2, I was pleasantly surprised by its elegant and minimalist interface. It's user-friendly and easy to navigate, not overloaded with extra icons, and absolutely matches Apple style.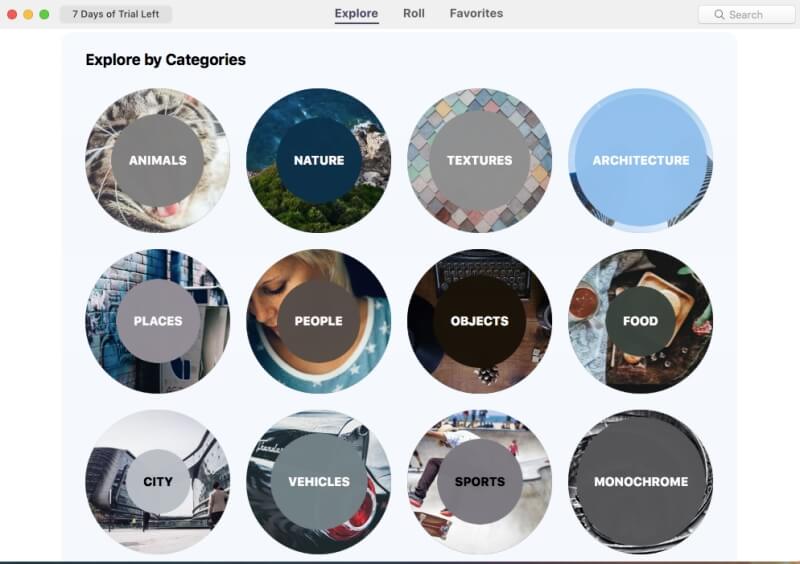 Even if you've used default macOS backgrounds all your life, just try Wallpaper Wizard 2, and you'll quickly get addicted to its background images. The app offers an extensive gallery that consists of more than 25,000 photos handpicked from reliable sources and divided by themes. And the new pics are added to the collection every month so that you won't run out of fresh wallpapers for your Mac even if you change them every day.
All photos are in HD 4K quality which makes a big difference if you have a Retina display. In addition to high-end resolution, every wallpaper in the app looks stunning and will meet the standards of the pickiest users.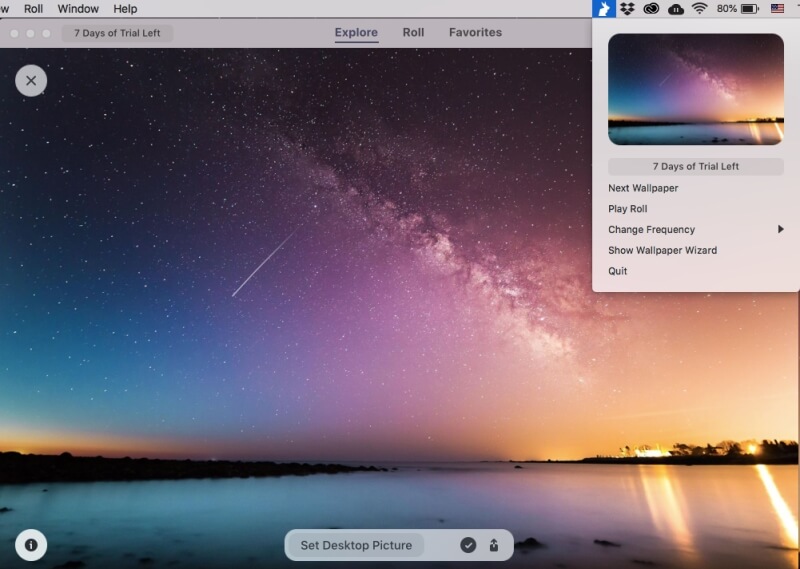 Besides the Explore tab, Wallpaper Wizard also has a Roll and a Favorites tab. Photos that you want to set as a desktop background will be added to your Roll. Here you can choose how often you'd like them to change — every 5, 15, 30, or 60 minutes, every day, or every time you launch your computer. If you don't like a photo that is currently displayed on your desktop, you can easily remove it from a queue via the menu bar icon.
The app also provides multi-monitor support. It allows users to set one wallpaper on multiple displays, pick different photos for each one, or create a sequence of pics that roll through all of them.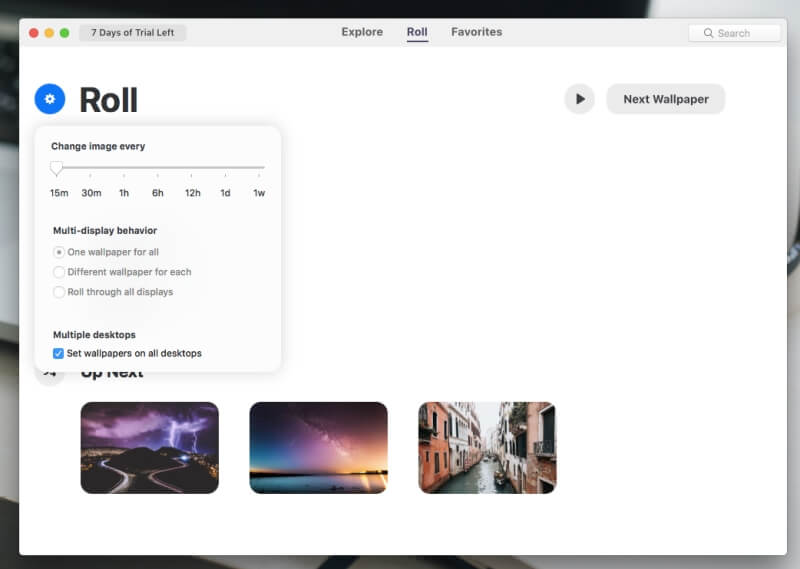 The Favorites tab is a collection of wallpapers you like the most. Just click on the star icon every time you see a photo or collection you want to add to Favorites, and they will always be close at hand whenever you need them again. The Favorites tab is available only for registered users who bought a full version of the app.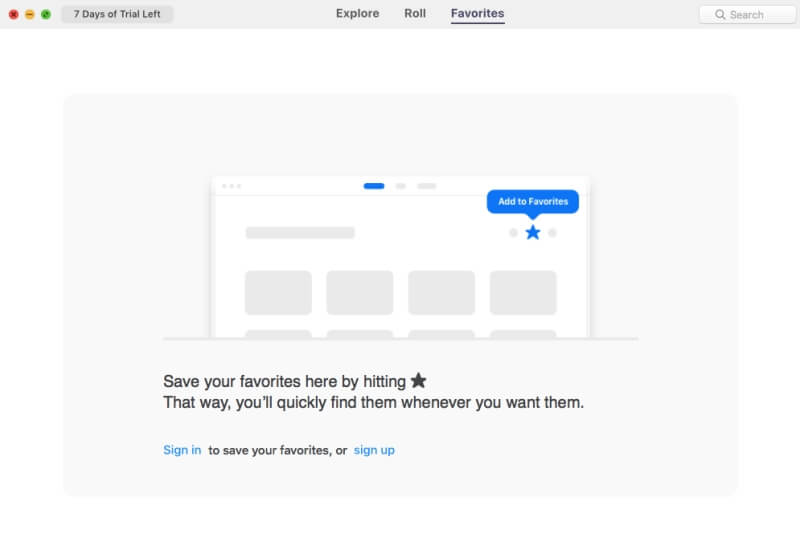 Wallpaper Wizard 2 is compatible with Mac OS X 10.10 or later. Although the app is paid ($9.99), it offers a 7-days free trial, so you can give it a try before making a purchase.
Runner-Up: Unsplash Wallpapers & Irvue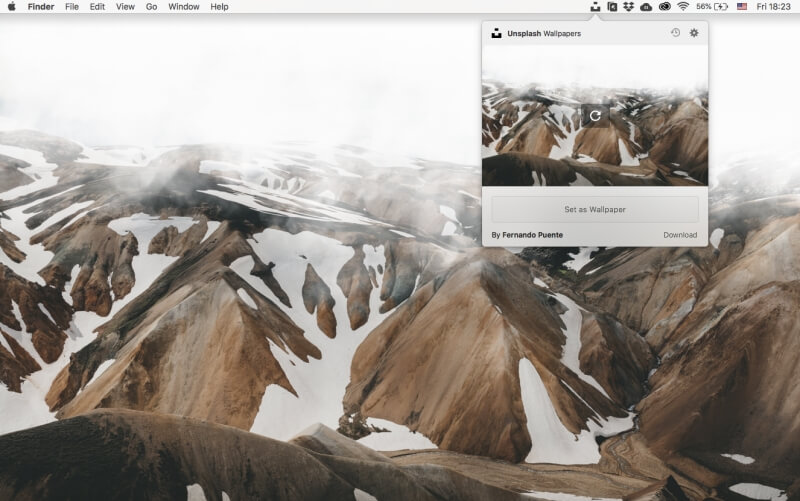 Unsplash Wallpapers is the official app of Unsplash API, one of the largest open collections of high-resolution photos made by a community of talented photographers. The biggest part of the wallpapers is the breathtaking pics of nature and urban landscapes.
You can browse the website and download preferred photos to set them as a desktop background manually. But if you want to get fresh HD wallpapers every day without spending your time searching, install the Unsplash Wallpapers app on your computer. It's minimalistic and free to use.
After installation and launching, the application's icon will be displayed at the right end of Mac's menu bar. Here you can set a wallpaper manually or customize the frequency of updates according to your preferences (daily, weekly).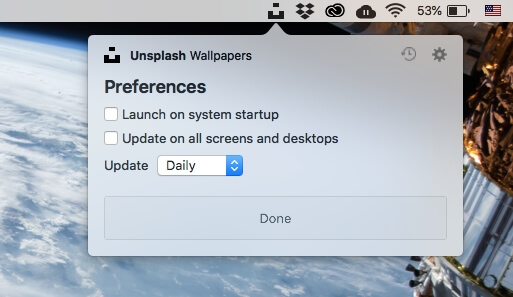 If you don't like a photo the app has chosen, you can ask for another one as Unsplash Wallpapers adds new wallpapers to a collection on your computer every day. You can also save wallpaper that you like the most or find out more about its artist/photographer by clicking on their name in the lower-left corner.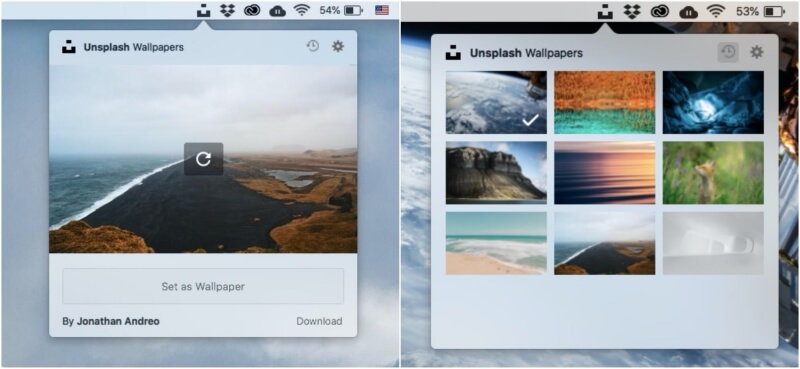 If you're looking for a hassle-free app to set new backgrounds on your desktop regularly, Unsplash Wallpapers will easily cope with the task.
But if you need a more feature-rich utility, Irvue comes in handy. It's a free third-party wallpapers app for macOS that brings thousands of gorgeous desktop backgrounds directly from the Unsplash platform. The application has an intuitive interface and runs smoothly on Mac OS X 10.11 or later.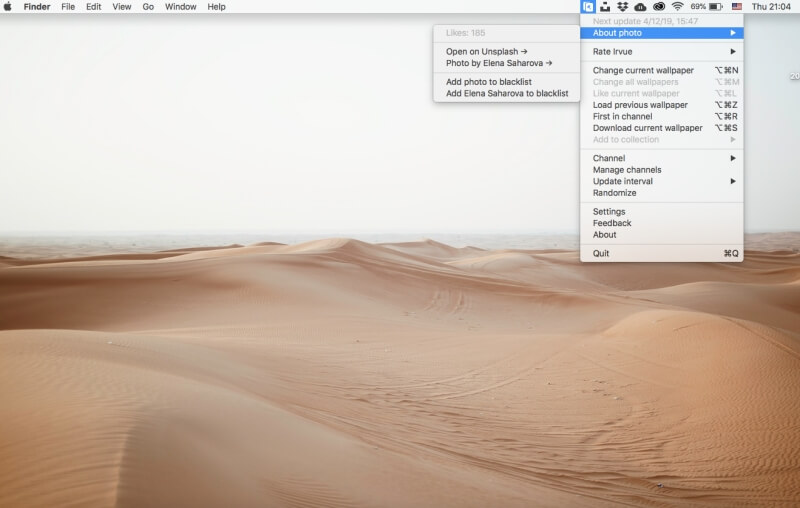 Just like an official Unsplash application, Irvue is a menu bar app that helps users easily refresh their desktop background without distracting them from the main work. Although the app is pretty easy to use, it builds on the basic Unsplash app by offering a vast feature set and a bunch of customization options.
With Irvue, you can choose your preferred image orientation (landscape, portrait, or both), change the wallpaper automatically according to your time preferences, download photos to computers, and set the same background on multiple displays. It also provides auto-adjustment of the macOS theme depending on the current wallpaper.
When Irvue refreshes wallpaper on your computer, it sends a notification with info about the photo and its author. If you're really impressed with someone's work, the application lets you learn more about a photographer and see other pictures in their portfolio.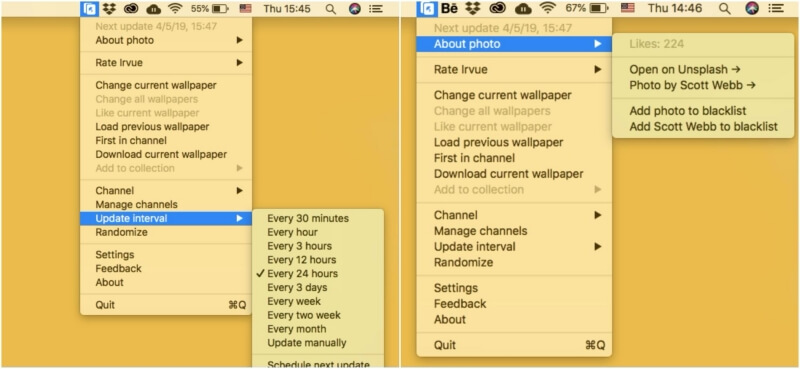 Unlike Unsplash Wallpapers, Irvue supports channels so that you can control a collection of wallpapers instead of seeing random ones. Apart from the standard channels — Featured and New photos, you have an opportunity to create your own channels of pictures you liked on the Unsplash website.

The users with Unsplash account can like photos, build their collections of wallpapers on the website and then add them as channels to Irvue. Don't like a certain picture? Just add it or its photographer to a blacklist, and you'll never see it again. Thanks to some useful keyboard shortcuts, which can be easily configured, you can change or save a current wallpaper, add it to the blacklist or do other offered options within seconds.
Best Live Wallpaper App: Live Desktop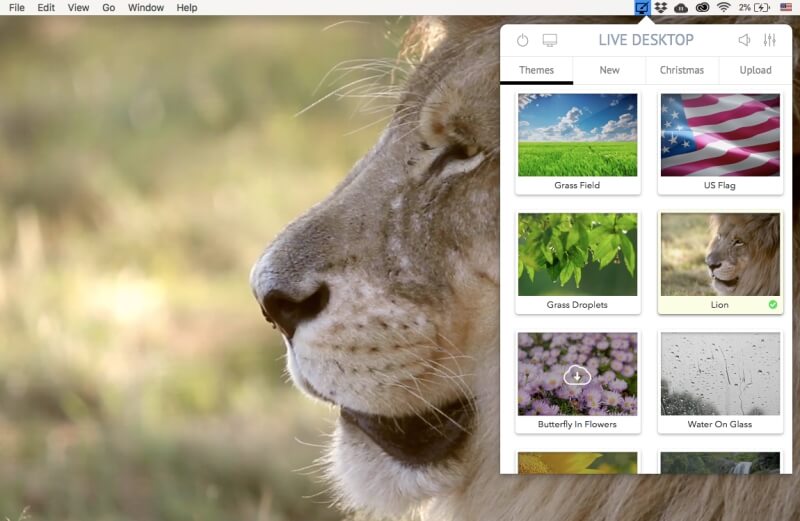 If you're bored with still pictures and want to add a splash of life to your desktop, Live Desktop is a Mac app that you'll need to try. The application offers a collection of stunning HD quality and animated images to choose from. Most of them come with an integrated sound effect that can be turned on or turned off in one click.
With Live Desktop, you have an opportunity to make your desktop alive with a waving flag, ocean waves, a roaring lion, a hidden valley, and many other beautiful pictures. Want to immerse yourself in a rainy atmosphere? Just pick the "Water on glass" background and turn the sound on!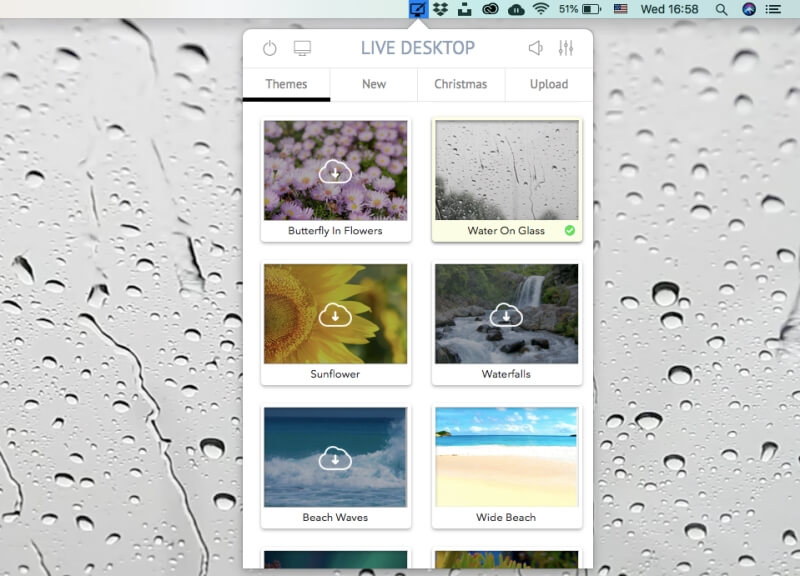 Like almost all of its competitors, Live Desktop can be accessed from Mac's menu bar. It has an easy-to-use interface for navigating through and viewing the offered wallpapers. New themes are added periodically as they're created. There is also an option to upload your own video to make a custom desktop background.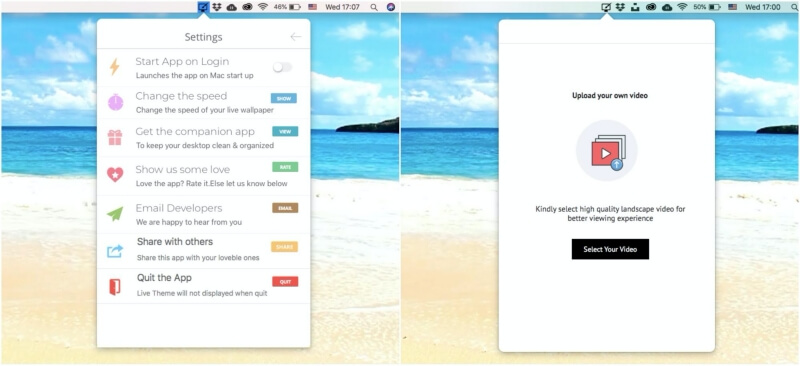 What about the drawbacks? Well, the app takes a lot of space and runs down the battery life quicker than standard wallpaper apps. So if you want to use live wallpapers, make sure that your computer's battery is fully charged. However, Live Desktop won't be a burden on the CPU and performance of your Mac. The application is available in the App Store for $0.99.
Some Free Mac Wallpaper Apps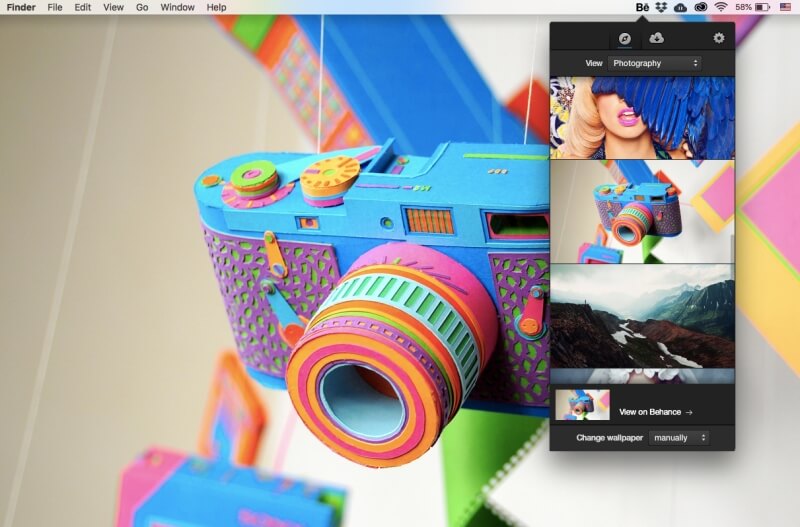 If you're into modern art, Behance can help you discover the creative works of professionals from all around the world through your computer's desktop. As an online platform for exhibiting and collecting artworks made by photographers, illustrators, and designers, Adobe's Behance developed this application to bring these pieces of art onto your Mac's desktop.
Wallpapers by Behance, a menu bar utility, is available on the App Store free of charge. It lets you browse desktop backgrounds from the drop-down menu, set a preferred image as a wallpaper, or learn more about it on the website. The wallpapers can be scheduled to change hourly, daily, weekly, monthly or manually — as often as you want.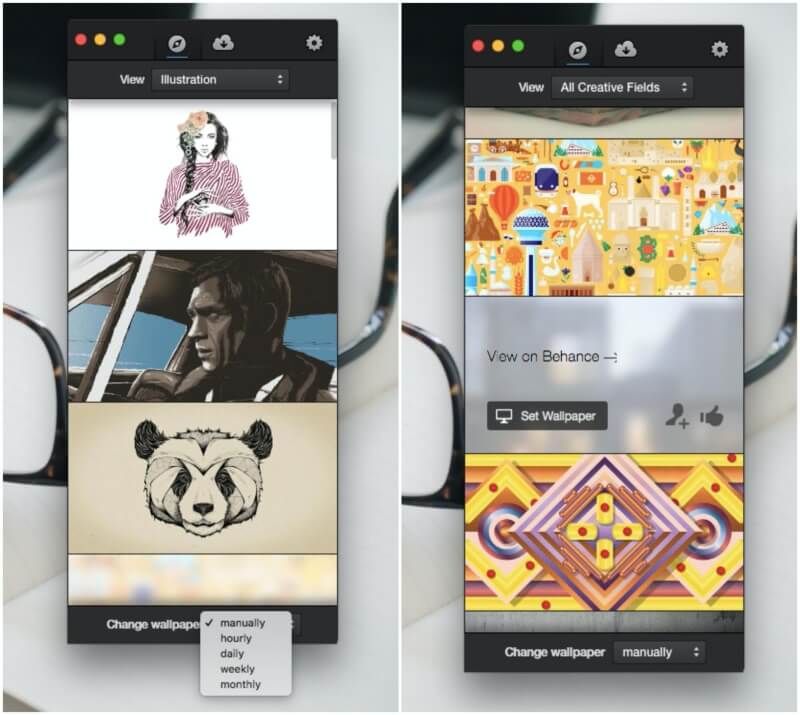 Once you install the Wallpaper by Behance app, you can choose from an enormous collection of images with the option to filter all of them by creative fields (e.g., illustration, digital art, typography, graphic design, etc.).
The app always stays fresh by adding new pictures to the wallpapers collection on your computer each month. Love a particular wallpaper? Like it or follow its creator on Behance.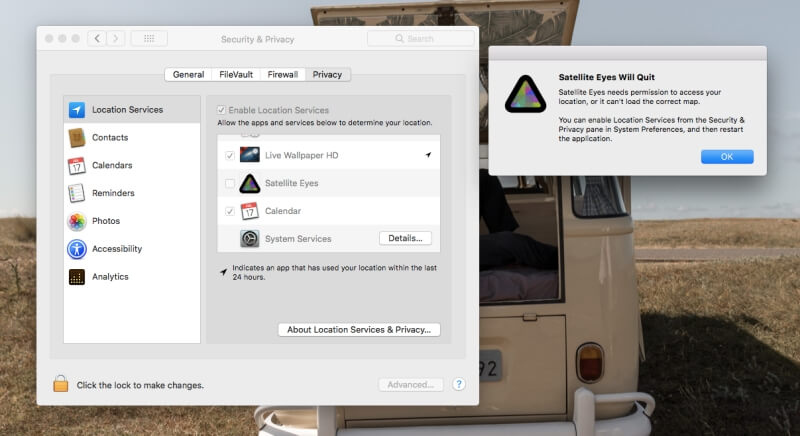 Searching for unusual wallpapers for your Mac? Satellite Eyes is a free macOS application that changes desktop background automatically depending on your location. Developed by Tom Taylor, the app sets the satellite view of your current location as the wallpaper using the maps from MapBox, Stamen Design, Bing Maps, and Thunderforest.
To see a bird's-eye view on your desktop, you must allow Satellite Eyes access to your location, or it can't use the correct map. Keep in mind that the app requires WiFi access and a working internet connection to find your accurate position.
Satellite Eyes offers a great variety of map styles — from watercolor to pencil drawing. You can also specify zoom level (street, neighborhood, city, region) and image effect according to your preferences.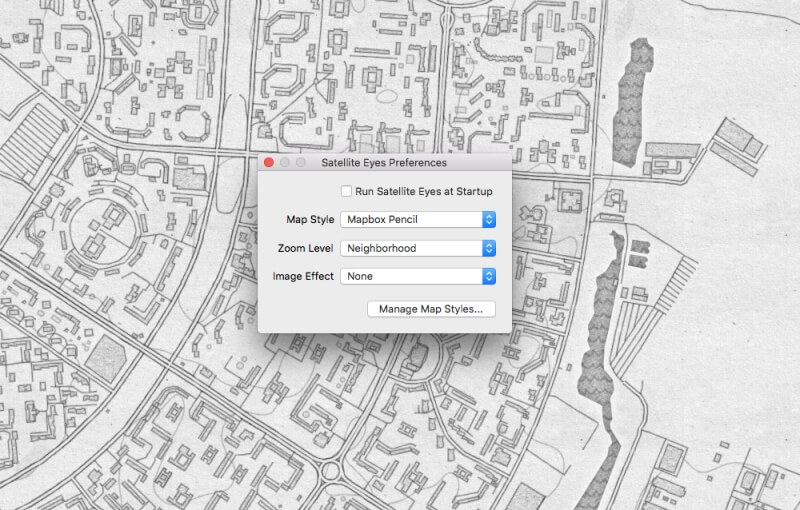 The app sits in Mac's menu bar at the top of the screen. You'll never get bored with Satellite Eyes, as your desktop background will change to the view of your location wherever you go. The full source code to the app is available on GitHub.
3. Living Wallpaper HD & Weather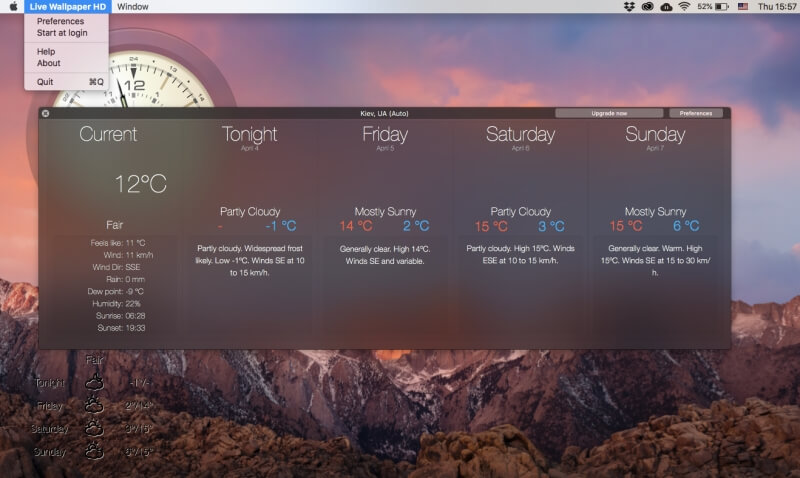 This lightweight macOS app offers a collection of live wallpapers to add a special touch to your desktop. No matter which theme you choose — cityscape, full moon glade, sunset view, or any other live picture, all of them come with an integrated clock and weather widget.
Live Wallpaper HD & Weather will use your current location to display the most accurate weather forecast. Apart from the wallpaper style, in the Preferences section, you can also choose a weather window and clock widget style. The application also lets you specify how often you want the desktop background to change.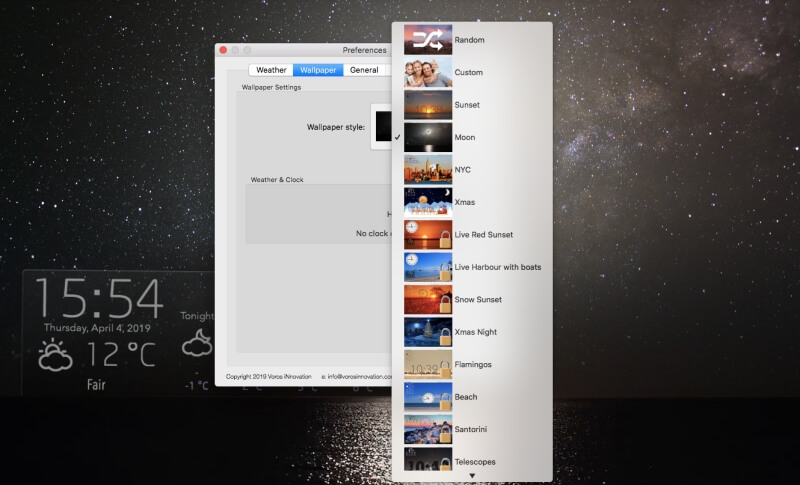 If you want to have weather and time-related data on your desktop all the time, then the Live Wallpaper HD & Weather app deserves your attention. Although the application is free to download, it has a limited feature set. A full ad-free version with an unlocked collection of live wallpapers and other upgraded features costs $3.99.
Other Good Paid Mac Wallpaper Apps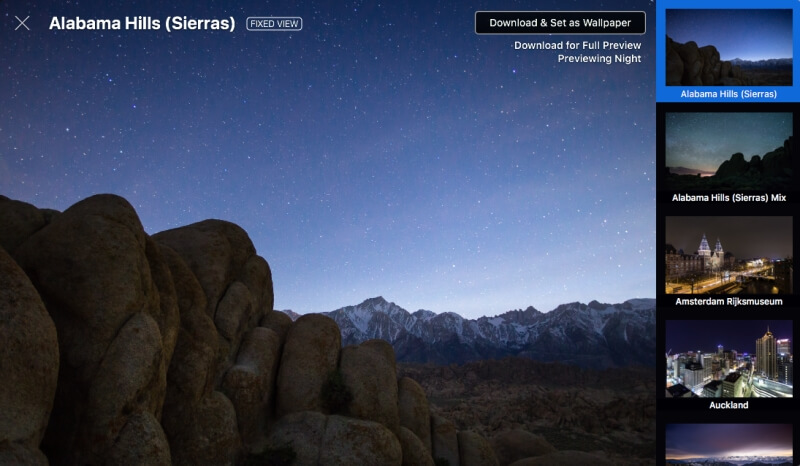 The app offers awesome desktop wallpapers that reflect the time of day depending on your current location. You can also adjust time preferences to meet your schedule and lifestyle by customizing sunrise and sunset times and durations. The app is fully compatible with macOS Mojave Dynamic Desktop as well as macOS 10.11 or later.
24 Hours Wallpapers has a huge collection of wallpapers of both city and nature landscapes at HD resolution. Here you can find both Fixed View (photos captured from one perspective) and Mixed (combination of different views and photos) wallpapers. While Fixed View wallpapers show you one location throughout the day, Mixes display one place or region from different locations staying synced with time.
What is really impressive about 24 Hours Wallpapers is the quality of their themes. There are 58 wallpapers, each of which contains about 30-36 still images at 5K 5120×2880 resolution with up to 5GB of images available. The app lets you preview, download and set the HD wallpapers identifying the best resolution based on your current display. All photos were professionally captured specifically for the app.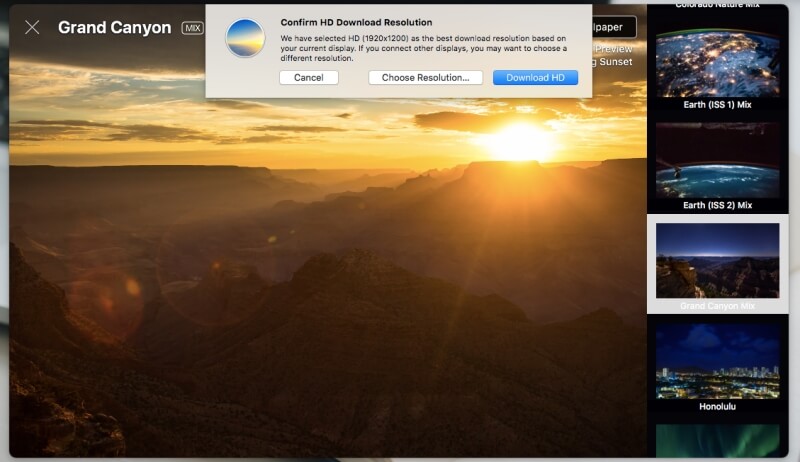 The application also provides multi-monitor support and integrates directly with system wallpapers. As 24 Hours Wallpapers uses a series of still images, there is a minimal battery and CPU drain. You can buy the app on the App Store at $6.99.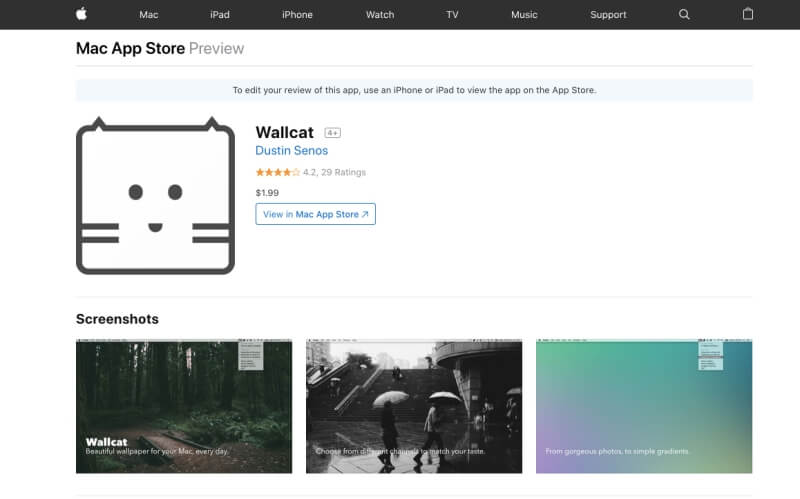 Wallcat is paid menubar application that automatically changes wallpapers for your desktop every day. Unlike other apps on the list, this one doesn't allow users to set the update frequency. The app is available on App Store for $1.99.
The Wallcat app uses four themed channels to choose from — Structure, Gradients, Fresh Air and Northern Perspective, but new wallpapers are limited to one per day. You can switch to another channel at any time to find the right wallpaper for your mood.
Final Words
Of course, you can browse the web and set new wallpapers manually. But why waste time on this when there are so many excellent applications to choose from. They can refresh your Mac desktop every day and make it a source of inspiration for you. We hope you'll find the live wallpaper app that suits your needs in the best possible way.