I love the feel of a good pen. They have a sense of weight and elegance. The ink flows smoothly over the page. People who borrow my pens often comment on their quality. The same can be said of quality keyboards, which long ago replaced the pen as the primary tool of serious writers. If you're serious about writing, you should be serious about the keyboard you use.
You can feel the difference when typing on a quality keyboard. The device vanishes; it gets out of the way so that you get lost in your work. You type without fatigue. Productivity flows more smoothly. There are as many types of keyboards as there are types of writers. They come in different shapes and sizes; the keys require different amounts of pressure and movement; some are backlit, and some are wireless.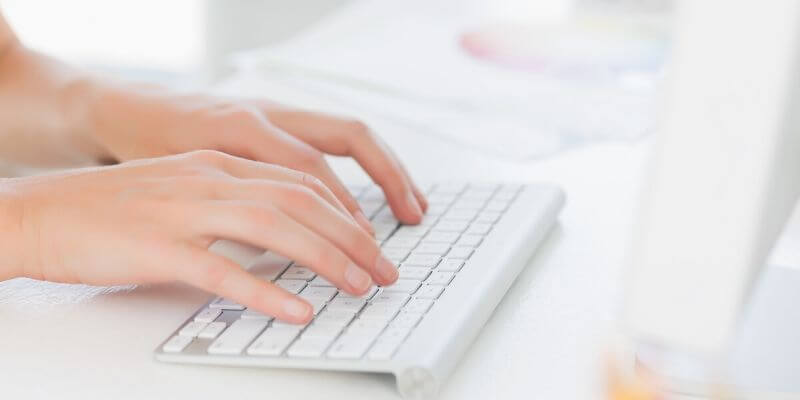 So what's the best keyboard for you? Typically, writers favor one of three types: ergonomic, mechanical, or compact.
As a writer, I love the feel of a good ergonomic keyboard. I use a Logitech Wireless Wave K350. It's got an ergonomic design that's friendly to your fingers and wrists and will allow you to type more efficiently as well. It has a numeric keypad, dedicated media keys, and a comfortable wrist pad. All that adds up to one big keyboard! The Logitech Wave is wireless and boasts an impressive three-year battery life.
Mechanical keyboards have a durable retro design that produces a reassuring click with every keystroke. They've become popular among gamers, developers, and writers, but can be quite expensive. The Redragon K552 is quite affordable and allows you to switch keys if you want something that feels and sounds a little different. It's an excellent option for those who want to join in and see what all the fuss is about.
Finally, some writers don't want to lose half their desk space to a large keyboard; they prefer something more portable. The Apple Magic Keyboard is elegant, minimalistic, rechargeable, and compact. It looks great on your desk, is easy to carry with you, and can be paired with a laptop or tablet.
This is an all-inclusive article for writers listing the best keyboards for you. We'll include other highly-rated keyboards of each type—ergonomic, mechanical, compact—that offer different strengths and features. You're sure to find one that suits your working style and environment perfectly.
Why Trust Me for This Keyboard Guide?
I've used a lot of keyboards! Since most of them were on laptops, I got used to just using the one that came with the computer.
That changed when I started writing professionally. I decided to put some real money towards purchasing a quality ergonomic keyboard. My son loved Microsoft's wired Natural Ergonomic Keyboard—a good option—but I chose a Logitech Wave KM550 keyboard and mouse combination instead. After a brief adjustment period, I could see the value and used it daily for years.
But that Logitech combo took up a significant amount of space on my desk. Once I started to spend more of my time editing than writing, I put the Logitech on a shelf and started using Apple's (first) Magic Keyboard as my daily driver. I appreciated the extra desk space and quickly adjusted to not having to press the keys down so far. Recently, I upgraded to the Magic Keyboard 2, which is even more compact due to its rechargeable battery.
The tables have turned again. I'm writing more than editing again, and now the Logitech Wave is back on my desk. The more extended travel used to feel like too much work—there's always an adjustment period when changing keyboards—but after a month of use, I'm making fewer typos and experiencing less fatigue. I intend to go on using it long-term.
Best Keyboard for Writers: Our Top Picks
1. Best Ergonomic: Logitech Wireless Wave K350
The Logitech K350 is a large, ergonomic keyboard with a wave-shaped profile, cushioned palm rest, numeric keypad, and dedicated media buttons. Its keys have a satisfying, tactile feel with long travel for all-day typing.
At a glance:
Type: Ergonomic
Backlit: No
Wireless: Dongle required
Battery life: 3 years
Rechargeable: No (2xAA batteries included)
Numeric keypad: Yes
Media keys: Yes (dedicated)
Weight: 2.2 lb, 998 g
This keyboard has quite a long history—I've had mine for a decade—but it has a proven design that continues to be popular. It's available in the Logitech MK550 keyboard/mouse combo.
Unlike Microsoft's ergonomic keyboards, which feature a split keyboard design that places your wrists at different angles, Logitech's keys follow a slight curvy "smile." The keys are not all at the same height; they follow a wave-shaped contour designed to match the varying lengths of your fingers.
The cushioned palm rest lowers wrist fatigue. The legs of the keyboard offer three height options so you can find the most comfortable angle for your fingers.
Two AA batteries power the keyboard—it's not rechargeable. That shouldn't be a concern as they last for an estimated three years. I only remember changing mine once in the last ten years, and other users have commented that they're still using the original batteries after years of use.
A red light warns when the battery is low, leaving you plenty of time to obtain new ones. With just a few battery changes needed in a decade, I don't believe rechargeable batteries offer any advantage with the Logitech Wireless Wave.
Not all writers need additional keys, but the K350 offers plenty:
a numeric keypad for easy access to numbers
seven dedicated media keys to control your music
18 programmable keys for power users
Alternatives:
The Kinesis Freestyle2 is a compact, ergonomic, well-reviewed keyboard. More on that one below.
If you'd prefer an ergonomic keyboard with a split layout, have a look at the Microsoft, Perixx, and Kinesis alternatives below.
2. Best Mechanical: Redragon K552
The Redragon K552 is by far the least expensive mechanical keyboard in this review. It's an excellent choice if you'd like to try one for yourself. It's a popular keyboard, having been reviewed by more users than any other in this roundup, and has an exceptional rating. Part of the reason for that score, no doubt, is its excellent value for money.
At a glance:
Type: Mechanical
Backlit: Yes
Wireless: No
Battery life: n/a
Rechargeable: n/a
Numeric keypad: Yes
Media keys: Yes (on function keys)
Weight: 2.16 lb, 980 g
What makes the K552 less expensive than the competition? Two small compromises: first, it uses a red backlight rather than a customizable RGB one (though that option is available if you're willing to spend a little more). Second, it uses third-party switches from Outemu rather than the more expensive Cherry brand that most use. According to Technobezz, these switches feel almost the same but have a shorter life.
But at this price, you're more likely to be willing to experiment with a mechanical keyboard—other options can cost hundreds. If you like it, you can keep it and customize it. Like other mechanical keyboards, the keycaps can be switched out (to the Cherry brand if you want), giving the keyboard a different aesthetic, sound, and feel.
Despite the third-party keys, it is quite durable. They're tested to 50 million keystrokes (compared to Cherry's 50-80 million). According to one user on the Writing Forums, it's "built like a beast" and survived punishment that would have killed a "normal membrane keyboard." He also found the backlit keys helpful after dark.
The keyboard is quite compact, and it lacks a numeric keypad. It's splash-proof, but not waterproof, and should survive a spill if it's cleaned up quickly.
Users love the feel of this keyboard and the satisfying sound it makes as you type. While it's not the heaviest keyboard in our roundup, it does have a satisfying weight that speaks of quality. It feels like a much more expensive keyboard.
Alternatives:
Razer (the gaming company) has a range of mechanical keyboards, listed below, creatively named after spiders. They're expensive, but recommended, and use the company's proprietary switches.
Corsair keyboards are also expensive and use Cherry switches. We cover a range of them below.
HyperX keyboards are another less expensive option. While they're not as affordable as the Redragon K552, they use genuine Cherry MX switches.
3. Best Compact: Apple Magic Keyboard
The Apple Magic Keyboard is an effective, compact keyboard. It's included when you buy an iMac, but can be purchased separately. They're quite minimalistic, and add little clutter to your desk. Function keys control media and screen brightness. A version with a numeric keypad is available. But they're not the best solution for Windows users, so we'll list some compact alternatives below.
At a glance:
Type: Compact
Backlit: No
Wireless: Bluetooth
Battery life: 1 month
Rechargeable: Yes (Lightning)
Numeric keypad: Optional
Media keys: Yes (on function keys)
Weight: 8.16 oz, 230 g
This keyboard received the highest rating of those included in our roundup, and for a good reason. It looks impressive, takes up little space, is highly portable, and surprisingly comfortable. I used the first version of this keyboard for many years, and have been using Magic Keyboard for the past six months.
The minimal design of this keyboard has inspired a whole generation of compact competitors, as you'll see below. This latest version features a rechargeable battery that lasts around a month. You can recharge it while you work.
Many of today's laptops have small keys with little travel. For longer typing sessions, Magic Keyboard is a better choice and is easy to carry in your laptop bag. It can be paired with a tablet when using it as a laptop replacement, say at a coffee shop. I used mine paired to my iPad Pro daily for several months and found it functional.
User reviews for Magic Keyboard are overwhelmingly positive. They appreciate its build quality, as well as the rechargeable battery's long life. Touch-typists report that they get used to the keyboard quickly, and many appreciate the tactile feedback it offers. Users find they're able to type for hours on this little keyboard. Some reported they find its low profile easier on their wrists.
But it's not a keyboard for everyone. Power users may be dissatisfied, as may those who do many hours of typing every day. If you have space on your desk, you're likely to be more satisfied with an ergonomic or mechanical keyboard. The cursor key layout is a compromise that frustrates many. Fortunately, the model with a numeric keypad (link below) doesn't have that problem.
Alternatives:
Consider the Logitech K811 (below) if you need a keyboard that pairs with multiple gadgets.
The Kinesis Freestyle2 is a compact, ergonomic keyboard that's worth a look-see.
Some Other Good Keyboards for Writers
Quality Alternative Ergonomic Keyboards for Writers
1. Microsoft's wired Natural Ergonomic 4000
This keyboard includes almost every feature you could want except a backlight. It offers a numeric keypad, dedicated media keys, and a standard cursor key layout. It has a comfortable wrist rest, a split keyboard, and a wave-shaped profile to match the differing lengths of your fingers.
At a glance:
Type: Ergonomic
Backlit: No
Wireless: No
Battery life: n/a
Rechargeable: n/a
Numeric keypad: Yes
Media keys: Yes
Weight: 2.2 lb, 998 g
One advantage of a split keyboard design is that it forces you to touch-type correctly. That alone will increase your typing speed; the design of the keyboard is likely to increase it a little more.
Besides the numeric keypad and media buttons, here are a few more you might find useful. There's a zoom slider strategically placed between the two halves of the keyboard, and back and forward buttons on the palm rest to simplify web browsing. There's a bank of programmable buttons, and also buttons for specific apps, like calculator, internet, and email.
Consumer reviews are positive, including reviews from those who type all day. They adjust to the new design within a few weeks and find it comfortable. The keys are loud and large, so they won't fit everyone's needs or preferences, but if you're serious about writing, it's one to consider.
Microsoft also makes several wireless ergonomic keyboards, including:
The Perixx Periboard-612 is an inexpensive alternative to Microsoft's ergonomic models. Like them, it offers a split keyboard and palm rest to reduce strain on your wrists. The Periboard has a numeric keyboard, and dedicated media keys, and is available in black or white.
At a glance:
Type: Ergonomic
Backlit: No
Wireless: Bluetooth or dongle
Battery life: not specified
Rechargeable: No (2xAA batteries, not included)
Numeric keypad: Yes
Media keys: Yes (7 dedicated keys)
Weight: 2.2 lb, 998 g
Like the Microsoft keyboards, the Perixx's split keyboard design allows you to type with a natural hand position that minimizes the chance of RSI or carpal tunnel syndrome. The palm rest supports your wrists to relieve nerve pressure and forearm tension. The keys have long travel and require a lower activation force.
In consumer reviews, carpal tunnel sufferers claim to have found relief by switching to this keyboard. The keys are quiet but have a tactile feel. However, the cursor keys are in a non-standard arrangement that frustrates some.
The Kinesis Freestyle2 is fairly compact, making it a thoughtful choice for those with less desk space who want an ergonomic keyboard. It's made of two half-keyboards tethered together, allowing you to adjust the angle of each section independently. Two versions are available: one optimized for Mac, the other for PC.
At a glance:
Type: Ergonomic
Backlit: No
Wireless: Bluetooth
Battery life: 6 months
Rechargeable: Yes
Numeric keypad: No
Media keys: Yes (on function keys)
Weight: 2 lb, 907 g
The Freestyle2 has a low profile and no back-to-front slope, which reduces wrist extension. You can add a palm rest, or further adjust the keyboard's slope
25% less physical force is required when typing than on most other keyboards. That ease of use makes the keyboard quieter and further reduces strain. Several sufferers of arm and wrist pain found relief using this keyboard. Some users who traded in their Microsoft ergonomic keyboard stated that they preferred the Freestyle2.
Quality Alternative Mechanical Keyboards for Writers
The Razer BlackWidow Elite is a high-quality, customizable mechanical keyboard at a premium price. You choose the switches you prefer; the RGB backlighting can be tweaked as you like. The Razer Synapse app allows you to create macros and configure your keys, while the magnetic wrist rest will maximize your comfort.
At a glance:
Type: Mechanical
Backlit: Yes
Wireless: No
Battery life: n/a
Rechargeable: n/a
Numeric keypad: Yes
Media keys: Yes (dedicated)
Weight: 3.69 lb, 1.67 kg
Razer is a gaming company. While its keyboards are designed for gamers, they're perfect for writers, too. Their durable, military-grade construction supports up to 80 million clicks.
The keyboards come with a choice of three switch types: Razer Green (tactile and clicks), Razer Orange (tactile and silent), and Razer Yellow (linear and silent).
HyperX's Alloy FPS Pro is a more compact mechanical keyboard that doesn't offer a numeric keypad or wrist rest. They use quality Cherry MX mechanical switches; you choose the switch (blue or red) that suits you best.
At a glance:
Type: Mechanical
Backlit: Yes
Wireless: No
Battery life: n/a
Rechargeable: n/a
Numeric keypad: No
Media keys: Yes (on function keys)
Weight: 1.8 lb, 816 g
If you haven't heard of the HyperX brand, it's the gaming division of Kingston, which makes popular computer peripherals. The FPS Pro has a tough steel frame. Its detachable cable and compact design make it much more portable than other mechanical keyboards.
The standard version comes with a red backlight, or you can pay a little more for the RGB model with dynamic lighting effects. There are a ton of HyperX Alloy keyboards, each with a different sound and feel. If possible, try them before making a purchase.
The Corsair K95 is a premium mechanical keyboard with tons of features. It has a durable aluminum frame, customizable RGB backlight, comfortable wrist rest, numeric keypad, dedicated media controls, six programmable keys, and even a small speaker. It uses top-tier Cherry MX mechanical switches.
At a glance:
Type: Mechanical
Backlit: Yes (RGB)
Wireless: No
Battery life: n/a
Rechargeable: n/a
Numeric keypad: Yes
Media keys: Yes (dedicated)
Weight: 2.92 lb, 1.32 kg
The keyboard is highly configurable. Profiles can be stored in the 8 MB of storage on the keyboard itself. That allows you to switch between your profiles without being dependent on software installed on your computer.
Quality Alternative Compact Keyboards for Writers
The Arteck HB030B is the lightest keyboard in our roundup. It is compact and has slightly smaller keys than most of the competition. But it's also affordable and offers adjustable color backlighting.
At a glance:
Type: Compact
Backlit: Yes (RGB)
Wireless: Bluetooth
Battery life: 6 months
Rechargeable: Yes (USB)
Numeric keypad: No
Media keys: Yes (on function keys)
Weight: 5.9 oz, 168 g
This backlit keyboard is ideal for use in darker workplaces. You can select one of seven colors for the light: deep blue, soft blue, bright green, soft green, red, purple, and cyan. The backlight is off by default to save battery life, so you'll have to turn it on each time you use it.
This keyboard is both portable and durable—the back shell is made of zinc alloy. Its thickness is just 0.24 inches (6.1 mm), making it an excellent choice for portability—for example, carrying with your MacBook or iPad.
The Omoton Ultra-Slim has a strong resemblance to Apple's first Magic Keyboard, and is available in a range of colors: black, white, and rose gold. It's quite inexpensive and is a great option if you would like an Apple keyboard without the premium price. However, unlike the Arteck keyboard above, it isn't backlit, isn't rechargeable, and is thicker at one end.
At a glance:
Type: Compact
Backlit: No
Wireless: Bluetooth
Battery life: 30 days
Rechargeable: No (2xAAA batteries, not included)
Numeric keypad: No
Media keys: Yes (on function keys)
Weight: 11.82 oz, 335 g (official website, Amazon claims 5.6 oz)
This keyboard has a great balance of looks, price, and functionality. Many Apple users choose it for their iPads, since it looks and feels like a Magic Keyboard, but doesn't come with a premium price tag. Unfortunately, you can't pair it with your computer and tablet at the same time as you can with the Logitech K811.
The Logitech K811 Easy-Switch is Logitech's premium compact keyboard for Apple users. (The K810 is the equivalent model for Windows users.) It's made of sturdy brushed aluminum and has backlit keys. One unique feature of this keyboard is that you can pair it with three devices—then switch between them easily.
At a glance:
Type: Compact
Backlit: Yes, with hand proximity
Wireless: Bluetooth
Battery life: 10 days
Rechargeable: Yes (micro-USB)
Numeric keypad: No
Media keys: Yes (on function keys)
Weight: 11.9 oz, 338 g
This keyboard is a little old now: it's discontinued by Logitech but is still readily available. Despite this, it remains popular. That as well as its quality build and unique features, explain why it's one of the most expensive keyboards in our roundup.
You don't need to press a key to wake it up—it senses when your hands approach the keys. Waving your hands in front of the keyboard also turns on the backlight. And get this: the light's brightness changes to match the amount of light in the room.
But that backlight will chew through your battery quickly, giving the K811 the lowest battery life amongst the keyboards listed in this review. The backlit Arteck HB030B (above) claims six months' battery life, but that's with backlight off. Fortunately, you can continue to use the keyboard as it charges, and you can extend the battery life by turning the backlight off.
Writers Need a Better Keyboard
Because the keyboard is a writer's primary tool, it's worth buying a high-quality one. That's likely to mean spending real money. If you're happy using your current keyboard, that's fine. But here are a few reasons you might want to consider upgrading.
Ergonomic Keyboards Are Healthier and More Efficient
Prevention is better than cure. When you type on a normal keyboard, your hands, elbows, and arms may be placed in an unnatural position. That can slow your typing down, and may cause injury in the long term. An ergonomic keyboard fits the contours of your wrists, making you more efficient and helping you to avoid chronic pain.
Ergonomic keyboards are not all designed the same:
A split keyboard focuses on your wrist angle. They place the two halves of the keyboard at a more natural angle, which should put less strain on your wrists. The best ones are adjustable.
A wave-style keyboard focuses on finger length. The height of the keys follows a wave shape that attempts to mimic the different lengths of your fingers, making the distance you need to move your fingers more consistent.
Our bodies are all different, so one design may fit you better than the other, and some incorporate both split and wave-style aspects. Select a keyboard that places your hands in their most neutral position. A padded palm rest, as well as keys with longer travel, may also help you stay pain-free.
Mechanical Keyboards Are More Tactile
Many writers like to go back to the dark ages of computing and use a mechanical keyboard. They have long travel, can be quite noisy (that's part of the appeal), and are often wired (though a few wireless models exist). Instead of using lightweight pressure pads, they use real switches. Gamers and programmers also love the tactile sensation mechanicals provide, and find they increase their speed and confidence.
Not everyone enjoys using them. Some find the noise annoying and feel like they need to work harder at typing. There will likely be an adjustment period before you start reaping the benefits of a mechanical keyboard (the same goes for ergonomic keyboards, too).
There is a wide selection of mechanical keyboards available. See if you can try a few before making your decision. They come with different switches that affect the way they feel and sound. They've become so popular that there's a lengthy subreddit where you can discuss them, see custom creations, and more.
You Can Take Compact Keyboards and Use Them with Multiple Devices
When you're working out of the office, your laptop's keyboard is the most convenient one to use. But these days, many of them have little travel to keep the width of your computer to a minimum. Because of that, you may consider taking along a quality compact keyboard.
The same goes for tablets. Typing on glass or a tiny keyboard cover can be handy, but if you plan to use them for writing at a coffee shop, you'll make better progress with a compact Bluetooth keyboard. Some tables allow you to pair multiple devices and switch between them with the click of a button.
How We Chose The Best Keyboard for Writers
Positive Consumer Ratings
I'm a computer guy, writer, and software nerd with decades of experience. I've used a ton of keyboards—but there are so many that I just can't use all of the devices reviewed in this roundup. So I considered the experiences of others.
I read through keyboard recommendations, reviews, and roundups by writers and other industry experts, and read with interest long threads about the keyboards preferred by writers on Reddit and writing forums. I collated a long initial list of fifty keyboards to consider.
To narrow the list down, I turned to consumer reviews. These detail the experiences users have when using their keyboards in real life. They tend to be honest about what they like and don't. I removed any keyboard with a consumer rating of fewer than four stars, then selected four quality keyboards from each category. Finally, I chose one winning ergonomic, mechanical, and compact keyboard.
I was surprised by how many promising keyboards had quite low ratings. I gave priority to those with high ratings that have been reviewed by hundreds or thousands of users.
Backlit Keys
Backlit keys are ideal when working at night or where the lighting isn't ideal. Wireless keyboards eat through batteries quickly, though. You need to decide on your priorities: a wired backlit keyboard, a wireless keyboard that isn't, or a wireless keyboard that's backlit and needs to be charged more regularly.
Here are the backlit keyboards included in our roundup:
Redragon K522 (mechanical, wired)
Razer BlackWidow Elite (mechanical, wired)
HyperX Alloy FPS Pro (mechanical, RGB optional, wired)
Corsair K95 (mechanical, RGB, wired)
Arteck HB030B (compact, RGB, wireless)
Logitech K811 (compact, wireless)
The models marked "RGB" allow you to customize the color of the backlight, and can usually produce dynamic lighting effects.
Wired vs. Wireless
Wireless keyboards create less clutter on your desk and are easier to transport—but they require batteries that might run out at the wrong time. Backlit keyboards tend to eat through batteries quickly. You can cut out those worries with a wired keyboard if you don't mind the inconvenience of dealing with a USB cable.
Here is the list of our wireless recommendations, along with their expected battery life sorted longest to shortest:
Logitech K350: 3 years (AA batteries)
Kinesis Freestyle2: 6 months (rechargeable)
Arteck HB030B: 6 months (backlight off, rechargeable)
Apple Magic Keyboard 2: 1 month (rechargeable)
Omoton Ultra-Slim: 30 days (AAA batteries)
Logitech K811: 10 days (backlit, rechargeable)
Perixx Periboard (battery life not stated)
And here are the wired models:
Redragon K552
Microsoft Natural Ergonomic
Razer BlackWidow Elite
HyperX Alloy FPS Pro
Corsair K95
Additional Keys
If you find yourself typing a lot of numbers, a numeric keyboard is invaluable. Since switching back to my Logitech keyboard, I find myself using the numeric keypad a lot more than I expected. If you don't need a dedicated number pad, you can reclaim a little desk space choosing a keyboard without one. These are sometimes referred to as "tenkeyless" or "TKL" keyboards, especially in the mechanical keyboard community.
Dedicated media keys can simplify your life if you listen to music while you type. Rather than hunting for on-screen controls, they're all there in front of you. Further, some keyboards have additional, customizable keys that will interest power users.
Keyboards with no numeric keypad (best if you want a compact keyboard):
Apple Magic Keyboard 2
Kinesis Freestyle2
HyperX Alloy FPS Pro
Arteck HB030B
Omoton Ultra-Slim
Logitech K811
Keyboards with a numeric keypad (best if you type a lot of numbers):
Logitech K350
Redragon K552
Apple Magic Keyboard 2 with Numeric Keypad
Microsoft Natural Ergonomic
Perixx Periboard
Razer BlackWidow Elite
Corsair K95
Size and Weight
The most comfortable ergonomic and mechanical keyboards are large and heavy. For some writers, space is a concern. They may have a small desk or spend a lot of time working at coffee shops where space is not at a premium. I own an ergonomic keyboard, but I don't always use it. I certainly don't haul it around with me when I'm working at a cafe or coffee shop.
Here are the weights of our recommended keyboards sorted from lightest to heaviest. It's no surprise that the lightest four are also by far the most compact.
Arteck HB030B (compact): 5.9 oz, 168 g
Apple Magic Keyboard 2 (compact): 8.16 oz, 230 g
Omoton Ultra-Slim (compact): 11.82 oz, 335 g
Logitech K811 (compact): 11.9 oz, 338 g
HyperX Alloy FPS Pro (mechanical): 1.8 lb, 816 g
Kinesis Freestyle2 (ergonomic): 2 lb, 907 g
Redragon K552 (mechanical): 2.16 lb, 980 g
Logitech K350 (ergonomic): 2.2 lb, 998 g
Microsoft Natural Ergonomic (ergonomic): 2.2 lb, 998 g
Perix Periboard (ergonomic): 2.2 lb, 998 g
Corsair K95 (mechanical): 2.92 lb, 1.32 kg
Razer BlackWidow Elite (mechanical): 3.69 lb, 1.67 kg
That wraps up this guide. Any other keyboards that are good for writers to use? Share your opinion with us by leaving a comment below.